Hello! I've had my next day off in Glasgow, and managed to get in another game at the local
GW
- this time with Mark, who had a Chaos 13th Company army. They were mutated Space Wolves played using the rules for a Khorne
CSM
force.
Ian's Squats - 800pts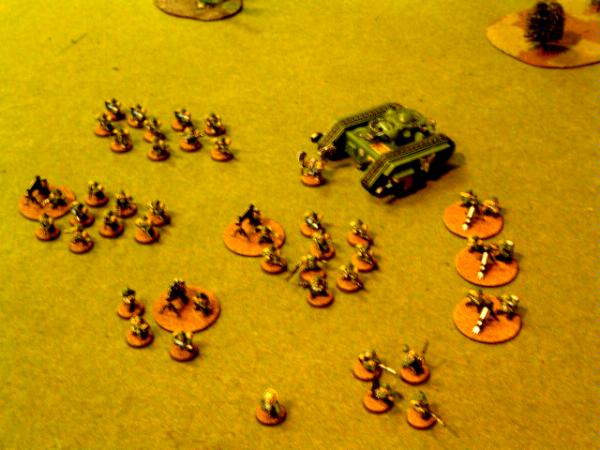 - Ancestor Lord (Primaris Psyker)
- Guild Engineer (Techpriest Enginseer)
- Squat Snipers (4 Ratlings)
- Brotherhood Infantry Platoon
--- Platoon Command Squad (Heavy Bolter, Plasmagun)
--- Infantry Squad (Heavy Bolter, Plasmagun)
--- Infantry Squad (Heavy Bolter, Plasmagun)
--- Mole Mortar Squad (Mortars)
- Veteran Squad (Forward Sentries, 3 Plasmaguns)
- Leman Russ Executioner (Plasma Sponsons)
Mark's 13th Company
CSM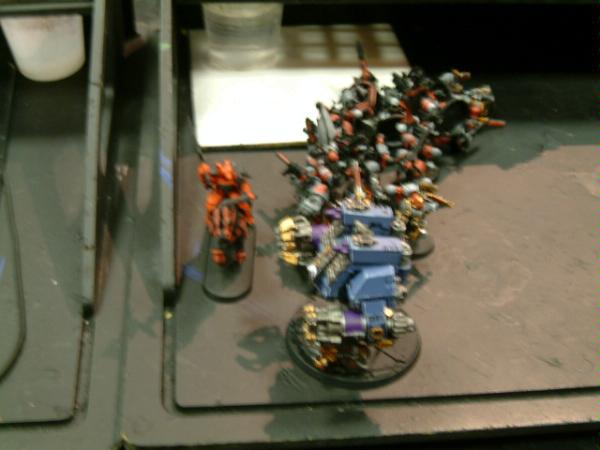 - Chaos Lord (Juggernaut, Daemon Weapon,
MoK
)
- Berserkers in a Rhino (Daemonic Possession)
- Berserkers in a Rhino (Daemonic Possession)
- Defiler (Heavy Flamer, Combi Bolter, Battlecannon) - this is a Dreadnought model using counts as, to bring up the points to level.
Deployment
We rolled for objective, but only three of them, and table halves for deployment. I won the roll for first deployment and turn, and deployed in a gunline, holding one of the objectives. Mark deployed inside his Rhinos, with the Lord on the flank and the Defiler in the centre. One of his rhinos held the objective on his side of the board.
Things started out fine, with his side predictably advancing and mine predictably standing and shooting. My Ancestor Lord managed to immobilise one of the Rhinos earlyon, so it sat on an objective for the rest of the game. My Ratlings took potshots at the Chaos Lord over the first few turns, and between them and the advancing Veterans managed to knowck two wounds off of him.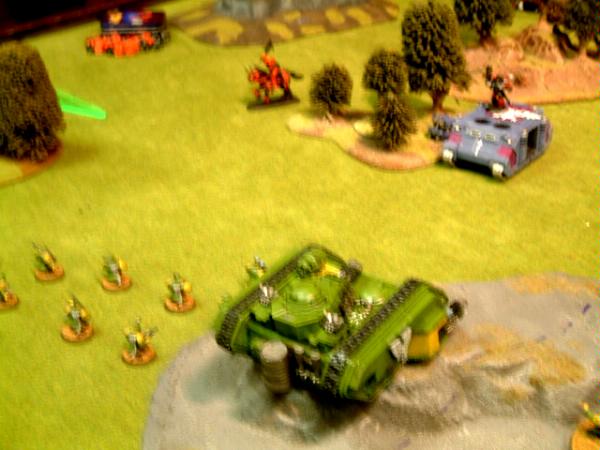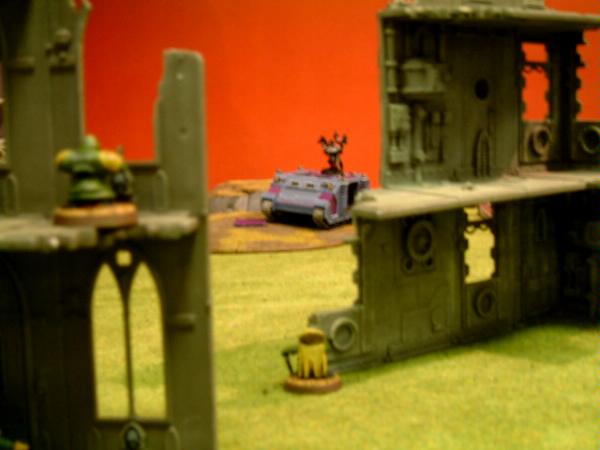 However, before long the Lord was in charge range, and took out the rest of the Veterans easily in close combat. The Ancestor Lord took his last would with a Lighting Arc next turn. The other Rhino full of Berserkers had parked on the central objective, claiming it, and I had managed to immobilise it there, so I started moving up troops squads to contest.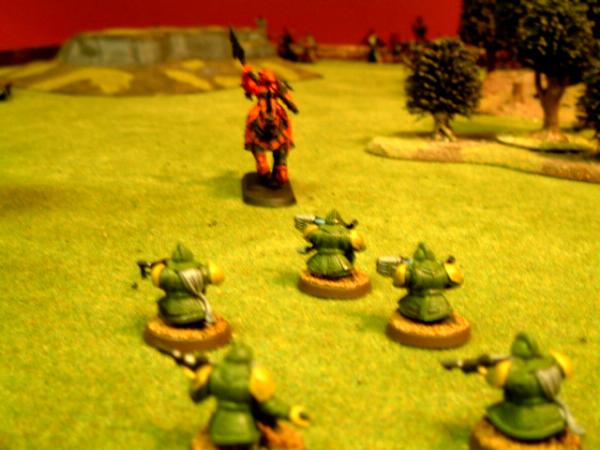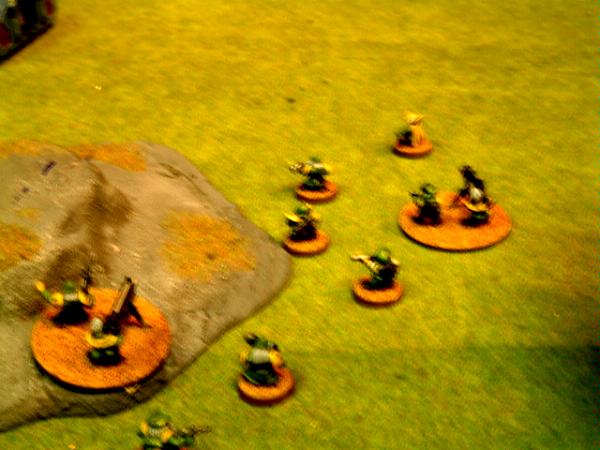 It's worth noting that our shooting was awful this game - Mark repeatedly fired at my Executioner with his battlecannon only to have it scatter away (though he did take out the Enginseer with a stray shot) and I had great difficulty even managing to pop the Rhinos! However, in the end I managed to wreck the central one and the berserkers inside had to get out. This finally meant i had a target for most of my weapons, so over the next turn they were reduced to only one model by Mortars, Heavy Bolters, Plasmas and the Executioner. Sensing a chage of direction, Mark moved his defiler out and into combat with my Ancestor Lord and Command Squad, easily wiping them out, but not before being Immobilised by the Ancestor Lord's Force Stick.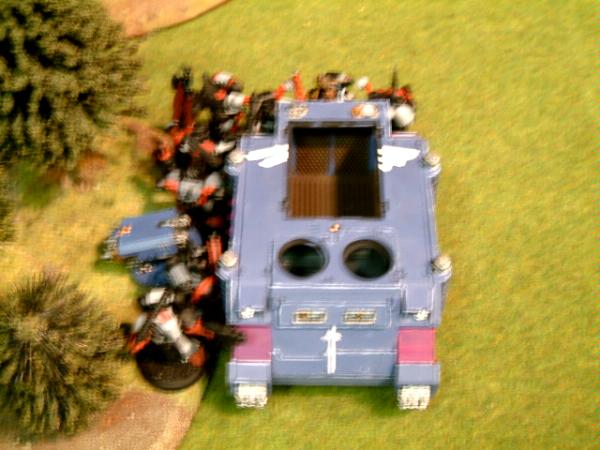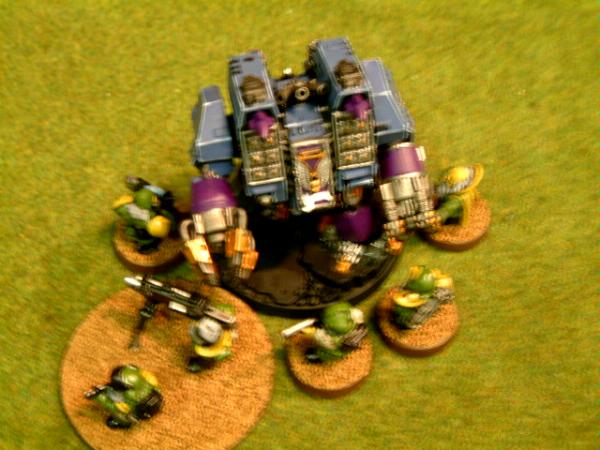 Towards the end of the game, my Infantry Squad managed to reach the objective and contest it, but missed with their plasmagun and the final Berserker Sgt survived. In the following turn he charged the Infantry Squad, forcing a rout and killing all of them. The game ends with a
CSM
win, 2-1.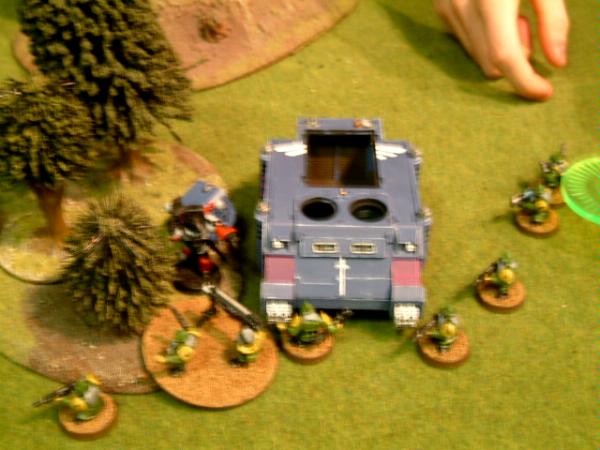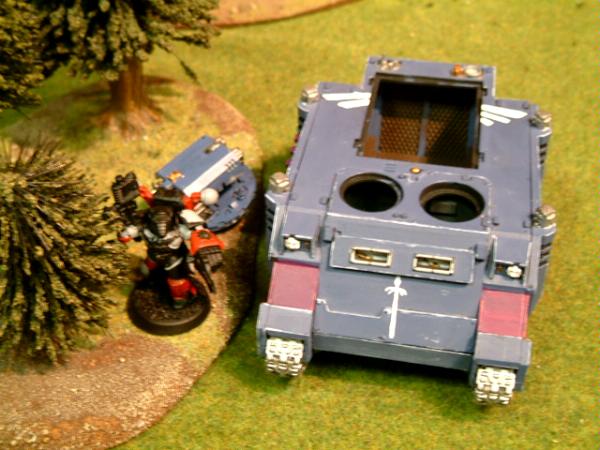 So another loss for the Squats. This time, I DID remember to use orders, but couldn't find anything useful. I also had READ trouble popping the tanks, since the highest strength in the army is 7. However, I'm not changing. Squats LOVE Plasma, right? Maybe some Lascannons are in order...:/