Greetings,
Okay, so the day after Thanksgiving is many things. It's Black Friday, it's a day to eat copious amounts of awesome leftovers, and (more importantly) it was a scheduled all day Apocalypse extravaganza.
Apocalypse is about as akin to strategy as gills are to cacti, so I'm going to spare you trying to discuss much strategy (mine was 'smash things')
Basic fluff gist is there was a nice Imperial City, the
DE
basically tricked the Orks into lumbering into it, and made a mutual neutrality pact with the Chaos forces -
DE
got the slaves, and Chaos got the relics they were after.
DE
were totally going to leave Chaos to deal with annoyed Orks afterwards, natch.
The Board and Setup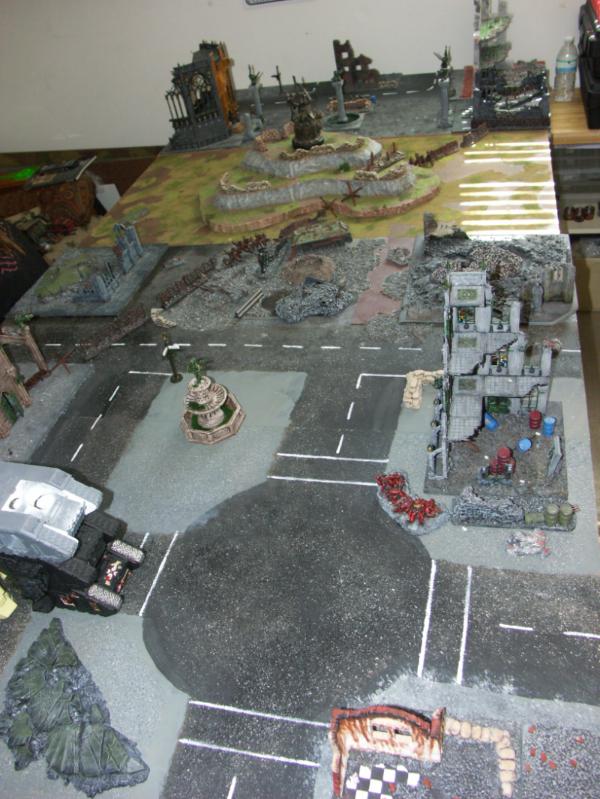 The line of barricades represent No Man's Land, just for ease of setup.
Team 'Not a Puke Imperial Codex' win side selection and take the 'left' side of the above photo. Imps are left with the right.
Objectives end up in the buildings in the upper left and bottom right. Another objective by the fountain in the mid left. A fourth objective atop the hill by the Imperial Sculpture (certainly not an award of any kind), and a fifth in the field behind it. The final objective goes by the street sign.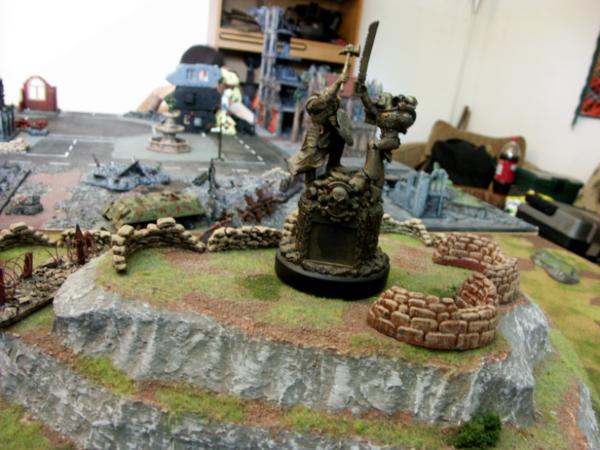 I placed an objective here because 'We have to fight over the big hill'
Makes strategic sense to me

Team Imperial Love bids 5 minutes.
Team Awesome Xenos bids 1 minute.
Both Chaos and
DE
proudly clap their hands and declare their deployment already over. The Ork player mutters about untrustworthy allies (it was a tactically considered plan...both Chaos and I had considered and decided tactically we'd rather Orks die than us - that makes sense, they're only Orks after all.)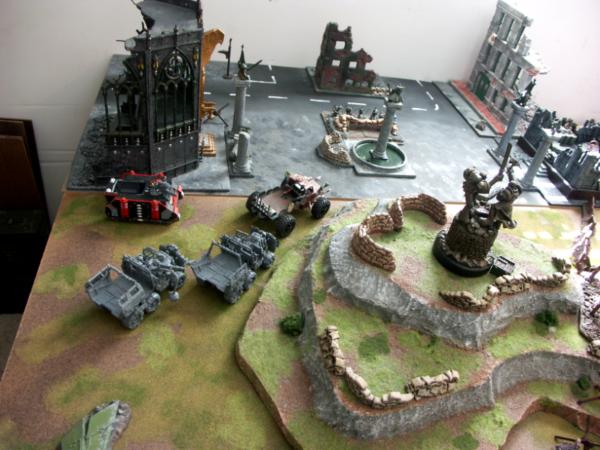 He slaps out some Trukks by our big building objective.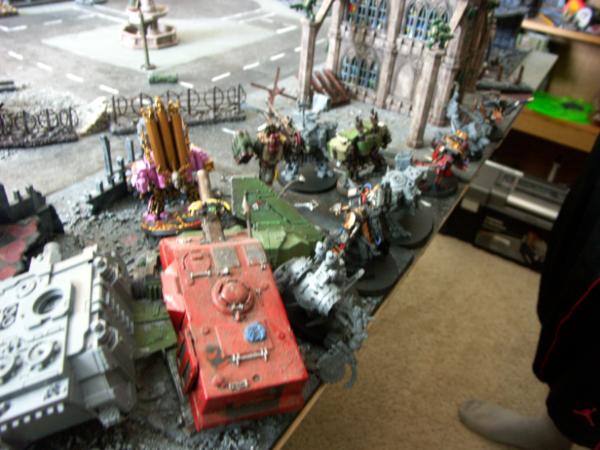 Here are some Boom Wagons - I actually am not sure if they ever hit anything all game...or were ever shot at...actually, yeah, I think they were ignored all game and accomplished nothing, poor Ork Boomwagons, even in friendly Apocalypse you're sub-par

With about 20 seconds to go he slaps down his DreadMob Formation with 6 kans and 3 Dreads.
After setup he looked at his unit sideboard and realized he'd failed to place the Squiggoth...ah well. There will still be plenty of Umies ta stomp when it shows up later.
The Imperials have a more relaxed time of it, as they set down their forces.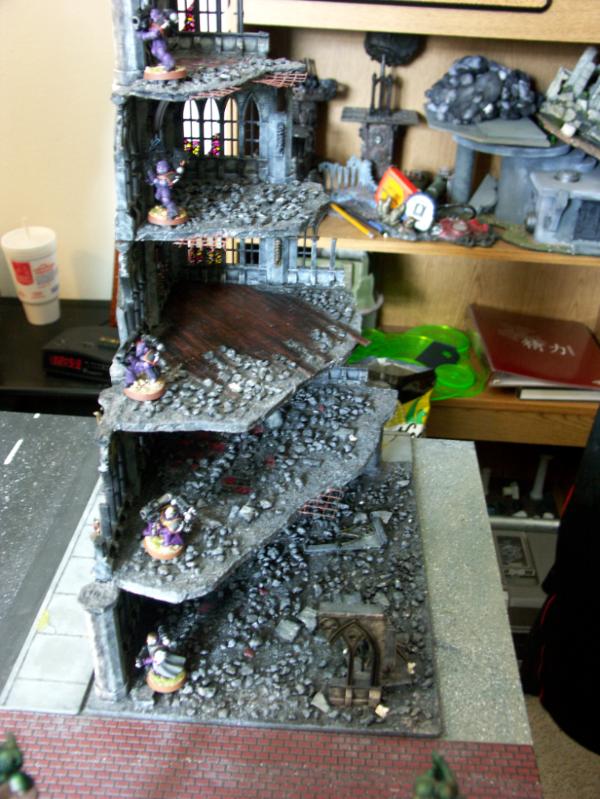 A single Hab Block away from the Ork Walkers sees a Devestator squad prepare themselves for the coming assault.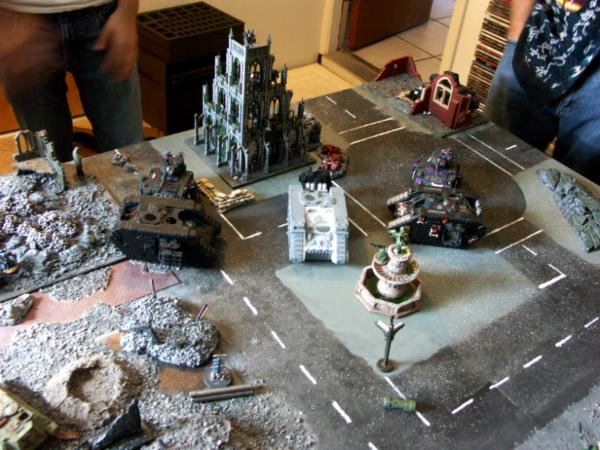 Because Dorn's son aren't pansies, the Black Templars take front and center with their blessed Land Raiders (unalterable
AV
14 - guaranteed to make you act manly) Mewling behind them are the Vanilla Marines (probably Guilliman descendents, I have little doubt) prepping their Predators for the carnage.
The Force Field Generator is the marker for my Strategic asset - say hello to nerfed Psychic Tests you filthy Marine blighters! No Null Fields for my Wyches, Shadow and Flicker Fields, no sir!
Turn 1 for the True Eldar and tolerated allies
Orks are on the table. John's Chaos strategem is to lay out a line of blind ordinance to allow them to advance up the field relatively unmolested. Still, what sort of self respecting Archon would allow Orks to claim prime slave cattle like the Mon'keigh Marines? Not I!
The Splinter Raid Force descends from the skies, counting as flying for a turn it will look to cause some serious damage to the Marine gunline elements.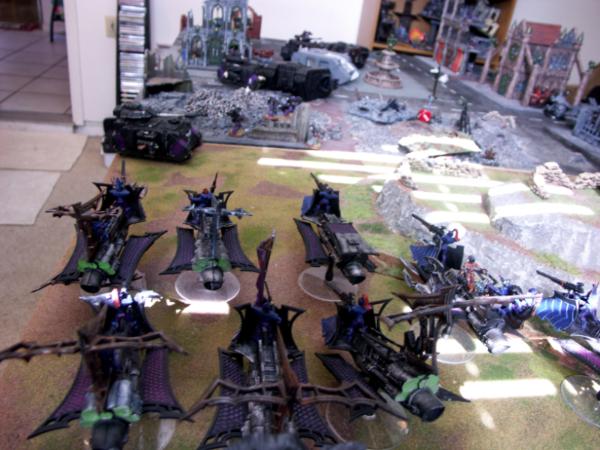 A Predator is destroyed, and a Devastator Squad is diminished. Unfortunately...not much else is done...derp!
Turn 1 for wimpy corpse worshiping poozers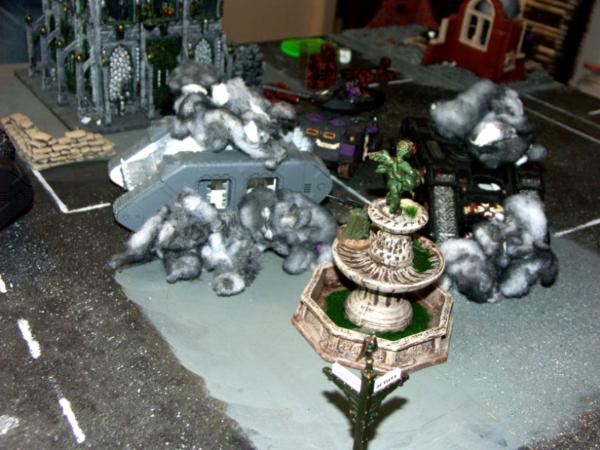 As is common for Imperial forces, they all go 'waaah, we have
AV
14 that can't be affected by Lances or Melta...we need cover saves too!'
Someone should tell them that flying around in rocket-propelled wet cardboard builds character.
They also took a few potshots at the Dark Eldar Splinter Force, though I didn't take any pictures of that apparently. The damage was quite minor.
Turn 2 for Papa Nurgle and Pals!
The Dark Eldar choose to have nothing come on. (I wanted more Imp targets on the board)
The Orks bum rush in with the Squiggoth, and maybe a few other random widgets.
The Death Guard roll on some Rhinos and sort of vaguely start wandering up the board.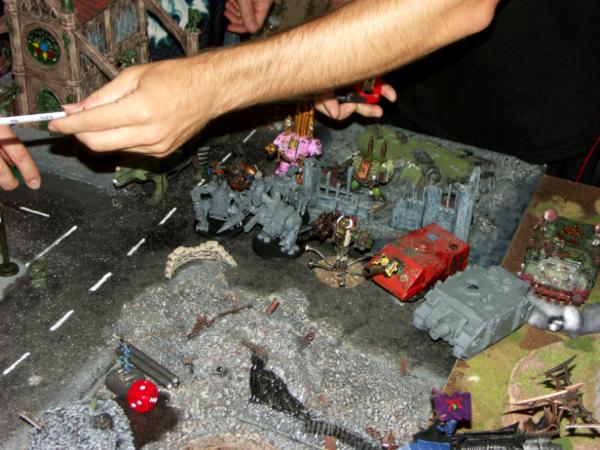 Here we see the Dread Mob and other things churning forward, this would be the core force for Team Xenos' push into the Imperial deployment zone. Also visible is my Archon's Raider, which is pulling a flat out flanking...um...well...redeployment to a point where it hopes it'll be ignored till there are some juicy
MEQ
targets to assault. In Apocalypse it's actually oddly easy to hide a unit that costs 300+ points.
A Wave of Wyches push forward as the core of the
DE
assault forces go to work. Lances and Splinter Cannons have chewed up the defenses on the Imperial right flank, and now the gladiator elite move in for the kill. Their targets are the remains of a Devestator squad, and one of the Blessed Hull Landraiders that didn't actually move any last turn (huzzah, auto hit haywires!)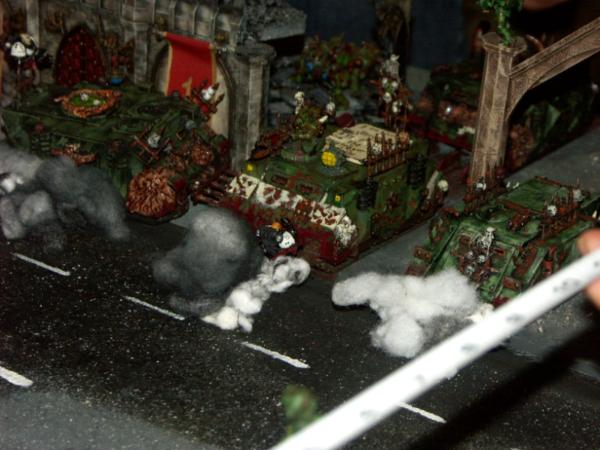 Toughness 5 guys with
FNP
and 3+ saves in metal boxes that are not held together with hope and week old bubblegum - they immediately pop smoke because, y'know, let's hope the enemy keeps shooting the Dark Eldar who are doing all the killing.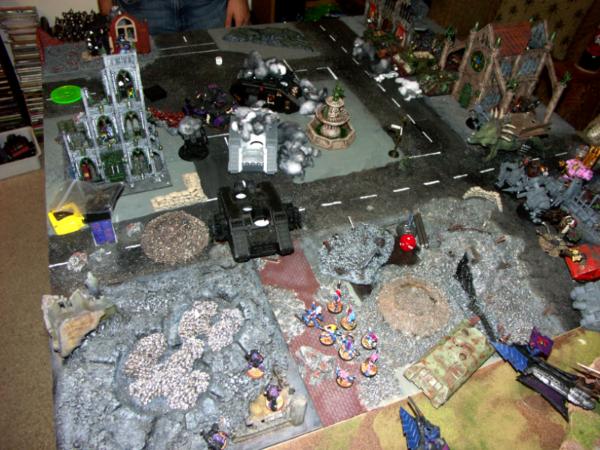 The Imperial forces are under pressure from all sides, can they hold out?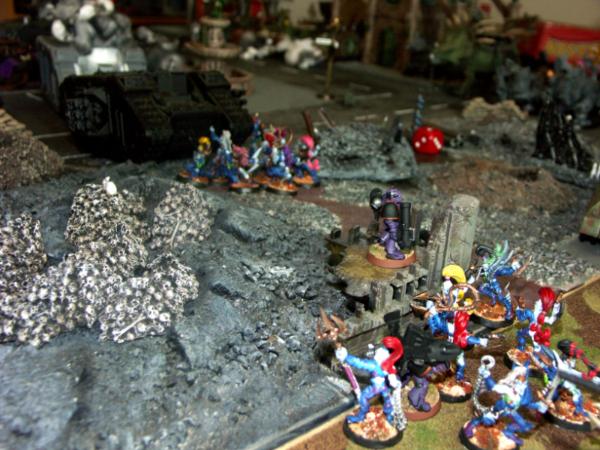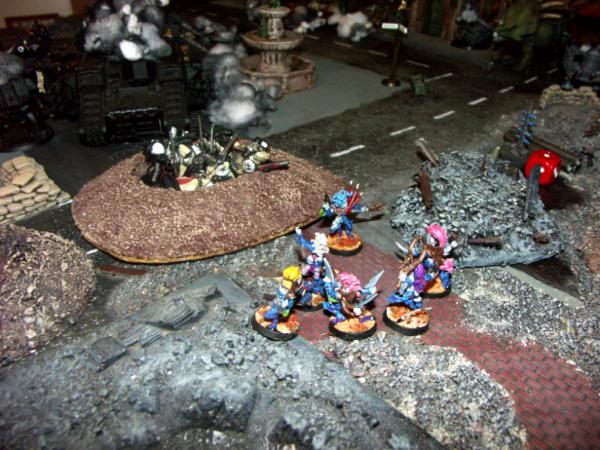 The pictures basically speak for themselves. Of course...now that one squad of Wyches is out in the open with nothing but a thong and a smile between them and some bolter rounds. That's also The Emperor's Champion's Landraider - and he is unamused.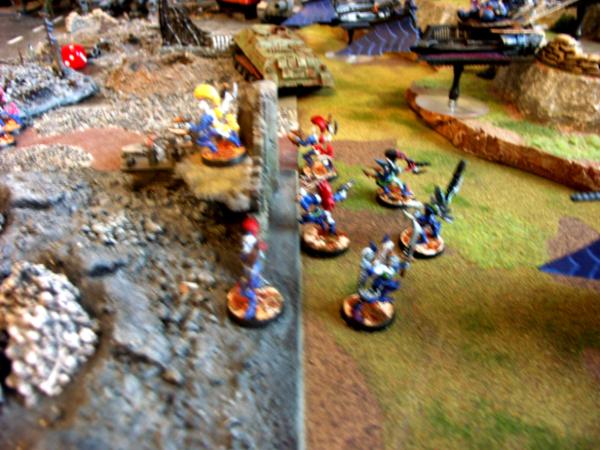 The Devastators proudly stand there while the Wyches make them look like chumps. Easy Pain Token.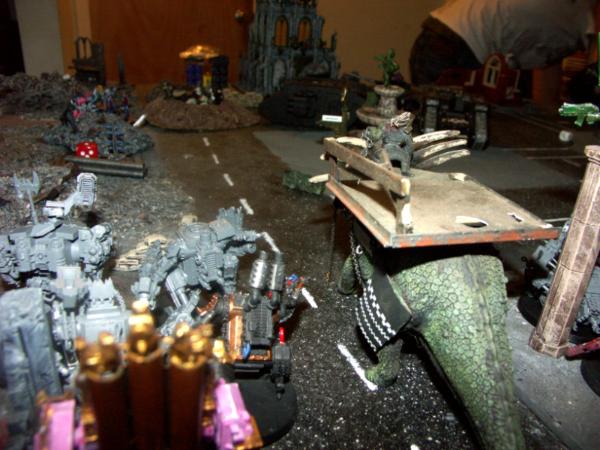 Squiggoth cam.
Turn 2 for Sphess Mahreenz!
A pile of Razorbacks and Landspeeders and even more Land Raiders (though at least not Blessed) roll onto the board. Also...Warhound Titan - egads. Team Imperial Pukes decides they're tired of being punching bags so it's time to deal some damage back.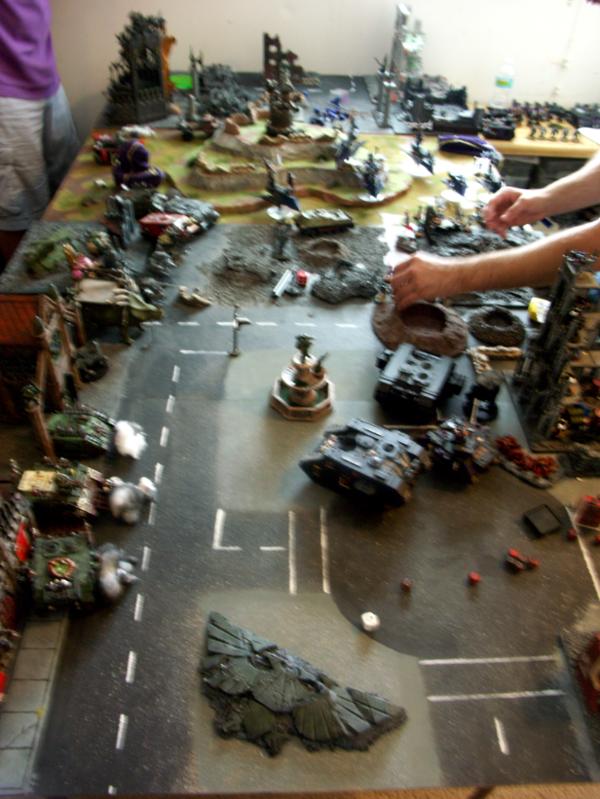 An overview of the board near the beginning of the movement phase.
The Death Guard stoically absorb a few shots lobbed in their direction as they continue their slow grind forward.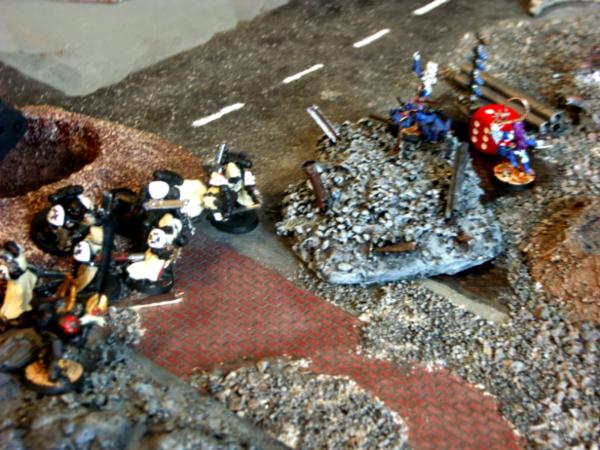 A few bolt pistols and the Wyches are all dead and also break and run for it - the Black Templar's only comment 'huh...I wanted to assault them too.'
When you shoot 8 Wyches in the open, usually Assault is never needed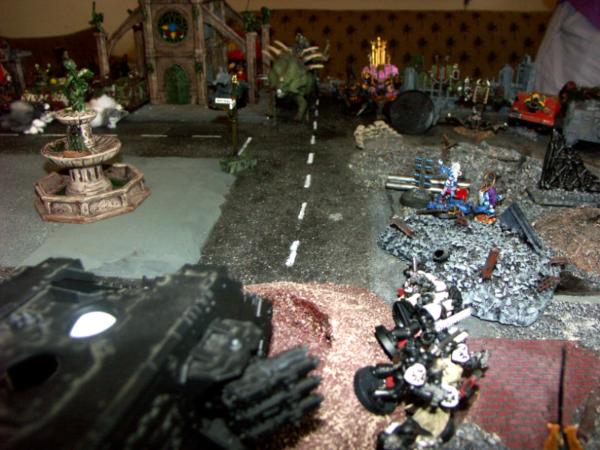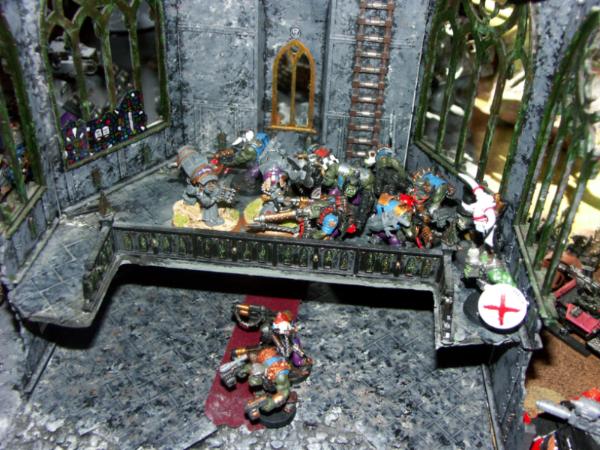 I wasn't over on the Ork part of the board often, but they took one on the chin courtesy of a pair of Landraiders packing Terminators. Here we see some Flash Gitz fighting a holding action versus the Marine advance - the Termies meanwhile were struggling to ascend to the roof of the building for the objective.
Turn 3 of the Xenos Coalition of Awesome Awesomeness
Everything left of our forces rolls in. For the
DE
it's another Warrior Raider, as well as 3 Ravagers and 3 Razorwings.
Chaos pulls out some Termicide, Oblits, and 3 Vindicators in Linebreaker Formation.
Orks probably have something roll out, but heck if I know what. Maybe they were all already out by this stage - the Ork lines were mostly out of sight and out of mind for me - I spent almost all of my time on Team Imperial's side of the board since that's where the bulk of my army was, while the Orks were actually holding our home objective...yeah, we planned that well, huh?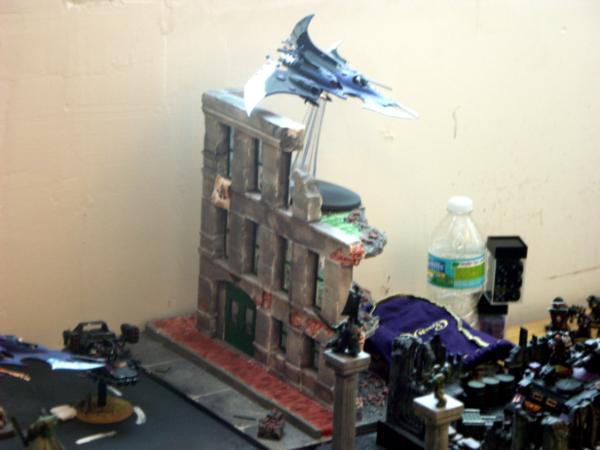 Razorwings sweep on looking for targets, in the lower left you can see my lance Razorwing eyeballing a Landspeeder, the Landspeeder will go bye-bye in short order.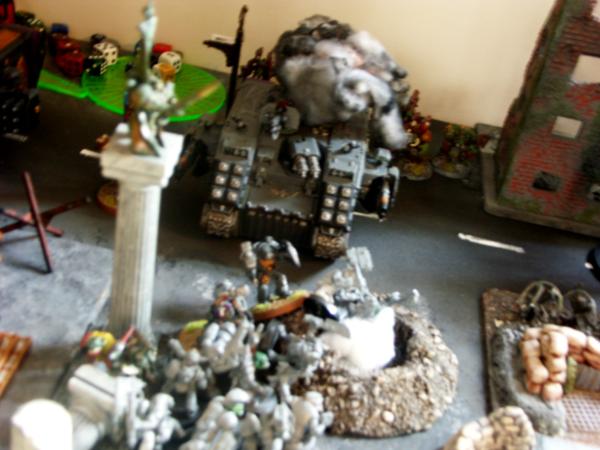 Termicide = bad news for Landraiders.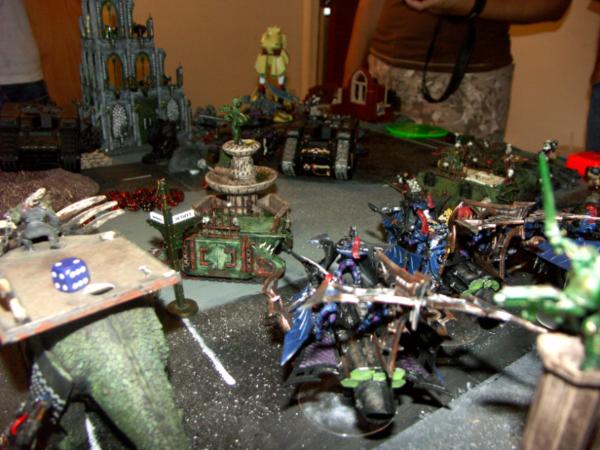 The Ravagers went toe-to-toe with the Warhound Titan in a shooting match - stripping away its Void Shields. The Termicide that ported in next to the Warhound took its big guns out of the equation for a round. This would be the extent of the damage we would manage to inflict on the Warhound. A strategic oversight to be certain.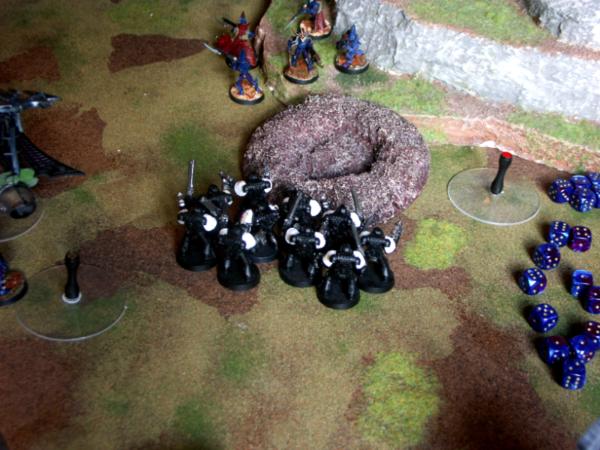 These Templars burst in last turn and beat down a Raider with their fists in true Black Templar style.
Also visible is a lone Trueborn who would survive till endgame just wandering around and shooting his Blaster - surviving a few explosions and a blast of a heavy flamer, and he actually was responsible for one vehicle kill and another assist.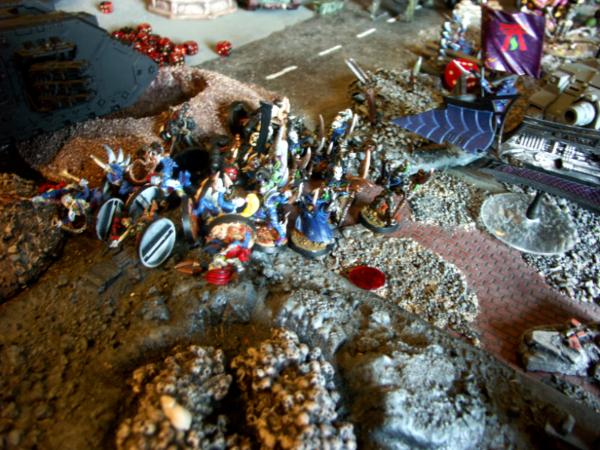 Emperor's Champion?
Meet 7 Incubi, a kitted Aggie packing Archon, oh, and 8 Wyches just for good measure.
The Templar are swept before they even get to their initiative step and pain tokens are passed out to the happy assault
DE
force.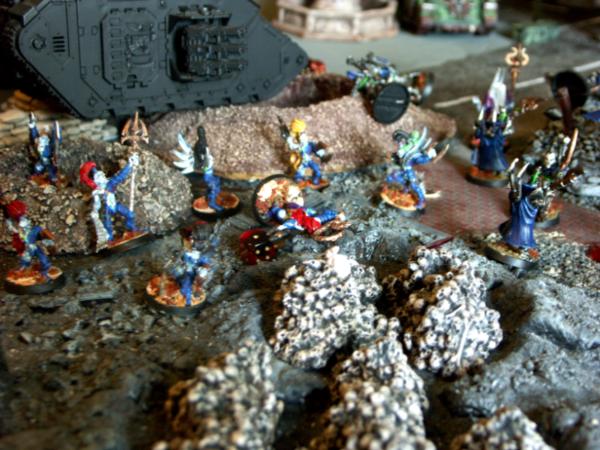 After the sweep we all scream "egads, templates!" and sort of spread out as best we're able to hug cover and hope that and
FNP
sees us through everything.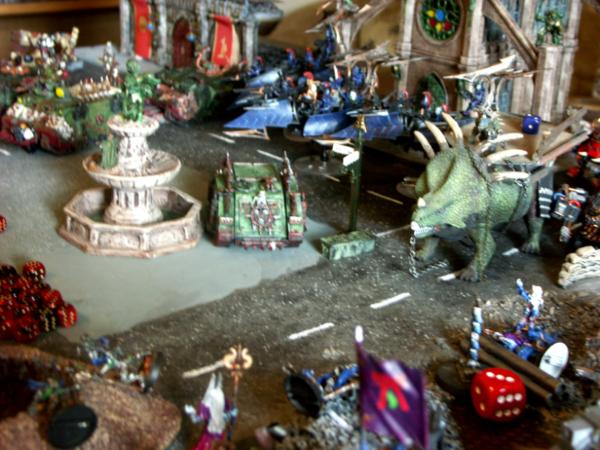 The Xenos push is at the core objective cluster on this board side, what could possibly push back a force such as this?
Turn 3 for the mewling men in metal boxes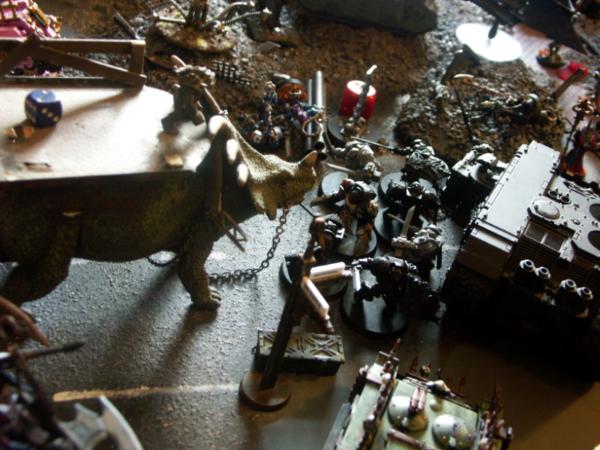 Oh, Hammanators...yeah, Hammarnators is probably what you need to push that back.
In any case, the final reserve surge features two Templar Landspeeders, and two Razorbacks and 3 Rhinos rolling on.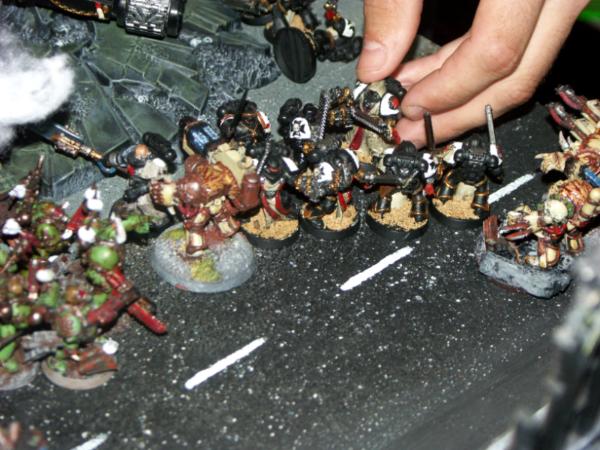 The Death Guard advance is slowed as vehicles fall and a swarm of Black Templar start assaulting and stomping everything they can get their hands on...like, let's say, those Oblits.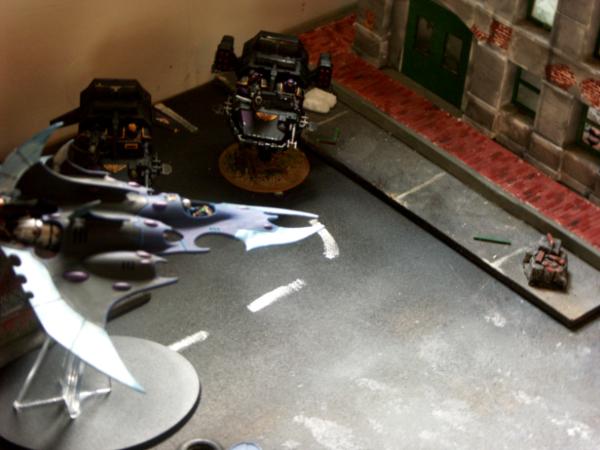 Landspeeders pop weapons off a Razorwing.
Also, the glare on this picture due to flash is doing wonders for my cruddy Razorwing paintjobs - that's sort of closer to the vision I had for them when I started...ah well.
The lone Trueborn is still kicking, and lots of metal boxes are rolling all up in the
DE
grill.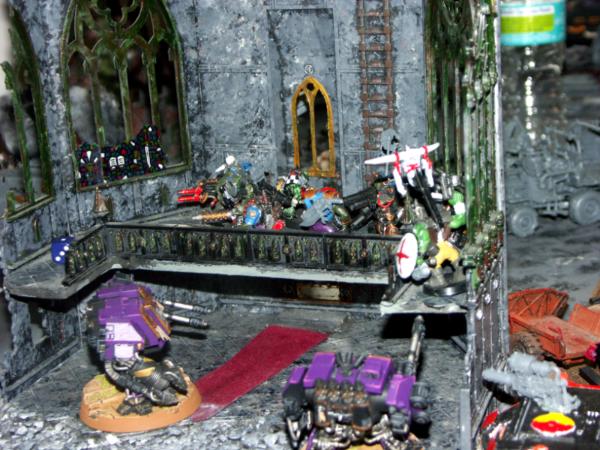 The Orks had stomped dem beakie Termies but propah!
Solution?
Send in two Dreadnaughts with heavy flamers and watch as team Xenos looks at the Ork player as he admits he didn't pack any Klaws in his squads. Yeah...good luck with that...
A Orbital Bombardment, and a pile of missiles is dropped on the 3 Ravagers. Good-bye Ravagers.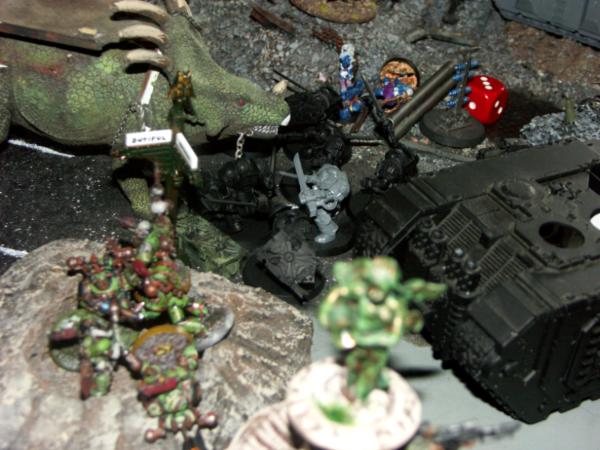 Thunderhammers that get to re-roll thanks to Preferred Enemy vs. Squiggoth...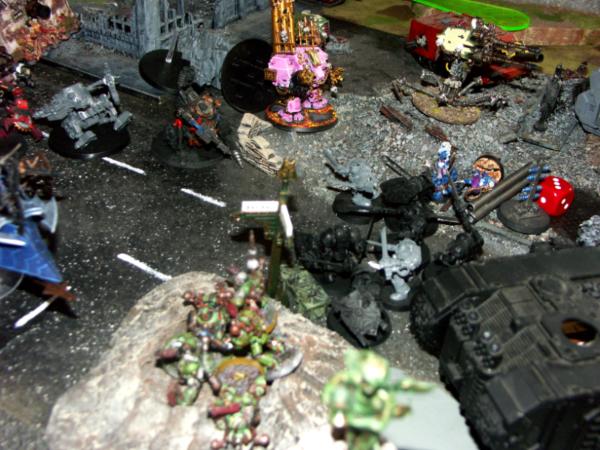 The Squiggoth gets pulped in short order.
Also visible the Death Guard holding an objective from their crater and hoping no one notices them.
Somewhere in there a Templar Dread I'd busted up with Lances assaulted the Wyches. The Wyches basically ripped him up and were unharmed, but were locked down from getting to the Imperial
HQ
- which would be important later since they were a Troop and thus scoring. Didn't anyone tell the Templar player that Wyches were supposed to tarpit Dreads, not the other way around?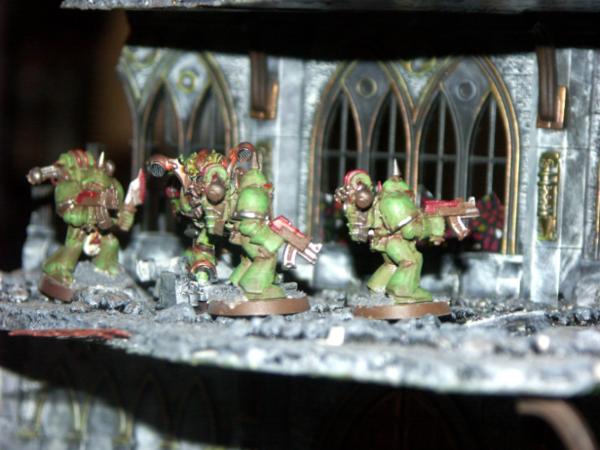 These Death Guard spent the whole game trying to climb up a ruin to kill some Devestators that were shooting up *my*
DE
forces. They never managed to get past the 2nd floor...much less to the 4th where the missiles were.
Turn 4...for both sides...it gets muddled and I took less concise pictures.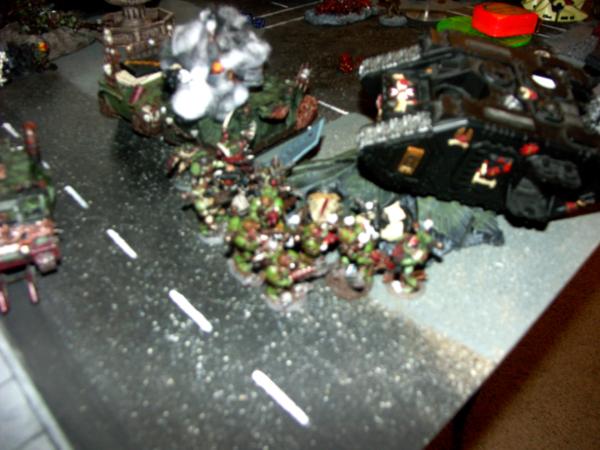 The Death Guard do stomp out the Templar, but the distraction is enough to basically grind them to a stop and not get into the heart of the Imperial position where we needed them.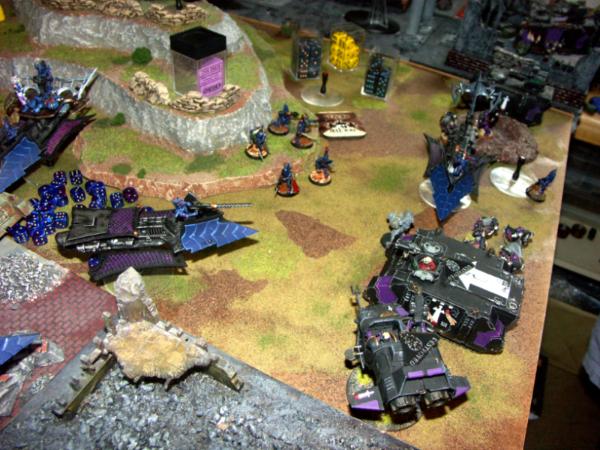 My Splinter Raid Force gets down to srz bizness!
Two Dead Razorbacks, a dead Rhino, a dead Landspeeder, half a dozen assorted dead Marines. It's a ruddy bloodbath in that table quarter as I claim an objective and try to kill everything I can.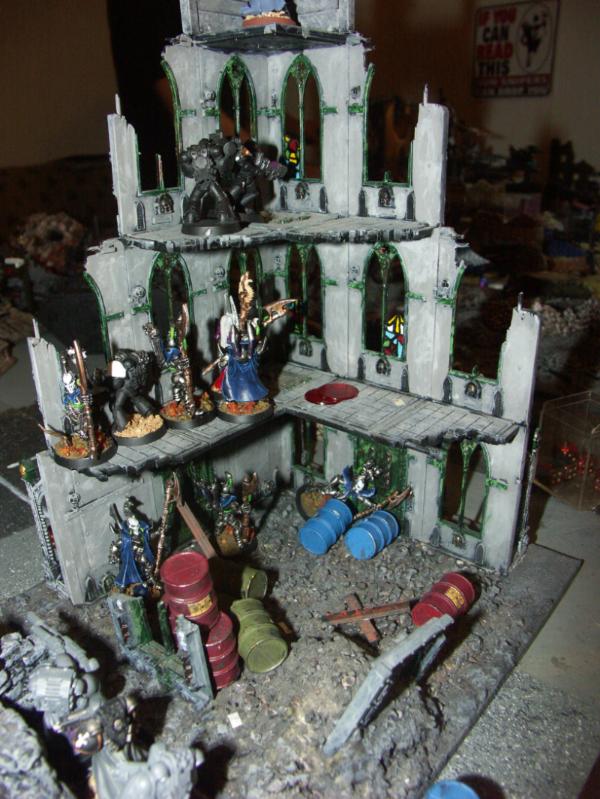 The Archon and his squad hoof it across the battlefield and storm the command building of the Imperial forces, killing more filthy Marines in an attempt to wrest the objective from them.
Okay, looks like I basically stopped snapping shots on the Imp's last turn. Here's the relevant points;
We were at;
Xenos - 3
Imperial - 0
We clarified that only Scoring units could contest in
Apoc
rules, I sorta argued that back in
Apoc
all infantry scored, but was told I was full of a thousand years of bitter grandpa energy at the age of five and was over-ruled (I'm taking this one to the Supreme Court

)

In any case, suddenly all of my contesting served no purpose, so we were now at;

Xenos held 4 points worth of objectives.

Imperial held 2

The Warhound (yeah, remember that jerk?) dropped a D blast on the Death Guard's heads, clearing them from the objective they held.

A...lot of missiles came at my scoring unit, wrecking their Raider and hitting me for 3 wounds, I went to ground and rolled 3+ cover saves and made...none.

But I rolled a 3 for leadership and held on the objective - like a boss.

The Orks ate a pair of Heavy Flamers, and the Nob was assaulted by a Dread and pulped into green mulch.

Xenos - 1

Imperial - 2

IMPERIAL LOSERS OF LOSERDOM WIN! (this time)

==========================

It was a really fun game. For me, my favorite moments were the invincible Trueborn w. Blaster, and my Archon and Incubi just eating through the Emperor's Champ and anything else that got in their way.

Also, I'm proud to say that I suspect my

DE

, by a solid margin, did the most damage to the Imperial forces. It was glorious to have hordes of Terminators, a Squiggoth, Vindicators, Oblits, et al on the table and when the Imps were talking they were both like 'man, we gotta get rid of these Dark Eldar - can you kill the Ravagers? I'll try to kill the Wyches." If I can't win, I'll accept mindless fear :twisted:

MVP for the Imps

- gotta be the Warhound. Team Xenos really didn't have enough functional firepower, or dedicated attention put into that thing. It was also quite pivotal in avoiding the tie, as I have little doubt that the Plague Marines going to ground in cover would not have been killed off by anything less than a D-Blast weapon.

WTF

for the Imps

- I'm not sure what really hurt them most emotionally. But I would say solid money might be for their Librarians. Because of my strategic assest they spent the fight on the far side of the board. Every single Invulnerable save that they did manage to make anyone re-roll...was still passed. Other than that they hid inside some vehicles. So...basically they didn't need to be there, and everything would have gone the same.

MVP for the Xenos

- A bit of a toss-up in my mind. For tooting my own horn, I'd say the Archon - between allowing the Splinter Raid formation, to stomping her way straight through everything that so much as blinked at her, she was an engine of death that never faced any opposition. The other big win though was the Dread Mob, they absorbed a *ton* of shots which could have otherwise been hurting the rest of our more fragile forces, and the Mob also did a good job busting up a Blessed Landraider and also dealing with the Hammanators (which I'll admit my Archon happily walked away from)

WTF

for the Xenos

- The Linbreaker Vindies. Seriously. They didn't roll on till Turn 3. Then didn't shoot that turn because they were out of position. Then shot Turn 4 and did absolutely nothing to anything. I'm pretty sure they cost a lot too. I'd have rather had that many points of more Temricide or something, the Terms did some solid work for our side, the Vindies just kind of clogged up our deployment zone.

Automatically Appended Next Post:

And, yeah, I put it in the wrong forum - my bad, already submitted a begging request to mods to save me from my own stupidity.

Derp - posting at 1am makes Thor brilliant!