Howdy everyone.
While I also have
IG
, the amount of time it would take to paint up a full 1500 points with what I have has led me to redo my first army (because I got it cheap), ye olde Space Marines.
I had a run almost a decade ago where I had a lot of difficulty getting moving along on the painting, which ended in a short lived paint scheme for my Space Cows that I was able to complete for a tourney shortly before I put the game on hold and did other things. I found out shortly after that the reason that I got a headache each time I painted was because of a combination of attempting perfection and needing some glasses as I was straining to look at the fine details.
So this was my crappy attempt at a cohesive force back then, themed the Space Cows because the other players liked to complain that
SM
were cheese, so what better to bring the cheese than cows.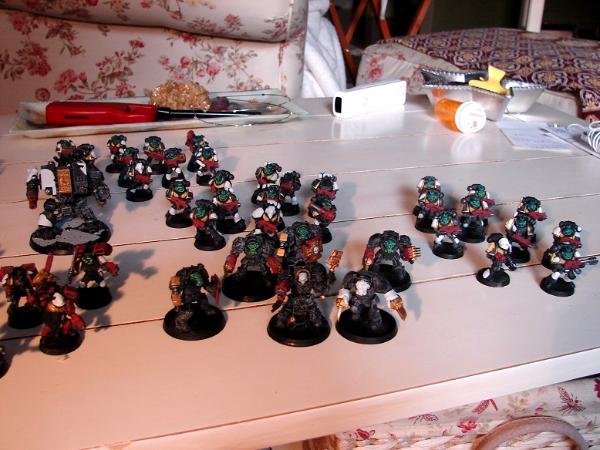 Ok, goats were an option too but they don't have the iconic black and white look.
So since that horrible first attempt, I've stripped the infantry, I sold off the
CC
Termies and picked up some other bits. I started painting the infantry that was in the best shape after stripping, the Black Reach squad with a stand in bolter squad leader and then some new
DV
models. I have some more models ready to go once I perfect my paint stripping skills to get the last of the primer down to a reasonable level. My new approach is to to the squads mainly in red and bronze, with the vehicles carrying the black and white dairy theme.
So I present Space Cows v2
The dreads will follow the same theme as the old cows, although at some point I plan on adding horns and maybe udders or truck nuts. I have not yet updated what I call Fat Joe (he leans back) who was a shelter rescue. I may or may not strip him and start over at some point, but leaving him alone matches the new theme. He is the one in the middle.
I am painting up the
MM
/
CC
from
AoBR
arms, but I plan on making Rifleman arms for all of my Dreads eventually. The third has a couple of left arms to show the effect.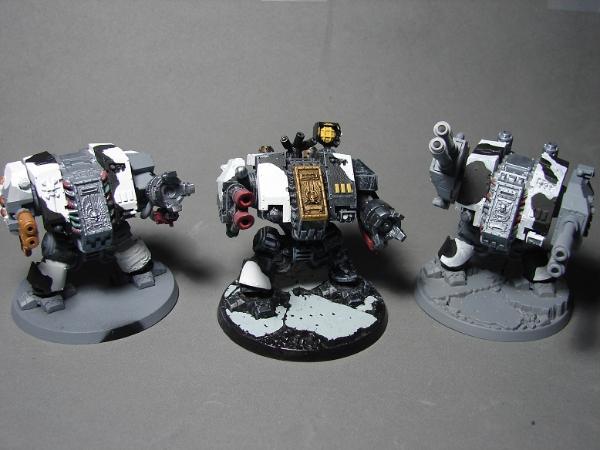 Then I have a mishmash of Rhino Chassis, the Predator turret was glued by the same kid that made Fat Joe so I converted it from a Baal to a Predator with
AC
and put the Stormbolter as a coax. The
ML
is magnetized as a hunter-killer and I'll be making magnetized lascannon and
HB
sponsons. The Whirlwind is unchanged, but I'm making a Rhino roof for it and may end up making it modular as a Predator as well at some point. I also have an unpainted Rhino Chassis that is in good shape around here somewhere.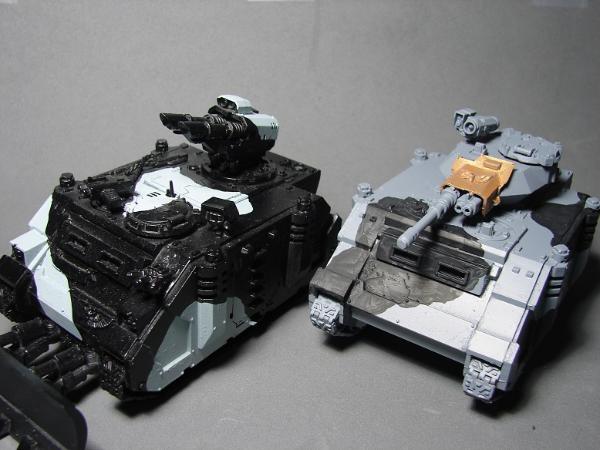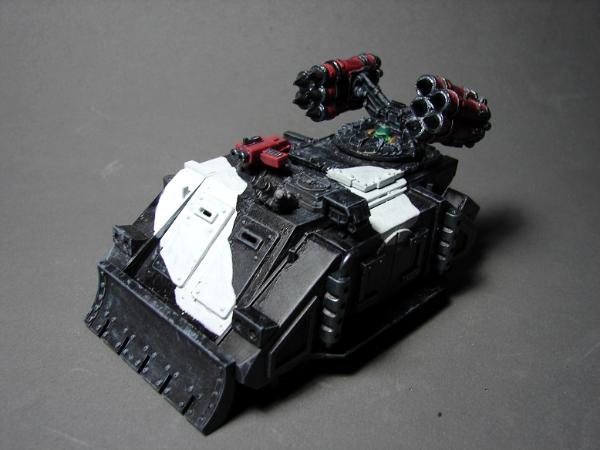 As noted above, I have the
AoBR
squad and the
DV
squads. I'll post up the rest as I get them fully stripped and painted.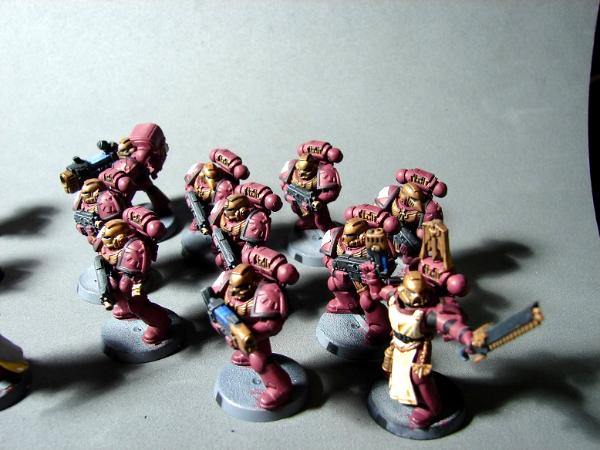 I was using the
AoBR
squad leader as a captain until I converted and painted up the actual captain. Go go cow shoulder!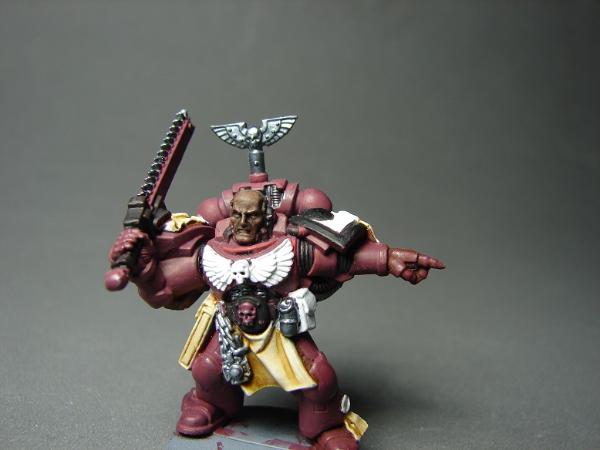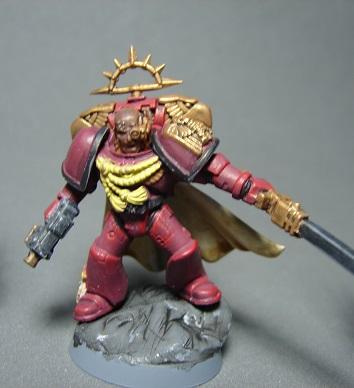 Then we have some Terminators, because I have them, thats why. I left these alone, but I have five others who I did magnetize the arms of that I will paint up eventually.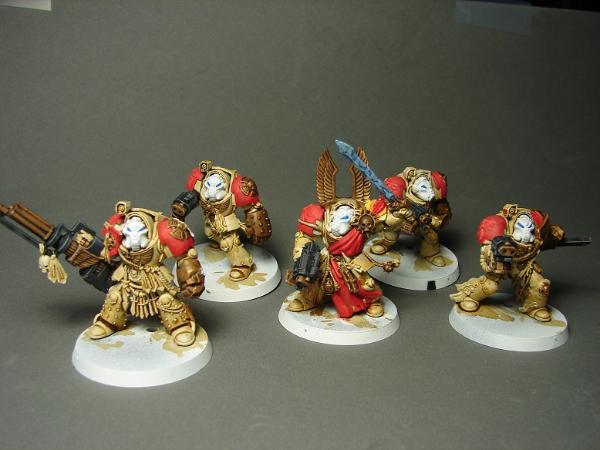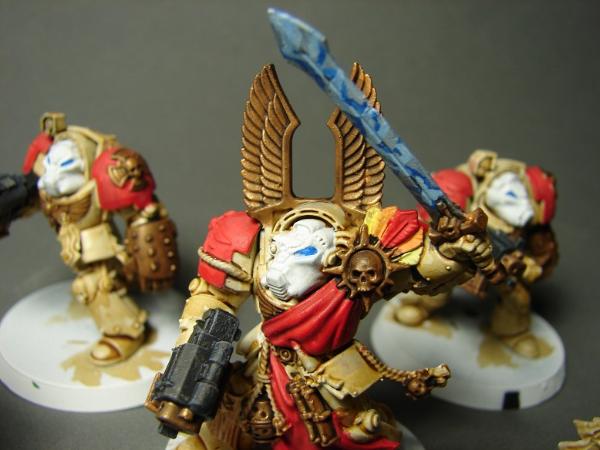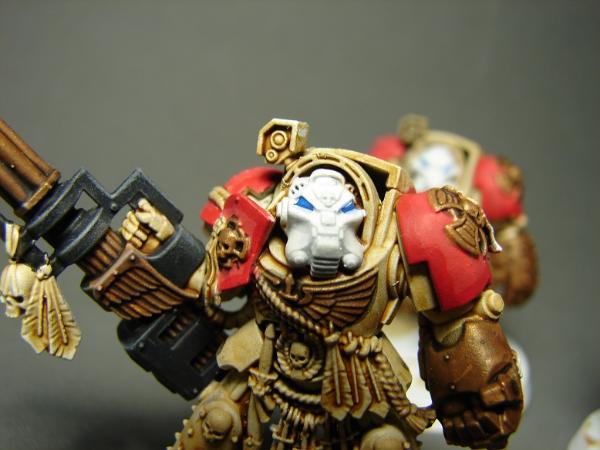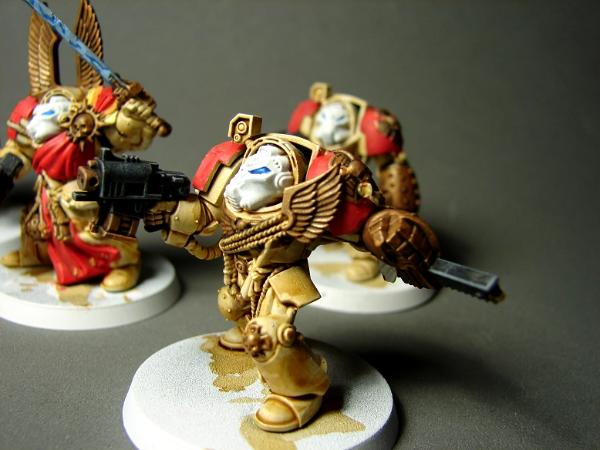 Have I mentioned the
DV
models? Here's some
WIP
bikes with all the wings cut off. I tried to shave the Dark Angels shoulder pad on mr. purple robes as the test, but I clearly don't have that skill yet which is why I left it on the rest.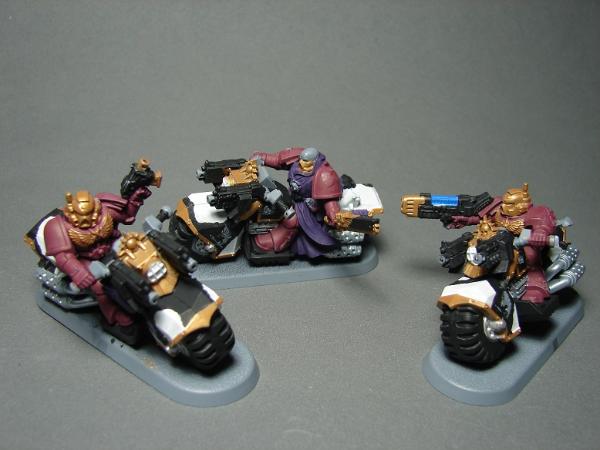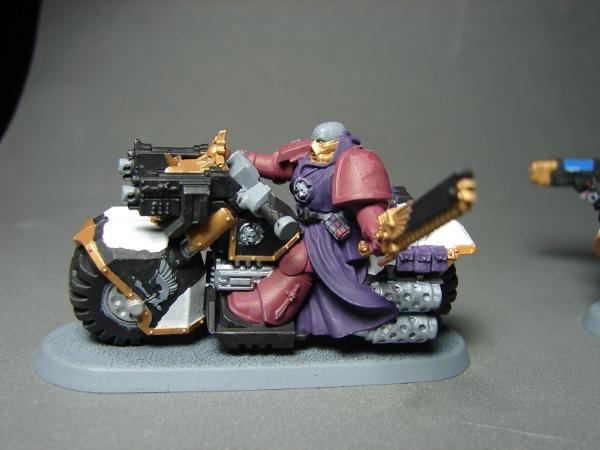 Now for some other stuff. I am in the process of magnetizing the bases for easier transport, here you can see the Termies are held to my metal sheet even when the tackle box is held sideways. I will probably need some stronger magnets for the larger vehicle, and I will eventually remove one of the shelves and magnetize the top layer for more infantry up top.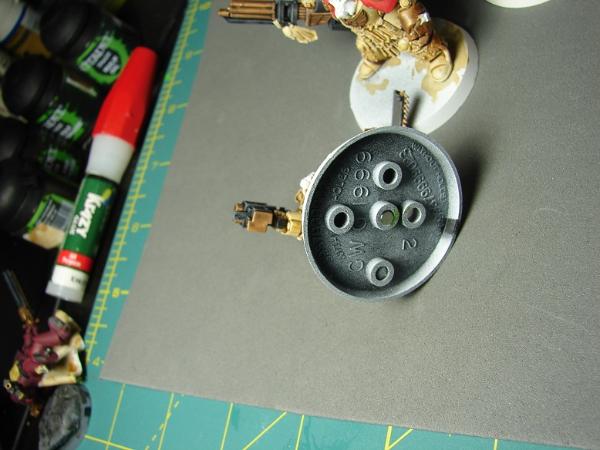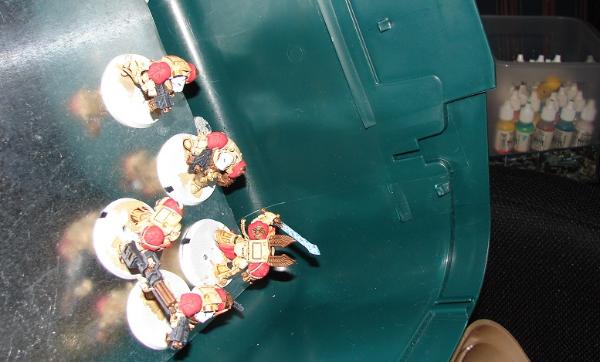 And here's some random in progress or finished models. The black armor was a test case for a different scheme that I didn't like before I settled on the red and Bronze. I did not paint the psyker from
DV
, that was a friend that I recently introduced to the hobby who is already a far better painter than I.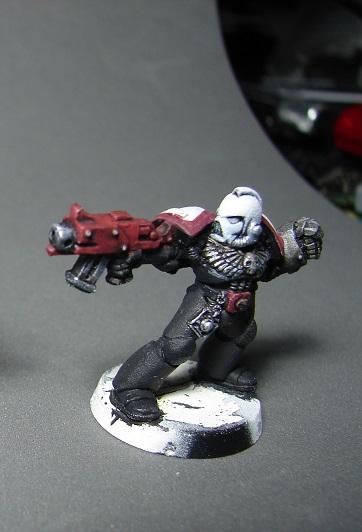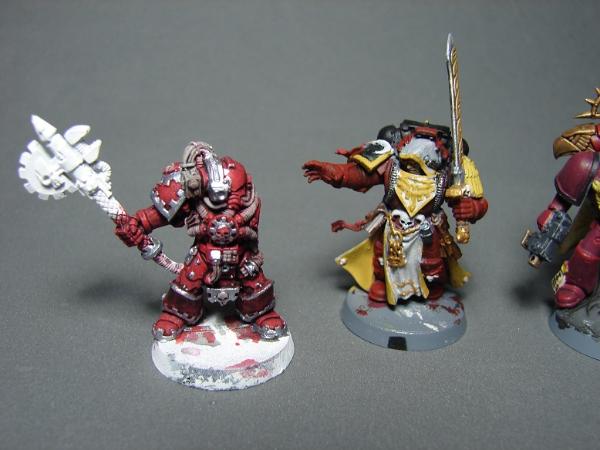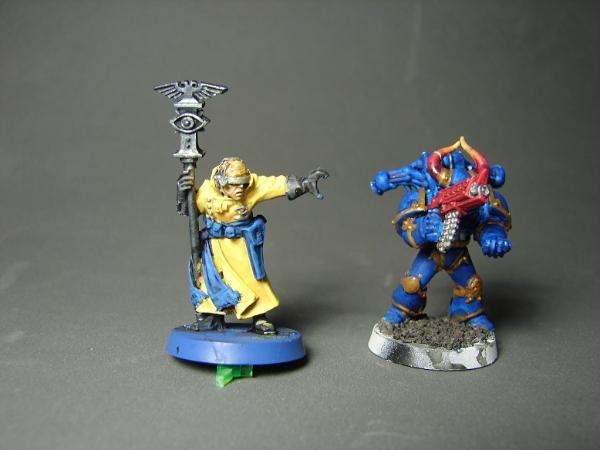 Upcoming in future posts, finishing the models already started, maybe expanding the Space Cows, and my initial models for Imperial Guard or whatever they are called nowadays. Or maybe some terrain, I'm still trying to decide what to work on after/before I get the touch ups done.