Yorkright wrote: Stripes on aeronautica planes look good, I have no idea who Gronk and Stern are but I like those too.
Thanks! Wulf is a mutant bounty hunter, the Gronk is an alien with a weak heart who helps the Stronts (medics, occasional eaters of metal). Wulf wears Gronk's brother's pelt to honour him. Not at all weird

Don Qui Hotep wrote:Great job on the AI! Great control on the stripes; did you use any tape or similar to block them out? Regardless it's hella impressive.
I did, I used tamiya hobby tape. Many thanks

aku-chan wrote:Woohoo! Kite-man! Awesome stuff.
Yeah! Kite-Man!

Definitely feeling a 2000AD vibe just now, so - rather unusually these days - here's a
WIP
of what I've been up to: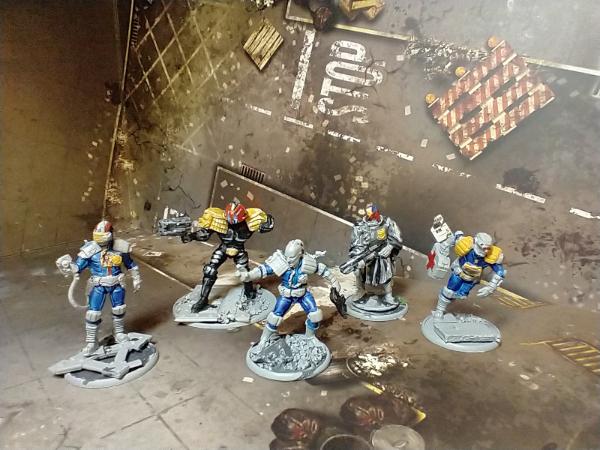 Specialist Judges for Dredd. The Mechanismo (robot judge) is almost done, the judges obviously less so as apart from anything else they all need the green (I think I
OD
'd on green the other day

) My stuff's been getting featured on the Warlord Insta, so feeling very positive about painting generally
atm
. Also, I've been building mod-pods for Brutal Cities: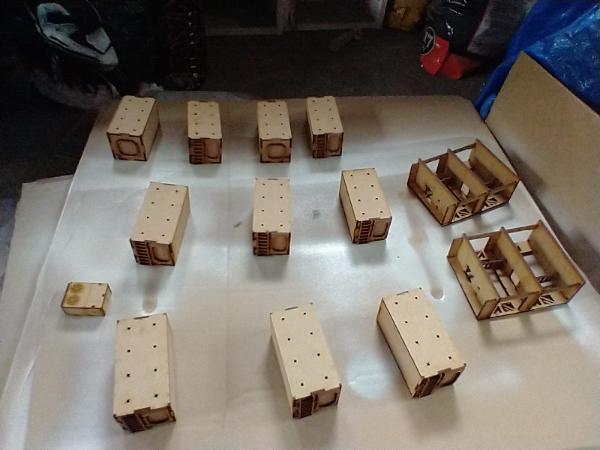 There's a dozen of these bad boys, plus two scaffolding sections and a LOT of connectors

I'm really looking forward to having them dotted about various battlefields; they might actually be my favourite set of the lot. A single pod takes about 4 minutes to build, just to make sure it's all glued together. I've also added some bits from the
AC
unit set and Greebling set (great kits, dirt cheap) to have a little - but not too much - variety.
Looking forward to more nonsense,
Graven