Mantis Maker Challenge Final Results!
Before I go any further, I just want to say to each of the contestants how honored and humbled I am by your participation. No matter what your scores are, if you're elated or disappointed... you're all aces in my eyes. Every last one of you. You took my private passion and made it your own for a bit, and for that... I will be forever grateful. This last month has been so inspiring for me. Thank you!
I'm going to post the results in the original order of the
OP
, with the big reveal at the end (for those not keeping score along the way). The scores listed here will be aggregates of all three judge's marks. Detailed scoring and commentary will be provided individually through
PM
to each contestant. I can't thank the judges enough for all their work. Judging a competition is hard enough, but to give each contestant meaningful commentary as well is an amazing amount of effort to undertake. Thanks guys, I'm in your debt. The judges will remain anonymous, however they're free to make themselves known if they so desire.
As a reminder, here were the judging creiteria that I provided to the judges. They were not required to use the entire matrix, but they were required to give a score for each main category.
Build (100 pts)
- quality of build (i.e. neatness) (20 pts)
- adherence to theme (20 pts)
- conversions/kitbashing (30 pts)
- pose (30 pts)

Painting (100 pts)
- neatness (25 pts)
- use of advanced techniques (25 pts)
- overall effect (50 pts)

Basing (50 pts)
- theme/appropriateness to figure (10 pts)
- build/customization (10 pts)
- painting (10 pts)
- overall effect with figure (20 pts)

There will be 20-30 extra points for the judges to use at their discretion for "the unexpected", humor, etc., i.e. whatever floats their boat.
inmygravenimage
Brother Nero, Wrath of the Endymion, Stalker in the Shadows, versus Trankillus the Corsair.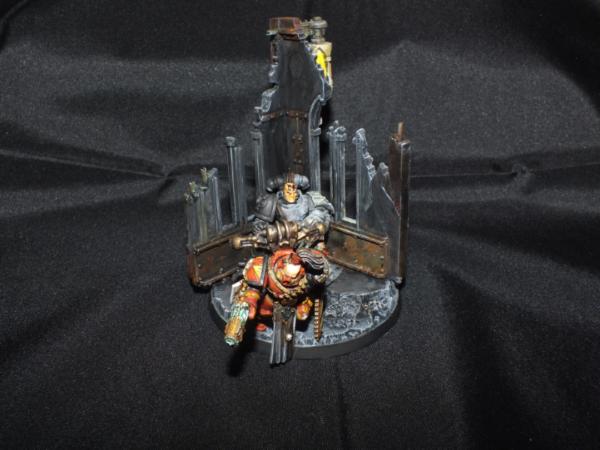 Aggregate Scores:
Build: 220
Painting: 180
Basing: 133
Bonus: 20
Total: 553 points
Yellowbeard
Brother Kamakiri: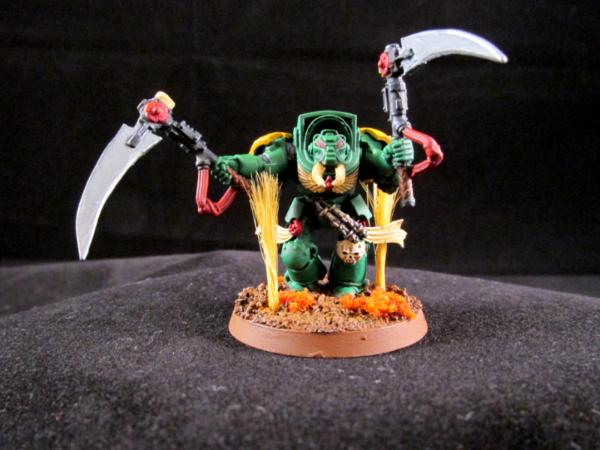 Aggregate Scores:
Build: 225
Painting: 180
Basing: 92
Bonus: 5
Total: 497 points
Snrub
++Honoured Lord,
The following attached picts (cleaned and edited for your perusal), taken shortly before the conclusion of the Badab war, show an unidentified chaos marine. All chapter heraldry and unit markings have been scraped off so true identification will be close to impossible. However due to weapon and armour patterns I highly suspect that the traitor in question is veteran sergeant Rathis (now known as "Rathis Headtaker") formally of the Mantis Warriors chapter. After turning traitor Rathis is known to have killed dozens of Imperial soldiers and at least 18 other marines in close combat during the Badab war, 3 of which were his erstwhile squadmates, before he seemingly vanished. Rathis and his veteran squad were one of the Mantis Warriors foremost recon squads and as such Rathis is a consumate ambusher and under no circumstances should he be underestermated.
I will contact you again when i have more information. Snrubarius out.++[/color]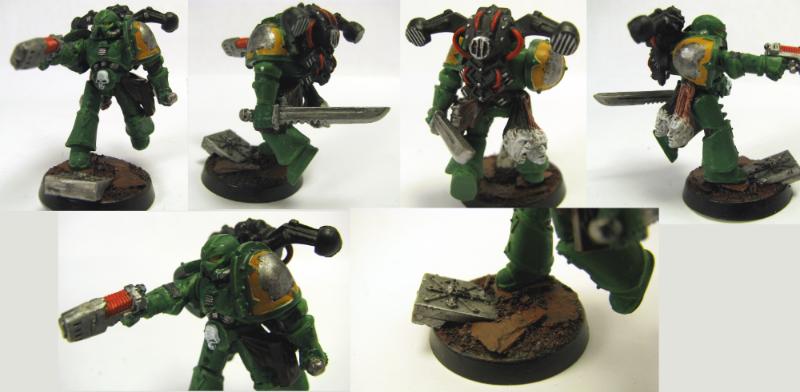 Aggregate Scores:
Build: 182
Painting: 141
Basing: 75
Bonus: 5
Total: 403 points
GiraffeX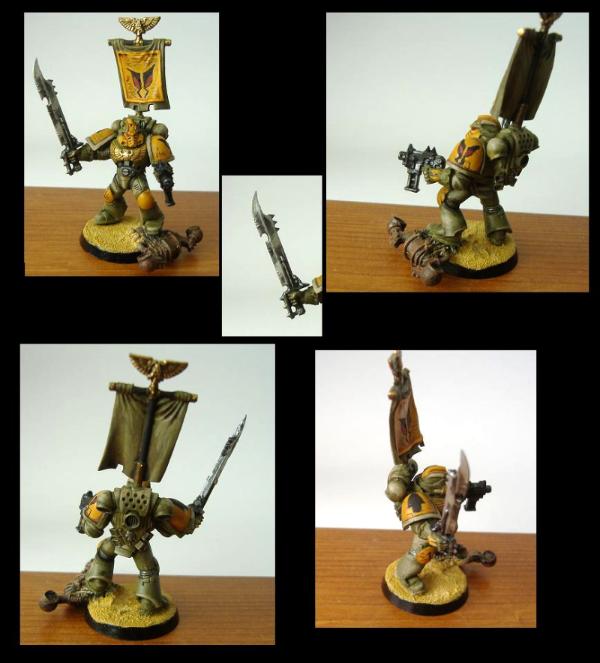 Aggregate Scores:
Build: 231
Painting: 244
Basing: 81
Bonus: 30
Total: 586 points
Hive Fleet Lazarus
My finished entry,
Enemy of my Enemy
When is a Red Corsair not the mortal enemy of a Mantis Warrior?
When there's a horde of Genestealers bearing down on you and no one else to watch your back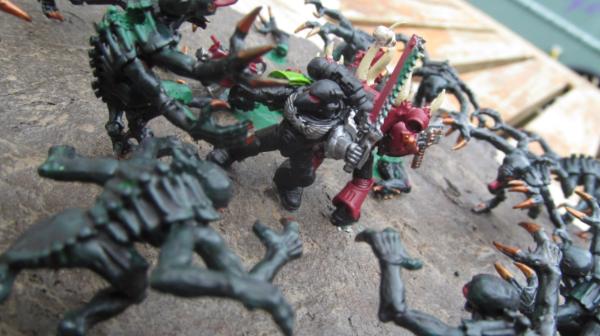 Aggregate Scores:
Build: 150
Painting: 87
Basing: 79
Bonus: 15
Total: 331 points
Matt.Kingsley
I present to you, honoured Veteran Sergeant Lazran: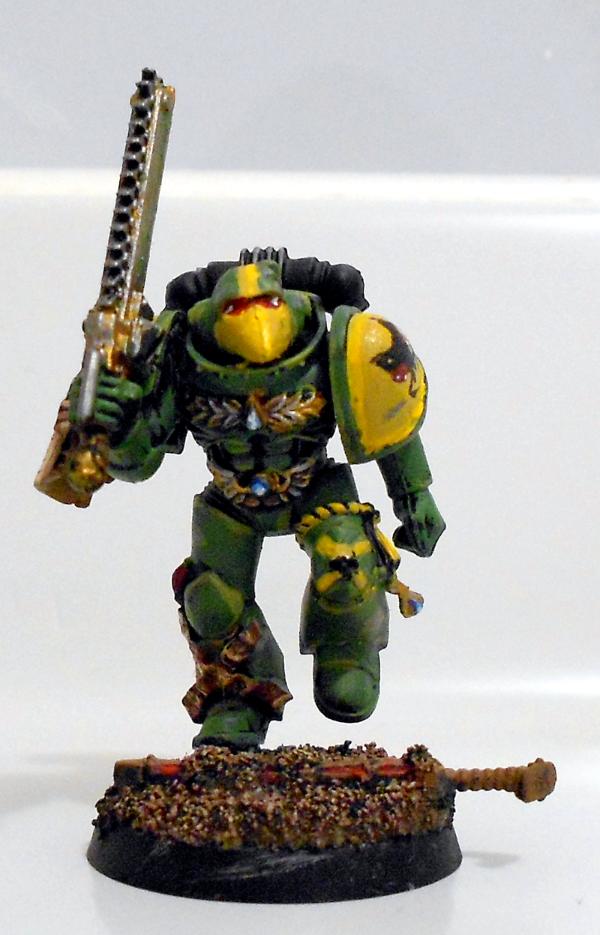 Aggregate Scores:
Build: 195
Painting: 135
Basing: 65
Bonus: 5
Total: 400 points
SelvaggioSaky
Brother Ahoky.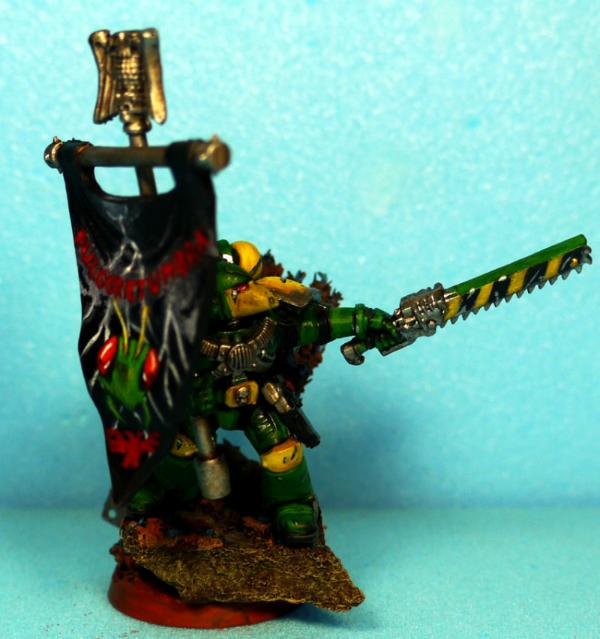 Aggregate Scores:
Build: 231
Painting: 225
Basing: 77
Bonus: 15
Total: 548 points
Ovion
The Mantis Prince Cornatus
A Mastery Level 3, Winged Daemon Prince of Tzeentch in Power Armour, with Ichor Blood, the Gift of Mutation, a Spell Familiar and holding the Scrolls of Magnus. (370pts)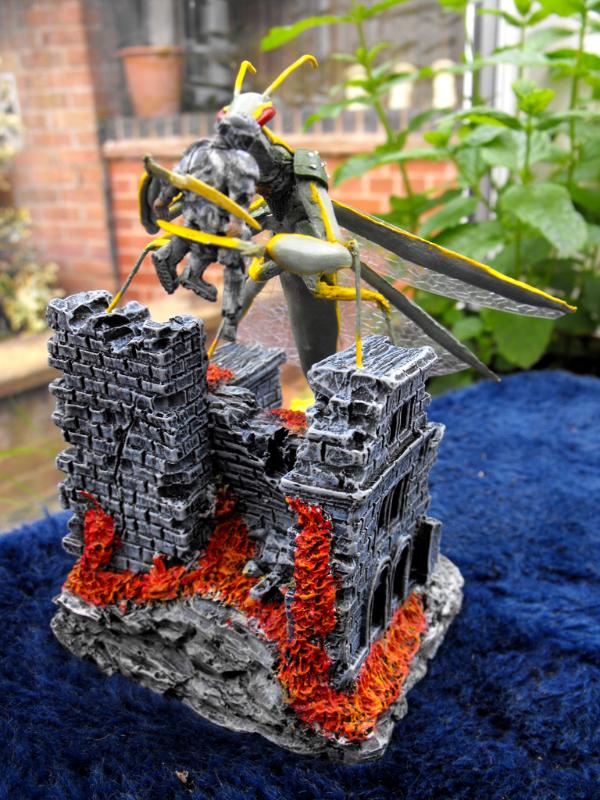 Aggregate Scores:
Build: 255
Painting: 105
Basing: 90
Bonus: 20
Total: 470 points
Nerdfest09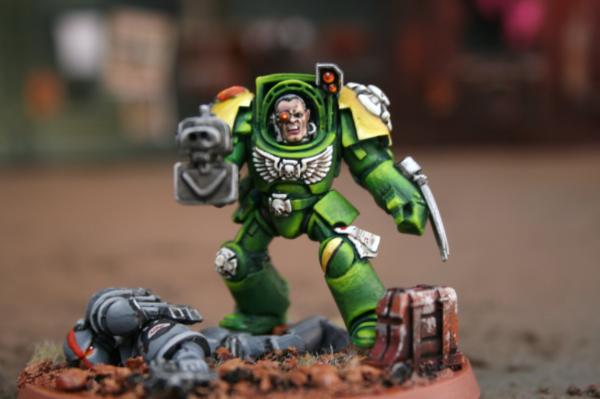 Aggregate Scores:
Build: 248
Painting: 269
Basing: 133
Bonus: 40
Total: 690 points
Solar_lion
At the end of the hundred year crusade The Mantis Warriors sought out the their once former allies the Astral Claws. Taking their revenge in their new form. A Red Corsair Hellbrute.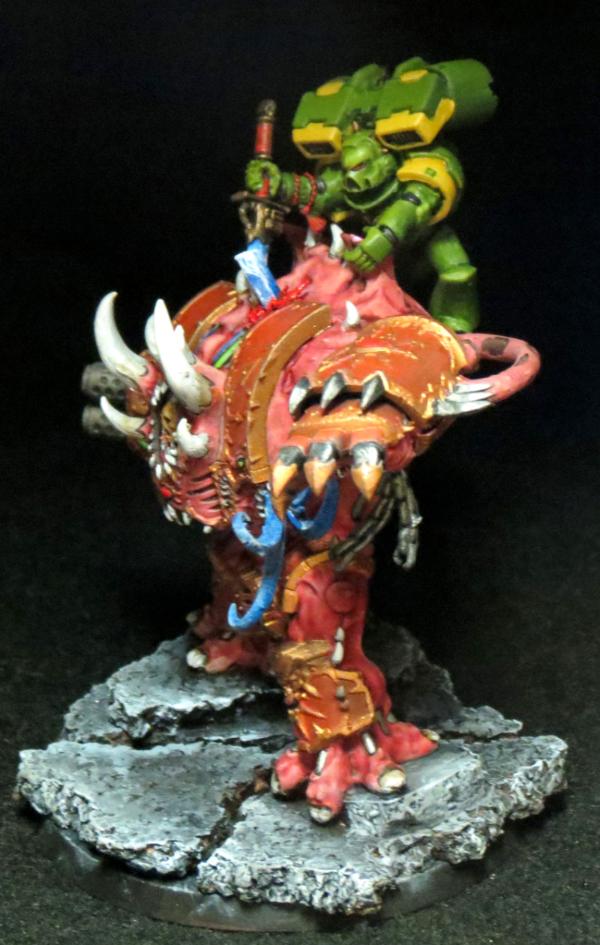 Aggregate Scores:
Build: 216
Painting: 191
Basing: 73
Bonus: 7
Total: 487 points
Ice Angel & Steve
The idea is that near the end of the Mantis Warriors 100 year crusade they were tested and examined by the Inquisition to make sure they were still loyal and pure. This scene is depicting one of those meetings. The inquisitor and his assistant are standing before all that remains of one of the Mantis Warriors Companies.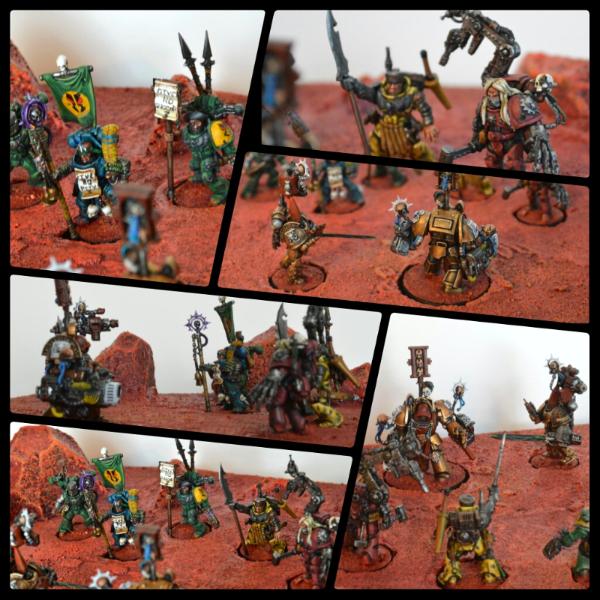 Aggregate Scores:
Build: 280
Painting: 213
Basing: 120
Bonus: 25
Total: 638 points
Commander Cain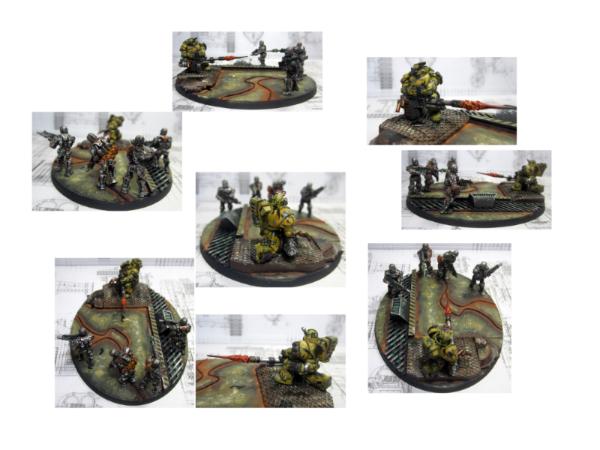 Aggregate Scores:
Build: 255
Painting: 218
Basing: 130
Bonus: 5
Total: 608 points
Congratulations everyone, job well done!!
Bear with me now... as I have a situation to sort out... It was pointed out to me by one of the judges (before the judging actually began) that the original rules for the contest imply that each entry be completed by a single person alone, and we had one entry by a team. He was right... not only in the wording but in my intent as well. It isn't fair to make individuals compete directly against a team unless teaming up is proposed as a possibility in the original rules. HOWEVER (sit down... stop yelling at your computer and calling me names)... neither am I such a consummate d-bag that I'm going to exclude a fine entry by people who were participating mainly to show their support and friendship for me (and they did such a damn fine job that I had to come up with a plan B). Keep your socks on, I've got it sorted.
In pondering things like prizes and trophies, it seemed to me that the winners of this competition would be proving exactly how good they were at painting Mantis Warriors. Perhaps, I thought... an appropriate prize would be something that they could practice their new-found skills on? Thus I set about building 3 custom Mantis Warrior figures to celebrate the achievements of the winners and in the hopes that they would continue to practice their craft at least one more time. (P.S. If you're sick of painting Mantis Warriors and just want me to paint it bronze, silver or gold & make a little trophy out of it... I can do that too!) OH, and Mrs. 'Splitta is making cooking of course. One tin each for the winners!
So, without further delay... the winners of the Mantis Maker Competition... 2013 edition!
The
Bronze (Heavy) Medal
goes to
Giraffex
for his
IA
-style Mantis Warrior with a total of 586 points!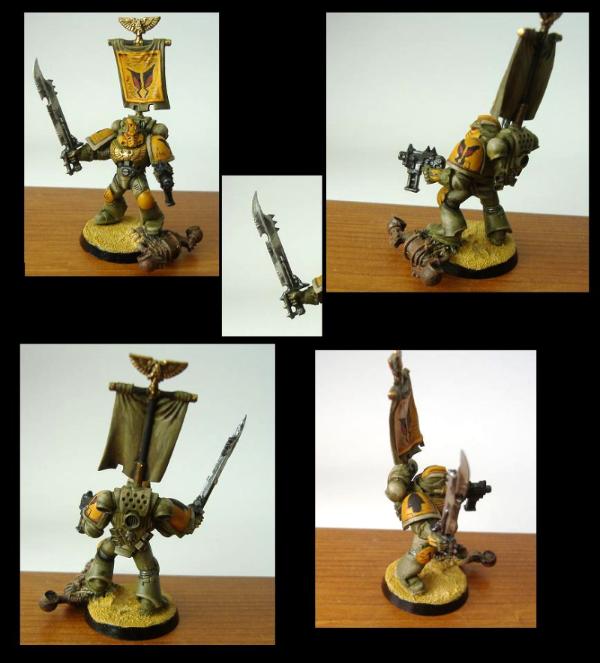 Gir wins a custom built, Badab-era Sternguard so he can practice his yellows!!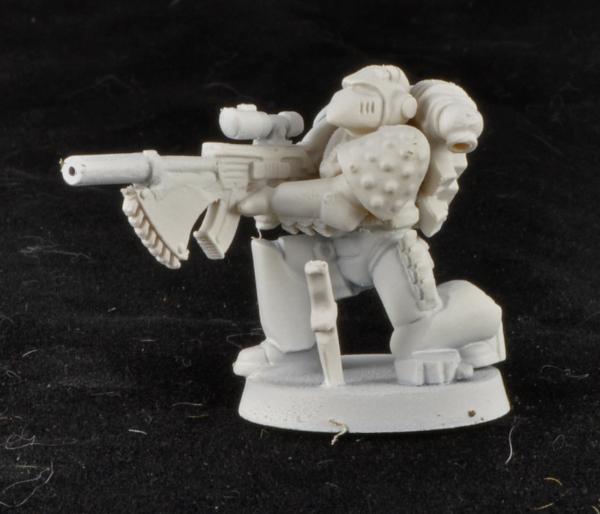 The
Silver (Heavy) Medal
goes to
Commander Cain
for his awesome robot slaying Mantis Warrior with a total of 608 points!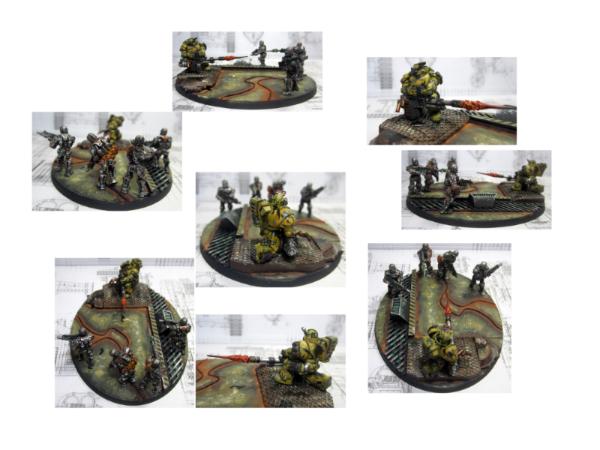 CC
wins a custom built post-crusade Vanguard marine so he can come to really and truly appreciate my building skills and thank God that
HE
doesn't have to build these things! This figure made possible by BLACKHAND and his awesome sculpting skills and the good folks at Chapterhouse for the shoulder pad.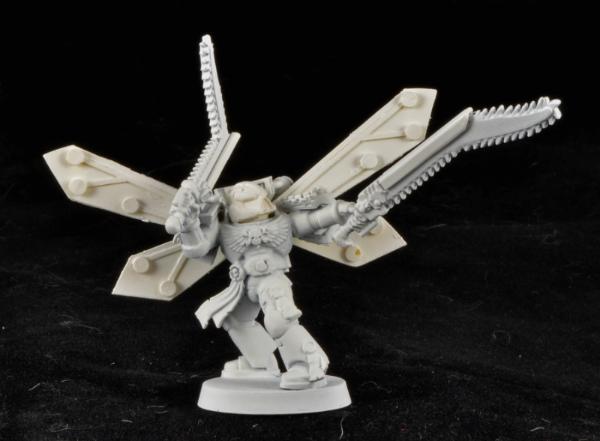 The
Gold (Heavy) Medal
goes to none other than
Nerdfest09
for his outstanding Mantis Warrior Terminator with a grand total of 690 points!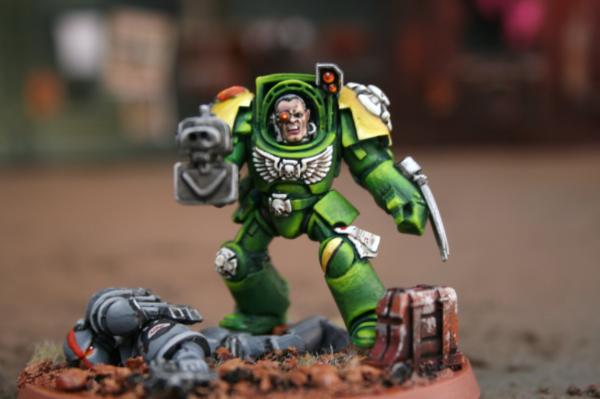 Nerdy wins the first and only... post crusade Gitsplitta Mantis Warrior Terminator in existence! This model foreshadows things to come and there's no one I'd rather see it go to than the winner of this competition. Also brought to you with the help of BLACKHAND and Chapterhouse. Fantastic job Damo, you really set the bar high.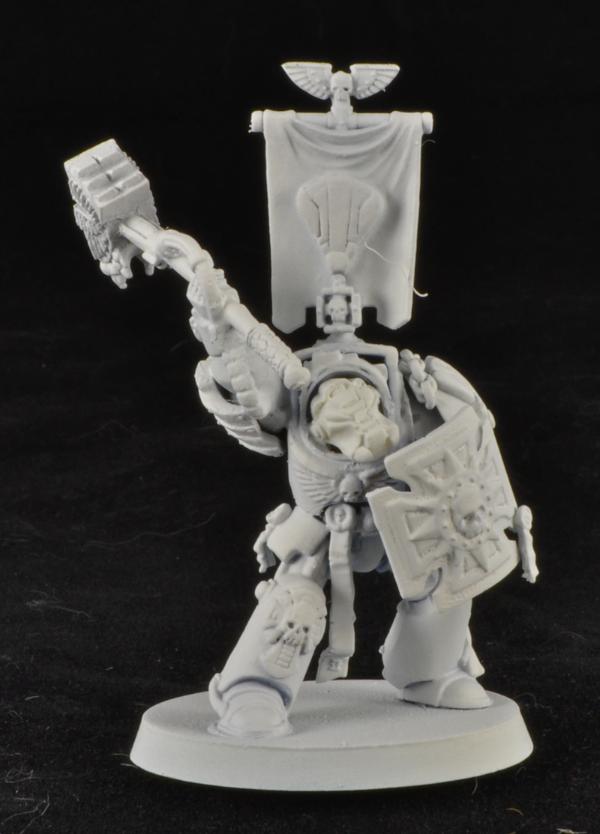 "But what about our intrepid brothers-in-arms?"
you say...
"What justice awaits Ice Angel and Steve after creating this masterpiece and earning a whopping 638 points??!!"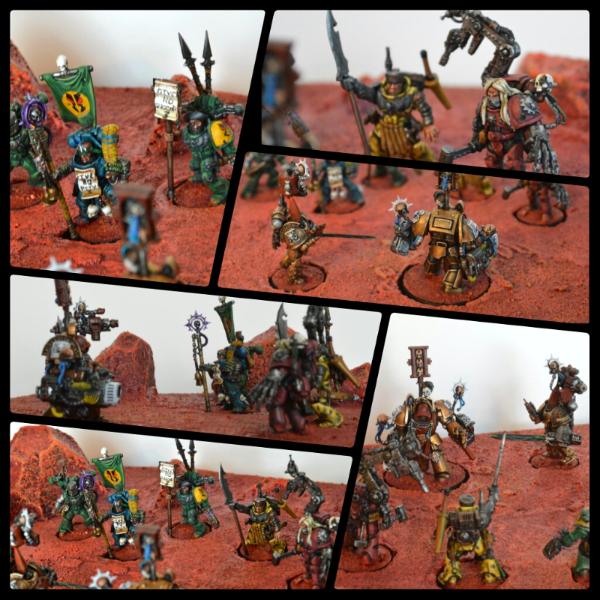 Ah, well you see... Ice and Steve are MY brothers in arms too... from multiple Adepticon campaigns past. I know what they play and what perhaps, they might enjoy.
For Ice... Captain, oh my Captain... a limited edition Mk 7 Captain model... I think he'd look mighty fine as an Ice Angel!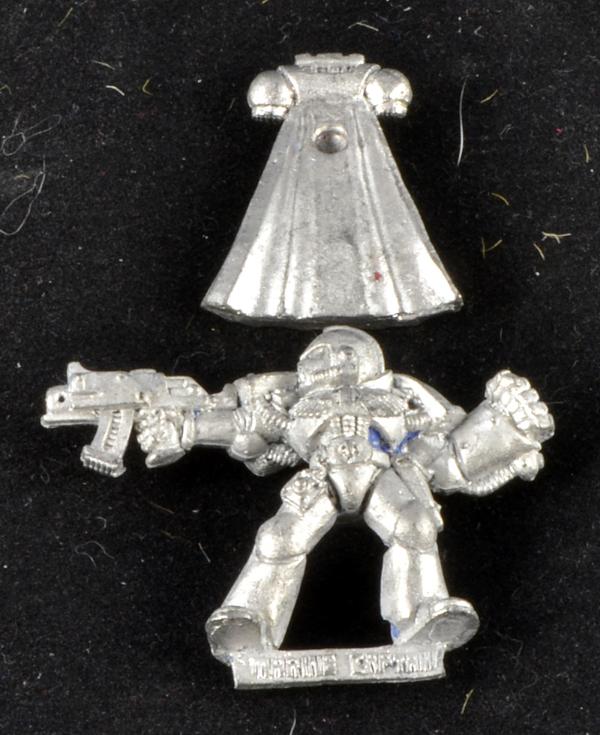 Steve is a bit trickier... but Steve runs Space Wolves... and I think I've got a figure he might enjoy. It's a Scribor Celtic Sci-Fi Warrior. Very Space Wolfy... very cool.
... and.... now I can't find it. Even though I had it in my hand yesterday.

You guys will have to trust that I'll take care of Steve ASAP. *sigh* The best laid plans...
Anyway... thank you everyone for hanging with me for over a month! Contestants, judges and observers... you were all wonderful!
Winners
including Ice and Steve... please
PM
me and let me know if you have any nut allergies!! It will impact the cookies you receive from the misses!
Night all... it's late and I need a drink.
Gits
OH, nearly forgot. Individual results and commentary will be PMd soon... but not right now. Nighty night!