Viterbi wrote:That Ambot is amazing. He already looks great in the normal pics, but the spoilered one is so cool. The lighting and scene are perfect!
Thank you, there is a bunch of goliath gangers hiding behind it to use it as a wall breaching tool, which was the original "story" but the angle to get them also hid the Ambots face to much.
Olthannon wrote:Nice work on the Ambot! That red colour scheme looks great. They are great looking sculpts, look pretty damn meaty.
Yes they are, but they are a PITA to assemble, and the guns are so tiny it didn't seem like there was any point to them.
Captain Brown wrote:Yes, the Ambot looks ready for the table.

Cheers,

CB
I remember somewhere there was rules for a single player "hunt the ambot" mission so I might give that a go sometime soon
The Riddle of Steel wrote:Nice, ambot. My kid is reading the Warhammer books for young readers. He just read the Claws of the Genestealer and there is an ambull in there. He was really fascinated by the ambull more than anything else in the series so far. I need to show him your ambot and see what he thinks!
Looking forward to seeing progress on the rough riders.
Haha, I've been hearing those books are surprisingly good, you never know whats in childrens stories and people kinda just dismiss them as quick cheap money makers. Your kid also make an excellent case for getting an actual ambull...
IGtR= wrote:Ambot looks siiiiick and really interested to see how the blue-stuff/sprue goo works - some mad hobby science going on here!!
Thanks for sharing
Thanks and onto mad hobby science!
Warning now, the flow of time is dodgy in this post as several things were happening at the same time, which I not normally how I do things
To start with I coated two of the bike bases with a liberal amount of sprue go and just rammed them into the mold.
I wieghed them down and left them to dry overnight, demolded it before work the next day and poked it.
Too squishy. So I left it untill the evening to dry a bit:
These are properly fused onto the bases now.
They look alright, but onto the bad:
Some idiot left a fingerprint in one...
The bases are now softer than they were
They are a nightmare to cut and trim
They are also really hard to sand
Some air bubbles
The bike handles came out hollow.
They stank
They look "soft"
I was stuck with these two bases now, so I painted them to see if that would help: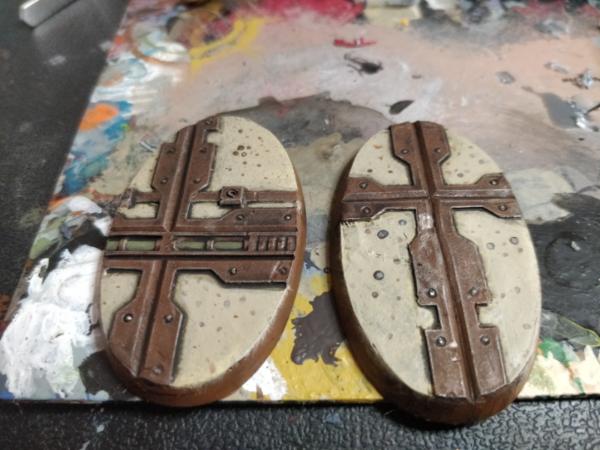 It does.
And after seeing Catbarf do another (awesome) spotty Tyranid I put way to many spots on it..
It looks alright on camera but when you compare them with the other ZM bases it looks wrong.
But thats because the ZM bases are not the same design as the ZM floor tiles...
So far I should of just stuck to Milliput/
GS
, but I decide to try again:
This time I up my sprue content of my slurry, making it thicker and hopefully easier to dry,
Because it is thicker and I want to avoid damaging the integrety of the remaining bases I slapped my new thick slurry direct onto my mold.
I then put some wieghts on a piece of perspex(?) with it's protective film still on it over the top to flatten it and hopefully force the slurry into the gaps.
I then left it for three nights to make sure it dries. Did the tidying and painting of the first bases while I waited and started on the
GSC
quad bike.
AND THEN BEHOLD!!!: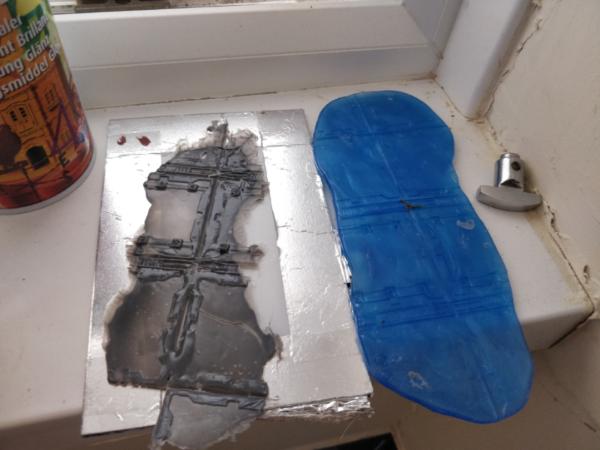 ...
...
I swear it didn't look like that when I demolded it and left it through work...
I think I see the problem with using the slurry, It needs air and pressure and they kinda cancel each other out.
I'm also starting to think that I was quite lucky with how the first two came out.
When I get the time I'll bust out the milliput for the others.
Anyways I started painting the quad bike:
Decided to go with the grey I used on my Chimera, but no camo, so that it could be used as a civ vic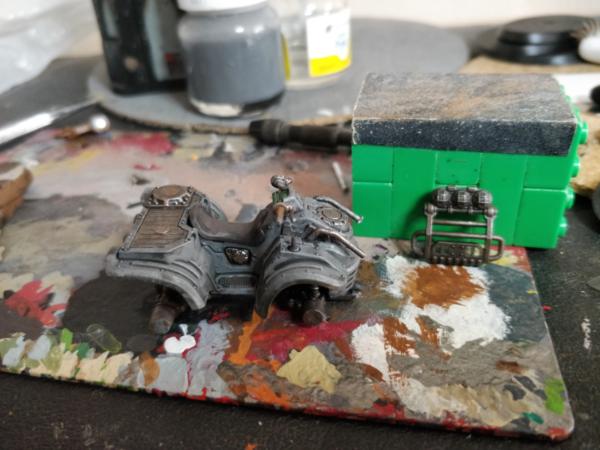 The underside and metal was Dryad, drybrushed with Mournfang and then Leadbelcher
The body was Dawnstone washed in Nuln. I then brought that back up with dawnstone with Celestra highlights. I also added some Agrax splatter around.
The wheels were Eshin, with Wildwood contrast and then drybrushed with Stand. Mech. Grey, but this didn't seem like enough so I added an edge drybrush of Dawnstone
I magnetised the servo arm and painted it Zamesi, Agrax, Zamesi then a Morghast bone highlight: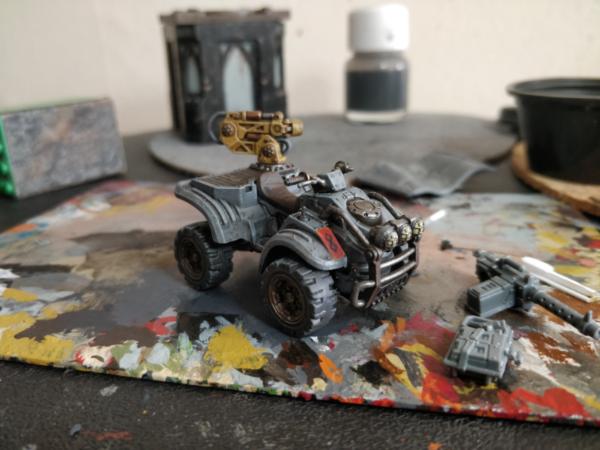 Plan is to have the weapon systems removeable and eventually removeable riders, but I'm gonna have to sculpt legs...