Tallonian4th wrote:Wonderful banner, it looks really dynamic.
Thank you Tallonian, and welcome to the blog! I'll hopefully have an update on the banner bearer soon

youwashock wrote:She's lovely. The weapons are fantastic. That banner really fits in, too.
Thanks youwashock

She was a lot of fun to paint, and yes I thought the banner seems almost made for the
SoB
!
gobert wrote:Great work on the cannoness. It's good to see that her flame goes the correct way!

. Her sword is quite nicely done too, with the fade on opposite ends. The banner looks fantastic, really nice highlights you've achieved already
Hahha, yes! Hot on the inside, cold on the outside, just as a flame should be

Thank you, I've been trying to practise painting that contrasting effect on the blades in the army, slowly getting better with it. And thank you, I'm quite pleased with the banner so far.
Captain Brown wrote:Very nice zahnib.

Cheers,

CB
Thanks Captain Brown, always appreciate you stopping by.
Viterbi wrote:OMG, that canoness is the real deal, how do you paint such intricate details on the face?

Banner is also coming along nicely and in size absolutely fitting for religious fanatics
Thank you Viterbi! Hahah, with a tiny brush of course! The face has really nicely sculpted details which helps a lot as well. And yes a big heavy banner seemed only right for the forces of the Ecclesiarchy.
--
I haven't had quite as much time for painting the past week or two in the meantime some reinforcements have arrived. My Vostroyan Firstborns have been patiently waiting for their time in the limelight and whilst I had the constituents of the force planned out I hadn't acquired all of the pieces, namely the tanks! Two Chimeras, a Leman Russ and three Sentinels are now patiently waiting along with my coveted metal Firstborns. I was lucky to pick them up a number of years ago when
GW
still sold them and recast weren't rampant. I have yet to paint any of them up but they are next in line after my Sisters of Battle.
Reinforcements have arrived!
I also mentioned a few posts ago that I was thinking of taking some updated pictures of my long neglected Ultramarines. Along with the
Terminators
I had started this blog off with a picture of my
Venerable Dreadnought
. Although I painted it three or four years ago I'm still relatively satisfied with the paint job. The purity seals and base will be redone at some point. But that can wait.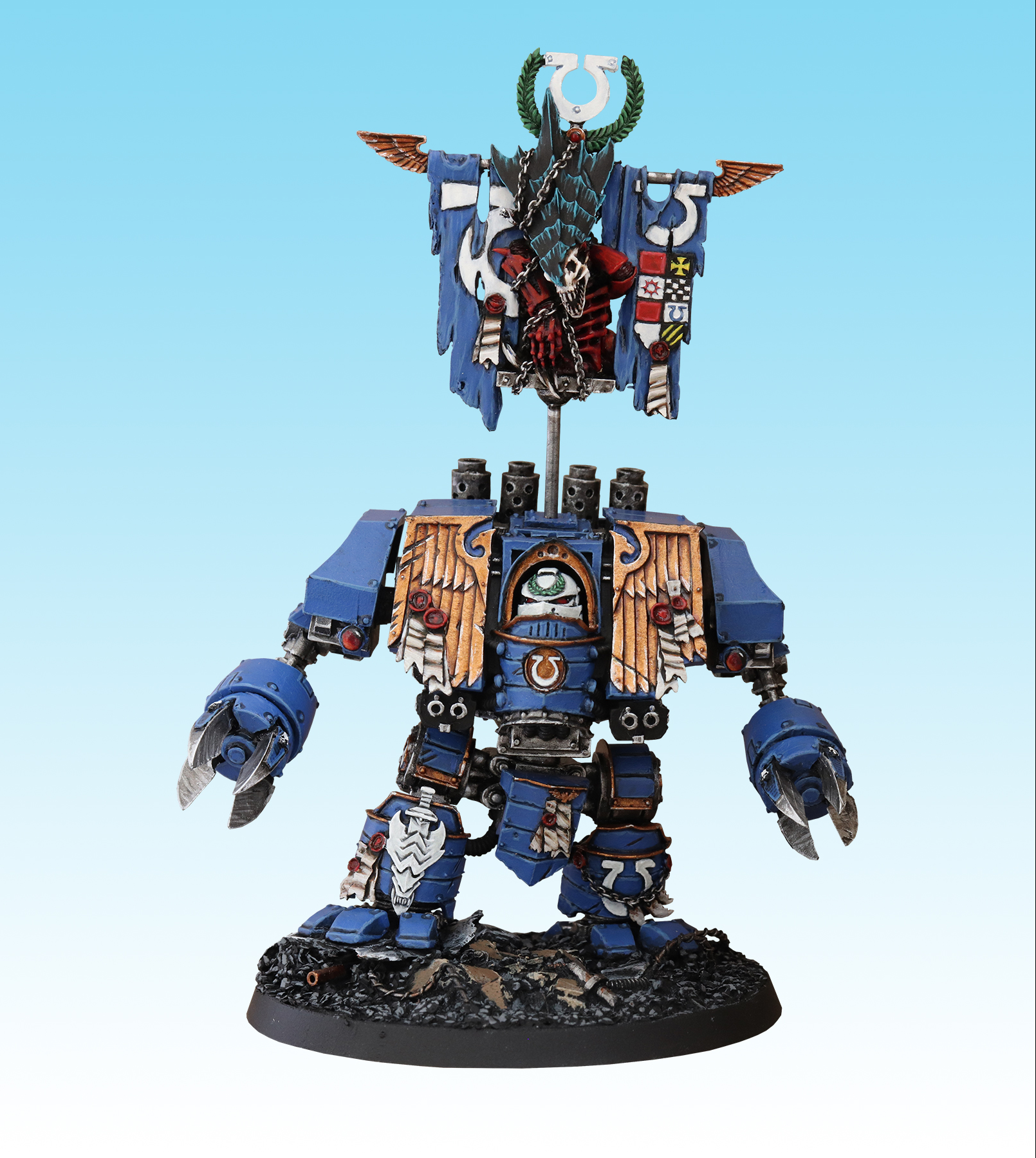 My Venerable Dreadnought in a slightly better light! Aside from the base and purity seals I'm pretty happy with my old paint job.
The Army Standard Bearer is still a work in progress so hasn't quite made it into this update but stay tuned, she should be making an appearance soon.
Thanks for stopping by.
Until next time,
-zahnib