Yeah,
This is the first game played on my newly painted Realm of Battle Board!
We arranged to play a 1500pts game and The varnish had literally just dried!
We agreed on a fair amount of terrain setup to make the board look good!
Ian brought his Noise Marines, they had once been part of Ian's large 3000pts Slannesh Chaos Army. But with the New
CSM
Codex and Chaos Daemons Codex Ian split the army into two and found things/ways to make each new army viable in 5th...
So we both wanted the win, I wanted to win the first game on my new board and Ian wanted to win his Noise Marines 5thEd Comeback game!
-------------
---ArbitorIans Noise Marines---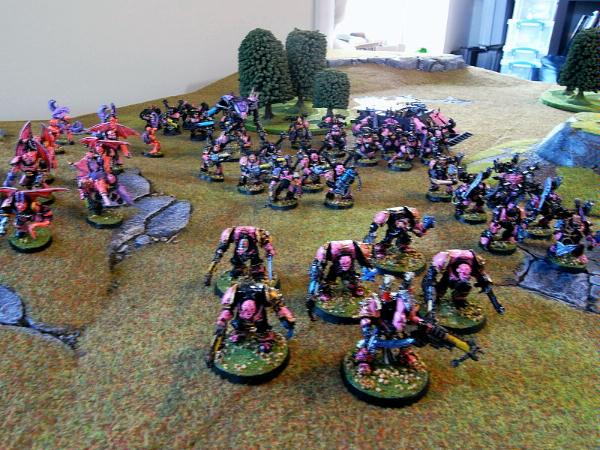 HQ
Chaos Lord (Terminator Armour, Suspicious Looking Combi Bolter, Power Sword, Mark of Slaanesh)
ELITES
5 Terminators (3 Power Weapons, 1 Chainfist, 1 Powerfist, 4 Suspicious Looking Combi Bolters, 1 Suspicious Looking Reaper Autocannon)
6 Chosen (Icon of Slaanesh, 1 Plasma Pistol, 2 Power Weapons, 1 Asp.Champion w/Power Weapon)
1 Dreadnought (Dreadnought
CCS
, Suspicious Looking Autocannon)
TROOPS
6 Noise Marines (5 Sonic Blasters, 1 Blastmaster)
6 Noise Marines (5 Sonic Blasters, 1 Blastmaster)
8 Chaos Marines (Icon of Slaanesh, 1 Plasma Pistol, 1 Asp. Champion w/Powerfist) inna Rhino
5 Lesser Daemons
FAST ATTACK
6 Raptors (Icon of Slaanesh, 1 Asp.Champion w/Powerfist & Plasma Pistol)
1500pts
-------------
---Panics Nurgle
CSM
.---
HQ
DP
(Mark of Nurgle, Wings, Warp Time)
Troops
7x
PM
(1 plasma Gun, Power Fist champion, Rhino with Havoc Launcher)
7x
PM
(1 plasma Gun, champion with melta bombs)
7x
PM
(1 melta Gun, champion with melta bombs)
Elite
7 terminator (champion with Lightning claws, 2 combi-meltas, a reaper
AC
marine with chainfist)
Chaos Dreadnought with plasma cannon
Heavy
Vindicator havoc launcher
vindicator havoc launcher
1500pts
-------------
---Mission---
Because this was the first game on my new realm of battle board, we thought about using the special missions in WD347 but instead decided to use those another time and just roll for mission in the 5th ED rule book. We got Annihilation on table quarters which seemed fairly appropriate for two chaos cults squaring off!
I won the roll for first and picked the bottom Right quarter.
---Deployment---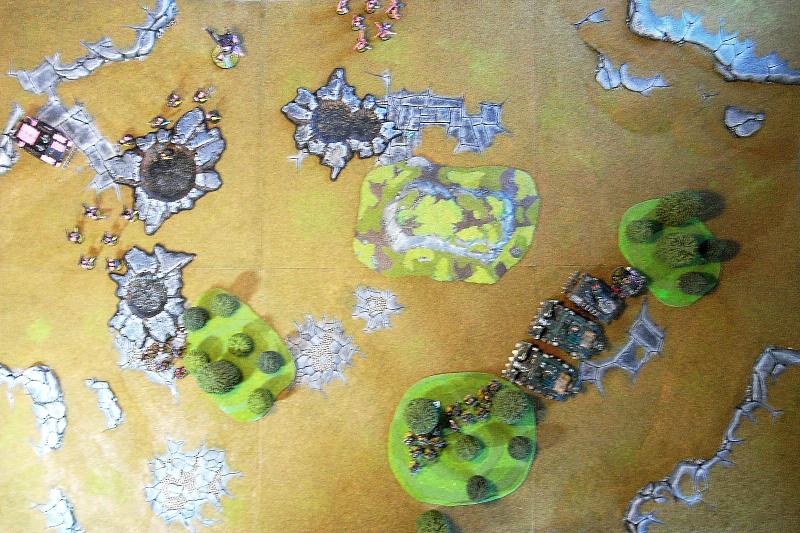 My Daemon Prince and Chaos Terminators plus Ian's Lord with his Chaos Terminators and lesser daemons were held in reserve. I formed a line along the deployment edge Ian set p a little further back.
Ian failed to seize the initiative?.............
---Turn1---
The plague marine battle line Runs forward
vehicles all move a full 12"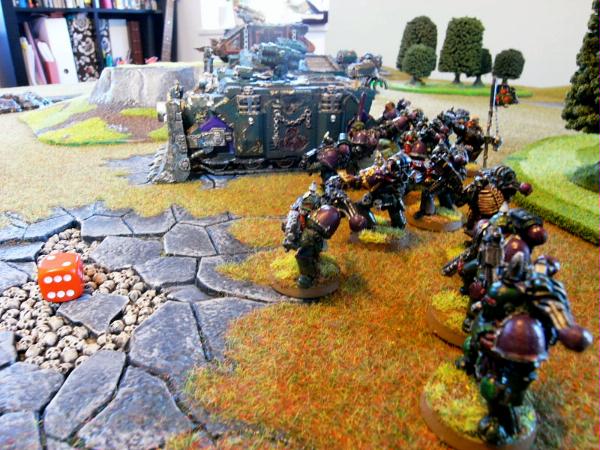 the Nurgle dread fires it's plasma cannon killing three raptors.
Blastmasters target the Vindicators but scatter killing 3 Plague Marines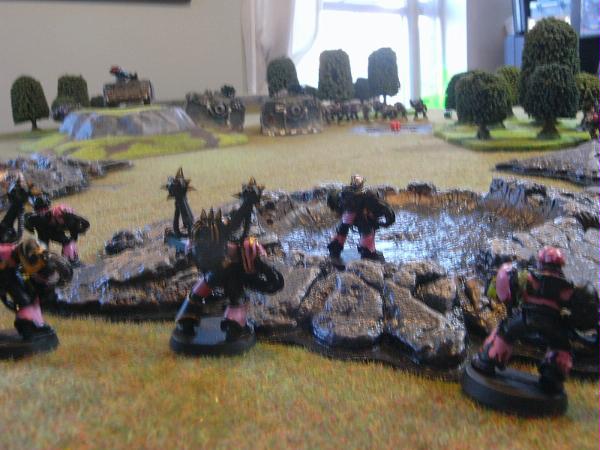 the Slannesh Dread Shakes the Nurgle Rhino
end of turn 1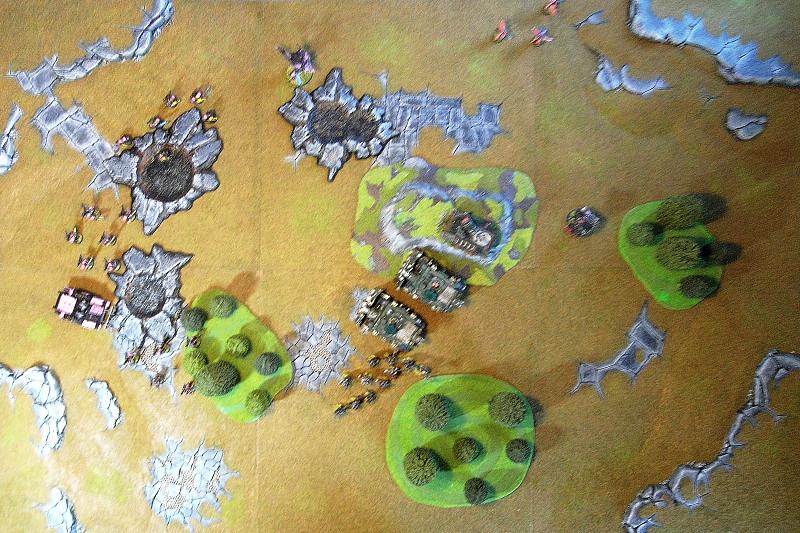 ------ Kill Points --- Nurgle - 0 --- Slannesh - 0 -----
---Turn2---
Nurgles Daemon Prince and Terminators arrive bang in the middle of the table!
The terminators open fire and immobilise the Slannesh Dread
Vindicators open fire killing 5 noise marines
Nurgle Dread kills 1 more raptor
Plague marines all run again
Slannesh Terminators arrive and fire at the Nurgle Daemon Prince wounding him twice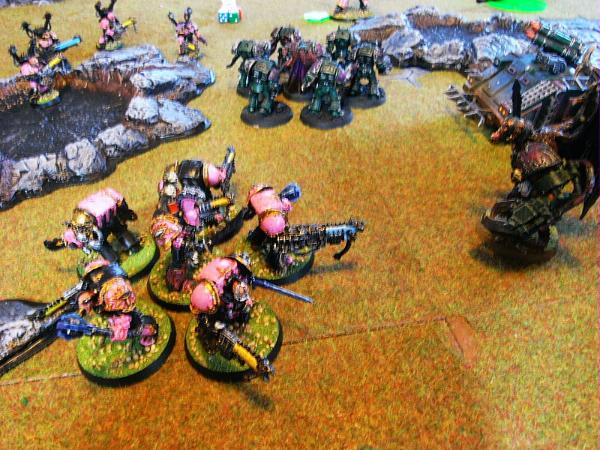 A Blastmaster shot Picks off another 3 Plague marines leaving just the Champion alive
another Blastmaster shakes a vindicator
Slannesh marines get out of their rhino. and watch their brethren attack Plague marines in the Woods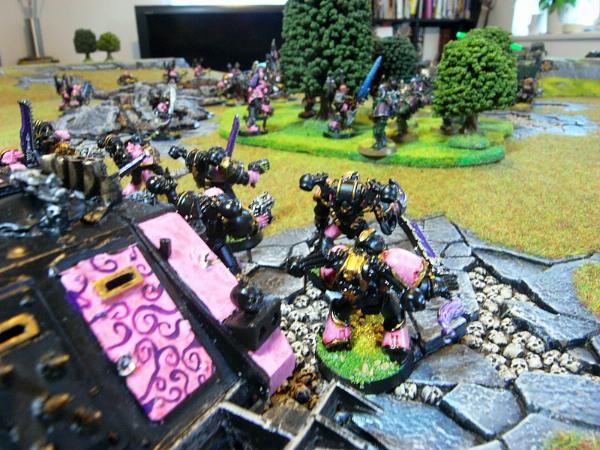 Slannesh Chosen fire at
PMs
, but fail to wound, they then assault into the squad and kill 1PM
the Plague marines hit back killing 2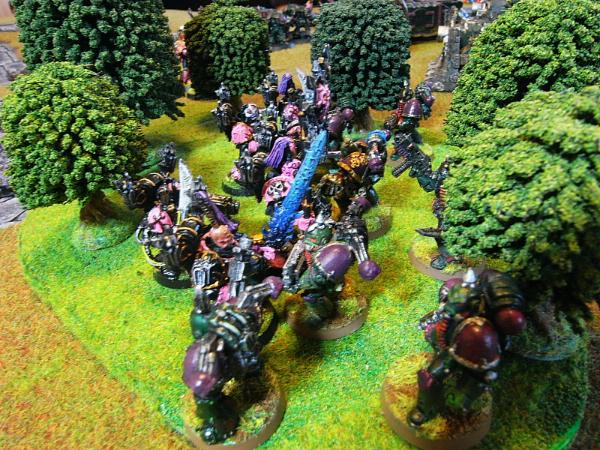 Raptors try their plasma against the Nurgle dread but fail to damage it, so they assault it... but both raptors and dread fail to injure the other.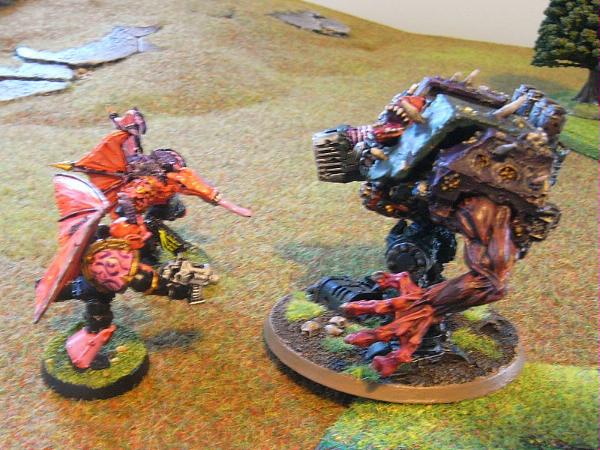 end of turn 2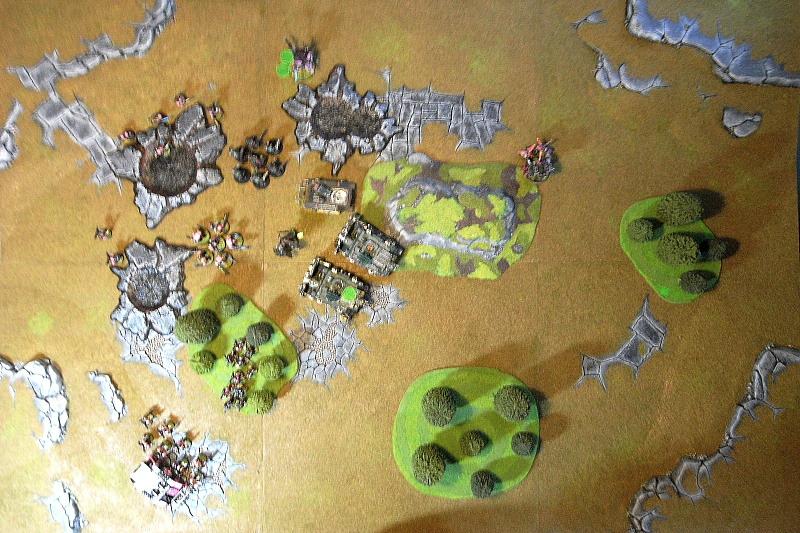 ------ Kill Points --- Nurgle - 0 --- Slannesh - 0 --------
---Turn3---
Vindicator kills two Slannesh terminators
PM
dismount from their rhino and their melta gun fires at the Slannesh dread stunning it...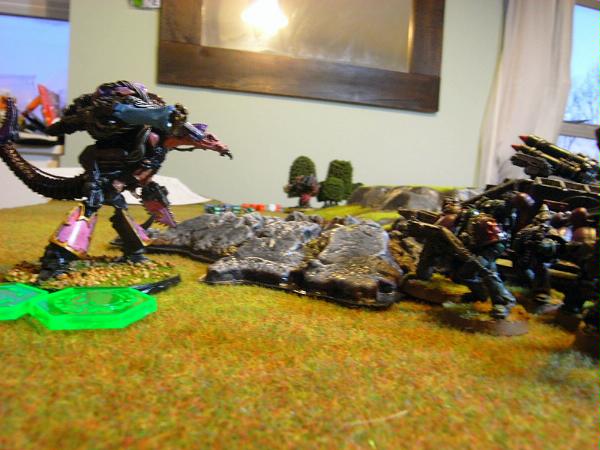 Daemon Prince assaults the Noise Marines killing 4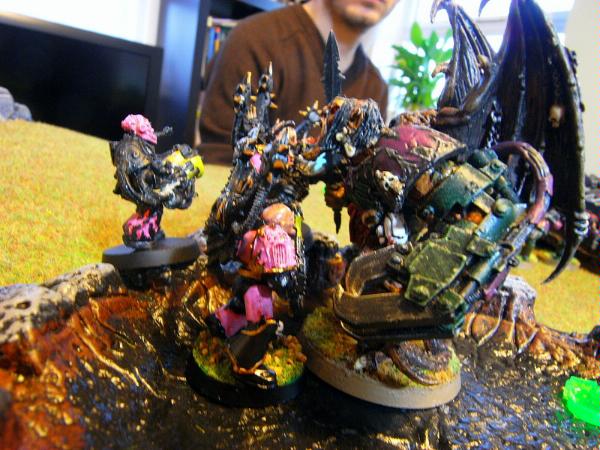 Nurgle Terminators (no mark) charge into the Slannesh Lord and Terminators (
MOS
).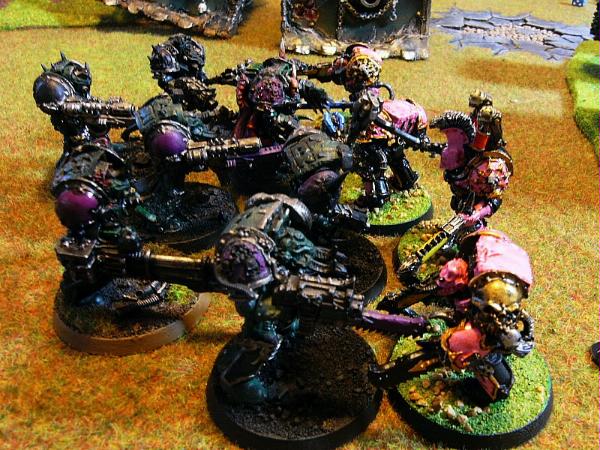 Nurgles T's kills 2 and Slannesh terminators kill 3. The Nurgle Terminators pass their moral check (just!)
the Nurgle Dread kills the last 2 Raptors (+1KP)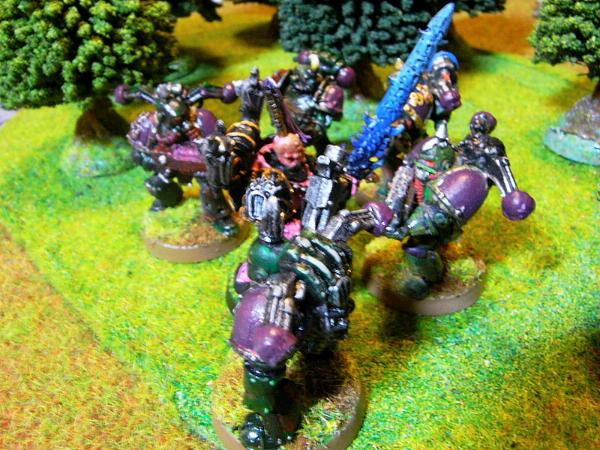 PM
's in combat in the woods kill three Slannesh chaos marines leaving just the champ, he flees combat with his great big blue sword and jumps into a rhino!
a Blastmaster blows the main battle cannon off a vindicator...
Slannesh Lesser Daemons arrive and swarm into combat with the Last Man or a
PM
squad.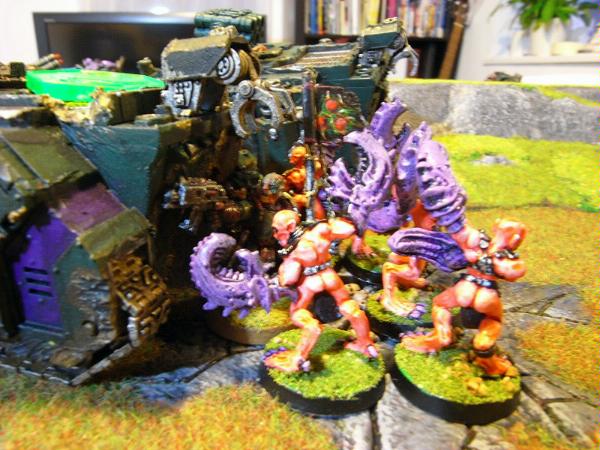 But he proves too tough a nut to crack and no wounds are scored in combat (15 daemon attacks! I was glad they were not daemonettes because rending would have got him!)
Nurgles Terminators Kill the Slannesh Lord With a Chainfist attack...(I'm sure he enjoyed it!) (+1kp)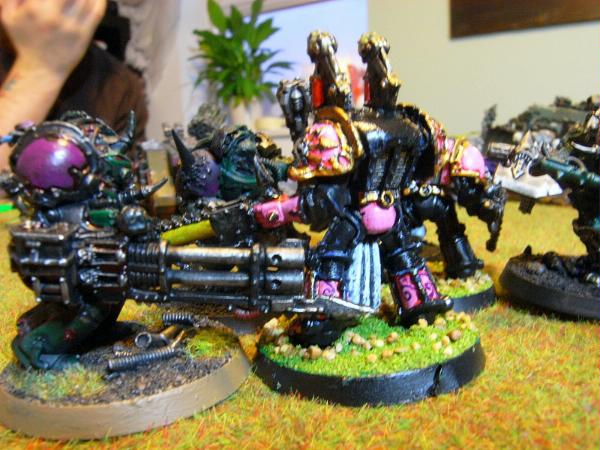 One Slannesh terminator left in that combat.
the second squade of Slannesh marines launching their assault on the
PMs
in the woods.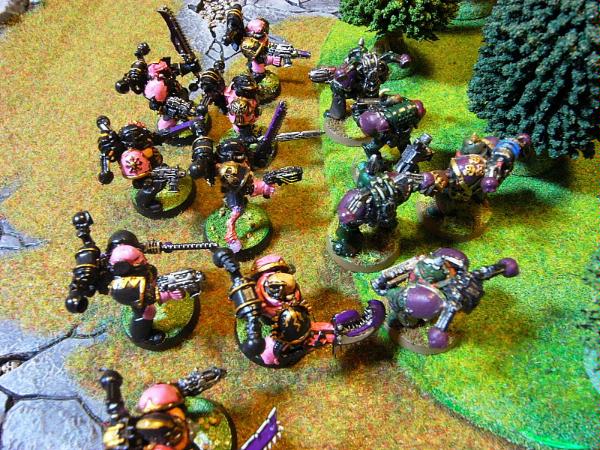 they shoot killing two and kill two more in combat! Leaving the Nurgle
PM
champion startled and alone... he fails to hit the swift Slannesh marines, but makes his no retreat saves.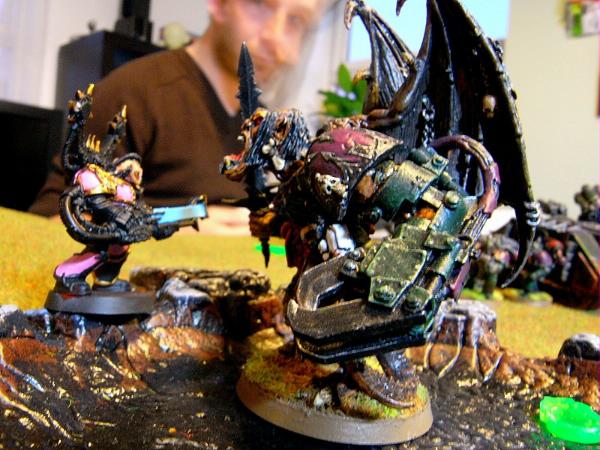 The
DP
finnished off the squad of Noise marines and then heads south towards the last few noise marines left from the second squad (+1KP)
end of turn 3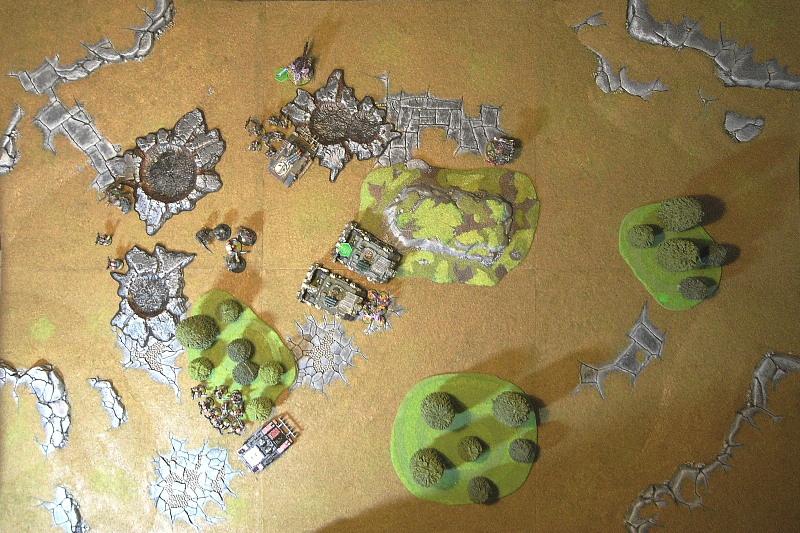 ------ Kill Points --- Nurgle - 3 --- Slannesh - 0 --------
---Turn4---
the Nurgle Vindicators move into a 'back to back' possition and fire Destroying the Slannesh rhino (+1KP), the Slannesh champion clambers out with his great big blue sword and runs off!
Nurgle Rhino flanks the Slannesh immobilised Dread
The Daemon Prince assault the remaining Noise marines and wipes them out (+1KP)
The Nurgle terminators kill the last Slannesh Terminator finishing the battle of armour! (+1KP)
The daemon(ettes) slay the
PM
champion (+1KP)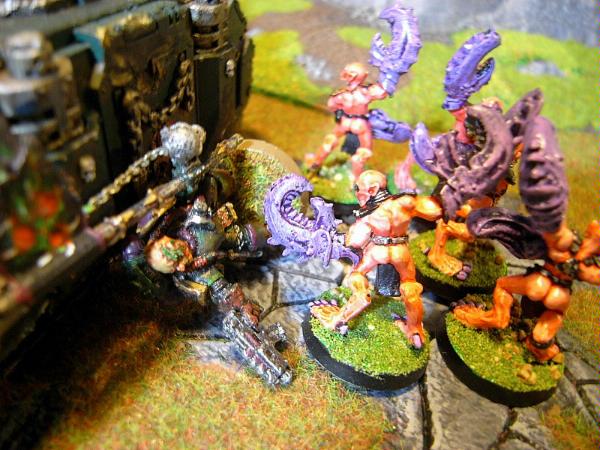 The last
PM
in the woods holds steady, no wounds in combat.
Slannesh dread fires at the Nurgle Daemon Prince, but misses.
Lesser daemons shake the vindicator
and the
PM
in the woods finally submits to a flurry of Slannesh blows and is killed...(+1KP)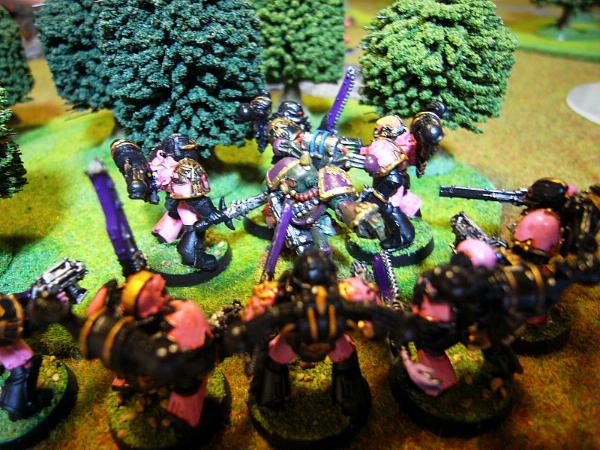 end of turn 4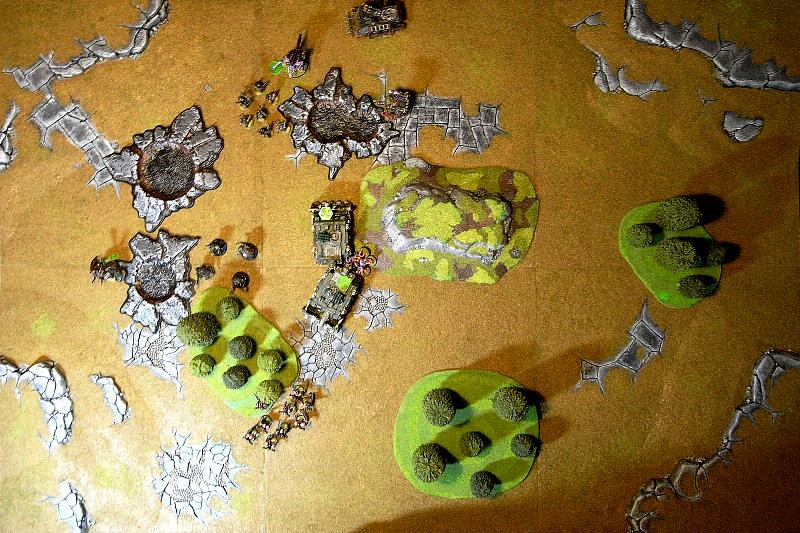 ------ Kill Points --- Nurgle - 5 --- Slannesh - 2 --------
---Turn5---
Rhino Havoc launcher destroys the Slannesh dread (+1KP)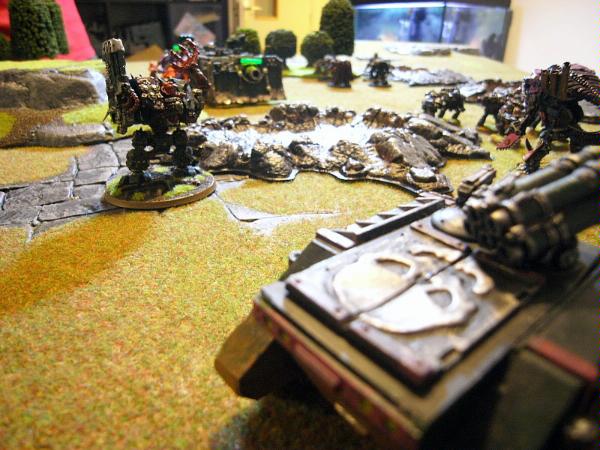 vindicator havoc launcher kills 1 daemon(ette)
Nurgle Daemon Prince assaults the chosen of Slannesh and kills 4. The Chosen return blows taking his last wound and killing him. (+1KP)
the Slannesh forces call a general retreat!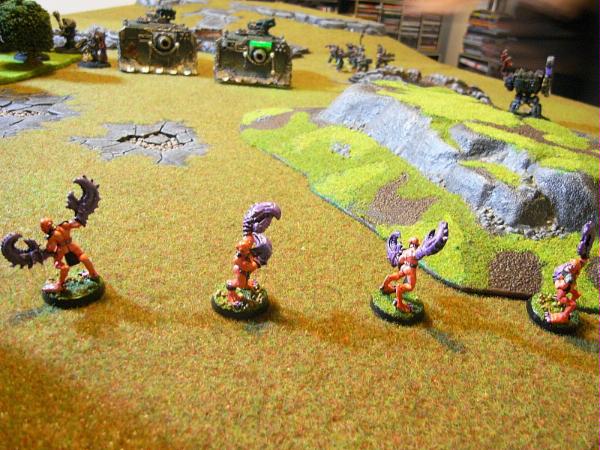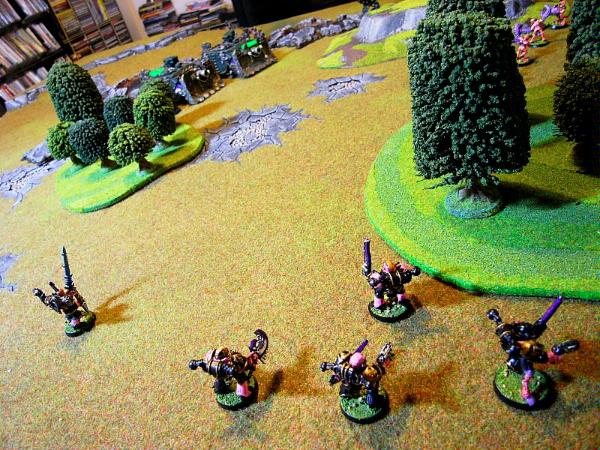 end of turn 5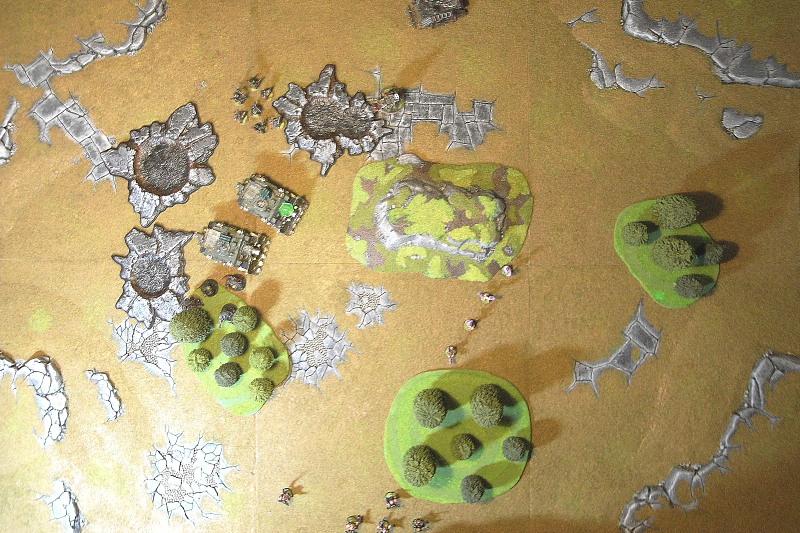 ------ Kill Points --- Nurgle - 6 --- Slannesh - 3 --------
And we rolled a 1 No more turns!
---End of game---
-------------
-------------
Panic...
-------------