Straight off the bat, let it be known I'm something of a compulsive collector. I collect even when I know full well It will probably be ages before I get around to painting it... like the
LRC
a friend gave me nearly two years ago... I think I've put the metal guns together at least...
Anyway, I like to think that I've improved, a little from my first foray into painting years ago (a older white dwarf model that now seems to take up the mantle of dwarven champion), and then recently... about two years ago I guess my first disastrous attempt at painting a squad of initiates... I'll have to strip and repaint those guys one day, but for now they shall be known as squad slapdash, so eager for battle that they slap on a coat of paint and go running off to shoot at things in the name of the emperor... Some work in progress stuff here, but for now, here's what I've got photos of.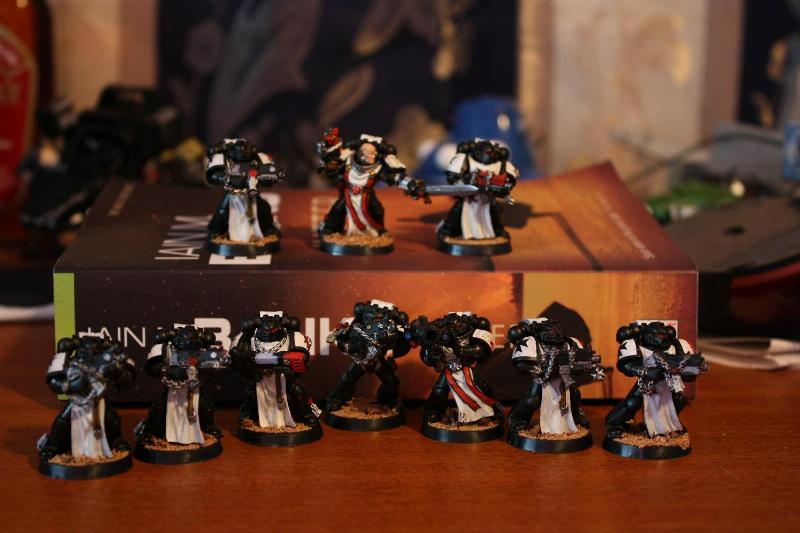 Above we can bask in the horror that is the first squad I ever painted... the paint wasn't thinned, and results in the above effect. That's why they're squad slapdash. They'll get stripped and repainted one day... one day...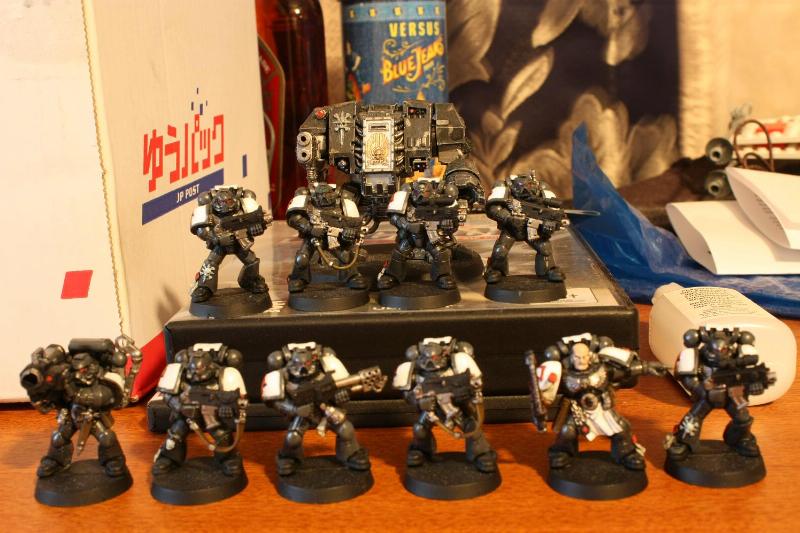 Second squad. I'm rather happy with these fellows. They need to be based and have their shoulder pad decals applied (I'm awful at free hand so far), but otherwise, I like them. They were an experiment in a painting method for my templar army in an attempt to mix things up. It's basically Adeptus Battlegrey with multiple coats of black wash over the top. I probably could afford to do a few more coats, but for now, they can be my Almost Black Templars.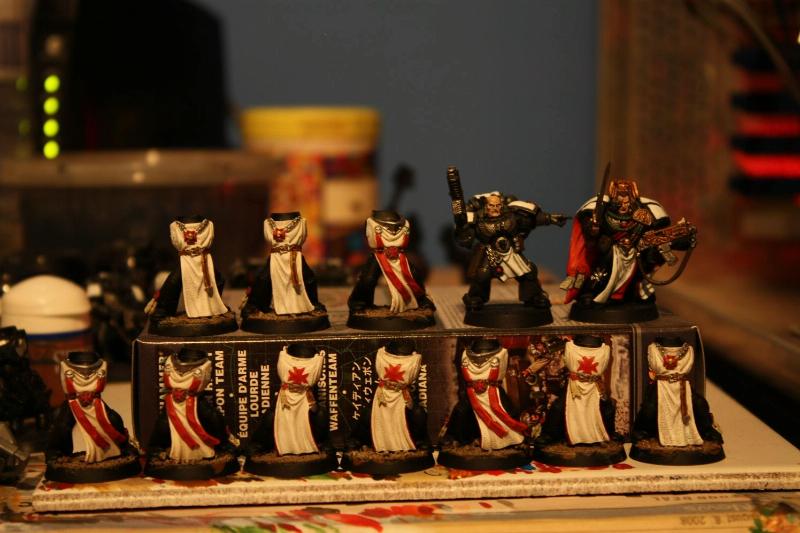 Here's third squad in all their uncompleted glory. As well as the black reach sergeant now modified and the black reach captain, missing his backpack. Of all the squads I've painted (so... uh... two), I'm really pleased with how these guys are coming out. At the very least, they don't make me want to gouge out my eyes... not yet anyway.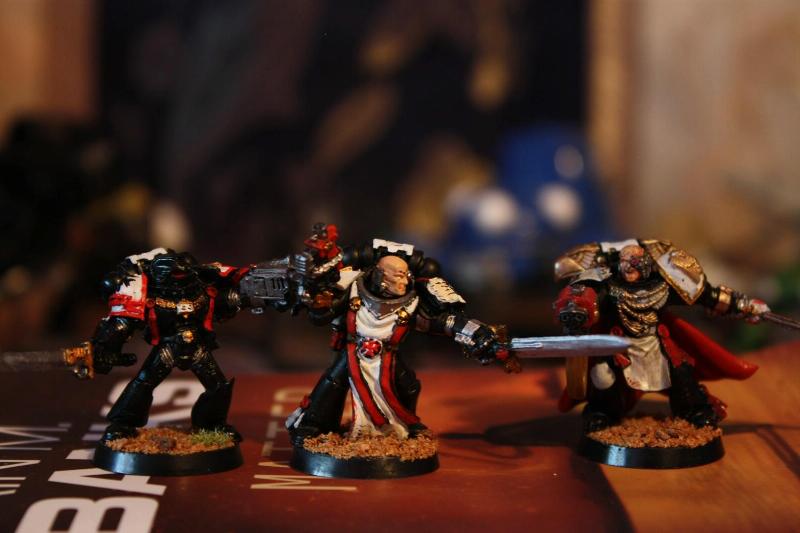 Here's some power sword wieldin' marines, going from really badly painted (Brother Shiny) on the left, to badly painted, to, passable but may cause your gag reflex to go off involuntarily. The space marine commander on the far right needs to have his eyes redone, although I'm really pleased with the gold effect I ended up with.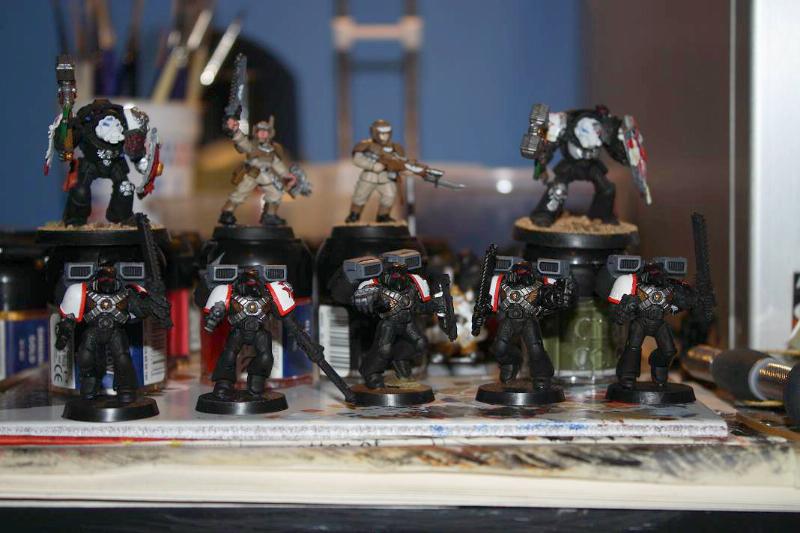 Here are a few Assault Marines and Assault Terminators, accompanied by a pair of squishy gardsmen. I've worked on them since taking this photo, well, the marines at least, the
IG
, not so much.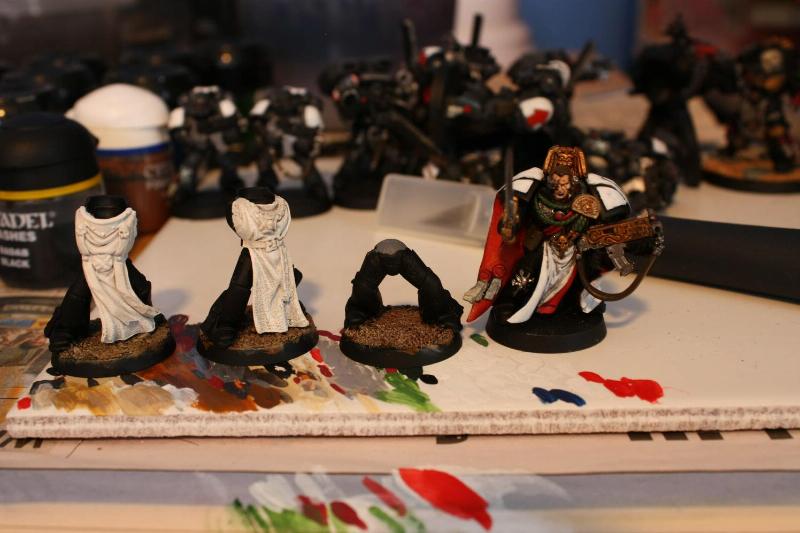 This is an early shot of some of the guys from squad two, in a picture I like to call "The perils of shaving in the 41st Millenium". Looking at the pic, it's almost as if the captain there helped a little too much with the shaving... The goal with the three on the left was two fold, experiment with painted bases, and try out a different method of doing white tabards other than me struggling to paint them and attempt to crash course myself in blending. Basically it was spray undercoat of white, wash with black (badab black...), and then drybrush white over the top. It... didn't come out quite as planned, but otherwise, it does break it up from being a flat white at least.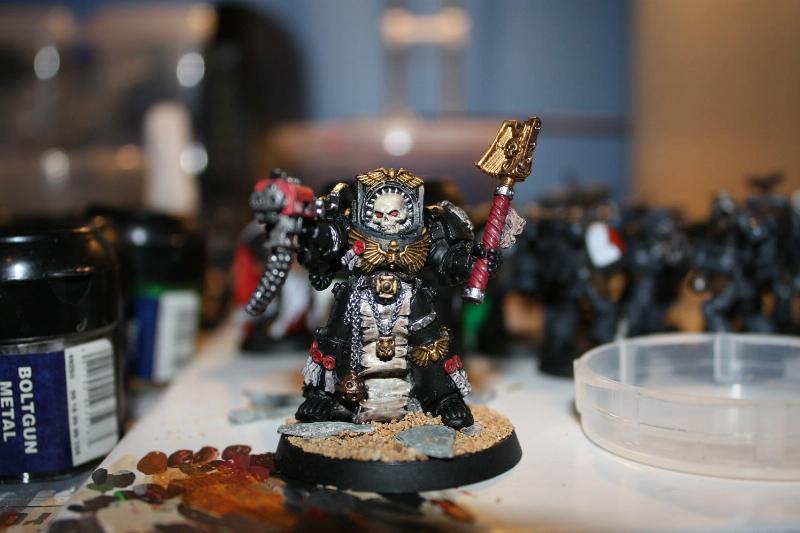 Here's a terminator Chaplain. He's a cheery fellow, grinning all the way. We call him Gary... I'm happiest with this model compared to the others I've done. First "character" I've spent some actual time on and focused on him alone rather than jumping from model to model as the fancy takes me. I've since painted a few of the "jewels" on that model... which I noticed I'd missed AFTER I had dullcote'd it... good stuff me.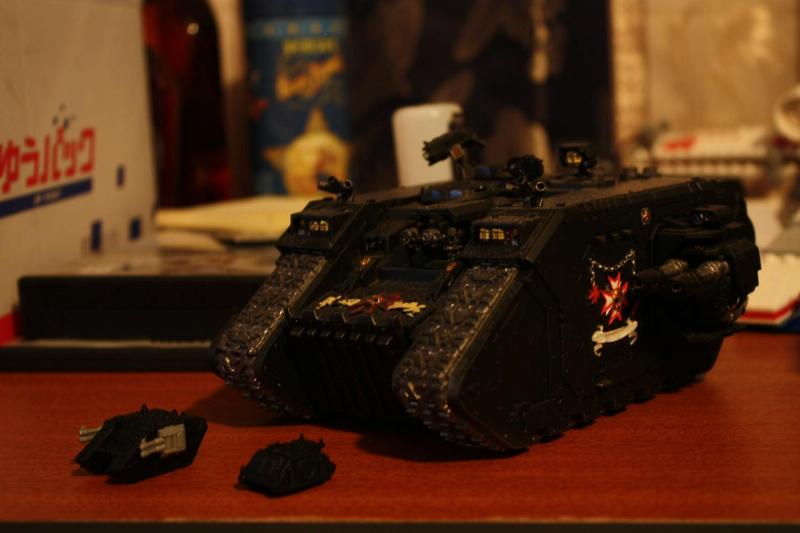 For reasons that escape me, when I first painted this, I did the top of the chassis by hand, and not with a tank brush. After that I decided that large flat bits can be better serviced by spray cans. I'll get around to finishing off the
BT
doors on it, but that could be some time away.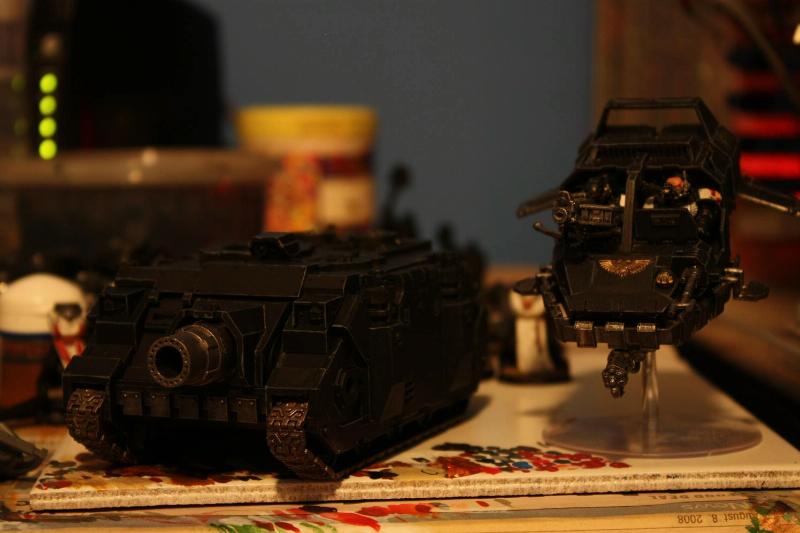 Here's one of three vindicators with a Landspeeder Tornado (I always get the variants mixed up, so for now, we'll call him Land Speeder Shooty). The Vindicator needs a lot more work and maybe a little white to break up its profile a bit, and the landspeeder needs some markings, and probably some weathering to make it look like its been used. So far, it just looks, extremely dulled I guess. Not going to work on the base for quite some time though...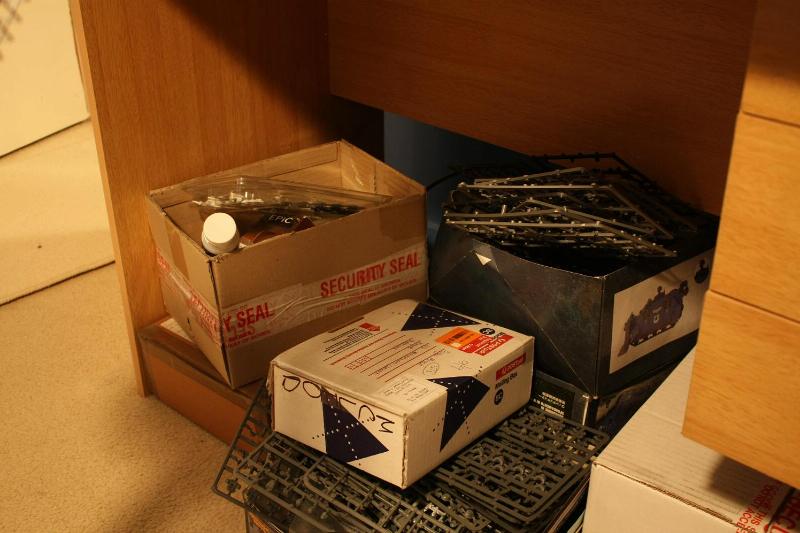 Here's a shot of the bits under the table... the box on the right isn't for bits though, it's the Xbox's coffin, so pretend it's not there.
I'll take photos of whatever I happen to be working on as I get to them, but I can't guarantee masterful work... in fact, I'd suggest bracing yourself.
In the qeue of things to work on, we have: 3rd squad arms/heads/backpacks, fourth squad, a devastator squad (with 5 tactical marines to fill out the heavy weapons sprues), Helbrechts retinue (Dark Angel Vets), third land speeder, Terminators with assault cannon, Jump Chaplain, 2 vindicators, Land Raider Crusader, Games Day Captain (not sure if I'll make him a
BT
yet) with Thunder hammer (I assume), 18 odd
IG
troops,
IG
Heavy Weapon team,
IG
Sentinel, a few Assault Terminators, a Baneblade, a Forgeworld Valkyrie, various models for use as sword brethren (including sword brethren figures), and a command rhino (rhino with the
FW
bits... kinda regret that purchase but oh well). I need to resist buying stuff... I really do...