Okay, thanks everyone for participating!
First of all, The contestants presented for posterity.
Camkierhi: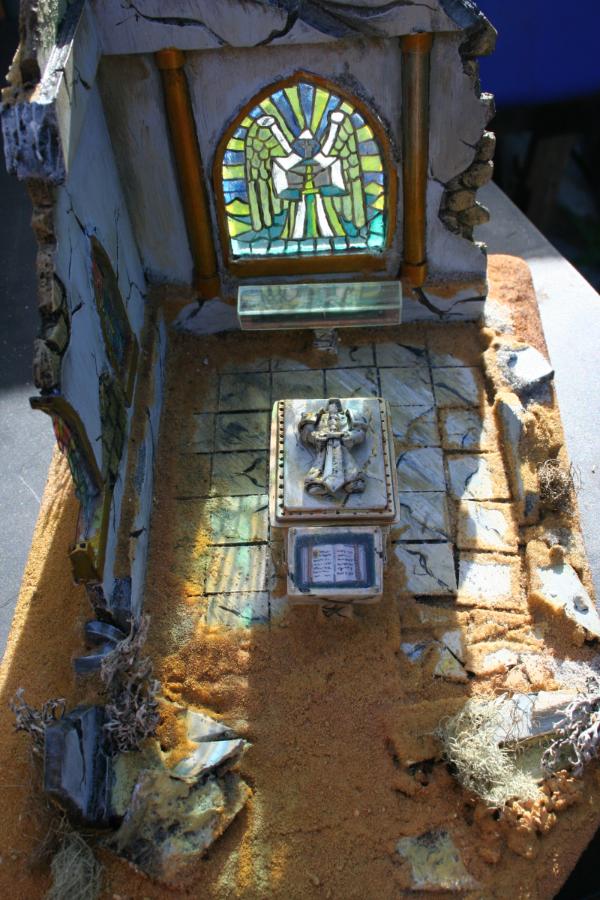 Ruglud, "The Stone Circle":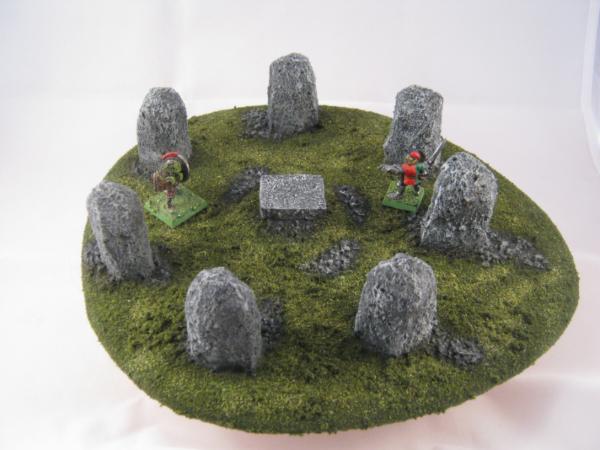 hk1x1. "Imperial Shrine":
inmygravenimage, "Shrine of Khorne":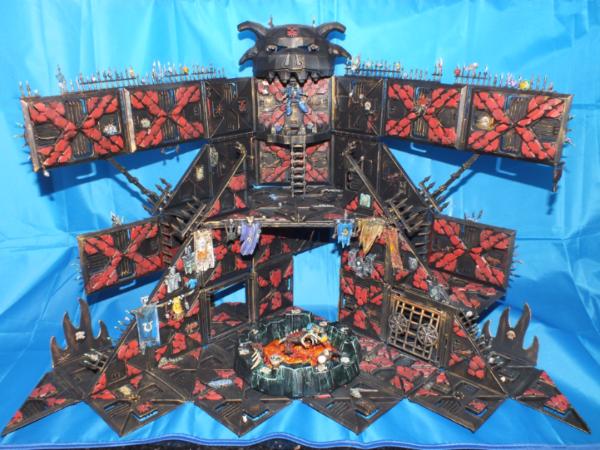 OneManNoodles, "Adeptus Mechanicus Shrine":
xXWeaponPrimeXx, "No Atheists in Foxholes":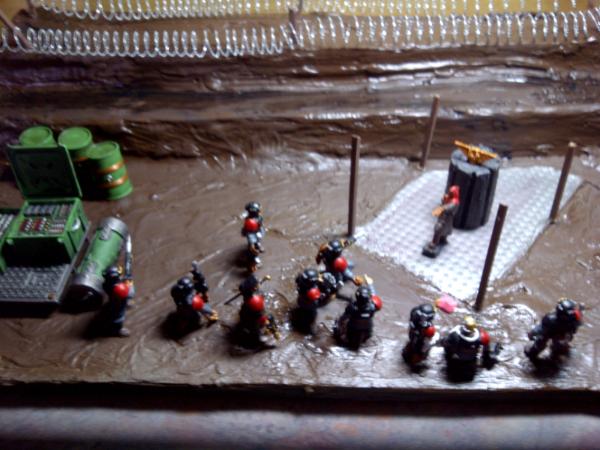 HyenaJoe, "The shrine of Saint Apollonia":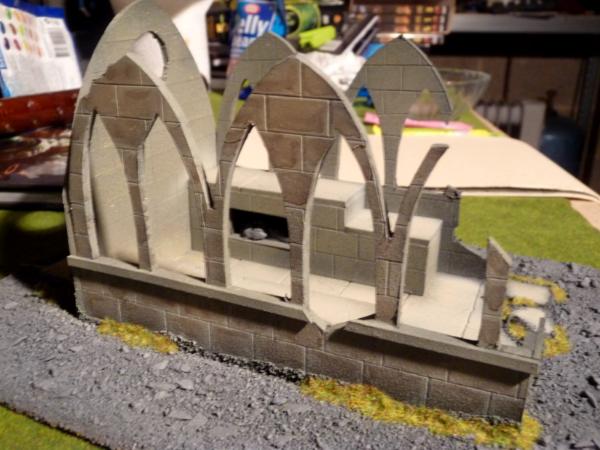 Chelnov, "Ruzzbot":
Final Round came down to three contestants. OneManNoodles, Hk1x1, and Camkierhi. I felt it would help explain the judging and help me out to use numbers, so I tried to grade the entries on a scale, and the winner overall is everything added up. A lot of the factors I'm judging on kind of bleed or overlap into one another (like realism and weathering, for instance) and there a lot of 'overall' type factors I judged it on too.
Weathering (how convincing are the weathering techniques)
Noodles: 8/10
Hk
: 9/10
Camki: 7/10
Hk
used some amazing weathering techniques, giving the whole piece an aged appearance. He showed the internal structure of the masonry as it was crumbling, and vegetation growing around and in it. I love the
moss
color on the stones in the wall, and the tree could be a bit more convincing, but it's still really cool.
Noodles used some great weathering techniques, but overall I felt they were just shy of what they could be. Could use a bit more variation in color, and some of the metal parts felt unfinished, still you get massive points for this!
Realism (including everything overall, paintjob, light and shade, weathering, construction... keeping in mind its still sci-fi)
Noodles: 7/10
Hk
: 9/10
Camki: 7/10
Once again
Hk
pulls ahead with this, the work on the masonry, the vegetation, the weathering details, overall contribute to something that is very convincing. Especially the fact that it seems like every stone is a slightly different color, whether of green or grey, this makes a huge difference.
Scratchbuilding (extra points for using rivets),
Noodles: 10/10
Hk
: 9/10
Camki: 9/10
Noodles comes out ahead... the amount of love put into the plasticard work on this piece is amazing. The different elements that are put together, like the glass tubes, all contribute to make something really cool and a great example of scratchbuilding.
Hk
you get points for this too, the sculptures you've done are amazing... but the sheer amount of building Noodles has done comes out ahead.
Diversity/variation (is there color and shape variation, that makes it lovely to look at?)
Noodles: 8/10
Hk
: 9/10
Camki: 8/10
Once again I love it how in
Hk
's entry, every stone is a different color. He actually makes a solid stone wall nice to look at. Noodles uses more variation in shapes, but some parts of the base and stair become monotonous.
Coherence (does it all come together in a unified whole?),
Noodles: 7/10
Hk
: 9/10
Camki: 7/10
I would give
Hk
a ten in this category, but for the simple fact that this entry is kind of dull when seen from multiple angles, there is not much going on in the back except a solid square shaped wall. Still, when considered overall... everything just comes together. Every element looks like it belongs in the same world in a very convincing way. I just don't get the same feeling from Noodle's entry.
IMO
all the different scratchbuilt themes conflict a bit... the arches, the checkered pattern and the riveted areas... needs to have one dominant theme and stick with it, and some kind of weathering or painting light and shade could help as well.
Atmospherics (does it have a mood?)
Noodles: 7/10
Hk
: 9/10
Camki: 8/10
Hk
's definitely has a mood to it, that's all I can say.. it's not dark, more like extremely peaceful. Noodles has all the cool elements there for a religious feeling, but is just shy of getting off the ground, although the coolness factor is still off the charts (and sadly too subjective for this contest... I just think everything is cool).
Camki's entry also get's points because the stained glass windows and everything else give it a very fairy-tale mystical mood!
Creativity (did you think outside of the box and use new techniques or
raw
materials?),
Noodles: 10/10
Hk
: 7/10
Camki: 8/10
Noodles, the use of the glass tubes was awesome. The use of different parts from kits mixed with the plasticard is top notch.
Hk
, I feel was just doing more of the same of what he is used to... but since he is so good at what he does it's fine with me

nevertheless he still gets credit for some original sculpture here.
Camkierhi, you get credit for those awesome stained glass windows and display case for the sword and book. That was really cool!
Painting (overall the skill and effort put into painting)
Noodles: 9/10
Hk
: 6/10
Camki: 7/10
Noodles: the details on the front including the little readout for the monitor, the glowing effects, The servo skull, was all fantastic.
Hk
, I already give points for the weathering stone, but aside from that I can't say there is any stellar paintjobs here, because I know it's fairly easy to drybrush stone and have it look excellent, and there doesn't need to be either... it is what it is.
Camki: awesome job painting the marble, the details on the book and such, and the walls.
Noodles: 66
Hk
: 67
Camki: 54
So there you have it folks... Hk1x1 is the winner by a nose! And Camki you gave them a run for their money. In my mind you and OneManNoodles are equals but there you have it, there can be only one

Anyway I hope my judging system helps to illustrate why I reached my decision. Also, everything I've written here is only one man's opinion and really, very little qualifies me except I'm making the prize

(but I hope it helps at least) OneManNoodles, Camkierhi, well played.
Now for the secondary prize.... goes to...
immygravenimage!
Congrats dude, the sheer insanity and ambition of your creation and it's chaotic goodness have found it's way into my heart. Also, you made many
WIP
postings in the thread which is a necessary prerequisite for this prize! It doesn't have to be a hardcore profession job, it just has to make us smile and you certainly accomplish that. It was a very tough decision between you, and xXWeaponPrimeXx, whose entry actually has a story and a lot of great little details and variation in the posing I liked. The servo skull of doom is yours my friend.
Once again thanks to all the participants... each entry was a gem in itself, contributes to the thread and helps illustrate the talent here on Dakka. If any of you want me to change the final pic in the list of entrants, just post here or
PM
and I can change the title, use a different picture if you have finished it off or just want a different angle there, and I'll probably post all these to the front of the thread so that anybody looking around can see the entries right away.
Thanks everybody!