Vejut wrote:Solid feathers. Maybe a quick drybrush, either as a highlight or of varnish might rough the surface and kill some of the shine?
Unfortunately, now drybrushing is out of question. What little detail was there to begin this is smoothed over by paint and varnish. :( Unless at some very distant future I'll strip it down to bare plastic...
Syro_ wrote:I like the griffin

Share about the sculpt not having much detail, but I'm still tempted to pick one up after seeing yours.
Go for it, Syro! It well may be that my copy was not the best. I hear, the sharpness of details on these minis vary from one copy to another. Injection process or excessive basecoating by hand at the factory... no idea, but people do say so.
theCrowe wrote:Must be the soft plastic reacting with the paints that makes them glossy, Ive had some Reaper Bones do the same thing. It is weird.

I have full faith in your ability to produces clever workaround for the castle-monastery. You can have your good looking cake and play with it... or something... you know what I mean.
Could be. Or maybe my paints require a lot more shaking (or just a complete restock) after a long sit in a closet. It really is weird.
And regarding playable terrain - oh, please! My recent favorite is this video:
Just go to 1:16 and watch the beauty he has built! Huge, pretty and nearly unplayable. And the courtyard at 4:38!
The problem with a kit I am trying to stack on top of my scratch-built walls is that white it is well designed (it has good fit of all parts, comes together really nice and quite closely resembles some real-life local architecture), it is in somewhat strange scale. While being offered as "28
mm
scale", it is only good for miniatures of exactly 28
mm
in height and with no bases under them. If You put the usual 28mm (or worse - 32mm) figures next to it, You start to suspect that they... would not fit under the roof.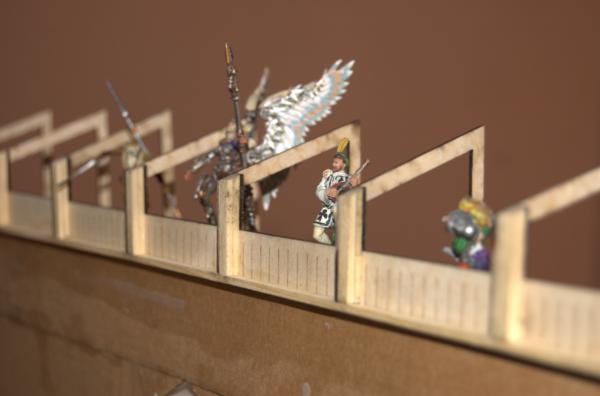 A cat from Alkemy (furthest to the left) would be good, if not for the height of her base, 35mm Privateer Press is obviously too big, Ronnie the bard from Mantic would be good too, but has a round-lipped base under him, and only Oathsworn mice are really at home there.
Even worse, if assembled as intended, the parapet would take up some of the walking space. On the left I have drawn the wall cross-section as it should be according to author. Red parts are to be glued to the lower wall with spacer between them and the gallery part (roof, columns and balustrade) should be inserted into the wall to stay in place without the glue to be removed when needed. Unfortunately, this leaves only 40mm out of 50
mm
wall width, even though the top piece is nicely marked with two rows of 1" squares. So, I want to build it like I show on the right, with both balustrade and parapet being wider and lower than the wall itself.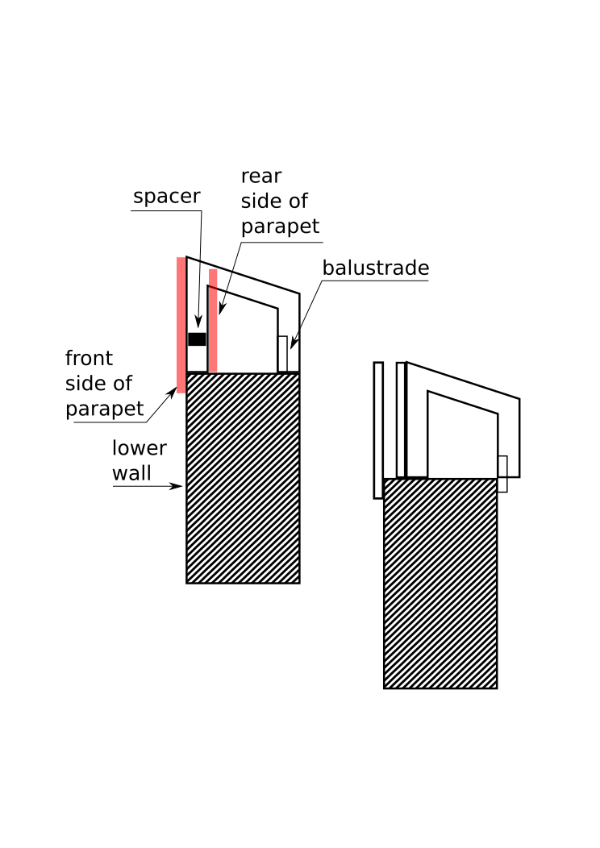 This way I should be able to have a clean top of the wall when necessary, so that a defending regiment for a Kings of War can be placed directly on top of the wall. Or some swashbucklers or musketeers could have a 2x2 duel there.

The problem is, original spacer will no longer fit, the gallery will have to be glued to parapet and the parapet walls will be of different height. Right now I am just putting together everything that does not require a hard decision right here and now, but options are quickly running out.