(mini disclaimer: English language is mine second language, so even if I try I am sure that I make some errors, please do not kill me for that

).
After lurking for some time i decide to start mine own P&M blog.
When I start new army I stick to two things:
-I enjoy playing army that is not so obvious. If most players use some tactics I like to go other way. Yes, I know it mean I will loose often if I do not take units that are better than others.
-First I think about some history/ idea of army, later I try to reflect this in rules.
In this case mine idea was to play almost only orcs. Army without huge blocks of Goblins, only huge blocks of Orcs. No Forest Spider Riders, no Night Goblins, no Fanatics, no Wolf Riders. Orcs and more orcs.
About history I always like the idea what will be if group of space orcs will be thrown in to world of Warhammer fantasy.
Imagine Orcs space ship that travel trough wormhole and finished crashed into pieces somewhere in the XXX Mountains.
Most of their equipment will be destroyed, tanks blow up, and most of ammo ruined.
Then tribe will become more savage, conquering some of tribes living in mountains and merging their "culture" with their own.
After several centuries most of their space weapons will be jammed and malfunction. Still they try to behave like long time ago, they paint chariots with red (they are faster right?), they try to emulate all this funny things that make machines make moves. Some of them will be equipped with guns without ammo. Still you can smash someone's head with gun right?
Bosses and Warboss will have still functional mechanical weapons, for normal orcs mechanical mean magic (being smashed by magical or chain axe
hurts the same...).
That was the idea. Ok so what now?
I read army book and try figure how can mine army look. Then I have played some training games (with proxies). After that I figured something like that:
(I do not write point cost, and magic items, it will be different in different army lists, its rather list of miniatures I need)
1x Warboss - one of Foot and on Boar, to have choice witch one I use. This will be mine leader of Army of tribe Cracked Skullz aka Lost Boyz.
1x Battle Standard Bearer - obvious. Must have one to to have
BSB

2x Shaman - both on foot I think. One must look little "more" to be Great Shaman if I need one.
With 5 miniatures of Characters I can choose different combinations each game.
Core Choices
1x Orc Boyz with Choppa and Shield and full Command Group, about 20 of them.
1x Orc Boyz with 2 Choppas. Full Command Group, 20 of them.
1-2x Orc Arrer Boyz, each unit with 10 orcs and Champion and Musician
(without Bannerman).
Simple choice of Orc Core Units.
Special Choices
3x Boar Chariot - because I like them and already have them

1x? - I don't know, Black Orcs or some heavy converted Squigs (herders of jumpers). Maybe some machines?
Rare Choices
The most tough choice.
First I think about Snotling pup wagons, made from space junk. But this mean some Snotlings in army that supposed have only Orcs.
Giant is fun, nice miniature and I can convert him to fit into army idea. But second Rare (if I play on 2000+ pts)? Second Giant?
After testing games become obvious I can't play well with him. I don't know what I do wrong, each time he does nothing, he was busy dying (one time he kill 1 dwarf.... one...).
After hard thinking (it huts a bit) I found great idea. Ogres! They are nice to convert, one of most beautiful miniature (at least for me).
And they will add some "punch" to army. After all even I want sometimes to win.
So I decide to use Ogres in all Rare slots no matter how much I will have.
First will be Ironguts and second Lead Belchers. Third Bulls or another Ironguts.
I know that Ogres are not Orcs, but they fit mine idea of "Recruiting - 6ft height or more"

And this add me some more possibilities. As Tribe will often fight side by side with Ogres then some of orcs will use Ogres equipment.
Colours that i choose is Browns (all that leather, rusted weapon and the like), green (of course) and orange.

(red is to common

, red will be with orange on chariots).
So after all this writing time to show some photos

Army Glued and waiting to be painted.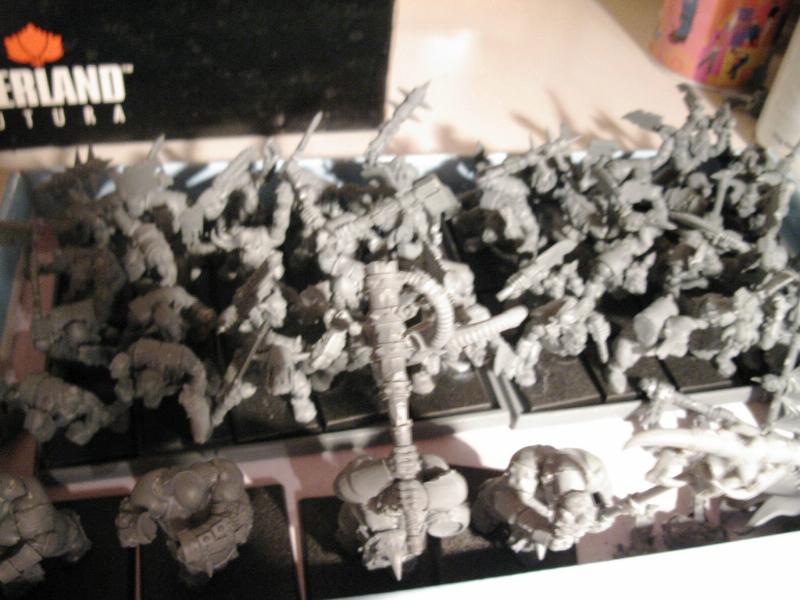 Chariots
(Orcs are not glued, i just put in them for photos)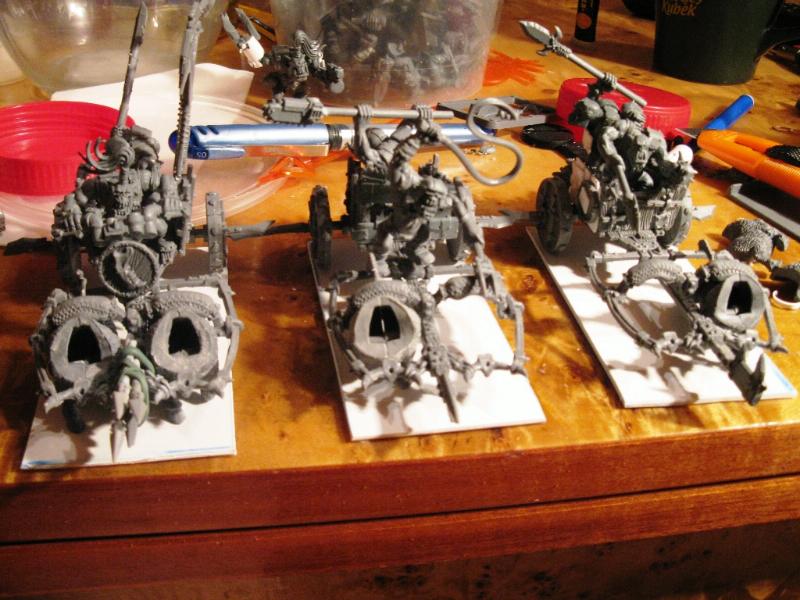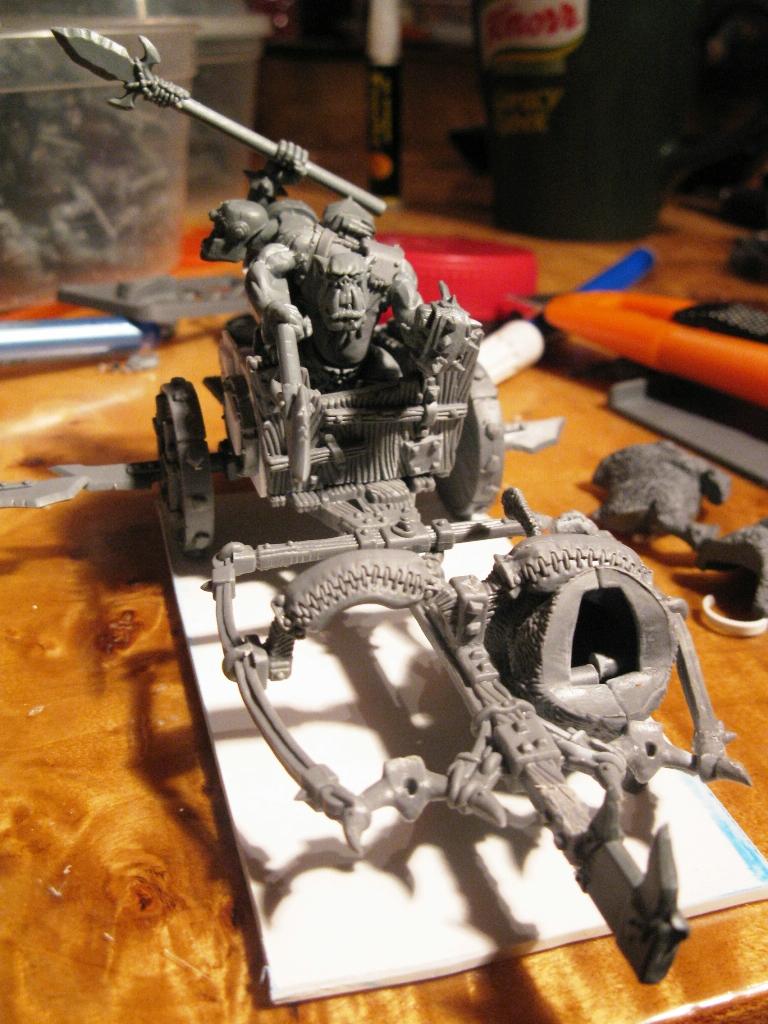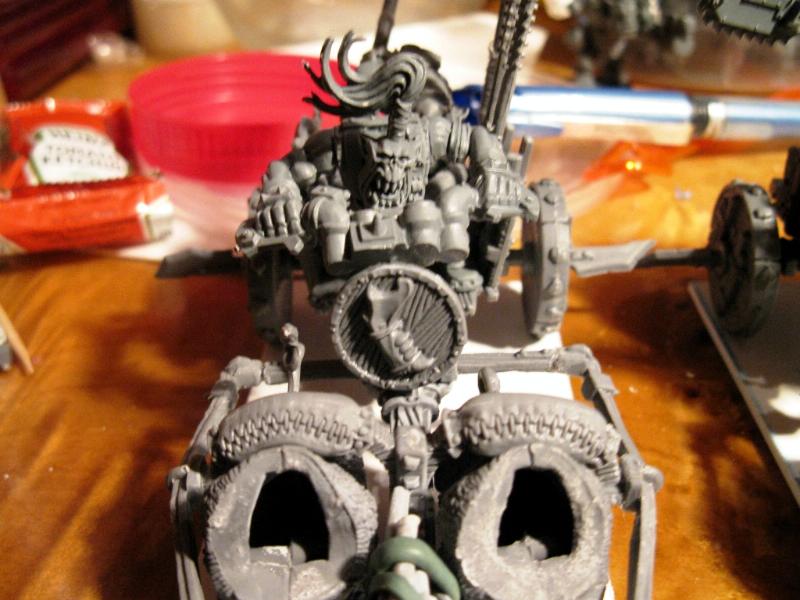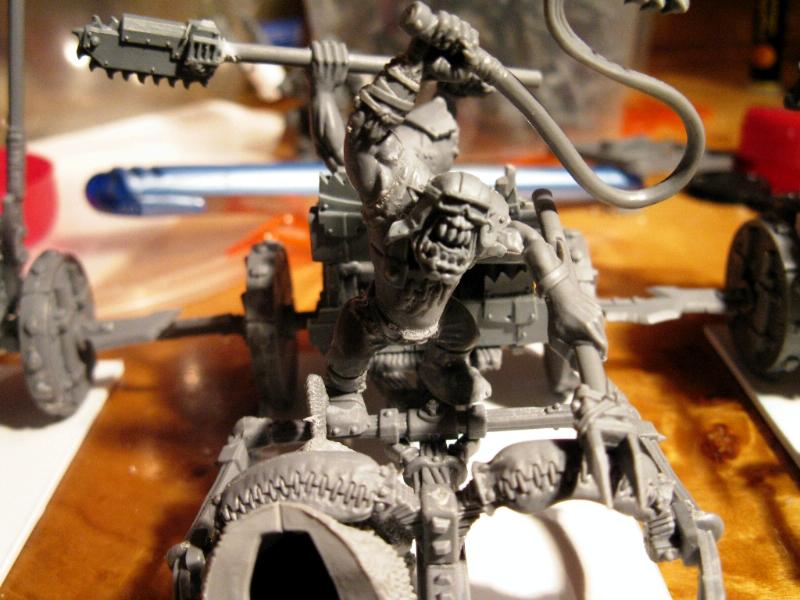 Now some Boyz randomly selected.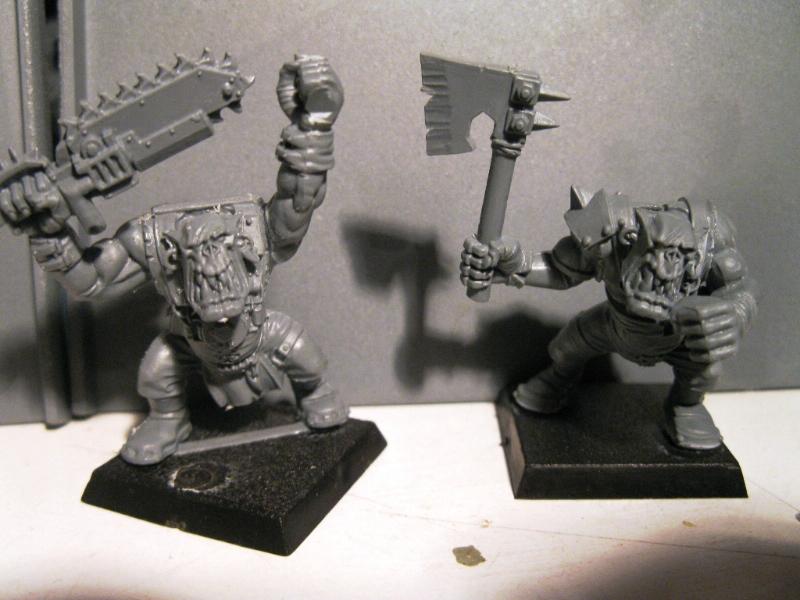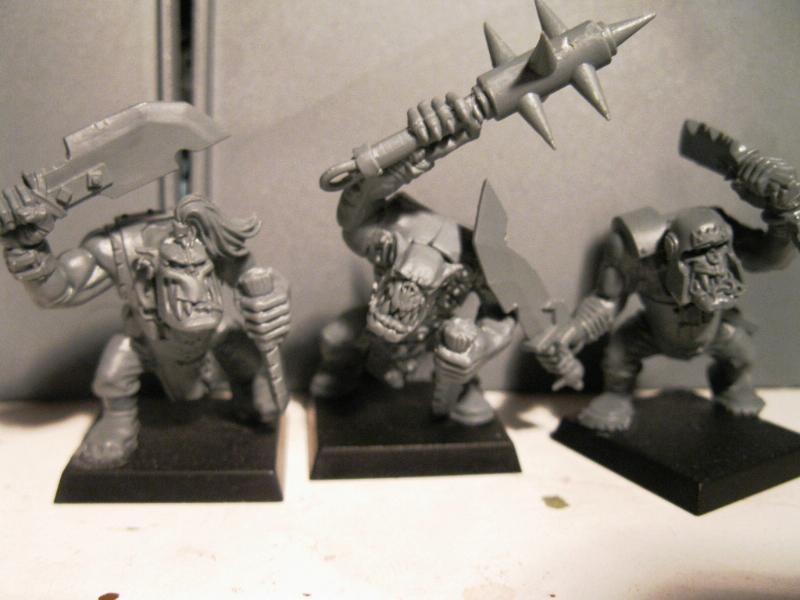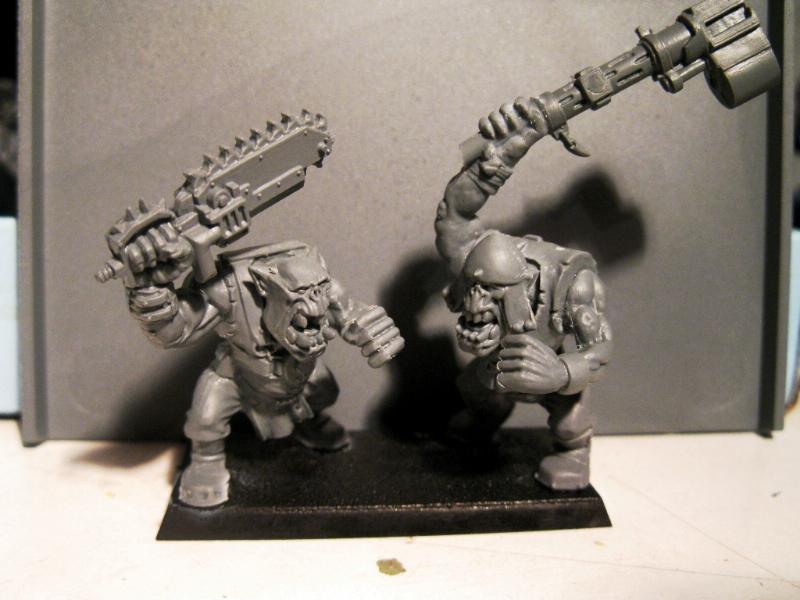 Champions from Boyz
Characters:
Shaman (made from lots of bits from different boxes)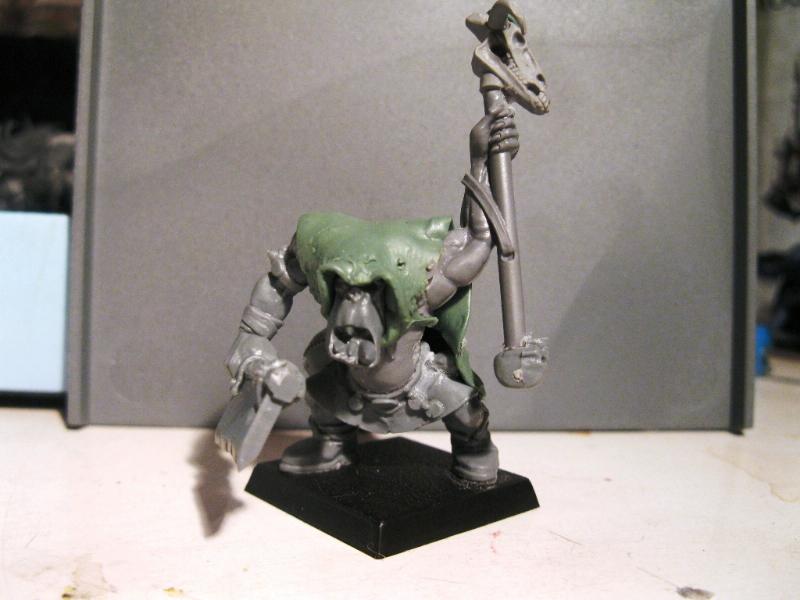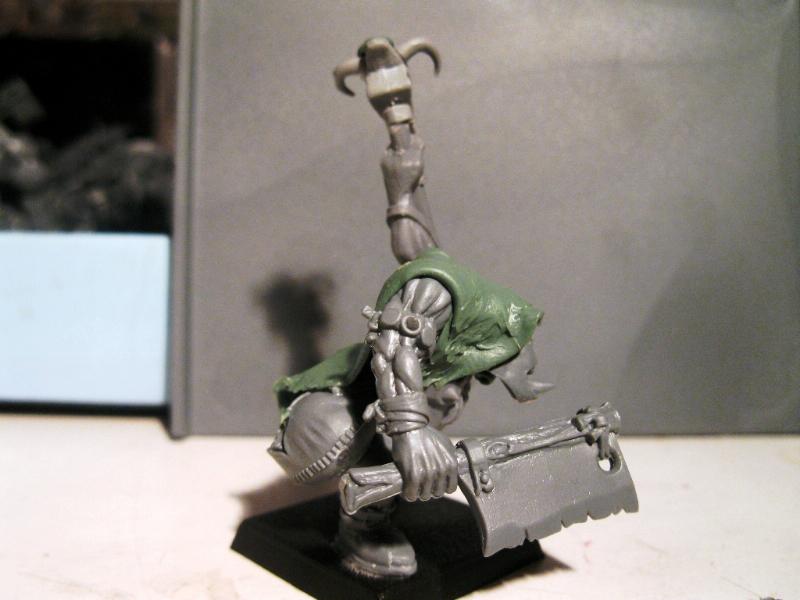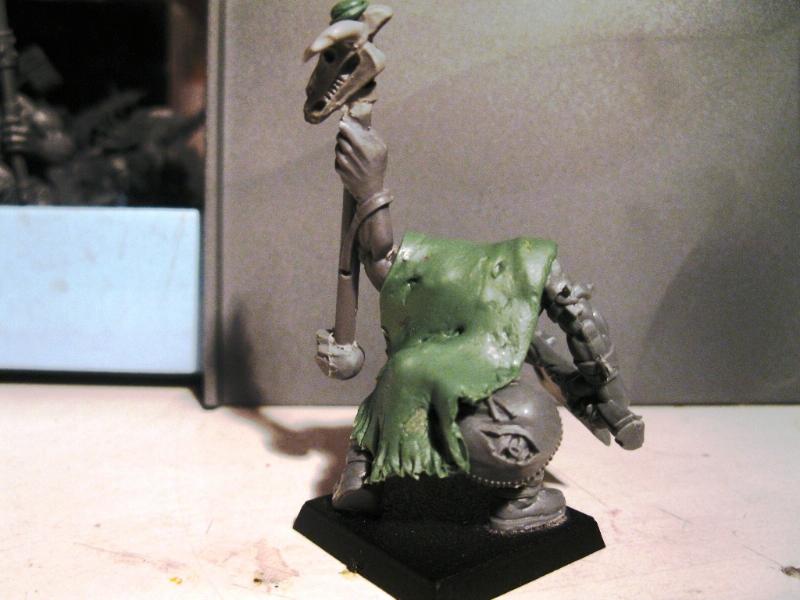 Warboss (or Boss) on Boar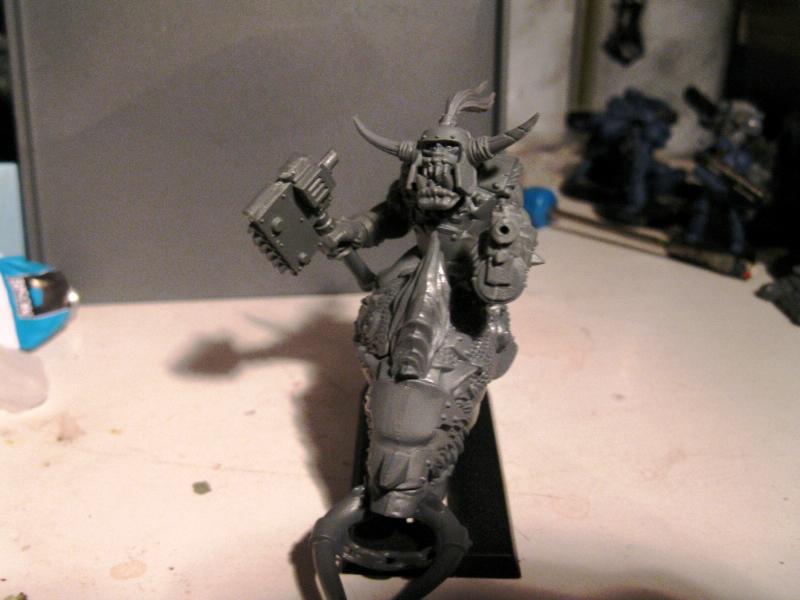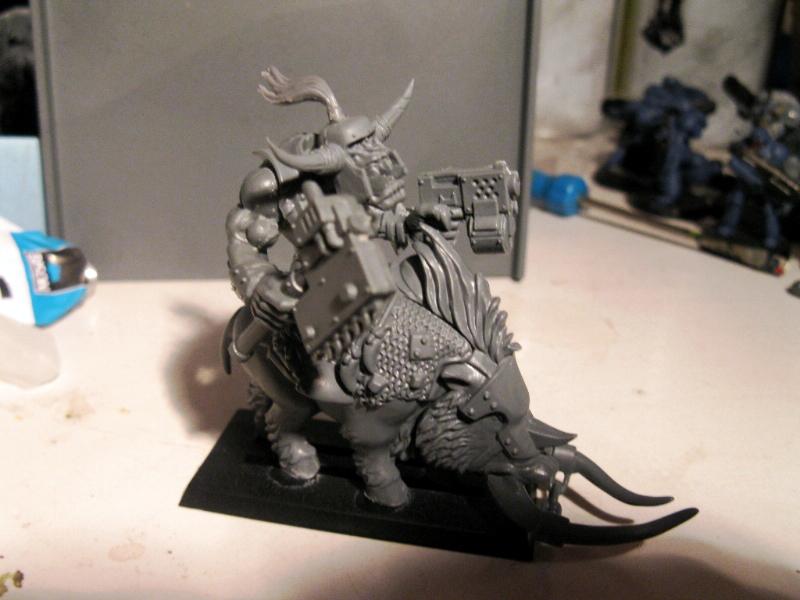 Warboss - it will be most of times Black Orc Warboss
Gorfang "Cracked Skull"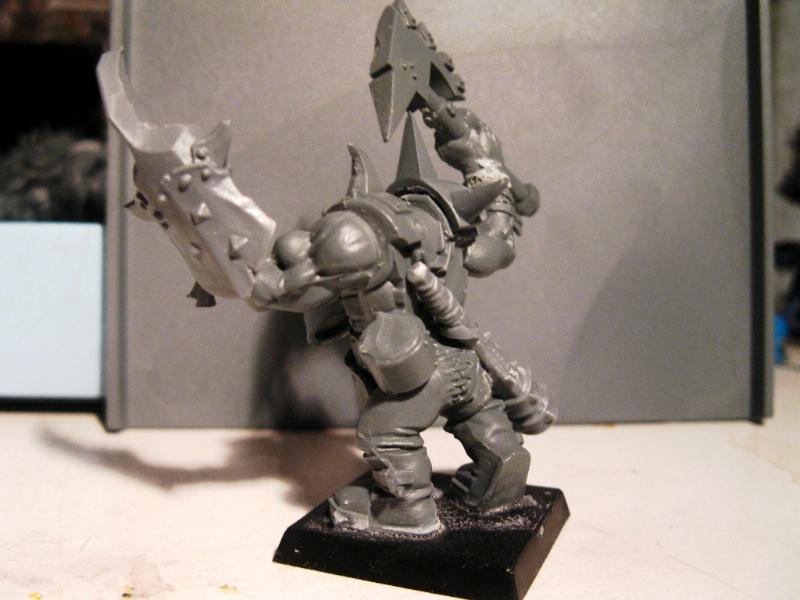 Finally latest photos. Some
WIP
.
Boyz on witch I try colour scheme.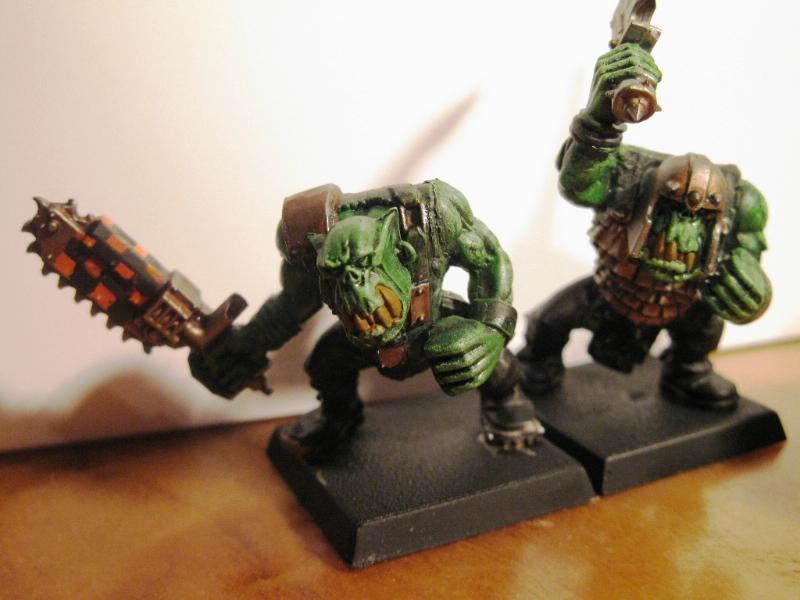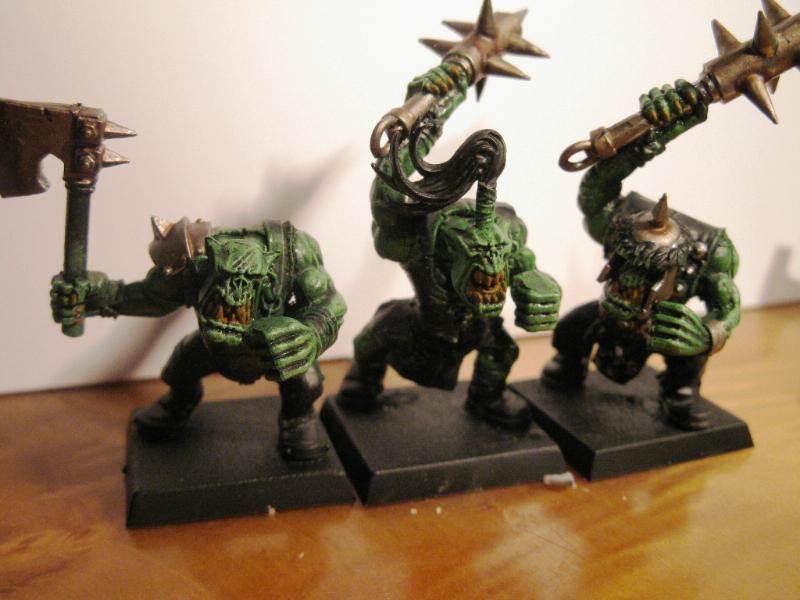 Battle Baner of Gorfang Cracked Skull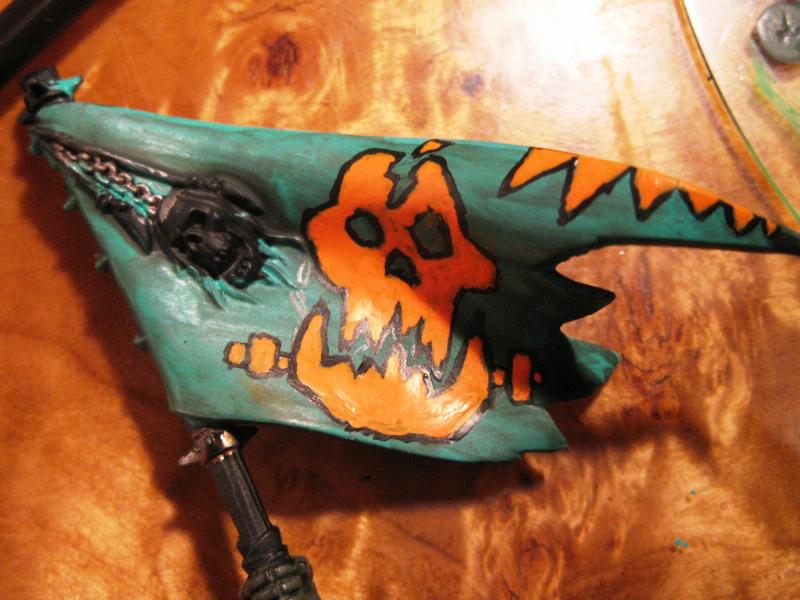 And last for now, Ogres in
WIP
, i have only Ironguts now so I paint them, I must buy Leadbelchers.
Four fearsome Ironguts: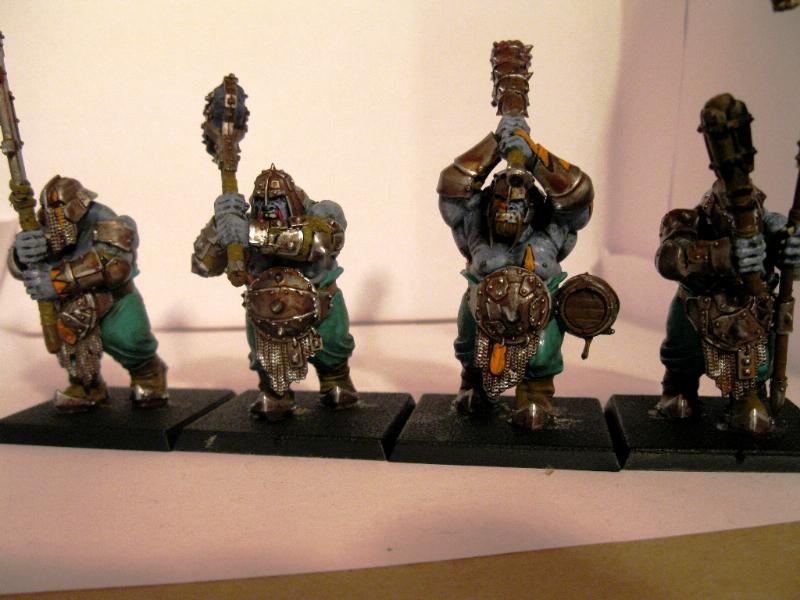 Ogre with converted weapon
Musician (I mean Bellower)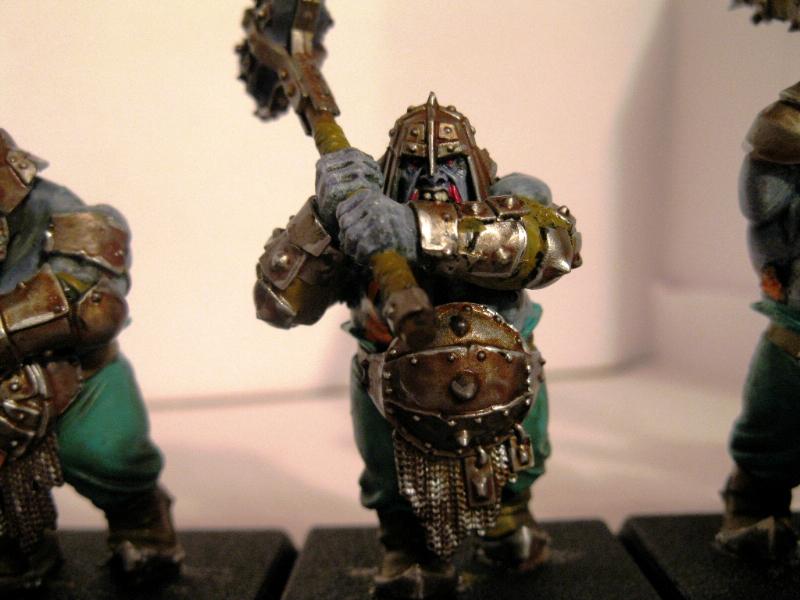 Bellower from Back
Ogres standard Bearer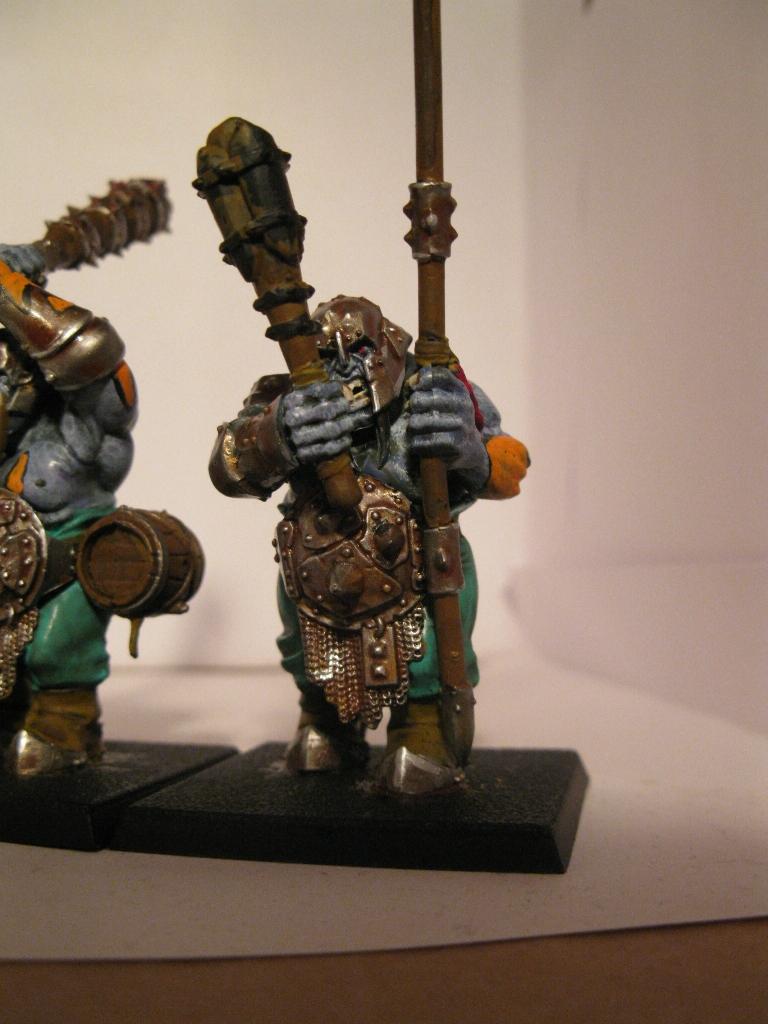 And last photo for now, Ironguts Champion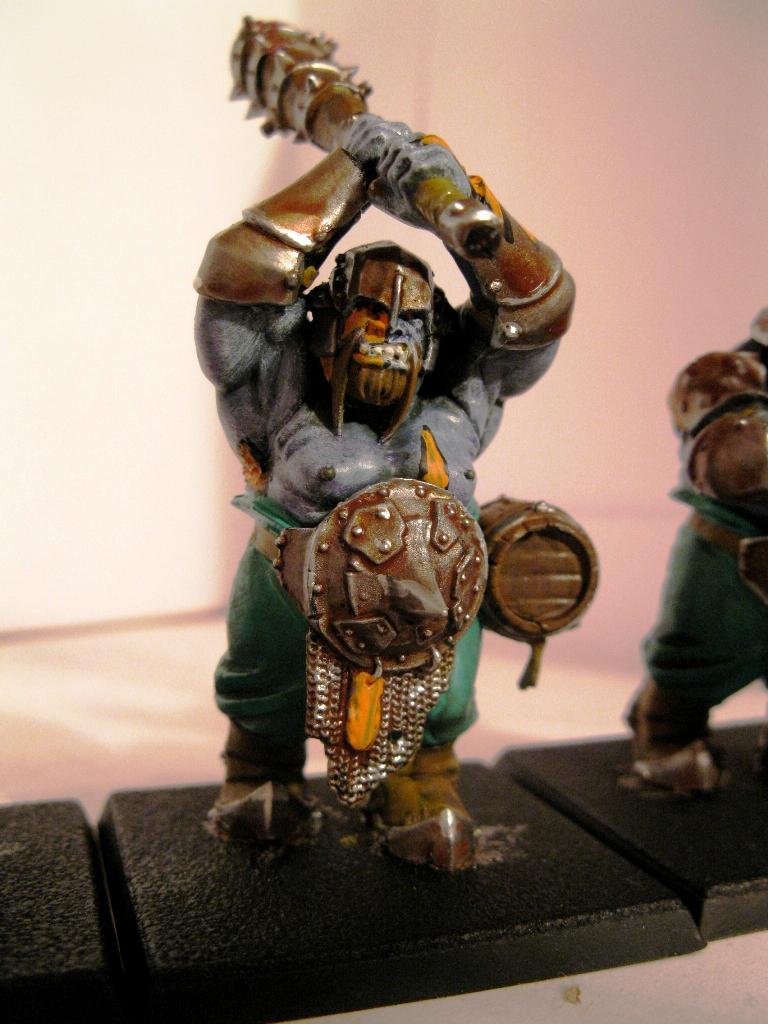 More photos soon

I Hope you like it and you are not bored to death.