Note: This is a Batrep I for a tournament I played on Aug, 23rd. I wrote it after the tournament and I never posted it. I am posting it to make H.B.M.C. happy with the terrain, and there is some interest in my Eldar army. Now let us go back to 2 months ago:
So I make it down to Garden Grove to participate in the SoCal Slaughter on Sunday (Aug 23rd) for their
40k
RTT
. It is at 1850 points and will end my week in
LA
.
I started the week by winning at GMI Game in Riverside. They had a 2000 point
40k
RTT
that I played with my Chaos and now I am trying to end the week with another win.
I took an Eldar list that was a pared down list form what I brought to the 'Ard Boyz. This is a killer list against infantry, but kind of weak against Mech. I did have 5 Brightlances, but they are BS3, and 2 of them are in fragile Vypers.
My Eldar Army:
Headquarters
Eldrad
Avatar
Elite
6 Harlequins w/5 Kisses , 2 Fusion Pistols
Shadowseer w/Kiss
Troupe Leader w/Power Weapon
Troops
10 Guardians w/Brightlance
10 Guardians w/Brightlance
10 Guardians w/Brightlance
8 Dire Avengers
3 Guardian Jetbikes w/Shriken Cannon
Warlock w/Destructor, Singing Spear
Fast Attack
2 Vypers w/Brightlance
Heavy Support
3 War Walkers w/Scatter Lasers
3 War Walkers w/Scatter Lasers
3 War Walkers w/Scatter Lasers
They army works by sending castling up and sending a lot of fire down range and then having the Harlequins for counter-assault. This is also one of the first versions (1.2) of my Eldar War Walker list.
SoCal Slaughter Game # 1 Blackmoor vs. Hulksmash
For the first game I get to go against Hulksmash. We teamed up the day before in the team tournament with mixed results, and now we get to play each other.
Hulksmash's Demonhunters List:
HQ
BC
w/Psycannon and 3 GKT's w/1 Psycannon-254
Elite
BC
w/Psycannon and 3 GKT's w/1 Psycannon-254
Troops
7
PAGK
's-200
7
PAGK
's-200
7
PAGK
's-200
6
PAGK
's w/2 Psycannons and Targeter-226
Heavy Support
LR
w/Smoke and Extra Armor-258
LR
w/Smoke and Extra Armor-258
I am worried about his list. He has a lot of psycannons and I am worried about an army that can shoot a lot of strength 6 shooting down range.
Mission: Modified Command and Control
There are 2 objectives placed in the center of the table, 24" in from the sides. So, one on the left center of the table (the green plastic marker) and one on the right center (the inquisitor).
Setup: Pitched Battle
Hulksmash wins the dice roll to go first and takes it.
Deployment:
He starts with a 7 man Grey Knight squad in both of his Land Raiders. He has the Grand Master with his Terminators beside the Land Raider on the left as well as the 6 man squad with Psycannons in the terrain. He has a Terminator squad beside the Land Raider in the center, and a Grey Knight squad behind them.
A Close up
My set up: I hide because of his Psycannons, and move my Walkers up on the right with a Scout move. My Dire Avengers are in the building in front of the vehicles.
Turn #1
Demonhunters turn #1
He moves a little and shoots his army. He kills 2 War Walkers and kills some Guardians.
Eldar turn #1
I move forward. I shoot a Lascannon of off the Land Raider on the left, and I unload on the Terminators and the Grey Knights on the right with my War Walkers, Jetbikes and Dire Avengers and take them out.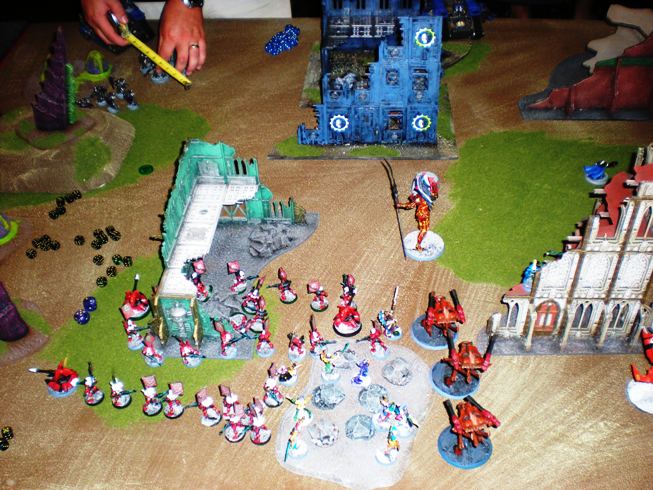 Turn #2
Demonhunters turn #2
His shooting does not do much except taking a brightlance off of a Vyper.
Eldar turn #2
I inch forward. My Jetbike Warlock chucks his Singing Spear at the Land Raider and destroys it. On the left a brightlance take out his other Land Raider.
Turn #3
Demonhunters turn #3
He hides his last squad on the right from overwhelming firepower. His squads on the left shoot some at my Avatar and it ignores it.
Eldar turn #3
I start to move up so I can start to be near the objectives. He is out of range of most of my shooting, but I manage to take down his terminator squad. I dare him to assault my Jetbikes so they will be out in the open so I can shoot them and then claim the objective with the Dire Avengers.
Turn #4
Demonhunters turn #4
I guess he remembers that this is an objective mission, and starts to kill Guardians. He has a couple of guys that can see the Jetbikes and kills a couple of them.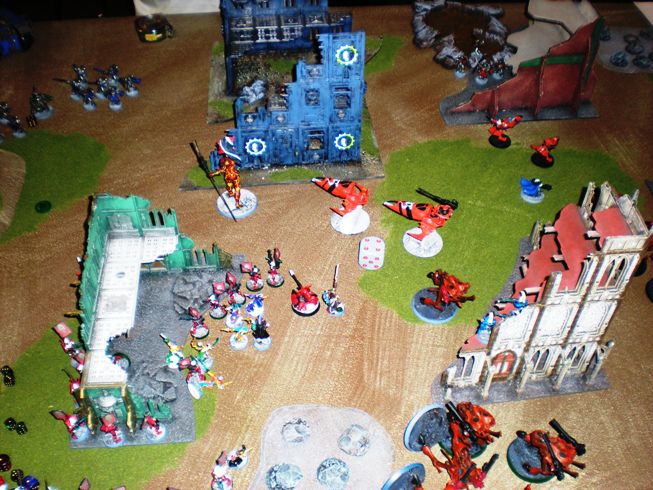 Eldar turn #4
I move my army to the left to try to finish him off.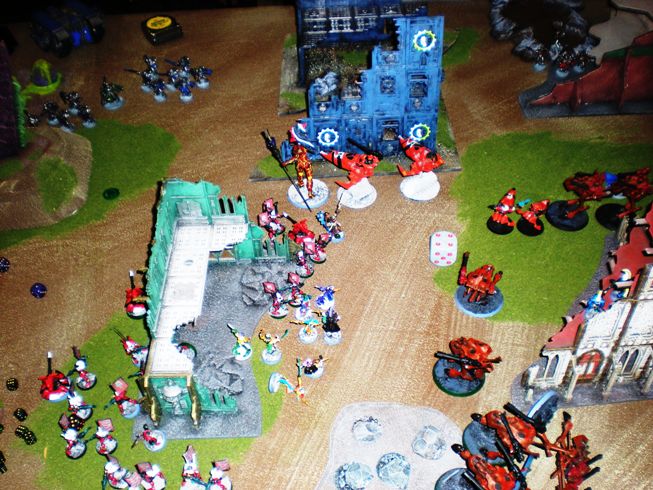 Turn #5
Demonhunters turn #5
He gets ready to make his last stand on the objectives. He shoots up some more Guardians, and comes out from hiding on the right if he has any chance of making it to the objective.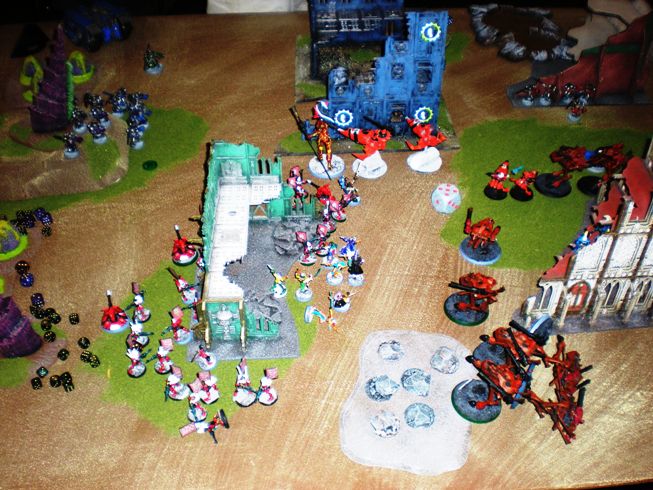 Eldar turn #5
It is getting late, so I start to run up to the objective on the left with my Guardians. I destroy the unit on the right that finally came out from behind the wall.
Turn #6
Demonhunters turn #6
He moves up to the objective on the left and tries to hold it going for the tie.
Eldar turn #6
I shoot up the last of his squads, but they have good survival skills and he makes a lot of saves.
End Game
The left objective we are contesting.
I own the right objective.
I win 1 objective to 0
It was a good game with Hulksmash. At the end of turn 2 I thought it would be over in a hurry when he lost both Land Raiders and took a lot of casualties, but he fought back and made a game out of it and almost got a tie.