OK, I've decided it's time for another summary post as there is at least as much new material as was in the first one... so bear with me guys.
First up... re-paint and re-basing of sniper scouts (20). Still have elements that are over 15 years old (pads), but they got a major upgrade.

Objective made for my army by Solar_Lion: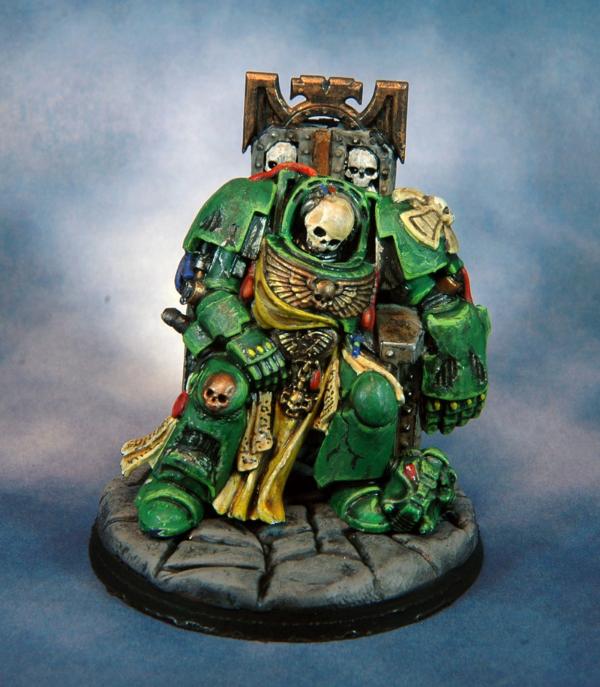 Finished the
CCW
for Venerable Dread: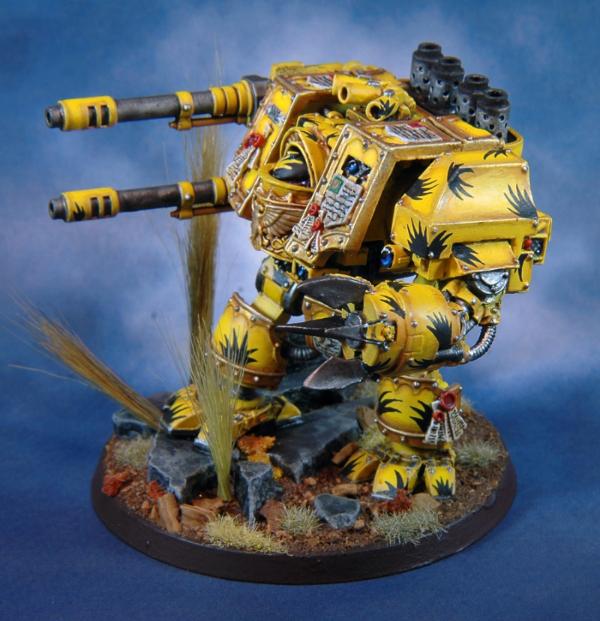 Tranquility veteran for
GMS
: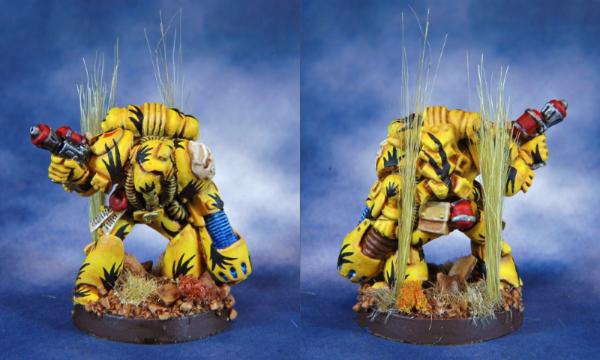 Tranquility veteran for my army: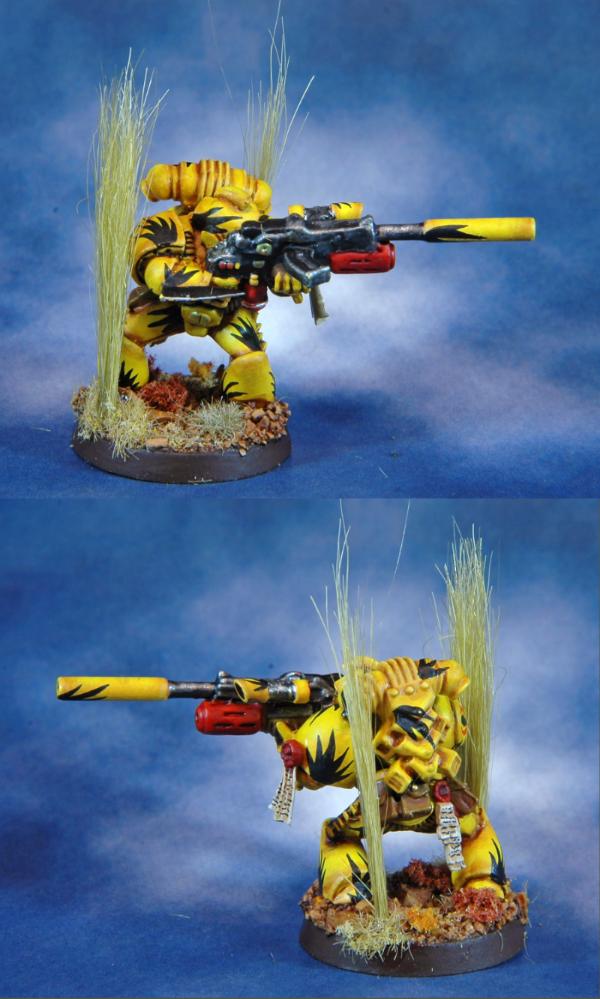 Tranquility veteran sergeant for my army:
inmygravenimage's Sgt. Tonbo: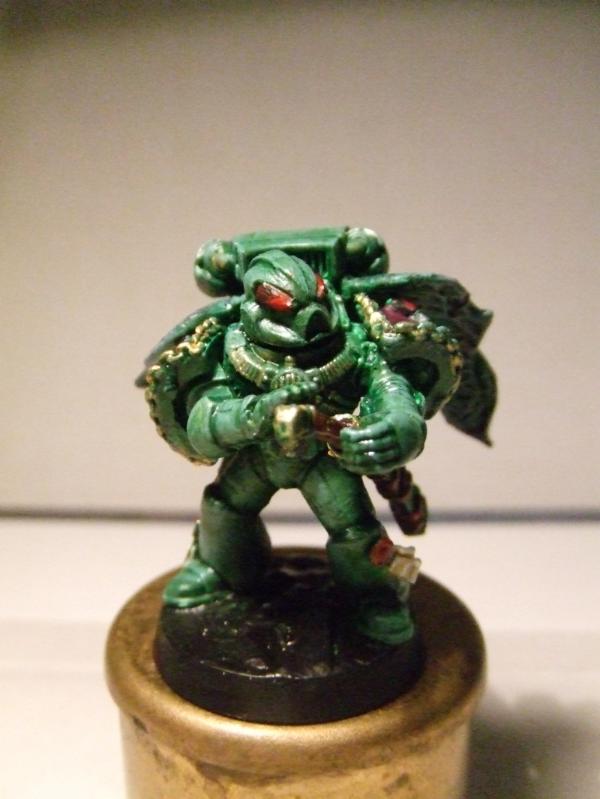 Tranquility mug made for me by beezley1981: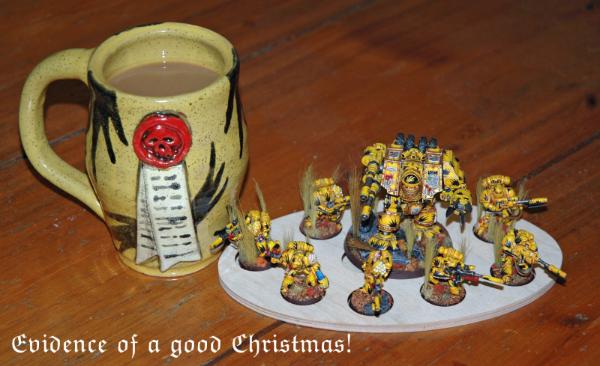 Brother Inushi for
GMS
trade: (first airbrushed marine)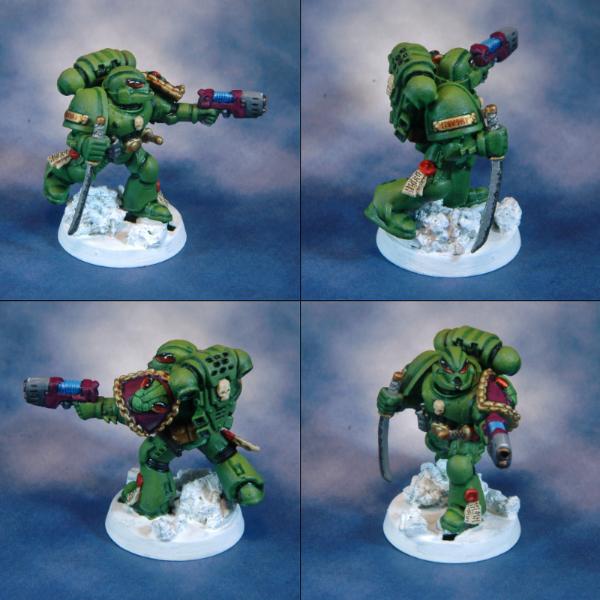 And his story...
The Iron Torch Incident
Darius Stone, Scoutmaster of the Mantis Warriors strode purposefully though the halls of the Imperial Space Station "Iron Torch", his brow furrowed and his mind half a sector away where his charges fought a savage beast of an ork called "The Gitsplitta"… whatever that was… and his mindless hordes in one of the endless "Waaaghs" that threatened the Imperium. At his side, Sergeant Inushi, a former pupil and now full brother in the chapter matched his pace… It was clear from the relaxed and confident facial expression that the young man failed to fully comprehend the complexity or peril inherent in their current circumstance. He was one of the brightest in the first crop of scouts that had been provided to the Mantis Warriors upon their return to Imperial Space. His physical prowess, mental acuity and fierce devotion to the Emperor made him a perfect candidate and he did not disappoint. Within the first week of training he had established himself as squad leader amongst the cadre of scouts, and when he at last became a full brother of the chapter, the fact that he was chosen to lead one of the newly constituted tactical squads surprised no one. Like most young men however, he was head strong with a tendency to shoot off his mouth with the same ease as his plasma pistol… never considering that the situation (or gun) could over-heat and cause a sudden crisis.
"I don't understand why we're here Darius, this is a waste of time!" said Inushi to the Scoutmaster.
"We are here my brother, to give a full accounting of the ork cult you found on CygnusX-328."
"Yes, yes, I understand that!" snapped Inushi, "What I don't understand is why we have to be here in-person. I gave a full report to the Captain and he filed it up the chain-of-command. While we waste our time in this station stuffed to overflowing with doughy, vacuous and utterly useless Imperial bureaucrats our brothers are fighting and dying without us! We are still far too few to sustain a campaign like this while key personnel are sent to satisfy the curiosity of Imperial bean counters!"
The calm and confident visage of Inushi's countenance had now been replaced by one of fierce zeal mixed with mild disgust.
Darious answered in a calm and measured voice. "Allow me to remind you, young brother, of the reasons for our summons. The "Bug Boy" cult that you uncovered in Gitsplitta's Bad Moon clan is unlike any other orkish entity encountered in this sector. It has used it's contact with our chapter as a focal point for their natural ferocity and creativity. They have begun to emulate our chapter, our ways of battle, even going so far as to strip the dead of their gear or mounting raids on our supply lines and outposts for the singular purpose of equipping themselves. As a result they have become a much more effective fighting force than a typical ork mob could ever achieve. All of the ork's natural fury and cunning combined with superior weaponry and tactics. It is nearly unprecedented in the annals of Imperial history and a cause for great concern."
"Nearly?" asked Inushi.
"Yes, well… I remember attending an Ultramarine security briefing roughly two centuries ago while I was studying under Telion. Intelligence had come to them of an entire ork warband who dressed and were loosely organized as if they were Dark Angles. At the time the information had not be confirmed, but perhaps it was an indication that a new phase of orkish evolution has begun and the beasts have added functional mimicry to their already long list of instinctual skills." answered Stone.
"Understood" said Inushi "but I still don't see why they had to pull us out of the field to conduct their investigations. Everything we know is in the report. What can they possibly gain from bringing us here? Why is our report on the subject not simply accepted as fact?"
Stone stopped, spun and caught his young companion by the bicep… bringing him to a sudden and less than dignified halt. Inushi, surprised and somewhat irritated by this sudden assertion of force by his old mentor, tried to pull back… but Stone's fist might as well have been made of ceramite, for Inushi could not dislodge himself from the Scoutmaster's grip. When Inushi met his gaze, a feeling came over him that he hadn't felt since he was a scout… deep respect, devotion tinged with love… and fear.
"Because, my son… we are Mantis Warriors." Said the Scoutmaster through a clenched jaw, lowering his voice so that only Inushi would hear. "Everything we do is suspect. We have been forgiven on paper but most of the Astartes who fought against us still live, and still view us as traitors to the Imperium. We were sent into the Maelstrom on crusade not to eliminate the Astral Claws but to be eliminated ourselves, so the Imperium would be rid of us without the embarrassment of a formal purge."
"Yet you survived." replied Inushi in a hushed tone.
"Aye, we survived." Stone's words were guttural… primal in their tone like the growl of a Fenris wolf. "But we are not forgiven… not by those who's blood was spilt on the fields of Badab , not by the Imperial technocrats who gained power from our banishment, or by the single-minded members of the Inquisition who will seek any excuse to send us back into oblivion. Remember it is He whom we serve, but we must treat with "them" to survive for His service.
"Damn the Inquisition!" Inushi blurted out much too loudly… "Faithless bastards hiding in their citadels and passing judgment on faithful servants of the Emperor, all to preserve their own lust for power."
"We've earned this fate boy!" Stone's cold rebuke struck Inushi to the core. "And if you don't learn to mind your tongue you will do yourself and our chapter irrevocable harm!"
Cowed for the moment, Inushi fell silent and contemplated his elder's words. Stone released his grip and moved forward brusquely while Inushi fell in beside him. At length they came to a pair of ornate, arched doors nearly 10 meters high. "The excesses of the Inquisition never cease to amaze me." muttered Stone almost unconsciously before deciding to take his own advice and keep his mouth shut.
As they approached they were met at the door by a woman with a blonde top-knot. "Are you ready for your
de
-briefing?" she asked.
"Aye" said Stone.
"Very well then, follow me." she said and together the trio entered the vault-like room.
…
After many hours of what felt more like a trial than a debriefing, Stone and Inushi found themselves returning through the long corridors to the shuttle which would return them to the "The Green Menace", the Mantis Warrior frigate which had brought them. Considering what had transpired over the last several hours it had gone about as well as could be expected. With Stone to guide him, Inushi kept his temper in check and stuck to the facts, even amidst the veiled (and not so veiled) threats and innuendos of that golden-haired bitch of an inquisitor. Unfortunately Stone had been able to glean very little about what the Inquisition knew or was looking for during the debriefing, but he couldn't help but feel that something wasn't right. Considering how hostile an examiner the inquisitor was, there were areas of weakness in Inushi's testimony which even Stone noted, yet they were not pursued. Whether the inquisitor wasn't as smart as he thought, was blinded her clear hatred for the Mantis Warriors or had some other, hidden motive he could not be sure.
They finally arrived at the hanger doors. The security check point was designed to allow a single person entry or exit at one time. As was his nature, Stone led the way, anxious to be quit of the station before any other unfortunate circumstances occur. As he stepped into the bay he heard a loud hissing sound from the expulsion of gas followed by a resounding clang of metal on metal just behind him. Hidden bulkhead doors had dropped from pockets in the ceiling separating him from his young charge.
...
The bulkhead had come down impossibly fast. Even with his heightened speed and strength Inushi had no chance to get through before it closed. Inushi instinctively reacted to this threat as he would any other. He dropped and spun, kicking out from the bulkhead as he reached for his katana & plasma pistol and leaping into the center of the corridor where he could maneuver and fight. The hallway however, was empty… even the servitors had disappeared.
"Sergeant Tano Inushi of the Mantis Warriors" the inquisitor's voice rang out from hidden speakers and echoed throughout the hallway. "You are here by charged with the crime of herasy for calling into question the will of the Emperor in the guise of criticizing the Inquistion."
"You lie!" he cried to the walls and empty spaces.
"Play the tape." said the disarticulated feminine voice.
From the hollow depths of the station his own words came back to damn him…"Damn the Inquisition!" "Faithless bastards hiding in their citadels and passing judgment on faithful servants of the Emperor, all to preserve their own lust for power."
As the echoes of his foolish words reverberated through the empty hall, two large sections of hallway wall slid silently into the floor, revealing two full squads of Adeptus Sororitas bearing flamers and meltas… all leveled at the young marine.
"Submit to judgement or be purged where you stand... and your precious Scoutmaster with you." echoed the Inquisitors voice.
-finis-
(Now Ice has Inushi woven into his own fiction, but since he's thoroughly woven in as a charachter, I cant post it here... suggest you check out Ice's Ice Angels blog for that. However, WarOne did write a very nice piece of fiction also concerning Inushi, so I present it for your enjoyment.
"Submit to judgment..."
The words rang against his ears as Sergeant Tano Inushi awoke from his disturbed sleep.
"or be purged where you stand…"
Inushi wished he choose the latter course of action now.
Fully alert and standing up again, the fallen Mantis Warrior looked around his confines. The brig he now occupied for the last several years was his home now. Gone was the days of his former existence with his fellow warriors, fighting in the Emperor's name and delivering swift justice to those who wronged him or his mentor, Scoutmaster Darius Stone.
"We are Mantis Warriors…."
"We are not forgiven…."
"We've earned this fate…."
Inushi replayed the final days of his freedom day after day, every morning he awoke before the Inquisition came down to torture his mind and body, looking for any tiny crack to excuse themselves for more arbitrary punishment on his person.
Inushi dared not strike back. He knew he was valuable to them in more ways than one. His continued existence allowed his friend and teacher to still live…or so they say. The Scoutmaster could be dead by now, as years have ticked away while his pupil had been captive to the whims of the capricious Inquisition.
Sighing, he stretched his bruised muscles and began to perform basic exercises in his spartan cell. The daily routine kept his body in shape despite the minimal room, and allowed him some emotional respite as he pummeled the walls of his cell with scabbed fists. His spirit and body were hardly broken despite the strain levied on him after innumerable days locked away.
The one side of his cell where he could peer out was perpetually kept dark. A trick of magic or technology Inushi could not say. Men came and left through the darkened portal, perhaps watching him every minute of every day. He himself could not penetrate the dark depths.
He didn't even know where he was.
Performing his final hundred stomach crunches, the space marine then sat up and assumed a cross-legged sitting position, folding his arms and closing his eyes as he began to meditate in the final minutes before the next round of punishments began.
Images flitted by in his semi-conscious state, each one copious coming into perfect crystallization in his mind's eye.
He remembered the first day that the Mantis Warriors found the promising youth on his home planet of Nihaze III. They took him and the other recruits aboard their Battle Barge, Endless Redemption.
The months blurred by as recruit after recruit was deemed unworthy, either dying or being inducted into the serfs that would service the marines for the duration of their lives.
Finally, only Tano Inushi remained standing, alone amongst the crop of young men that had succeeded in becoming a scout.
Years then progressed as surgery, indoctrination, and training honed the reckless young Mantis Warrior into a perfect killing machine. He learned under the wing of his beloved Scoutmaster Darius Stone. He learned the tortured history of his fellow marines and the path of redemption they were imposed on, and he learned the depths to which select chapter mates succumbed to their "Battle-haze," a flaw in the geneseed that granted them greater senses and strength, but at the cost of their will.
It all culminated into the celebration that took place where Tano Inushi stood at long last was considered a full Mantis Warrior, and placed into the Tactical Squad that he would one day lead when the prior Sergeant fell in battle.
Then the fated day came when the Inquisition took that all away from him. They overheard his heretical words against the fate they imposed upon his chapter. They took him away and sealed him in this cage. They gifted him with pain every single day. Their laughs and accusations marred the mind of Inushi, tempering his stoicism with well hidden fury he fueled in the dark pit of his mind of the day he would finally be released-
The cell door clinked, and swung away into the dark void. The sergeant opened his eyes and sighed. Standing up, he turned to face the bleak prospects of the day, the trudging trio of guards along with the Inquisitor who would mete out his daily punishment. It didn't matter who was the Inquisitor who stepped through that door, in Inushi's head they were all the same blurred torturer that had cast him into this hole.
Today what strode through the door was one man who stepped through the blackness into the metal cell. He held in one hand something long and thin wrapped in cloth. The other hand rested on a holstered plasma pistol.
"Sergeant Tano Inushi of the Mantis Warriors," the Inquisitor stated. "You are free."
All the emotions drained out of the stunned marine as he gaped at this man. Looking more closely at his features and power armor, he noticed for the first time that this weathered and seasoned servant of the Emperor was not one he had seen before. Composing himself quickly, he narrowed his eyes and scoffed.
"Free? You're mocking me. This must be yet another penitence I am being tested with now. Am I right?"
The Inquisitor shook his head and tossed the wrapped cloth to the marine, who caught the item gingerly. Still eyeing the man, he undid the cloth covering...
And felt the touch of familiar steel to his hands. Inushi jerked his eyes downward.
His katana was once again reunited with him.
Inushi slumped to his knees, reverently holding his favored weapon. With tears in his eyes, he looked to the Inquisitor questioningly.
"Your imprisonment has been hereby revoked by me, Heth Fernix. You are now taken under my wing for the duration of this Crusade. Here, you may need this. It's not your original weapon, but I hear you liked to use plasma pistols.
The Inquisitor unholstered his weapon and handed it to the kneeling Inushi, who accepted it as he rose, his mind racing with the sudden turn of events. One question did sprout in his thoughts that he had to state.
"Deathwatch?" queried the young marine.
Again Heth shook his head no. "I am afraid we don't have the time to go through all the pomp and ceremony for you to be inducted. Suffice to say, you were brought to Macharian VI for a different purpose. Take my hand, as you may get dizzy from passing through the null light barrier."
Inushi took the man's hand and stepped into the blackness after him. A wave of nausea passed through him, but he clenched his teeth and overcame the momentary sickness.
A great hanger loomed all around him as he came out of the depths of his cell. Something was not right. He was marched down a corridor to his enclosed room all those years ago when he last saw the outsides of his imprisonment. A few steps more and he spun quickly to see where he was entombed for four years.
His cell was nothing more than a giant metal crate.
"How…" Inushi began to question, but was cut off by the Inquisitor.
"Gyro-stabilizers kept you from knowing when we moved your cell around. You've been in over a dozen different prisons over your tenure in that cage. Rather ingenious as we have had problems keeping space marines captive for long periods of time, especially when those said marines were actually threats to the Imperium rather than misguided or misled souls. You I judged were one of those souls."
The Inquisitor swept his hand across the length of the giant chamber. Flying transports flew about and running Imperial Naval men ran across the deck of the mile long hanger. Over a dozen massive doors were bare and open to the recesses of space. All the hanger doors that Inushi could see were positioned in orbit to view the massive planet below.
"I was brought here…" questioned the Mantis Warrior. "This is Macharian VI I assume? Why was I brought here to Macharian VI?"
Fernix turned to meet the taller man eye to eye. His look was one of determination and resolve. "I brought you here because you deserved a second chance. The Inquisition is not always right in who they condemn as heretics. Thankfully, I learned of your imprisonment before embarking on the Crusade. I pulled up your files and found your record impressive. Thus I called in some favors from within the organization and got you stored aboard the first wave of transports that came to this planet."
The Inquisitor never broke his stare, keeping Inushi pinned in place. "You skills are needed. You were a fine scout within the Mantis Warriors, and a far better marine once you were inducted into their ranks. The Scoutmaster I talked to personally gave you a high recommendation despite your mouth…"
Inushi drowned out the Inquisitor. His mind tunneled as he conjured up an image of the man that was his mentor, his friend, and in everything but the biological sense, his father.
He still lived. And with that one final doubt cast aside, Inushi knew what he had to do.
"…so that is why we need you…"
The marine snapped back to reality. "Heth Fernix," interrupted Inushi.
The Inquisitor closed his mouth. He nodded for the sergeant to continue.
Inushi kneeled. "I solemnly swear under the light of the Emperor's grace, and upon the honor of my chapter, I pledge myself now and forever to serve you in any capacity you command. Task me with whatever you may desire to do to me, so long as I continue to serve the Emperor I will not falter nor fail."
At last, Inushi understood what his mentor had spoken of as the Mantis Warrior's duty to absolve themselves of the taint of suspicion. Their traitorous actions during the Badab War had forever marred the chapter in the eyes of his fellow man. Each one of the marines would always stand on a precipice of doubt and insecurity so long as others viewed them differently. The chapter as a whole continued not only to fight for the honor of the Emperor, but also to earn the respect of others who didn't see them in the same way.
Inushi swore to himself he would prove his loyalty to the Imperium, even if it meant doing it one person at a time.
Heth took a moment to judge the marine. "Very well. I accept your oath of loyalty. It wasn't needed, but I thank you for speaking what I saw in your heart. You were misguided…but now it is time to bring you back into the Emperor's light.
"Sergeant Tano Inushi. You were naked with nothing but a loincloth and your resolve for such a long time. Now you have your weapons to carry in the Emperor's name. I will also give upon you a suit of power armor. I will also restore your status as a sergeant once more. You will be given your own squad of men and command over them.
"Now then…" the Inquisitor said, motioning for Inushi to rise. "Enough of the pretty words. We have a task to perform in service to the Emperor. What would you like to know?"
Sergeant Tano rose. With his mind clear and his doubt and fury dissolved into mist, he began to question the Inquisitor about the nature of the Crusade…
Razorback 397: (first airbrushed vehicle)

Razorback 705: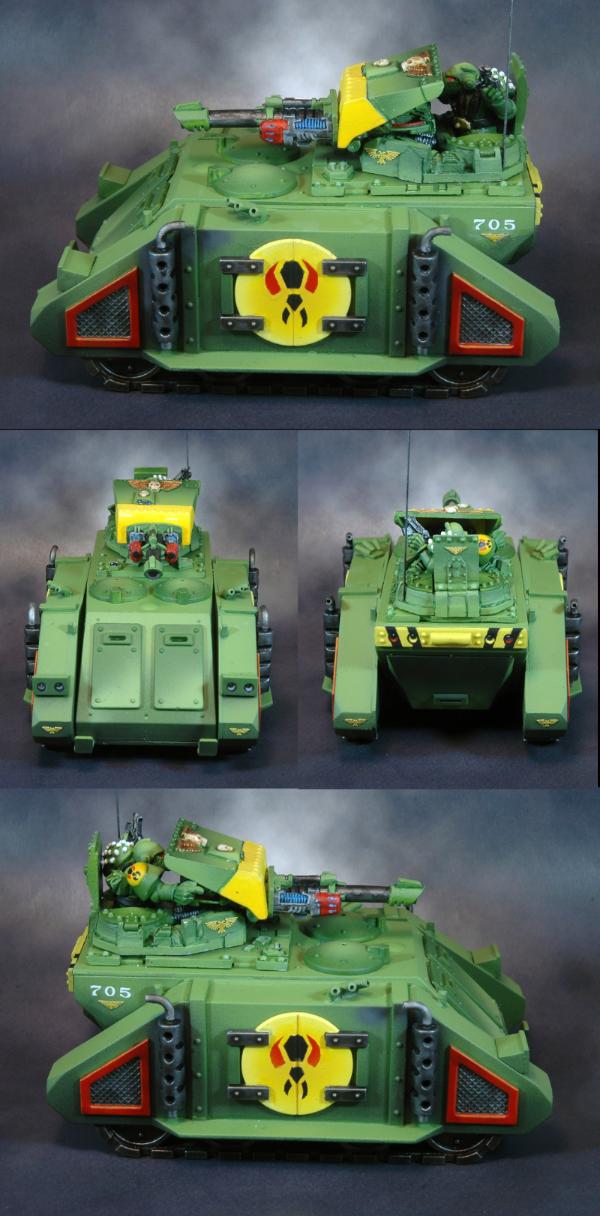 That brings you up-to-date!
Gits