Okay so here's the original photo I took of Pat's tank. The background is black because I used flashes so the camera couldn't see the room full of gamers. I had a softbox directly over the tank and three SB800s snooted for fill light in certain spots.
You don't need to do this or have all this stuff. Just hang a white sheet over a window so the sunlight is softer, and hang a black sheet as a background so there is no clutter behind the tank and terrain, so all you need so far is a white sheet and a black sheet. Change the angle of the camera to experiment with different light angles, keep the window right behind you, then keep the window on your left, etc...see what works for your miniature. You'll have to keep moving the model and the black sheet, but that is easier than moving the window.
PLEASE!!!! put as much thought and effort into the photo as you can, it is way easier than doing extra work in photoshop!!!!
So now I have this photo. First I created a layer mask to make the black transparent.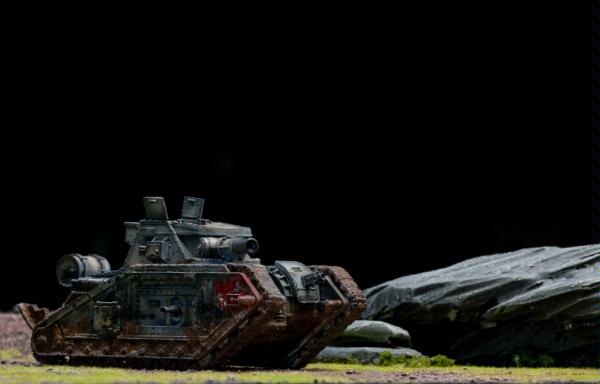 Right click on the background layer and click duplicate...then turn the original layer off so you can't see it. We just keep it there in case we need to start over...
Goto Select, Color Range, and click on the black background with the dropper. After you make this selection it will not be perfect.
Use the lasso tool trim the selection so only the black background is selected. Holding shift adds to the selection, holding option subtracts from the selection.
So now all the black is selected go down and click create mask it is a little icon with a circle in a box on the bottom right of the layer palette. You can paint it black to make the mask transparent or paint it white to make it opaque. This is better than erasing because you can undo it ant any time while working. Search the internet for layer mask tutorials if you need help there are tons of them out there.
I thought it would be funny if I said I took the mushroom cloud picture, but a bunch of people decided I was trying to sound cool and called
BS
---obviously its
BS
! jeez I don't want to be anywhere near those things...
So search google images for you mushroom cloud photo and add it to your picture as a new layer. You can go to Layer, New and create a new layer to paste it into. This new layer should be behind your actual photo in the layer palette.
So the tank is in the front, and the mushroom cloud shows up through the mask you created...You can make it black and white now if you want to.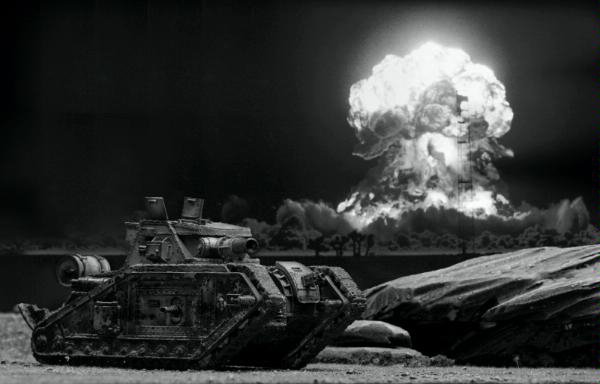 So pretty cool, tank and atomic death, but needs some more detail.
To make it look like some uncaring clerk has this evidence of annihilation just scattered around his desk I went with the coffee stain. Just get coffee all over your mug to make a ring on a piece of paper and then flick coffee drops all over the place while you're at it. Don't do this next to such a nice model, or any model... Now wrinkle the coffee paper up with a bunch of creases and take a picture of it. Add it as a new layer on top of the other layers you have so far
The different photos of the coffee stain, mushroom cloud, tanks etc are all different sizes. Click on a layer then use Edit, Transform, Scale to make the different images work together.
Use Select, Color Range again to remove the white from the coffee paper layer. Then use the Opacity slider that is located just above the list of layers to make the coffee stain translucent. Mess with it till you like it.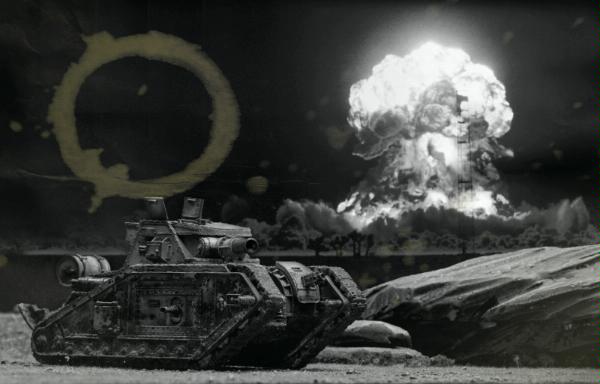 I added some text to make it look like a military file. The font is Stencil
Std
.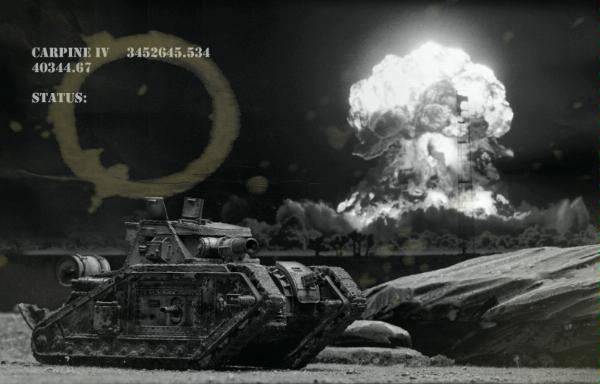 Better, but it looks too clean, lets add a vignette and some film grain to make it look old.
Go to Layer, New---When the little dialog box comes up select Overlay in the mode pulldown, and then click on the box that says "Fill with 50% gray"
Now you can use the paint brush to paint black and white, which will darken or lighten up the image.
So I painted around the edge in black and it fades to a darker image around the edges.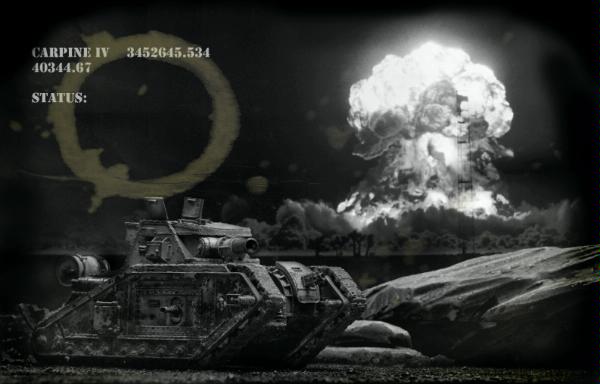 Now to add grain start out the same way. Layer, New Choose overlay for the mode and check the "fill with gray" box again.
But this time go to Filter, Noise, Add Noise Slide it all the way up to 400%, click on Gaussian, and Click on MonoChromatic.
Now it will look terrible, but slide the opacity down to between 10-20% and it will just look a little grainy.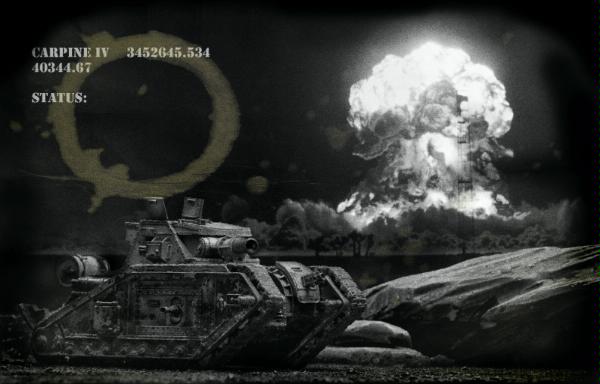 Now straight black and white is a little boring, I want the photo to have a slight sepia tint so again, Layer, New--Mode=Overlay, Fill with 50% Gray
Now go to the colors and pick a light brown and use the paint bucket tool to fill your layer with it.
You can mess with the opacity slider or you can go to Image, Adjustments, Curves, and change the layer curve to change how brow layer looks. Pulling the middle of the curve up will lighten the layer and your image.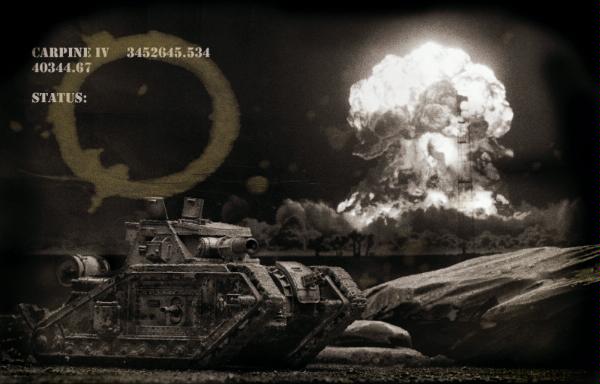 Finally, I added the stamp which I created using the drawing tool and the font, dirty ego which is available for free . There are a bunch of good fonts and brushes free on the internet from artists willing to share.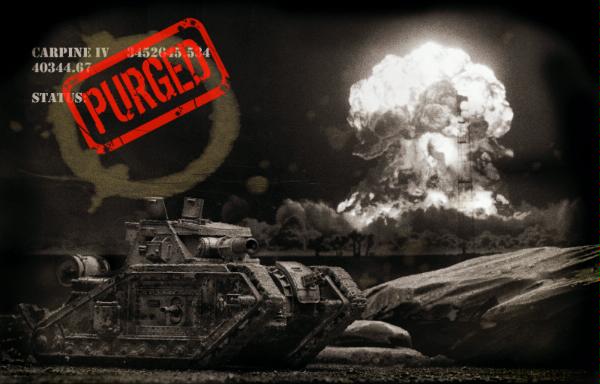 Here is the list of layers that I had when I was done. You can see what order they are in and you can see the original background photo on the bottom with no eyeball next to it, meaning its not visible.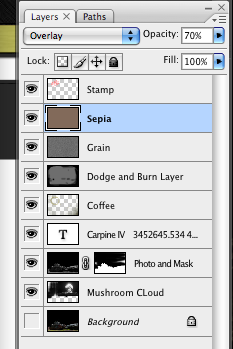 Some final advice--if your changes aren't working right make sure you are in the right layer. This happens to me all the time. The layer you are working in should be highlighted in blue or something like Sepia above.
Also, don't just follow these steps word for word, play around with all the settings on all the tools and see what you like, this is how you learn!!
Please feel free to say, STEP 4 WASN'T CLEAR!!!, or THIS PART MAKES NO SENSE!!
Thanks,
Dave
Automatically Appended Next Post:
Vraks--that looks good. Only thing is that the base kind of blurs out into the background. Put the model in some terrain when you take the photo so you don't have to blend it.
I would tell you that your model is really cool but its chaos and all of you traitorous scum will pay the ultimate price at the hands of the Emperor's faithful...