this lass is getting quite an outing this week! -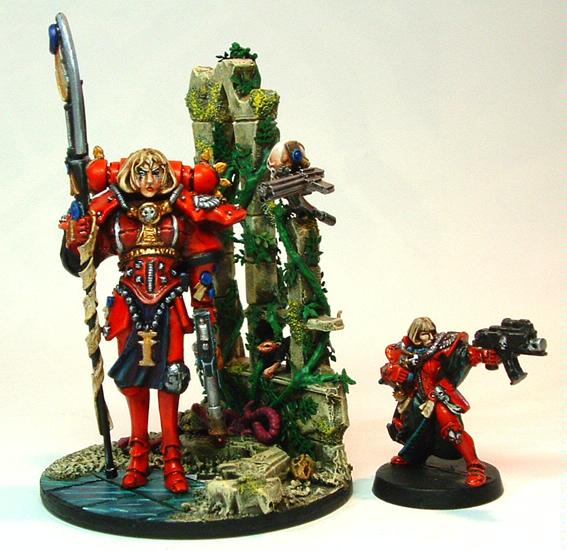 check out the creeping vines in the background.
The armour plates are apparently (from the
FW
Model Masterclass book) best painted separately as the detail can easily be obscured by a couple of coats of paint.
Once done, before weathering & varnishing, glue in place with superglue.
Only a tiny drop is needed.
Another method is to hold the finished piece on the mini with a sculting tool or similar (not too hard or you'll dent the brass). Dip a piece of wire (a bent paper clip is ideal) into some runny superglue (it comes in different thicknesses - I now use the really runny stuff) & run the paper clip along the edge - the glue should seep beneath the plate. Repeat on all side / edges.
BTW
don't use your fingure to hold the plate in place - superglue loves skin & it will migrate away from where it's meant to go & you'll have an etched brass plate for a fingure tip!
As to why it's used - you can get much finer detail on etched brass and distressing it is much easier.
It's used a lot in plastic tank & plane models for grills, belts, ammo, etc.
Check out the following link to see how varied it can be -
http://www.modelsforsale.com/catalog/product_info.php?cPath=9_99999239&products_id=307080