Nyarlathoth grimaced at the pair of blue horrors standing before him. He had been using them for a while and had become accustomed to their abilities but now they had the audacity to ask for him to honor his part of the agreement they had made. That just wasn't his way. He hadn't even heard what they wanted, and basically didn't really care.

"Our lord Tzeentch requires you to aid us" the one on the left said. "Indeed, it is required if you wish to continue existing."

Nyarlathoth flinched again. He couldn't exactly ask lord Tzeentch if this was true, but he had rather become accustomed to his existence.

"And what is it you need again?"

"We need access to the Black Library of the Eldar, they have something which our lord has required us to acquire" they said in unison.

This was definitely not good.

He was about to stammer an excuse when he had a brilliant idea. He turned to his scrying mirror and began looking for an old foe. He spotted him stepping through a warp gate. He was definitely on a military footing and was escorted by the living Avatar of war! Nyarlathoth knew at this moment that it was he whom Tzeentch favored above even the Blue Scribes!

"Him, he is the key we need. Bring him to me and I will use him to open a gate to the very heart of the Black Library. I will muster what forces I can."

--------------------

Eldrad stopped and sent a psychic message to his troops. "Something is very wrong." Phedranesh steered his jet bike to the wizened farseer. "What is it lord? Do the mon-kei approach?"

"No, something far worse. Prepare yourselves."

The words had no sooner left his mouth than reality screamed in agony as the daemon gate opened.
Man, I had written this up earlier with much more detail but it was lost to the vagaries of the warp...
Blackmoor was in town for the Broadside Bash and although I wasn't able to go to the Bash I was more than happy to give him a practice game against Daemons. I was also curious to see how a veteran tourney player would treat the Fateweaver/Bloodcrusher combo
My list was the same one that I played against Kevin Nash in the last game we played.
Nyarlathoth's Plan
Fateweaver
Blue Scribes
Skulltaker on Jugger
5 Horrors - Bolt, Changeling
3x5 Horrors - Bolt
5 Bloodcrushers - Icon, Instrument, Fury
3 Flamers
Koko - Gaze, Bolt, Wings, Unholy Might, Soul Devourer
Soul Grinder - Phlegm, Tongue
Soul Grinder - Phlegm, Tongue
Blackmoor brought a variation on his Eldar tourney list (hopefully he will pipe in with anything I screwed up).
Blackmoor's Eldradar
Eldrad
Avatar
3x10 Guardians with Bright lances
4 Jetbikes with Shurikannon and Destructorlock
2x6 Spiders with Exarch with power weapons and hit and run
2 wraithlords with
eml
/bright lance
8 harlequins
3 Warwalkers with double scatterlasers
The Game
Blackmoor was kind enough to set up the table before hand and it looked pretty decent to me - I made a couple of changes just to prove that I could ;-)
We rolled up a pitched battle annihilation and I continued my streak of loss of the roll to pick sides/go first to 749. Once more my daemons would be going first.
After Blackmoor's deployment the table looked like this:
My preferred wave of a unit of horrors, fateweaver, the crushers (with Skulltaker attached), a soul grinder and koko was smiled upon by Tzeentch. Everything scattered a bit, but nothing too terrible other than the soul grinder scattering 11". The horrors scattered into the building but didn't suffer any wounds. The bloodcrushers ran and spread out a bit and made sure and got into range of fateweavers oracle.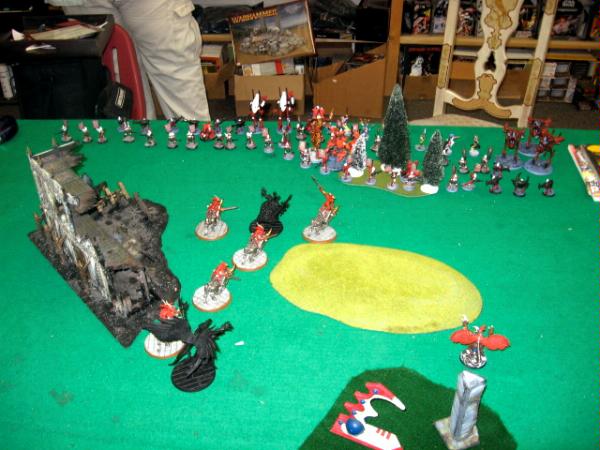 And the soulgrinder with the nosebleed seats...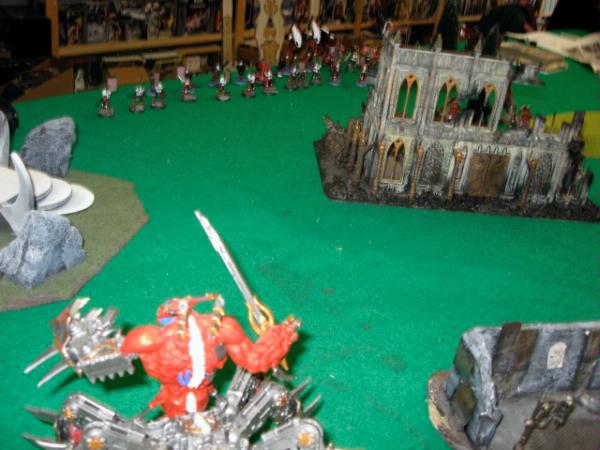 My opening shooting was pretty decent - the soulgrinder phlegmed up a couple of guardians and 4 warp spiders on the left flank. I think I also killed 2 spiders on the right flank with Koko's shooting. The left flank spiders were fearless thanks to the Avatar and the other made their leadership test. Not a terrible shooting phase.
Blackmoor shifted things around a bit, the bikes in particular make a big move to get a bit of space, Eldrad fortuned the Avatar, guided a wraithlord, and doomed the unit of bloodcrushers the unit of 4 warp spiders appeared in front of koko and opened up with their guns causing 6 wounds of which I failed 4 saves and he was banished back to the warp. Note to self - I need to keep him in range of Fateweaver for the turn he arrives, even at the cost of missing out on shooting.
The warwalkers targeted fateweaver and caused a wound to him after his saves and rerolls fortunately I made the leadership check. The not guided wraithlord hit the soulgrinder with the brightlance, rolled a 5 to pen and then a 6 to destroy it. D'oh! The rest of the shooting was focused at the horrors and bloodcrushers causing a smattering of wounds to the bloodcrushers and knocked the horror unit down to a single model (not the bolt). Pretty brutal bit of shooting, all said and done. The Avatar charged the bloodcrushers and took 3 wounds for his trouble. Time for some reinforcements...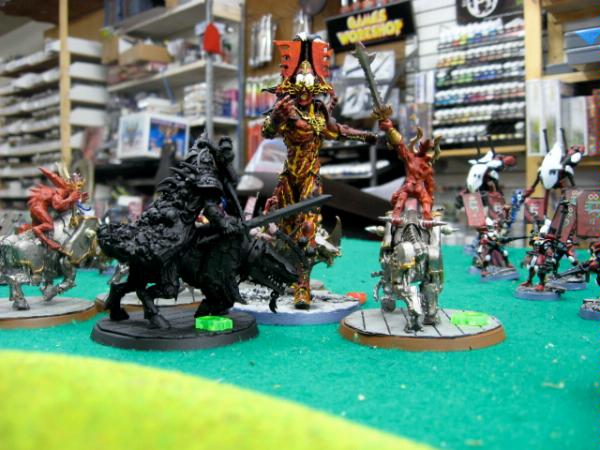 Which leads to my reserves. The soulgrinder, a unit of flamers and a unit of horrors without either blue scribes or changeling became available. Hmm not quite the cavalry I was hoping for.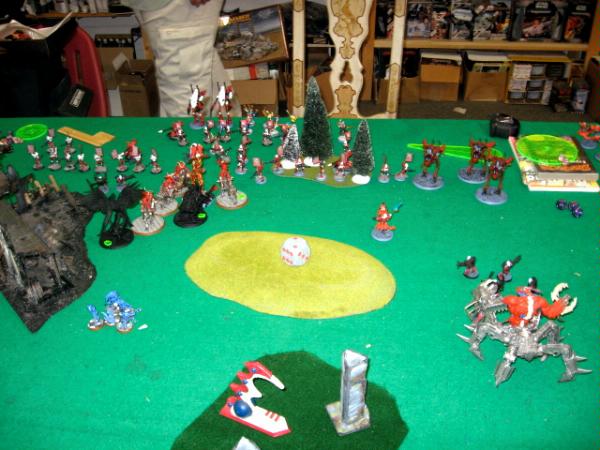 Unfortunately I forgot to get as many pics for the next couple of turns.
The soulgrinder came in on my right side and the flamers came in off of the icon and set up a good dose of flamer love on the guardians wiping them out. The lone surviving horror decides that discretion is the better part of valor and falls back through the ruins trying to get out of
LOS
. Fateweaver moves over to the combat to ensure that the bloodcrushers are benefiting from his oracular abilities. And then... oh wait, that is all I have on the table.
The soulgrinder lobs a glob of phlegm at the eldar bikes the mucus gumming up the engines on all save the warlock whose gaze falls upon the Avatar of khaine and his resolve is steeled. The flamers roast all of the guardians. Fateweaver fails to turn the avatar into a spawn (in fact, just so I don't have to repeat myself, the avatar tried spawning something every turn he was alive and failed every time). His other shooting knocks the spiders down to 2 which he then charges in and kills although this was only after they had destroyed the newly arrived horrors. His consolidate moves him back into range of the bloodcrushers. The avatar makes every save he is called upon to take, I think I took a wound or two, but nothing major happened in that combat.
Shooting at the flamers from the guardians causes 3 wounds but they are in fateweaver's range so I am not too worried. I roll a 1,2,2. The reroll is just as impressive and the flamers are done in. The wraithlord runs in to help out the avatar. The warlock decides to become the hero of the eldar and moves over to throw his spear at the soulgrinder but it is batted aside by the monstrous walker. He charges in but fails to penetrate the demon engine and though he is hit several times his runic armor holds. I lose a Bloodcrusher or two in this combat and fail to get the last wound off of the avatar. The harlequins charge into the doomed bloodcrushers and cause a couple of other wounds but for the most part that combat is slow.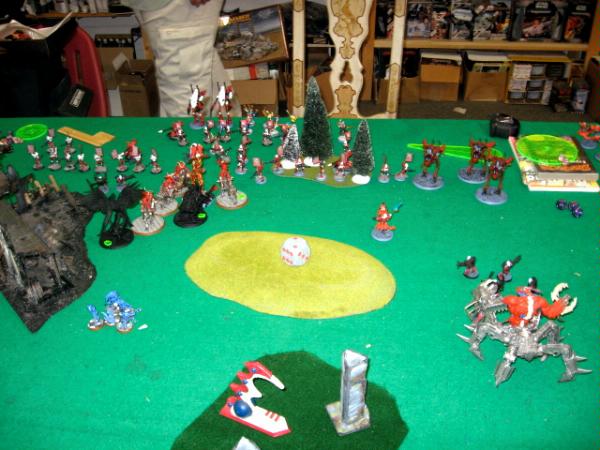 The soulgrinder finally manages to swat the warlock from his bike and moves into range of the warwalkers which he then charges and destroys. The harlequins hit and run away from the combat leaving Skulltaker alone in combat with both the avatar and wraithlord. I am looking forward to chopping the head off the wraithlord, but unfortunately he is banished back to the warp by the Avatar before he can act.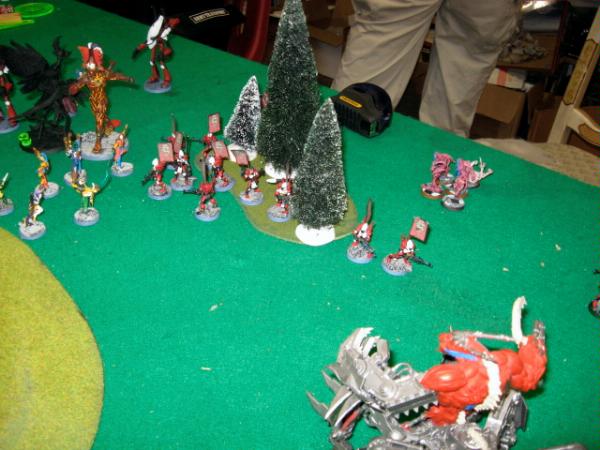 Things are looking pretty grim at this point but if I can get those final reserves I can still pull it off. Unfortunately for me, the Blue Scribes refuse to show up until turn 5. The changeling's squad does arrive and does a risky deepstrike behind the eldar and kills a large number of guardians from one squad (all but one) but the combined fire of both wraithlords and then a charge from the remaining guardians from both squads does them in. Fateweaver charges the Avatar to see if he can get that last wound off of him, but he doesn't and eventually loses his last wound.
The soulgrinder fleets his way over into charge range of the full guardian unit and charges in and wipes them out. The last squad finally arrives and the bolt from the squad FINALLY kills the avatar. Unfortunately, that unit is then charged by the harlequins and wiped out. At this point we roll for the game to end and it does, leaving me with a single soulgrinder and the victory in the hands of the eldar. Had the game gone one more turn I could easily have killed the last guardian, but even that extra
kp
wouldn't have made the difference.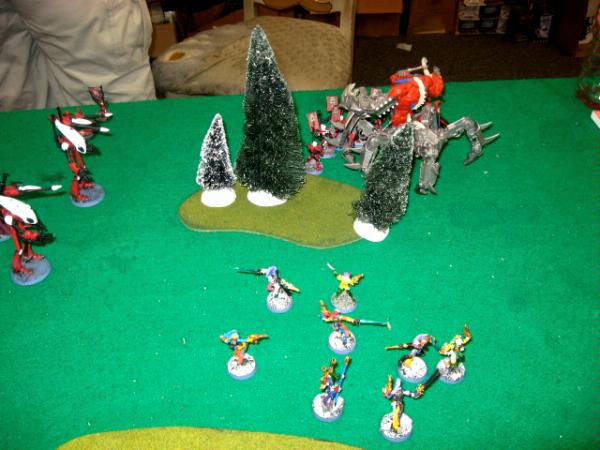 After Action Review
I love playing against Blackmoor. He has a great easygoing manner when you are playing against him and you can count on him not making more than one or two mistakes so you definitely have to bring your A game. The huge scatter to start the game with my soulgrinder was trouble and then he one-shotted it. Ouch. I could really have used his shooting and
CC
ability against the harlequins. I can't really say too much about this game, other than I was again impressed with the bloodcrusher/fateweaver combo. I should have been a bit more patient and forced him to come to me more - his shooting didn't really scare me too much but I really wanted to get mixed in and this allowed him to keep his forces pretty well castled up in the Avatar's fearless bubble. It probably would have been worth it for me to split skulltaker off early and send him after the Wraithlords or pretty much anything else. I need to remember that he is an
IC
- I get pretty dogmatic in how I use that deathstar and that definitely is something I need to work on.
The final tally for the game was pretty close considering I only had 34 models in the army to begin with and was nearly tabled so it wasn't a terrible drubbing. Not getting 2 of my units until turns 4 and 5 (and turn 5 was with the blue scribes attached) really hurt because I was unable to put pressure on at really any point of the game, it was all I could do to keep from being swamped.
Eternal Praise
I have to give it up for Fateweaver. He lost all three of his wounds the old fashioned way, so the old bird kept his cool which was nice. There is a tendency for me to play him with kids gloves but he is still a monstrous creature so I actually did a bit of charging with him this game and he did alright. Of course, his oracle ability is really awesome, but what makes him a steal is the fact that he has every power available to Tzeentch at a discount so his flexibility is awesome. I think that the only ability I didn't use this game was Soul Devourer which is basically just a slight bonus in
CC
anyway.
Eternal Damnation
Blackmoor started the game by saying his strategy was to make me fail all my reserves rolls for the game and somehow his voodoo worked. It would have been really nice to get the blue scribes in action a bit earlier but overall it was a fun, hard fought game, which all I ever want, so I have no complaints at all.
Eldrad surveyed the field. They had driven off the daemons but his forces were far too weak to press the attack on the humans. Eldrad wept for he had failed. The strands of the future had revealed a weakness in a future enemy only on this world at this time. Now the human would gain great glory on this world and be elevated to command over others and would eventually wreak dire havoc on at least 3 different Eldar craftworlds.

Nyarlathoth lounged in an over padded chair as his forces materialized back onto the Field of Gates. Only Arbolesh, the mighty Soulgrinder possessed by a daemon of Khorne seemed pleased. The Blue Scribes flew toward him on their disk. They were furious.

"You betrayed us! You sent us on an ambush and yet it was we who were ambushed!"

"You sought the greatest magician of the Eldar race and entry to the Black Library. Surely you did not expect it to be easy. I would have joined you myself, and perhaps been able to turn the tide of battle but it seems my own chariot had been hexed. I have only just found the counterspell. I suspect the treachery of my enemies. Stay with me a while longer, we will punish my foes and seek an alternate entry into the Black Library."

The Blue Scribes began to bicker, one of them content to follow the Herald of Tzeentch, the other wanting to find another way to complete their quest. The disk drifted softly in the ethereal breeze growing further and further from Nyarlathoth who smiled so big he willed a second mouth onto his face to express his joy even further.