My Broadside Bash thoughts are up on my blog:
http://blackmoors40k.blogspot.com/
Game # 1
I show up at and the first 3 games are arranged by our judge scored comp. With 0 being cheesy, and 6 being fluffy, the 2 judged scored me a 5 and a 6, so my first three games are against fluffy armies. That just shows you one of the many flaws of comp scoring. The judged scored my army well for comp, but my army is very tough, so I will play against 3 armies that I have no business lining up against. That is one of the reasons why I felt that I scored so poorly in my player scored comp is because I was playing against armies that I had no business playing against.
Here is my army:
HQ
Avatar
Eldrad
Elite
6 Harliquins w/2 Fusion Pistols, 6 kisses
Shadowseer W/Kiss
Troupe Leader w/Power Weapon
Troops
10 Guardians w/Bright Lance
10 Guardians w/Bright Lance
10 Guardians w/Bright Lance
3 Jetbikes w/Shuriken Cannon
Warlock w/Singing Spear, Destructor
Fast Attack
7 Warp Spiders
Warp Spider Exarch w/2 Death Spinners, Power Blades, Withdraw
7 Warp Spiders
Warp Spider Exarch w/2 Death Spinners, Power Blades, Withdraw
Heavy Support
Wraithlord w/Brightlance, Missile Launcher, 2 Flamers
Wraithlord w/Brightlance, Missile Launcher, 2 Flamers
3 War Walkers w/Scatter Lasers
I changed it around from the Wild West Shootout. I took off some of the War Walkers and falcon and to make up for the loss of strength 6 shooting I added Warp Spiders, and for anti-tank I added Wraithlords. It gives me some mobility and some resiliency, to try to make my army a bit better.
On to the batreps!
So I find my first table and my opponent is Charlie Nichols. Charlie is one of the best players in
LA
, and I have tangled with him a time or two in the past. The last time I think we played was at the 2006
LVGT
;
http://www.dakkadakka.com/dakkaforum/posts/list/169568.page
Here is his list:
Charlie's Space Wolf list:
HQ
Logan Grimnar
Elite
Venerable Dreadnought w/Plasma Cannon and Heavy Flamer
Drop Pod
8 Wolf Scouts w/Meltagun, Plasma Pistol, Power Weapon
Wolf Guard (Goes with the first 3 troops)
Wolf Guard w/Power Fist, Combi-Melta
Wolf Guard w/Power Fist, Combi-Melta
Wolf Guard w/Power Fist, Combi-Flamer
Troops
12 Bloodclaws w/Powerfist, Meltagun
8 Grey Hunters Pack w/Meltagun
1 Grey Hunter w/Mark of Wulfen
Rhino
8 Grey Hunters Pack w/Meltagun
1 Grey Hunter w/Mark of Wulfen
Rhino
8 Grey Hunters Pack w/Meltagun
1 Grey Hunter w/Mark of Wulfen
Rhino
10 Grey Hunters Pack w/2 Plasmaguns
Heavy Support
Land Raider Crusaider
5 Long Fangs w/1 Missile Launcher, 2 Lascannons, 2 Heavy Bolters
1 Squad Leader
Here is mistake #1. I have not played against the new Space Wolves, and looking at his army, I thought that I could easily crush it, so I was way overconfident.
Scenario: Ground Control
Mission: Table Quarters- Scoring units are the only units that can hold or contest table quarters
Special Rules: Deep Strike, Reserves, Infiltrate, Scout, Outflank, Random Game Length
Deployment: Table Quarters
I win the dice roll to go first and I give it to my opponent. That is mistake #2.
Set up:
Space Wolf set up: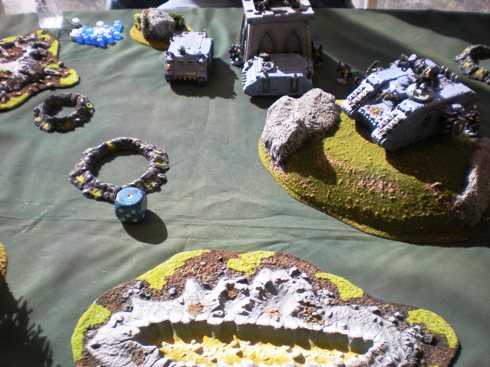 Eldar setup:
I was afraid of the wolf scouts so I set up a lot farther forward than I should have. That is mistake #3.
The face off:
Turn #1
Space Wolf top of turn #1
His drop pod drops on my left flank and his dreadnought flames and shoots up some Guardians and Warp Spiders.
He drives forward and pops smoke. He shoots his Long Fangs at my War Walkers and Stuns one.
(No pictuure)
Eldar bottom of turn #1
I shoot up his dreadnought and take it out. My War Walkers shoot at his long fangs and kills 3 and they break, but they do not run off the board. Everything else shoots at his tanks and do nothing.
Turn #2
Space Wolf top of turn #2
He bum rushes forward and Logan and the Bloodclaws get out of the Land Raider and attack my Guardians and my Warp Spiders and take them out. He has a squad of Grey Hunters hit a squad of my Guardians and War Walkers. He has the Powerfist against the War Walkers and kills one and wiped out the Guardians.
Eldar bottom of turn #2
This is where I get myself out of my sloppy set up and turn the game around.
His Grey Hunters are still locked up with my War Walkers, so I can't shoot them, so besides a few shots at his tanks that do nothing, I get ready for assault.
I hit Logan and his band of merry men with doom and I go after him with my fortuned Harlequins and a Wraithlord. Where they were going to put a hurting on them, they end up killing just a few when I rolled bad, and the Harlequins get butchered, and there are only a few lived to jump out of combat.
My Avatar and Eldrad go after the Grey Hunters squad and the Avatar only kills two, and Eldrad only kills one and his powerfist takes out the War Walkers.
I throw my second Wraithlord into Logan fight and he kills off both of my Wraithlords.
Mistake #4 My Warp Spiders jump into the forest into the middle of the table forgetting that he still has a squad in a rhino.
Turn #3
Space Wolf top of turn #3
He goes after my Jetbikes with his Long Fangs and takes them out. He hits my Harlequins with random stormbolters and kills them.
Logan jumps back into his ride, and the bloodclaws move to hold the table quarter to my right.
His squad jumps out of the rhino and kills my Warp Spyders.
The Avatar whiffs and kills only 1 Grey Hunter keeping him locked in combat.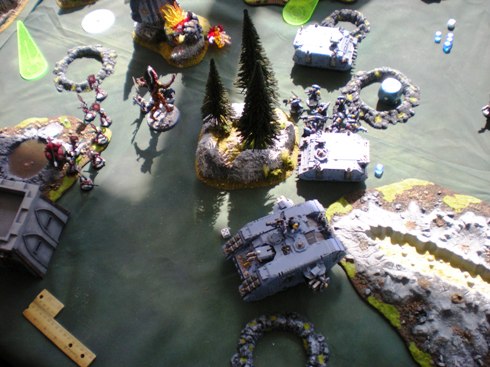 Eldar bottom of turn #3
Looking around, I have nothing left to move. My Avatar is locking into combat because he rolled so badly and was unable to lock up the fresh squad, but Eldard and him were able to finally kill the last Grey Hunters
At this time I realize that he is going after my troops, I need to preserve my last one and I start to run for cover behind the drop pod.
Turn #4
Space Wolf top of turn #4
He mounts up in his rhino and takes off.
He goes after my Guardians with his Land Raider and kills a couple.
(No picture)
Eldar bottom of turn #4
I take out his Rhino and his guys spill out.
Turn #5
After turn 5 we started to hurry because the time is running out.
Here is how it ended:
My Avatar knocked out all of the Land Raiders weapons and immobilized it (I have very bad luck against Land Raiders), and took out the Grey Hunter squad before Logan took him down.
Eldrad threw himself into his last Grey Hunter squad and fought them to a standstill.
So the end game was I had one table quarter with my remaining Guardians hiding behind the drop pod and he had 2 table quarters with his Grey Hunters and another with the remaining Blood Claws for a major loss for me.
Well, I can sum up this loss to my hubris. I was way over confident going into this game. I had not lost with my Eldar in…why I do not know when the last time I lost with them, I think is had been over a year.
I should have respected Charlie a lot more. He is a real good player and I took him lightly. I let him go first, and I deployed very sloppy. There is a way to set up to defend against an assault army and in my overconfidence I did not bother with it. Not only that, but he did what no one else has ever done, and that was go for my troops. He really went after them every chance he got and that almost assured him of a win.