Game #2
So after my humbling defeat I am next matched up against a Space Marine player. He had a well painted Crimson Fist army.
Remember that the match ups in the first 3 games are determined by judge scored comp, so I am going to take my loss out on my next opponent.
My Opponents List: (From memory)
HQ
Chaplin
Might had a command squad with a captian.
Elite
5 Assault Terminators 2 w/Lightning Claws, 2 W/Thunderhammer Stormshield
Land Raider
10 Sternguard
Drop Pod
Troops
10 Scouts w/Sniper Rifles, Camo Cloaks, Missile Launcher
10 Tactical Marines w/Plasma Cannon
Rhino
10 Tactical Marines w/Lascannon
Rhino
Heavy Support
Devastator squad w/4 Missile Launchers?
Razorback w/
TL
Heavy Bolter
Mission: Try. Try. Tri
Scenario: Objectives. One is place in the center of the table, the other is placed on the left side between the deployment zones, and the other one is placed on the right between the deployment zones. Objectives can be held by scoring units within 3" and no units contesting within 6". At the end of each complete game turn you are rewarded with a D3 mission points for each objective that you hold.
5 More points and it is a massacre
3 More points it is a major win
1 more point for a minor win
Same amount of points for a draw
Special Rules: Night fight turn 1, Deep Strike, Reserves, Infiltrate, Scout, Outflank, Random Game Length
Deployment: Table Quarters, but you can only set up 12" in, so you are in an "L" shaped deployment,
I win the dice roll to go first and this time I take it!!!
My Eldar set up:
There was a lot of room between us and so I knew I had a while to work. I had both Warp Spiders to either side and I hid the War Walkers out of
LOS
behind the stone hill.
Space Marine Set up:
Tanks ready to go. The devastators are behind the rock pile on the center left, a combat squad with a plasma cannon are behind the hill on the right. The Scouts spilt into 5 man squads and in a crater on the left and the right.
Turn #1
Eldar top of turn #1
The Warp Spiders move out. They shoot the scout squad on the left and only the Sgt. is left. Everyone else is milling about waiting for the night fight to end.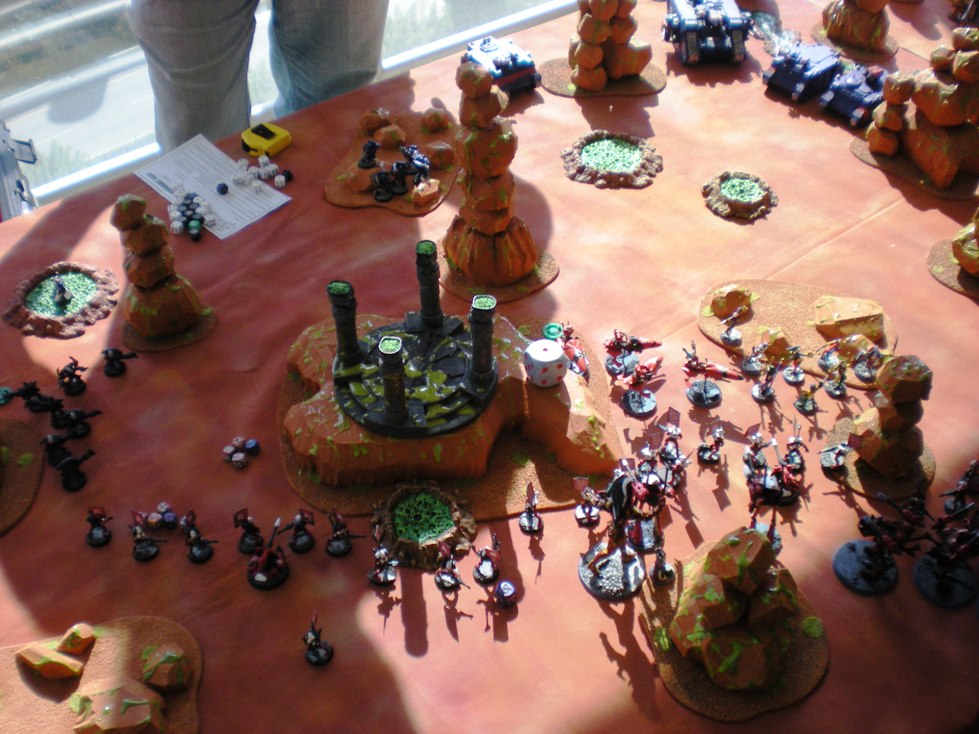 Space Marine bottom of turn #1
Everything moves forward. He drops the Sternguard on the left and shoots up my Warp Spiders and gets them down to the Exarch.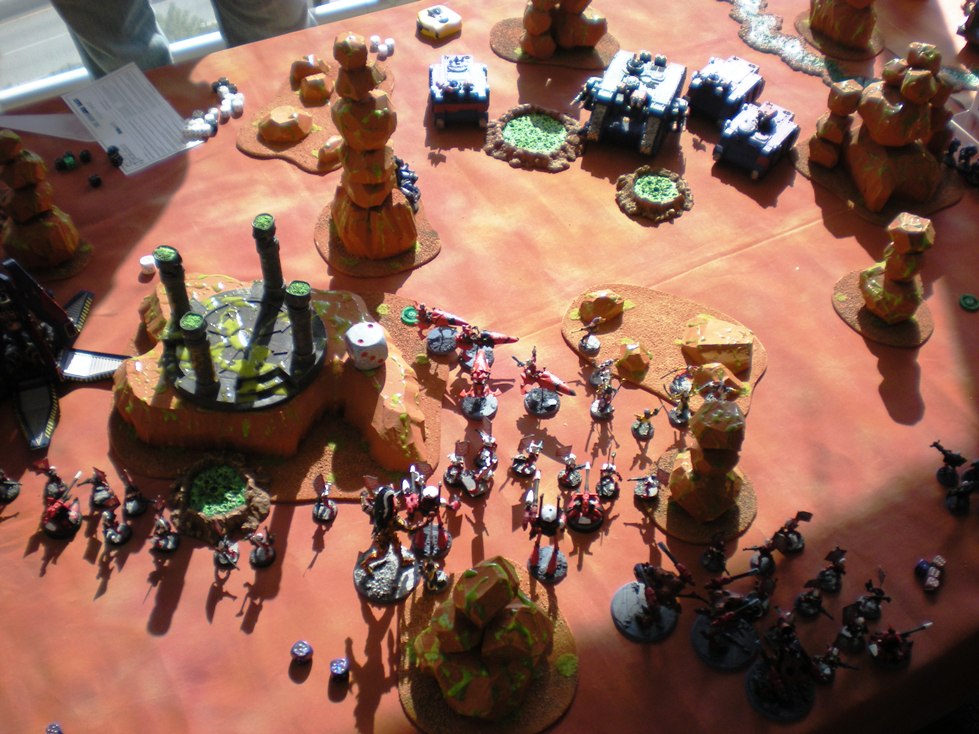 Turn #2
Eldar top of turn #2
On the left side I start to move my Avatar to the left incase the Sternguard get frisky. My guided guardians kill 6 Doomed Sternguard and they break, but are still in within 6" of me. The last Warp Spyder exarch kills the last scout.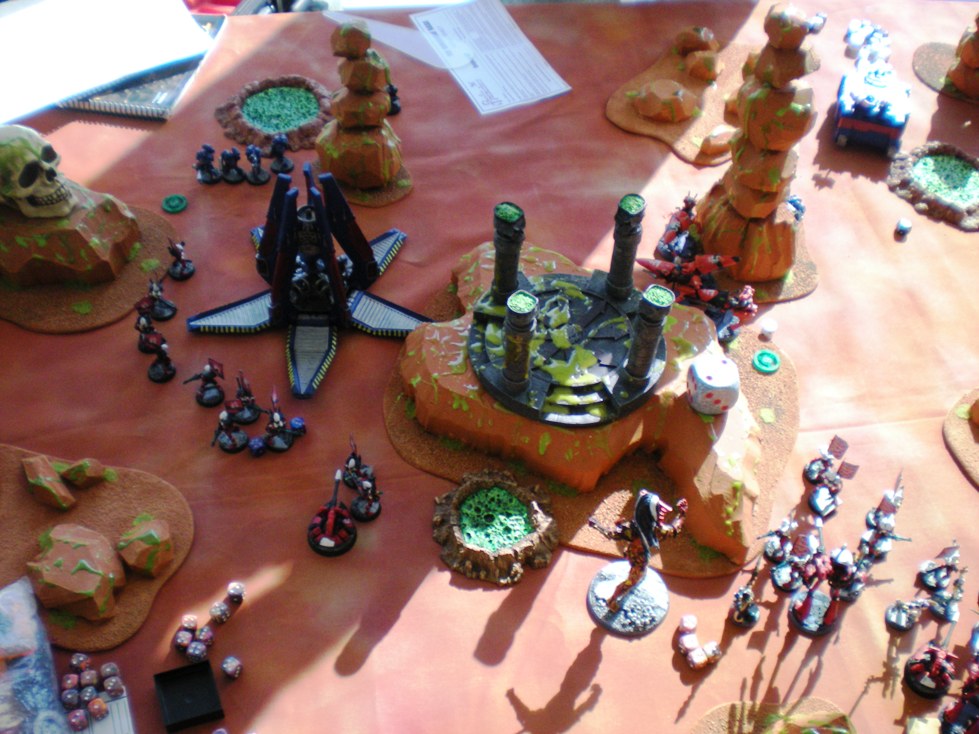 On the right side I shoot his land raider and destroy it (who was saying that my army can't kill tanks?). The warp spiders kill a couple of scout squad and jump back.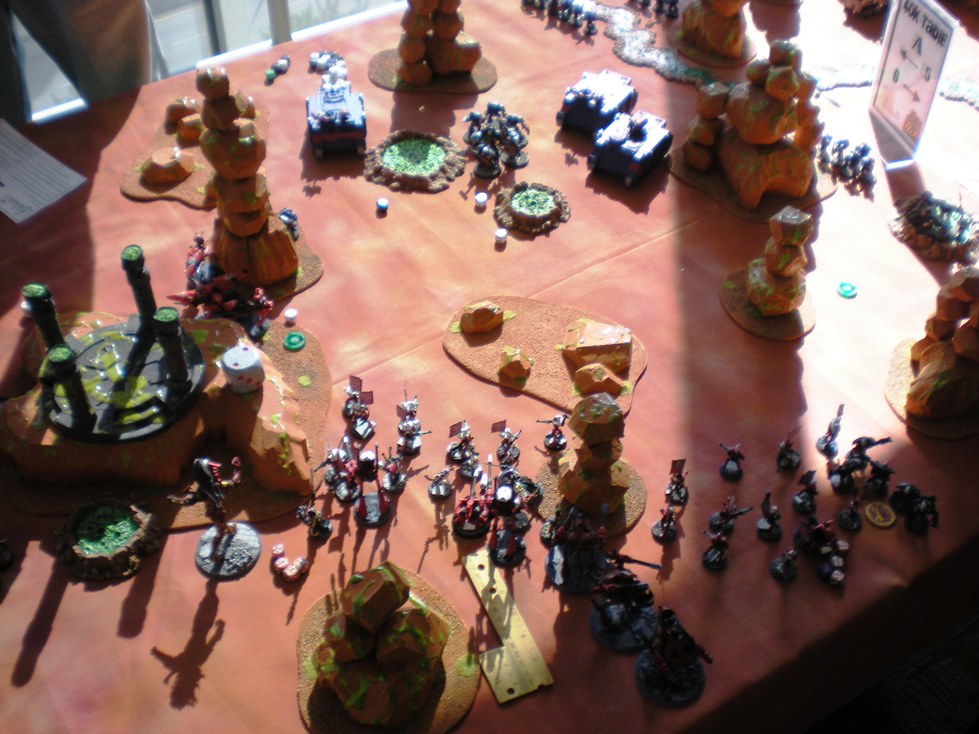 Space Marine bottom of turn #2
He drives forward and pops smoke. His scouts on the right pin my Warp Spyders, and his Sternguard kill my Warp Spyder Exarch.
Left side
Right side
Turn #3
Eldar top of turn #3
My guardians are walking the Sternguard off the table, but they are taking their time. The Drop Pod is on an objective so the Avatar needs to go over there and kill it. The War Walkers shoot and kill the Devastators. All my other shooting goes to the Terminators who soften them up for the Harlequins. My warp spyders go after his scouts and kill them.
Space Marine bottom of turn #3
He gets out of his transports and tries to kill some guardians and succeeds somewhat. My harlequins finish off of the Terminators.
(No picture)
Turn #4
Eldar top of turn #4
My harlequins go after his
tac
squad and I shoot up what he has left.
Space Marine bottom of turn #4
His last squad shoots up some more guardians. Not a whole lot left for him to do.
Turn #5
Basically after this it is just a mopping up operation.
So it was a pretty easy win for me.
My opponent did not understand the missions or he would have started his scouts on the objectives. As it was, I had the guardians on the left objective a lot, and the jetbikes on the center for a while giving me the massacre.