It's a rainy day out, I've got the day off, drinking my coffee and waiting for the wash to dry on the deathwatch on the bench. So time for some random woolgathering.
Over in the "
Players with large (4,000+) armies
thread, Elbows broke down his army by categories, and I thought it would be interesting to see how mine set. As I've got it plugged into battlescribe, it was just a mater of pulling my roster up and grabbing the numbers. After I went through and corrected all the errors I get when the codex updates. I should probably doublecheck everything, sometimes units get cut and replaced completely, so I need to re-add them. But here is where we stand.
Ultramarines. 13,104 points
HQ
-- 3,196 points, 24% (31 models)
Troops -- 1,979 points, 15% (130 models)
Elites -- 3,019 points, 23% (70 models)
Fast Attack -- 1,068 points, 8% (40 models)
Heavy Support -- 2,186 points, 16% 50 models)
Flyer -- 502 points, 4% (2 models)
Dedicated Transport -- 815 points, 6% (8 models)
Lord of War -- 350 points, 3% (1 model)
And a quick count puts me at 363 models, including tanks and the like. Recounting to get the category numbers comes up less, but I suspect that's the mess of the swap shelf at work. One of these days I should pull everything off the shelf and get a full army pic and a detailed tally, and glamor shots of the units that still need it. Might be a good project for a weekend when I have The Boy.
Now that number could be a lot higher. This is at shelf deployment, and there are a number of wargear options that could be added. Slots are also a little skewed, as my swap shelf consists of a lot of loose heavy/special weapons and old sergeants that were formed up into
Dev
squads and command squads just to tally them up.
I shouldn't be surprised that troops made up only 15% of my points, while being over a third of the model count. Also the fact that the
HQs
eat up a quarter of my points for being less than a tenth of the model count is not shocking. Little surprised by the elite model count. I know I have 3x10 stern/van vets squads, and 3x5 terminators. I forget I also have 2x5 30k era terminators, and all the dreads, apothecaries and non-
HQ
characters add up very fast.
Anyway, that took longer than I expected. Of course, I was distracted and wandered around while typing it up. Hope everyone enjoys their day.
--Nev
Automatically Appended Next Post: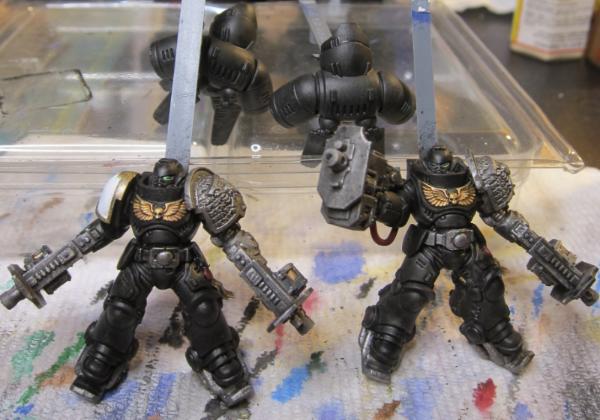 Second black down on the inceptors. Need grey edges, gloss coats for lenses/wax seals, assembly, decals and bases. Honestly just a few days if I put my mind to it. And a chunk of that is glue drying.
The reivers are ready for their second blacks, and then all of that. Plus their guns/gun arms.
Not bad progress for the weekend. I should get started on the bikes, but want to finish these guys first.