Greetings,
Since my last batrep got such good reactions (insomuch as about two people said good job and nobody spat on me) I figured I'd offer up another (mostly just to prove I got the external
HD
working with everything)
So I present an 1850 point Battle; Eldar vs. Dark Eldar. I'm offering both a video batrep (and a very nice way to spend the last hour editing today rather then on anything legitimately productive) as well as, once again, a written up Batrep with pics. As Dashofpepper will probably attest, those Vassal maps take some effort, so I skipped them this time. I present the lists below in an abbreviated style, I thought the total list breakdown was egregious in my other batrep so trimmed it this time.
Video Batrep
(the video is on sevenload, so if you hate that service I apologize. Youtube had issues with my musical selection and I refused to post it silent and don't care to go bother recutting it just for that - maybe later in the week I shall just for a laugh...edit: I have now had that laugh and uploaded it to Youtube. Better quality video and streaming, no cutting to the music. You may make your own choices.)
If you go to watch it on YouTube it's available in
HD
resolution.
Link to my other

DE

batrep vs. Orks (pics only)
The Dark Eldar list is;
Archon – Tormentor Helm, Punisher, Shadowfield, Plasma Grenades, Reaver Jetbike
2 Haemonculi – Destructor/Scissorhands
4 6-man Raider Squads – S.Cannon, Blaster
2 5-man Raider Squads – Dark Lance
5-man Reaver Jetbike Squad – Succubus w. T.Helm and Punisher, 2 Blasters
2 6-man Wych Squads – Succubus w/ Agoniser, 2 Blasters
3 Ravagers – 2 all Dissie, 1 all Dark Lance
Thor's Thoughts on his list
I was caught slightly unprepared for this game (stormy weather = bad day for beach but good day for
40k
) so since I had to set up the table I just recycled the list from my last Batrep. I still like to test the Lord/RJB Retinue build to see how my feelings go on it. Last game it did fine, but that was vs. Orks, and Orks are practically perfect for being killed by RJB Lords so I figured let's test them out against this new list Devin wants to try. Then I find out it's a Mechdar list – ugh. Not optimal!
The Eldar list is;
Autarch – Fusion Gun
2x 5-man Fire Dragon Squads in Wave Serpents – Shuriken Cannon,
TL
Bright Lance
3x 3-vehicle Vyper Squads – each with 2 shuriken cannons
3x 5-man Dire Avenger Squads
3x Falcon – Holo Field, Spirit Stones, Shuriken Cannon, Scatter Laser
Devin's Thoughts on his list
I wanted to punish Thor for what he did to the battlewagons last game, so I decided to field a modified version of a 2000 point Stelek list and hopefully rip the
DE
a good bloody one. I got more
str
6 shooting then I'll ever need and both falcons and serpents are really tough to stop. I figure I can just blast all his wimpy raiders out of the sky and never have to even get out of my tanks.
Deployment:
Spearhead
Mission Type:
Seize Ground
The Eldar win the roll and opt to go 2nd (I blame Dash for this - I used to be good at winning these)
The Wyches roll for drugs – one is 12" assault and the other gets to re-roll misses
The Bikes roll for drugs – they always strike first.
Turn 1
The
DE
deploy and then the Eldar declare everything is going to be held in reserve, so very little happens this turn.
Turn 2 Dark Eldar
I move around, moving my vehicles into more advantageous locations (I hope) I press up towards the mid field knowing that the Eldar are one of the few armies that can match
DE
speed, and the filthy blighters usually can outrange us as well. Generate a few flat out and turbo cover saves.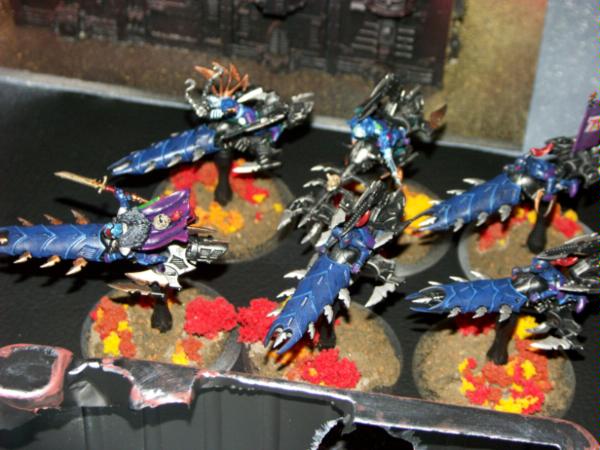 Still the craziest "witch" in the army, the Thunderhead of the Cerulean Storm, Brizelya is ready to go.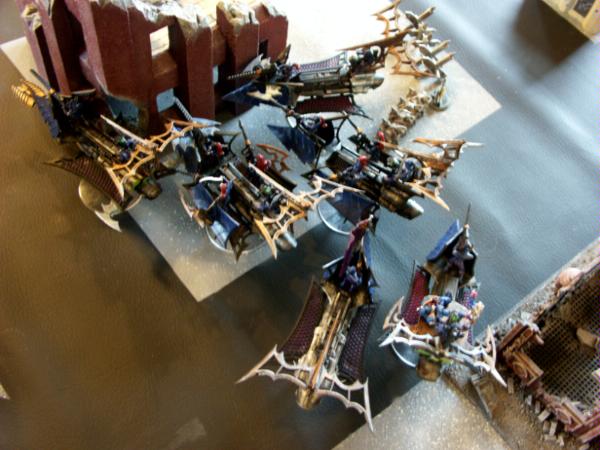 Hiding? Where I come from this is known as strategic repositioning.
Turn 2 Eldar
Devin's reserve rolls go well enough thanks to some Autarch work. He gets in both Wave Serpents, one Falcon, and 2 squads of Vypers. He brings them all in on the right flank which gives them a line on my mini-sniper Raiders and keeps them relatively hidden from two of the Ravagers.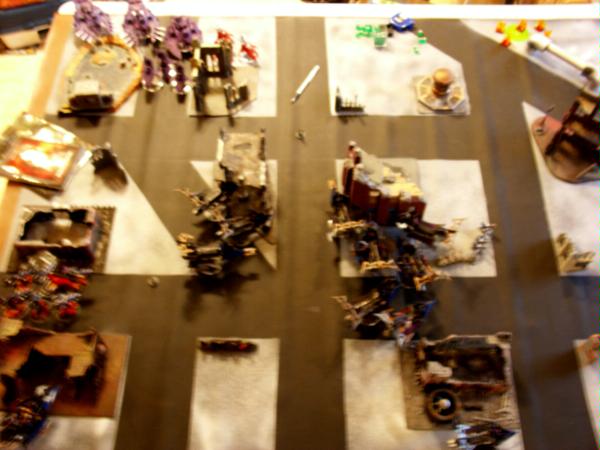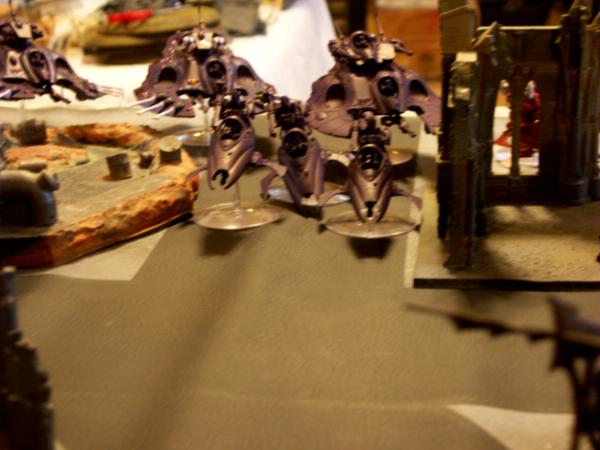 Locking down one of the roadway arteries
Reverse angle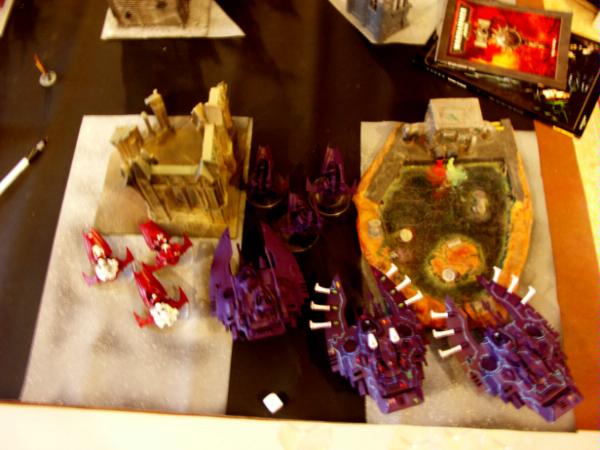 Vypers? Pffft, I eat Vypers for...wait, how many

Str

6 shots does each one get?

Camping out around the ruins of an old church and a sewage plant (who designs these cities?) he has the Vypers open up, one of them immobilizing and weapon destroying a Gunboat Raider and the other busting up a mini-sniper (I was amazed I was still floating). The Falcon fires its full payload into the mini-sniper and wrecks it faster then anything. Both Wave Serpents fire and manage to wreck the second mini-sniper.

Both squads disembark into the convenient ruin nearby and prepare to return fire.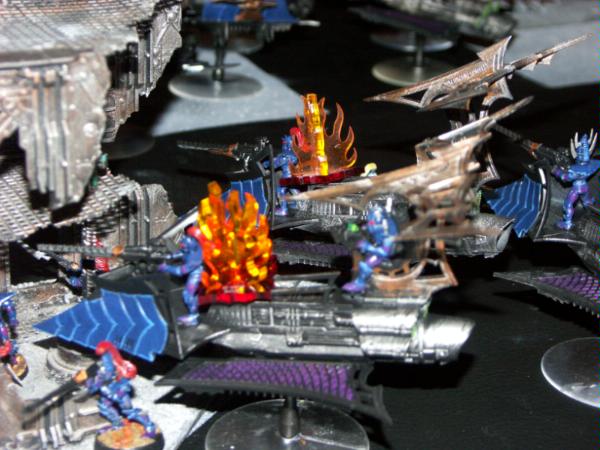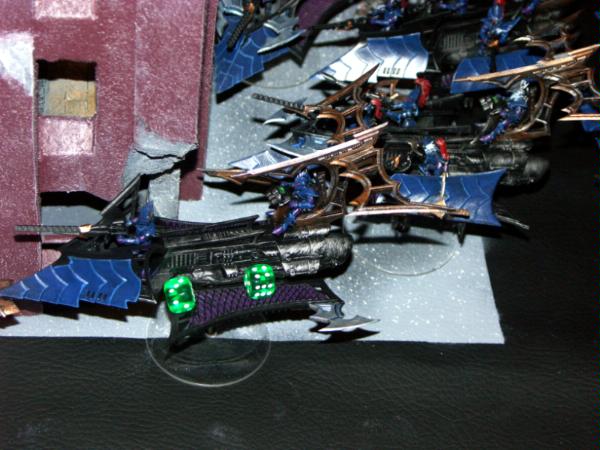 Weapon destroyed (lance) and immobilized? Great, I'm an

AV

10 pillbox with a Horrorfex Turn 3 Dark Eldar

2nd Daughter, Brizelya Maerret, the Thunderhead of the Cerulean Storm howls out to her men and commands a full out assault on their weak kin. She kicks her Reaver Jetbike into motion and cruises closer, looking to come to bloody grips with her foes.

The Ravagers slide out of hiding and unload on Vyper Squad Ruby. In moments most of the squad is a smoldering wreck and a few errant Dark Lance blasts finish blasting the agile craft from the sky.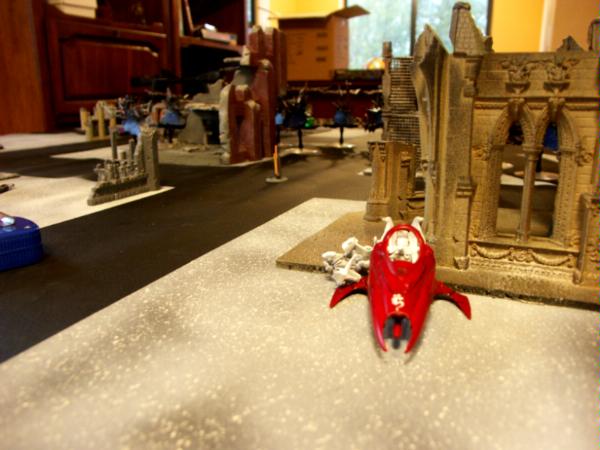 The 3 Lance Ravager also makes itself known as along with the RJBs and some of the gunboats they manage to do much the same to Vyper Squad Amethyst, leaving only a single Vyper with both weapons destroyed).
In the Assault the Succubus of the RJBs manages to rein in Brizelya a bit and they sneak back to hide amongst some small ruins to seek cover from the Bright Kin's reprisal.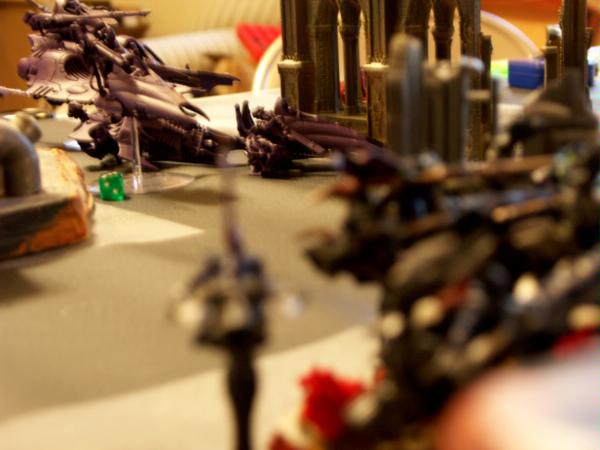 Brizelya is not much of a fan of metal boxes I understand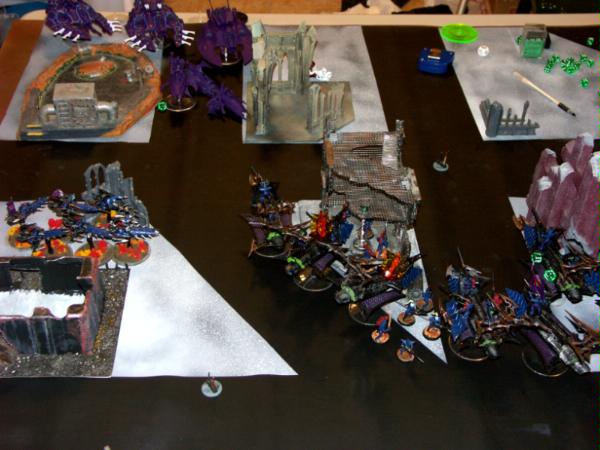 It almost looks like we're trying to both *avoid* the strategic points
Turn 3 Eldar
About this point the terrible weather that had canceled all beach plans decided to finish establishing itself as the skies opened up to a true torrential downpour. The Cerrulean Storm seemed to gain power from this as the Eldar suffered a truly rough round of dice.
First off, though both Falcons arrived now perfectly on time, despite the Autarch's most fine planning Vyper Squad Onyx failed to appear.
The two new Falcoms swept onto the far flank, looking to damage some of the Troop Raiders looking to pass unnoticed there. The Autarch's Falcon fired true with its full payload and erupted the Wych Raider offering cover to the other Raiders in a fireball that engulfed two of the passengers. The 2nd Falcon pivoted into position and fired all weapons, managing to miss with most but still hitting with both Pulse Laser shots as well as a Scatter Laser. He then promptly rolled three ones on his penetrate check and the shots ricocheted off the impregnable side armor of the Raider.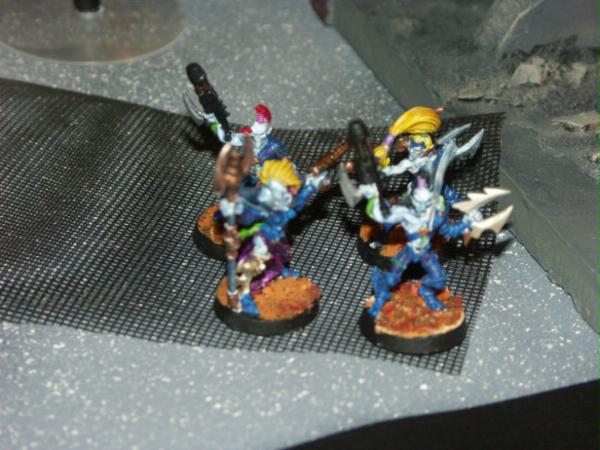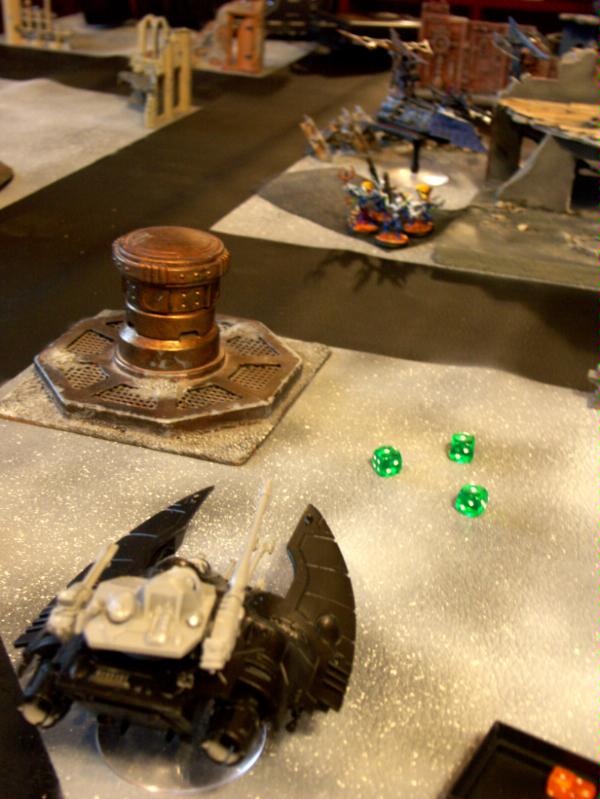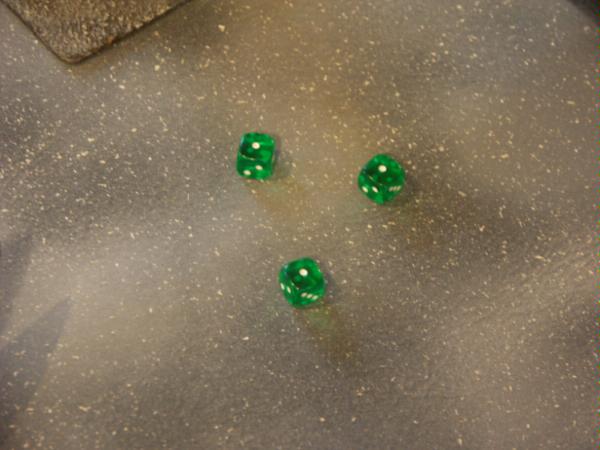 The third Falcon fired full out into the oncoming Ravagers and did little more then scorch their paintjobs. The last Vyper from Squad Amethyst scuttled behind the church ruins and debated what he could do now. One Wave Serpent was sent out to hold the intersection from the oncoming
DE
. The other started to shift over to be in a better position to attack into the intersection with the strategic point. Finally the two Wave Serpents both fired upon one Gunboat Raider and wrecked it.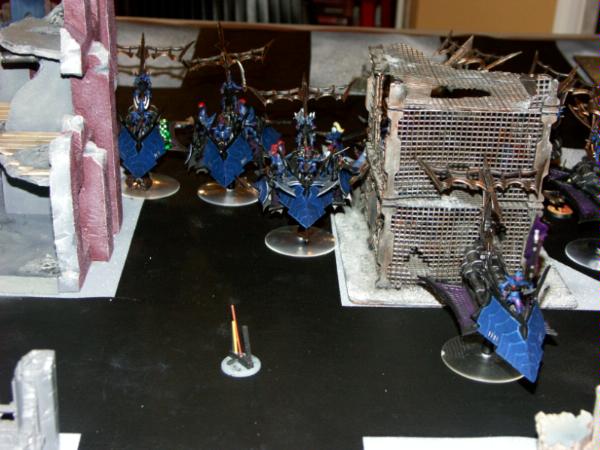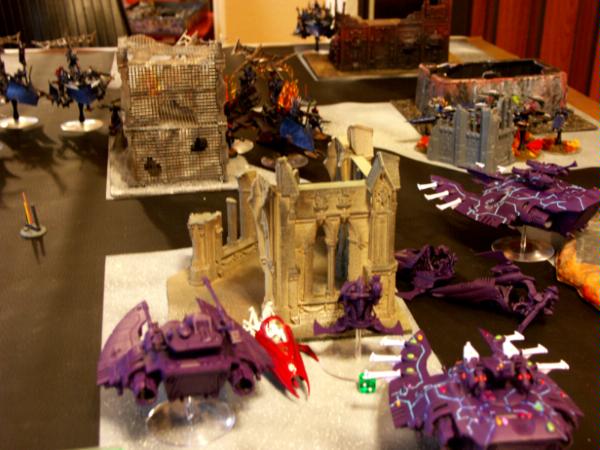 Turn 4 Dark Eldar
Still too many tanks to take down and less lances to do it with. I have to fire far too many shots into the Wave Serpent, but finally I down it and move up the RJBs to deal with the confused Fire Dragons.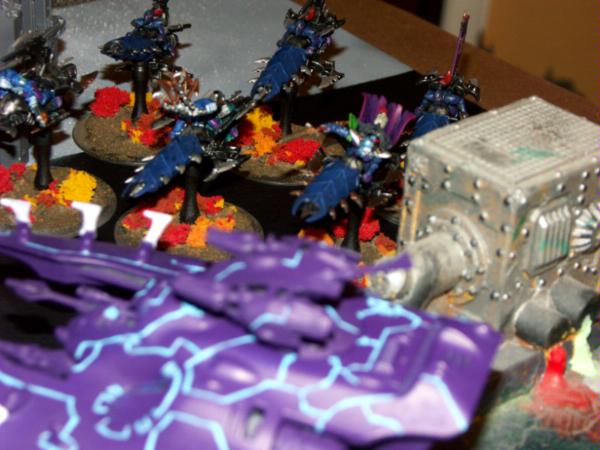 We should take away their metal boxes...
The disembarked Wyches glance at their Succubus, who promptly snorts more of the combat drugs and suggests they charge into the open and get in a gunfight with the nearby Falcon. The other Wyches promptly agree and off they go.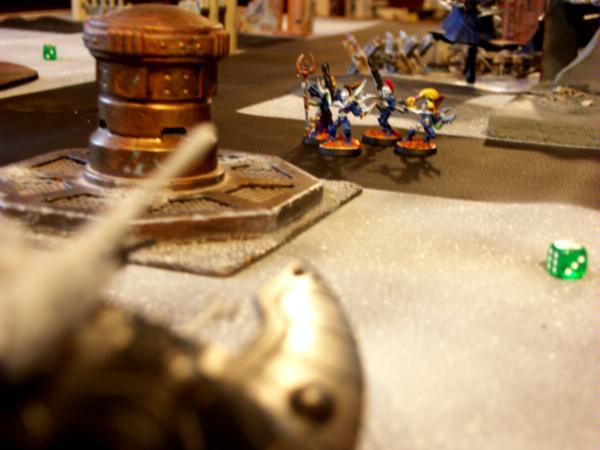 Getting into a shooting match with a Falcon? Sounds like a job for Wych- wait, what?
Thankfully with some backup from other squads they manage to make it so the Falcon lost its Pulse Laser and also was unable to fire this turn.
I'm sure it comes as no surprise that the RJBs wipe out the Fire Dragons while taking no casualties. As usual, I move them right up into dangerous terrain (the wrecked Wave Serpent) to do this assault. Thankfully this time my aggression in that manner pays off as they don't wreck at any point in dealing with the terrain.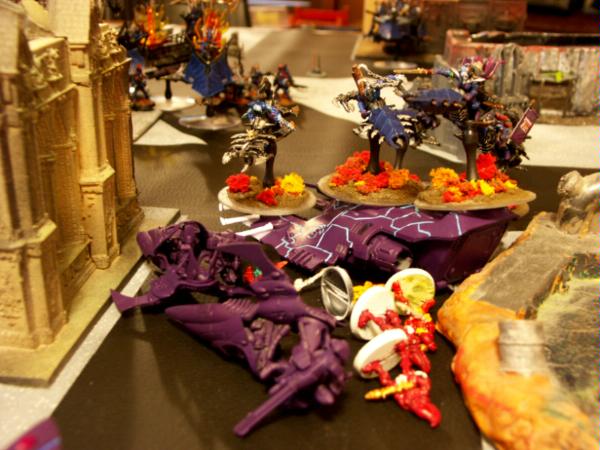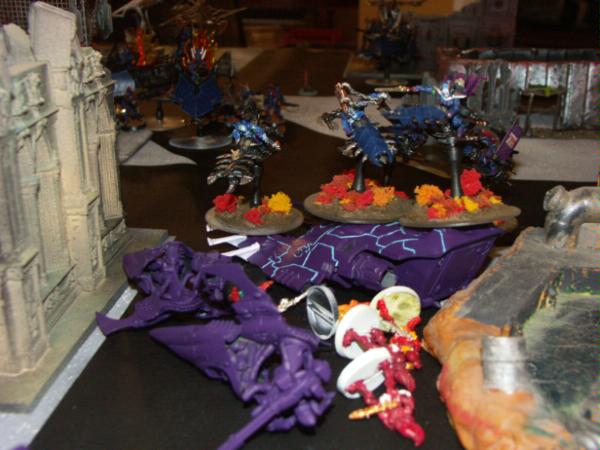 Turn 4 Eldar
The
DE
are swarming all around quite a few objectives, so it's time to get serious. The last Vyper squad finally arrives and the Autarch orders them and the Falcon to go to work on the Ravagers. One Ravager is immobilized, and both are stunned and shaken a few times – so they'll be useless next turn.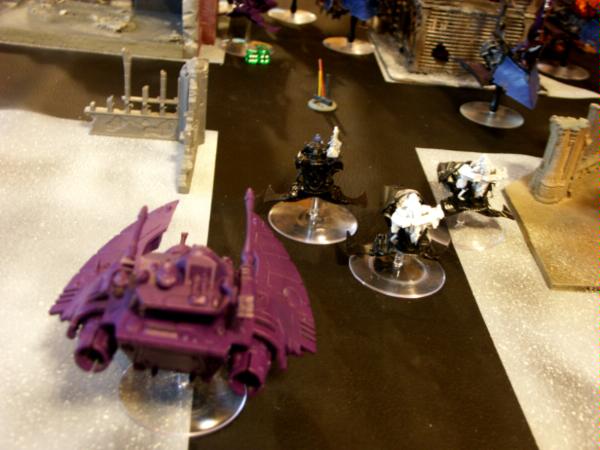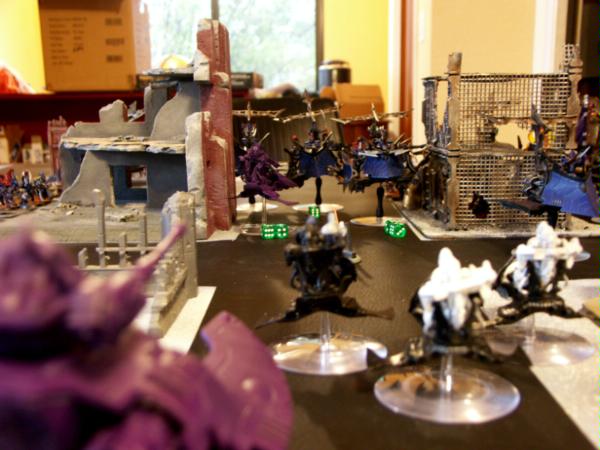 The last Wave Serpent moves up to the choke point that had just claimed the other. It opens up with its
TL
Bright Lance on the three Lance Ravager but only manages to blast a Lance off.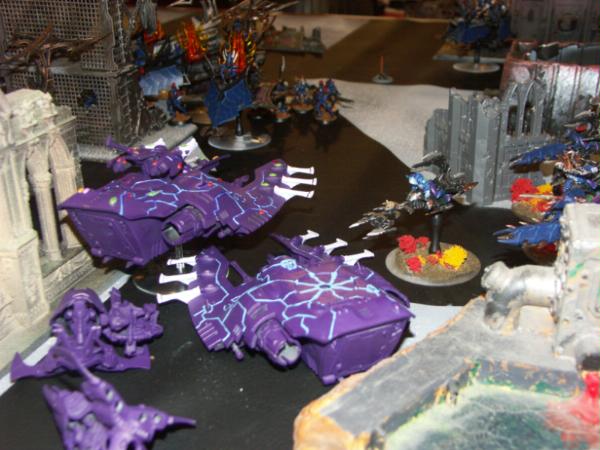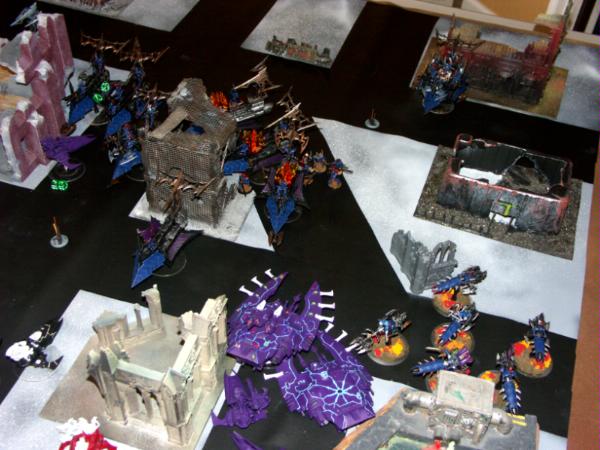 The other two Falcons move to consolidate their position on the strategic point on the far left flank. The one that can still fire unloads its armament into the nearest Raider and blasts it apart.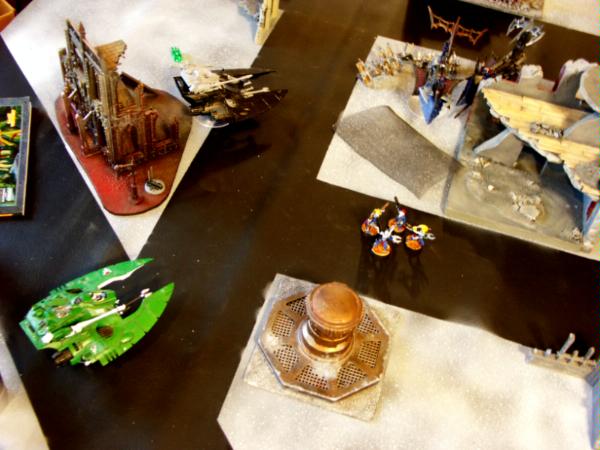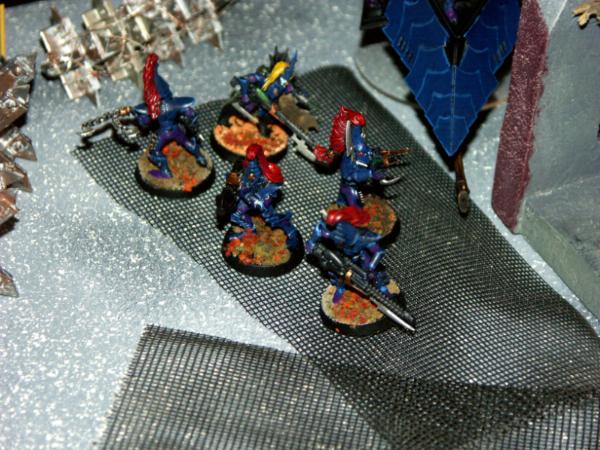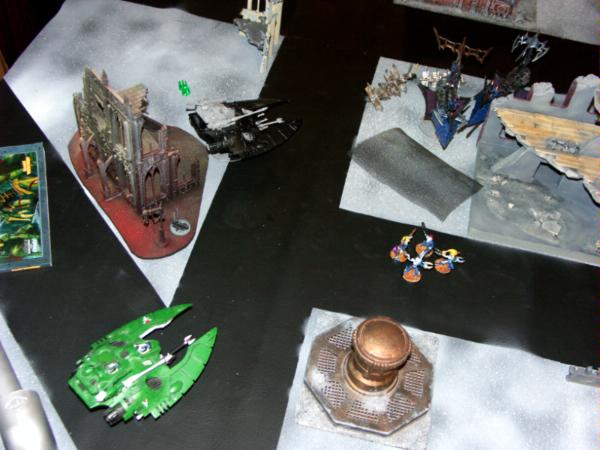 Finally the lone Vyper of squad Amethyst is sent on a suicide run into the center intersection with a plan to draw fire or perhaps later contest objectives.
Turn 5 Dark Eldar
Possibly the last turn for the
DE
, let's start snagging objectives and end everything.
The Immobilized Gunboat's squad chooses to ignore the Vyper and instead disembarks to trot around behind the building and double claim the objective there.
Another Gunboat scoots over to the objective by the Falcons. All the squads on that side proceed to fire into the Falcons, managing to blast off some weapons and score lots of stuns and shakens (which are all modified down by the stones) so by the time it's over basically both Falcons are more or less simply flying, heavily armored, troop carriers.
The disembarked Haemonculi squad snakes back to claim the rear right objective. One of the Dark Lance squads hustles through the ruins to claim the objective in the intersection. Meanwhile a Wych Raider scoots forward and bring down the Falcon with Blaster fire, the Dire Avengers inside stagger into open air and gasp in horror at the thought of actually having to fight stuff. The other squads and the RJBs there fire into the Onyx Vypers and drop all but one of them. On the far right flank the Wave Serpent is punished heavily but is still mobile.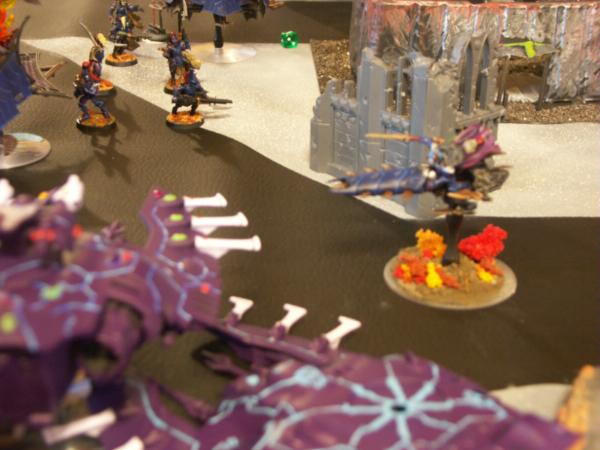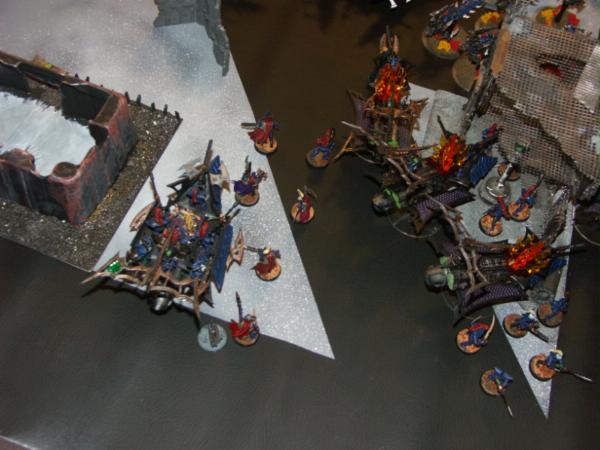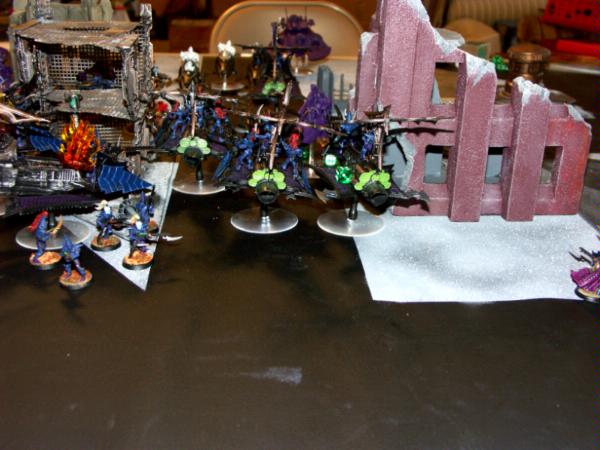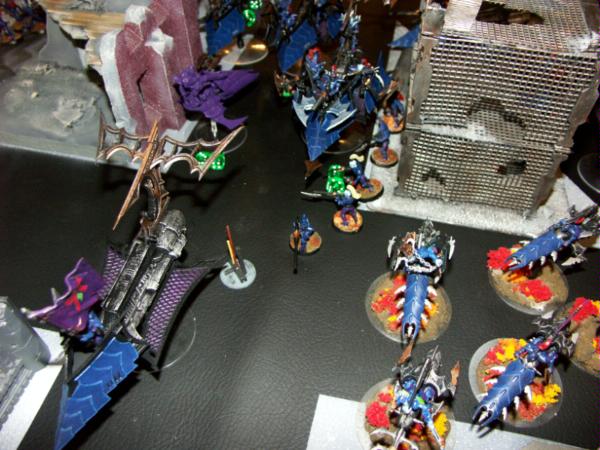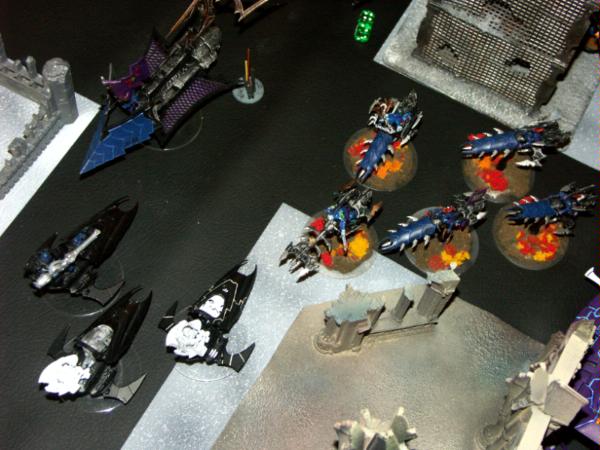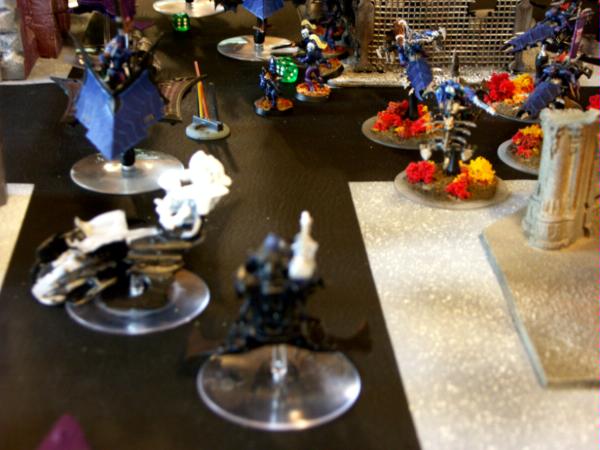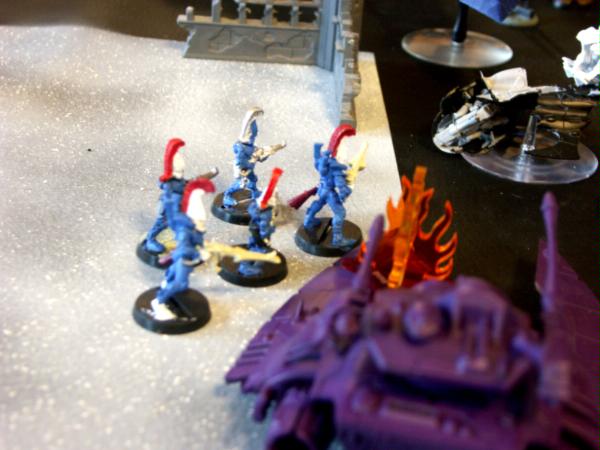 The
DE
currently claim *all* 4 objectives.
The Reaver Jetbikes assault into the Onyx Vyper while Brizelya is sent in to tear open the staggered Wave Serpent. If the Dark Eldar can manage these assaults then there is no way the Eldar will have enough units to contest/claim all four points.
Unfortunately, despite amping up on three drugs and scoring multiple hits Brizelya fails to even harm the metal bo-erm Wave Serpent! The RJBs have similar luck, only damaging a single weapon on the Vyper.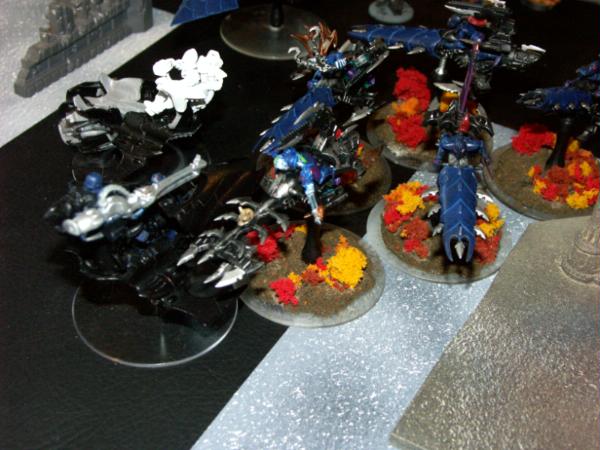 Turn 5 Eldar
Time to do what Mechdar do best! Lay n' pray on objectives!
The Fire Dragons make rude gestures to Brizelya and move over to the objective in the intersection. The wounded Onyx Vyper moves up and fires into the Ravagers with no effect.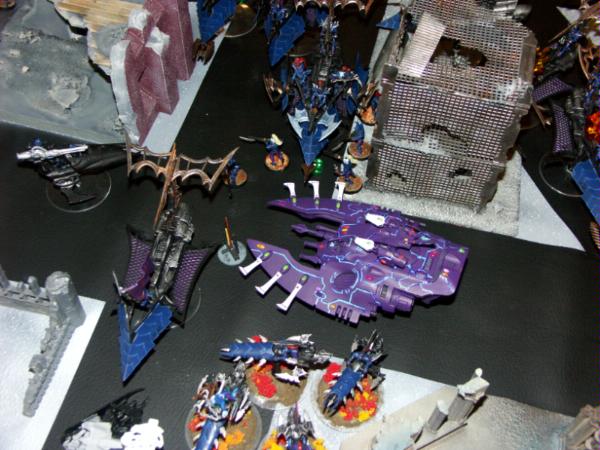 The nearly forgotten Amethyst Vyper promptly kicks it into high gear and heads to the far rear objective and contests it from the Haemonculi's squad.
The Green Falcon promptly rams the Raider on the left flank objective. No damage to either craft but it does put the Autarch and
DAs
inside in fine position to contest.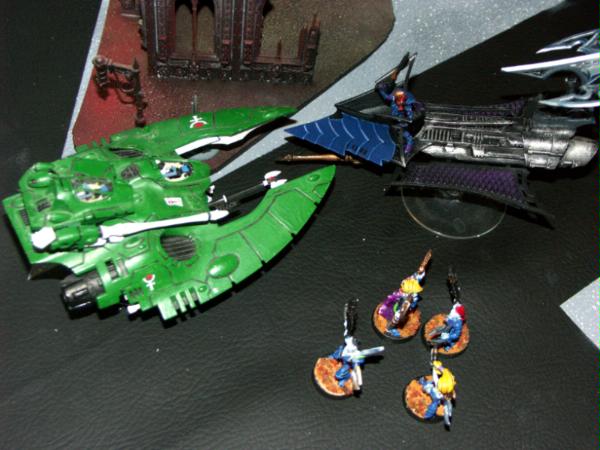 A quick tank shock (with Devin's usual impeccable ability to guess distances – I can only wish I was half as good at it as he is) from the black Falcon drops it perfectly on the other left flank objective and perfectly pushes both
DE
squads off.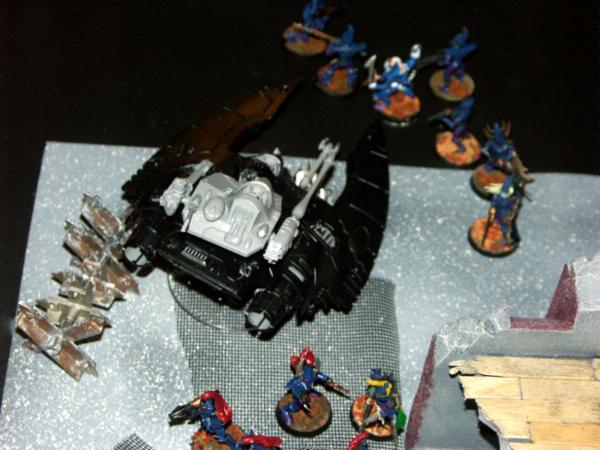 The only question now is whether or not there will be another turn. There's not much left to the Eldar…Devin rolls the die (since he claims true confidence in his ability to roll low)
A 2 is rolled, and the game ends.
DE
and Eldar contest 3 Objectives
Eldar claim 1
Eldar Victory!
Devin's After Game Thoughts
Never been so happy to see a 2 if there had been one more turn I was dead. That was a much tighter game then I thought it would be because I felt my list was superior. But that rough turn 3 set me back and even though I was blowing up raiders all over the field it just seemed like there were always more creeping out from behind buildings. I think if I were to do it again I'd try to keep the army tighter together so that Thor couldn't use his numbers so easily and also so maybe I didn't always have to move 12" with my serpents and give up some of they're shooting.
Thor's After Game Thoughts
Bah and humbug!
I really felt hamstrung by the point sink that was the Lord's Jetbike Retinue since I basically spent half the game playing them the same way I'd play a 3 bike, 2 Blaster build – which is just wasteful. The problem is that a dedicated anti-horde style h2h unit doesn't help too much versus Mechdar. I really liked the Eldar list and found it helped remind me of my belief that Eldar are a nasty matchup for
DE
since they deny us our speed advantage. I definitely want another shot at it sometime.
I think my biggest tactical errors were all present in the 5th turn. In retrospect the extra squad I sent around to help solidify my hold on the rear left objective didn't help (though against someone who doesn't have rulers built into his eyeballs it might have. I'm pretty good at guessing within maybe 1-2 inches, but Devin shames me.). If I had instead had them fire into the Amethyst Vyper (a S.Cannon and Blaster versus an AV10 vehicle with no weapons on it) I probably could have taken it out of operation pretty easily. If I'd done that it would mean I could have kept my Lord and RJBs together and both assaulted one target (probably the other Vyper squad would have made the most sense but it could have been the Wave Serpent. Together they probably could have delt with the lone Vyper there and then I could have had things end in a tie on round five or been in an even stronger position on round 6. Either way would have been better for me and a smarter play.