Just got back from the Platinum Devil event - a little tourney organised by Ketara of Dakkadakka in Canterbury University. It was a really fun weekend - we got in six games each, plus some time to play some non-tourney games afterwards. Ten players were in attendance overall, all lovely and very sportsmanly people. It was a pleasure to take part, largely due to the atmosphere in the room and the amazing standard of the armies everyone brought. The players were...
Reds8n - Lash/Oblit Chaos Space Marines
TitanPrinceps - Space Marines
Fifty - Blood Angels
Rinkydink - Gunline Space Marines
Panic - Kan Wall Grots (Orks)
Killkrazy - Tyranids
Ketara - Mech Imperial Guard
TP_1983 - Mech Imperial Guard
Leggy - Adeptus Mechanicus (Guard)
ArbitorIan - Penal Imperial Guard
-----------------------------------------
MY ARMY
* Company Command Squad - Commander with Meltabombs, Astropath, 3 Meltaguns, Chimera with Multilaser, Heavy Flamer
* Psyker Battle Squad - 9 Psykers and Overseer, Chimera with Multilaser, Heavy Flamer
* Penal Legion Squad
* Penal Legion Squad
* Penal Legion Squad
* Penal Legion Squad
* Rough Rider Squad - 5 Roughriders with Lances
* Banewolf - Hull Multimelta
* Banewolf - Hull Multimelta
I have been building this over the last few months, and apart from two practise games on thursday, this was my first time using them. You can see the Modelling Blog here -
http://www.dakkadakka.com/dakkaforum/posts/list/257179.page
-----------------------------------------
GAME 1 - TP_1983's IMPERIAL GUARD
* Company Command Squad in Chimera with Heavy Flamers
* Ratling Snipers
* Veterans with Autocannon in Chimera with Autocannon
* Veterans with Autocannon in Chimera with Multilaser
* Leman Russ Punisher
* Medusa
* Basilisk
First game was Annihilation against
IG
. I managed to go first and set up an extreme refused flank, all Legionnaires outflanking. Tom was unlucky with his Ordnance penetrations, and I managed to keep the Leman Russ from firing all game. The whole game revolved around the left side of the board, Banewolves stuck to Meltaing units apart, and Legionnaires proved very adept at cracking open vehicles in assault. I won 5KP to none.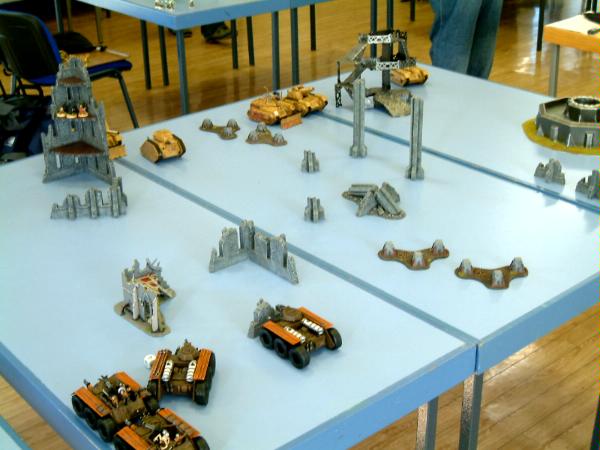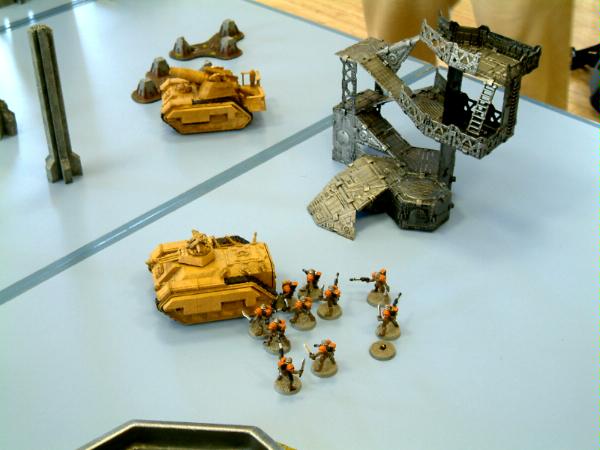 -----------------------------------------
GAME 2 - PANIC'S GROTS
* Big Mek with
KFF
* Megagrotz
* 3 Buggies
* 3 Buggies
* 3 Kans
* 3 Kans
* 3 Kans
* 22 Grots
* 12 Grots
* 12 Grots
Now, at least I knew how this army played. Mission was a variant of Seize Ground, where you could pick up and walk around with the markers. Setup was Dawn of War, and I held everything back. Panic deployed on a wide front to get two objectives and all the way into the middle to get the fifth. I came on with another extreme refused flank and took one objective with the Rough Riders, who hid for the rest of the game. Some outflanking Legionnaires took a far objective and went to ground in a building with it, where Panic's buggies attempted to blow them up for the whole rest of the game, without success.
By a few turns in, Panic had three objectives all held by a big Grot squad in his corner, and I was outflanking waves of Legionnaires into them while they were constantly reinforced by more reserve grots. Just as the last Grot squad was left, my marauding Banewolf got stuck on some rubble and wasn't able to get in range to kill them. Draw!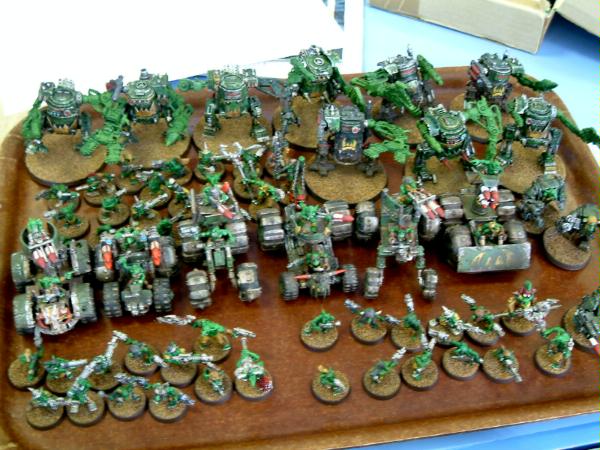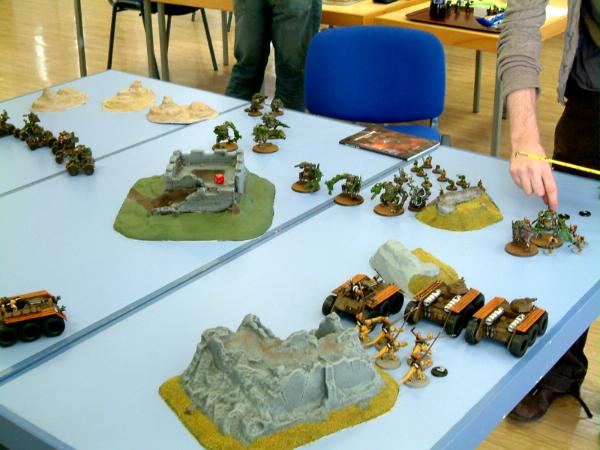 -----------------------------------------
GAME 3 - REDS8N'S
CSM
* Daemon Prince - Wings, Mark of Slaanesh, Lash
* Noise Marines - 1 Sonic Blaster and Blastmaster in Rhino
* Noise Marines - 1 Sonic Blaster and Blastmaster in Rhino
* Noise Marines - 1 Sonic Blaster and Blastmaster
* Defiler
* 2 Obliterators
This was a Capture and Control, Table halve, and I made a very big mistake during deployment. Knowing that I had lots of outflankers, Reds8n placed his objective right in the centre. Foolishly, I didn't realise and ouflanked anyway, meaning that all my Legionnaires had to slow across three foot of board to get to his objective, wherever they came in. I really should have just scouted them forward and charged! Anyway, my force was taken apart very efficiently and I ended up fighting a very close battle between the
DP
and the squad of Legionnaires holding my objective, hoping to get a draw. The Legionnaires did amazingly well, taking all but one of the
DPs
wounds and refusing to break, and just as we thought they might make it, they got killed in the last round of combat. My first Loss!!!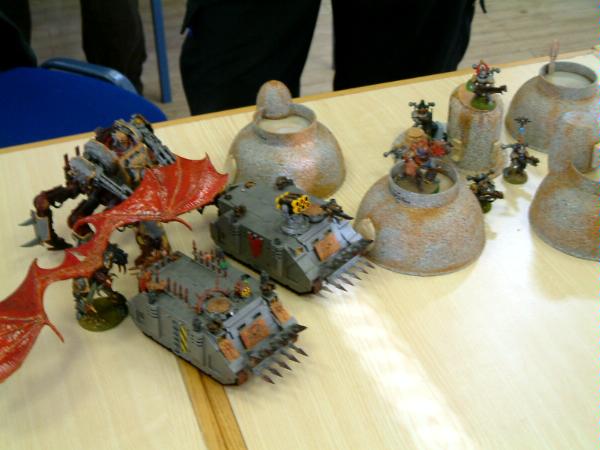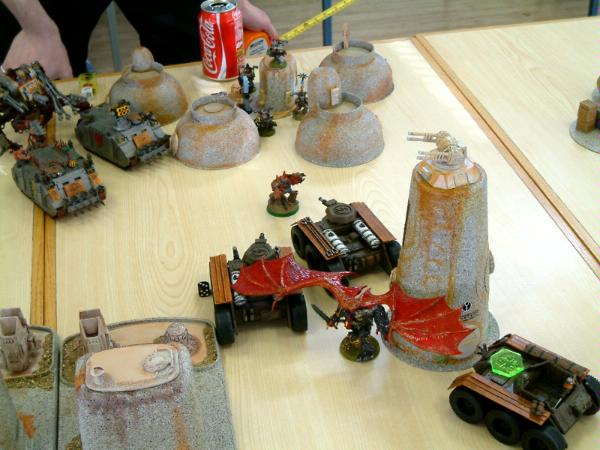 -----------------------------------------
GAME 4 - LEGGY'S ADMECH
* TechMagos (Primaris Psyker)
* Skitarii (Veterans) in a Chimera
* Electropriests (Penal Legionnaires)
* Knight (Leman Russ)
* Knight (Leman Russ)
* Lancer (Devildog)
* 2 Sentinels
This last army was an amazing conversion of Knight Titans from the Defiler sprue. Looked incredible. The mission was a variant seize ground but where the objectives were portals which randomly teleported models around the battlefield. I used them at the start to get an early lead, but by the end his weight of anti-tank and anti-infantry fire was starting to show and I only barely scraped a draw.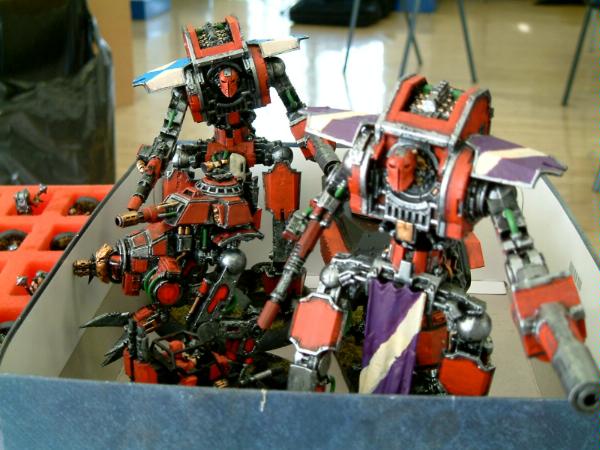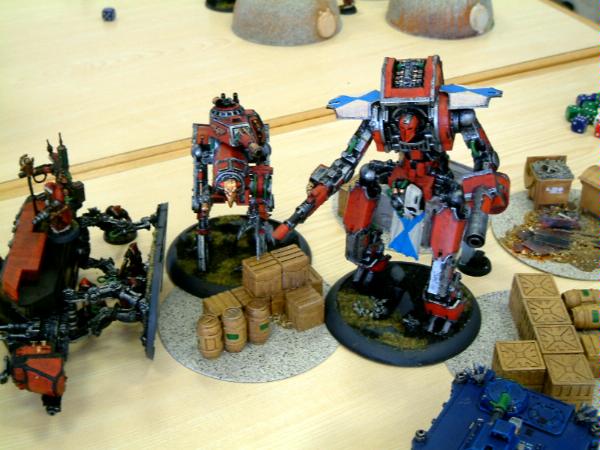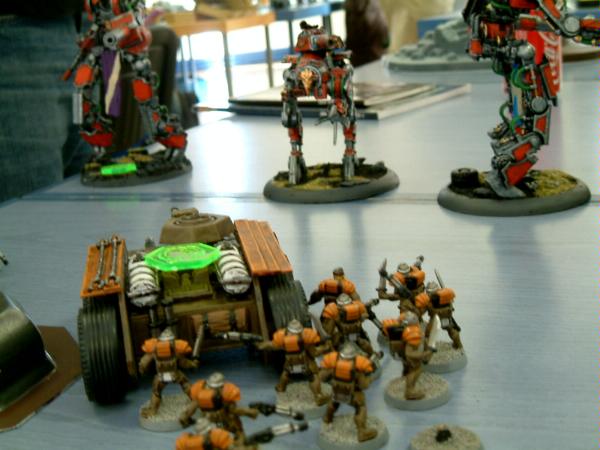 -----------------------------------------
GAME 5 - BRADLEY'S SPACE MARINES
* Captain
* 5 Terminators
* Tactical Squad in a Rhino
* Tactical Squad
* Vindicator
* Lascannon Dreadnought
This was a simple, three objective Seize Ground. We both held our nearest, and fighting revolved around the central one. Bradley got first turn and popped a Chimera and Banewolf with his first two shots. However, outflanking Legionnaires managed to pop his Rhino early, melta fire killed the Terminators, Captain and Vindicator, and the nearest Tacticals dies to massed lasfire. Thinking I had it in the bag, I moved Legionnaires in to the middle, but his Dreadnought made the long long slog to the objective to contest, and the game ended on turn 5 in a draw.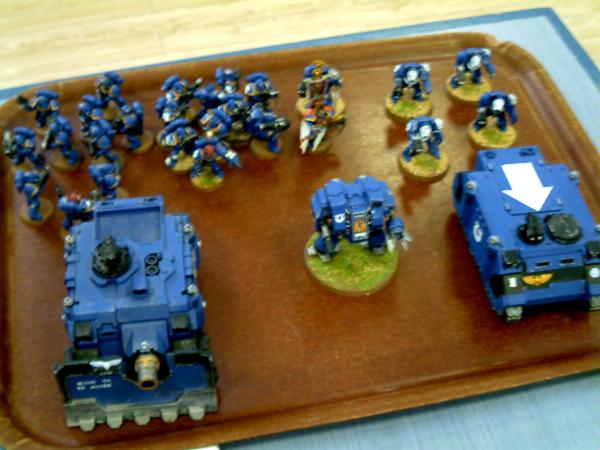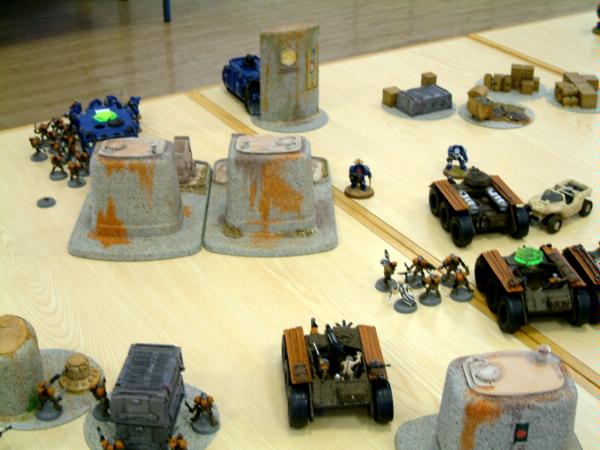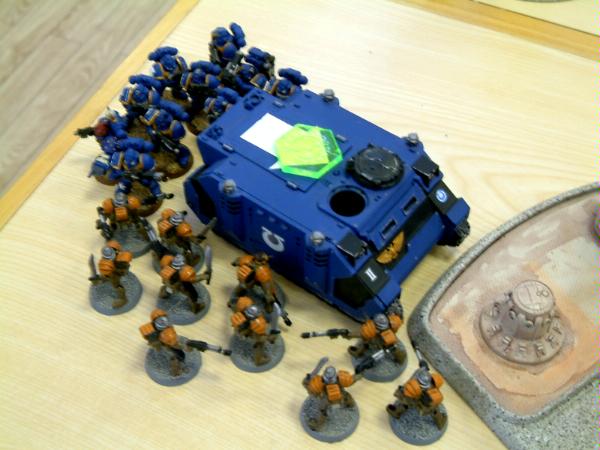 -----------------------------------------
GAME 6 - KILLKRAZY'S TYRANIDS
* Tyranid Prime
* 4 Warriors with Venom Cannon
* 4 Warriors with Venom Cannon
* 4 Warriors with Barbed Strangler
* Trygon Prime
* 3 Raveners
* 2 Zoanthropes
* 10 Termagants
This was another Annihilation mission, this time edited so that Elite and Fast Attack were worth more. Killkrazy held a lot back in reserve, and I deployed in a large area of ruins with the vehicles outriding. Over the first few turns I managed to kill the Zoanthropes and hoped to hide at the back for the rest of the game with my two
KPs
. For the large part this worked, I only had to pop out for a few turns to grab points from the Raveners, but the Trygon then showed up late in the game behind my stronghold, and wiping out my Roughriders. I wasn't too worried, and charged with 25 Penal Legionnaires, inflicting four wounds, but still losing the combat. Terribly, all my Penal Legionnaires passed their Stubborn morale tests EXCEPT the only full-strength squad of rending Knife-Fighters, who fled off the board! The remaining dribs and drabs of squads were picked off one at a time, and I lost the game! Another one where the tables turned on the last turn.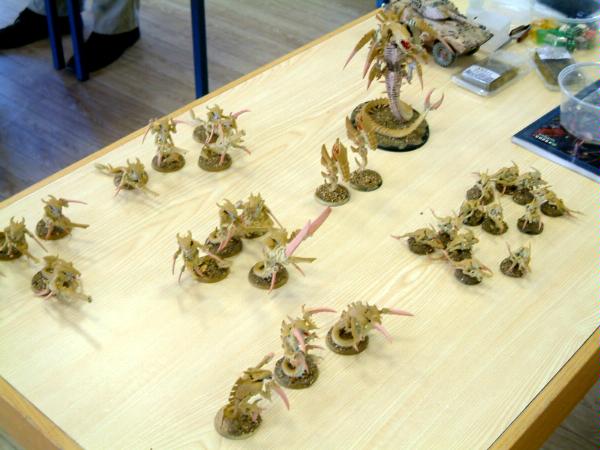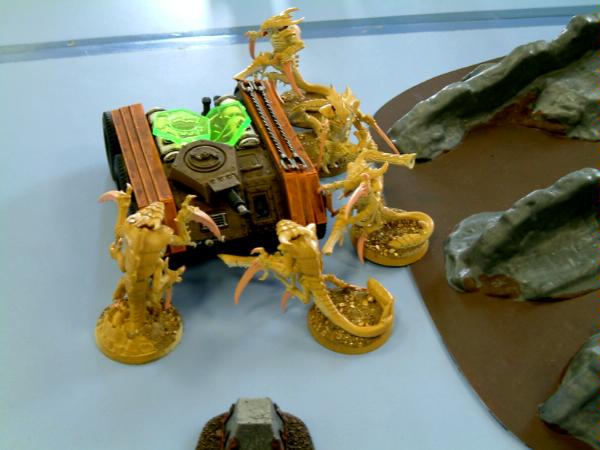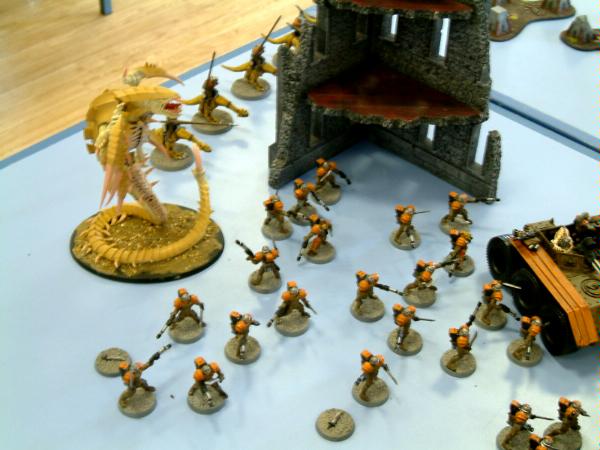 -----------------------------------------
RESULTS
In the end, I came joint third, with Panic's Grots winning the tourney and Reds8n's
CSM
coming in second. It was great fun though, and did better than I expected with a very fluffy and undertested army, and the whole weekend was great fun.
Big thanks to Ketara, who put lots of work in getting enough terrain ready and organising the event in the uni, and I regret that I was too warhammered out by the end of things to face his fantastic Praetorian army. Here's some pics of them anyway....