It has been far too long since I did a tournament. My local favorite gaming store closed down and now I'm basically an hour away from the nearest one. That said, it's pretty much like a drug and eventually you do get the itch, as it were. Thus, since I had a client cancel on me this weekend I suddenly had a lot of time and no plans to occupy myself. So I packed up some Dark Kin and made the long trek north to hop into battle at a new store. There was a solid turnout and I was surprised by the amount of Marines at this place; there was only, I believe, two
IG
players (thank gawd) and no Eldar or Orks (!?!). There was the expected heavy slug of Wolves and Nids. Honorary mention goes to the kid who was playing his old dex Blood Angels for their last hurrah before the new dex went tourney legal.
3 Rounds, and one and a half hours per game (which is about one half hour less then I'm used to and messed with my chi all tourney since my army kicks into high gear on turn 4)
=========
The Cerulean Storm
==============
Archon w. Shadowfield, Punisher, T.Helm, drugs, grenades, on RJB
3 Reaver Jetbikes w. 2x Blasters as escort
Dracon w. Punisher T.Helm, drugs
5 Incubi
Raider
2x 6 man Wych Squad, 2 Blasters, Agoniser Succubus
in Raiders
4x 6 man Raider squad, blaster and S.Cannon
in Raiders
2x 5 man Raider squad w. Dark Lance
in Raiders
2x Ravager w. 3 Dissies
Ravager w. 3 Lances
=========================================
Round 1
Deployment
– Pitched Battle
Mission
- Modified Kill Points (aka, we'll punish you for bringing Troop selections)
Opponent
– Space Wolves - possibly the most attractive army I saw at the event. I loved his beer stein carrying Long Fang Pack Leader.
3 Rune Priest each with Living Lightning and then also Hurricane, JoWW, and Stormcaller.
1 Wolf Scout Unit
3 Grey Hunters w. Meltas in Rhinos (w. Rune Priests)
2 Grey Hunter Squads w. Flamers in Razorbacks (Heavy Bolter)
3 Long Fang Packs (2 of them are 2 Missle/2 Lascannon the last is 4 missile)
Wolf Guard are attached to all the squads save the Long Fangs
The Wolves win the dice off and opt for first turn. They deploy long and wide across the table that is full of depressingly low and flat terrain (hiding Raiders from Long Fangs? Ha!)
You can tell the

DE

players, we always keep our codex out at the beginning of the game because there's *always* questions.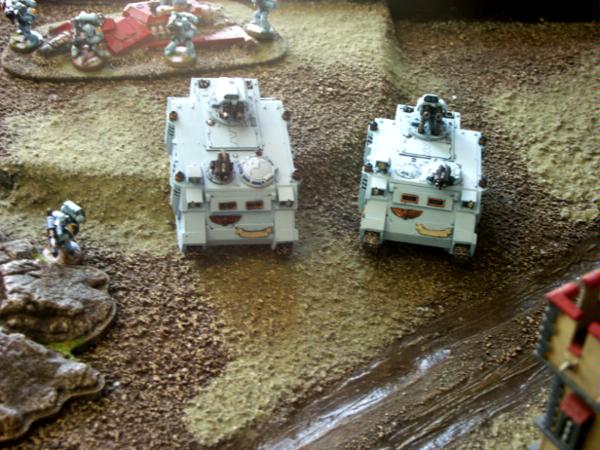 Long Fangs *and* Razorbacks? Who told this guy he'd be fighting

DE

?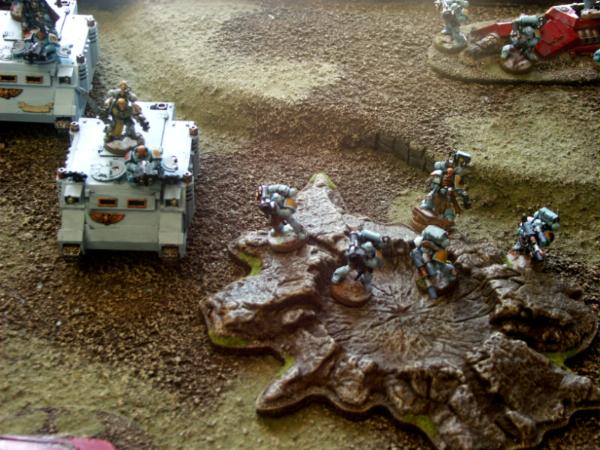 I can chute bettah whena *hic* 'ave a feew...
I castle up in one corner an drop one of my mini sniper squads out of his boat and into a nearby crater in the hopes of drawing some of the Long Fang fire. I shield some of my more valuable Raiders and the Ravagers using Gunboats and the empty Raider.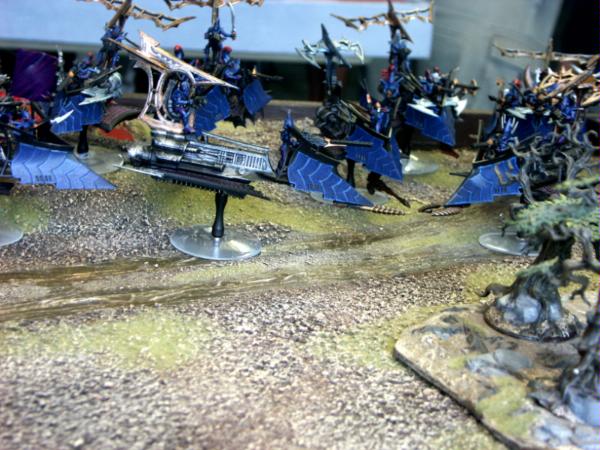 When you don't have terrain a sideways Raider can work pretty well in a pinch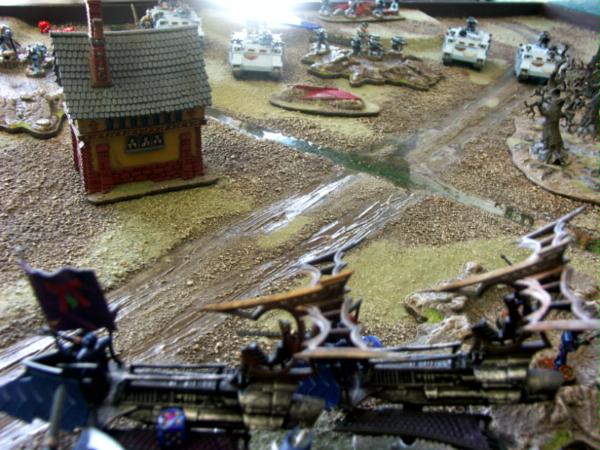 Wolf 1
The Wolves unleash their furry fury and manage to kibosh a couple of Raiders and dump the passengers but overall the dice fell fairly favorably for me considering the damage a list like this on a map like this could cause me. Needless to say, the triple Living Lightning was painful.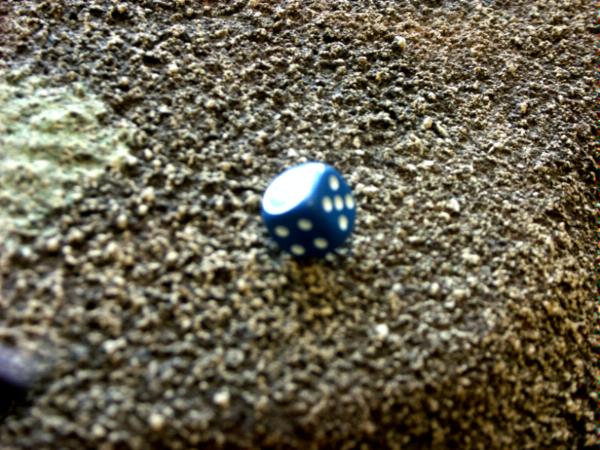 I may have just been being a jerk, but I called this die cocked and requested the re-roll.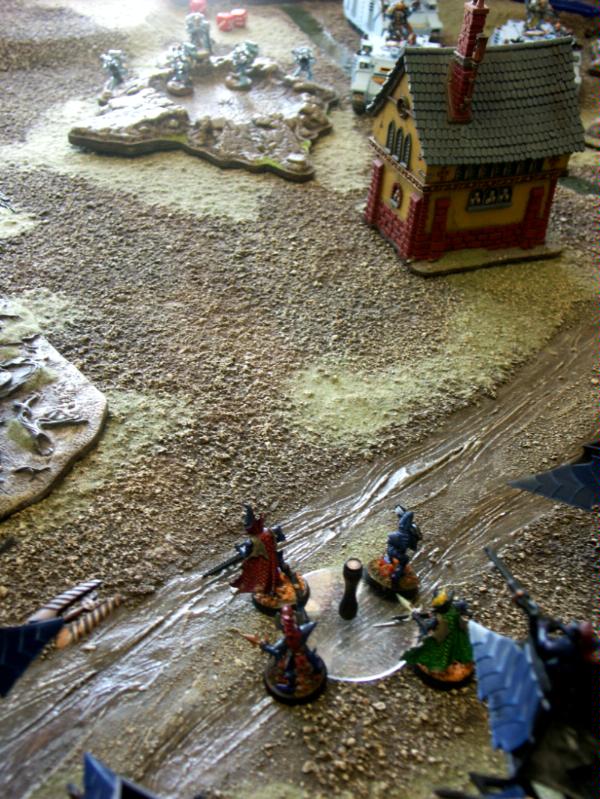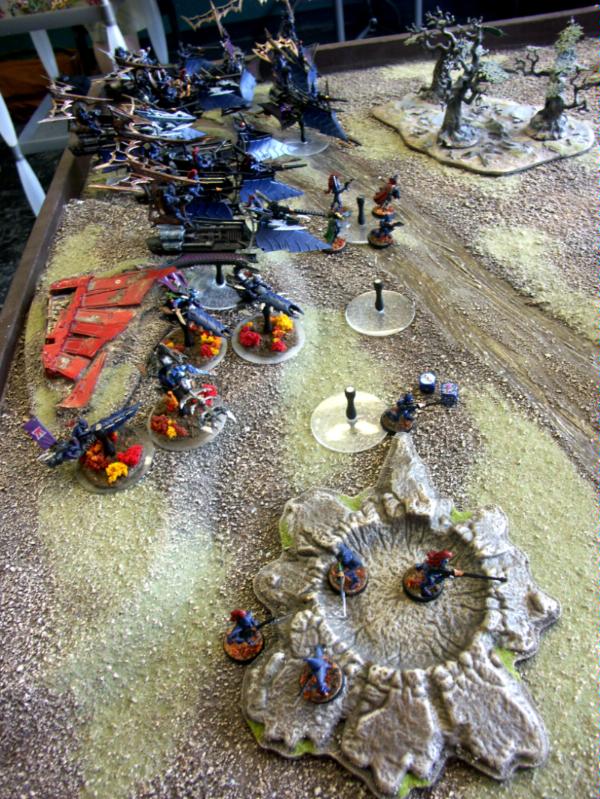 Only 3 destroyed Raiders? Not too shabby. That lone dark lance succeeded at his leadership test - insane heroism

FTW

!

DE

1

I sweep up aggressively on the flank and begin to pepper his armor with my Lances. I shake and stun Rhinos and manage a few weapon destroyed results, and thus make it so that only one Rhino squad can fire at me unless his Wolves wish to step out of their precious metal boxes.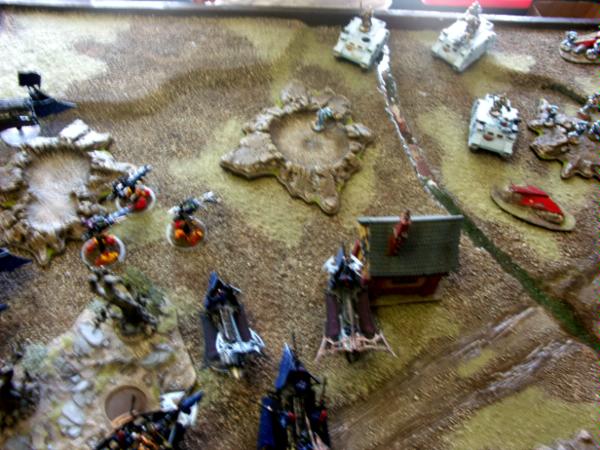 The Ravagers unleash on nearest Long Fang pack, and in what becomes the story of the game manage to scatter almost all of their shots off target (I think I only managed to hit maybe 4-5 guys between 6 plasma cannon shots) Unfortunately, in what was to become Chris' story of the game – he whiffs pretty much all of his saves and the squad goes down to only one guy.

Wolf 2

The Razorbacks struggle to bring their weapons to bear and manage to shoot down a single RJB between them. The Long Fangs have some limited options in their fire lanes as well and manage only minor damage to some of the Raiders and the mauling of one of the bailed out mini-sniper squads.

DE

2

I fail to pop one of his Rhinos and manage to leave a squad of Wyches looking like idiots as they are obligated to assault a Rhino that had moved (with predictable results) Other Rhinos are torn open by Dark Lance fire and the Ravagers put a hurting on another Long Fang pack (whew, I think I'm finally not looking at losing 3-5 Raiders a turn now) The Razorbacks are also shot up pretty badly and are both weapon destroyed.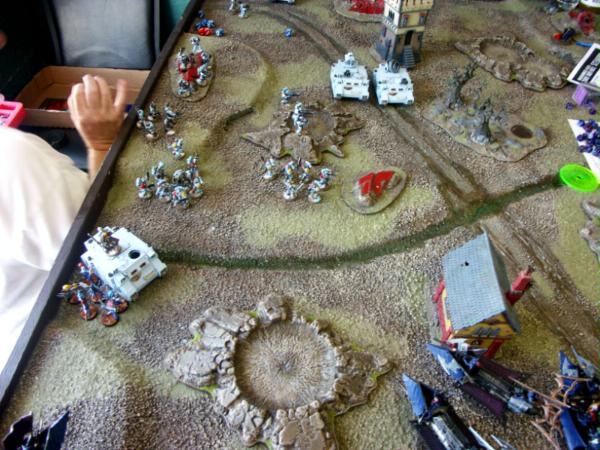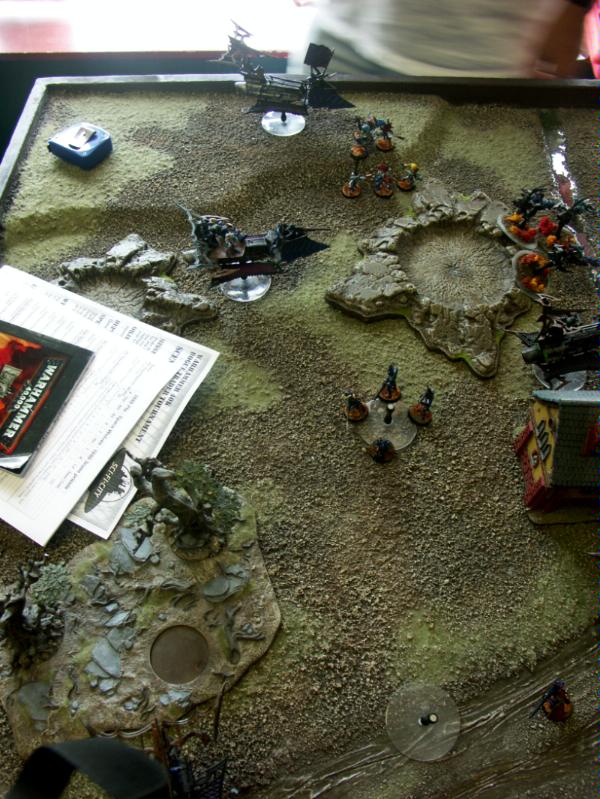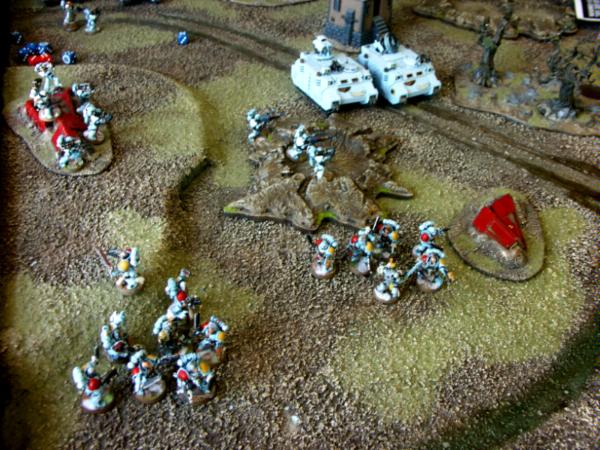 We took from them their metal boxes!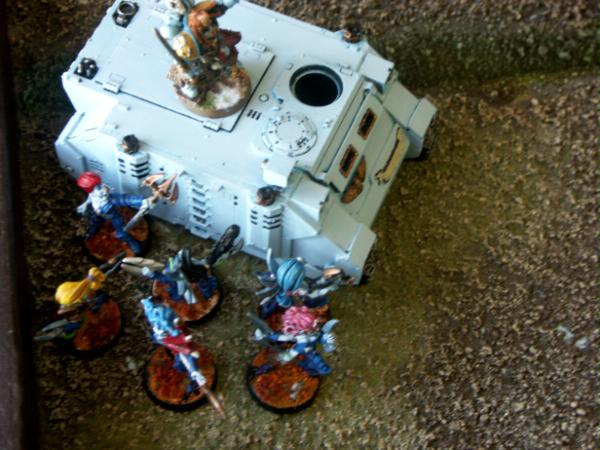 Our thongs are of little help versus their armor here thought
Wolf 3
The Wolf Scouts arrive and charge forward to blast hot melta death into the back of a 3 Dissie Ravager, ending it immediately. The Priest and the Grey Hunters whose Rhino had been assaulted by Wyches amble around it casually and empty their bolters into them (again, with predictable results) The Razors turn tail and skitter away from the fight to try to protect the valuable
KPs
they represent. The disembarked Wolves unleash a hail of small arms fire, living lightning, and melta shots that fail to produce the desired results and only really shake up, weapon destroy, or immobilize a few Raiders.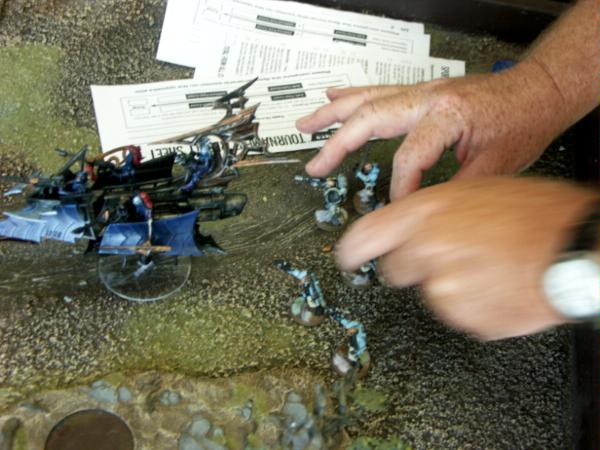 melta and power fist versus Ravager rear armor? Bah, he'll be lucky to scratch the paintjob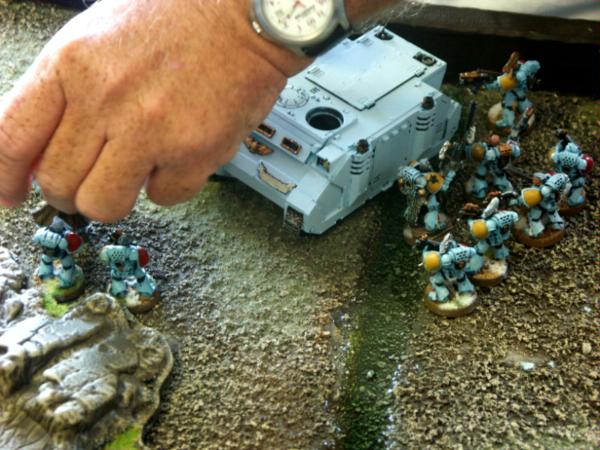 Wyches, meet rapid fire

DE

3

Final Turn as the short game time and army size catches us both unawares.

Brizelya (RJB Archon) and some Wyches charge into the Grey Hunter pack nearest them and shred apart the noble Wolves in short order. Meanwhile Brizelya's sister springs out with her Incubi and shows the Wolf Scouts the price of a Ravager is their lives as the Incubi's power weapons gut the surprised wolves with ease. Gunboats tear some holes in other packs but all of them make their leadership tests and manage to hang on.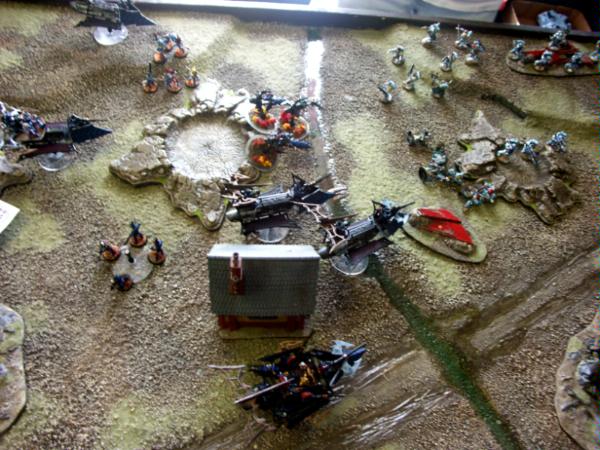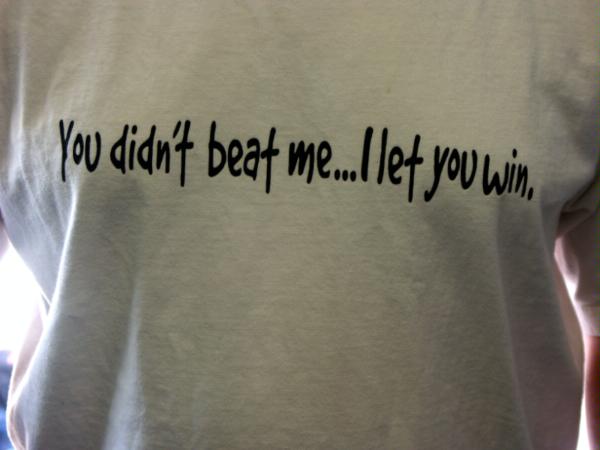 My opponent explains how things went down.

KPs

are 12 for him and 13 for me for a tie. I get some extra bonus points from killing one of his

HQs

as well as having more troops claiming my zone then he does.

After Battle Thoughts

This was tough, as I continue to have difficulties with something I've been discussing with Kwi – and that's that the

DE

tend to really start hitting their stride on Turn 4, and you really have to be on top of your game and hustling if you want to get into that Turn 4 situation depending on the time constraints of the venue (I'm especially bad at this since I'm taking pictures and joking when I should probably be killing – dorf!) Overall I'm quite certain that with another turn or two the Wolves were good and done, but my opponent held on solidly even through his bad dice and managed to keep his losses controlled to foil my desperate attempt at winning in the 3rd round. I'm used to having two hours for 1850 and it showed throughout this tourney (though honestly even a lot of regulars seemed to be struggling to get past turn 3-4).

======================================

Round 2 Deployment

– Dawn of War

Mission

- Modified Seize Ground (6 points that randomly become actually worth points) Night Fight all game.

Opponent

– Chaos Space Marines - he was still working on his paint, but I loved his Nurgle Land Raider.

Abbadon in a Land Raider

Daemon Prince (Warptime)

2 Rhinos of 10 Khorne Beserkers

Rhino of 10 Plague Marines

Rhino of Havocs w. Flamers

Defiler

I felt really confident about this game as that is a list I should be able to mulch with my

DE

pretty darn easy. Then I realize it is Night Fight all game and I die a little inside. I win the roll off and choose to go second.

CSM

1

He started with one Rhino of Beserks on the board already close to one of the points. Everything else rolls forward aggressively, looking to take advantage of the darkness.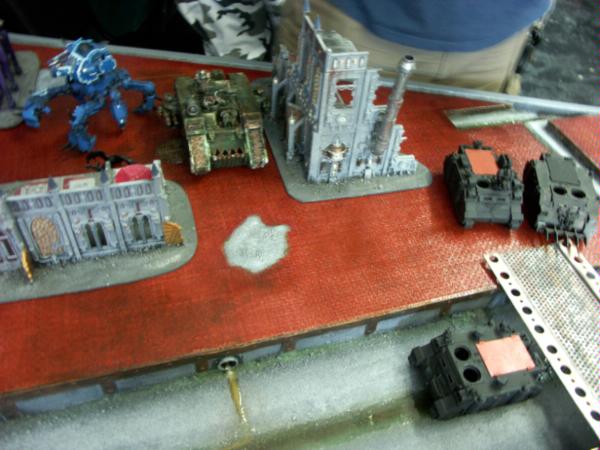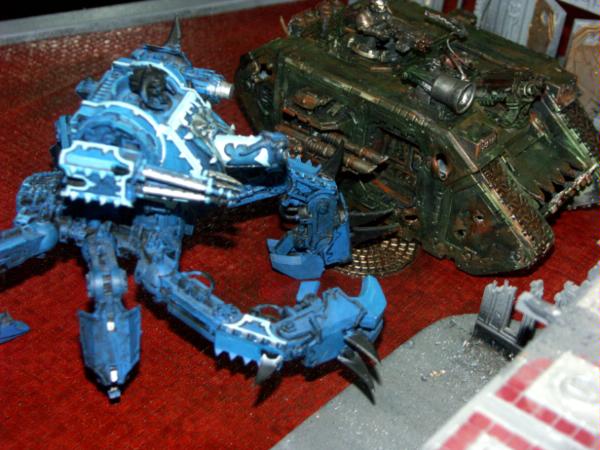 Love that Land Raider

DE

1

Everything sweeps on from my side of the board. I attempt to unleash a torrent of Lances into my opponent but apparently now it's my turn to suffer some bad dice as I just can't seem to get the night fight roll to go my way and only manage one hit out of my entire army shooting (I blast the bolter off one of the Khorne Rhinos)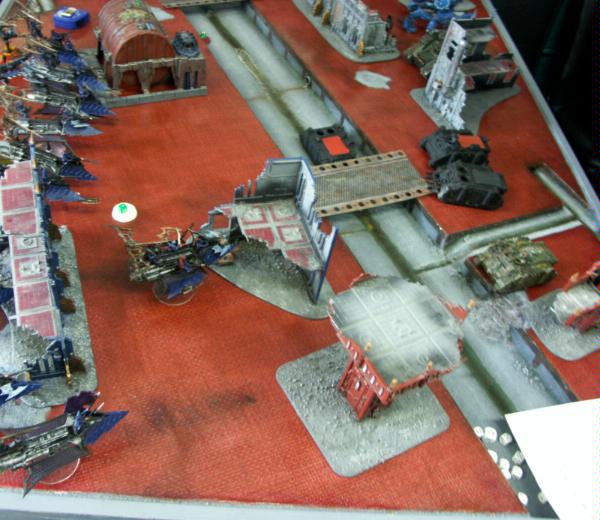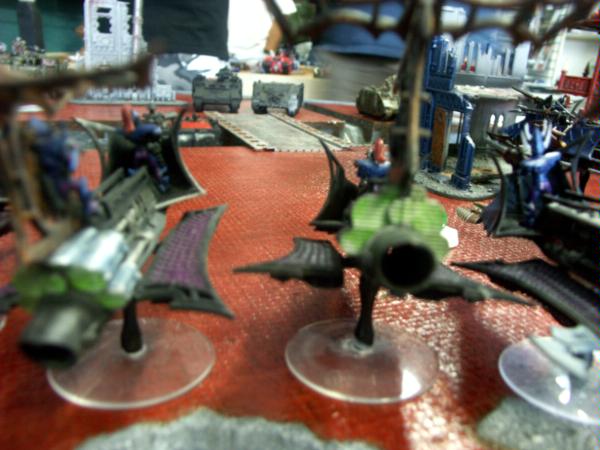 We have lots of firepower, we just can't use it.

CSM

2

Per the rules we roll to see which point becomes active – it is the one next to his Defiler, Abbaddon, and Daemon Prince

He presses forwards more, using one of his spotlights to illuminate a Raider. His weaponry fires but is about as effective as mine and simply shakes a few Raiders.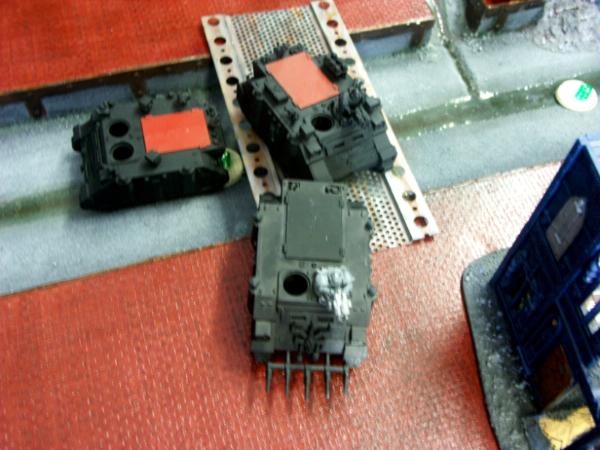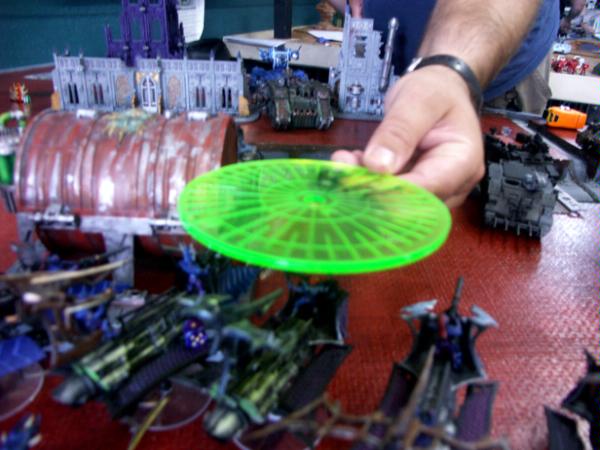 DE

2

Night Fight continues to blunt the

DE

attack, but Brizelya and the RJBs decide to stop playing games and zoom up almost adjacent to the wounded Khorne Rhino. Their Blasters flare and they manage to explode the Rhino spilling the cursing Berserkers into the open. Pretty much the entire rest of my army fires upon the spotlight using Havoc Rhino and only manage to immobilize it. Oddly enough I then take a random pot shot at the Plague Marines' Rhino and blow it up in a single shot. Brizelya charges into the Khorne Beserkers with the RJBs (a tactical mistake, I should have kept them back since those Beserkers were going nowhere fast) and shreds almost all of the Khornites in one go.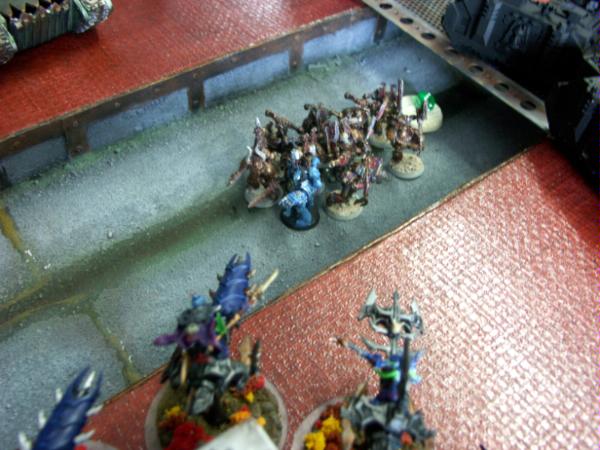 Brizelya, as usual, decides to go pick a fight. 'Berserkers are wimps!'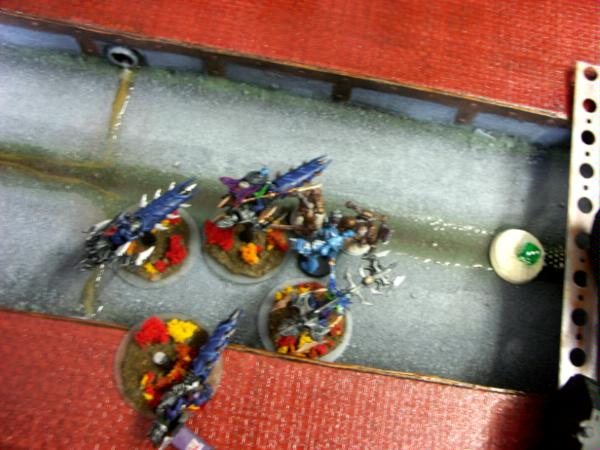 Brizelya, as usual, proves to be accurate in her assessment

CSM

3

Abbadon is dumped out of the Land Raider and along with the Demon Prince (yes, my opponent had never actually played against

DE

and was truly intimidated by the RJB Archon). They both assault in and between the two of them manage to slay the Archon (actually Abbaddon did just fine by himself, of course I went and rolled four 1's for my Shadowfield saves – but that's about normal). The RJBs manage to hang on and the fight will last till next turn. The other Berserker Rhino dumps out its horde who hoof it around the disabled Havoc Rhino and assault a Wych Raider, managing to bring it down with a powerfist.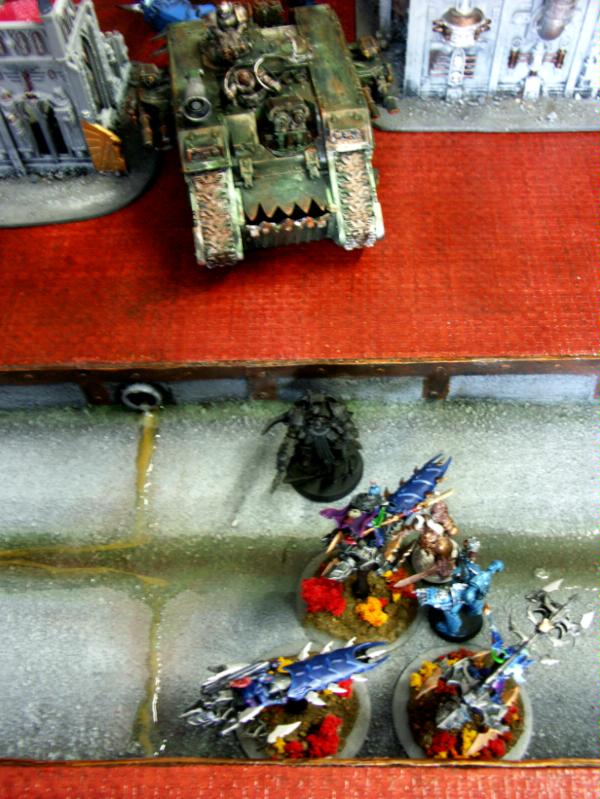 Archon, meet Abbaddon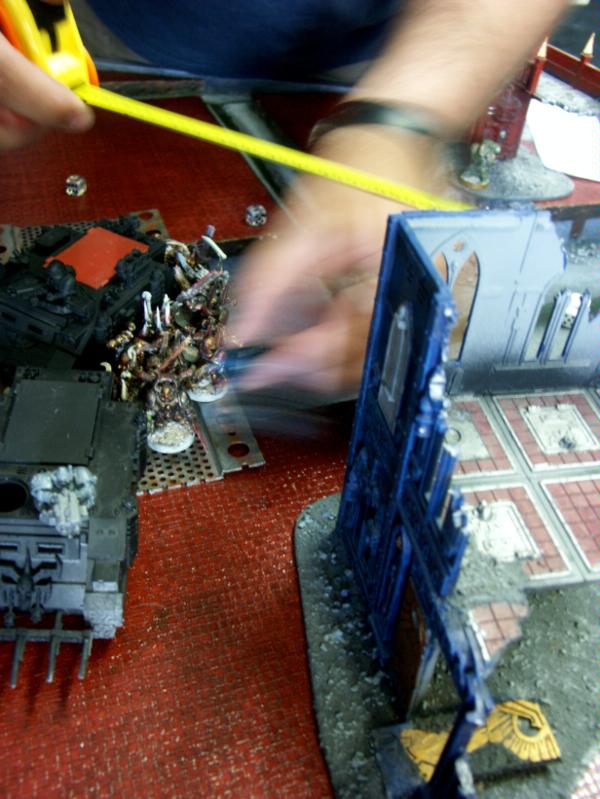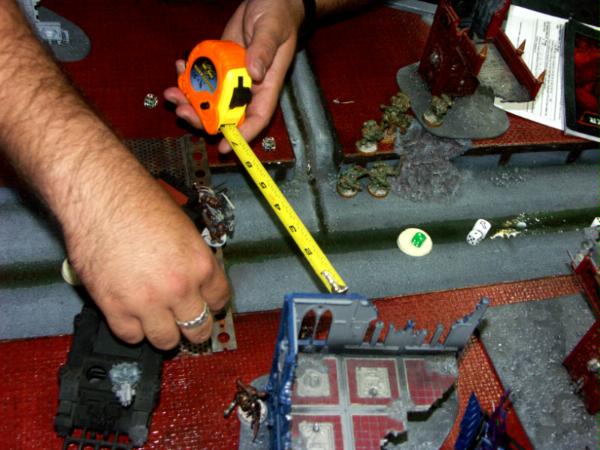 Berserkers head for the nearest Wych Raider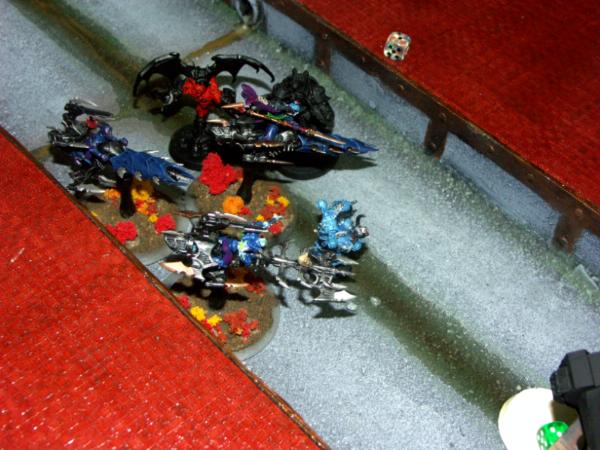 Wait, did you just say the Archon has a 2+ invulnerable? Probably ought to get this Daemon Prince into the mix too...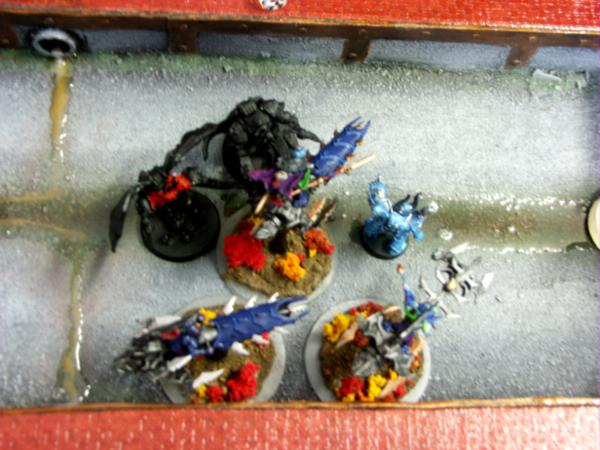 DE

3

Again – final turn. I wasn't ready for this one at all and can't believe that I'm in a desperate situation to win against these

CSM

.

I have the win if I can kill a Land Raider because I'm capable of putting a Troop choice next to the strategic point and only the Land Raider . I do so and pretty much have everything in my army fire at the Land Raider. Night Fight haunts me badly as about half my shots fail before I can even attempt them. I manage to immobilize it and bust up its weapons a bit but a destroyed result escapes me. Ah well.

I do significant damage in the Assault phase. I lose my RJBs to Abbadon and the Prince, but my Wyches and Incubi tear apart the Khorne Berserkers and the Plague Marines as well.

Game ends in a tie and again I manage to eke out a handful of extra points for accomplishing various battle goals.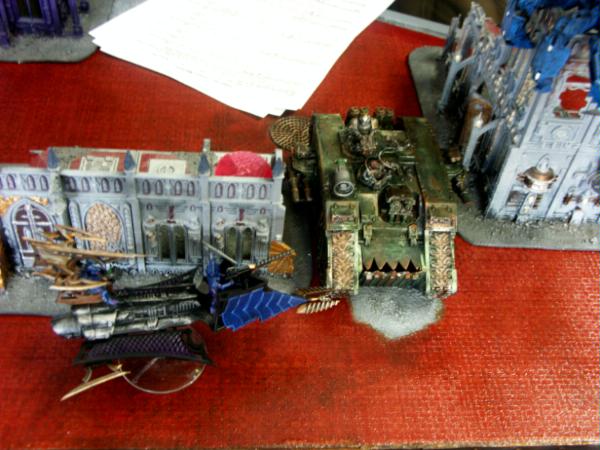 The desperate bid for a win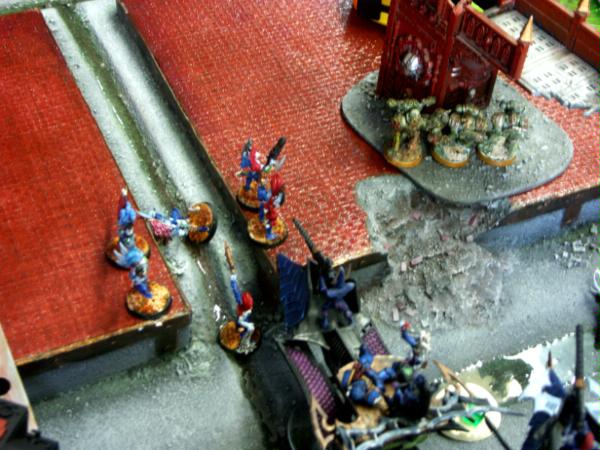 After Battle Thoughts
Oh dear gawd, Thor. Another "one more turn and I had him" game? Yeah, if this had gone to turn 4 it would have made an additional scoring point (of which only I had the ability to get to and claim since I'd wiped out his troop choices and had all the mobility in the world still). Abbadon and the Daemon Prince were not in an optimal position to accomplish much of anything, and the Havocs were just waiting to die. The fault here is totally mine for not paying more attention to the clock and being more aggressive in getting turns done.
====================================
By this point I'm coasting along mildly in the high middle of the pack and pretty much realize that even though I haven't been losing it's not exactly like I've been winning either. I settle back to have a mellow third game and relax since I figure placing is out of the question.
===================================
Round 3
Deployment – Spearhead
Mission – Table Quarters
Opponent – Vanilla Space Marines (Silver Skulls) - a really attractive army too.
Librarian
2 Dreadnaughts (one Plasma Cannon, the other Lascannon)
Attack Bike w. Multi Melta
Rhino w. Assault Marines
2 Scout Squads (assault build)
1 Scout Squad (Snipers w. Missile Launcher)
Terminator Squad w. Cyclone Missile Launchers
3 Tactical Squads with various loadouts
Another list pretty much tailored for mine to kill it.
And this time it did. I'll spare you this write up as his list was really not built to deal with mine. Basically just lanced the heck out of his vehicles, swooped in and assaulted everything and crunched the reserves as they charged out to try and help.
Total Victory and Massacre for me. i get all the possible points.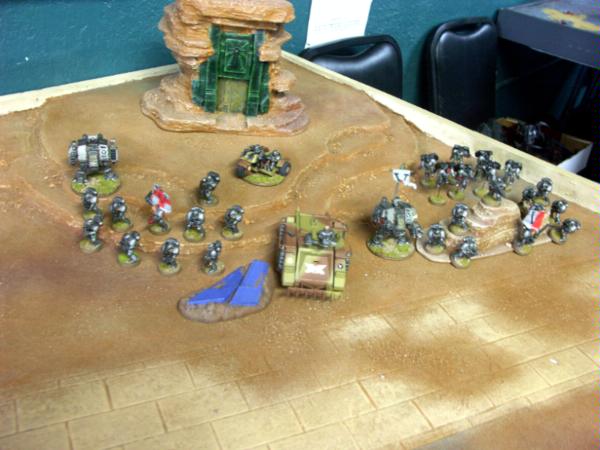 his setup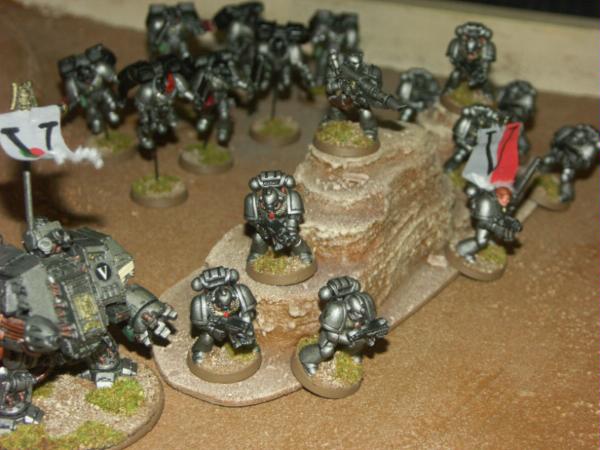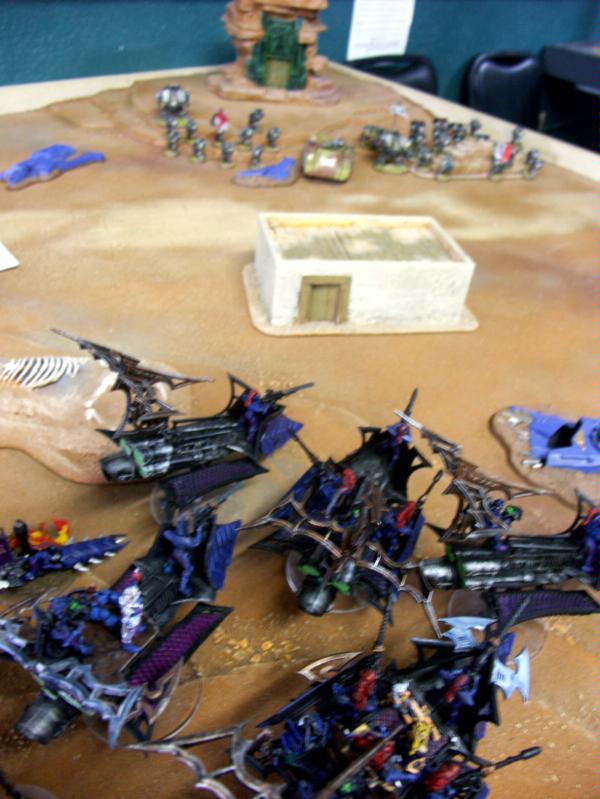 Again, when terrain is lacked - sideways Raiders fill the void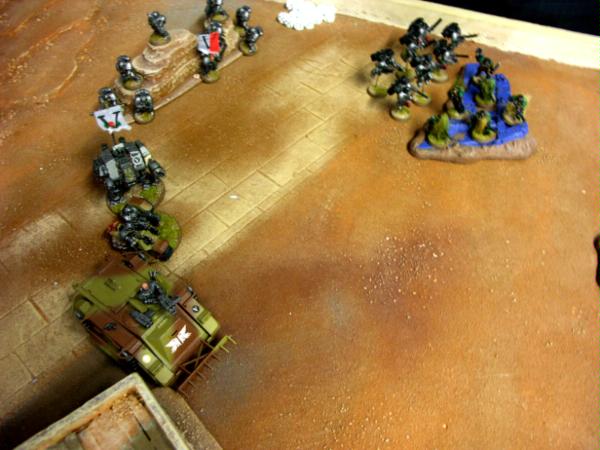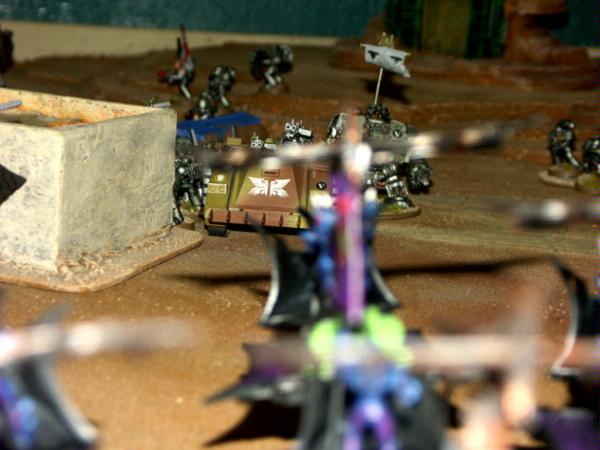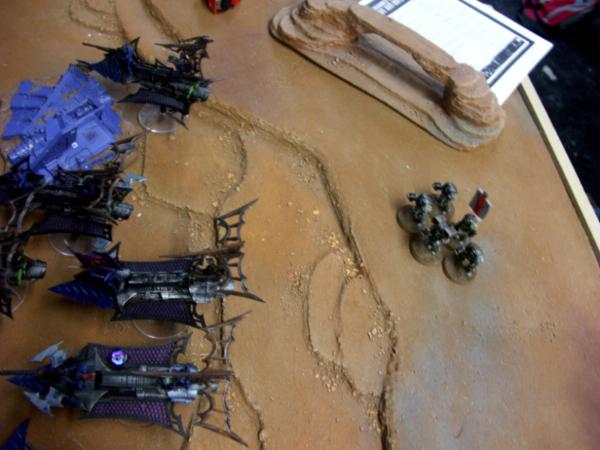 Terminators show up to try and cause mischief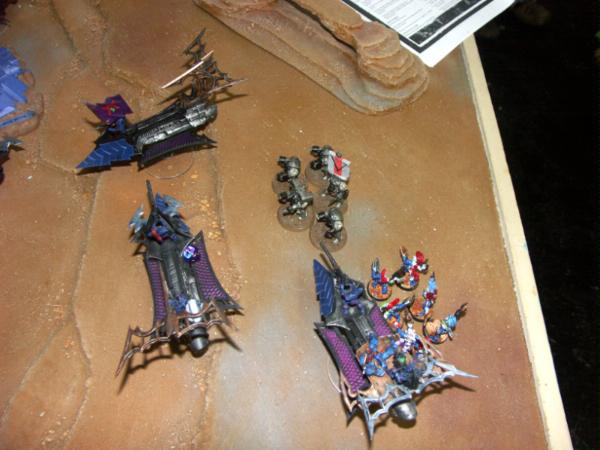 Wyches, the all purpose spot remover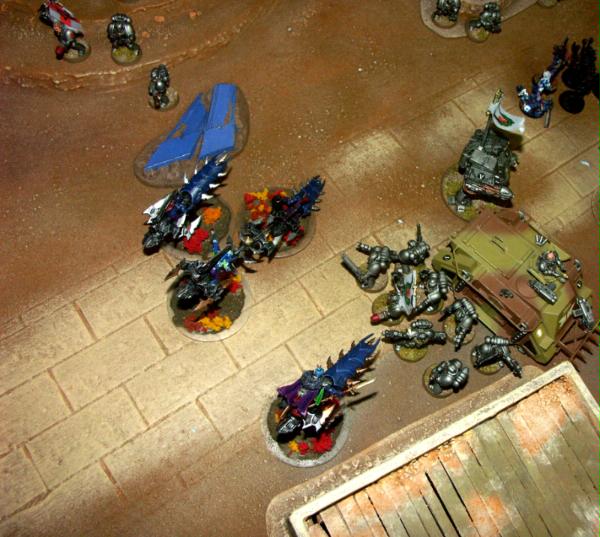 Brizelya calling dibs on the assault marine squad
=======================================
I figured that was about it and it was fun and all but was a bit personally embarrassed that I'd not taken the time into account properly. However, apparently I'm not as much of a jerk as common sense tends to suggest as my Comp scores were through the roof and it actually bumped me up into third place (huzzah! glorious prize support for all!).
First Place was Nids
Second Place was Wolves (I believe)
Third place was the truly best and most balanced army in the game - the Dark Eldar.
Overall a really good time and I actually liked the new store pretty well. I'll have to try to work the time into my schedule to get up there more regularly.