Greetings,
Apologies right off the bat for some of the blurry pictures and the lack of images of some parts of the battle - I was a bit rushed on pictures and also at certain points in the game everyone was hurrying trying to get turns in and that made me miss some pictures as well.
Lorek and I decided to participate in the 2010 Bolter Beach Team Tournament in Sarasota Fl. Lorek wanted a chance to use
DE
again before the reboot, and I was tempted by the chance to play on the same side as him for once. So after the obligatory late night model work (Had to paint up three more Wyches and prep up a Raider I was actually waiting to model when the new sets came out) I then had to wake up early and do the 45 minute commute to Dark Side Comics and Games, which is my
FLGS
that was now serving as host for the event in their brand new location (let's hope this plug gets me a nice discount)
The venue was pretty nice all around (though they had just moved in and consequently the
AC
was not yet working – anyone who has ever been to Florida in June should understand why this was dangerous). At least as I understand it they did have the
AC
working for the rest of the event.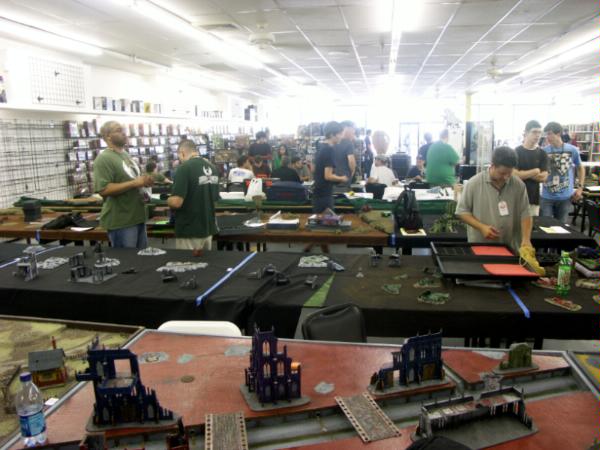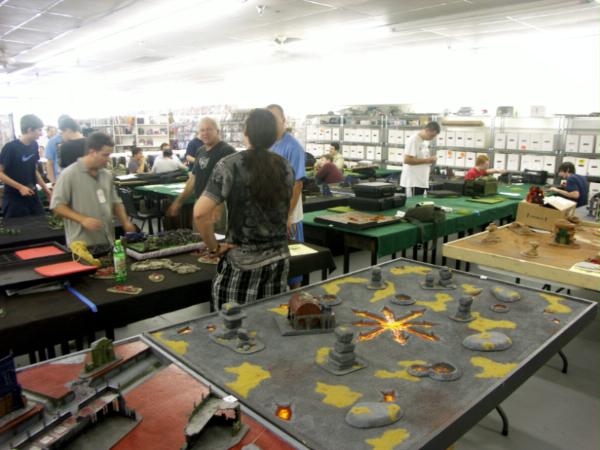 Lorek had built us a great display board so we set up the
DE
, discovered that his fears of building the board "too big" were unfounded, and then had some time to chat with other players and scout out the competition.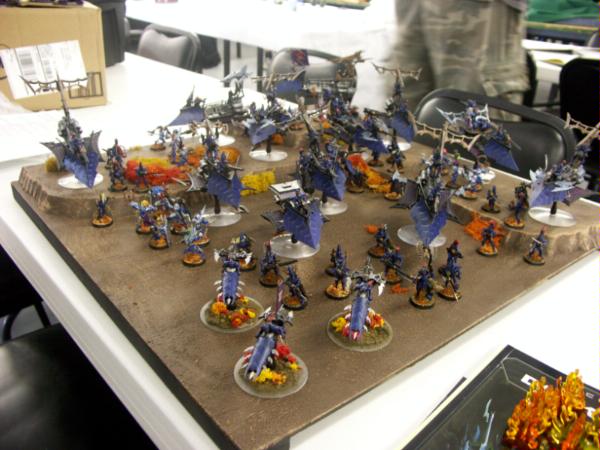 Fear the Cerulean Storm and their stylish display board!

Pretty much every army there looked really great, and I wish I'd thought to take pictures of them. During my scouting run I got to see that there were a lot of Orks showing up (which was kind of cool to see) not too many Vanilla Marines (which was very cool to see…though maybe not on a strategic scale) and there were only about two lists I was worried about (a

IG

/Sisters build played solo by a very cool guy from Iceland whose name I've already managed to forget – and the second scary looking one was a Space Wolves/

IG

combo, which is pretty much the definition of what it is to beat up

DE

)

The Combined Forces of the Cerulean Storm Kabal (played by me)

Archon – Shadowfield, Punisher, T.Helm, Hellmask, Drugs, grenades

5 Wyches – Succubus, Agoniser, both grenades, 2x Blasters and Crucible of Malediction

Raider

3x Gunboat – 5 men, S.Cannon, Blaster

Raider

3x Reaver Jetbikes – 2x Blaster

Ravager – 3 Dissie

Ravager – 3 Lance

Cult (played by Lore aka 'I play Tau normally, I don't want to shoot much – give me assault power!'

Wych Dracite – Shadowfield, Agoniser, Hellmask, Drugs, grenades

3x 5 Wyches – Succubus, Agoniser, both grenades, 2x Blasters

Raider

2x Raider – 5 men, Lance

Ravager – 3 Dissie

Game 1 – vs. Salamander

SM

(no Vulkan – just theme)/Daemons

Our opponents clearly were unimpressed by our calls of foul for breaking fluff. I forgot to keep ahold of the army lists (or maybe I did but am too lazy to go downstairs right now and dig through my cases) but here's the rough call;

Salamanders

Librarian (Null Field)

3x

Tac

Squad - Missile Launcher, Flamer (combat squaded all of these)

Devestators – lots of missiles and I believe some las cannons.

Sternguard – I forget his mix, I remember he actually took some heavy weapons and no melta.

Daemons

Prince (Wings and Bolt and maybe other stuff)

Skulltaker w. Bloodcrusher escort

2x Plaguebearers

Nurglings

The game was played for control of two points (you needed a scoring unit from both armies to be by the point to claim it). It had a modified Dawn of War deployment (more stuff could start on the board. We won dice off (I think Lorek actually did the roll off for us each game and we always won, so good job of that for him) We took second.

The Marines dumped out a lot of missile launchers in sniper positions on buildings and flamer Marines guarding the lower levels. The Daemons deep struck in aggressively with Nurglings, the Prince, and Skulltaker and his Juggernauts – all aiming for our objective.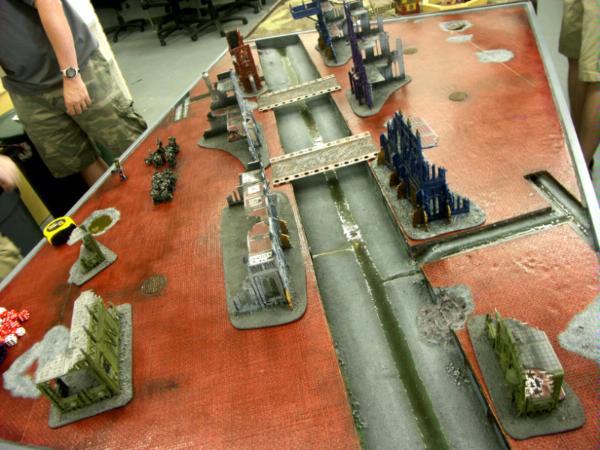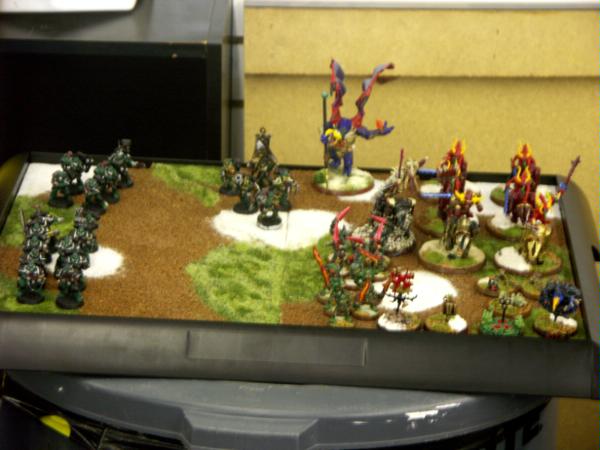 Somewhere a fluff oriented gamer is crying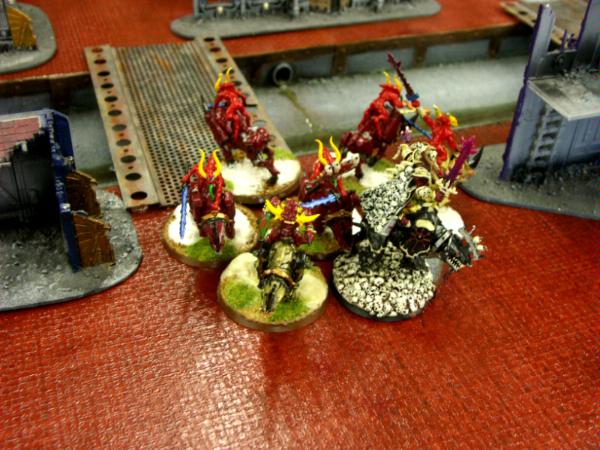 I loved his Skulltaker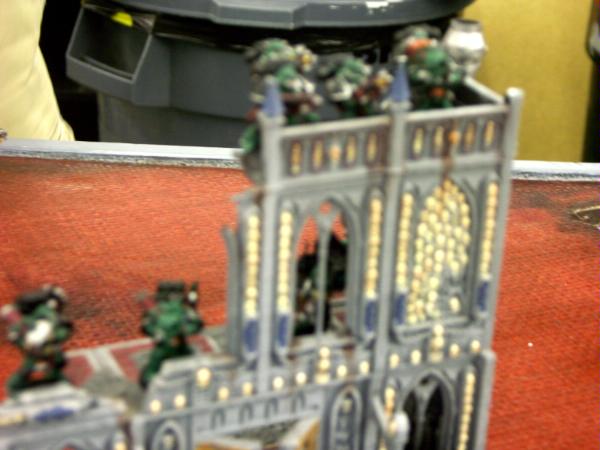 We brought everything in from reserve basically right in his face and began pouring firepower into the two forces.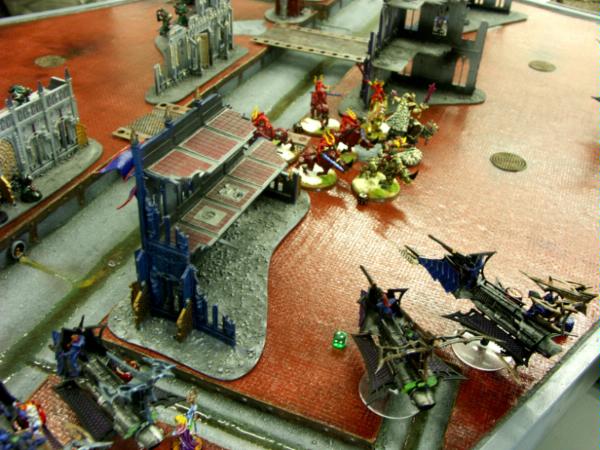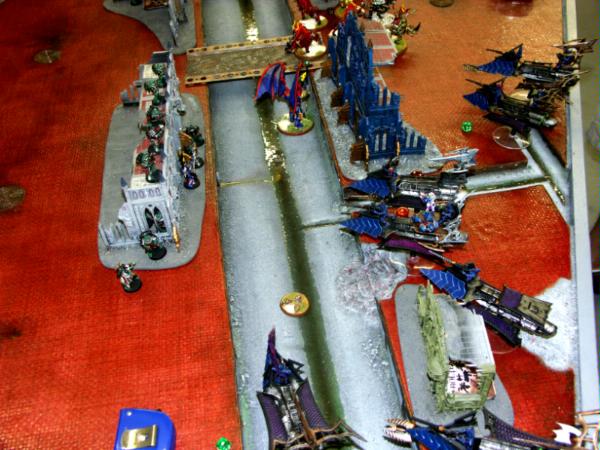 This game went pretty smoothly and our only real problem was that it became really clearly apparent that Lorek and I should have done some test games with each other (we had tried but scheduling kept mocking us and preventing our attempts). There were a couple of times I forgot to move something I should of, and Lorek had one first turn goof where he didn't disembark the Drachite and Wyches to dual assault Marines and Daemon Prince.
The RJBs performed a flanking maneuver supported by the Ravagers and tore nice meaty holes in the Sternguard and Devestator squads.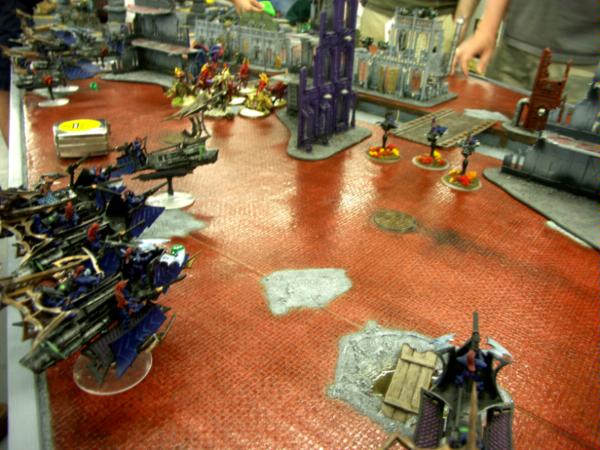 At the main battle line the Prince was gunned down by Gunboats, and the Bloodcrushers and Skulltaker absorbed a lot of mixed fire before being charged and torn apart by the Wych Dracite and her Wyches (Lorek seemed really happy getting to do this).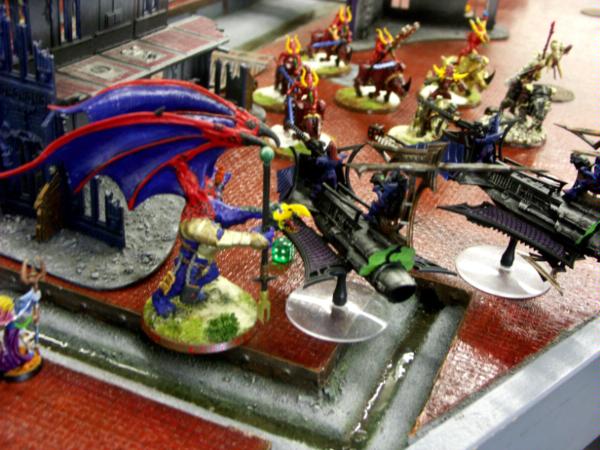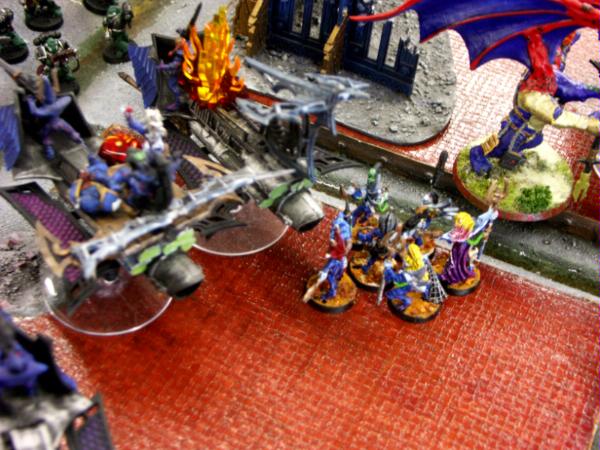 The Archon led her forces down into the sewer ditch where she arranged a multi charge of two Marine squads and the Nurglings and tore them all to pieces.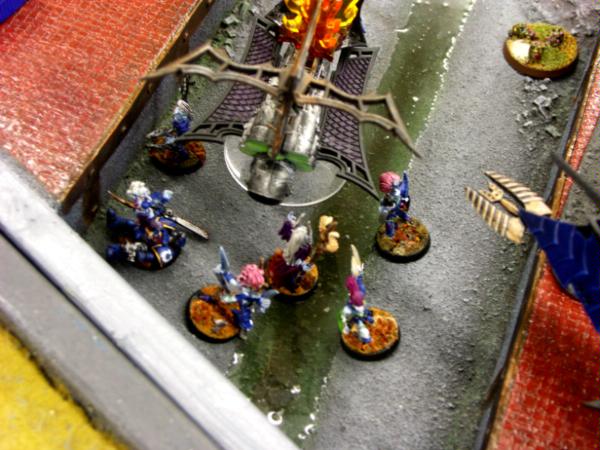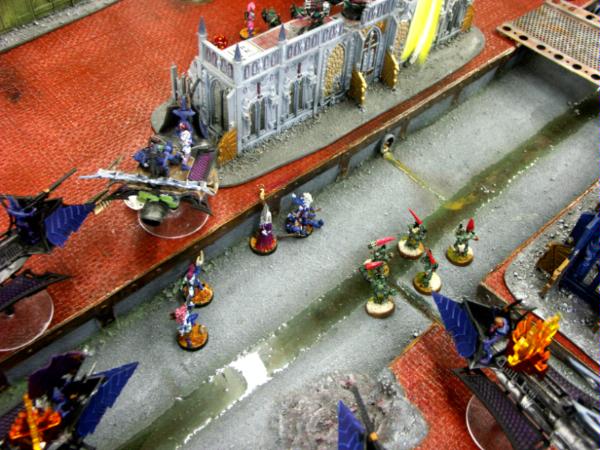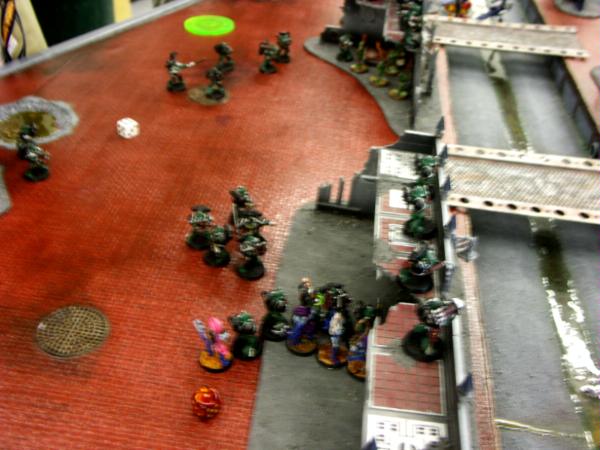 Lorek's assault into the Marine firebase
We suffered another miscommunication and basically managed to whiff contesting the opponent's objective (Lorek thought it was in the wrong building, and I forgot to ask him to move flat out with one of his Raiders to contest it). That said we won on kill points, and table quarters and ended with more battle points and consequently got a nice mark in the win column.
Game 2 – vs. Sisters of Battle
Ugh, I did not wish to face this army. It was also a little odd since he was playing solo he'd apparently been allowed to follow some different
FoC
considerations. I'm personally in disagreement for this being allowed, as even playing solo you should have to follow the same
FoC
as everyone else, but it wasn't worth raising a fuss over. Besides, he's a very cool guy so I would have had to be seriously feeling it was unfair to want to get into it with him.
Cannoness
3x Sister squads (Flamers and Meltas – didn't see that coming, did you?)
Seraphim Squad
3x Exorcists
4x Chimera – Heavy Bolters
Melta Vets in one of the Chimera
3x
IG
Troops w. Lascannon (these had a tank hunter effect due to the last game we had the same on one of our Sniper Squads)
1x Conscripts
1x Culexus Assassin
1x Inquisitor
Pitched Battle Deployment, we went first because I wanted to try to disable his initial hit on us. Battle was over four strategic points with variable relative value.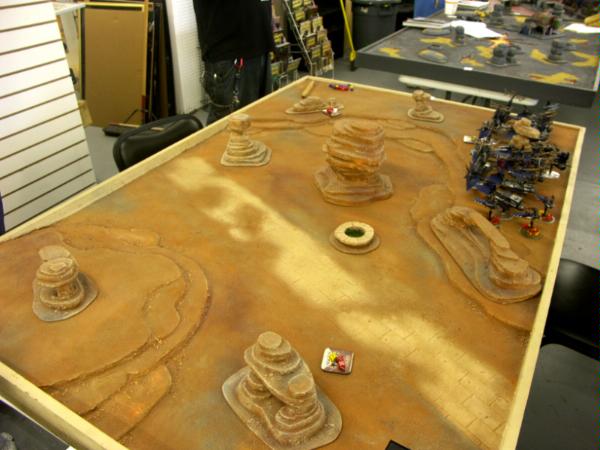 Our Deployment - we really used all the space available I feel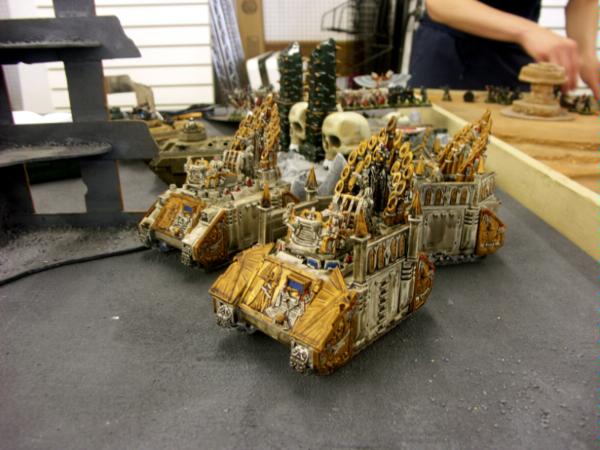 His army was a great example of dip used on something other then Tyranids.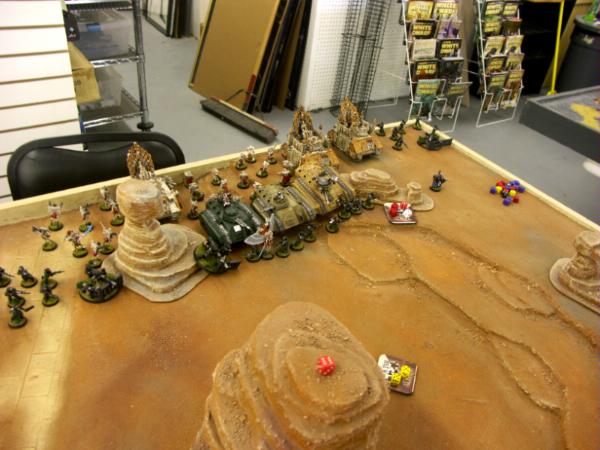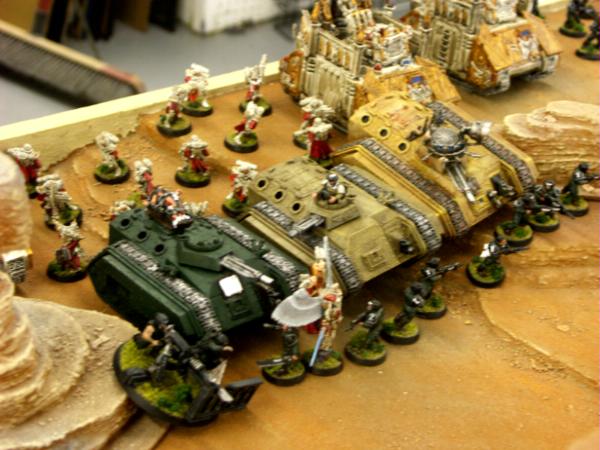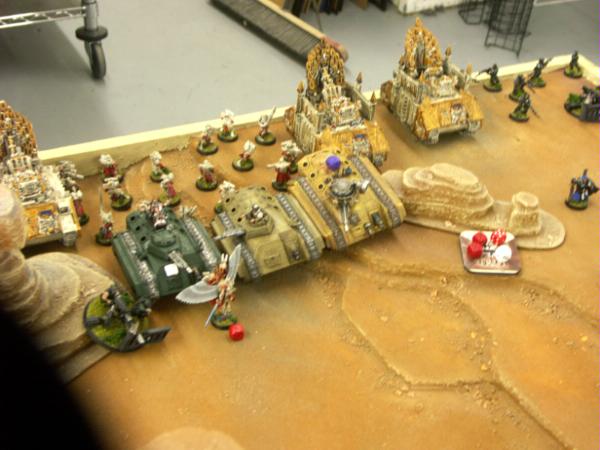 We fired everything at his line – 6 Dissie blasts, all the lances. Total result? – One shaken Chimera and a few Guardsmen.
Dorf!
His return fire was, thankfully, not much more devastating. He knocked out a few Raiders and damaged both Dissie Ravagers so they couldn't fire. He also obliterated the RJB squad. Luckily he did no real damage to the arc of Wyches shooting up the flank.
Turn 2 was much better for us as I used my Gunboats to kill the Cannoness (and earn a nice battle point bonus for it) and Wyches stormed in on his Exorcist position. Lorek disabled two Exorcists and tied up one of the Lascannon
IG
squads while I blew up the last Exorcist and did some damage to approaching Chimeras.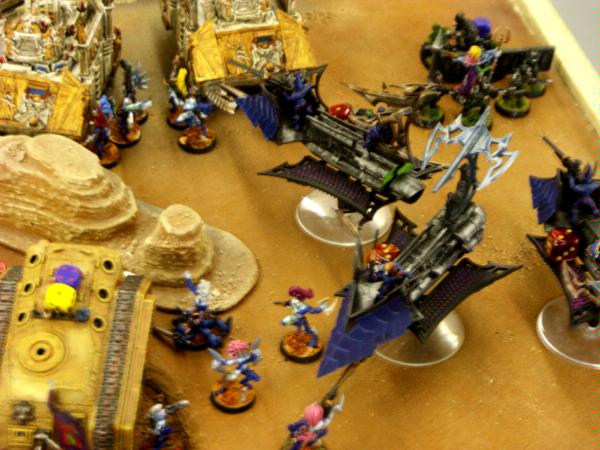 Crashing the party in the Exorcist parking lot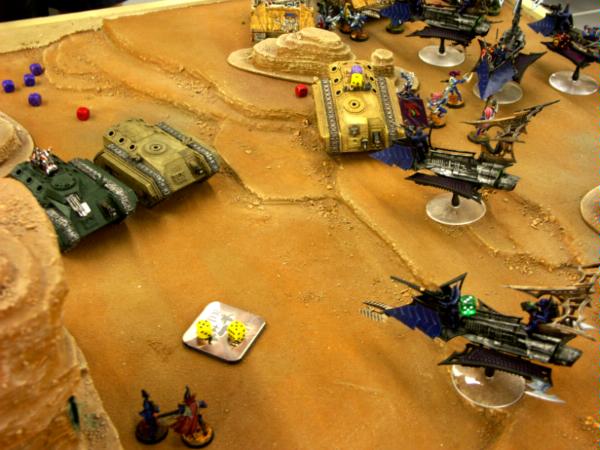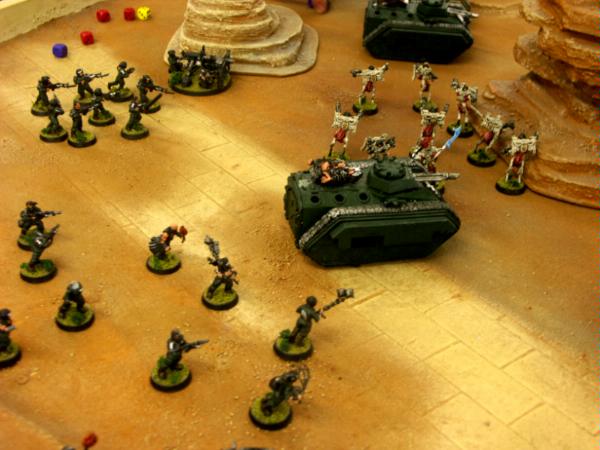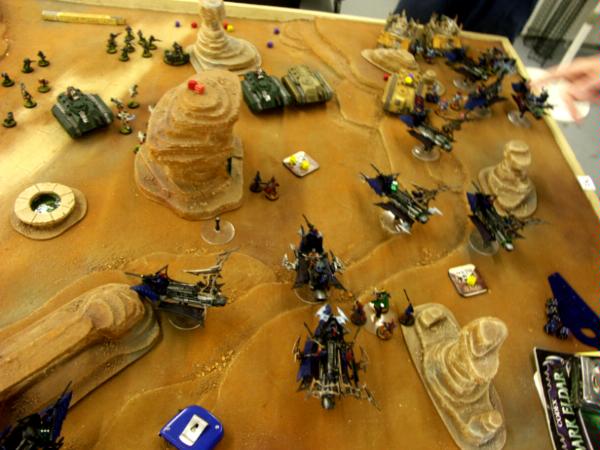 His Conscripts continued hoofing up the uncontested flank heading for one of the four objectives. His Chimera line rumbled slowly forward firing meltas and bolters at the Raider swarm. The Sisters started being forced out of their transports (slowly) and dropping flame all over exposed Wyches.
Again I will admit feeling some frustration with the teamwork between Lorek and myself. We should have been communicating more as once again we had some botched moves/shots (I know I forgot to move two Gunboats round one simply because they were on one side of the deployment area and I was on the other with Lorek inbetween so I ended up forgetting about them until the shooting phase – fail! We also ignored the Conscripts too much because we weren't properly coordinating our efforts versus the Sisters and freeing up a unit to go harass them.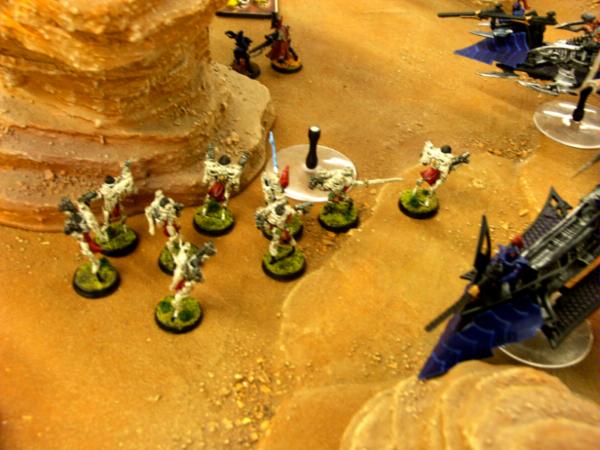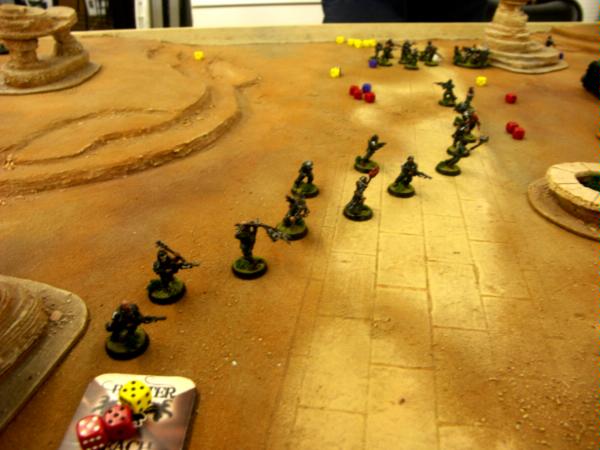 Conga Line of objective claiming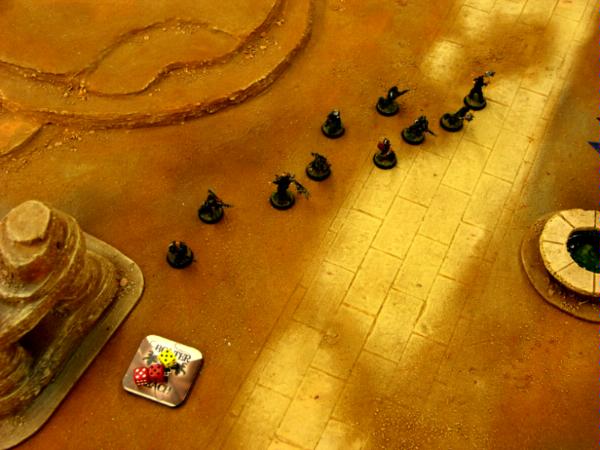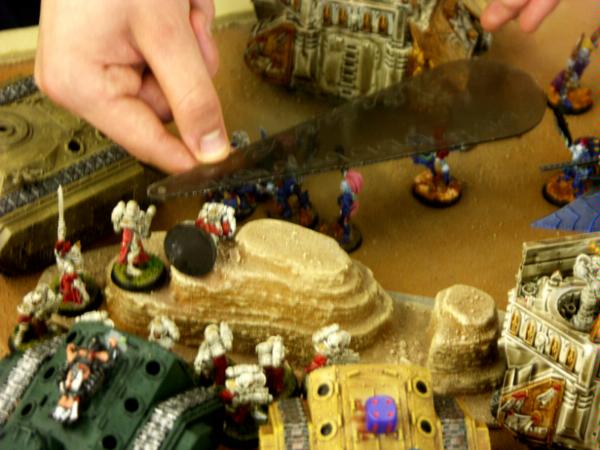 The match was going back and forth really dramatically each turn. At the end of our turns we were winning, at the end of his turns we were losing – so it was a really exciting game throughout.

The final decision centered around two points. First, a battle between the Seraphim, a Sisters Squad, and my Archon and one of Lorek's Wych squads. Second was Lorek's Wych Dracite which was basically contesting an objective with only herself and a Raider.

The Dracite was fired upon by the Assassin and a full Sister squad – none of which could pierce the shadow field. In the assault I think Lorek even killed the Culexus. At that point I think the Dracite did fall, but the Sisters had nothing left to deal with the Raider, win!

To try to soften up the assault for his Wyches Lorek decided to fire full power Dissies at a squad near his Wyches. I suggested low power (I'm a wimp who always fears scatter of blasts onto my Wyches) but Lorek wanted none of that jazz…he promptly scattered one of the blasts onto the Wyches and fried about half of them before the assault (causing me to have to send my Archon up versus the Troop Selection instead of trying to murder the Seraphim). The battle was gruesome but ended with us killing the Sisters so he couldn't claim the objective.

In the end his Conscripts managed to restore morale (argh!) to claim one objective for him. Thankfully we had done so well on the secondary and tertiary objectives that we still ended up having more battle points then he did and eased out the win and a spot to be one of four armies in contention for first place.

Lunch – vs. Sandwiches and water/Sprite

I opened up more aggressively, but I think Lorek's flanking move did better for him in pure consumption. Still, I stand by my decision of water and tomatoes on the sandwich as opposed to his plan of soda and jalapenos which I think would haunt him later.

Overall though, we ended with more battle points then the sandwiches.

Game 3 – vs. Space Wolf Long Fang spam and

IG

mech spam

…we…they…only two armies in the whole tourney I didn't want to have to play and...SON'UV'A!

Oh yeah, and it was basically a KillPoints mission, which is, of course, the toughest mission for

DE

. Huzzah!

IG

Army List

I'll admit I'm at a real loss here since almost everything was inside vehicles, but here goes;

Psyker Battle Squad

Executioner Leman Russ

4x Chimeras

Vendetta Gunship

Space Wolves Army List

Canis and some fellow Thunderwolf Riders

2x Long Fang Squads (missile and lascannon – one of these had tank hunters due to tourney rules)

2x Rhinos w. Grey Hunters

This is a really nasty match up because my general plan to deal with Space Wolves is to sit back and shoot them up, and my general plan versus

IG

mech spam is to bull rush in and get in their faces. As a result of this I was having mixed emotions of what to do and decided to go with the bull rush option. …Unfortunately I really didn't communicate my logic to Lorek properly and he ended up planning a more conservative move. As a result our two armies were trying to play both aggressive and conservative at the same time which equates to fail.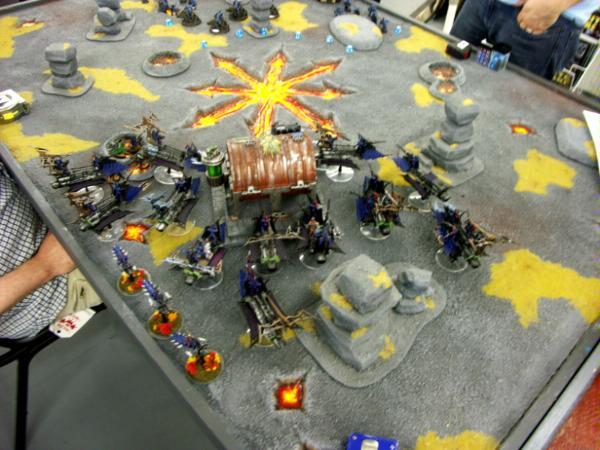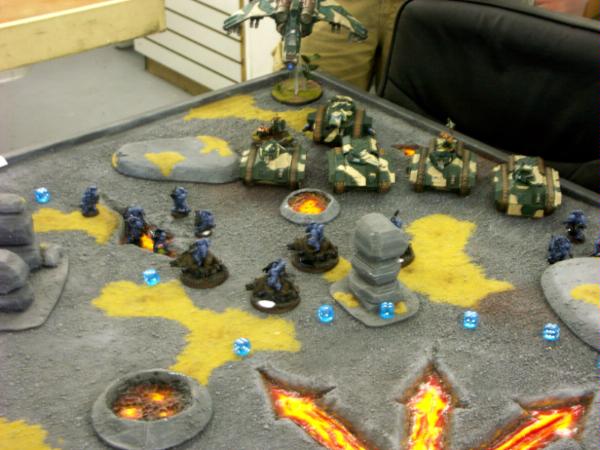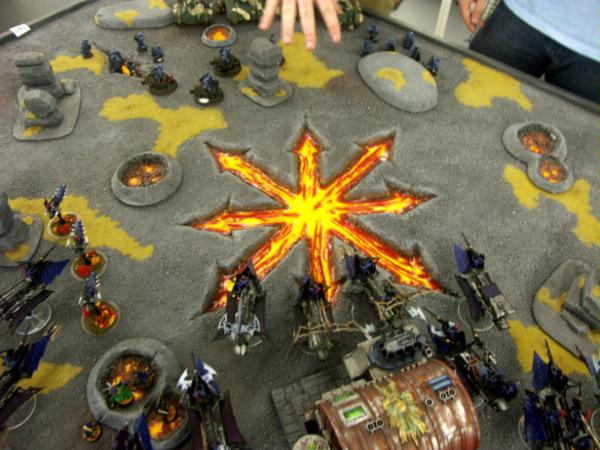 Our main goal was to kill Long Fangs, as they were our biggest threat on the board. Lorek did some decent shooting that shook/stunned a Chimera and the Leman and then we unloaded pretty much everything else into the Long Fang squad with tankhunter. We inflicted two wounds…they made both saves…I started to cry a little inside (in a manly way).
Their shooting phase was, of course, quite destructive, and they dropped out some of Lorek's Wyches and my Archon onto the board. They also did a number on some other Raiders. The one "good" aspect was his wolves took the bait of assaulting my RJBs and being drawn way away from his lines – this would later prove to not be so good because I am an idiot, I'll explain that in a moment.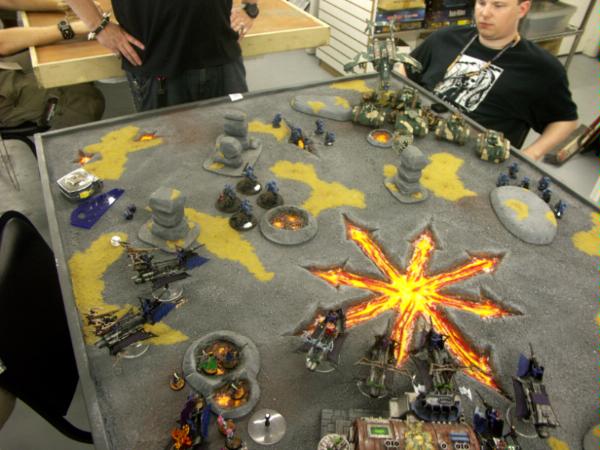 For our turn we moved around what we could. I was working on setting up a kill zone to try to deal with the accursed Long Fangs. Lorek asked me if he should be assaulting the Thunderwolves, to which I heartily said yes. That had been, after all, the reason to pull them out since they were worth uber
KPs
due to the modified
KP
rules.
The problem was is I was working around re mounting my Archon in a Raider and moving my now footslogging Wyches into a useful position. Lorek assaulted the Wolves, but did so with only a single Wych squad and no
DE
Lord, which is really not a good way to deal with Thunderwolves – I feel the blame for that is fully on me, as I should have made sure to tell him to use more Wyches and toss the Lord into the mix which should have probably allowed us to wipe them on the Wolves' next turn. Instead we went in with a single Wych squad and the other Wych boats all swooped up towards the other Long Fang squad (not an inherently bad plan on Lorek's part I will admit)
Shooting allowed me to kill the Vendetta (yay) and manage to kill…no Long Fangs (I will admit at this point I pretty much mentally accepted defeat)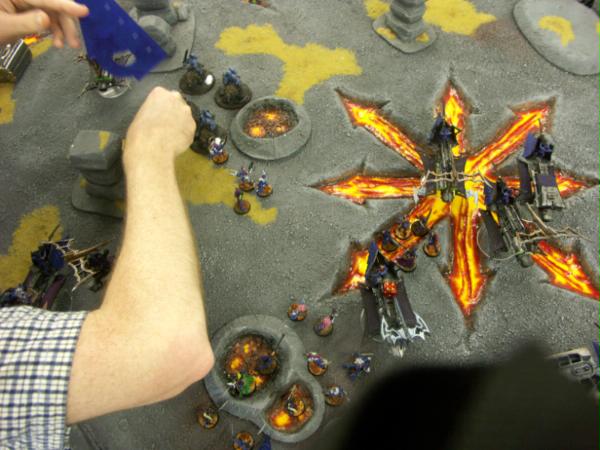 Thor's badly explained tactical advice for the win!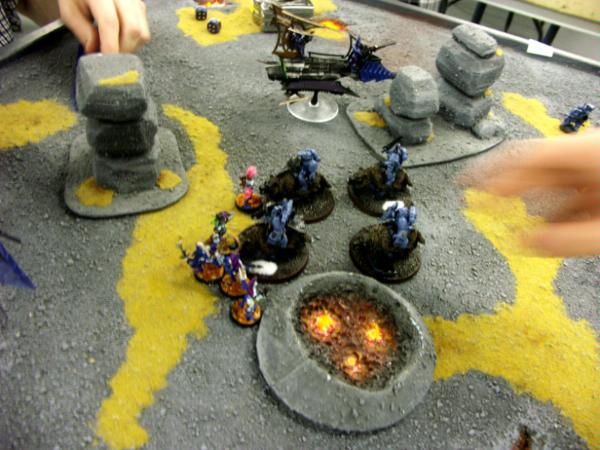 The Wolves mauled the Wyches and then proceeded to multi assault two Raiders, a Raider squad, and my Wych squad – needless to say that didn't go too well for us.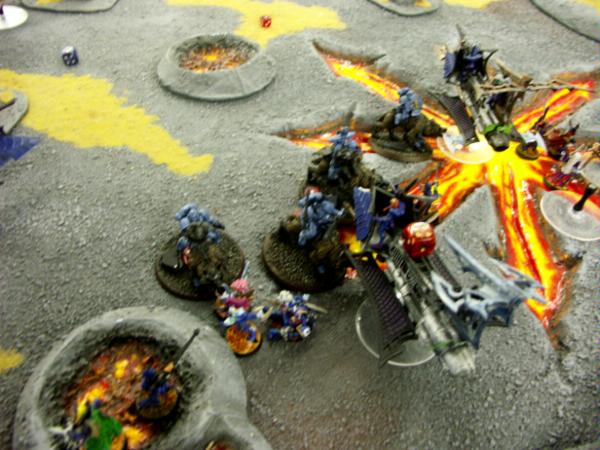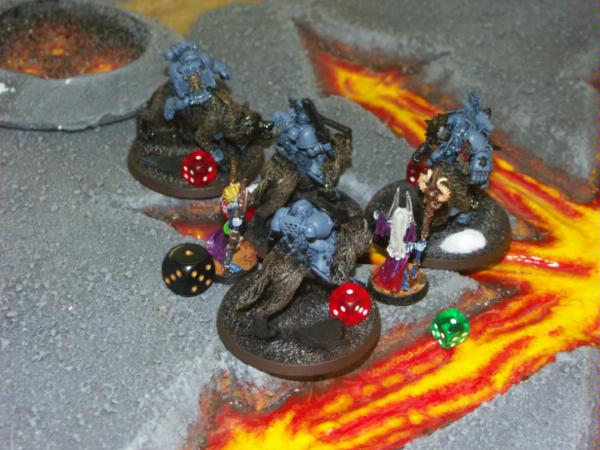 The rest of the game was Lorek and I assaulting the Thunderwolves with both of our
HQs
to see if the Archon and Draacite combo could kill them (the answer was maybe, but though we actually did quite well in the first round (I almost killed Canis in one go, he managed to walk away with one wound left) on the second one both of us whiffed a Shadowfield save and that was that).
At the end I think we had only a single lance squad left on the board, and everything else was dead.
The final result was the
IG
/Wolf army won first place (and well deserved too, that was a pretty darn nasty list)