Here is a blast from the past from Feb. 2010 to show you the might of the foot eldar. Fear the power of the almighty guardian!!!!
Here are the first 3 batreps:
Game #1
http://www.dakkadakka.com/dakkaforum/posts/list/281069.page
Game #2
http://www.dakkadakka.com/dakkaforum/posts/list/281688.page
Game #3
http://www.dakkadakka.com/dakkaforum/posts/list/283230.page
Game #4
http://www.dakkadakka.com/dakkaforum/posts/list/298730.page
On to part 5 of our 5 part series.
Game # 5
So the night before the Bash I went over to Shep's house and we played a game where he showed me what the new 'Nids can do. It was fun, and I learned what a pain Tervigons are, and I learned that my army is pretty good at killing both Hordes and
TMCs
. So now I am ready for the new Tyranids!
My Opponents List:
(From Memory)
HQ
Tyranid Warrior Prime w/Bonesword and Lashwhip, Regeneration (Joined to a 9 Warrior Squad)
Tyranid Warrior Prime w/Bonesword and Lashwhip, Regeneration (Joined to a 9 Warrior Squad)
Elite
3 Zoanthropes
Spore Pod
Troops
9 Tyranid Warriors w/Bonesword and Lashwhip, Devourerers
Spore Pod
9 Tyranid Warriors w/Bonesword and Lashwhip, Devourerers
Spore Pod
8 Tyranid Warriors w/Bonesword and Lashwhip, Devourerers
Spore Pod
So, after my Tyranid practice game, I end up facing an army that was nothing like that. Not only that, but it is something that I have never played against or even seen on the boards before. This was an odd army that was based off Tyranid Warriors. It works under the principal that it has a
lot
of wounds to get through, and is a monster in
CC
because boneswords and lashwhips are a deadly combo.
Mission:
With Interest
Scenario:
3 objectives are placed along the center of the board 24" in. The first one is 18" in form the left board edge, the second is in the middle of the board, and the last one is 18" in from the right board edge. All objectives scatter
D6
". For each game turn (Top and bottom of the turn) you are rewarded with D3 mission points.
Massacre: 5 more Mission Points
Major Victory: 3 more Mission Points
Minor Victory: 1 more Mission Point
Draw: The same amount of Mission Points
Special Rules:
Deep Strike, Reserves, Infiltrate, Scout, Outflank, Random Game Length.
Deployment: Spearhead (12" into the long table edge)
I win the dice roll to go first and I take it! Normally I would never do that against a deep striking army, but I had a plan!
My Setup
There are a lot of factors that go into picking a deployment zone from terrain, to being closer to the objectives, etc. But I think one of the largest considerations that often gets overlooked by hardcore tournament players is what side of the board is the shade on?
Get ready to run to the objectives!
My opponent's Setup
*crickets chirping*
He is starting his whole army in reserve.
Turn #1
Eldar top of turn #1
Since this mission is all about getting on the objectives and banking points, I make the dash for
Cash, and hold 2 objectives because and my run move falls short on the third objective.
Tyranid bottom of turn #1
They will be showing up any turn now…
Turn #2
Eldar top of turn #2
I spread out a bit to try to push him back when he comes on so I still hold the objectives.
The pic is of the center and the left objective.
Tyranid bottom of turn #2
We are having company over for dinner, what are we serving? Eldar? That does not sound good!
The pods hit the table, and they don't have that much shooting, but the Warriors shoot up some Guardians. The Zoanthropes land on the left and do shoot up my Jetbikes some. One pod with the Tyranid Prime lands near the center objective, and one pod with Warrors lands on the far left that is only being defended by a Guardian squad and a Warp Spyder unit.
Turn #3
Eldar top of turn #3
Alright, time to unload on the Nids.
My War Walkers come on from outflanking and unload on my Zoanthropes. The Warriors in the center were hiding behind the pod and getting a 4+ cover save, so I had my Avatar take it out the pod even though that means that he can't assault this turn. Also the way to kill Warriors is with strength 8 shooting, but whenever I did that he would put the wound on the Tyranid Prime so the regular Warriors would not be insta-killed. Not only that, but 30 wounds worth of warriors is very hard to get through. I dropped a few of them, but there are still plenty left. On the right I shoot them with the Warp Spyders but that 4+ save and a ton of wounds means that not much is going on.
Here are pictures after the shooting phase:
Here finally is a picture of the right side of the table.
So whenever I have a problem that I can't fix by shooting, I send in the clowns! I also send in a Wraithlord because of his strength 10. This is where I get to learn about what both poison and lash whips do, and it was a closer fight than I thought it would be. I am glad that I softened them up a bit and fortuned my Harlequins or it would have been really bad.
Tyranid bottom of turn #3
There is a lot of fighting going on. The Zoanthrope had a perils-of-the-warp 'accident'. The Warriors on the right kill my Guardians and Warp Spyders. The rest are getting ground down.
Turn #4
Eldar top of turn #4
My War Walkers shoot up the Warriors on the far right. I throw my avatar at the assault and he ends it at the cost of my Wraithlord (the Wraithlord was the MVP of the fight though). Now he has the right objective and I have the left and the center.
We square up against each other.
Tyranid bottom of turn #4
He wants a piece of me, and comes at me. I guess he does not like the War Walkers shooting him, but he manages to kill my Warp Spyders.
Turn #5
Eldar top of turn #5
We start to slug it out and I am getting the upper hand, but there are so few units that can handle a fortuned Avatar.
Tyranid bottom of turn #5
He gets his last pod on and lands near the objective on the left.
Turn #6
Eldar top of turn #6
I shoot the new Warriors with my army and then I assault them with the War Walkers. I feel that they would have a hard time killing them, and they will keep them busy for a few turns.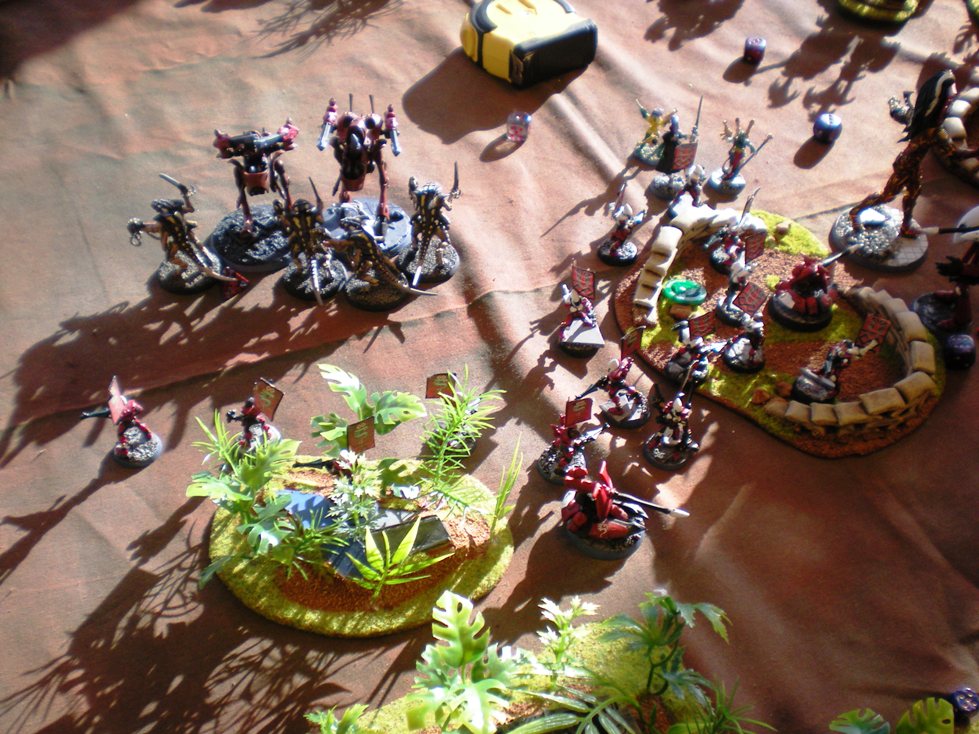 Tyranid bottom of turn #6
Game ends
(He picked up his models at the end of the game)
I think he was just use to starting his army in reserve, and never thought about doing anything else. It allowed me to bum-rush the objectives to get some mission points before he even came on the board. Also the amount of shooting that I have, and that he had to take for a turn slowed him down. Even with all of those wounds I was able to make quite a bit of difference.
It was a surprisingly good army though. No wonder why he was up there with me. That army can be tweeked a little bit (and maybe 2 Warrior squads) and be a tough army.
Result: Massacre for me.
Broadside Bash recap
So I finished 4-1 with a Minor Loss, Minor win, Major Win, 2 Massacres
Out of 47 players I finished 20th. I got hit hard in the soft scores. I was comped poorly (I guess they do not read the internet to know how bad foot eldar is). My Comp score was 22 which was the same as Reese's 3 Land Raider Space Wolf list. And here is the funny part, Hulksmash scored 27 points in Comp with a Razorback and Long Fang spam Space Wolf list. And people think comp is not broken?
Now as far as real scores goes, I got 72 battle points and finished in 7th place.
After action report
Well, I had mixed results with the Warp Spyders. The shot, and moved, but even with their 3+ save they had a bit of a glass jaw. With their 12" range they were in the middle of the action, so that means that they were in the center of the action. Whenever the Exarch was in combat power blades were a total waste. Even with his high I, he would totally whiff with his strength of 3. Also they never lived long enough to withdraw, so I have to think about using both of those in the future.
I really ended up liking the Wraithlords. My favorite units perform well in a lot of roles, and Wraithlords fit that description. They can shoot heavy weapons at range, flamer hordes, and do well in assault. I always thought that a wraithsword was a waste with them, but now I am having second thoughts about it with the amount of assault that they end up seeing.
I also made the mistake of being a bit troop light for 2000 points. I had a couple of opponents finally wise up and try to take them out, and that was a bit of an Achilles heel for me. I need to take some Dire Avengers or more Jetbikes to help out on that front.
Otherwise it worked as intended.
At the beginning of every tournament you walk do the line and check out the all of the armies and you see the ones that you want to play and the ones that you don't. There were some tough builds there (for my army) and I would have liked to have been matched up against one or two of them, but I did not end up facing them.
It was really good to get whooped in a tournament that I had no chance of winning. I needed a good humbling. I was getting cocky and sloppy.
It was also kind of funny about my comp scores. The judges scored my army very comp friendly (from 1-6 with 6 being fluffy, I got a 5 and a 6), but when graded by my opponents I scored very low comp. Looking at a sheet of paper with some Eldar units that are not used that often is very different from being hammered with a ton of strength 6 shooting every turn.