Excommunicatus: Cheers, I've been debating it for a while. Hopefully with some paint slapped on they'll still look good.
ListenToMeWarriors: Thanks very much! Wyches are something you can add a lot of motion to but can be quite jarring if overdone. I tried to match their heads and arms to their running positions for added effect. Same goes for the Archon and the Sybarite.
Update Time!
Finally made it to two pages it seems! My updates are somewhat sporadic so I really need to get myself a bit more organised.
Speaking of organised, I am most certainly not organised in the slightest. My attention has been straying to lots of different half-finished projects from when I stopped painting. I'll get to that later though.
So I returned to my old gaming club and had a game of
40k
at a real points level instead of the previous two games. I have no pictures, but I'll write up a mini report for you all.
I went for a fun and fluffy Biel-Tan list, with plenty of shuriken and Aspect Warrior squads to maximise the army trait. I wasn't expecting much from it but it was surprisingly good!
1750pts - Eldar - Battalion and Spearhead for a total of 9 command points.
List
1 Farseer w/ spear, doom, mind war
1 Spiritseer (warlord), w/ the spirit stone of anathlan, jinx/protect and Biel-Tan Natural Leader (pseudo-Guide)
1 Farseer w/ fortune and executioner
3x 5 Dire Avengers inc. Exarch
10 Guardians w/ shuriken cannon platform
6 Striking Scorpions inc. Exarch w/ claw
6 Fire Dragons inc. Exarch
3 Shining Spears inc. Exarch
3x Wave Serpents w/ triple cannons (two had vectored engines)
5 Dark Reapers inc. Exarch
2x 2 War Walkers w/ double shuriken cannons
My opponent brought Space Wolves, consisting of 45 fenrisian wolves, 5 cyberwolves, 2 lords on wolves (1 which makes dogs autopass leadership in a 12" bubble), a rune priest, 15 long fangs (5 Las, 5
Plas
, 5 Missiles), an attack bike and some bikers.
He set up first and I deployed my two farseers, dragons and dire avengers inside their respective serpents and largely huddled everything into a corner in case I didn't get first turn. I paid a
CP
for the guardians to set up in the webway, with my scorpions and war walkers with their own special reserve rules.
Turn 1
I got first turn despite his +1 to take first turn which was great for me. I drove everything forward and shot up his wolves as I felt I needed to neuter his charges as much as possible. I used the spears as a screen for one wave serpent between some terrain after flying up and using fire and fade to retreat 7 inches. The reapers ate some of the long fangs with the spiritseer beside them and the spiritseer protected one wave serpent. I flew one serpent out to the side with a 5 man squad of avengers to see if my opponent would direct some wolves that way.
He did, which split his force in two and away from the 12" autopass morale bubble. He took some wounds off my serpents across the board and assaulted the isolated serpent and my spears which shielded my other serpent. Isolated serpent bit the dust and killed two of my avengers inside. My spears were wiped too and he consolidated towards my serpent.
Turn 2
The guardians came forth from the webway on the same flank as my war walkers, behind his advancing line of doggies, bikes and warlord. The scorpions jumped from their hiding spot to aid the 3 remaining avengers who were tying up 15 dogs and a lord. My other avengers disembarked with the farseers and the dragons did the same. The two serpents backed up a bit and the reapers moved up to get a target on his warlord. I fortuned a serpent closest to the long fangs, doomed and jinxed his warlord, failed executioner and mind war on different targets even with rerolls.
I obliterated the majority of his wolves in this turn with the pincer move of the walkers and the guardians on one side and the avengers on the other. The dragons killed off his bikes and attack bike and I proceeded to murder his warlord with the dark reapers. The scorpions charged and whiffed/didn't do anything worth their points other than kill half a dozen doggies.
His turn two involved charging his remaining wolves into the dire avengers, failing a charge with one squad and making it in with the other. Didn't get very far with them as they died to overwatch and killed two avengers. The rest died to morale on that side. The other lord and his dogs wiped the avengers and the scorpions but they were far away from my main force and were out of the game.
Turn 3
I rearranged my army into good positions and shot the wolves that were left, wiping the squad and putting the lord to one wound. I killed a long fang squad and killed another to a man and that was pretty much my turn.
My opponent called it there, seeing as I was in a much stronger position by the end of my T3.
Overview
Probably a really good match-up on my side, my weight of shots didn't care about the autopass morale bubble and any combat he got wasn't enough to put a dent in my army by the time he got there. I feel like the list I brought doesn't care about first turn due to the low model count on the board at the start of the game and the ability to strike in a pincer move with the guardians, walkers and the potential support of the scorpions.
The scorpions were disappointing and I don't think I'll be taking them again. Maybe it was a mismatch in terms of opponent, wolves aren't infantry so the mandiblasters couldn't deal out any mortal wounds. The 25% chance of a charge is also horrible so I guess they'd need their own transport to get them into combat. I still like them a lot though.
Hope you all enjoyed the read, I need to take photos next time.
Onto the painting and modelling side of things, you'll see what I mean by lack of organisation or rather I'm distracted. When I left the hobby, I left with a bunch of unfinished projects: A squad of dire avengers, a fire prism and a wave serpent. They're all assembled, so it sort of meant I could use them without completing them. Now I'm going to finish them as I don't want to use unfinished models in my games anymore.
With my eBay finds, I decided to do a mass airbrushing of my tanks.I plan on doing a wraithbone underside so I did a basecoat in Zandri Dust. I did the undersides today and I'll do the topsides tomorrow. Here's a before and after:
Here are the topsides, the green stripes are an old scheme I wanted to do but it doesn't really fit the theme of my army anymore so I'll be respraying them dark green and going for some gradient highlights. Haven't tried it before so it'll be an experiment!
I forgot how much I hate assembling the Falcon chassis, its miserable to put together. It's gappy and the pieces don't fit well, I'm shuddering to think of that bloody metal cannon I have, the dry fit I've been trying is awful, I'm going to have to pin the whole thing. I still have one more Falcon chassis after this and I'm grimacing.
Here are the Avengers, I've done a basecoat on the weapons and given them a wash. I need to highlight the armour and improve them overall, but it's a start at least. I did put a half a poker chip on one base to add some variation.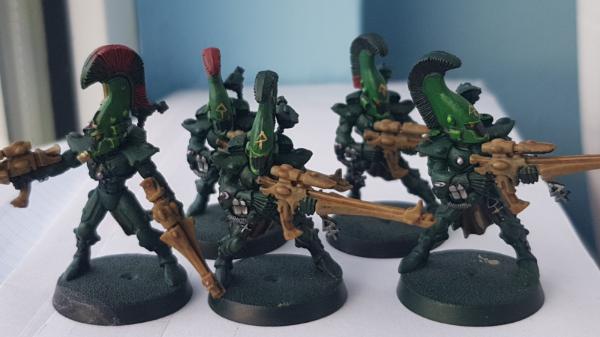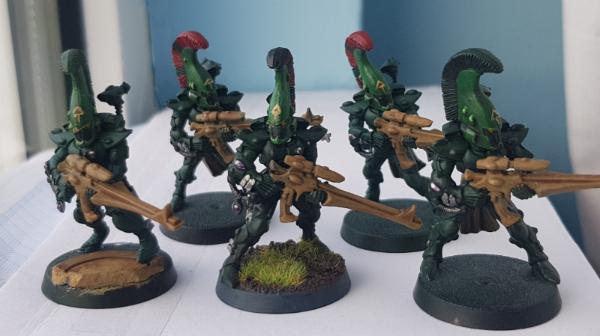 I did make some progress on the Wyches. Their flesh is a little dark for spending their lives in Commorragh, but maybe I can bull some fluff as to why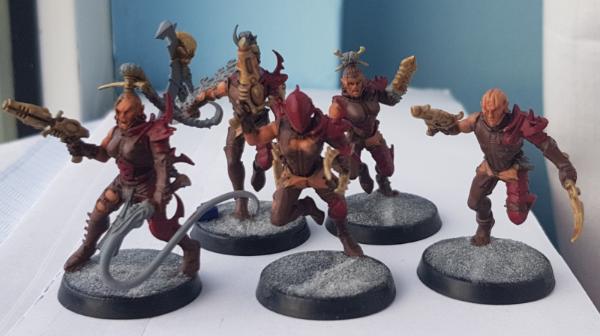 Holding off a bit on the Archon as I see the Unofficial Painting Competition has a theme which I can apply the model to!
Cheers for reading, even if somewhat random with my set of stuff to do.
-
TH