"Those heretics will soon taste our steel. Deus Imperator vult, Sisters!" – Crusader Captain Maria
de
Moriet
Countless Crusader Houses exist across the Empire. Unlike the Sisters of the Adepta Sororitas, who are orphans raised by the Ecclesiarchy, the Crusaders of the Sisterhood of the Crimson Linen are without exception highborn daughters of nobles, who voluntarily traded the extravagant luxury of their decadent families for a simple life of asceticism, piety and merciless bloodshed in the name of the Emperor. Just as these armswomen admire the Adeptus Sororitas for their zeal, they are themselves respected by the Sisters of Battle for their unbreakable dedication and close combat proficiency.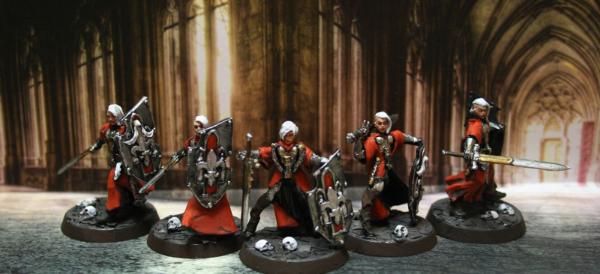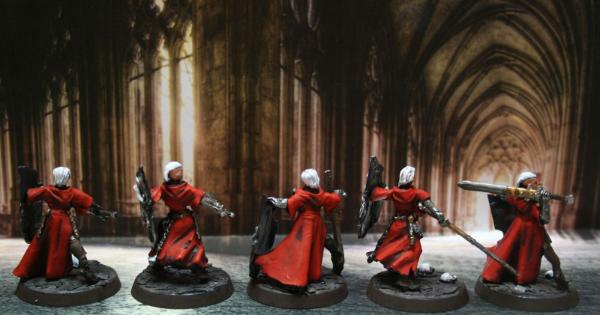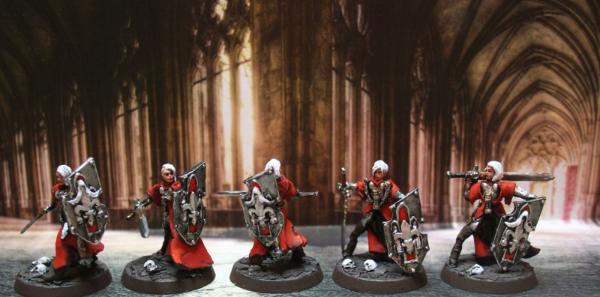 Felt like building Crusaders to run along with my Order of the Cleansing Blade. Female Crusaders such as the Sisters of the Silvered Sphinx or Cassara Novia. The old two official models may be rather static, but I think such a stoic, space-saracan-awaiting pose fits Crusaders well, so I tried to keep that feel. What I like the most about the old Crusader models, though, are the hooded bathrobes. Immediately felt connected to them. I mean, who doesn't like wearing them all day? Of course my custom Crusaders had to have hooded bathrobes, too.
Made from Brown Stuff and Magic Sculpt with press molds from Geminae, Celestine, Sisters of Silence, the Eldar Ranger and Missionary from Blackstone Fortress, faces/hair of Prodos Crusaders, shields of Raging Heroes Knights of the Chalice and last not least the back of the robes of a
GW
Crusader and some of their inquisition signs.