yeah,
TitanPrincept and I arrived in Nottingham the day before and went straight to WarhammerWorld to get some practice.
We found Beer at £1 a pint and I spotted Arakasi and EndTransmission getting some practice too! (Via D'ork Angel

recognition!)
We proceeded Play one practice game and drink alot (£1 a pint!) before going to find our hotel...
a few more beers in the Hotel Lobby and we found ourselves being invited down to explore the hotels caves... Drunk Cave Exploration Rules!
Next morning (hungover...) we arrived at 10.00 sharp and the games got started straight away.
---
Grots 1000pts
BigGrotMek
KFF
bionic parts
3 Mega Grots 1xTLshoota 1xrocket/shoota 1xscorcha/shoota
20grots 3herders with 1 GrotProd
10grots 2herders with 1 GrotProd
10grots 2herders with 1 GrotProd
3 Buggies with
TL
rockets
3 Buggies with
TL
rockets
3 Kans with shootas
3 Kans with shootas
3 Kans with scorchas
---
SS
Game1
Mission - get two of your units into the enemy's deployment zone.
BattleCanon it Phil's - Mech Guard
2x LemanRusses
1x Manticore and
3x Chimeras.
Phil played a gun line staying at the back of his deployment waiting for my Kan Wall to cross the table. Phil had little to do in his movement phase but had a fair bit of shooting each turn.
I marched forward and used my shooting phases to run.
His army avoided combat.
I had three units in his deployment at the end of my turn 5 but with a turn of amazing shooting and failed saves all my scoring units were all wiped out
Phil waited too long before trying to flank my Kans and make a break for my deployment zone his transport was stunned and the crew couldn't make my zone on foot.
0-0 Draw.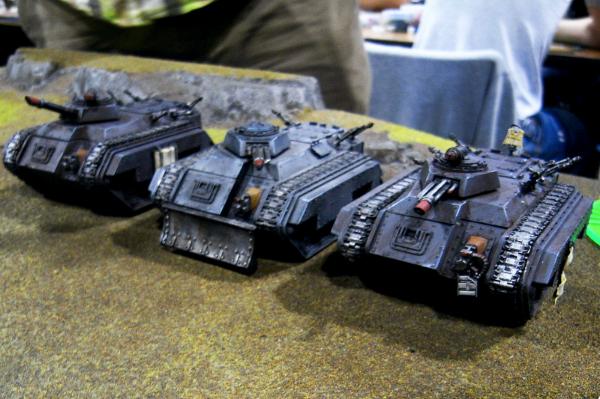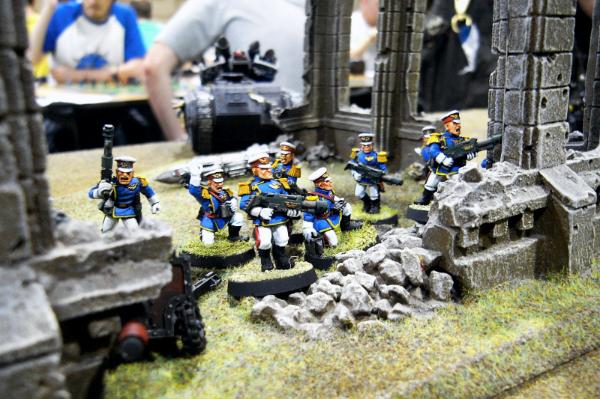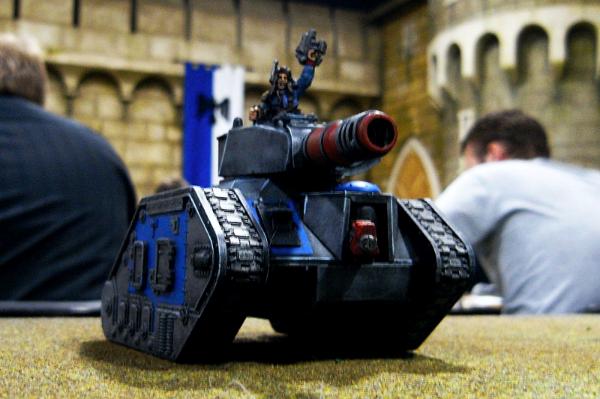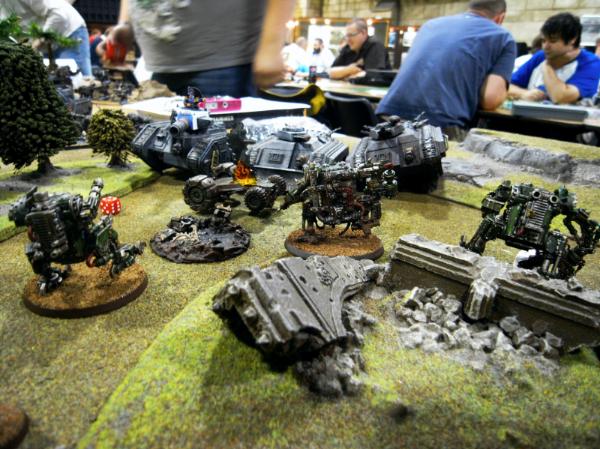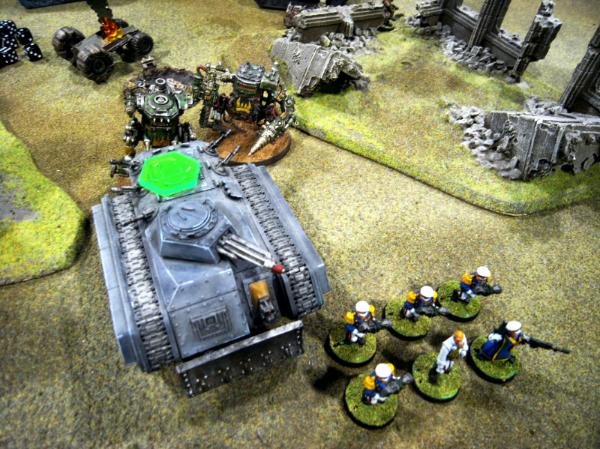 We had one conflicting rules question. Phil believed that his manticore rockets ignored my
KFF
; I questioned this as I couldn't see why.
I didn't want to get into a rules debate so I relented and against the manticore I didn't get a
KFF
save and I lost a few models... After the game checked the rules and could find nothing that justified the
KFF
save being ignored?
I enjoyed the game.
---
SS
Game2
Mission - Multiple objective capture and hold
NotProp - Mech Guard
CCS
– Plasmagun x2 + Lascannon
PCS
– Flamer x3
2x Infantry Squad with
AC
/
GL
, Blobbed
PCS
– Meltagun x4 + Chimera
2x Infantry Squad with
AC
/
GL
, 1 with Power weapon, Blobbed
Lord Commissar with Power weapon
2x Scout Sentinel with
AC
Griffon
Griffon
Leman Russ
Four objective markers, most were in the middle of the table and the Kans quickly moved to secure this area and the grots followed and claimed three.
The hoard then paused and camped the objectives for the remainder of the game (I think NotProp thought the Kans would keep coming!)... Three Kans and some buggies broke to the left and quickly contested the guard's objective...
The Kans wall took turn after punishing turn of Fire from the Imperial Gun Line and in the end there was only 1 Kan still standing! Twisted wreak metal carnage! But the game ended 3-0 to the Grots.
NotProp was a great opponent but like Phil waited too long before moving out to complete the mission..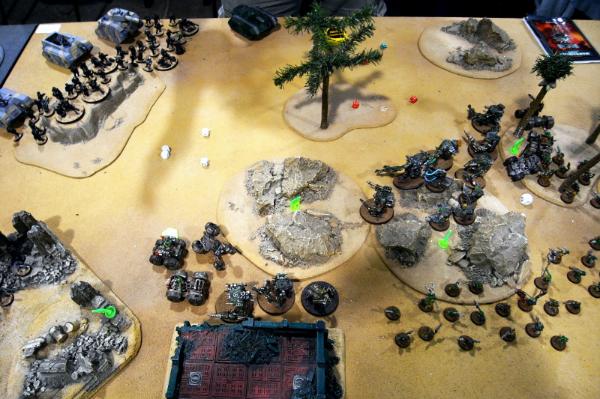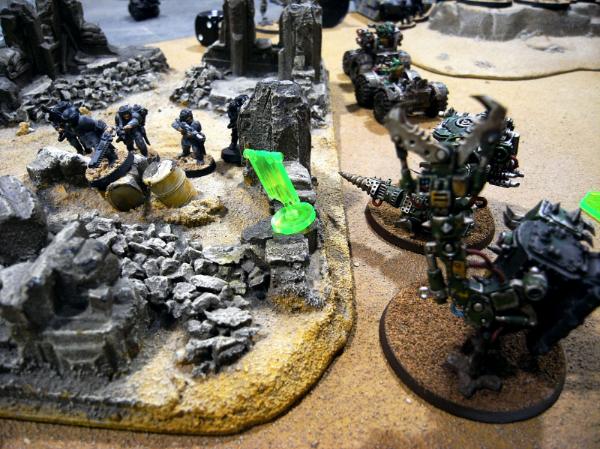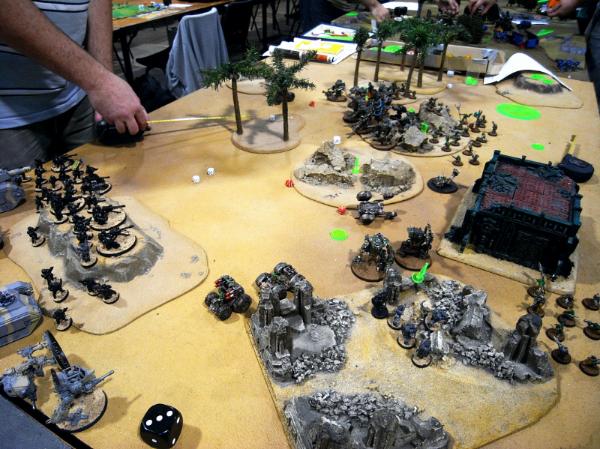 ---
SS
Game3
Mission - capture the enemy's forward base.
(copy of list required)
Arakasi - Mech Orks
BigMek
KFF
Mega Armoured Boss
Nobs in truck
Boys in Truck
Boys in Truck
We both needed to move infantry allot as both objectives was at the other side of the table (our forward bases.) Our combats were messy as we had lots of different model types in our units and with various equipment load outs. I also made a horrible combat set up by having the large grot squad spread out 2" long so that they received a save from the
KFF
mek.
Arakasi quickly reduced the meganobs to a few models, and destroyed the large squad of grots.
As the Kans arrived the remaining grots began to take courage, defend their base and send the Orks packing.
The game ended in turn three with no one holding the enemies forward base...
It was a shame we run out of time because my Kans were arriving and Arakasi's tough troops had finished off the meganobs.
Another Draw.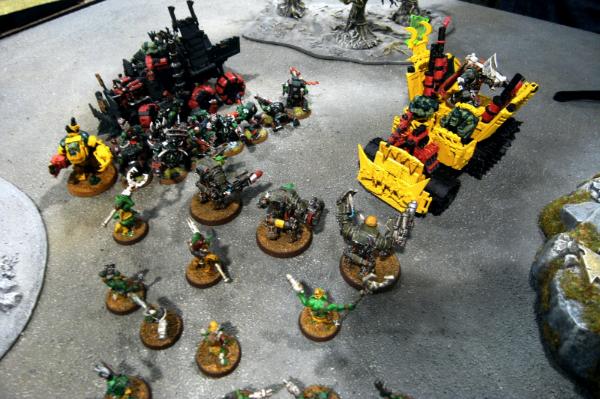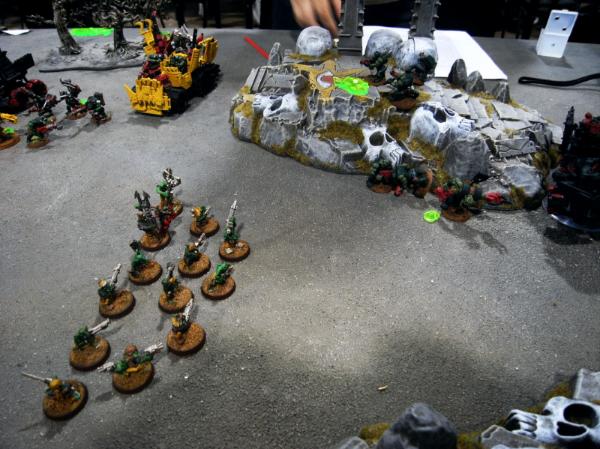 ----
SS
Game4
Mission - Kill Points with a 'fire crystal' central objective.
SilverMK2 -
CSM
Daemon Prince Wings
MoN
CSM
x7 Melta Champion Power Fist Dedicated Rhino
CSM
x7 Melta Champion Power Fist Dedicated Rhino
CSM
x7 Melta Champion Power Fist Dedicated Rhino
Raptors x5 Melta x2
Havocs x5 Autocannon x4
Buggies scored an early Kill point on a rhino forcing the
CSM
to bring the game to the Grots. The Kans moved and run into position controlling the centre of the board grots claimed the fire crystal objective.
The havocs took a toll on the grots but once the daemon prince went down the
CSM
were fighting an uphill battle to claim Kill points or get near the objective.
Grot Victory 5KP to 3KP I think.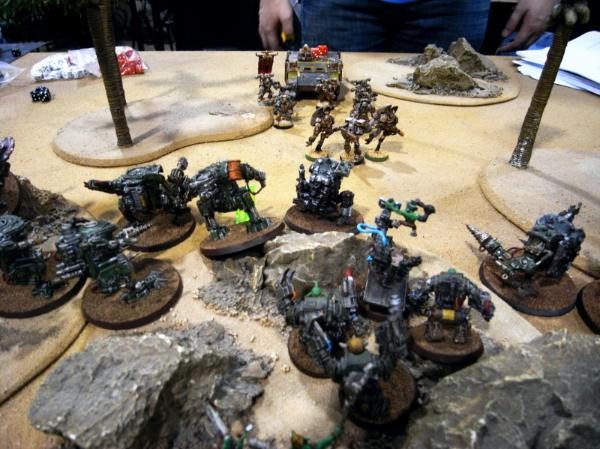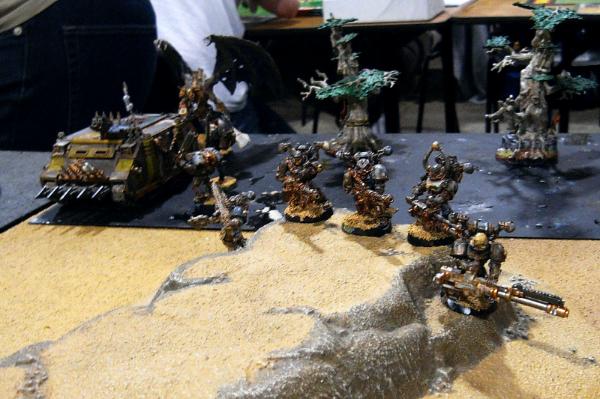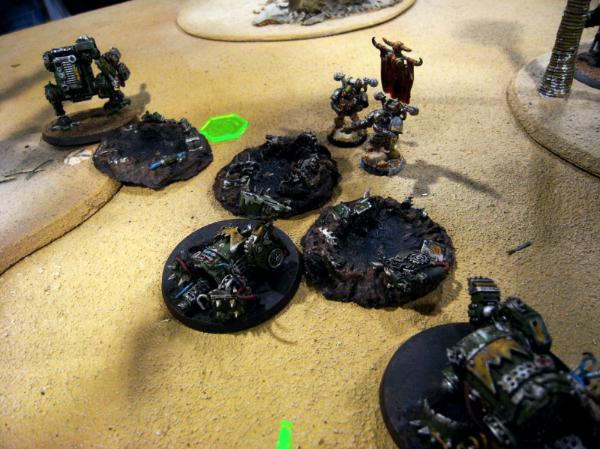 ---
And with this the Grots had managed to placed 4th Overall
They now total 5 wins and 3 Draws in tournament games...
The Grots have yet to be beaten!!!
---
Friendly Game 1
2000pts capture and control
ME (Grots) & Arakasi (Orks)
VS
ArbitorIan (daemons) & EndTransmission (Guard)
ArbitorIan had a plan that he would use
MC
heavy list 2Keeper of secrets and 3 daemon princes with only 1o other models
End Transmission counter balanced this with hoard traitor guard
Arakasi and I used our tourney lists with the plan that grots hold the objectives while the Kans and Orks deal with everything else!
Ian failed to get his chosen group of daemons and the Orks went to work killing the first big daemon to
DS
onto the board.
End transmission kept firing everything he had but the damage mostly bounced off the
KFF
.
The daemons arrived piece meal did somedamage before being blasted by many small arms. The OrKs controlled too much of the board for the traitors to get a hold on things.
Time was running out at Warhammer World, So we ended the game at the end of turn 3 or 4 and called it an OrKs/Grot victory!
I took lots of photos, the board really suited the Grots!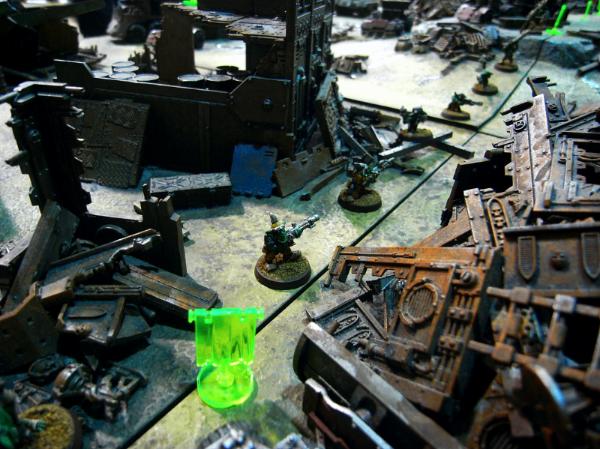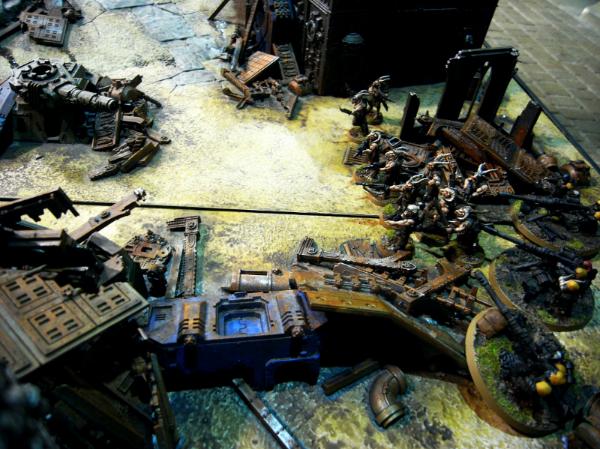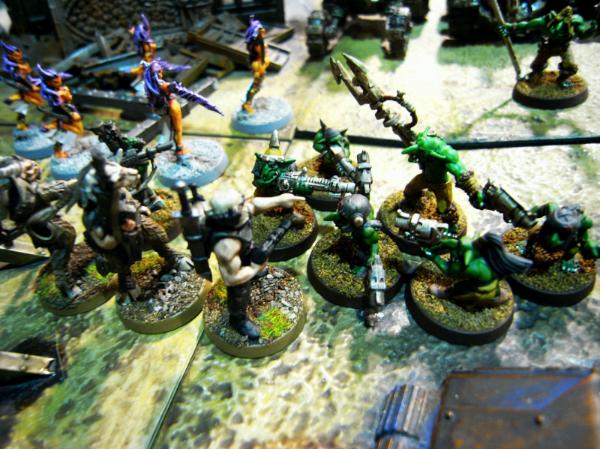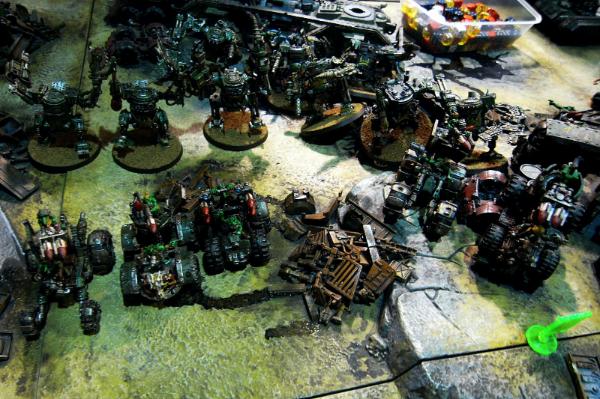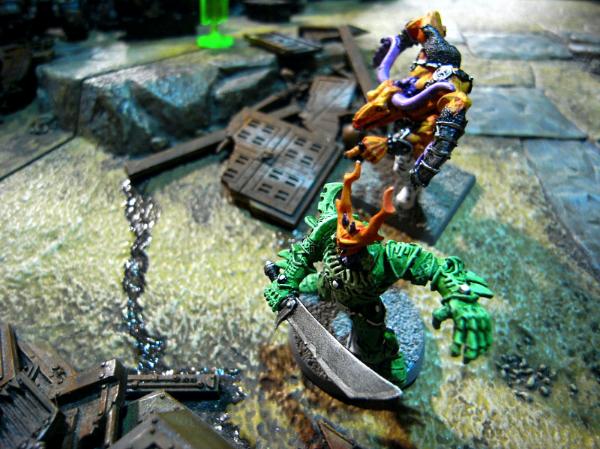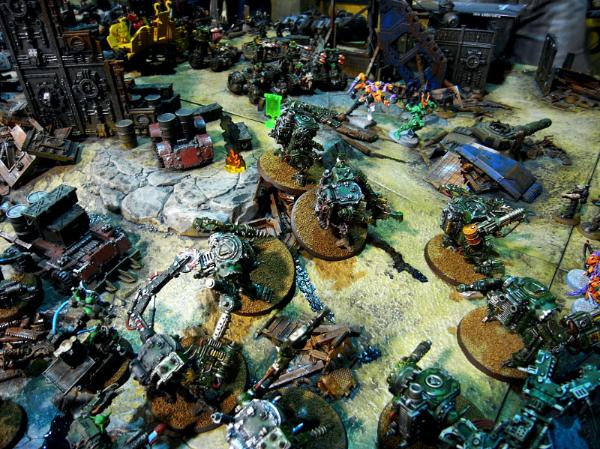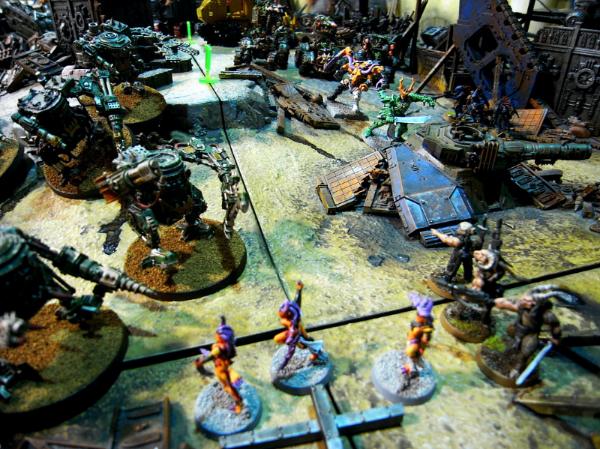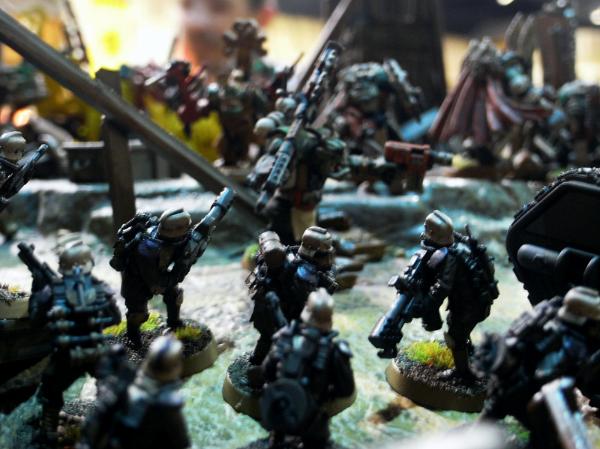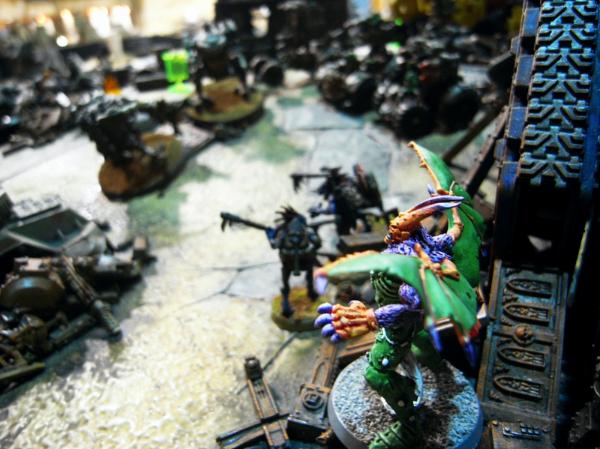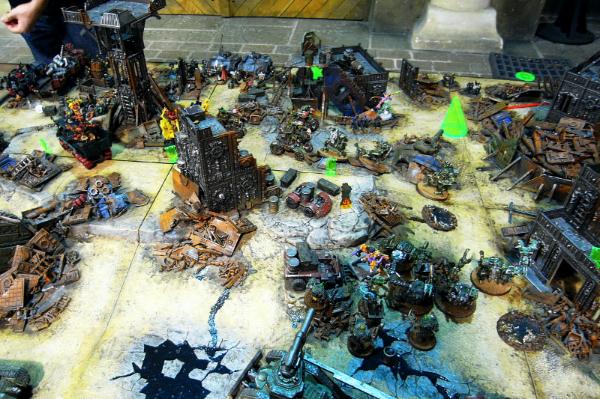 ---
Friendly Game2
1500pts Grots vs. UltraMarines
Kill points
Having waited too long (eating food and drinking £1 pints!)
TitanPrincepts and I found ourselves without any new opponents to play so we played each other.
This game went the distance and there were some great moments
Terminators destroying Kans with ease was a real eye opener and the 3++ save on the ThunderHammerMArines really stopped the Kans from taking their revenge!
The Terminators then went for a quick kill point by killing some grots, but the grots refused to flee (they made a combat moral check on Ld3! ) holding the terminators for another turn!
A Double Dread Assault quickly destroyed a DeffDread but then got jumped by 3 Kans;
--- this kan vs dred Combat took 4 turns to resolve before the Kans managed to beat the Dreads to bits and stomping off!
This all ended with a really hard fought Draw !!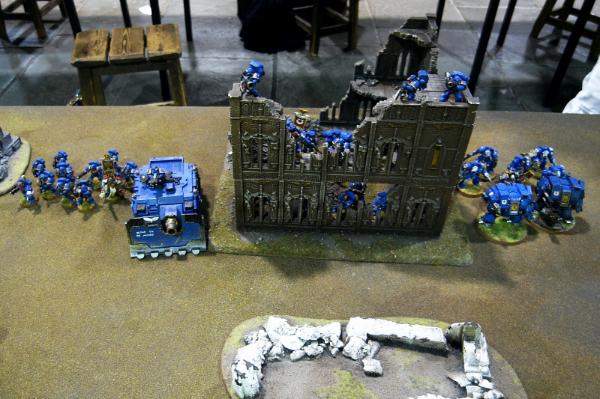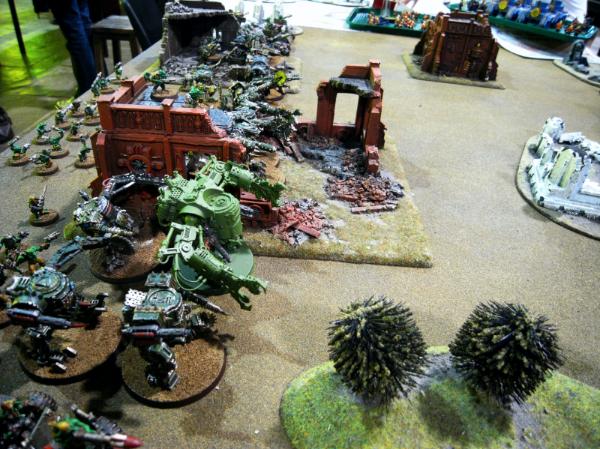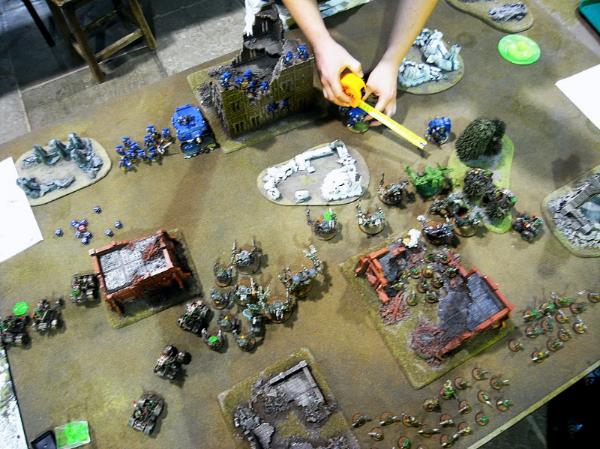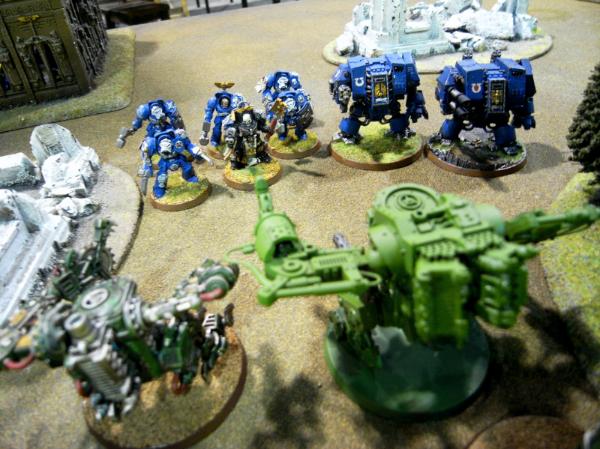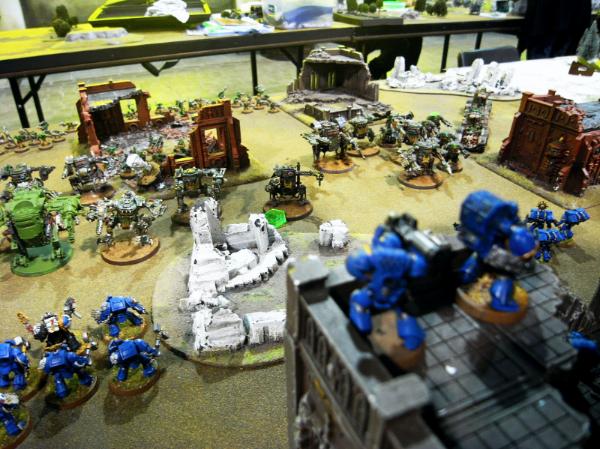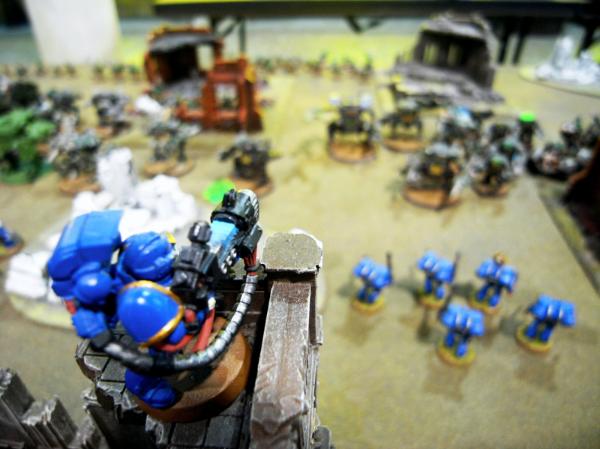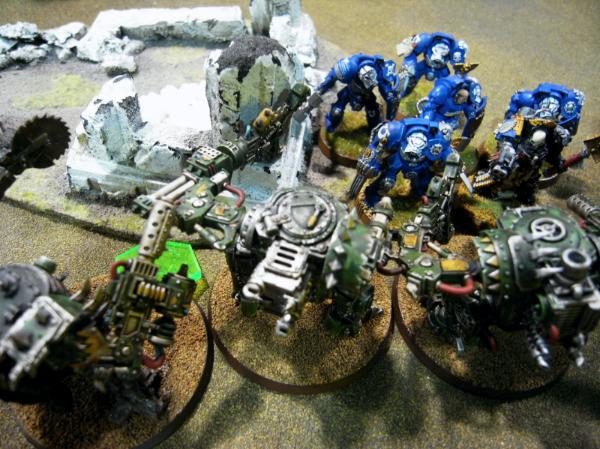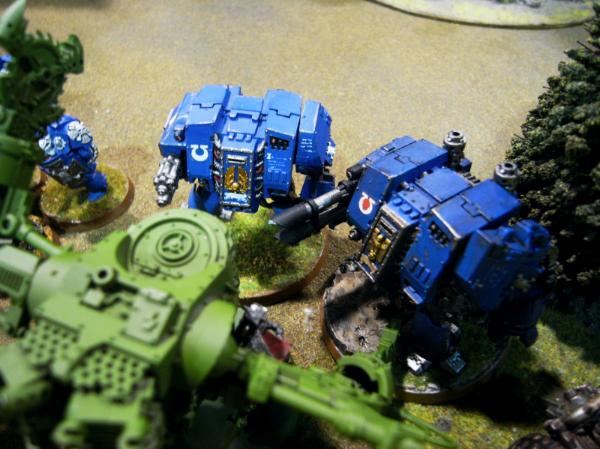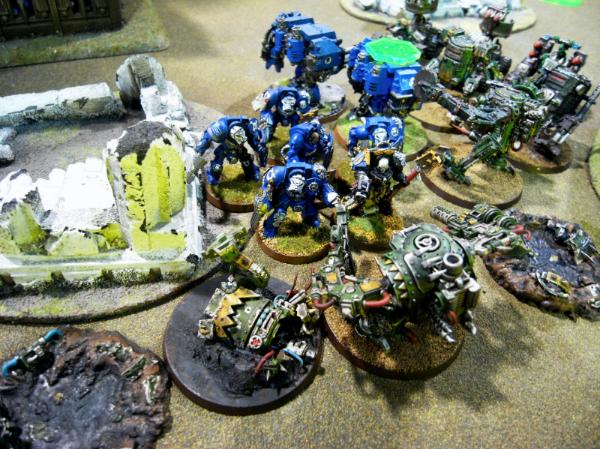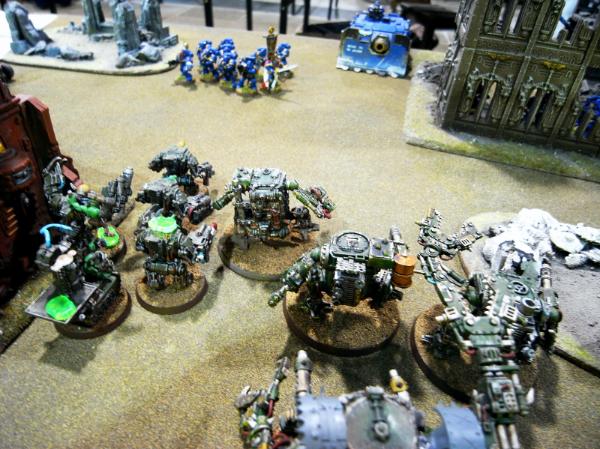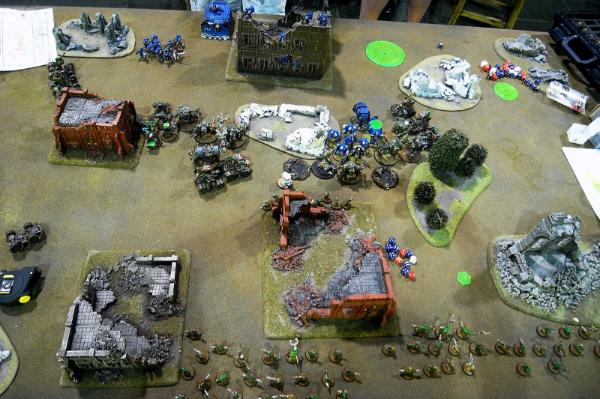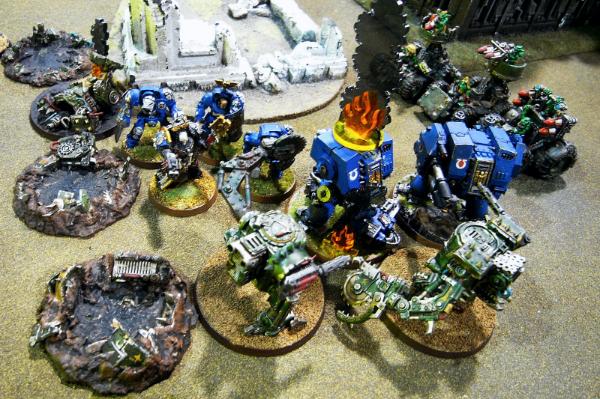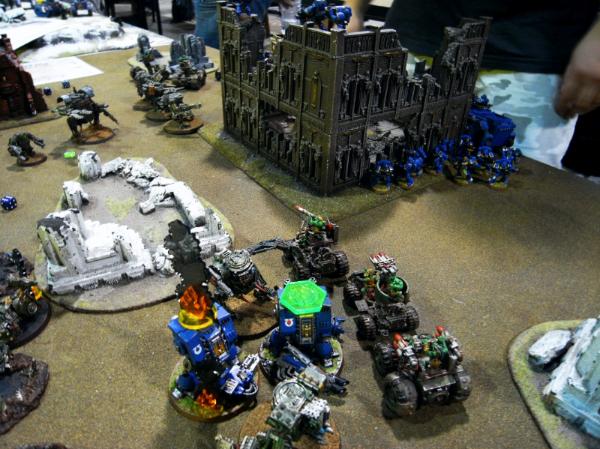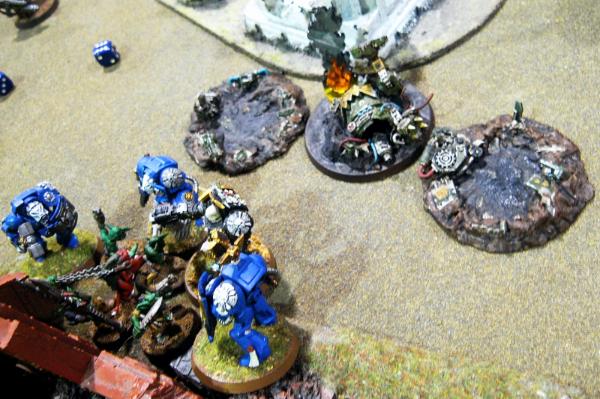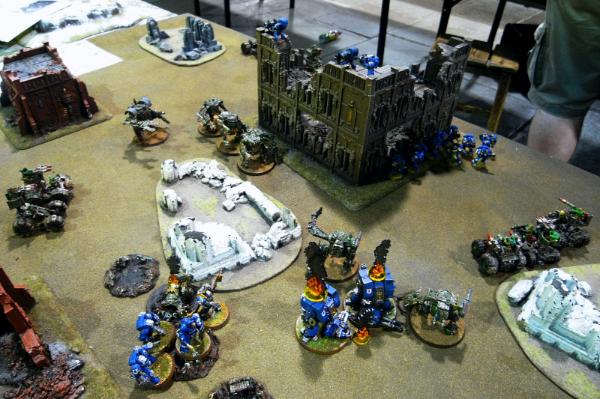 ---
I enjoyed all my games a Big thanks to everyone I played!
Thanks again to the organisers
Thanks to the War Hammer world staff for helping us with everything we needed.
Here's some other Photos I managed to grab inbetween games.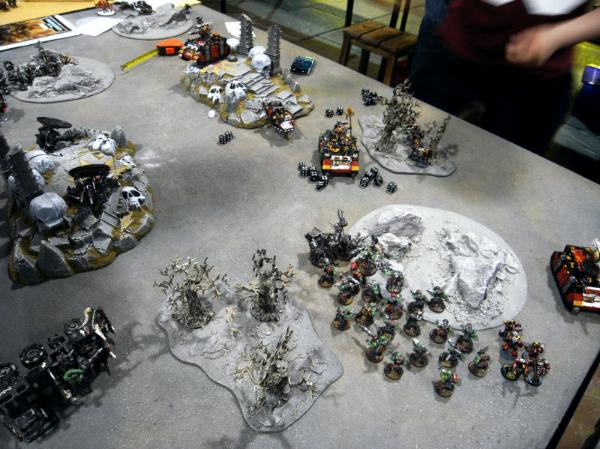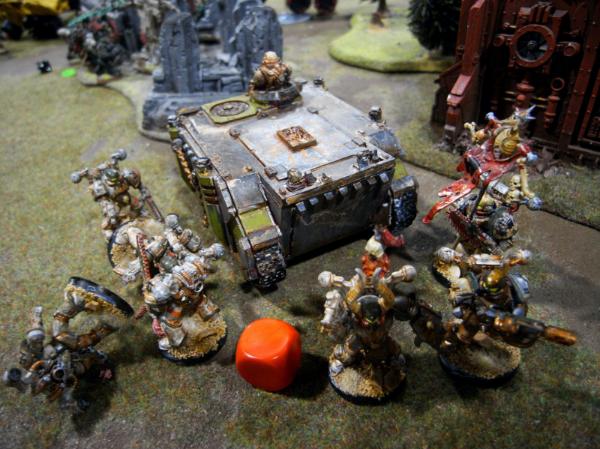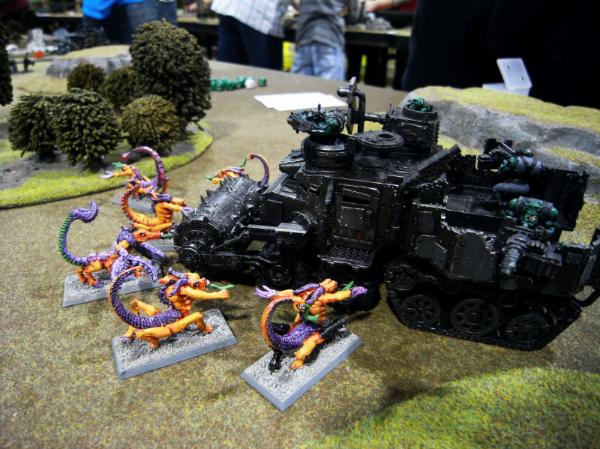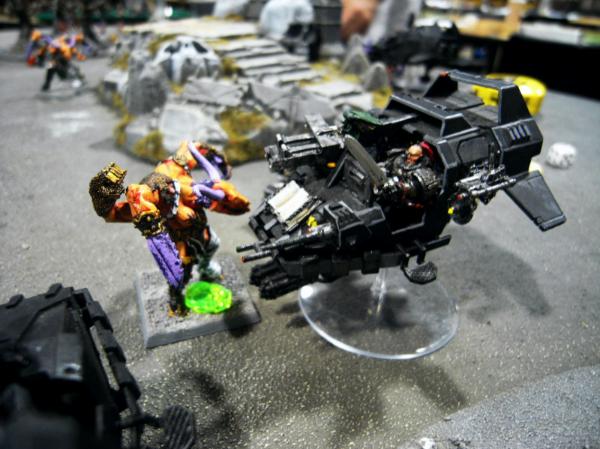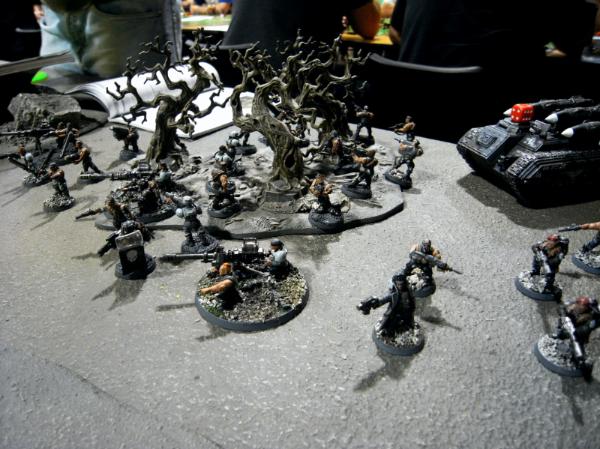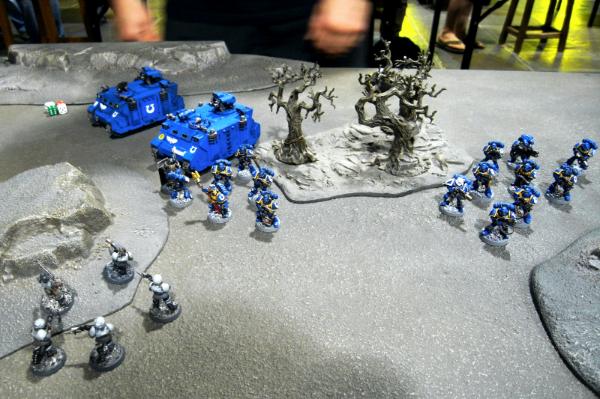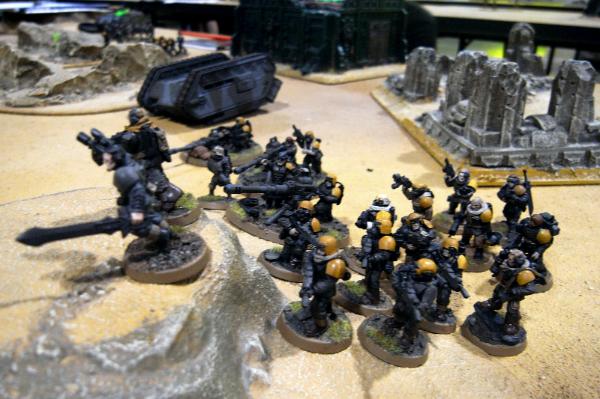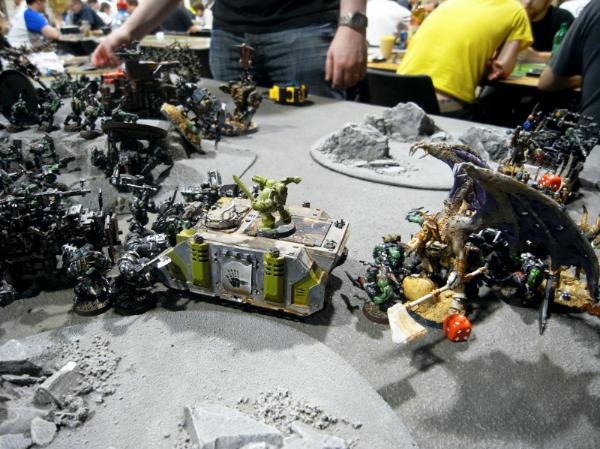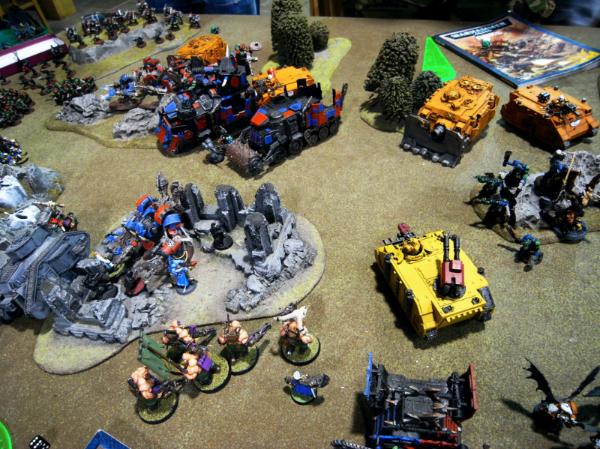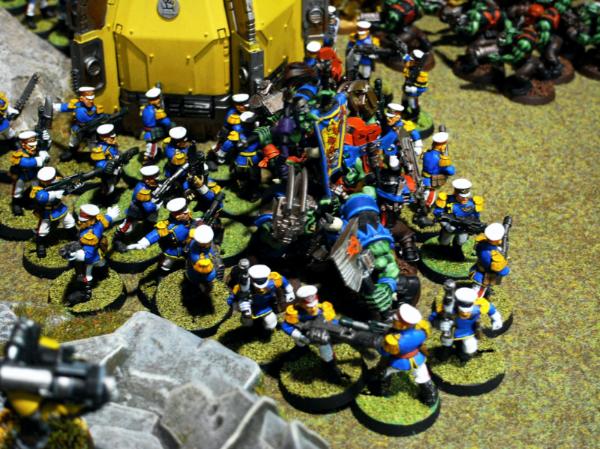 Bring on the Next DAKKA DAKKA meet up!!!!
Panic...