Greetings,
A couple of weeks back I got to participate in an 1850
RTT
at my favorite local game shop – Darkside Comics in Sarasota FL. Had a very nice and large turnout (30+ I believe) and got to see a lot of very nice armies.
I came out to, as usual, represent the Dark Eldar, since it looks like my time with this codex list is starting to be rather dramatically numbered.
My list was;
Archon w. punisher/t.helm/drugs/shadowfield loadout
Wych Dracite w. Wych Retinue in Raider
2x Wych Squads in Raiders
4x Dark Lance/Blaster Warrior squads in Raiders
2x Splinter Cannon/Blaster Warriors in Raiders
3x Ravagers (2 w. Dissies, 1 w. Lances)
My first concern was the realization that someone had brought a Codex: Tank! Army – that codex is broken!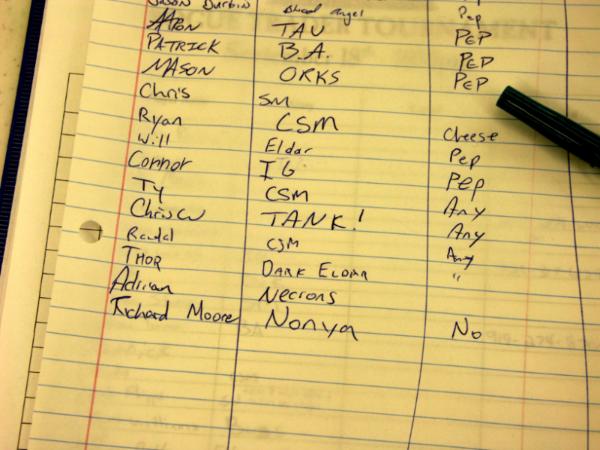 Overall we had a very good turnout for armies. One Tau player, 2(!!!) Dark Eldar players, Orks, various flavors of Marines, mech and foot
IG
, Tyranids, Necrons (I think 2 of these!), Eldar, pretty much every current codex had representation on the field.
Round 1
My opponent was the Eldar player – a very appropriate matchup! His list was sort of a mech/foot mix that focused on Eldarad w. Wraithguard as a rock solid holding unit supported by snipers and Dark Reaper fire bases, and sporting the usual Fire Dragons and Dire Avengers in Wave Serpents spiel. Also had an Avatar and a Wraithlord tossed in as well. Lots of work for my lances today.
The mission was objective based. Should be interesting considering the opponent, he might be fast enough to counter me. Deployment is like Dawn of War. Special rules involve an Earthquake effect that targets any vehicle when it moves (even skimmers) I can't help but feel this is a rule built to level the playing field for "regular" armies facing "broken" mech lists, y'know, broken lists like
IG
Leafblower…y'know…because they *move* their vehicles so much…yes.
(The special rule actually didn't effect either me or my opponent until the final round when it immobilized one of my Ravagers, which really didn't even matter to me much - *that'll* teach those broken mech lists who the boss is!)
I win side selection (huzzah!) and let him go first.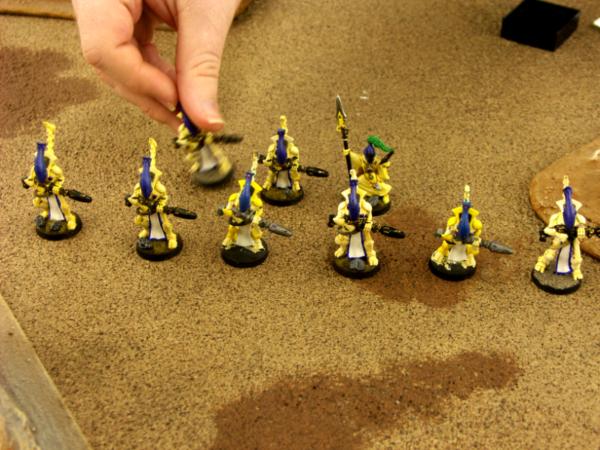 Never have quite figured out how to kill these things effectively with
DE
when they're backed by Eldarad.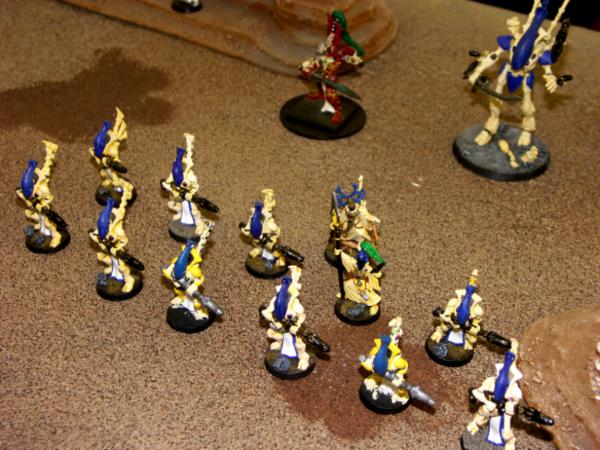 His plan is pretty simple, march up the center of the board with his
MCs
and Wraithguard to hold the center point and focus my attention. His Serpents go into reserve with the plan to nab objectives late game I suspect.
I start everything off board so he just sort of shuffles forward and sets up his fire bases.
I then bring in everything on my first turn – fear the storm!
My opening salvos end the threat of the Dark Reapers right away (I do not like them targeting my precious Raiders, no sirree. I also proceed to start shooting up the Avatar, as some wounds on him now will help me later. (also, I'm pretty sure he'd fortuned the Wraithlord – so it was functionally invincible in my mind)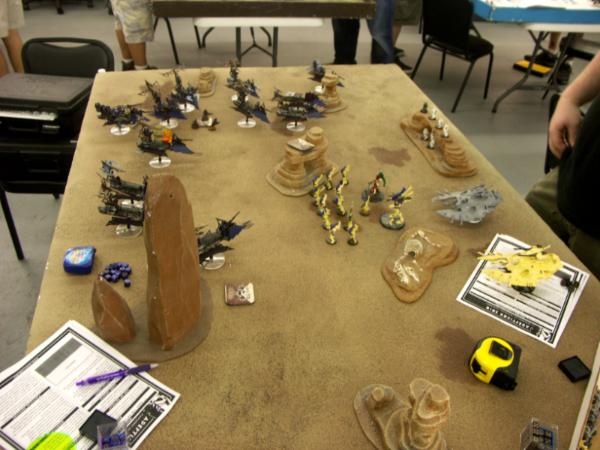 On his turn (pictured above) he brought in two Wave Serpents (both
DA
loaded I do believe)
He begins his shooting and manages to wreck a Raider and kill some of the crew via sniper fire. Their morale held, however, and they hotfooted it over to a nearby objective to see if maybe he'd forget about them.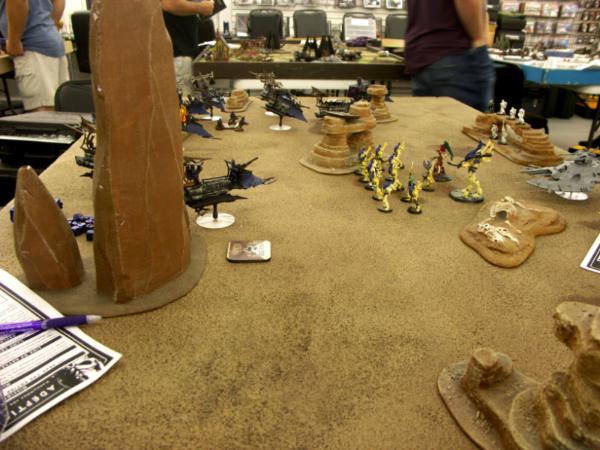 His other shooting was less then desirable, and didn't accomplish much besides minor shakings of some of the Raiders or maybe a weapon destroyed result or something.
Guess which unit is about to have a *very* bad set of run and assault through cover roles?
I drop out some Wyches and my Archon in an attempt to disrupt his lines and pull the Wraithguard back from the center objective (sometimes its not easy being the Archon, I always use the poor wench as a prime candidate for any suicide mission I have)
The shooting phase went pretty well, I gunned down the Avatar with a few barrages of lances and also damaged the Wave Serpents, shooting off some guns and shaking and stunning one of them (though failing to do the same to the other – dorf!)
The Wyche squad that was supposed to assault the snipers sort of just stumbled to a dead stop in front of them and stared…this was not the optimal strategy.
Meanwhile, Ghul'katcha Maerret did her duty as the First Daughter and promptly assaulted Eldarad and his Wraithguard unit.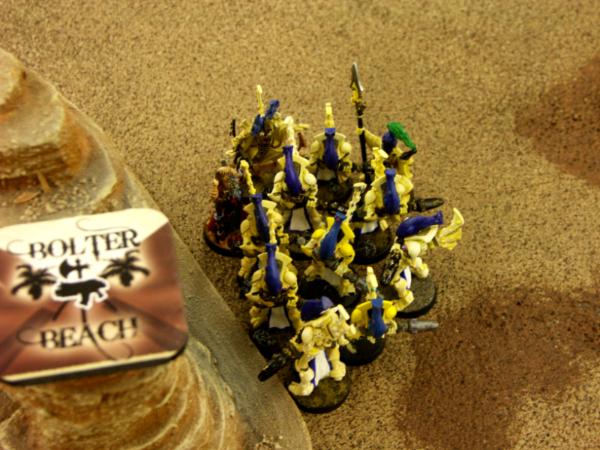 This battle would grind on for a few turns, with Ghul'katcha managing to tear apart a handful of Wraithguard while Eldarad and the Wraithguard beat against her Shadowfield.
Two of these Wyches understand what is about to go down and are attempting to suggest the proper direction everyone should be heading…
On his turn he gunned down my in the open Wyches. A Fire Dragon
WS
and a Fire Prisim came in from reserve. The Fire Prisim whiffed its shot (and would continue to do so for the rest of the game) and the Wave Serpent whipped out with some Fire Dragons and blasted the Dracite's Wych Raider.
Those Fire Dragons do not have a long life expectancy at this stage.
My turn was more shooting up of his vehicles, the killing of some Fire Dragons and the claiming of every objective except the central one.
On his turn he realized we were getting down to the wire and he went for the throat.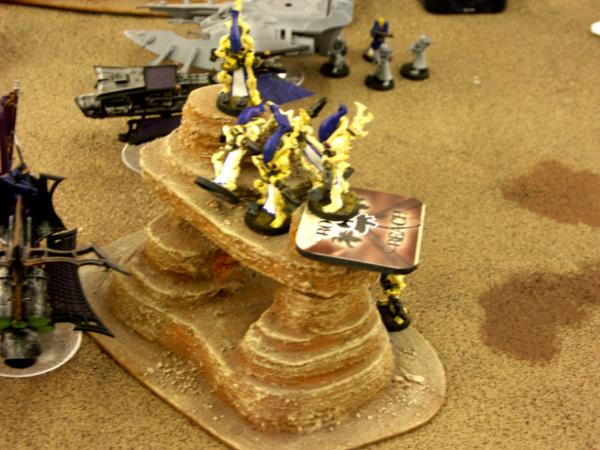 The Wraithguard finished off the Archon and stormed up to claim the objective there.
He tankshocked the small unit of Raider troops that had been hiding out on one objective – I chose to death or glory him with my Blaster and laid out the Wave Serpent, wrecking it. He emergency disembarked (he would later shoot at me with this turn with this
DA
squad and kill the unit that DoGed him – I disagreed that he could but wasn't smart enough to find the rule in the book at the time and the
TO
overruled me. It really didn't matter to the course of the game, but was annoying and has made me properly memorize where in the rulebook the emergency disembark rules regarding shooting are…also, in retrospect, looking at this picture his vehicle placement was a little iffy too, ah well, as long as I'm right all the time it's not a big deal

)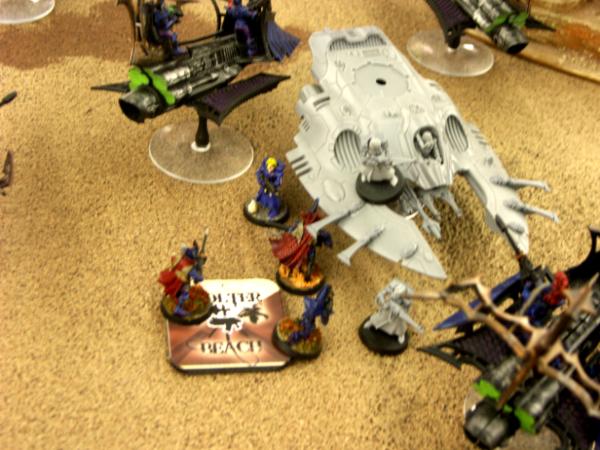 Death or glory? Risking a 13 point unit to kill a 145 point unit sounds more like just smart play (and awesomely affordable codex!).
His Wraithlord and the other
DA
Wave Serpent went over to contest the other objective. They ripped up the Raider, but couldn't finish the squad inside.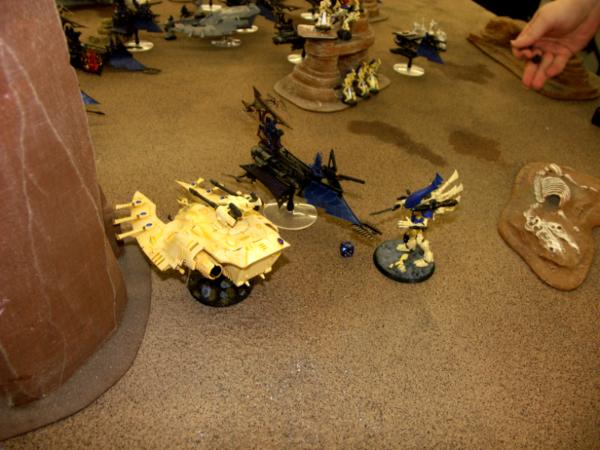 On my turn (it was a rush, so no pictures) I slew the snipers he had claiming one objective and claimed it, I flew a Raider over to contest the Wraithguard objective, I contested the objective his Wraithlord and
WS
were on, and I flew over a Raider squad to kill the
DA
and claim that objective as well.
DE
win 2 claimed objectives to 0 with 2 contested.
Round 2
At the start of tournaments I like to wander around and eyeball armies that are there – partly to see awesome armies, and partly to decide who I wouldn't want to fight. There were two mech
IG
lists I didn't want any part of.
I also eyeballed the tables and decided that there were two tables I dreaded, due to looking like they were set up for Warhammer Fantasy rather then
40k
.
Guess what round 2 was?
Yep, this army
on this table with
DE
.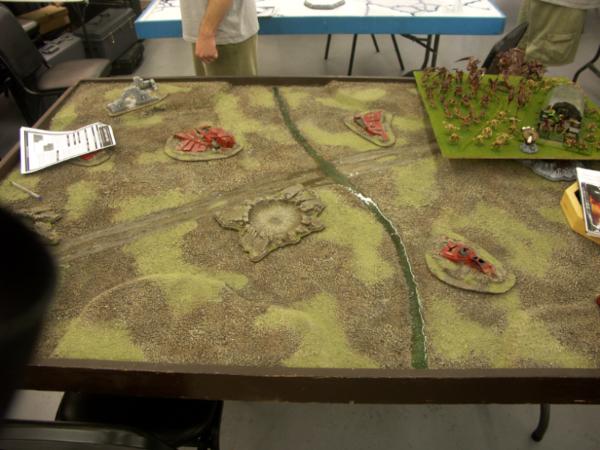 …and it was a killpoints mission…huzzah!
With more cover or with objectives I wouldn't have been so nervous, but as it stood I was already wondering how to even pull it off.
He then won the roll and opted to go first.
Smurf-poo.
His setup (not counting the cheddar helmet Sly Marbo).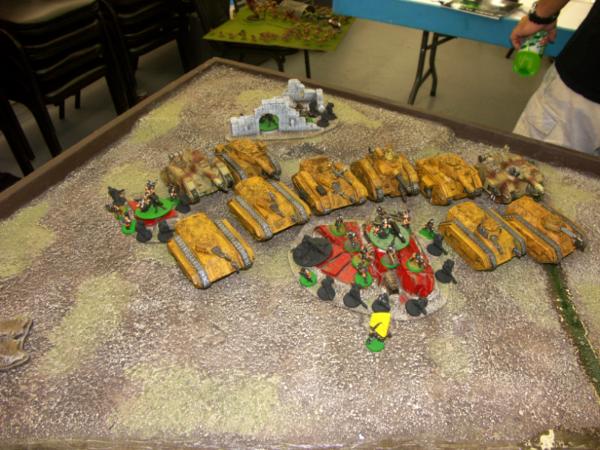 During his setup I sort of hem and haw about what I'm even going to do, I decide to go against two of my basic principals;
1. Always play for the win, secondary objectives will sort themselves out.
2. Never start in reserve.
I figured #1 was already shot, and since the secondary was a table quarters mission I thought maybe I could pull that off if I could minimize the amount of time my boys spent on the table.
"I'll be going full reserve," I announced.
"Okay…but y'know my army will make you subtract from your reserve rolls," he said with a smile.
"I know." I try to pretend like I'm not actually thankful.
So of course my reserve rolls actually had a lot of 5-6s in them, Dorf!
My shooting was *abysmal* and his was…well, it was average, probably, but that's all he needed. I'll spare you some play by play and let the pictures speak for themselves for a while.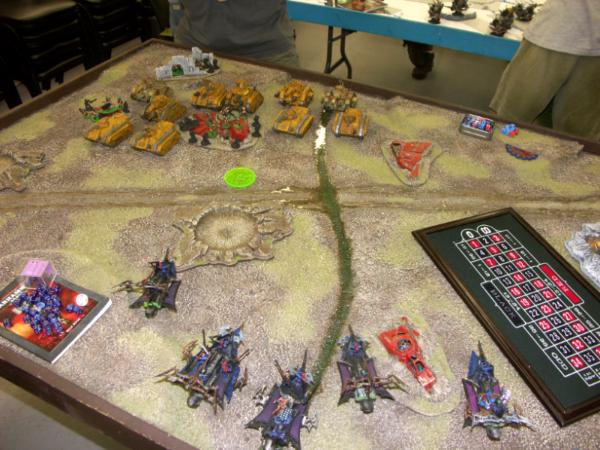 (In case you couldn't tell – all of the vehicles from my first reserve wave are already wrecked or exploded after one turn of shooting – no real surprise there.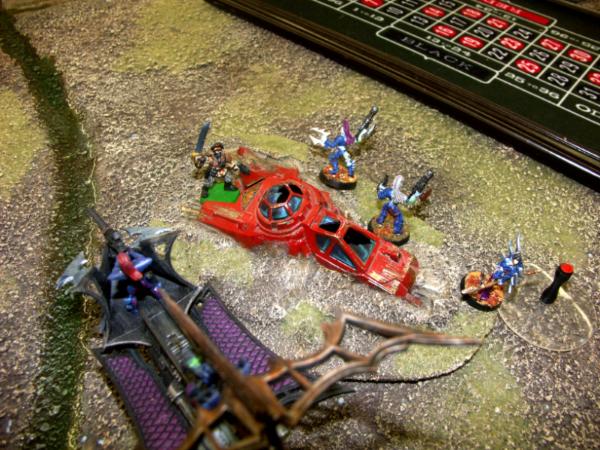 Sly Marbo decides to try and satchel charge my Dracite
HQ
(a secondary goal was killing the
HQs
)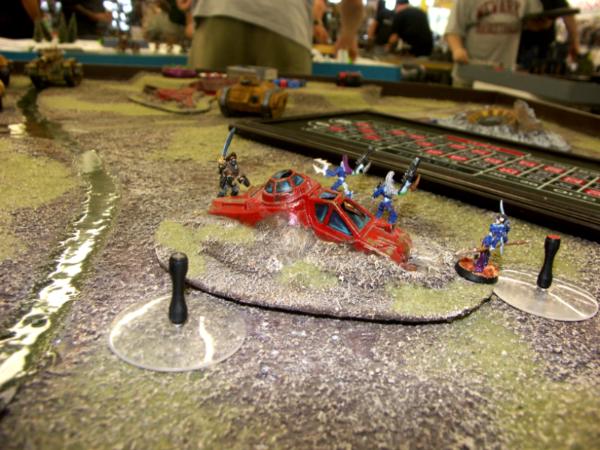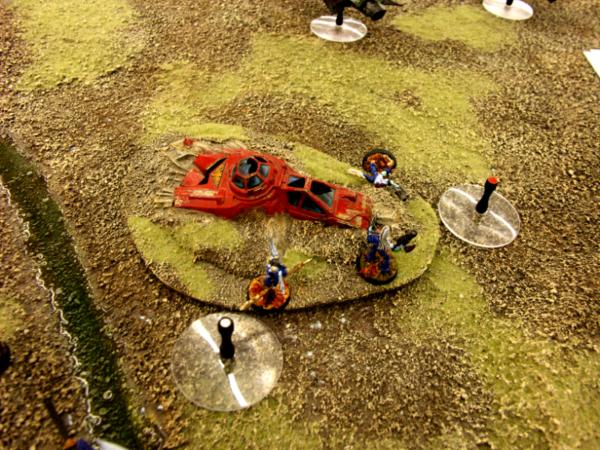 My Wych Dracite might not have been good for much this game, but she did show that the rumor that 'Sly Marbo can't be cut, not because his skin is tougher then ceramite, but because swords know better' at least might not apply to Punishers.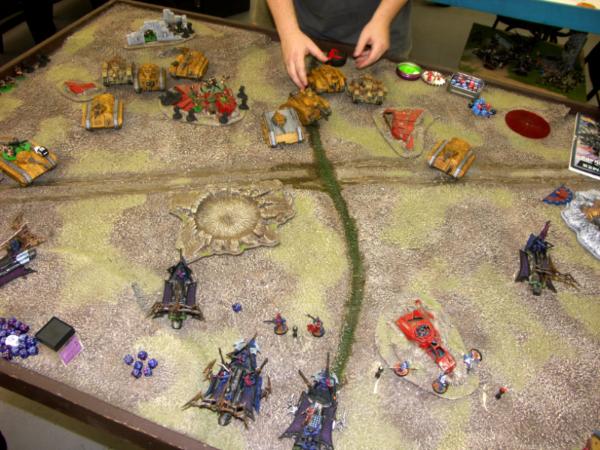 Hmmm, I think I've actually scored about three kill points now, huzzah!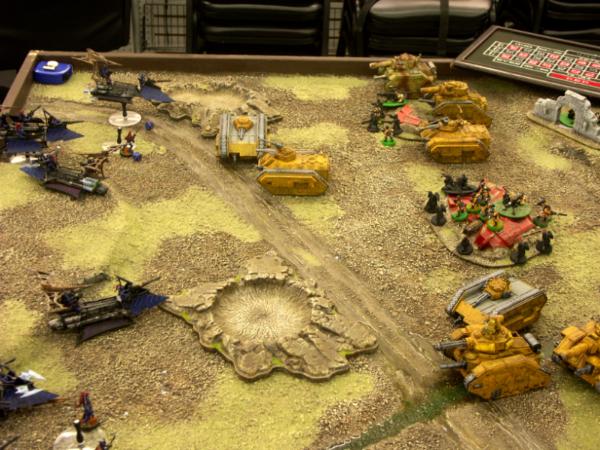 Keeping a lot of activity on that flank, gosh look at all this interesting stuff over here…please ignore the other two table quarters.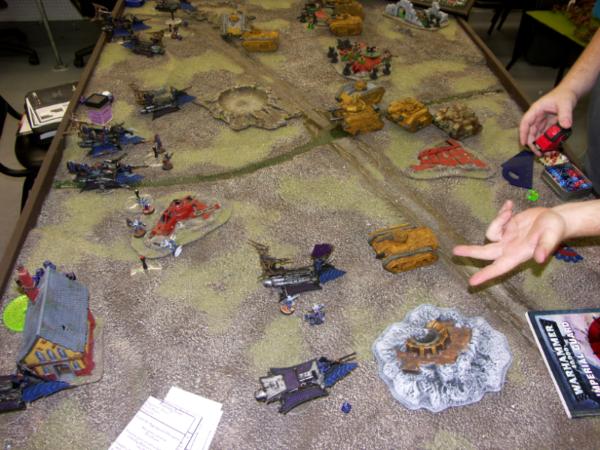 Nearing the end, he realized what was going on and swung some vehicles over to try to prevent the snatch. (notice my *strategic* cowering behind the only piece of terrain that can offer a Raider a cover save)
No pictures of the last brief flurry, but I somehow managed to trash the Chimera and its crew and claim two quarters to his one with 1 contested. That won me the secondary for a small handful of points…I didn't actually count, but I was pretty sure he'd won the
KP
part of the game – ouch!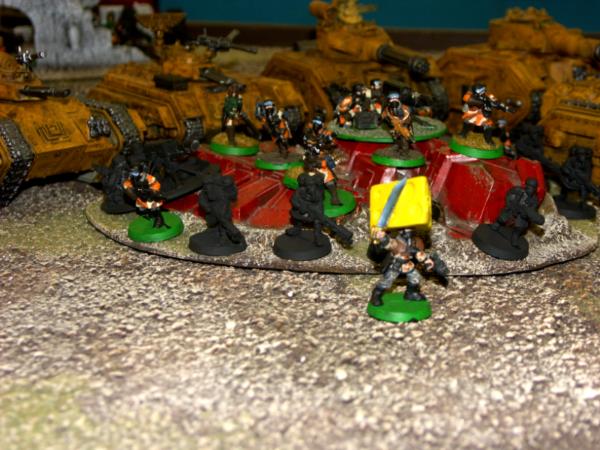 A shot of the victors with his Sly Marbo wearing his official cheesy helmet o' win.
I'm still debating if I'd have been better off to start everything on table and try to use some sideways Raiders to generate cover. I don't think it would have done that well for me, but maybe the ability to have a stronger wave of firepower on Turn 1 might have made a difference. I sort of feel the whole thing was fairly forgone simply due to the matchup and the terrain.
Round 3
Down into the loser brackets doth I fall, like the pathetic little worm that I am. (actually, sometimes I feel rough in the loser bracket, because sometimes you end up with a tourney ready player like myself versus a very nice guy who was playing more for fun, like my opponent…I mean, I'll still crush him, I just can't get away with the pelvic thrusts and loud grunts I usually like to make every time I kill someone)
My next opponent was fielding
CSM
featuring a heavy use of Oblits and a pair of Demon Princes and a brace of bikes. This doesn't look too bad.
Ah, special rules involve fireballs…fireballs that can easily wreck Raiders and Ravagers…bleh.
As an odd aside – this was the first tourney I'd been to since Darkside started incorporating 'soft scores' into the competition. Lots of players brought fully painted armies (you can find some pics of them in my gallery if you follow the links through). Despite this, every player I fought had at least some naked/bascoated figs in their army.
Thor cries a little inside.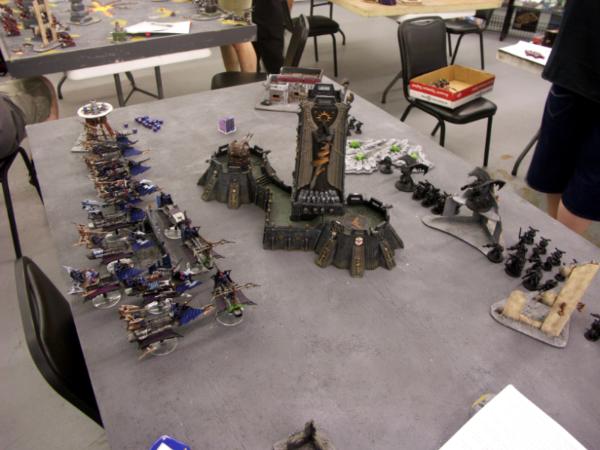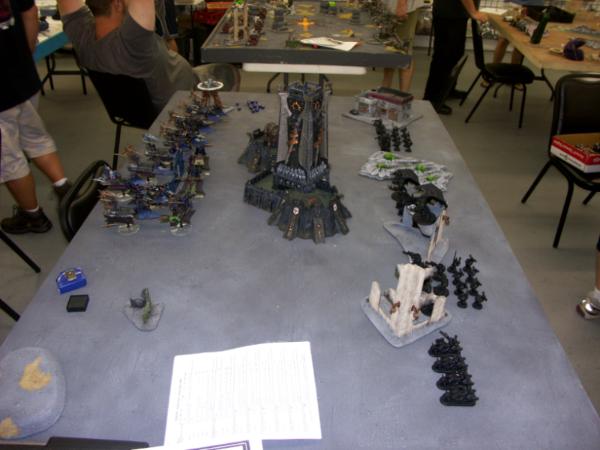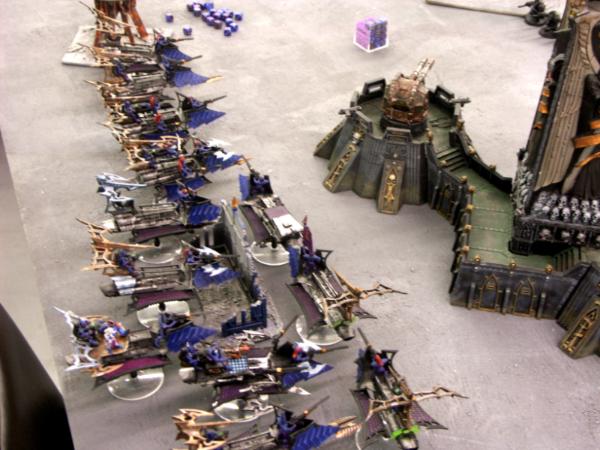 Setup – he gets first turn, objective is to be near the center point of the map.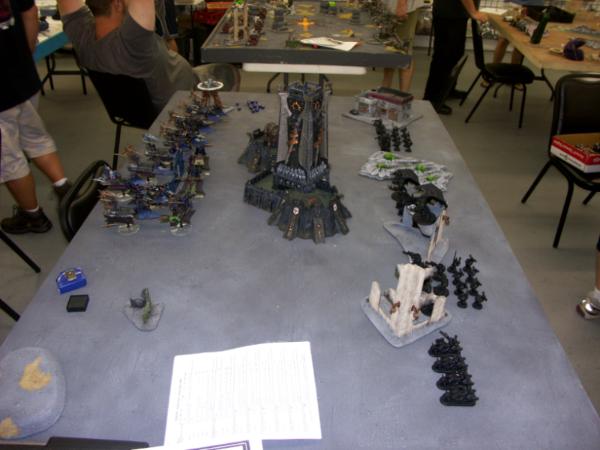 He advances up, believing his demon princes can somehow survive focused lance fire and the close combat threat that is
DE
Lords and Wyches.
My fireball manages to frag three of the bikes in the bike squad to the right of the whitish-brown building.
(his fireballs would actually never damage my army, always scattering off target. I think mine only managed the 3 attack bikes)
On my first turn I shoot down the demon prince on the right flank and drop down some Wyches for assault.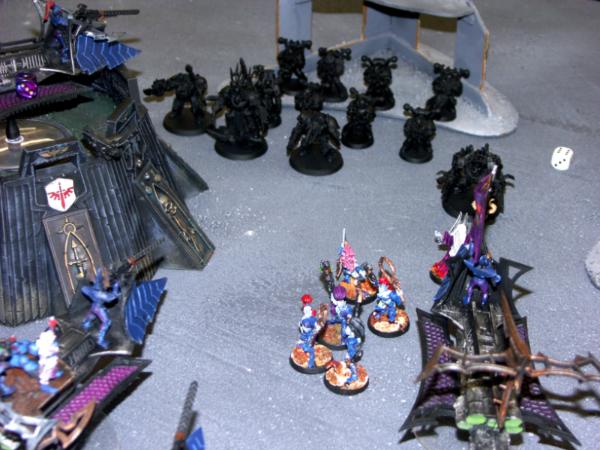 My opponent had admitted to never having to face
DE
and asked me what to worry about. I told him a brief rundown of the units, explained we were fragile but hit very hard, and were very, very fast.
How fast? He'd asked.
Well…this fast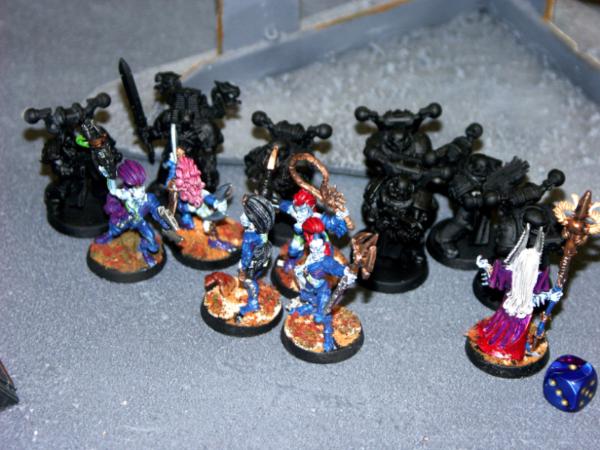 Hey, Ghul'katcha, primp for the camera!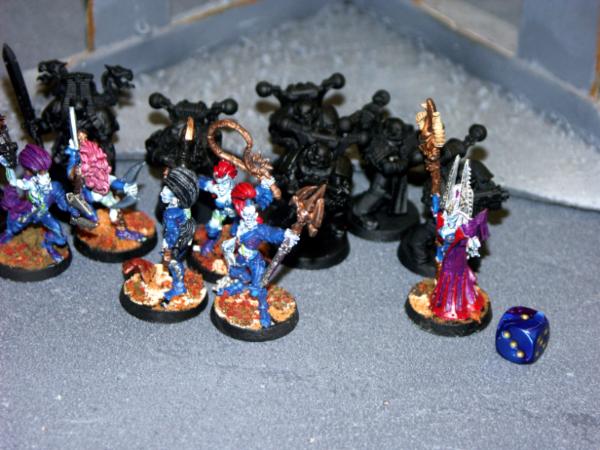 She enjoys long walks on skull covered beaches, listening to Yanni, and disemboweling
MEQs
, call now, don't wait forever boys.
On the other flank I basically fall back from his advancing forces and try to use the building to help separate him from his forces. My firepower cuts down all but one of the bikes and does some other minor damage to his forces.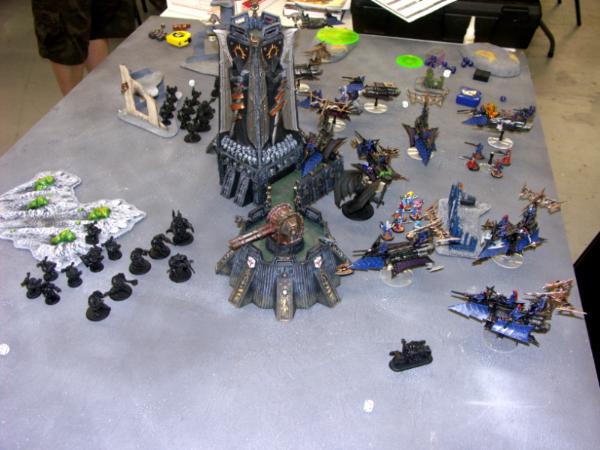 With most of his army out of position he leaps in with his 2nd prince and has the lone assault bike cut apart one of my Ravagers before being shot to death.
Felynlyn and her Wych Retinue welcome the opportunity, and gleefully assault into the Demon Prince, they will slowly carve him up over the next few rounds and only lose 2-3 Wyches in the process.
The Archon's assault gets a little messy as she is bogged down by the sheer swarm of
CSMs
. She'll eventually cut a bloody swath through them along with the help of a second squad of Wyches.
I swing units around both sides of the fortress and just catch the rest of the
CSMs
in a wicked crossfire that totally wipes them out. I table my opponent with time to spare, total victory.
The final numbers are counted up, and between my two victories and the fact that I'm a super-wonderful guy (good sportsmanship and painting scores, huzzah!) I manage to finish 5th out of the total set. So close, and yet so very far.
If I'd managed even five points from a tie in the second match I would have been in contention. (of course I probably would have had a tougher third round opponent, so such is life).
So…who won? Well, 2nd place was a SPace Wolf list (that I'd actually helped design - wish I'd fought him, he was running dual land raiders, easy pickings for me) And first place...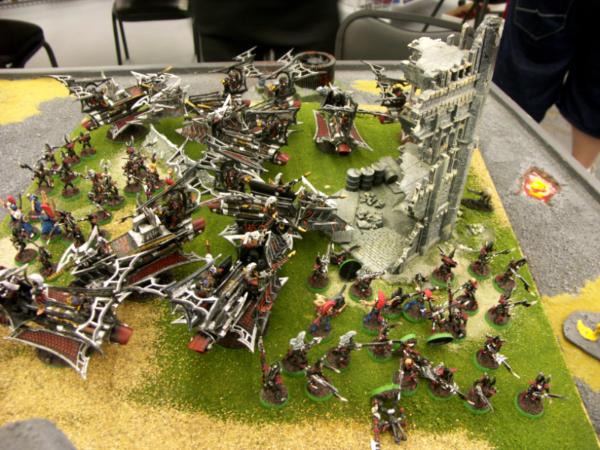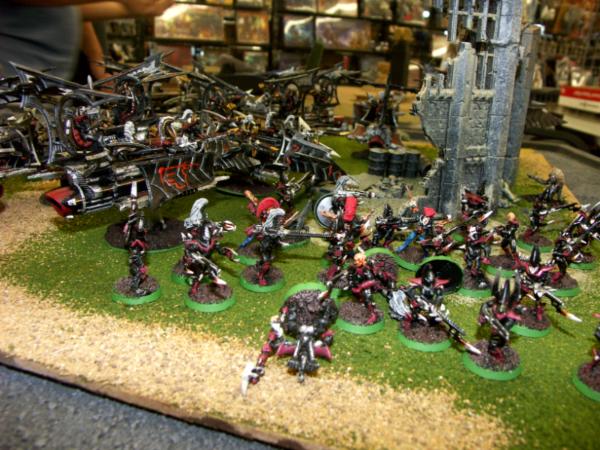 DE
baby! YEAH!
I congratulated the other
DE
player on his win, glad that if my boys weren't bringing back the title to Commeragh that at least he was. We compared lists (his was more Night Shields, mine was more overall Raiders) and debated the relative merits of each list.
"I had trouble versus Orks in round 1," he admits, "could have used some more of what your list has."
"Nightshields might have been nice in Round 2," I admit grudgingly. "Still, happy you won."
"Yeah."
"I have a question though," I say, since I actually don't feel his list is really superior to mine (actually, list versus list I think I'd win) I'm curious about something.
"Ask away."
"Did you have to fight
IG
at all this tournament?"
"Nope."
"Ah…congrats on the win."
Sigh, once again the
IG
poison bullet of rock to
DE
's scissors catches me. Still, 5th place after that atrocious beatdown in Round 2 is a solid achievement. Hope you all enjoyed the read.
Regards,
Thor.