Theophony wrote:Termagaunts look great, although till you tidy up the bases they remind me of dogs we had tacking mud into the house.
Inevitable_Faith wrote:Such cute litle Gaunts Nev, love 'em.
They are just like adorable puppies who just want snacks and hugs. Is that so wrong?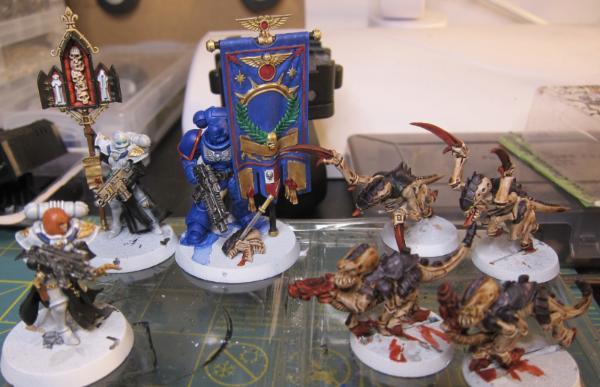 So cleared the bench today. Everyone is at the decals and base stage. Need to figure out what to move down to the in progress stations. The poll for next month should go up tomorrow, so if something looks interesting, I might reserve starting. If not, short list of things to do are 2 more infiltrators, to give me a playable squad, and just moving more nids across the bench. Probably both. I've got enough phobos guys that if they are needed for a challenge, I've got spares. Alternatively, I could get a few more sisters done. But tomorrow is going to mostly be a build day I think.
Automatically Appended Next Post:
Well, June is almost over. While I could wait a bit, doing my half year summery is a good thing to do over a Sunday morning cup of coffee. Here is where we are at. I've temporarily moved the stuff that's almost done up, as it should be done by the end of the day, and end of the month at the latest.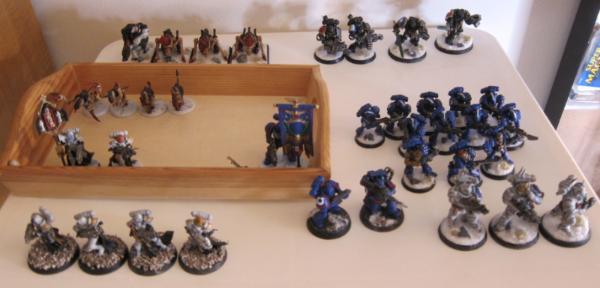 Here are my goals:
1 Paint 25
SoB
6 done. I kew this was going to be weighted towards the summer, as I couldn't prime until spring. So not surprised I'm behind, but something I need to focus on.
2 Paint more than I buy. 29+7/34
Once I finish up the 7 guys on the bench, I have this. Until the box of Termagants shows up tomorrow (which I could technically count as a Father's Day gift, as The Boy got me a gift card). Or the new box set drops. While the nids paint up lightning fast, I'm buying them at about the same rate. doing some of the backlog will help my overall numbers though. I suspect year end this is going to be a failure. Part of that is the deadweight of the necrons in the new box. I do plan on painting them up as a little kill team/combat patrol, but that's a back burner project. Unless I find someone who wants to buy them off me, which is unlikely. But even if I don't count the Necrons, adding 2 dozen marines to the tally is going to sting.
3 Paint At least 12 spare bits. I've magetized a number of things, painted the primary set up, but never get around to doing the other options.
Nope. Don't think I've painted any bits
4 Try to get more games in. At least 12, with some being non Floorhammer.
2 games this year. I'm going to call this a soft fail, rather then hard due to the Corona virus.
5 Update my blog at least once a week, and maintain a consistent pace of work (1 mini a week).
I'm a good blogger. My pace of work was a little sluggish for a bit, but has picked back up. This is week 26, and I've got more models than that done.
6 Paint at least one unit for all my army factions. (Ultra, Eldar, Deathwatch, Death)
4 guys to fill out vet quads is not quite a "unit" but is close. I'd like to see at least one more by the end of the year. Ultras are good. Better than expected actually. No Eldar, Death is October. Added Nids to my list of army factions, and get to check them off.
7 Enter and finish an entry every month for the painting challenge. If the monthly challenge stops, enter at least one comp in the year. In addition, paint something odd from the back of the bench a/o try out a new technique.
So far so good. Been a good year so far for cleaning up backfill. Nids getting dusted off, and polishing off some of those RTB01s that had been stripped and prepped for 30k, but than ignored.
8 Buy, build, and/or paint at least one piece of terrain.
I have plans and ideas, but need to implement them. The recent supply drop of craft paints will help here. Currently on pause waiting for 9th ed and the new terrain rules.
Overall I'm on track. I do need to do those bits though; that's one goal I'm way behind on, and had fallen off the radar. The rest I think I should be OK on. Except the lost causes, like getting in more games during a pandemic, and painting more then I buy when the new boxset Is packed with more then a year's worth of work (half of which is an army I don't play)
Short term:
Start some bits, keep a few going as side projects. Will be interesting to see if 9th is going to need any new ones built due to points/rules changes
Get those sisters moving. Once the new box drops, that's going to hoover up a lot of my mindspace. Going to be hard to focus on other projects.
I aim to get the new box built before winter hits. I should try to clear anything major off my to-build list before it drops.
Try to up the volume. While I might not make my paint more than I buy goal this year, I'd like to fail in sight of the finish line. Batch painting some units should help here. Pushing Nids across the bench will help the numbers. The ~18 I'm starting with will paint fast and give me a head start, after that, the goal is to keep them Pile of Shame neutral, where I paint them as they come in.