Hi - just got back from Combat Fatigue - a one-day Combat Patrol tournament run by the Overlords in Dagenham, Essex. It's called Combat Fatigue because it's a seven-game tourney in one day - 500pt armies with modified Combat Patrol rules. I rebased and rearmed my old Imperial Guard Militia army for the event, bringing it in line with the 5ed Guard codex, and fielded a blob infantry list.
I've started a P&M blog for army, as I update it - it can be found here -
http://www.dakkadakka.com/dakkaforum/posts/list/0/327974.page#2118896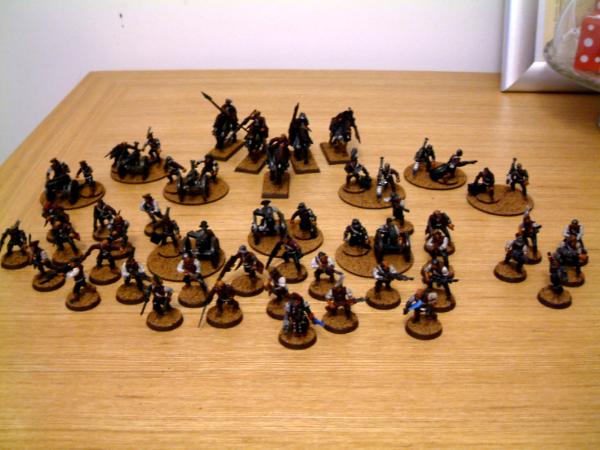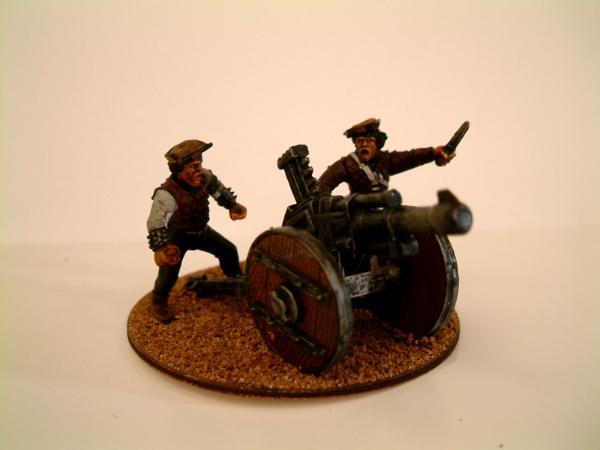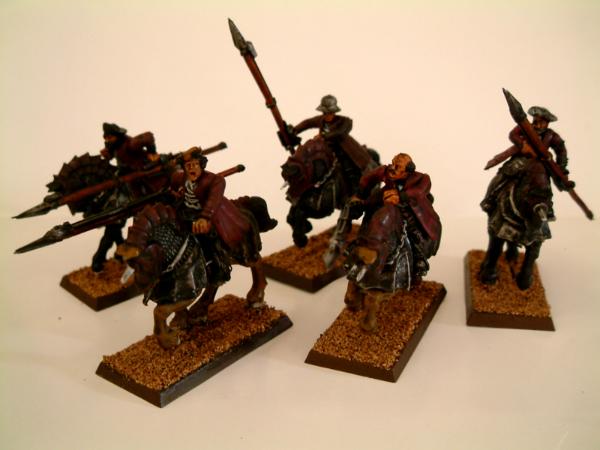 * Platoon Command Squad (Meltagun, Grenade Launcher)
* Infantry Squad (Heavy Bolter)
* Infantry Squad (Heavy Bolter)
* Infantry Squad (Heavy Bolter, Sgt with Power Sword) including a Commissar (Power Sword)
* Heavy Weapon Squad (3 Missile Launchers)
* Heavy Weapon Squad (3 Autocannon)
* 5 x Rough Riders (Hunting Lances)
It was a great day of playing, and a great event - it was the first such event run by Dagenham and they organised it really well - we didn't overrun, the terrain was absolutely incredible, and there were a good variety of really different tables. They also secured prize support from the guys at KR Multicase - who provided lots of dice trays, carry cases and model trays for the event. Really good tourney. Everyone I played was really nice, with the result that there were quite a few people with full Sportsmanship marks, and a lot of the armies were interesting conversions (such as the Adeptus Custodes force, coming up). Some people even managed to get their new
DE
models up and painted in time, though I didn't face any of them!
Of course, every event has it's weird points, and a few strange things turned up, particularly a cunning combo of missions and rules which gave some players quite a big advantage.
* A couple of people had 3 wound models - this wasn't a problem really, but it would have been nice to know which 3-wound choices were 'legal'.
* The
FOC
chart was suspended, though it wasn't explicitly stated in the rules pack, so a lot of people didn't realise.
* The
KP
mission gave you
KP
for every unit YOU had left on the board, as well as every unit you destroyed.
* Every unit was scoring.
* This meant that some people took quite cheesy armies - like 12 Fiends, all as separate units, and a token Nurgling Troop choice, or 11 Killa Kans, all as separate units. They gained an automatic bonus in the
KP
games from having LOADS of units, a bonus in the other games as everything was scoring, and most armies (which only had 4/5 units) couldn't target enough in a given turn to make a dent.
* If you won a round, you picked another winner, and played him for your next round. This meant that although winners played winners and losers played losers, you could choose who you got to play each round! I admittedly used this to my advantage in the later stages by avoiding the Fiends list and the Kans list!
Anyway, even despite the weirdnesses it was a fantastic event, and went really well for their first go. They are planning to hold more events in the new year, and I'll definitely be there.
-------------------------------------------------------------
GAME 1 - BRIAN'S ORKS
* Stormboyz
* Nobz
* Boys inna Trukk
* Hot Zones (control two random table quarters, all units scoring)
Brian was my first opponent on a great slab-like city terrain board. I won some good setup rolls and set up my army in one of the Hot Zones, on a terrain piece. He flew his Stormboyz towards me, and ran everything else into the adjacent Hot Zone, in complete
LOS
-blocking cover. After my entire gunline wiped out the Stormboyz, he opted to hide in his Hot Zone for most of the rest of the game, forcing a draw. However, a lot of my squads were able to straddle his Hot Zone too, meaning a win for me, so eventually his Boyz clambered over the largest building to attack me. Bad terrain tests meant he was shot to bits on the advance, and I won the game.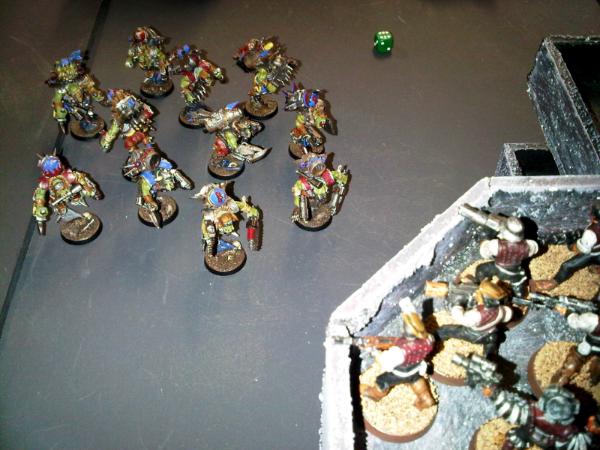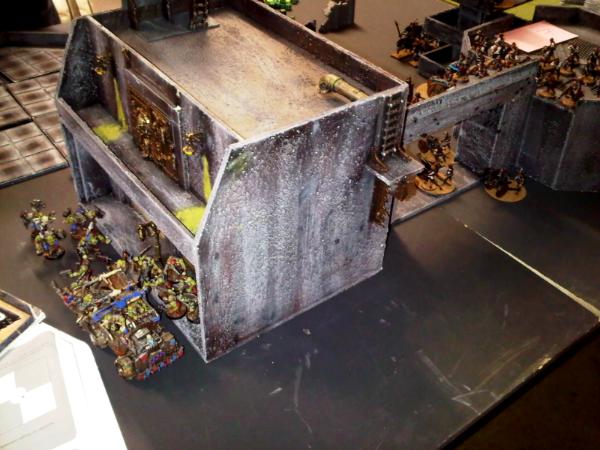 -------------------------------------------------------------
GAME 2 - CHRIS'S SPACE WOLVES
* Lone Wolf with 2 Wolf buddies
* 5 Grey Hunters, 1 Wulfen, in a Razorback
* 5 Grey Hunters, 1 Wulfen, in a Razorback
* 5 Wolf Scouts, 1 Wulfen
* Hot Zones (control two random table quarters, all units scoring)
Yet again, I set up in the two hot zones and awaited the Space Wolf charge, but lucky shooting in the first turn managed to slow down his Razorbacks, meaning that I could pick off the Lone Wolf and one of the Grey Hunter squads over the next few turns. However, bad run rolls by me meant that the other Grey Hunter squad got the charge on my Rough Riders. There was nothing to do but charge them with the blob, but miraculously one lone Wulfen held on for another turn. Unfortunately, we ran out of time just before my fourth turn, and so the game ended as a draw. If only I had a couple more minutes!!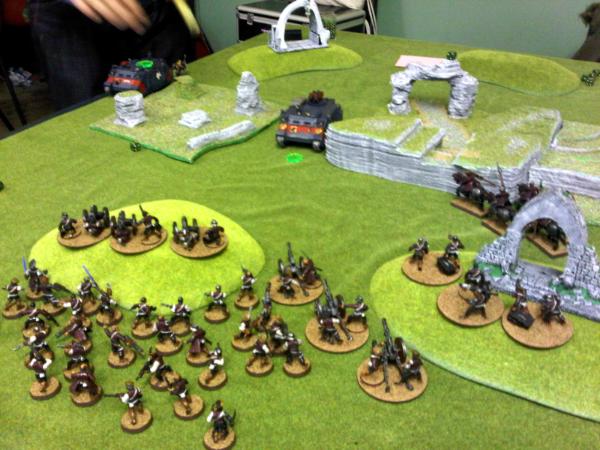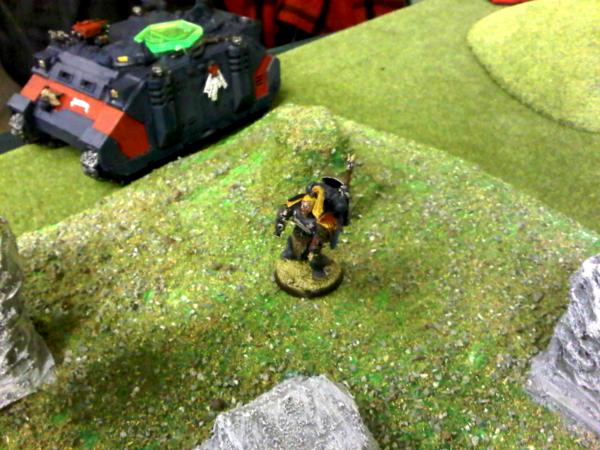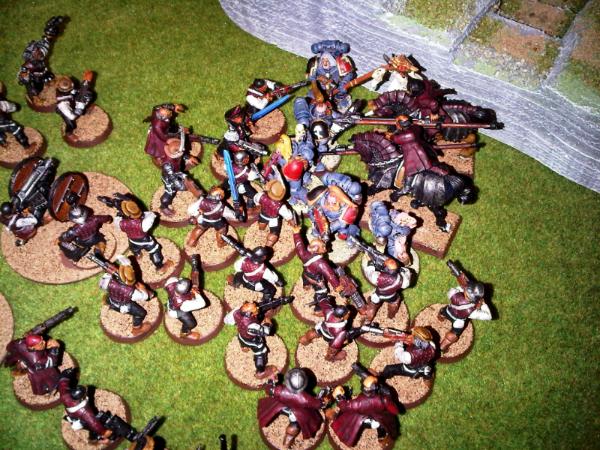 -------------------------------------------------------------
GAME 3 - YIAWCHUAH'S SPACE WOLVES
* 3 Thunderwolves
* 5 Grey Hunters
* Rune Priest
* 3 Long Fangs with Missile Launchers
* Kick Ass (Kill Points, but you get
KPs
for your remaining units as well!)
This was a Dawn of War game on some very area/busy terrain. It was also a tragic loss from the first move, when Yiau managed to blow up all my missile launchers with a very good Night Fighting roll. From then on I didn't have the range or ability to beat any of his units - he kept the Long Fangs and Runepriest at the back, picking off squads, while his Thunderwolves rolled from assault to assault. I held out a little hope of my blob tarpitting him until the end of the game, but he just killed them all! I was tabled, but at least by a very nice opponent!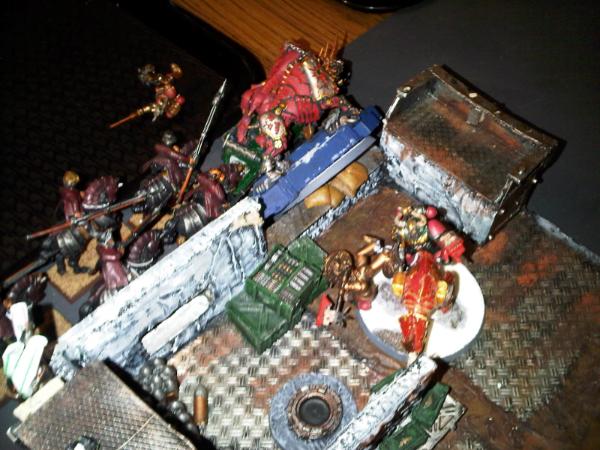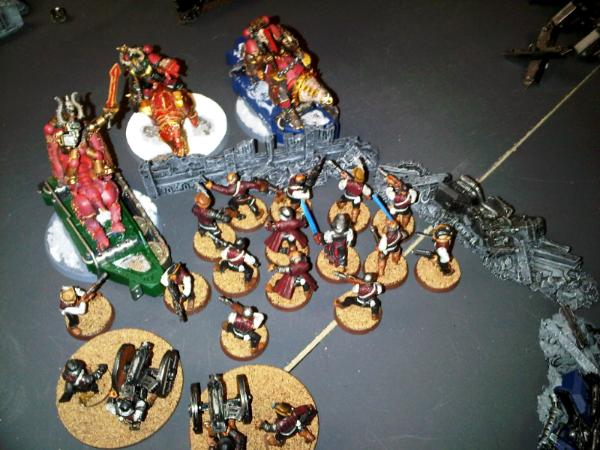 -------------------------------------------------------------
GAME 4 - STEVE'S PINK MARINES
* 5 Tactical Marines
* 10 Sternguard with 2 Missile Launchers
* 5 Devastators with 2 Missile Launchers
* Control (3 Objectives)
My fourth game was against Steve on the weird lava board. I set up in a position to control 2 objectives, and he threw me by setting up on the other side of the table from my gunline (and the objectives). He then stole the initiative and took out my Rough Riders and Missile Launchers in the first round of shooting. The rest of the game was one of careful maneuver as he came round the side of the giant central piece. However, as his squads came around one by one i was able to concentrate fire and won the game. Two more models dead and i would have got a table!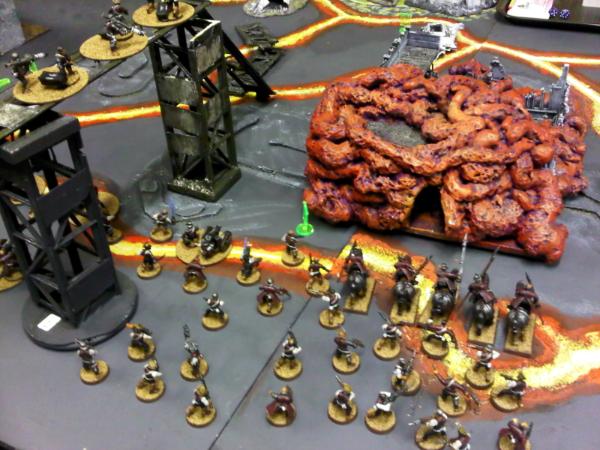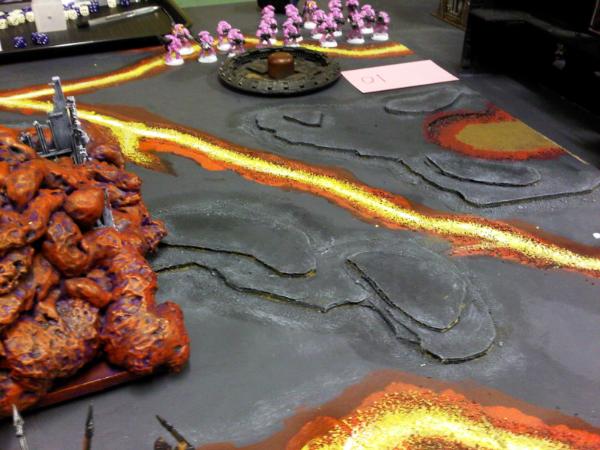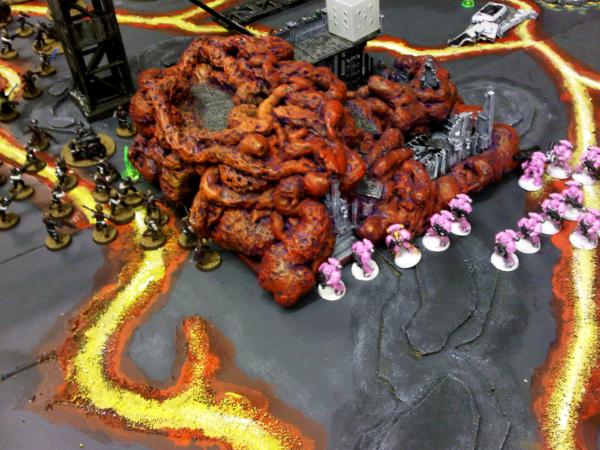 -------------------------------------------------------------
GAME 5 - DANIEL'S MECH GUARD
*
PCS
with 3 flamers in a Chimera
* Infantry Squad with Missile Launcher and Grenade Launcher in a Chimera
* Infantry Squad with Missile Launcher and Grenade Launcher in a Chimera
* 2 Hydras
* Hot Zones (control two random table quarters, all units scoring)
This time, Daniel set up in the two Hot Zones on the same area-terrain heavy board that got me last time. Yet again, I was outclassed from the start - I didn't really bring enough anti-tank to cope with his vehicles, and so adopted the only sensible strategy - CHARGE! Suffice to say, it didn't work, and I was probably saved a tabling by the end-of-round buzzer. I lose!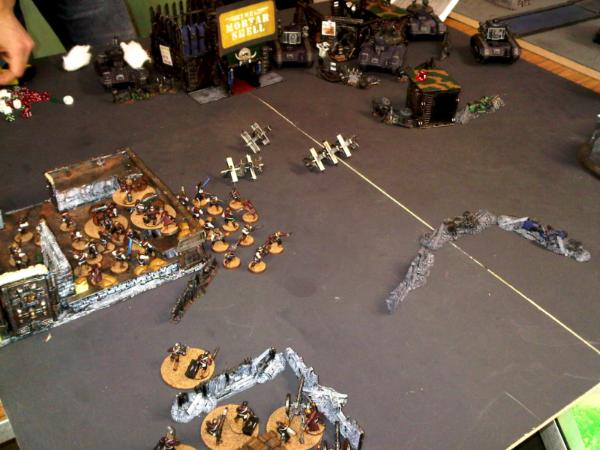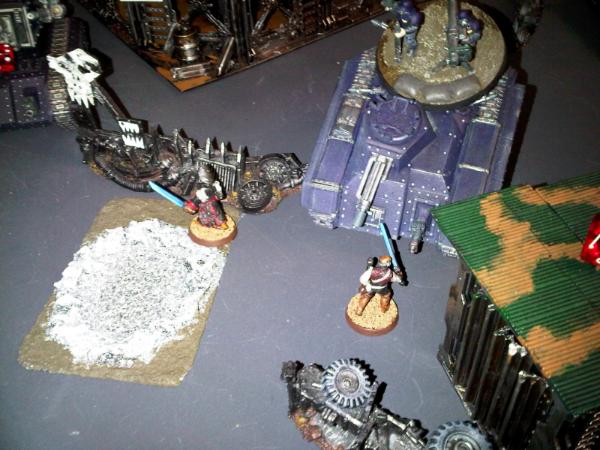 -------------------------------------------------------------
GAME 6 - STEVE'S ADEPTUS CUSTODES
*
PAGK
squad with Incinerator and Psycannon
* Teleport Attack squad with Incinerator
* Kick Ass (Kill Points, but you get
KPs
for your remaining units as well!)
I was eager to play against Steve (the
TO
) and his absolutely beautiful Adeptus Custodes (Grey Knight) army. Being Grey Knights, he could only afford two units, and we were playing Kill Points, so I already had an advantage. I basically set up the whole army as one blob, and waited for the Teleport Attack squad to arrive. When they landed, I wiped out almost everything with Giant Blob Shooting, and the surviving Justicar's charge was abruptly ended in the next turn. The Shrouding rule meant that my heavy weapons were pretty ineffective, but eventually, once his
PAGK
squad has been lured down from their vantage point, they could be taken out by a Rough Rider charge.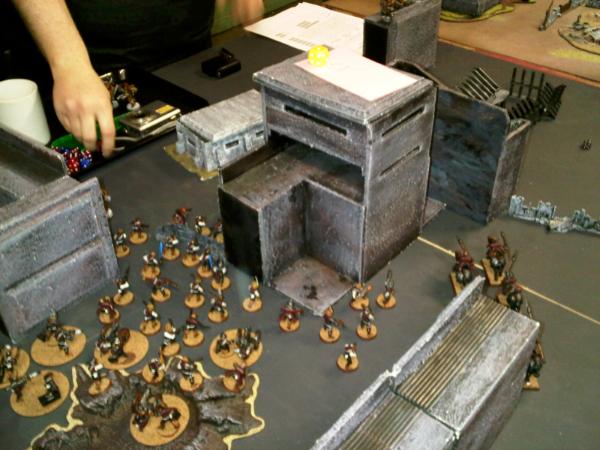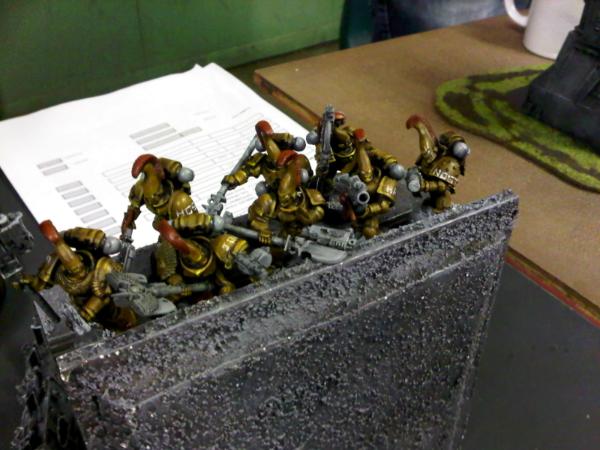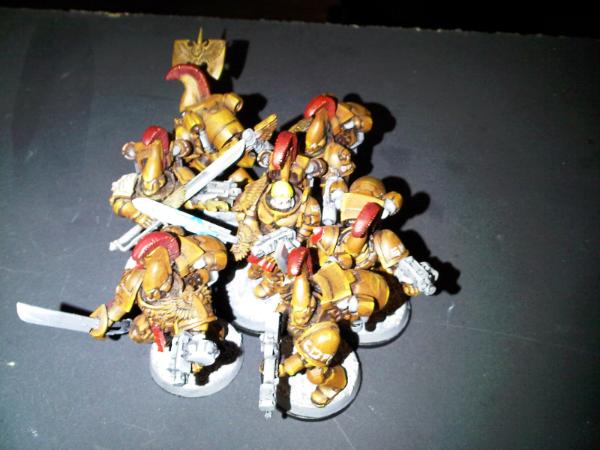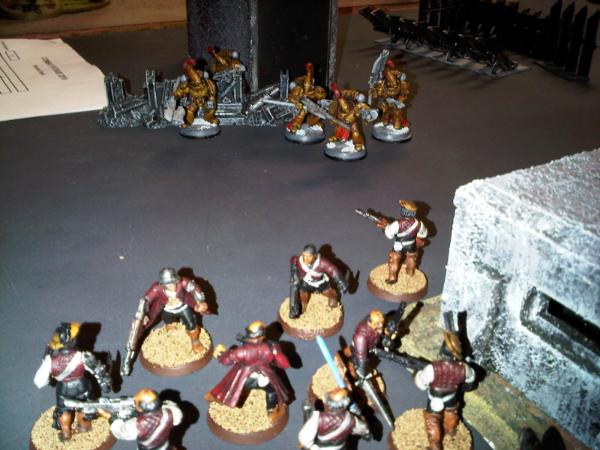 -------------------------------------------------------------
GAME 6 - ANDREW'S ORKS
* Boss
* 15 Boyz
* 6 Nobz in a Trukk
* Killa Kan with a Rokkit Launcha
* Kick Ass (Kill Points, but you get
KPs
for your remaining units as well!)
My last game was against Daniel, who had a traditional charging ork line. We played on relatively open terrain, and for once I managed to actually stand at the back and act like a proper gunline for once. He was unlucky with some reserve rolls, and by now I had learned the art of blob-meatshielding for all my other units, so I basically just sat back and shot the closest things each turn. In the end, his Waaagh fell short and the last squad was taken out by massed infantry charging. I won, and tabled him - the only time I did so all day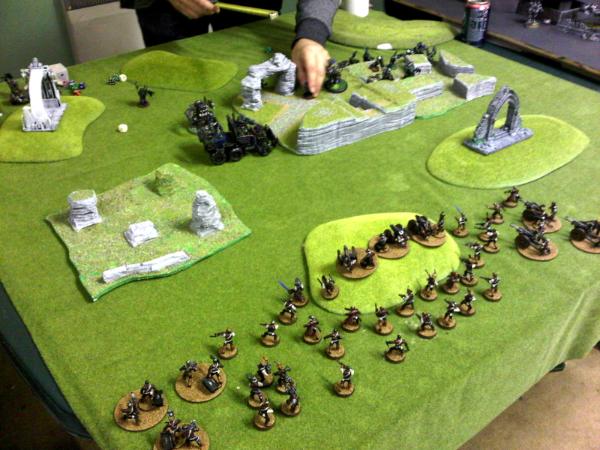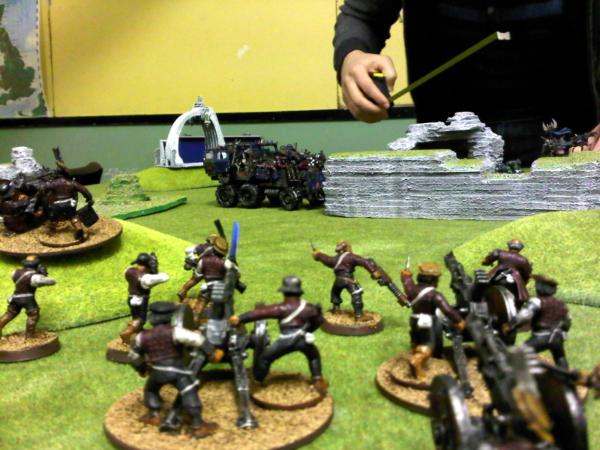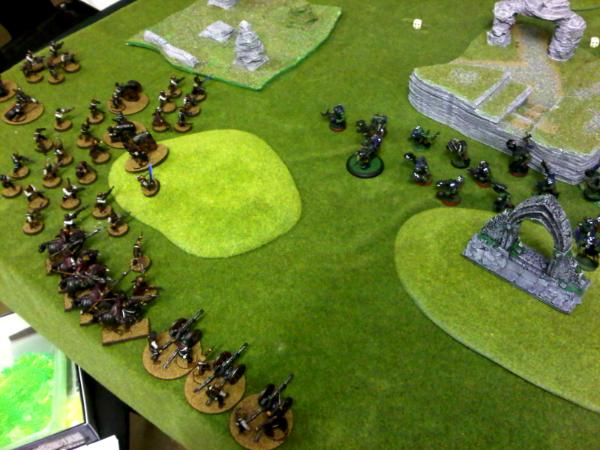 -------------------------------------------------------------
In conclusion all good - I scored 4 wins (one table), 2 losses and 1 draw, placing me ninth overall from around 25 competitors. The cheese lists did well, but the overall winner was Yiawchuah (again!) with his relatively normal Space Wolves list.
A great day. I'll certainly be going back to the club more...