OK, here is the current draft scenario write up:
Assault on Dawnwater's Edge
Overview: As the Imperium descends upon the Rinn'va of Taros, their advance elements race to capture the Tau Fortress of Dawnwater's edge. The fleet must navigate the tau defenses, balancing need to get onto the station as soon as possible to prevent the Tau from evacuating/sabatoging/scuttling the station with the risk to ground forces and the need to complete objectives in space. In game terms they must get to the station and contest sectors to prevent the Tau from wracking up too great a lead in Victory Points, but also avoid being destroyed piecemeal. The mighty Minotaur Strike Cruiser is a key resource with its speed, durability, payload of deadly space marines, and ground bombardment ability. Its loss would be devastating to the Imperial cause however. The Tau must try to reach the Imperial Transport with their outclassed force of light ships - however they have an ace in the hole - a bushwacking Hakkit class cruiser commanded by Hakkit Korfu, a legend among the Kif. Sadly, Korfu, while willing to fight for pay, is not willing to risk himself, though it would be well worth it for the Imperium to hunt him down to keep him from getting up to his tricks later in the campaign. On board the station the Tau must choose between aggressively hunting down early Imperial arrivals to keep them from contesting and denying them
VPs
, or conserving their forces.
The battle for the Dawnwaters edge would involve 10s of thousands of points of Warhammer
40K
ground troops, however we are showing only the critical fight for the Scuttling Mechanism. The Imperium did not initially realize the importance of this part of the station, and thus only assigned a small force from each ship to the task. Late in the battle both sides pour whatever troops they can into the critical area.
Forces
Imperial
750 points of Minotaurs Space Marines
750 points of Mechanicus
750 points of Rogue Traders (Based Primarily on Codex Witch Hunters). Breaching Team is added to the imperial reserves if it is destroyed earlier in the game.
750 points of Imperial Guard
Tau:
Station Defenders -
1000 points, Codex Tau Empire, no vehicles, no Kroot, may take Kiff and Gauthi auxiliaries, unit of Gauthi may be added to the relief force if it is destroyed earlier in the game.
Station Relief Force (starts entering Turn 7)
750 points of Auxiliaries who have been brought up the Beanstalk.
Fleets - Preset in advance. Spoilered for Length
Game Length: 12 Turns.
Each "turn" consists of one Battle Fleet Gothic turn, and one Warhammer
40K
turn. It is likely that the early battle will have little
40K
action, and the later battle little
BFG
action.
Deployment
Tau Station defenders must be deployed anywhere on the station table.
Imperial attack force begins on ships deployed within 30
cm
of their table edge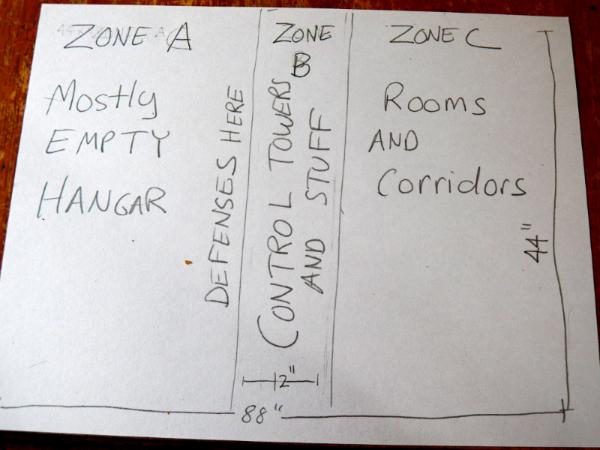 Tau defenses are placed according to the map, but their ships deploy AFTER the imperium (they can see them burning for the planet a ways off), within 75
cm
of their table edge.
The Hakkit enters from a long table edge Turn 2.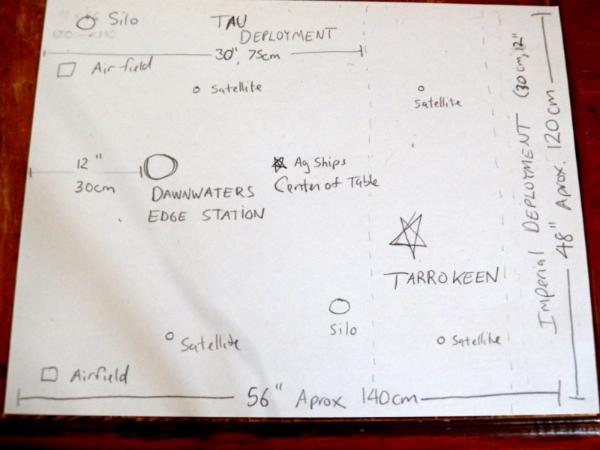 Reserves
Reserves become available Turn 7. Tau reserves consist of the Auxiliary force - Imperial Reserves consist of all units on ships destroyed in space. Reserves arrive on a 4+ regardless of turn, and each side may roll for up to 3 units of their choice per turn max. Reserves arrive by deepstrike - they are assumed to be riding elevators from lower levels (Tau) or cutting their way in (Imperial).
Imperial Reserves will have been damaged when their ship went down. Roll a die for each model in the unit - on a 1-2 that model is destroyed. They may be actual survivors of wrecks or other troops arriving from other parts of the station.
There are no
BFG
reserves.
Victory Conditions
Control of each of the three zones of the Station - 1
VP
per turn. Control is defined as having an infantry unit in that zone and the enemy having no units of any kind in that zone. Units falling back do not count.
Tau:
Large Agricultural Ship moves off the table: 3
VP
Small Agricultural Ship moves off the table: 2
VP
Each Imperial Capital Ship destroyed: 3
VP
Imperial
Large Agricultural Ship Captured: 5
VP
Small Agricultural Ship Captured: 3
VP
Bombarding Tarokeen: Variable, max 10.
Each Tau/Kiff Capital Ship Destroyed: 3
VP
Control of each Zone at the end of the game is worth 3
VP
.
Special Rules
Gravity Slingshot
Ships that move off a long table edge are out of play. Ships that move off a short edge may "Slingshot" around the planet. They are removed from the table. Each turn, they may test to use "All ahead full". If they succeed they are placed on the opposite table edge. They are not yet in "in play" but will move from that spot on their NEXT turn - this represents them approaching on scanners.
Heavy Escort
Given the large role Escorts play in this battle, certain larger craft have the "Heavy Escort" rule. Heavy Escorts have +1 hit (thus 2) and may survive one critical hit, though a second will destroy them. They are considered Crippled when they have taken one point of damage. This upgrade is valued at 15 points.
Bombarding Tarrokeen. To score a victory point for Bombing Tarrokeen, the Imperium must have capital ships within 10
cm
the city that do not fire on any other target, or use any special order other than "burn Retros" The strike cruiser scores 2
VP
a turn this way, Semper Vultis scores 1, any other two capital ships score 1 together. The Imperium can also choose to fire torpedos or launch bombers at Tarokeen. If ordinance passes over Tarokeen it may attack. Remove the ordinance, score 1
VP
per 4 torps or 2 bombers.
Boarding the Station
No more than two imperial ships may board the station each turn. Boarding the station requires either:
Being within 10
cm
of the station and executing a "Burn Retros" order successfully. The ship is placed in contact with the station retaining its facing. This is the fast and exciting method. If the check fails, the ship moves on by.
Moving at exactly 1/2 speed for one turn, then move into contact with the station with a move of 1/2 speed or less. The safer way of doing things.
Warhammer
40K
units embarked on the ships move onto the station in the next Warhammer
40K
turn from one of the long table edges. Flyers may only move onto the "hanger" end.
Tau units may not move on the station board until Imperial Units arrive on the station Table.
Doorway Overwatch
A unit on the station board may "set Doorway Overwatch" by nominating a "doorway" (opening 6" wide or less" within line of sight if they do not move or fire in their turn. The unit may fire at any unit that becomes visible through that opening, interrupting the normal turn sequence.
Nowhere to run.
Units on the station table may not move off of it and fall back away from the nearest enemy unit. They also may regroup at less than half strength, but at -2
LD
. They may, however, use the unmodified leadership of any independent character within 12".
Automatically Appended Next Post:
Oops, forgot infiltrate and deepstrike. Tau may not deep strike. Imperials may, if thematically appropriate. That mostly means terminators, can't think of anyone else. Tau may not infiltrate. Imperial infiltrators get an extra
D6
inches of movement on their first turn if they enter in Zone C, because they manage to sneak in a little further before the Tau catch them.