Thank you all.
Had a funny kinda couple of days, hope to snap out of it.
@ Red, yup, it is a thin nylon grid pattern. Quite strong, the glue on it is not that great, and now you have said it going to have a go at using it on some acetate, for windows.
Being quite far up, but not all the way, we have a fun time with the daylight. In the peak of summer it is sometimes only really dark for about 3-4 hours, and in the dead of winter we can be down to 7-8 hours of daylight, it is typically British, not extreme, but different, I come from the south, and it is a marked difference up here. The other thing is (again a British thing) the local population is tiny really, Britain is what 60 million now, Scotland is only about 6 million of that and 5 million of that live in the "Central Belt" of Edinburgh and Glasgow, you get up here and there is nobody about. Thus in my previous job doing 450 miles a day travelling between 4 or 5 police stations. Or my current job delivering groceries "locally" and my average run is 150 miles, sometimes do two runs a day. The point there is no light pollution, you get outside of town and it is black at night, real dark, not that moonlight night or any of that, just bloody black. See lots of stars though. If we ever get a clear night.
OK modelling.
Thought about making an Article for this, and started getting a head ache reading the tutorial for making an article, so it will live here for now. Maybe I will dedicate a day to Indexing my
OP
for this blog.
Molding and casting.
I have talked about it before, and many others are much better than me at it, but in typical Cam ham fisted fashion, I have a "method" that suits me.
Materials.
I use various types:
For molds I use Plastacine, Bluestuff, Silicone and a silly reusable seaweed thing, even hotglue. It depends on what I am casting.
Plastacine is a quick and dirty mold material. I will cover it below, but it is great for a quick one off item.
Bluestuff, or Instant mold sticks, dozens of videos and tutorials out there, can get it from Greenstuffworld, Simply put it into some hot water, and once it softens up, press it onto the item you want to mold, let it cool and you have a semi-rigid mold.
Composi Mold, Seaweed algea thingy....here is a link...
http://composimoldstore.com/all-products/composimold-original/
bought it a while ago, you heat it in the microwave for a few seconds and it is pourable, sets just like silicone, can be reused over and over, great for detail, but has it's limits. Biggest is that it is hot when you pour, which means you have to be careful what your original and mold box are made of.
Silicone, the best and by far the favourite. See below, but basically, it is the proper way to do this.
For casting I use Milliput/
GS
, Dental Plaster, resin, or Sculpy.
Epoxy putty, (Milliput/
GS
) mix it force it into your mold wait for it to cure, easy. But slow, and expensive. Also requires quite a firm mold, so really only any good with the Bluestuff.
Oven Drying Clay, (Sculpy or Fimo) can be used, but can be difficult, and you have to fire it to malke it hard.
Dental Plaster, just brilliant stuff, fast cheap and cheerful. Also dirty (get dust every where) and brittle., it is quite durable and there are tricks to be added, but generally if you drop it it is lost forever. Link...
https://www.ebay.co.

uk

/itm/Crystacal-R-Hard-White-High-Strength-Casting-Plaster-1kg/320974018802?epid=1465596656&hash=item4abb8ad8f2:g:XTUAAOSwgyxWXXuA
You can get different casting plasters, but I use this stuff as it is extra hard, and fast setting.
Resin, simply the best. Hard wearing, fast setting, durable, takes paint, glues easy.
For resin and silicone I have tried many different ones and I have no doubt that many can suggest better products but I get mine from
https://www.dwrplastics.com/home
I get this resin....
http://www.ebay.co.

uk

/itm/Low-Odour-Fast-Cast-Polyurethane-Liquid-Plastic-Casting-Resin-2kg-1-852-Litres/272684915961?ssPageName=STRK%3AMEBIDX%3AIT&_trksid=p2060353.m1438.l2649
Biggest advantages no smell, very fast setting time. I find it is pretty good at picking up detail, most of the time.
And I get this silicone....
http://www.ebay.co.

uk

/itm/High-Quality-RTV-Silicone-Moulding-Rubber-2-06kg-kit-Shore-A28-Fast-Curing/272583709635?ssPageName=STRK%3AMEBIDX%3AIT&_trksid=p2060353.m1438.l2649
Again, fast setting time and no odour, excellent at details and long lasting molds.
Extras:
Scales, you cannot eyeball it all, most of it I do, but the silicone you definitely need scales for.
Mold release. I use cooking oil or Vaseline or Baby Talc. oil is good, but can obscure detail, vaseline is good, you need to brush it on. Talc is the best, it really helps the flow of plaster or resin in a mold.
Mixing equipement, either disposable (i.e. cups and wooden stirrers) or dedicated spatulas and bowls.
And now the biggest and most important part.....the original parts. Please do not use this to knock out a hundred Space marines, it is not cost effective, it is illegal, and it is simply stupid. Casting is not difficult and can be very effective. I use it for mass production of parts I need for me. Occasionally I will give away some of my casts, but I do not sell them. If you want any, just contact me and I will happily help you out, I have made molds before and sent them to friends (who then don't actually use them, but that is beside the point) I do make things with various parts and bits from all over, including things like a press mold of the aquila off a helmet or gun, adding detail to a model, but I feel it is pushing it to mold whole models. We need to support
GW
and all those other wonderful manufacturers out there, this is a wonderful hobby and I honestly do not believe it to be expensive. If I was a drinker, or smoked it would cost me more, my kids definitely spend more on the XBox and PS4 than I do, and I have more than I can ever make, and am fairly prolific. So yeah, OK, put an aquila on the side of your scratch built gun, add a vent to a tank hull, that is no worries in my book. Sculpt an original, and then make a hundred, and give them to your mates, or even sell them on the internet. I know that OMN used to do parts, not sure if he still does, and DrH, has a small side line of wonderful items for sale, I have bought many. I would not dream of casting their products, that would be truly despicable.
Gees long yak so far, OK
Plastacine molding....
Get an original part....in this case I carved a quick wheel from epvc board. Get a lump of plastacine, soften it by heating it in your hands. Press the original into the plastacine.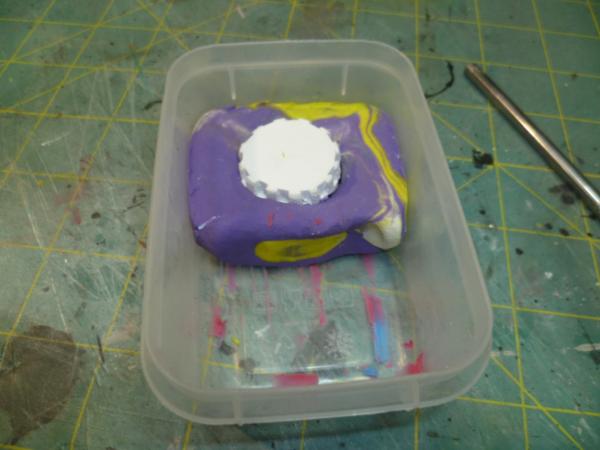 Carefully remove the original.
Pour in your chosen casting material, in this case Plaster.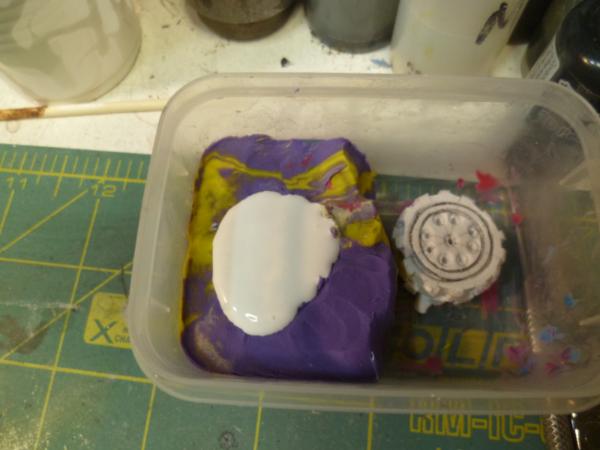 Carefully remove the cast once set.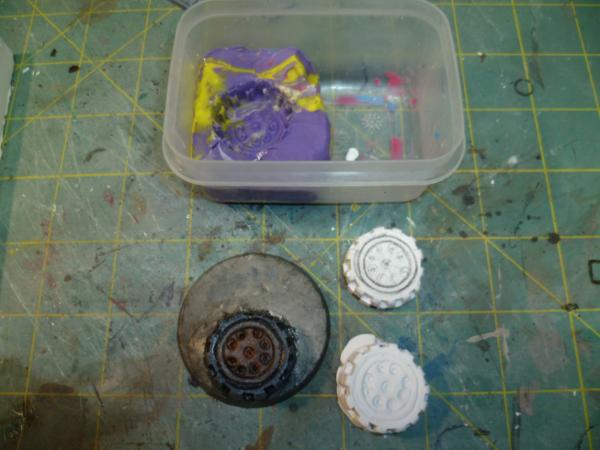 Now a few points. you will most likely destort the orignal mold a little with each cast, and it takes a bit of care to remove the items without damaging the mold, but you can always just remold the original each time if it bothers you.
In this case I have a wheel for use as basing, if I wanted to make wheels for vehicle, I would probably cast them in resin, and if I needed more than 4 I would make a silicone mold.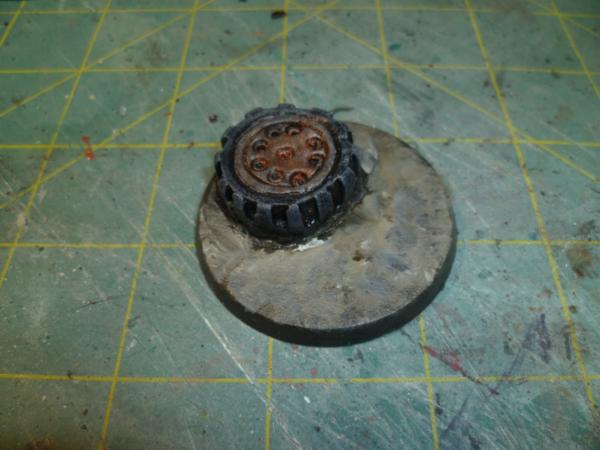 I am not going to cover all the methods here today, but will cover any you wish if requested, however I will now go through the Cam "datul do!" method, for silicone molds and casting.
Take your original and place it on some card..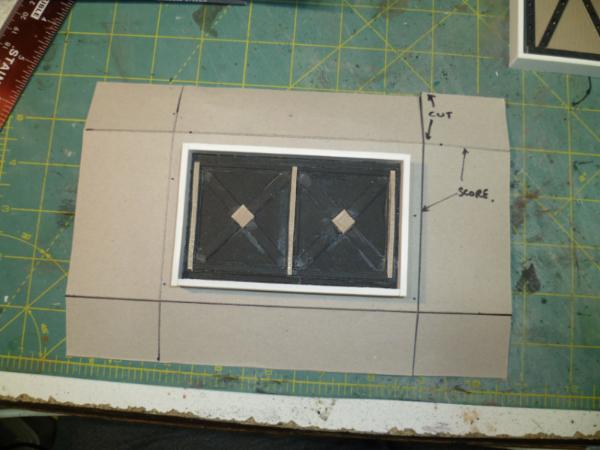 You will note I have drawn around the part giving a gap of about 5-10mm all the way around, and I make sure that the flaps will give me a deep enough pool. Then cut and score the cardboard...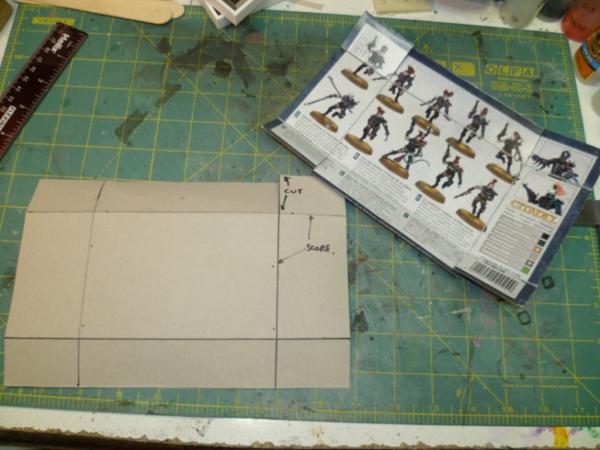 I use the "shiny" side of the card on the inside of the mold, that way the silicone has less to cling to. Next you hot glue the original in place and hot glue up all the corners, make sure to seal the whole corner..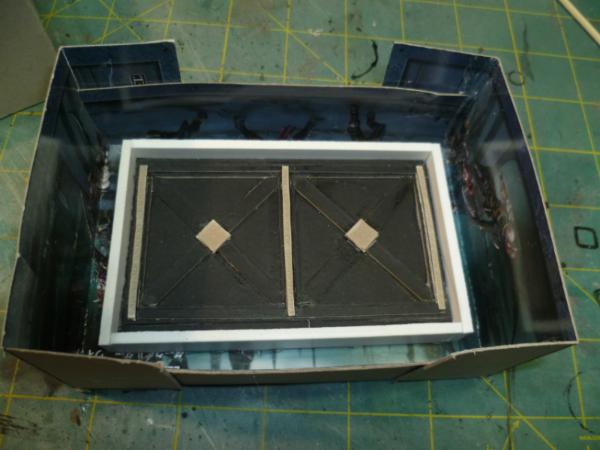 Before you make your silicone, I cover the interior of the mold in vaseline, you could use oil, but not talc. This will help the silicone to release the original.
Mix your silicone following the instructions and pour it over the part make sure to cover the part with at least a few
mm
of silicone, now tap the mold, to knock out some of the bubbles. This is something I do not tend to suffer with, but there are some that are bothered.
Once it is cured, in the case of my choice of silicone, about 2-4hours, separate the original and after applying some talc to the interior of the mold, pour in your material, in this case Plaster.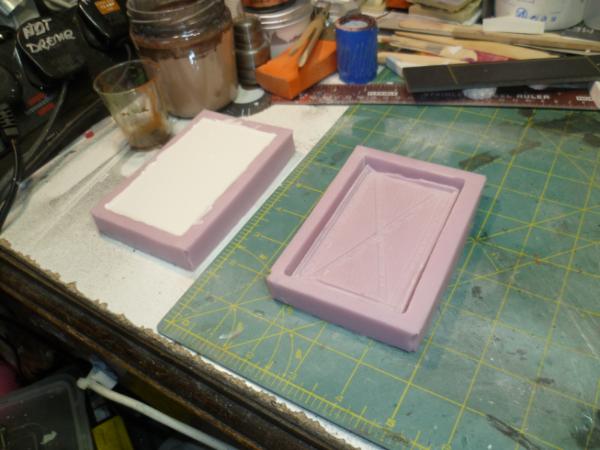 Once that has cured remove your nice new part...
Last bit on casting is, always have something on hand to cast extra, you will always mess up the quantity required. If you are short, just quickly mix up some more and add it. If you have too much, have something on hand to cast spare...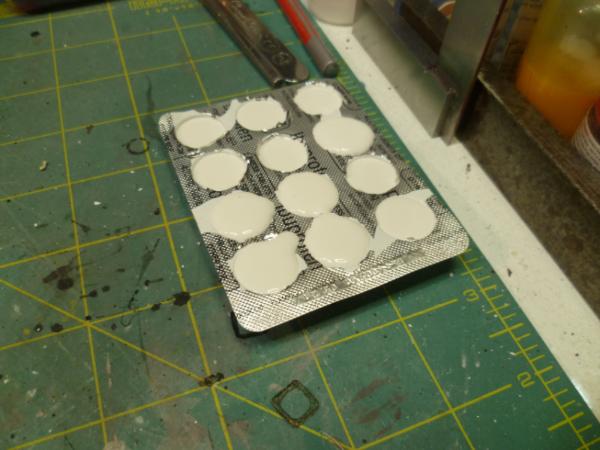 Bulkhead lights!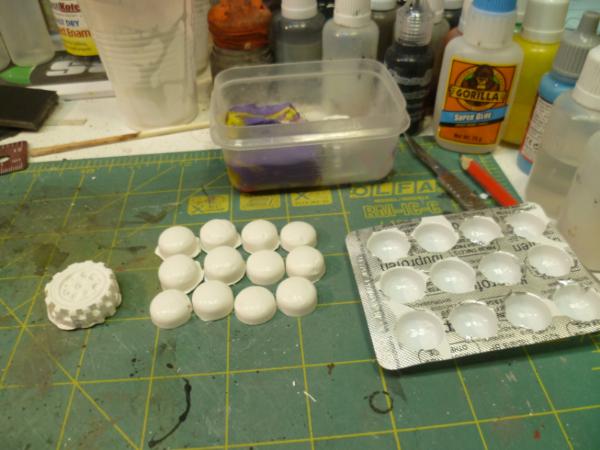 Now with the dental plaster and most of the plasters I think, they do not fully cure for about 24 hours, so if you try and glue them or anything they tends to be a bit funny until tomorrow. However, I often will start painting my plaster casts nearly straight away..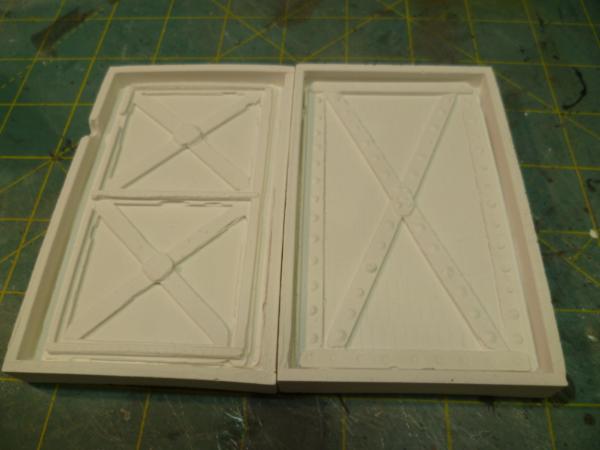 No Primer...
Burnt Sienna...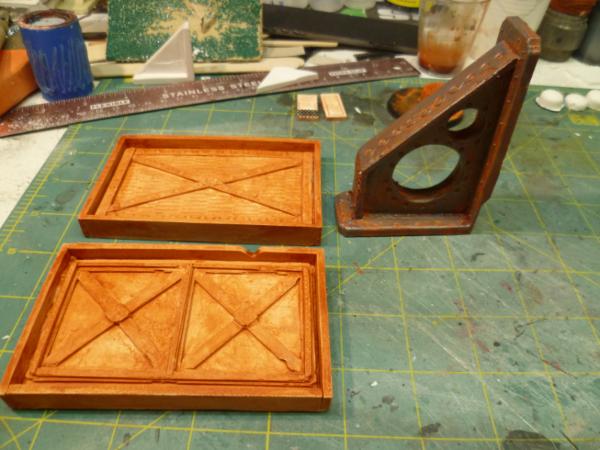 Drybrush of metallic, and added some mucky paint. ( Note, the paint was mostly removed with a cotton bud and some water deliberately to look messy.)
Stipple on some Ryza Rust...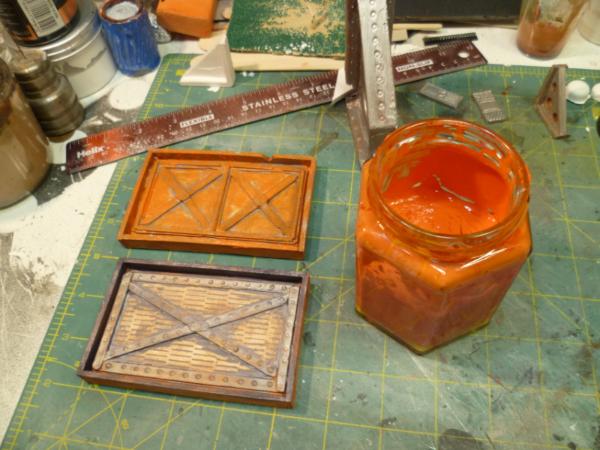 Then sponge on some "paint", to look worn...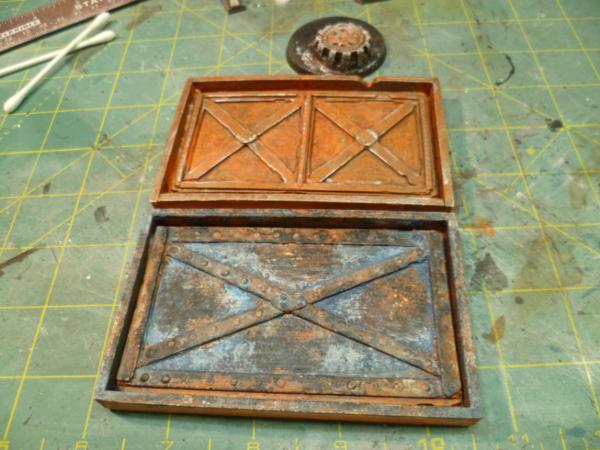 Angrax
ES
..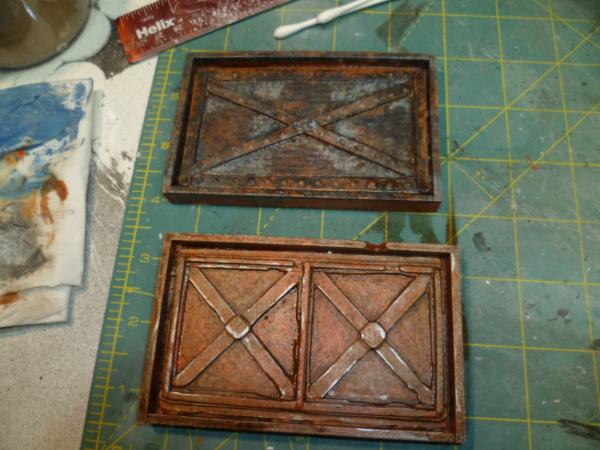 Not tooo bad.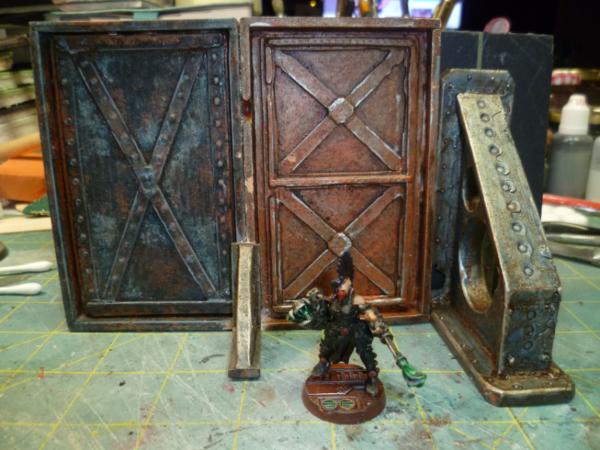 OK that is covering the easy one part drop mold type, it is really not very difficult to make 2 part molds for more complex parts, but this method is easy, and also, if worst comes, you can always make two half casts, and stick them together afterwards.
Really hope that helps some of you, and really hope you will have a go. It really opens up many opportunities. Any questions please ask, and of course you can always make comment or critique, and add to the descussion. I do recommend looking at other peoples efforts, I am lazy and rough and in the end I am happy with what I make, I do not mind cleaning it up a bit, or a bit of damage here and there, all adds character, but there are many who can call themselves pro's (OMN, DrH etc.) who I hope will add to this, and you should check them out.
Wow that was a biggy, thanks for looking, hope I did not scare you off.