Inspired by Gitsplittas project blogs and ArbitorIan's army blogs, I am finally starting my own Blog. I'm a hellishly slow painter, but I've got enough to show you to make it worth starting a blog, and hopefully I will start to make reasonable progress from here on...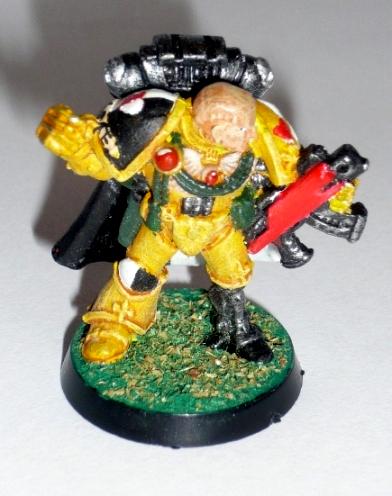 The figure on the left is one I painted in 1993 or before, when I was about 15 years old. The model on the right is one I purchased on the very day that Warhammer
40k
2nd Ed was released. He was stripped of his Ultramarine colours and started in Dec 2008, when I returned to the gaming hobby after 14-odd years away. My marines got put aside in favour of Eldar for a long time, but with the new Badab War books, he is almost finished now.
Project & Personal Intro
I'm quite busy with my work (Head of Year at a difficult Inner City London Comprehensive), plus I play American Football nine months of the year. I also play online Blood Bowl and like to spend my Friday nights in a drunken stupor as often as possible, so I don't get as much painted as a would like to. However, I am lucky that I find painting quite relaxing, so it is something I can do as a way to wind down with TV or a movie in the background.
I started in the hobby with Blood Bowl in 1988. By the time I got into W40k, The Badab War had entered into the pages of
WD
, and I read about it in some back issues I picked up. It has always been my favourite bit of W40K fluff. I liked the idea of a purely political bit of infighting, and think that
in some ways
it is a shame The Red Corsairs were developed. When I got back into the hobby, I started painting up a few Lamenters, along with a few Mentor Legion guys. In 1994 I pretty much stopped playing
GW
games, and by 1996 I was out of
RPGs
and M:
TG
too.
I drifted back into
RPGs
by playing Neverwinter Nights whilst living in Japan, which in turn led to playing
WAR
a bit more recently. That led not into WFB, but into W40K, and I dug stuff out of my parents loft and started buying again in late 2008. I started off with Orks, flirted with Marines, then went back into a huge Eldar fixation with occasional forays into painting marines.
Since the Badab War books from Alan Bligh came out, I've been back on a huge Lugft Huron trip. I have about seven to eight thousand points of marines, I expect. I originally planned that they would all be Lamenters, but since the books came out I realised I also wanted a Tyrant's Legion force, which could double as an Astral Claws army. Then I thought "Why not have some Executioners too?" and I've recently decided to do a small (1000 points-ish) army using Azhara Redth and Gitsplittas scheme. It'll probably be just
Tac
squads, a counts-as-Kantor and some Sternguard. That will give me elements of all five parts of the Secessionist forces in the Badab War.
Anyway, allow me to show you some of the models I have produced so far, and then I will give a breakdown of my project list. I like the way ArbitorIan does his army blogs, so I will include that here too.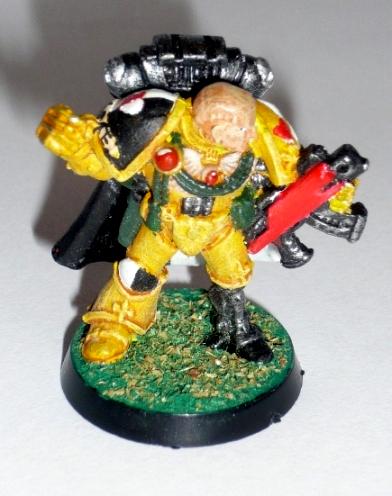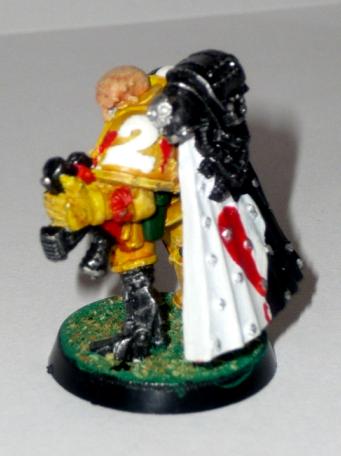 Captain Pearce is my first ever Lamenter. I painted him when 15, so I think he is decent, for that. I'll not repaint him, anyway, as he has historical signifIcance to me. I doubt I'll use him all that often, but he is available if I need him. I probably
will
rebase him, as he won't match the rest of the army otherwise. I have no idea how he was painted, as it was 17 years ago! That is more than half of my life so far! I know I chickened out on the checkers, and at the time I do remember he represented a huge technical achievement for me.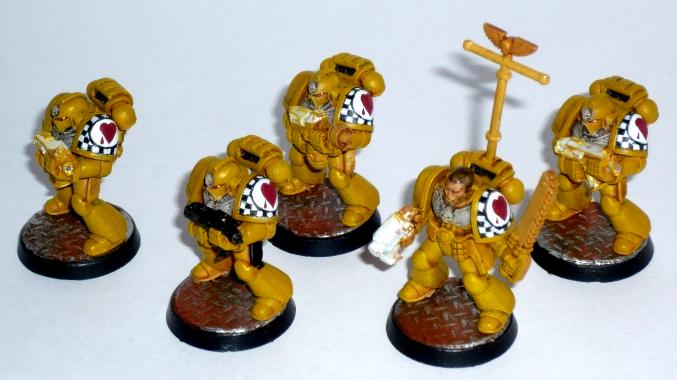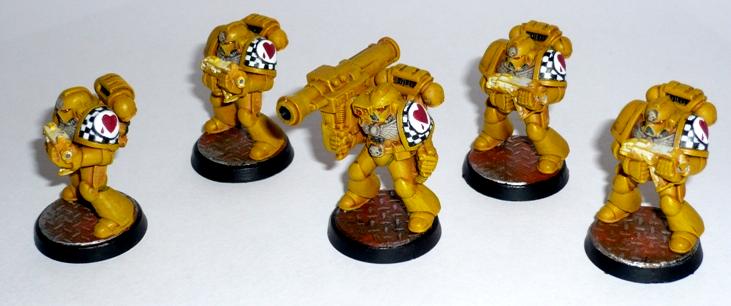 These two combat squads are the basis of my first 500 point block. They were painted before the Blood Angels Codex came out, or I'd probably have gone straight for Assault Squads, but I do feel there is a place for
Tac
Squads in Blood Angel armies. They are painted with Iyanden Darksun, a Gryphonne Sepia wash, and two different yellows to highlight. The shoulder checkers are my first significant amount of small checkering, and I think with the experience I've gained here, I have a good idea of how to approach it in future. I think they look pretty good, though there are one or two little things to tidy up.
To do the hearts, I did a bit of measuring of angles of the icon in the Forge World book and found it is actually quite simple. A square stood on its corner to make a diamond. A blood drop from the left corner. Semi-circles on the top edges, plus a slight bulge. The bottom top extended to make an 80 degree angle instead of 90. I was delighted with how well I did 9 of the 10 hearts.
If I get around to it, I plan to put up a tutorial on how I painted the shoudler pads.
The bases are home-made. I bought a LOT of the cross-hatched walkway styrene(?) sheets from the 4d modelshop in Aldgate, along with a compass that has a small blade instead of a pencil to cut out the circles to stick onto regular bases. Basecoat black. Put some Bestial Brown on a piece of tissue. Dunk the base face down onto it to pick up a smear of brown. Once that dries, use a piece of tissue to add more brown in patches, then the same using Blazing Orange. Final, a Mithril Silver highlight, and black edges.
Apart from that, the main thing left to do is get the guns painted black and highlighted. I used a white undercoat, and I plan to start from black covered by Iyanden, or white with a black wash over that in future. A successful learning experience, and one I'll be happy to put on a tabletop. The last job will be numbers on the shoulder pads, which I will probably just do faintly using Devlan Mud, to try and replicate the look in the Badab War book.
The Little Rhino Who Could
was started at pretty much the same time as the
Tac
Squad above. It looks a lot darker in that photo than in real life. The checkering there is slightly bigger, and it was good practice before starting the smaller versions on the shoulder pads. The name came from the first Platinum Devil tournament in Canterbury when RinkyDink's entire army fired at it one turn, about 12-15 heavy weapons, and only the final Las-cannon left to fire in his entire army managed to immobilise it. By then it had delivered its demi-squad to where they needed to be. It also fairly heroically had success with some ramming in an earlier game. Obviously, metallics need finishing, and probably some labelling.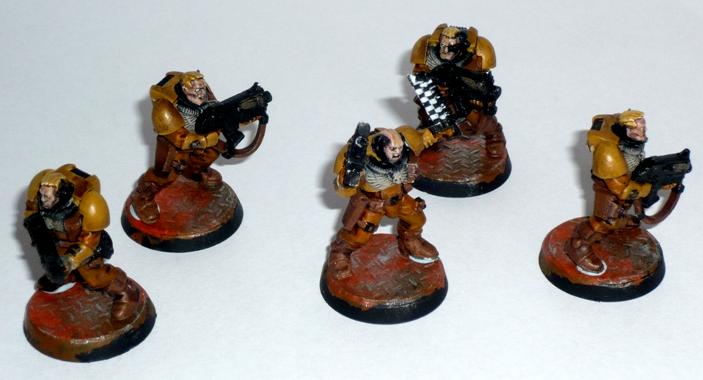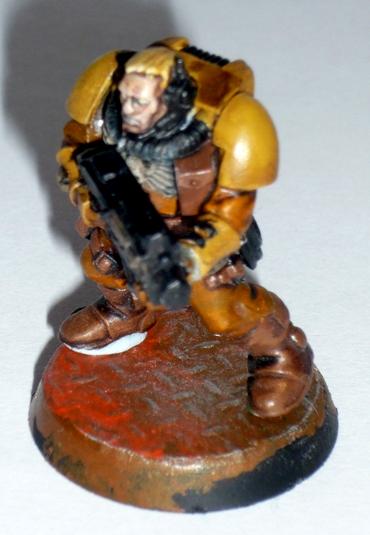 Demi-squad DeVore still need their bases edged in black, sticking to their bases and highlighting done. If using Devlan Mud works on the
Tac
Squads shoulder labelling, they will get the same. I wish I had used a black undercoat on these guys, but it is too late now. The painting is a mixture of bestial brown, snakebite leather, iyanden dark sun, all with a devlan miracle wash.
I like the fact they look quite yellow, but also could conceivably blend into some cover. I've decided that checkers are associated with various levels of being a full battle-brother, veteran, etc, so only the Sarge has any checkers.
I'll be painting five more the same way but with bolt pistols to complete the squad, plus a sixth as a Heavy Bolter option and a fifth with a bolter.
This Space Hulk Terminator was undercoated white, then given a black wash. Several thin layers of Sunburst Yellow(? - the lighter of
GW
's two yellows, anyway) were then painted on to get to where it is. He comes out a different shade of yellow to the
Tac
Squad, but I don't mind that. Infact, I made a decision very early on that I wanted my Lamenters to have a clean, but fairly rag-tag look.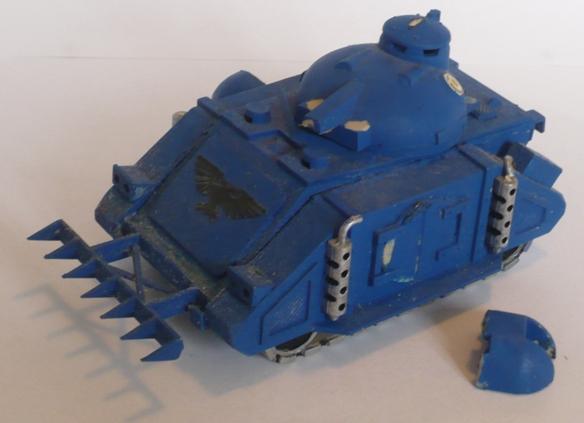 I got this fella as part of a job lot from EBay. I plan to convert to make a Baal Predator in an old-fashioned style. I have another three complete Rogue Trader Predators, which, despite the benefits of employing Lucius Pattern Predators, I plan to include as part of my Astral Claws force, in line with their "Big Guns" ethos. I have the Assault Cannons from the Ravenwing box to use, as well as several styles of Heavy Bolter. I may magentise to I still have the option of making this a regular classic (Auto-Las) Predator, but it needs stripping before I can start work.