Yeah,
So I went to the first Mantic : Dwarf King's Hold: Dead Rising ; preview demo.
I was disappointed that the demo was run on the game development tiles.
The Tile artwork is still work in progress, but it would have been nice to demo on preview tiles.
The game is still in development so the rules presented will be tweaked before release..
This left the demo with more of a PlayTesting feel to it, and several observations from my game were recorded to report back to Mantic
HQ
.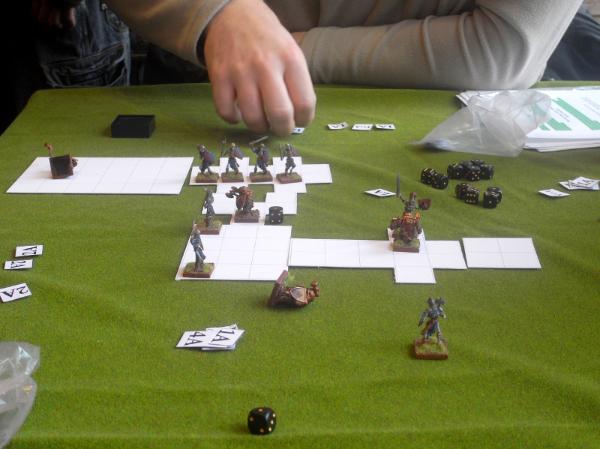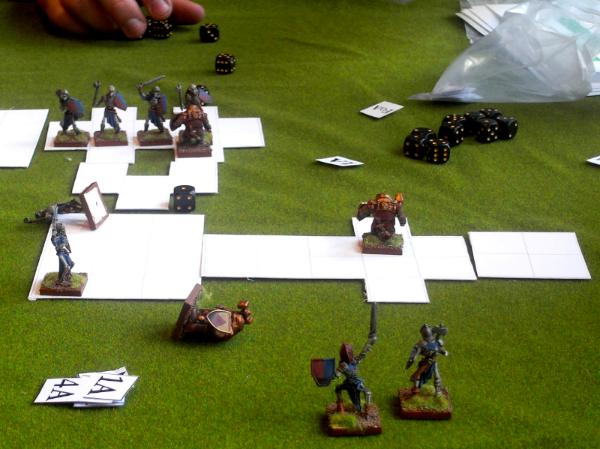 ---
Models.
I asked what do you get in the box. from memory I believe you get;
10x basic skeletons
10x reavers? (better skeletons)
some undead skeleton dogs.
some catapult crew? (I think the guy said they have bits that let you make unique skeletons)
5 regular dwarfs
5 hammer dwarfs
Some Dwarf mastiffs (can stop piles of bones getting back up)
There was a dwarf king in the demo game I guess you get him too.
---
The game is very fast paced and fun. It strikes me as space hulk in a dungeon; which is no bad thing.
each turn you draw tokens to find out how many actions your side can make during the turn.
In the demo if the dwarfs run out of tokens they lose... This puts a turn limit on the game.
Each model can only recieve one action per turn except Some dwarf tokens marked F.O.A. (follow on actions) which allows a dwarf to make a extra action that turn.
Moving and attacking counts as a single action. which ment for most turns every model gets to move and attack, with some dwarfs being given F.O.A. to move again or attack twice.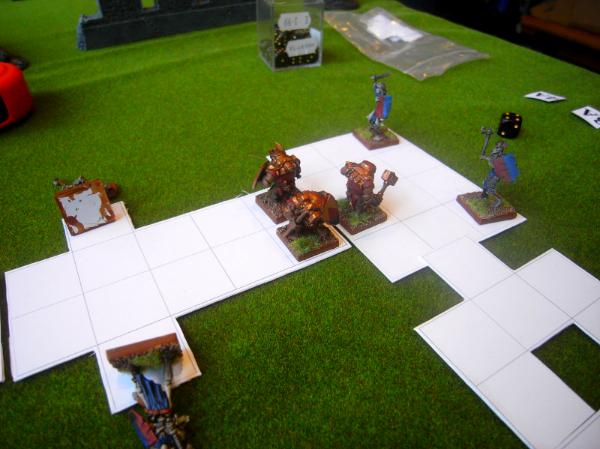 You move then attack.
dwarfs move 6 squares. skeletons move 4 squares.
dwarfs have 4 attacks skeletons have 2 attacks
dwarfs have a armour value of 3, skeletons armour value is 2.
Combat in the game is decided by diceing off with a number of dice according to your
WS
only the attacker does damage.
Attack dice that roll higher than the
AV
damage the defender, unless the defenders defence dice rolls equal to or higher than each successful attack.
Dwarfs WS4 vs skeletons WS2
this then hits a number of modifiers.
-1 dice if your injured
-1 dice if your being attacked from behind
-1 dice if your being attacked by multiple enemies
You can gang up and combine attack dice so;
3 skeletons fighting 1 dwarf would roll 6 attack dice (WS2 x3), the dwarf would defend with 3 dice (WS4 -1 for being outnumbered)
2 Dwarfs fighting 1 skeleton would roll 8 attack dice to the skeletons 1 defence dice...
Dwarfs have two wounds.
Skeletons dont have wounds but suffer various results depending on the number of hits it recieves
1 hit - ignored
2 hits - drops to a pile of bones (can get up again next turn for 1 action point)
3 hits - killed
---
I played a demo game against a guy called Kevin.
I was Dwarfs and started at the entrance with 3 warriors, my objective is to save the King in the last room lying on his side.
The undead player gets 10 skeletons.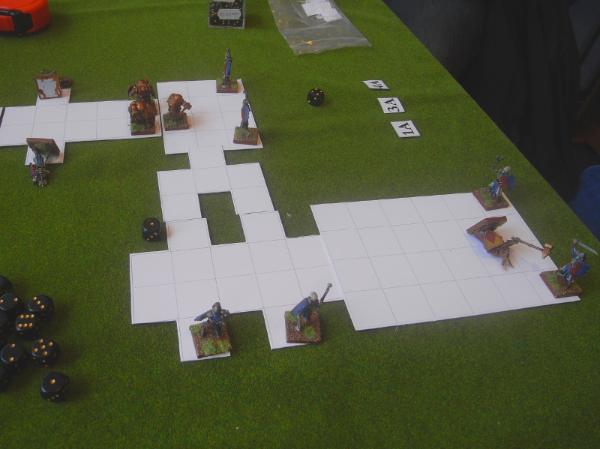 by fighting at the choke points I held out and reduced kevin to 1 skeleton.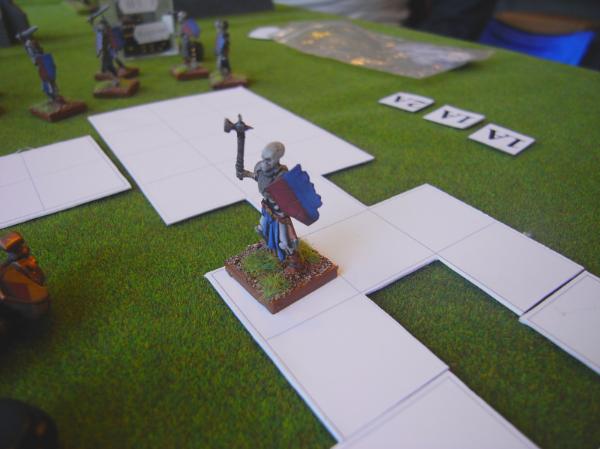 I was on my last turn- running out of tokens - but I drew 3 FOA tokens and just ran through to the last room and saved the king... yayy me!
But it seemed like a weird finish to the game, and probably disappointed Kevin.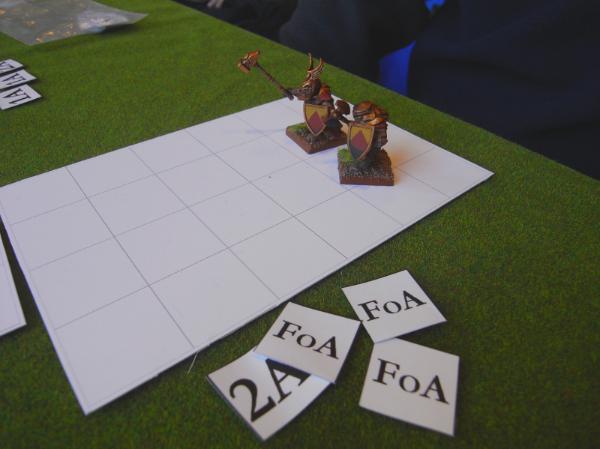 ---
Tile Design concept images from Beasts of War .
I was told the final version will be full colour with directional lighting effects on thick card.
video on the mantic website
In conclusion.
It seems like you'll get a good amount of stuff in the box.
I have high hopes for this game If they can iron out the bugs in the game.
Panic...