What's currently completed, works in progress and to be started
Completed
First push
2011/02/25 till 2011/04/08
Second push
2011/04/11 till 2011/07/01
Third push
2011/07/04 till 2012/02/05
Fourth push
2012/02/07 till 2012/10/16
Fifth push
2012/10/18 till 2013/08/14
Sixth Push
2013/11/17 till 2014/02/17
Seventh Push
2014/02/17 till 2015/02/03
Eighth Push
2015/02/05 till 2015/05/08
Ninth Push
2015/05/10 till 2015/10/17
Tenth Push
2015/10/19 till 2015/12/23
Eleventh Push
2016/01/02 till 2016/04/30
Twelfth Push
2016/05/01 till 2016/09/08
Thirteenth Push
2016/09/09 till 2017/05/29
Fourteenth Push
2017/05/29 till 2018/01/31
Fifteenth Push
2018/01/31 till 2018/04/06
Sixteenth Push
2018/04/07 till 2019/04/20
Seventeenth Push
2019/04/21 till 2020/07/19
Eighteenth Push
2020/07/19 till 2020/08/08
Nineteenth Push
2020/08/08 till
5 x Space Marine Intercessors - Completed
6 x Critical Role miniatures - Completed
5 x Space Marine Assault Intercessors - Completed
3 x Space Marine Inceptors - Completed
2 x Space Marine Bladeguard Ancient - Completed
1 x Space Marine Primaris Captain - Completed
3 x Space Marine Primaris Lieutenant - Completed
4 x
DnD
Model (Commission) - Completed
1 x
Dnd
Black Dragon - Complete
1 x Lord of Change - Complete
1 x Space Marine Primaris Chaplain - Complete
1 x Space Marine Primaris Techmarine - Complete
1 x Space Marine Judicar - Complete
1 x
DnD
Mini (for my Son) - Complete
1 x
DnD
Large Black Dragon - Complete
WIP
1 x Space Marine Primaris Captain
3 x Space Marine Bladeguard Veterans
3 x Space Marine Eradicators
5 x Space Marine Assault Intercessors
3 x Space Marine Outriders
5 x Space Marine Hellblasters
16 x Critical Role miniatures
To do
2018 goals:
1. Paint up the Nurgle models from the 8th Edition starter set.
2. Convert and paint a Robute Guilliman model for my Grey Knight army
3. Interact more with folks here from Dakka, I've been very quick to look through blogs I'm subscribed to and not post my thoughts, I hope to change that this year.
4. Paint at least 1 more special Character for my Brothers Nid army
5. If time permits, finish the last
LoW
the last remaining Cerastus Knight (not hopeful on this one)
Guides
Hover bike -
http://www.dakkadakka.com/dakkaforum/posts/list/0/350911.page#2513793
Blue Sword Guide -
http://www.dakkadakka.com/dakkaforum/posts/list/450/349329.page
Purple Axe Guide -
http://www.dakkadakka.com/dakkaforum/posts/list/450/349329.page
1st Skin Guide -
http://www.dakkadakka.com/dakkaforum/posts/list/480/349329.page
2nd Skin Guide -
http://www.dakkadakka.com/dakkaforum/posts/list/600/349329.page
Green Axe guide -
http://www.dakkadakka.com/dakkaforum/posts/list/630/349329.page
Assembling Marines My way -
http://www.dakkadakka.com/dakkaforum/posts/list/900/349329.page
Robe Guide -
http://www.dakkadakka.com/dakkaforum/posts/list/1260/349329.page
First Tourny Breakdown -
http://www.dakkadakka.com/dakkaforum/posts/list/3270/349329.page
GMS
Swaps
Greetings!
Hello readers, I start this Blog after making some drastic changes to my old life style, I gave up World of Warcraft after playing the game from 2006 – 2010. Since then this blog has been my focus as a way of showing my efforts into the Warhammer 40,000 universe, I'm not saying I am a perfect painter, far from it. However having seen how great this community is I'm sure anyone can appreciate someone who gives it their best effort.
So welcome to my blog showing all current work on my custom Space marine chapter, a combination Space marine and Grey Knight force called the Gray Nights.

Back ground on the army.
Gray Nights – totally a bad pun right? I'll agree with you on that whole heartedly. Back in 2005 (I think) the metal Grey Knight models were released and as everyone did I thought they were awesome. Truth is told I think they still are and the new plastic models just add more awesome to the mix.
I started the army but unfortunately this didn't last long as a test model soon proved that painting silver wasn't enjoyable and putting a blue ink over it didn't make it any better so it all stopped receiving the love and I lost myself in WoW. When I rekindled my passion I set about trying to come up with a better paint scheme and got some inspiration from some online pictures some of which were from Dakkadakka, showing the models in something other than silver (Pure black with red helms, White armor with blue blades, Grey armor with black blades etc.) and decided to do a test model on one of the incinerator
PAGK
's.
I started off as a basic painter using all the cheap tricks in the book, light colors, no washes and dry brushing to maximum effect, what I ended up with is below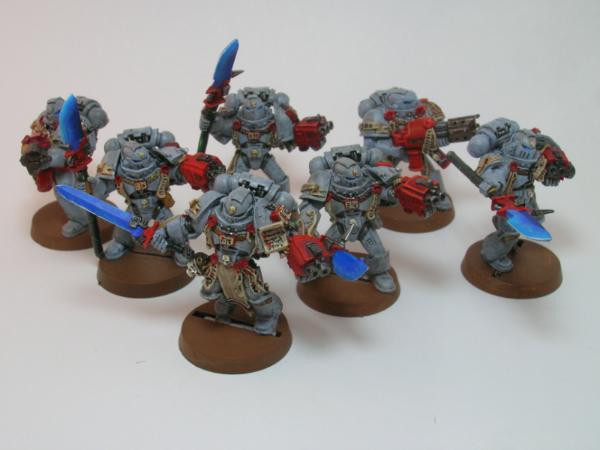 If you zoom in on the Justicars blade you can kind of see what I was trying to accomplish when I wanted power weapons. Once I had painted the majority of the terminators and
PAGK
's I was a little lost with what to do next, the models were awesome, but there was little variety on the models that were produced. I spoke to some of my friends who suggested why not make some Grey Knights up out of spare bits and mail order items.
In hindsight I think the idea was that I would make the models look like current metals. I however had different plans, thus was born the "what if" concept for my force. What if the Grey Knights needed support on a planet that was beset by all manner of horrors and needed Space Marine support. So I brought a Tactical squad box, Dark Angels kit and Deathwatch kit and went to town.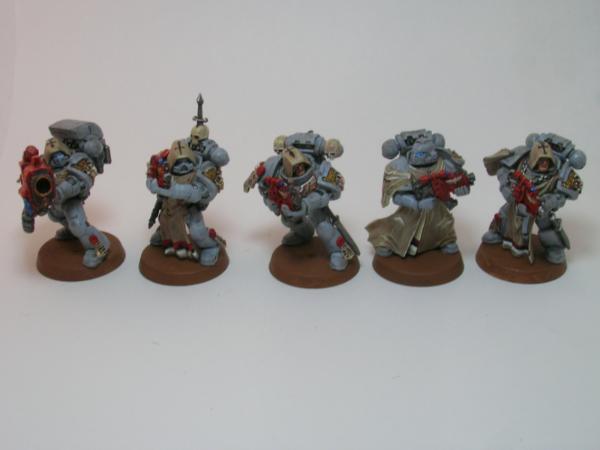 That was the result.
Now one of problems that arose was I had very few people to critique my work, and as such I kept thinking how awesome I was and had people agreeing with me just because they weren't painters or modelers. I did get a wakeup call when I took a trip down to the LFGS to show the guys my "kickass" force. I was greeted with ooh's and aah's from the youngsters down at the club with comments like "man, those are the most awesome looking Space Wolf's I've ever seen!"
… Bugger, not what I had anticipated...
One of the workers said the force looked good, but from a distance, looked a bit chalky. After hearing that comment it forced me to look at my army again. Aghast, I conceded he was right, all that hard work had got me this far but I needed more help. I sat down with him and asked for advice he asked if I had thought about less dry brushing and why not paint the armor plates the same base color but leave the black wash in the recesses then highlight the edges in Space Wolves Grey.
Brilliant, I had to change the entire way I'm painting my force. It looked so much better it shouldn't be too hard to redo everything I guess. He also showed me how to thin my paints with water, how to layer painted and mix on the fly for faces (This was a very notable weakness I must say) and how to take my time and enjoy painting.
What you see in this blog is the progress from that point. So this is it, this is my army. I hope to add more updates as time permits me.