Greetings,
I think this was the...5th? matchup Lorek and I have faced off with, and our second under the new
DE
dex (for Lorek's sake I hope some day to be able to say we're having some fights under a new Tau dex).
In any case, this is an interesting writeup because of a couple of things.
1. We actually had this battle back in January and I'm just writing it up now.
2. I took no notes.
3. As I discovered later, I was actually playing this battle while coming down hard with a cold (I just thought I was tired, though Lorek actually seemed concerned and kept asking me if we should take a rain check on the game - so I may have been worse off than I recall)
In any case, as a result my recollection of the battle is probably a bit spotty. Still - I took these photos and I'm going to use them, darnit.
The Armies
Ah...

yeah, as I said, I was really sick, um...
My list was definitely almost assuredly sorta;
A Haemon w. Liquifier and Scissorhand (I really think I was only running the one)
3 Wych Raiders - Hekatrix, Agonisers, squad size of 7 apparently.
3 Dakka Venoms w. Blaster Troops.
3 Ravagers
A unit of Reaver JetBikes, probably with some upgrades - certainly had a Blaster and I think I stuck one of the bladevane upgrades in there, maybe even had a sarge upgrade - the points look small for my side.
Looks like I had a mini sniper Trueborn unit as well (3 Trueborn - 2 Dark Lances)
And, um, the fish heads,

He wasn't running his usual Piranha party...
A Commander and Crisis Suit Squad
2 additonal Crisis Suit Squads
2 Units of Broadsides
Hammerhead
a big mob of Kroot
And 3 Firewarriors with Devilfish. Maybe some additional infantry - I dunno, I can never tell Tau units apart.
Yeah, a tactica of learning and education this batrep is not likely to be - on the plus side Lorek's paintjobs are awesome and should distract you all.
==========================================================================================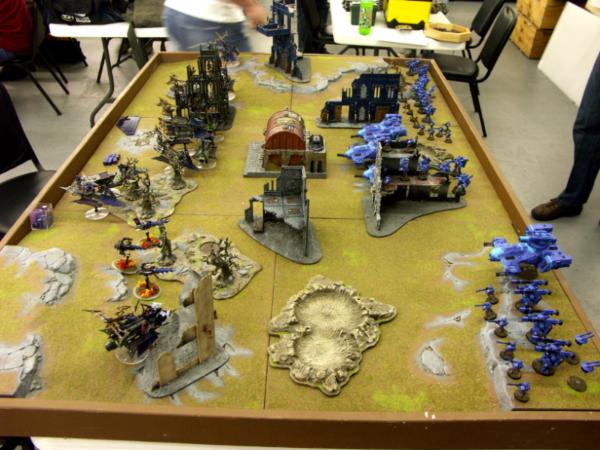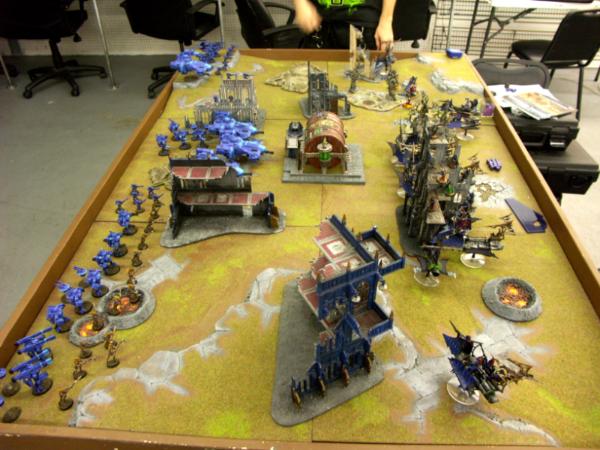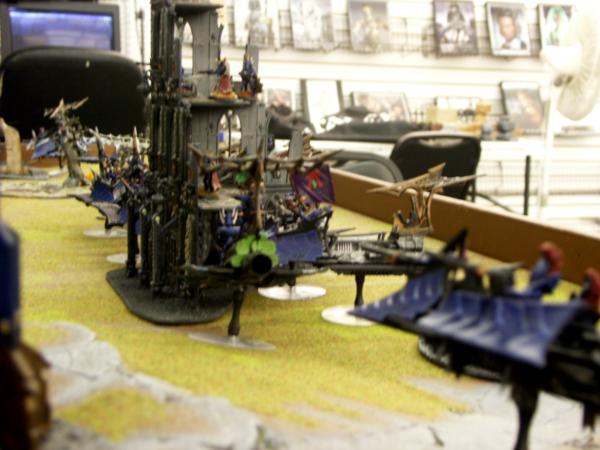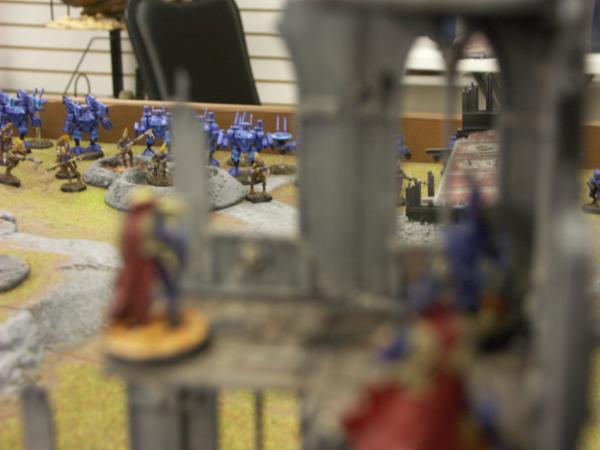 My Trueborn mini snipers are set up in a tall ruin with a commanding line of fire down into what will soon become the killing fields.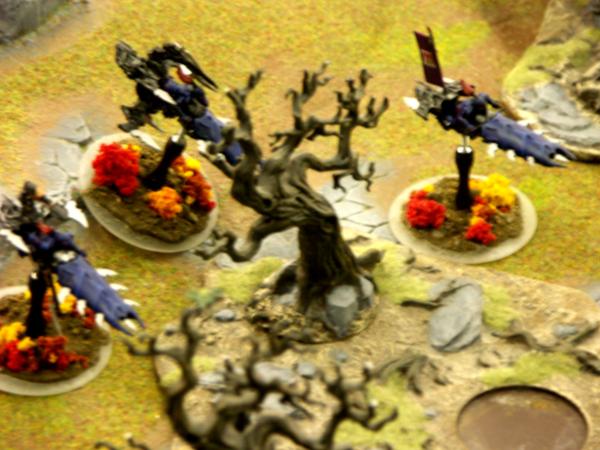 The RJBs wait patiently behind a corpse of trees to unleash their brilliant skills of "shoot me first, ignore the valuable stuff!"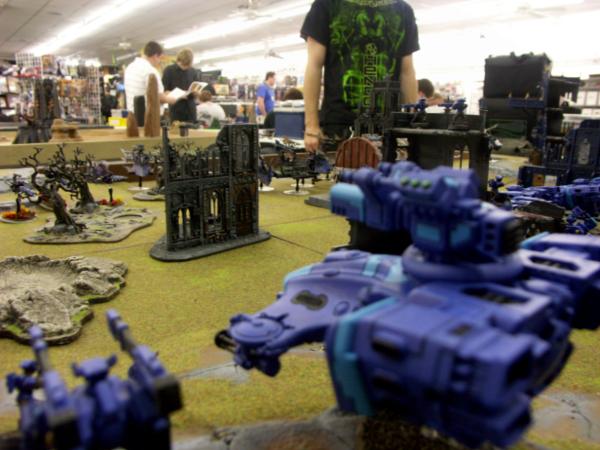 Between Venoms and terrain pretty much everything has a save in case the Tau seize.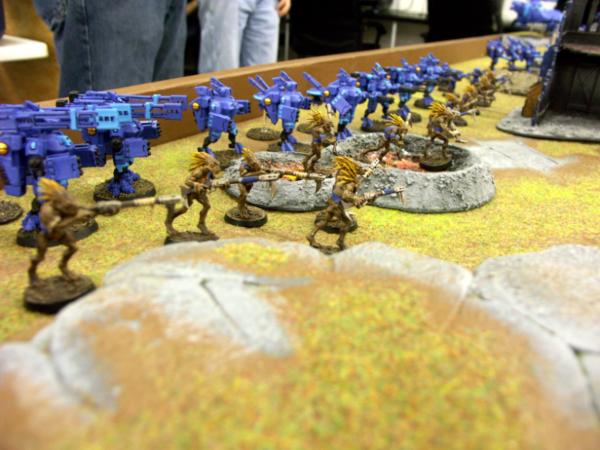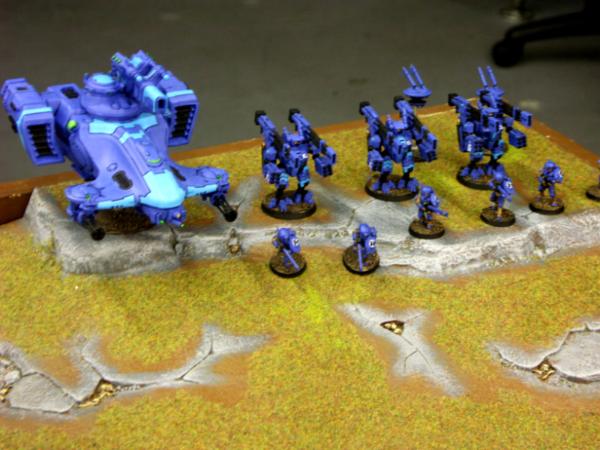 Hi, we're a speed bump!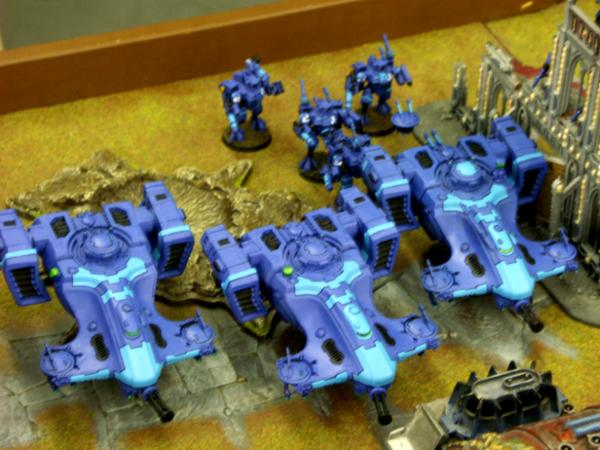 Tau bravery, at its finest.
I had won side selection and set up with a basic assault/gunline idea in my head. One Ravager on each flank, another in the middle with the snipers to give me lances at any point on the board I needed shot up. The Wyches were bunched near the center and the Venoms arrayed to either side. The RJBs lurked at the midpoint as well, their goal to bum rush forward while screaming 'shoot us' at the top of their lungs.
Lorek's setup...well, threw me slightly. It might have been the cold and/or exhaustion but I do remember sitting there and eyeing it for a while convinced he was messing with me - he'd just done a conventional Tau setup and with a reasonably conventional looking Tau list. Bwuh? (for those unaware, Lorek usually plays a very...aggressive Tau, and often advances across the board in reckless/brilliant/drug induced maneuvers). This time out he was going very classic gunline, with some speed bumps set up to mess with me assaulting his shooters. The only "conventional Lorek" move was he was being a little pushy with his Devilfish in the center, and mushed them up to the line.
Turn 1
Tau fail to steal the initiative and the
DE
are off! First off comes a blitzkrieg from the RJBs as they turboboost across the board, their bladevanes slashing at some Tau hiding in a ruin.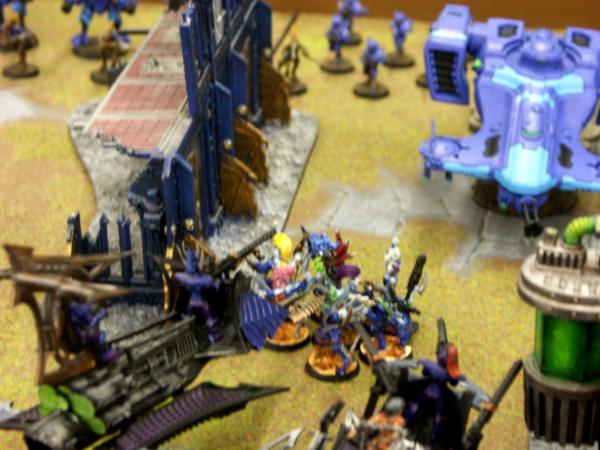 I also do...this...
I'm pretty sure the concept in my head was that I was going to dual assault the scouts and the Kroot, swing almost fully into the scouts to murder them, and try to sweep the Kroot via leadership fail which would then leave the Broadsides wide open for shooting.
The catch is...it's not like Lorek was exactly deploying on the line. I'm actually pretty sure even with a 6" run I wouldn't have made it, so...good job, Thor! We'll be revisiting these Wyches later...please admire the paintjobs now, I'm not sure they'll be around in any other pictures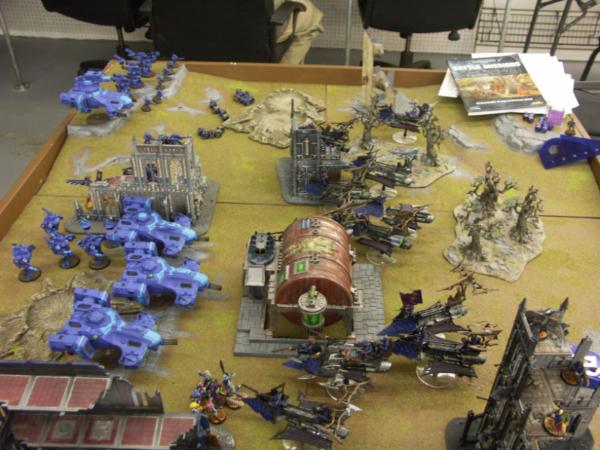 This shows the layout of my units after movement. I know my lance fire actually did a pretty decent job vs. those Devilfish, and I'm also pretty certain I stunned/shook both Hammerheads.
I think I sort of shuffled around with those Wyches who'd disembarked, I think I ended up rolling something pathetic like '3' on my run roll.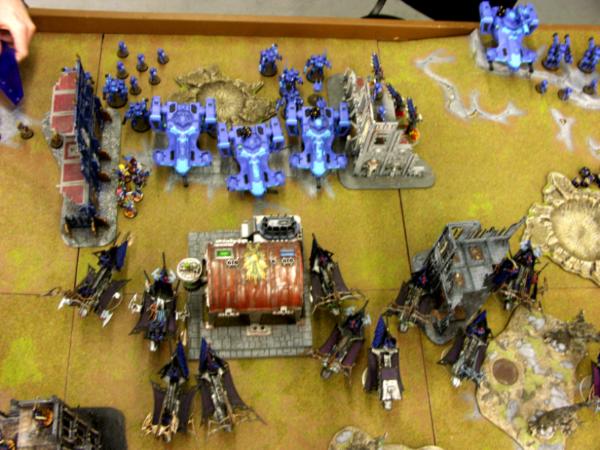 Lay of the land at end of my turn.
In any case, in the Tau's turn - they shoot - a lot.
He definitely blows the RJBs to high heaven, still, whatever was shooting at them wasn't shooting at Raiders/Ravagers. And with Tau, the RJBs are still a potent threat if they opt to assault and tie them up.
I like this pair of shots;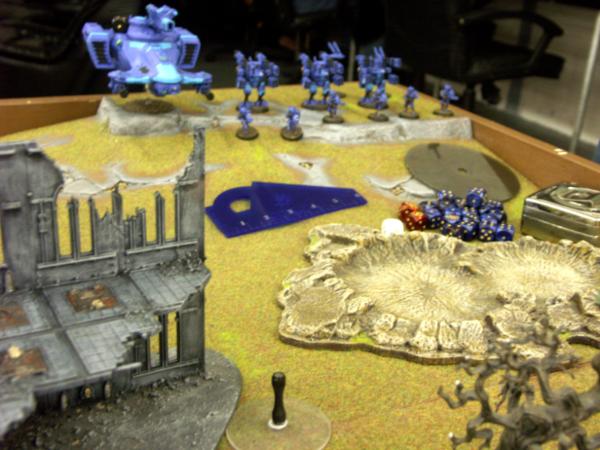 Lorek's Tau blast apart something (I'm guessing a Ravager due to lack of passengers)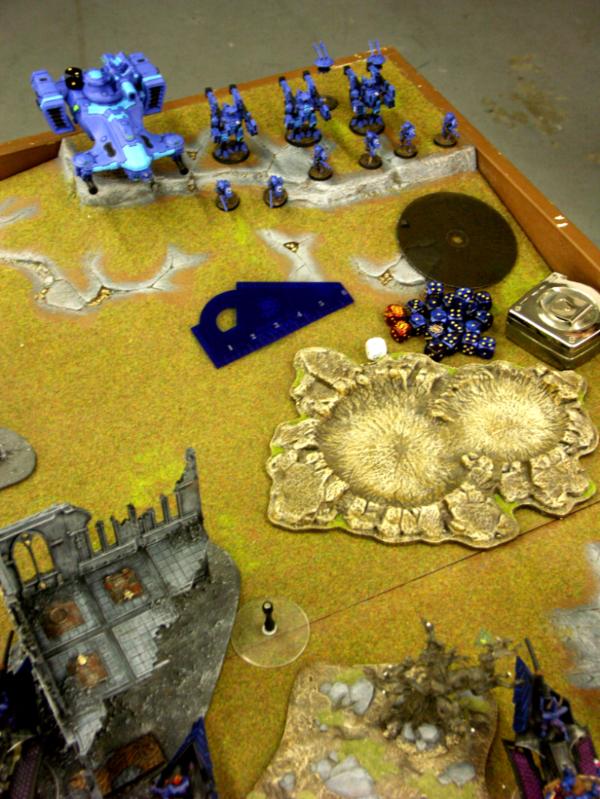 However, there's still lots more a'comin' Quantity is a quality all its own.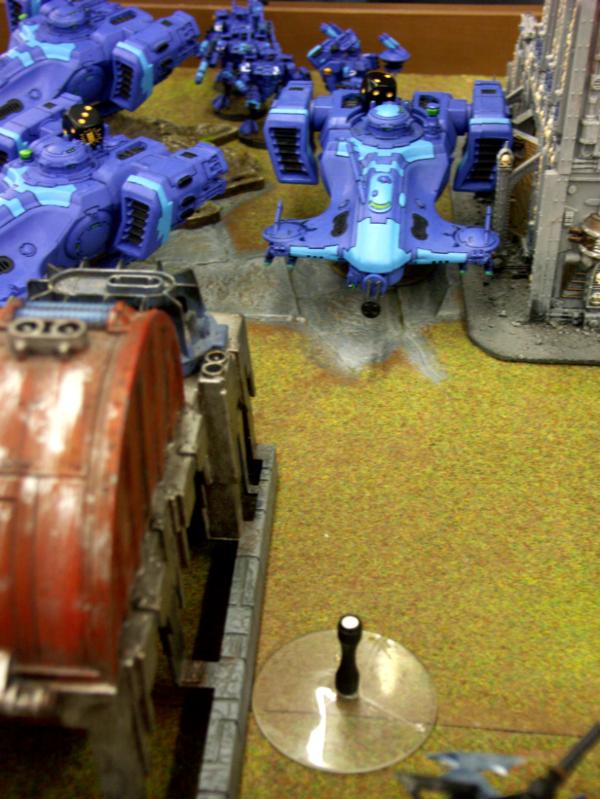 Another skimmer bites the dust.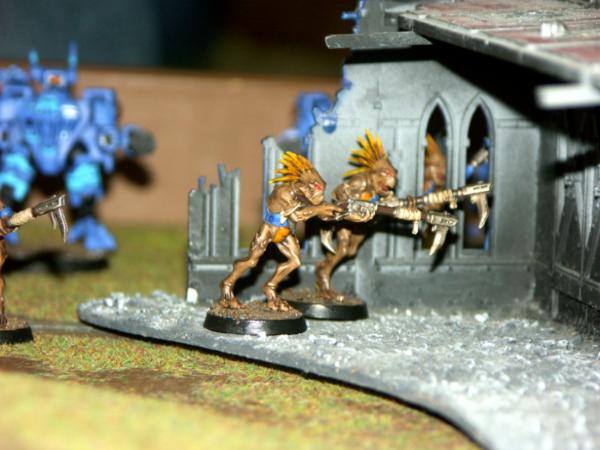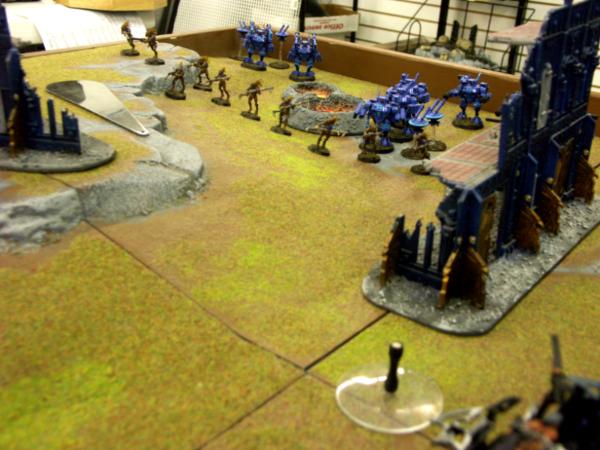 The Kroot shuffle forward to continue speed bumping Lorek's right flank. Looks like the suits also claimed the empty Wych Raider, which is most assuredly the crater in the foreground. Lots of suits out here, lots of firepower.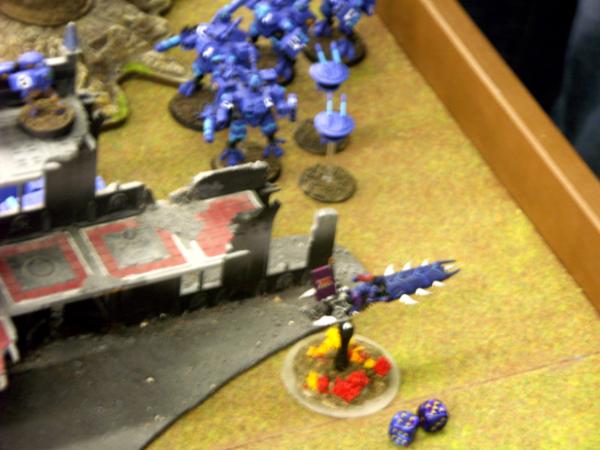 Here's some Crisis Suits dealing with the RJBs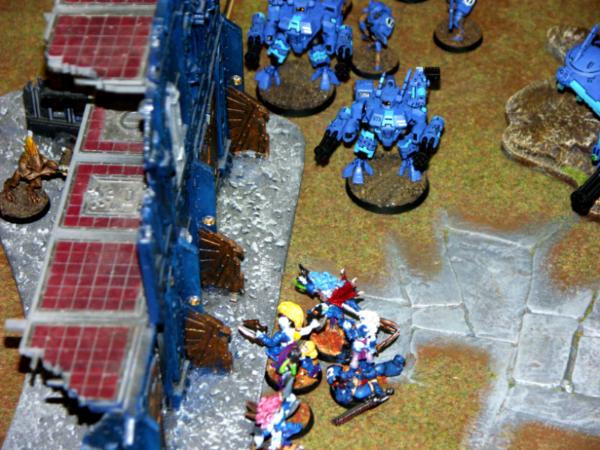 And here's other Crisis Suits dealing with the Wyches I disembarked.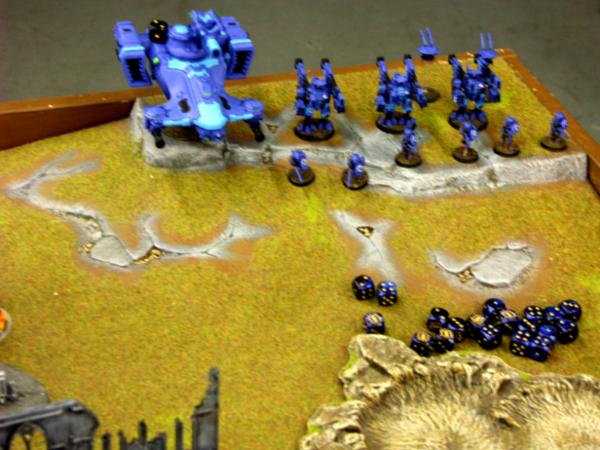 Yeah, by the power of the die on its back, clearly the Hammerhead was stunned by the now dead Ravager.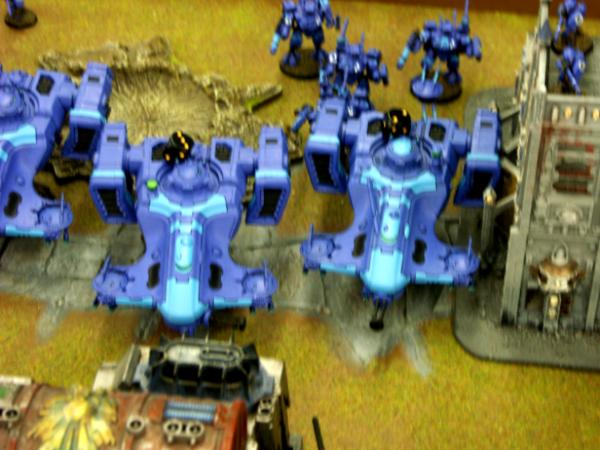 Turn 2
Is it only Turn 2?
Some fresh Wyches being sent in to do some assaulting that the first group failed at due to...incompetence...on...*their* part. Yes!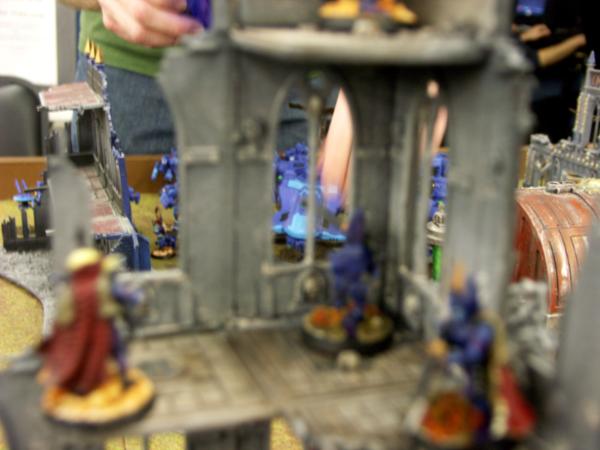 Trueborn snipers line up a shot at the Devilfish, time to deal with those suckers...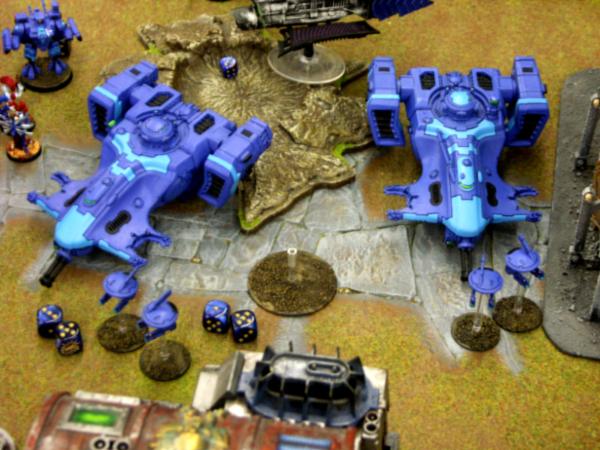 Turn 2 was obviouslly a good turn of shooting for me - 3 dead Devilfish.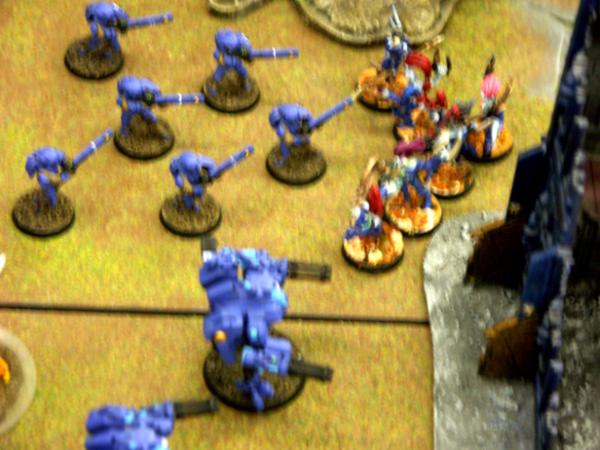 Let's see how deadly your targeting systems, missile pods, and gatling guns are to our thongs, whips, and pointed sticks!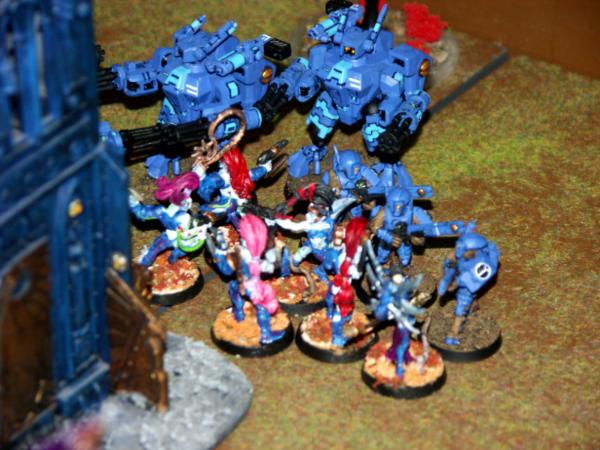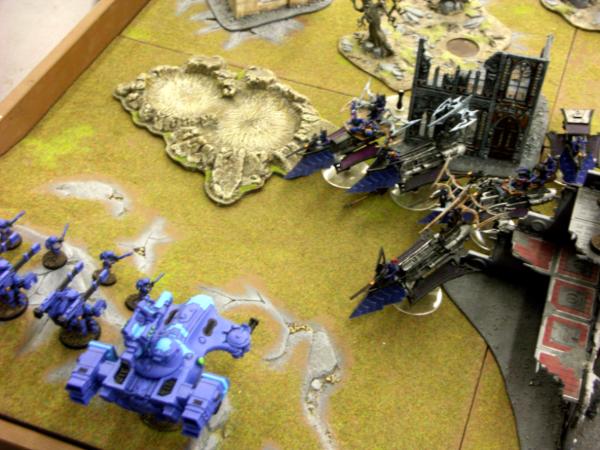 I clearly had decided I wanted to deal with this firebase on the Tau left flank. As I recall, the right flank ended up being left unmolested for a while as I just sort of swung right and left the Broadsides and suits over there out of position.
Now, somewhere in here things really were getting silly for me. I distinctly recall Lorek taking a phone call and when he got back I'd actually fallen asleep (

clearly he just took a really long phone call)
I also got really spotty with my picture taking, but I'll try to keep up the narrative as best I can.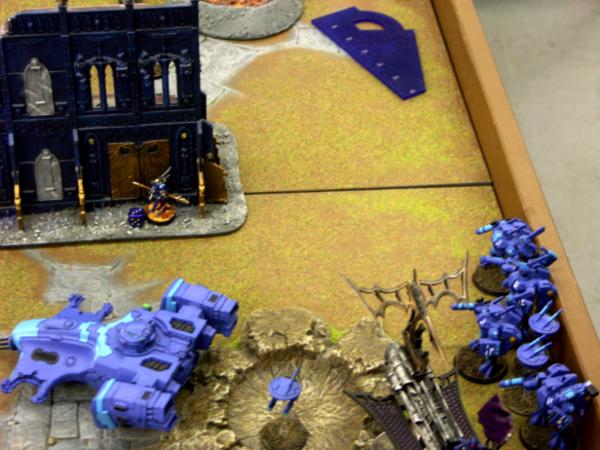 This is the remains of my Wych squad that dual assaulted the Suits and Pathfinders. They handled the assault pretty handily (as I recall - a little too handily, I think i wiped them in one turn. This is what's left of the squad after Lorek expressed his displeasure with them via massed fire.,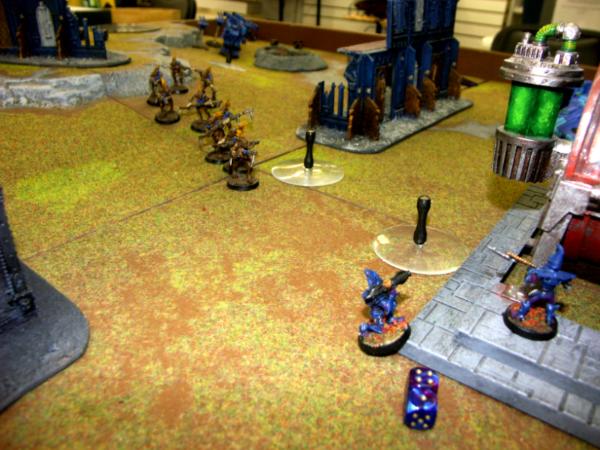 Here are the Kroot making a move for a diminished Warrior squad that had lost their transport.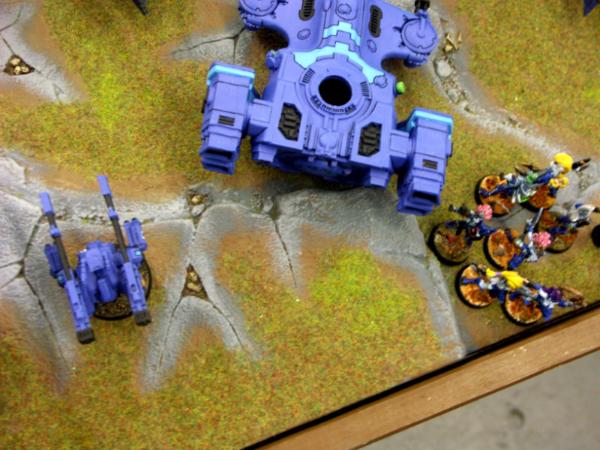 The Broadside goes down to
DE
firepower, and some Wyches make their move to assault the Broadsides.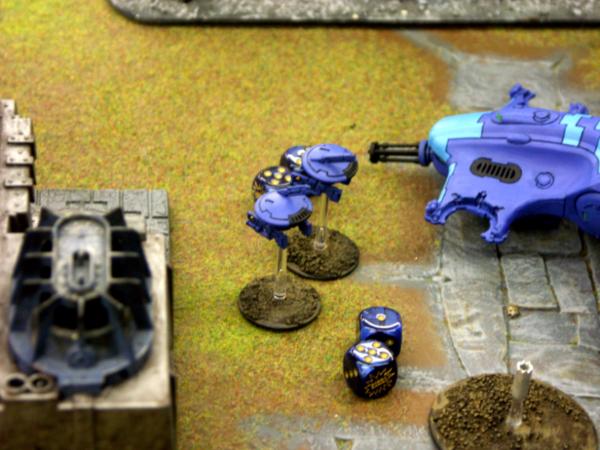 Crisis suits, Broadsides, and Drones are not fond of splinter cannons.
I apparently have no shot of the Wyches making it into assault with the Broadsides - they did and locked down/killed the unit. The speedbump of Tau infantry was shredded by Venoms at some point in the engagement.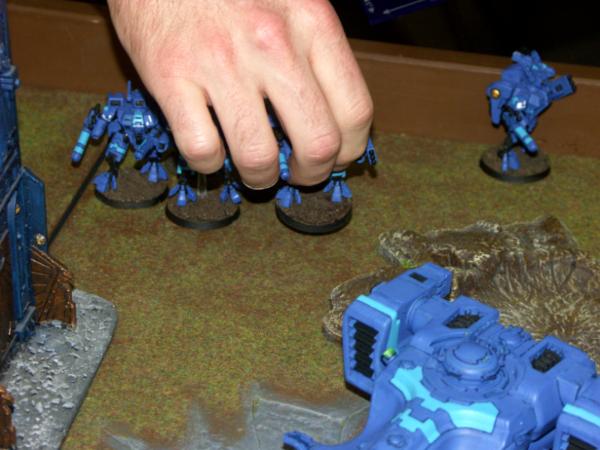 My recollection here is very bad, I remember this pocket of suits being the heart and soul of what was left of his army, and I was just hurling Venoms and raiders towards them, all weapons blazing...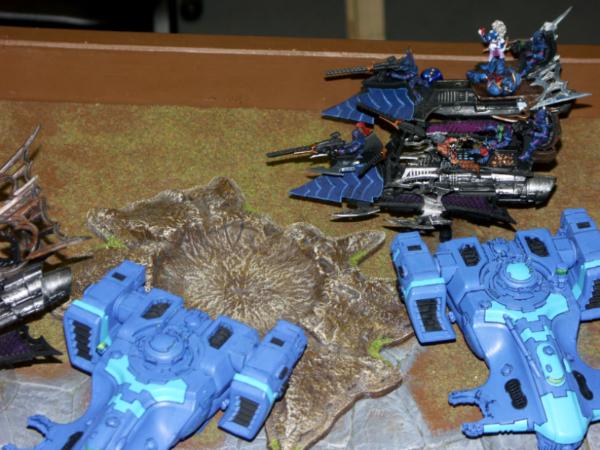 ...they were cut down.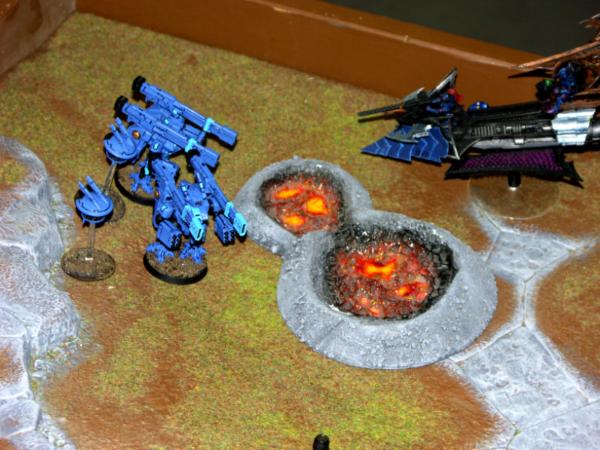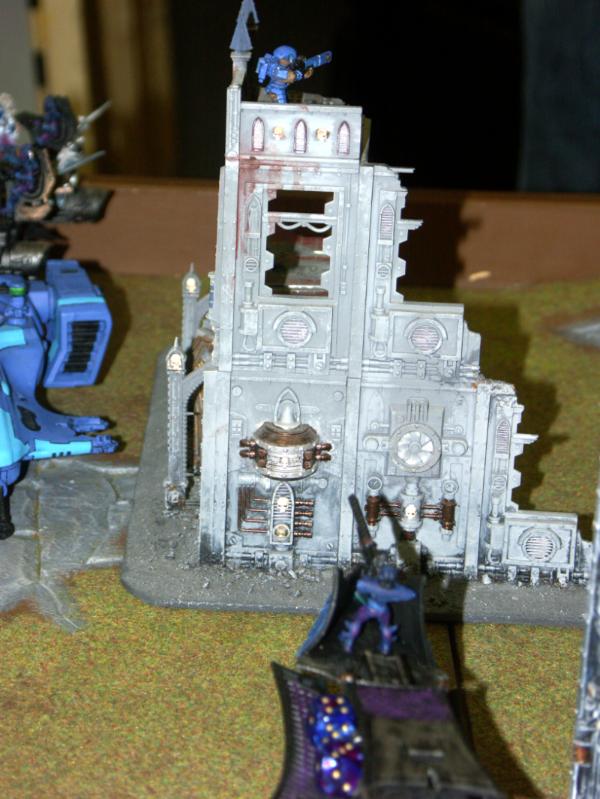 These last shots are just showing the final Tau holdouts, the Broadsides ate some lances and went down, I seem to recall that immobilized Venom in front of that building hurling s.cannon fire at the tiny squad inside for a loooong time. I think it was a little slap fest that went on for most of the game, though the Venom eventually won it.
That Venom might have even been assaulted by the Kroot - I don't recall ever getting around to killing them, though Lorek might have tipped his king prior to that. I think I lucked out with a good second turn where I toasted the Devilfish and murdered one of the Crisis Suit squads in h2h. I was also lucky I had enough skimmers and Wyches to pad me through that atrocious first round.
Lorek I think played very well, he was just caught with a slightly spread out formation that cost him when I shifted away from one of his flanks which seriously hampered the firepower he could bring to bear on me. I think I've used that trick successfully on him 2-3 times now, and I am not looking forward to the day he figures it out as I think it saved me each of those 2-3 times

In any case, Dark Eldar victory, fun game, and medication for the next two days afterwards.