Greetings,
Had a meeting up in Orlando the other day, and after some laziness/organization issues around Bolter Beach this year thehod and I had been wanting to actually meet face to face and get in a game. He is one of those poor souls who has basically every army in the game (I say smugly as I only have...what, 6...though I have 2 different vanilla marine armies...egads!). He offered me a fight vs. anything except
IG
(which were being repainted) or Necron/Tau (because he's not a fool

) and after a bit of talking wherein we both tried to force the other one to make the choice, we both realized neither of us had done a
DE
vs.
DE
battle under the new dex -so that seemed a decent option (the other strong contender as I recall was Blood Angels) So, after my business meeting (and some of the hottest spicy mayo I've encountered on a sushi roll) I trucked up to his
FLGS
of choice...needless to say I was in Southwest Orlando and his choice was in Northeast Orlando - whotta joik

In any case, I ended up at the...oddly named Amorous Armadillo (called Armadillo Games by the locals...good choice on their part)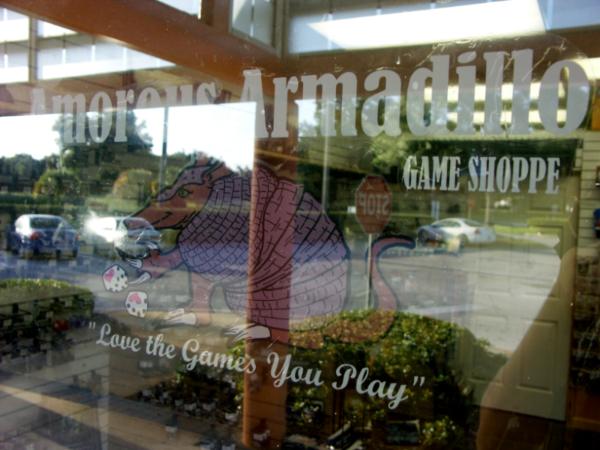 I've done Sci-Fi in Orlando, but never Armadillo - I had to say I had a positive perception of it. It was certainly a small store, but with a shockingly large game space, pretty solid terrain options (some of them, like the huge Imperial fortification wall and gate, and some of the awesome Ork/ruined industrial pieces I wanted to steal for my own collection), and very friendly and affable locals. If you live in the Orlando area or are trucking through I'd certainly recommend it if you're looking for a casual play environment, it's really awesome in there and I plan to try to make it back up (it's about 3 hours door to door for me according to Google maps - though I speed (slightly) and felt it closer to 2 and a half) But they seem to have a very fun looking style and seem to favor team tourneys which equates to pure awesomesauce in my opinion.

In any case - the game;

Thor665's List of Pure Awesome
The Cerulean Storm

Haemonculous w. Liquifier

7 Wyches - Hekatrix, Agonsier, Haywire Grenades

Raider w.

FF

5x Kabalite Warriors (5) w. Blaster

Raider w.

FF

3x Trueblasters (3) w. Blasters (duh)

Venom w. S.Cannon upgrade

1x Baron(

ess

) Sathypants

3x Beastmasters w. 5 Khymarae & 4 Razorwings

3x Ravager w.

FF

---------------------------------------------

thehod's

DE

list of certainly less awesomeness than any aforementioned list of Thor's
I'm not sure what his Kabal's name is (TBD?)

Haemonculous w. Shattershard

9 Bloodbrides w. Hekatrix, Agoniser,

PGL

, HWG, 3x Hydra Gauntlets

Haemonculous w. Crucible

9 Bloodbrides w. Hekatrix, Agoniser,

PGL

, HWG, 3x Hydra Gauntlets

1x Baron Sathypants

20x Warriors w. 2x Dark Lance and...Blaster? (don't recall)

5x Kabalite Warriors (5) w. Blaster

Venom w. S.Cannon upgrade

2x Ravager w.

FF

&

NS

1x Voidraven Bomber w.

FF

&

NS

---------------------------------------------------------------------

Our table was an interesting little layout of low to medium buildings and some forests and hills. This was pretty happy with me as this is actually very similar terrain to my autumn theme home table which is actually what I do a lot of my

DE

battles on.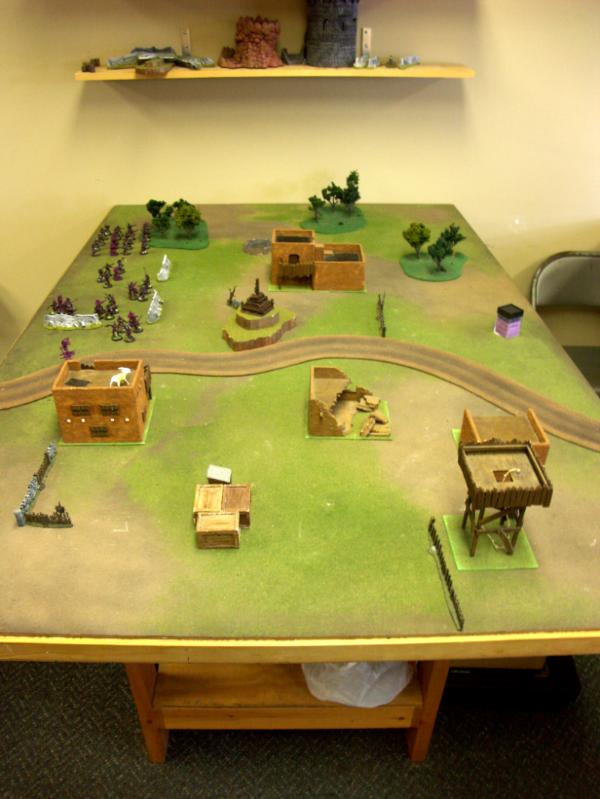 Armadillo table.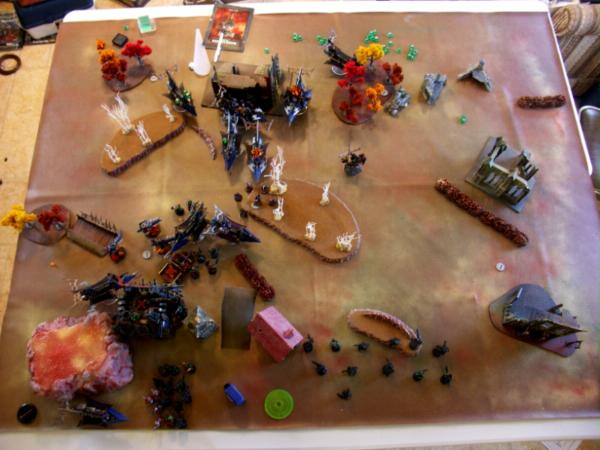 Home field advantage?
Mission is capture and control, deployment is Spearhead.
thehod and I snicker in true nerd fashion as our dual Baron's basically just cancel each other out.
He rolls a 1 - I laugh manfully since with
DE
on
DE
action a lot of the game will be decided by who goes first, so I roll...a 1. Derf!
He wins the second roll with a 5 to my 1 - and, shock, opts to go first.
He sets up in the lower left of the above picture, leaving me the upper right.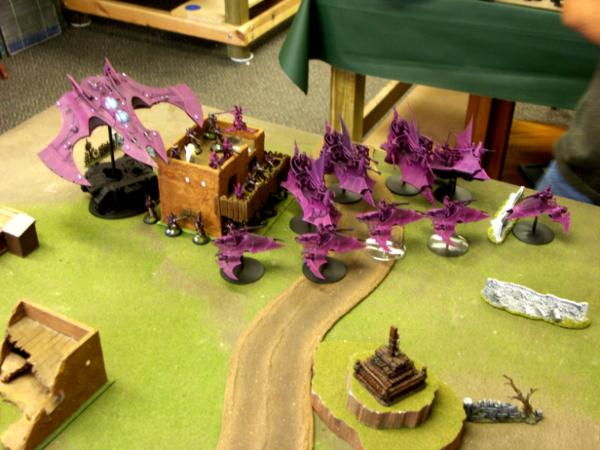 thehod deploys smartly - his big sniper squad with Baron take the optimal terrain choice (I think that's why he picked that corner, otherwise he would have had trees or nothing) Venoms perform a protective ring trick which I am well approving of as I use it myself sometimes, more valuable boats lurk to the baclk, and that very pretty Voidraven tries to act like no one should pay attention to the giant 'kill me first' sign on it.
A couple )a lot) of my pictures were shaky - I probably should have used flash but apparently thought I was holding the camera way more steady than I was, thus this is probably the best Thor's setup pic I have, sorry.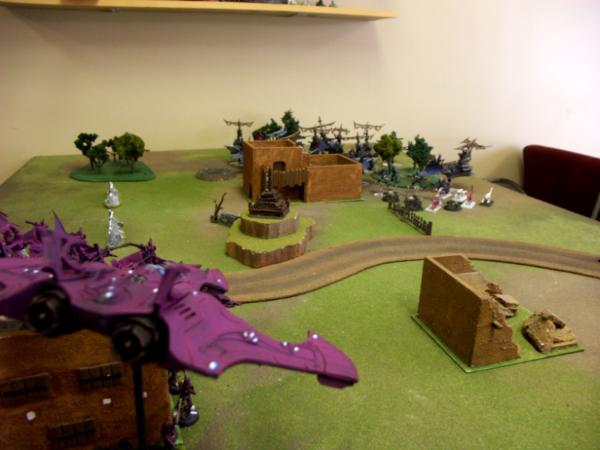 I'm muscling the line *very* aggressively since I want to be able to get as much shooting in as possible, and am also taking advantage of that building for cover. Beasts are set up with a plan to bee line for the 20 man sniper squad, and are behind enough cover to give them saves if the Venoms come to play. Trueborn are mostly muscled near the right flank (left side in picture) and Ravagers along the other - I sort of guessed/strategized/luckily blundered into the belief he'd try to play the long range game on my left flank, and the short range one on my right - I was, luckily, proven right, so the deployment helped me a lot.
I fail to seize initiative.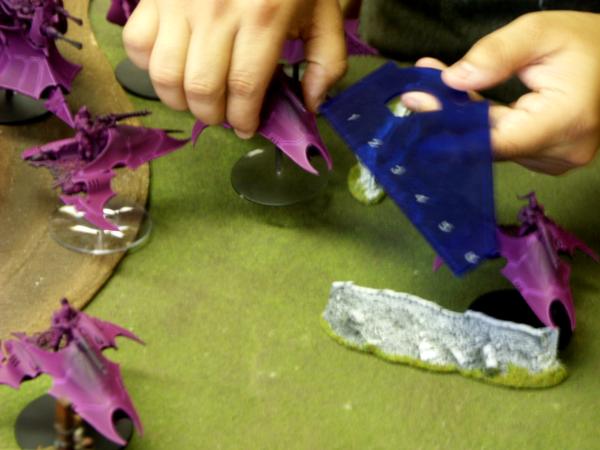 Venoms rotate around from wall mode and zip forward to come out to play. The Wych Raiders ease up for lance action and to prep for counter charge. The Bomber soared down along the edge of the board to use its Voids on my mighty Raiders, and the Ravagers actually eased backwards, which was meant to be using their night shields to full advantage, but Hod had been off playing and admitted to making some distance prediction errors and ended up moving his Ravagers out of range (it wasn't an easy 24" bubble prediction either, he had to be shooting at Raiders/Ravagers a bit further back and I think that helped flummox him.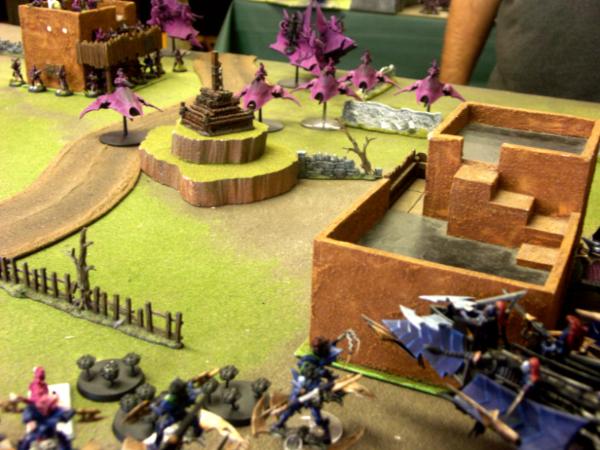 The Venoms open up on the Beastmasters - 5 Venoms, 60 shots, 1 dead Beastmaster, 1 dead Khymarae, and 2 wounds on a Razorwing - not shabby all things considered, though i was an idiot to put a wound on the Khymarae - I shouldn't have.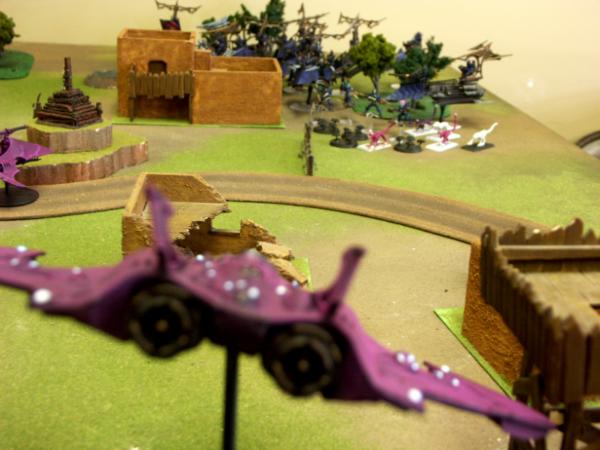 Lining up shots at Raiders/Ravagers. The Voidraven only managed to shake a Raider despite its mighty lances.
On the other flank a bit of Blaster and Lance play manages to immobilize two Warrior Raiders, but I FFed through everything else.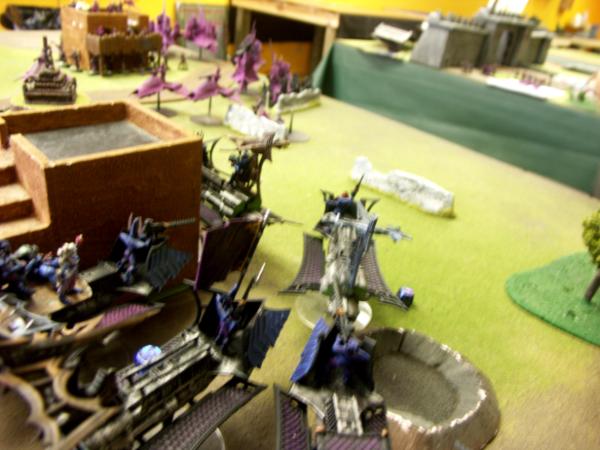 On my turn, you can see my Wych raider holding steady in it's hiding place (it's the Raider with the Wych and sacrifice on deck) the Trueborn go zipping aorund the corner to unleash some Blaster love on the Venoms.
The beasts go galumphing forward.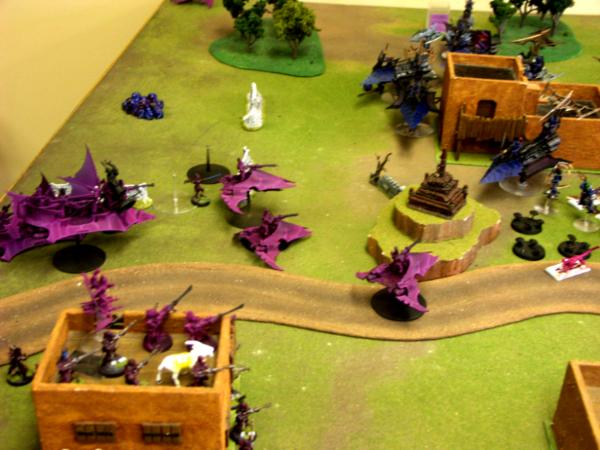 The goat is not the objective by the by - both of us stuck our objectives behind our respective ruins.
Here you can see the results of my shooting - an immobilized Venom, two exploded Venoms, a wrecked Bloodbride Raider, and another Venom unable to shoot due to being shaken. The Beasts fell short on an assault they attempted on the Venom - in retrospect possibly a good thing as it prevented the Bloodbrides from being able to assault, and possibly lock me down for a turn. The Brides and some of the Warriors ate some S.Cannon fire which wiped outt some Blasters and, interestingly enough, killed every Hydra Gauntlet in the Bloodbrides while leaving the regular Brides untouched. When wound allocation goes wrong was definitely at play there.
On Hod's turn he was suddenly left with not a lot of shooting - we had a discussion of relative metas and his local area is apparently a touch foot heavy, whereas I am certainly a mech opponent man, so between his Ravagers being out of play and my return fire capability, his army was left reeling. He pulled back most of his vehicles to give them time to shake off their shaken results and to hopefully lure me in for a better counter shooting assault I suspect.
Hopping out of their immobilized transport, these Warriors prep a Blaster that will shortly explode the Raider in front of them.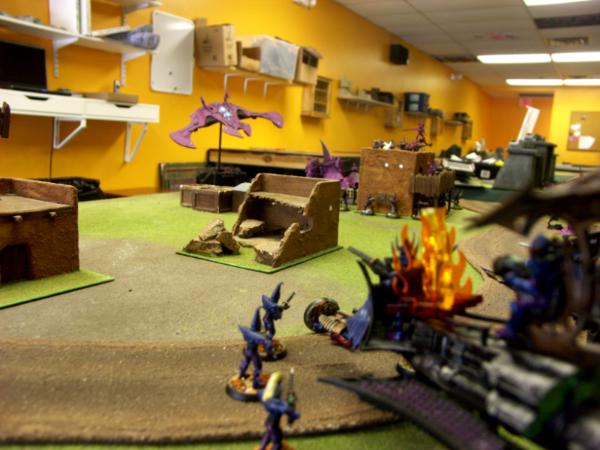 Voidraven and Ravager sniping away, another Warrior squad is blasted from their transport (and pinned) - I think I lost a Ravager in this exchange as well.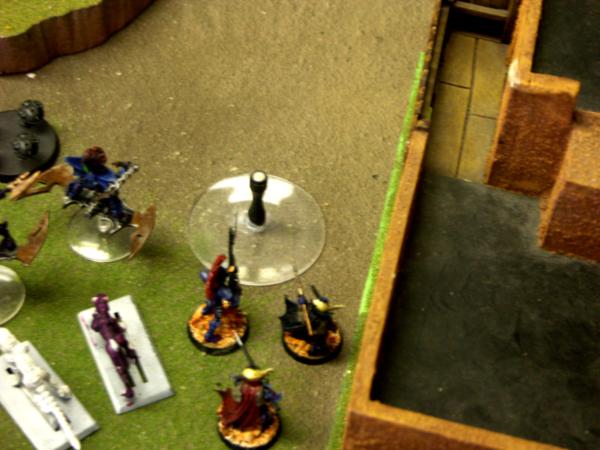 Here are some Warriors stumbling back in fear from their casualties, thankfully fear of what I would do to them if they ran allowed them to rally and come back to put their Blaster still to work in my service.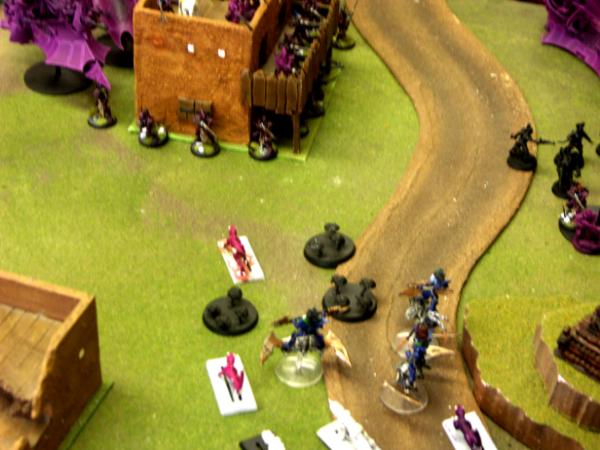 Keep movin', movin', movin'
Though they're disapprovin'
Keep them dogies movin'
Rawhide!
My Beasts continue their aggressive scuttle forward, looks like I'm within good strike range now - I would like to point out for all those players who bemoan how the Baron "slows" Beastmasters. This is Turn 2 - I am about to assault - they are not slow.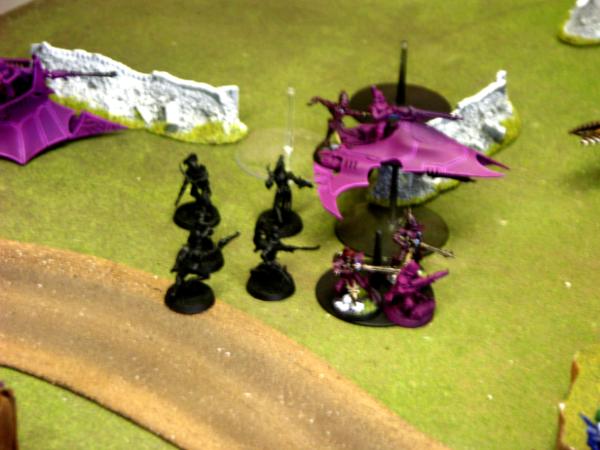 Actually, this might have been the turn I splintered up his Wyches - would explain this picture and make me even happier I didn't assault that Venom.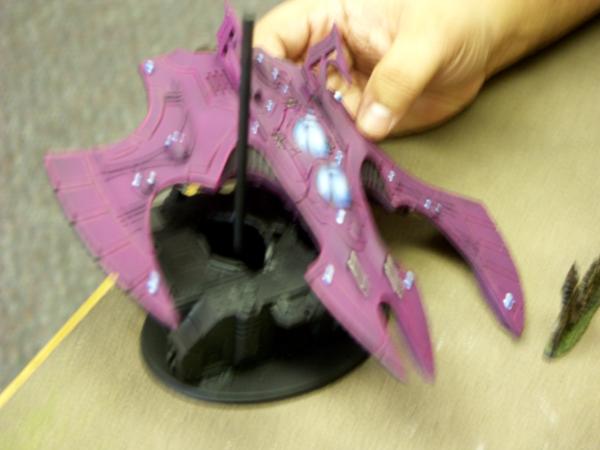 Too pretty to live.
Also way too dangerous with Voidlances and way too easy to shoot with its height - the Voidraven is gunned down by my advancing gunboats.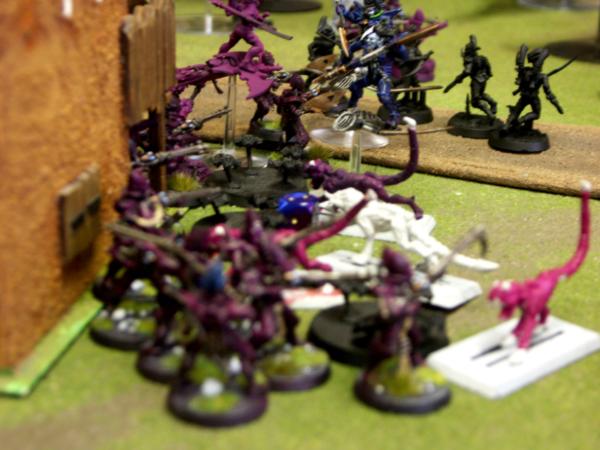 20 Warriors w. Baron
vs.
Hungry Beasts w. Baron.
You can't buy this sort of entertainment (well, actually, you can, and
GW
will let you at about $15 a beast - or you can use the old Warp Beasts which are *way* cooler) I do need to finish up painting these things *sigh*. In any case, I can't get everything in, and Hod plays a bit of 'assault restriction' maneuvers which he did very well and managed to keep The Baron and 3 Beasts out of the fight - paired with my less than stellar assault rolls (I think, literally, every Khymarae missed or something equally pathetic) I manage to only kill a handfull of Warriors and he smacks apart a Beastmaster and a Flock - combat holds for next round and we consolidate in.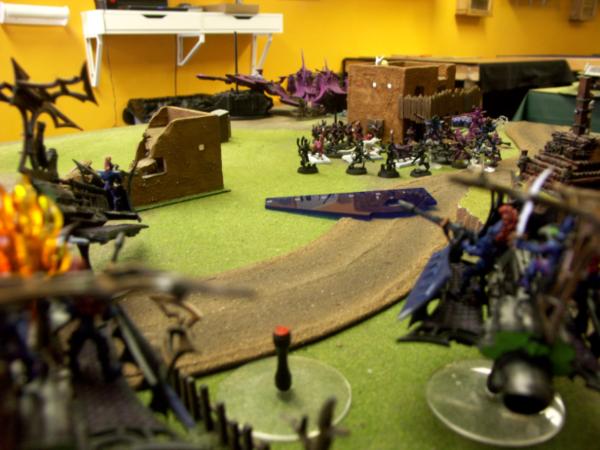 On his turn you can see his Ravagers have sniped apart my Ravager (that lonely flight base with a red dot on it at front center) Behind it you can see his Bloodbrides have decided to join the fight with the Beasts.
He invariably had other shooting - I don't have good pictures of it, my Trueborn were rolling up his flank pretty nasty on the other side and their Venoms were cutting a swath through any warriors they knocked out of Venoms.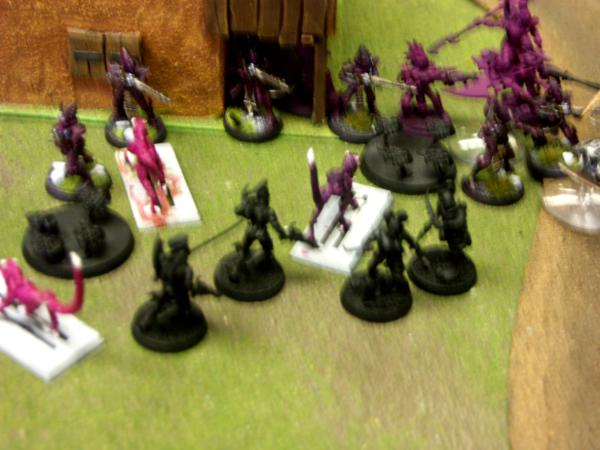 (apologies for shaky picture) His Bloodbrides join the assault, but Beasts are as tough as old shoe leather - I focus all the swings I can into the Warrior mob, and you can see the results of what used to be a 20 man squad now reduced to a handful. He whiffs *both* morale checks and my beasts feast upon his shattered remains.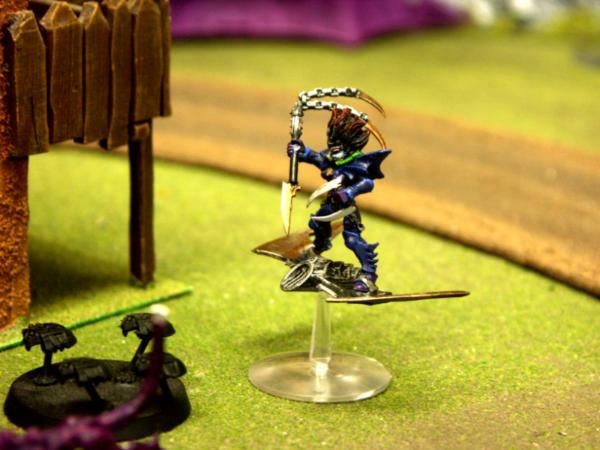 Baroness Sathypants is pleased.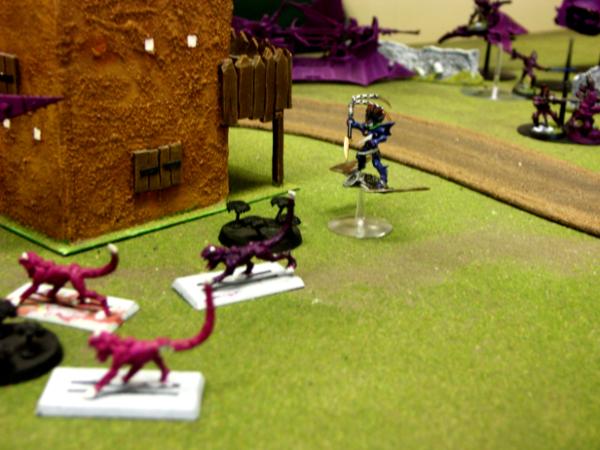 The Beasts truck off to go assault Ravagers, behind them you can see the tattered remains of his Venom wing.
A lay of the land shot. Upper right are my Trueborn, facing off against a flat out moved Bloodbride and Venom w. Warriors going for a flank move towards my objective.
In the center field is my last Ravager and some Warrior squads who are milling around and firing their Blasters at whatever they can - they're relatively safe since it's not a
KP
mission and there are bigger threats.
Upper left has a Warrior Raider and the Beasts harrying the two Ravagers.
The Raider on the hill dead center is my Wych Raider finally coming out
ot
kill - a Liquifier shot fries 4 Warriors (2 different squads) and basically clears off his Troop selections besides that last loaded Venom along the top.
Guess which 2 of my Raiders were the immobilized ones?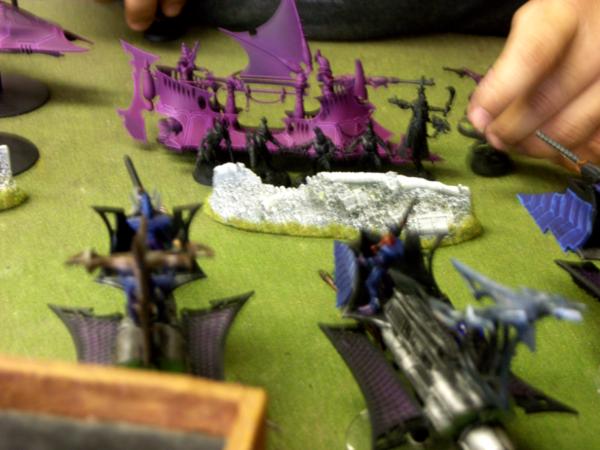 It takes a lot of shooting but my Trueborn pop both of Hod's vehicles trying for a breakout. I'll pepper them with Splinter Cannons for mediocre effect. What's that, he has HWGs and I'm in a straight line? Posh - nothing to worry about!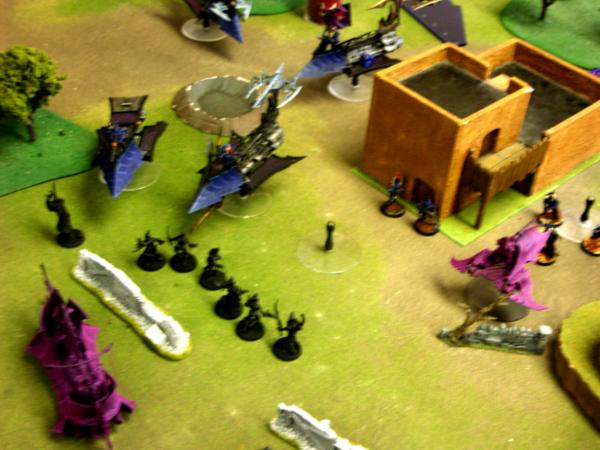 Actually, he'll assault me and pop some boats and frag some Trueborn but...um...I block up his path to my objective so they died in glory.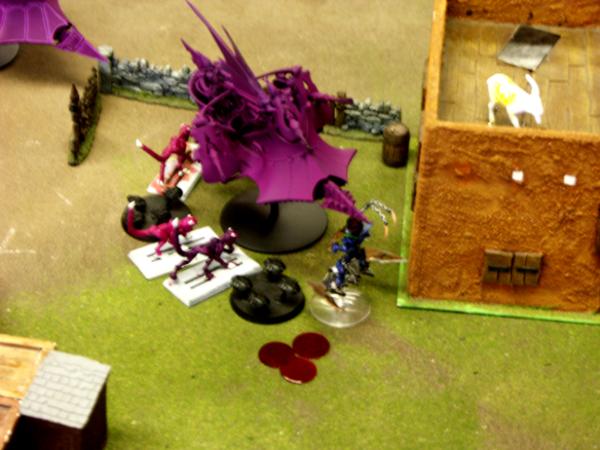 My beasts fail to wreck the Ravager.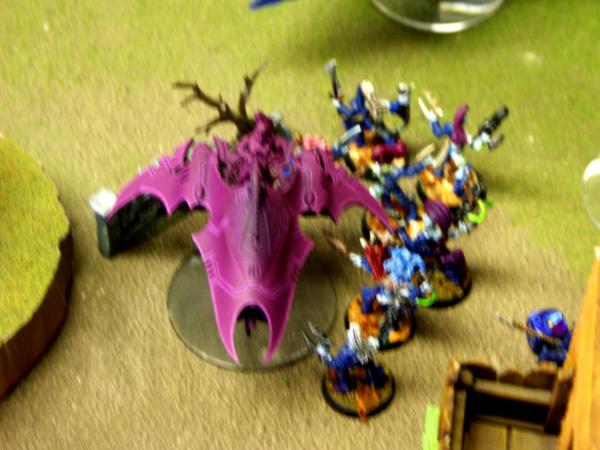 2 Trueborn squads (6 Blasters) 2 Warrior squads (2 Blasters) 3 Raiders (3 Lances) 1 Wych squad (Haywire grenades)
Goal - prevent Venom from contesting claimed objective.
Result - 1 weapon destroyed result.
He literally made something like 5
FF
/cover saves with this one Venom. Egads I say!
Bloodbrides trying to get to objective.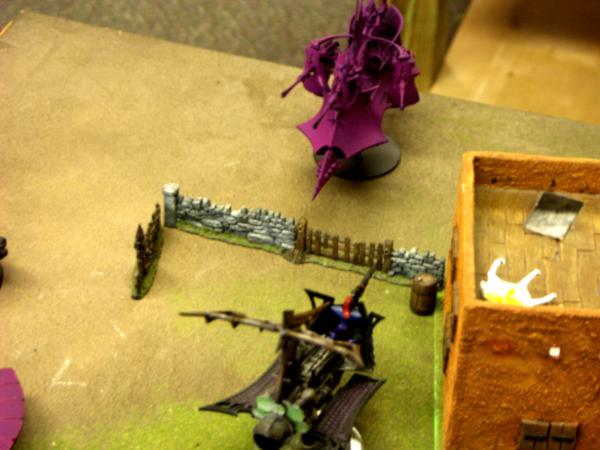 Claiming wooden barrel objective, shooting up a Ravager - all in a day's work for the
DE
.
Looking back, I think Hod was right - we got confused as to what was 4th/5th turn - I won the debate but he was right (unless the pictures are losing me) anyway we rolled off at the end of "5th" turn and I won. Thankfully, Hod had already taken a "6th" turn so we kept playing till the end of "6" to see what would happen. Basically I tabled him at that stage - wiping out his Bloodbrides with a lot of shooting and a Wych assault, and shooting down his Ravager(s?)
At the end of 6(really 5th) he had one unit of Warriors on foot and maybe 1 Ravager vs. about half my army and I held both objectives. We called it there.
---------------------------------------------------------
Hod and I discussed it afterwards and we both agreed his big issue was the gakked up first turn where he didn't get as much shooting as he should have (having it paired with me making about half my
FF
saves certainly didn't help)
This game continues to prove that it's best to have your "lucky" dice during the first half of the game. I'd say i was rolling bombs all through Turn 1-2 and Hod definitely got really lucky on Turn 4-5, but by then it was not enough to shift the tide back in his favor.
I think I scared him away from his uber sniper squad (though I actually rather like the build) and I think the deciding factor was seeing its vulnerability to assault. Certainly the turn my Beasts ate that squad+Baron+Bloodbride support was a *huge* advantage point for my side as basically an odd 300 points of mine had eaten 500 points of his - that's not an exchange you want to do too often on the losing side.
I had no shocking revelations on my part, but I will say Hod played Nightshields darn near perfect - it's just hard to maximize them versus an army as fast as
DE
.
Hopefully he'll pop through and offer some deeper insights to his strategy/setup.
For me it was basic bum rush with
MSU
and lots of dakka paired with a lucky prediction of how he'd attack and a luckily whiffed assault attempt equating to a solid win.