Greetings,
Was having some discussion on the viability of Razorwings, and the type of list that would work best with them, and from that a lot of discussion about using them in a list featuring deep strike, Sliscus, and lots of anti-tank in the troop options. Inspired by that I wanted to see if I thought the list would work for me and how competitive I thought it would be, here is my first serious test of it;
The Descending Storm
Duke Sliscus (in my list The Duchess - because boobs make everything better, even Duke Sliscus)
6x Five Warriors with Blaster, Sybarite, Blast Pistol - Raider w.
FF
(yes, Blast Pistols in a competitive list - the mind melts)
3x Three Trueborn with Blasters - Raider w.
FF
2x Razorwing with Dissies and
FF
1x Razorwing with Lances and
FF
So, wake up early, grab my gear that I packed the night before (make sure you pack your objective markers, and tape measure, and templates, natch). Put on extra layer of underarm deoderant (didn't last - I need to start packing that too methinks) and truck on up to Dark Side Comics and Games - music selection for Dark Eldar is always Sabaton, and the mix has to start with Art of War, it always gets me in a
DE
mood;
Round 1
Mission - Annihilation
Deployment - Spearhead
Opponent - Nollie's Blood Angels
I've currently misplaced his list (derp!) but going off memory and pictures it was basically this;
Chaplin in Termie Armor with Assault Terms (mix of
THs
and
LCs
) in Landraider
10x Assault marines in Landraider
10x Assault Marines w. Priest - jump packs.
10x Devestators w. Missile Launchers
5x Scouts w. Heavy Bolter and sniper rifles
10x
Tac
squad w. melta, multi melta, combi melta, in drop pod.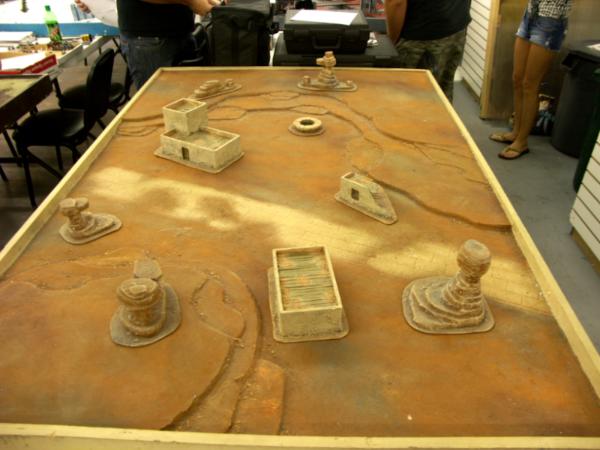 The map was desert and provided some reasonable options for
DS
awesome - I won first turn and gave my opponent the upper left corner to deploy in as I wanted the wide spaces to
DS
into there. Also featured in this picture (from left to right) my opponent's crotch, a friend of his who was playing at the next table's backside, and my opponent's girlfriend's legs - one of these days I'll manage a batrep at a tournament that doesn't feature about 5-6 crotch/backside shots - I just haven't figured out how.
He, of course, stacks up his Devastators and Scouts in the ruins of the building. The two Landraiders (one with Assault Terms and a Chaplin, and the other with Assault Marines sans packs) deploy on the left and right side of the building respectively. A Sanguinary Priest and Assault Squad with packs crouches in-between a Landraider and the ruins to be ready to counter assault.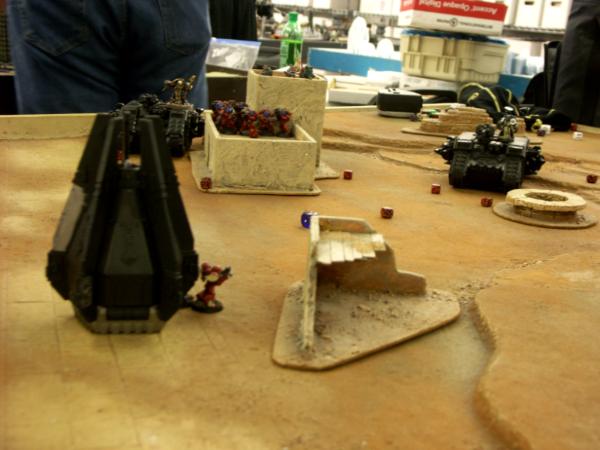 One big benefit of an all
DS
army - Marines with Drop Pod Assault don't get to use their 1st turn Pods to do much of value - he drops into my deployment zone (there is a secondary objective point for this) and occupies another small ruin with his melta heavy squad.
At the start of Turn 2 my first deep strike is...not what was expected. Basically I get one Warrior squad (No Duchess - she proved to be quite content to send in the expendable mooks to soften the enemy before she ever showed up, a true
DE
general's strategy

) I also get one Trueblaster squad, and all three Razorwings...derp?
Here's my Warrior squad who ended up scattering a little dangerously close to the Drop Pod, just visible above them is the Termie loaded Landraider.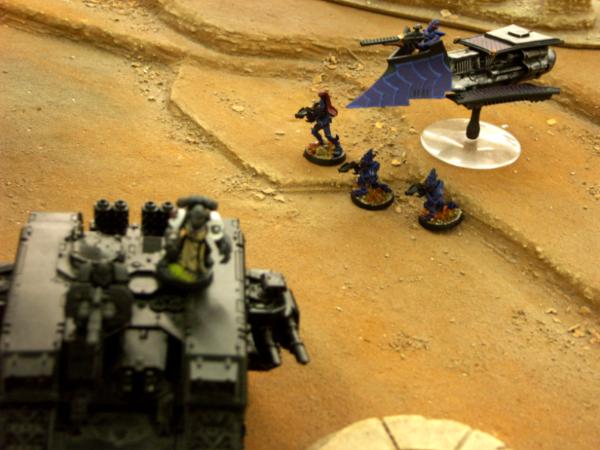 The Trueblasters drop in right on target, drawing a bead on the Assault Marine Landraider.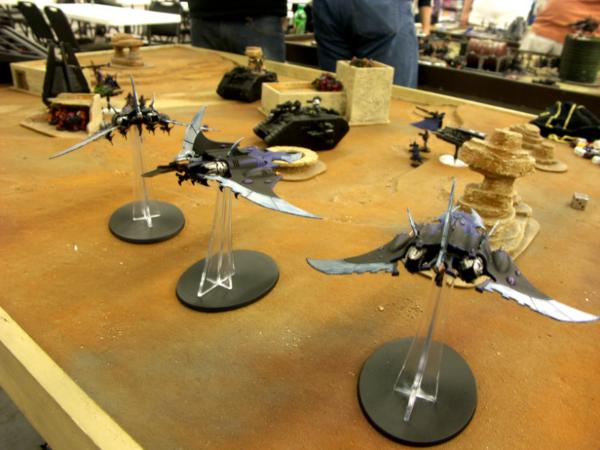 The Razorwings fly in on flank furthest from the Termies - their goal; murder.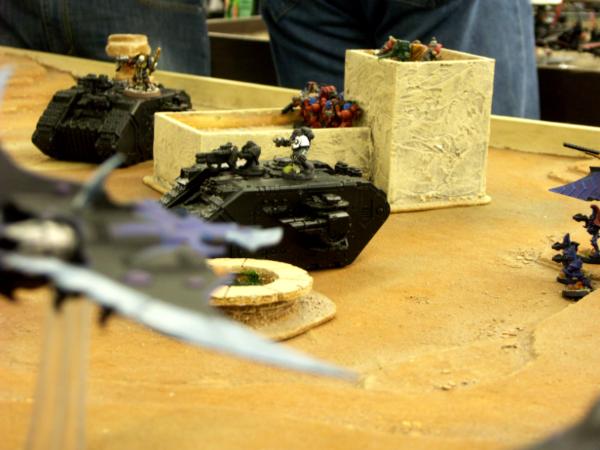 Lining up some bad intentions for the Devastators...also, crotch. There's about four more in this round alone, jeez...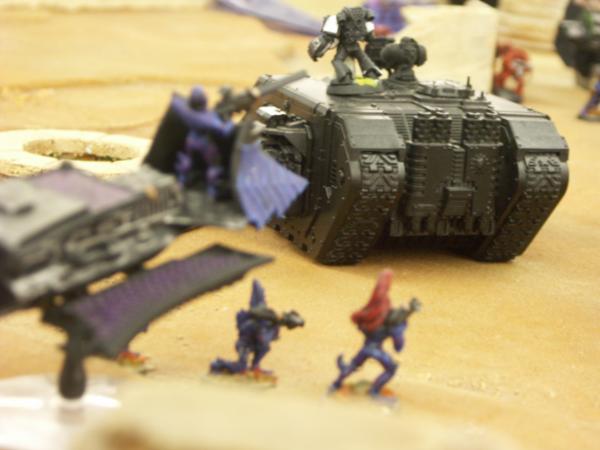 The Trueblasters fire into the Landraider - exploding it and killing an Assault Marine in the process.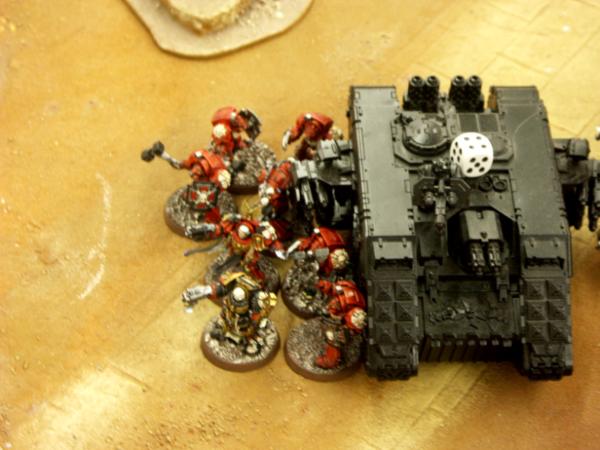 The Warriors wreck the Termie Landraider, forcing the walking tanks to...walk...yes!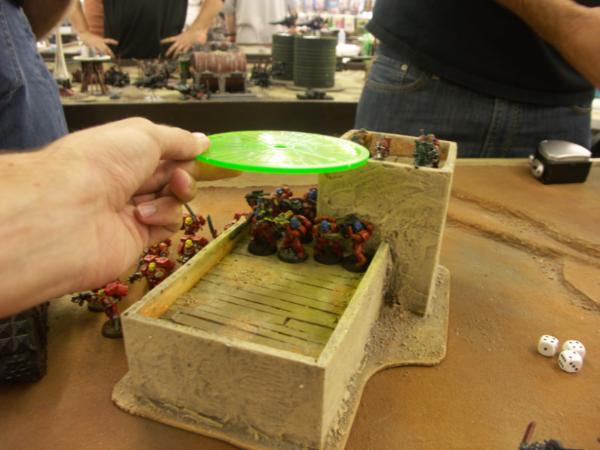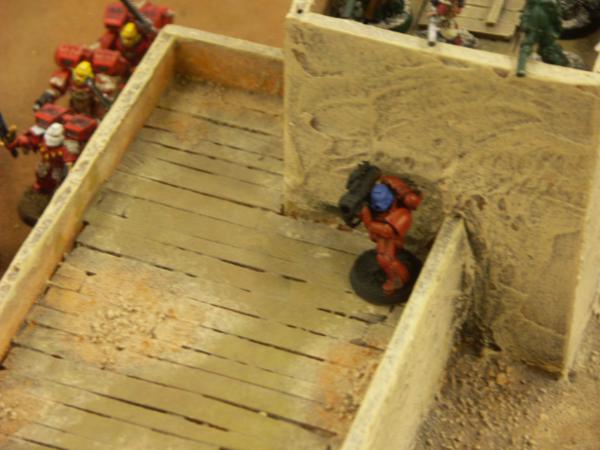 After this particular missile attack there was serious discussion about how the Razorwing was too powerful.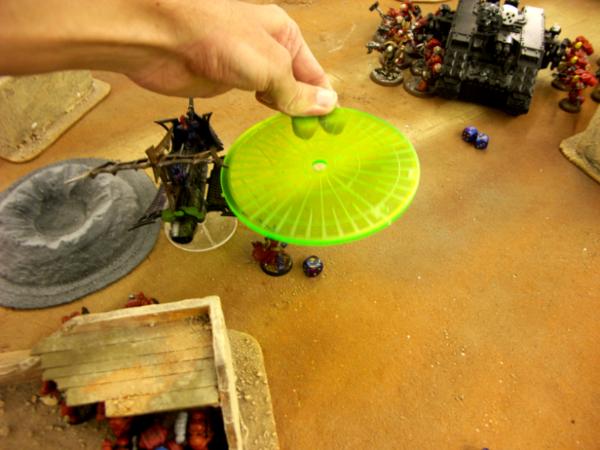 While dropping Monoscythe Missiles on top of the
Tac
squad in my deployment zone (there shall be no bonus points ye cur!) there was a slight incident of "friendly fire" that took out all of the Warrior squad but a single Warrior - ah well, the life of a suicide unit.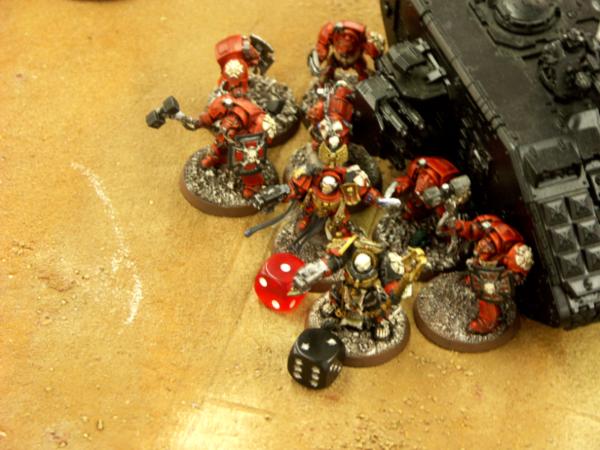 The Termies plot what to smash as punishment for ruining their ride. Also show off some wound markers they've gained.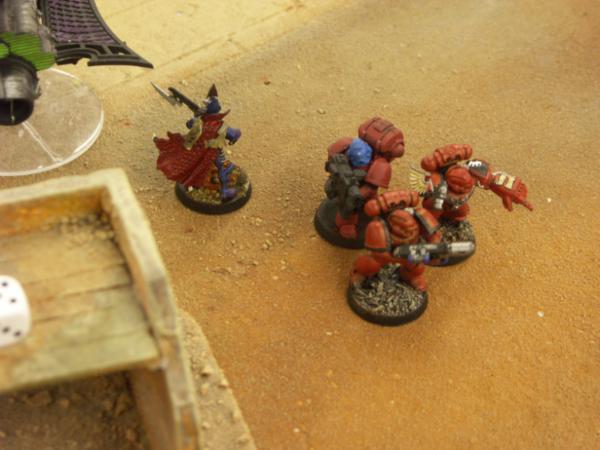 The mauled Tactical squad decides to fall back for safety - here we see them so horrified by the presence of a Dark Eldar that the Blood Angels are debating their best course of escape - this is a common occurrence when Marines meet Dark Eldar.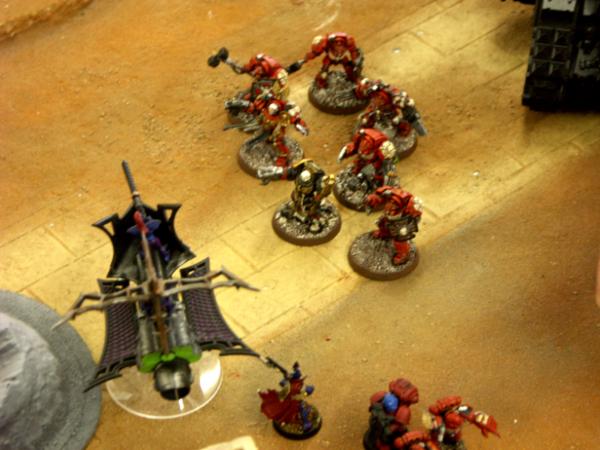 The Chaplin (who is angry) spots a vehicle to smash (angrily) and orders his men to (angrily) advance on the target of his anger (angrily).
The Jump Assault Marines leap over the building while the foot Assault Marines rush out of their crater and advance towards the Trueblasters with bad intentions.
A flamer frags most of the squad, then a dual assault is made, that wipes the Trueborn and shakes the Raider.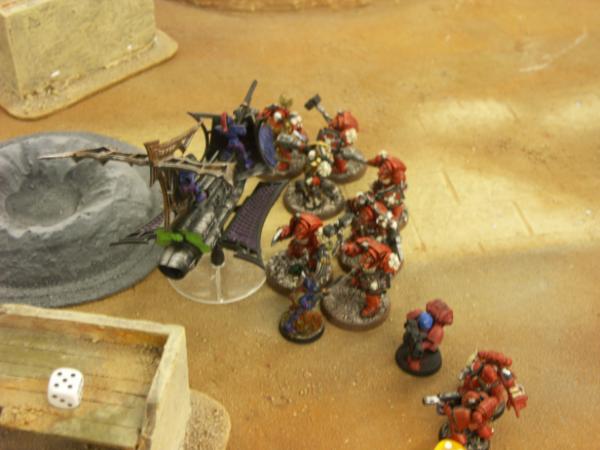 It will probably come as a great surprise to all of you - but the single Warrior and his Raider did not perform well in this assault phase. I blame my bad dice.
Turn 3 - I get a nice drop of vehicles. The Duchess decides things are softened up enough that she should descend - also more Trueblasters and Warriors drop onto the scene, eager to take part in the carnage.
The Trueblasters on the roof were a scatter - though it was not a bad position to end up in. Mostly lining up shots to punish the Blood Angel Termie Death Star.
The Duchess and her men spring out to pour firepower into the Assault Marines.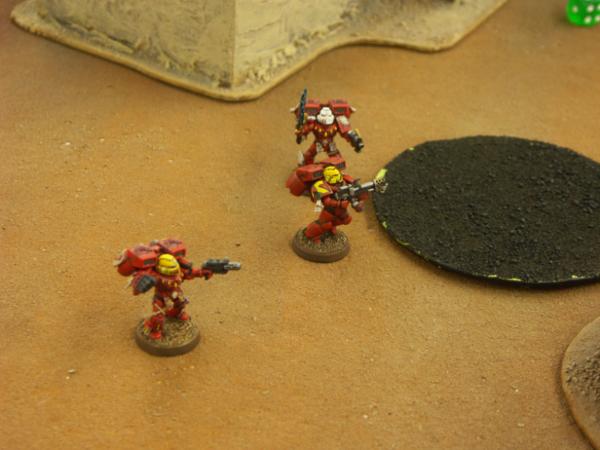 The Jump Assaulters suffer as well - the Razorwings use their Dissies to good effect and cut huge swaths out of the squad.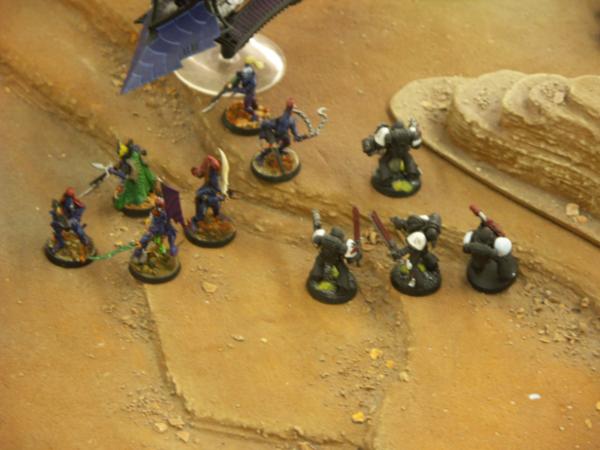 The Assault Marines crack under the waves of splinter and blaster fire and choose to tactically withdraw, unfortunately Duchess is along their escape path and will cause them rally problems.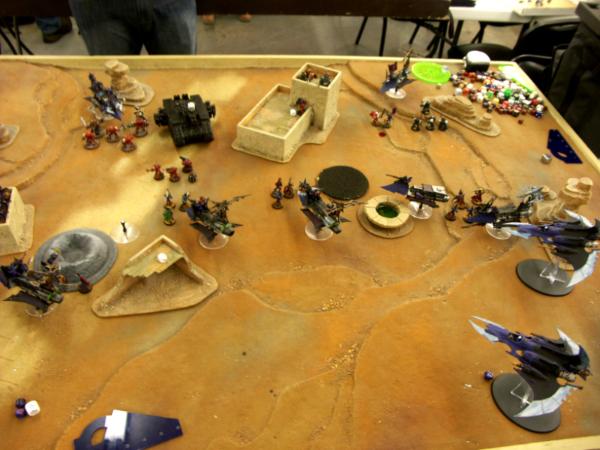 Here's a big lay of the land as it stands at the end of my Movement Phase on Turn 4. (sorry - wasn't taking enough pictures, was hustling to get through turns)
You can see in the upper right that the few Jump packers moved up, and the Assault Marines shot up and flamed Duchess, killing off her squad but leaving her untouched. They then dual assaulted her and her Raider - Duchess quickly killed both Assault Marines with contemptuous ease, killing them before they could hurt her ride, the Sanguinary Priest charged forward and slashed at her with his power weapon, but the lithe Dark Eldar proved too fast and skilled to be hit - they will hold in combat for next turn.
On the left side, the Assault Terms murdered the squad that had disembarked from that Raider - they killed them *very* easily.
The
Tac
squad has rallied but failed to do much with their shooting. The Scouts and Devastator are holding on and have been trying to stem the
DE
tide, but don't have the firepower for it anymore.
The
Tac
squad is torn apart by shooting.
Not pictured, but also accomplished - the Devastator squad is finally killed, and the Scouts are shot up enough that they fall back and end up behind the building before they rally.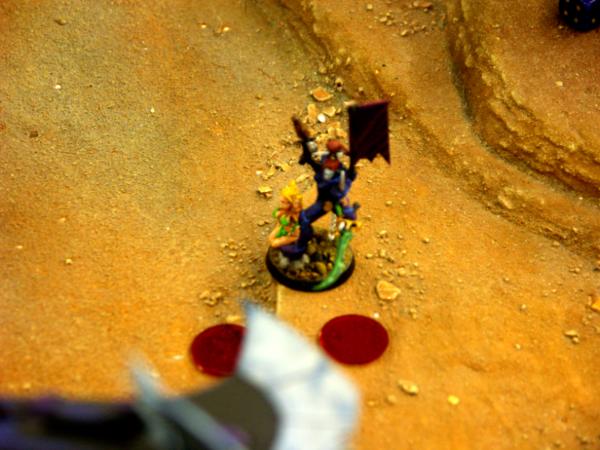 Duchess easily dispatches the Sanguinary priest and goes off in search of more victims.
The Terms assault the Raider, and rock it as badly as I was rocking this picture - easy wipe out.
The rest of the game went pretty quickly, but the breakdown is basically this;
Duchess and a Warrior squad stalked down the Scouts and murdered them.
The Terms were targeted by multiple Blasters, Lances, and Dissies and were eventually whittled down and wiped out.
I tabled him - but due to the way the mission was scored I actually ended up in the upper middle of the score card because I didn't manage to get 2x
KPs
off him as I lost 6
KPs
and he only had 10 on board that I claimed all of...derp!
That said, I'm usually pretty content to be in the upper mid after Game 1 - it theoretically helps you avoid the big sharks...or so I thought.
=============================================================
Intermission.
Honestly, "Lunch" happened between Rounds 2 and 3, but I'm making a joke there, so these pictures are going here - just a glance at a few of the other armies that were out there. We had Grey Knights, Blood Angels, Wolves,
IG
, Chaos Space Marines, Necrons, Tau and Dark Eldar.
DE
actually had two players (me and a Venom centric list), so were nicely repped. Only the one Tau and one Necron though

Not represented - Eldar, Orks (at least, I swear I didn't see any, which seems silly, but if they were there I missed them) Vanilla
SM
(again, this seems silly, but, we had multiple
GK
and
SW
, and a
BA
player and yet I think no Vanilla). Also, no Sisters and no Nids (yeah, giant shock on both of those, huh?)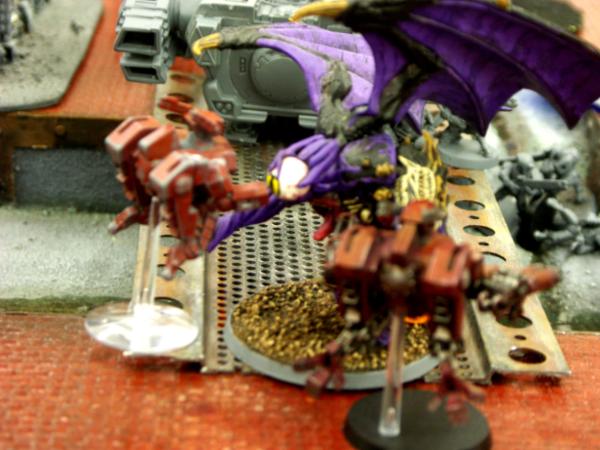 Some very pretty Tau encounter a very pretty/horrible eyeball head Daemon Prince in h2h combat (spoiler - it ends poorly for the Tau)
John's Nurgle forces rejoice in their first round victory. They would go undefeated during the tourney.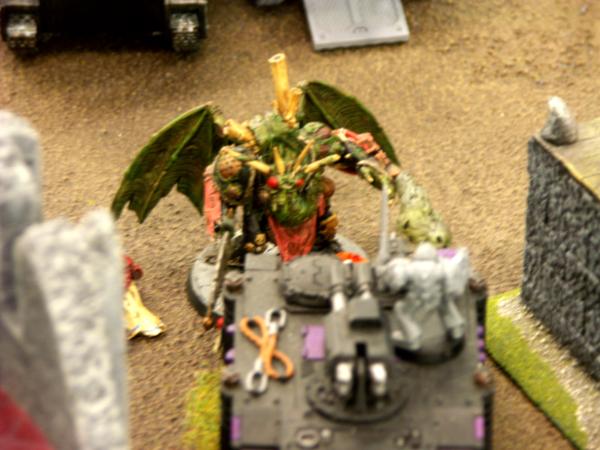 Dakka's own Marcus Scipio's Wolves vs.
CSM
.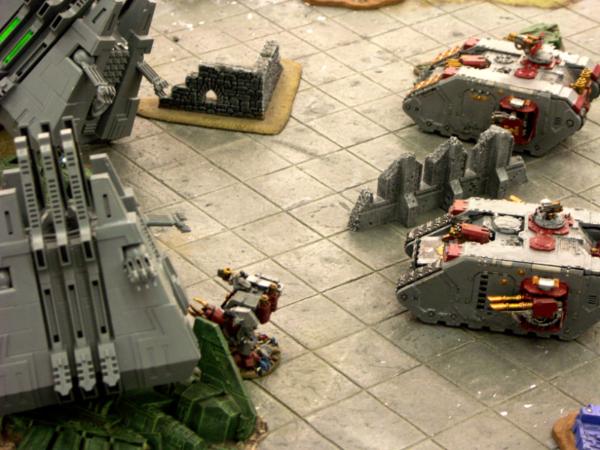 The Grey Knights meat ignominious defeat at the hands of a Necron army (our spammed
Str
7-8 shooting, it does very little!)
=============================================================
Round 2
Mission - Capture & Control
Deployment - Pitched Battle
Opponent - Justin's Space Wolves
Njal Stormcaller w. 4 Wolf Guard Termies (
TH
/
SS
) in Drop Pod
5 Long Fangs w. Missile Launchers - joined by Wolf Guard in Termie Armor w. Cyclone Missile Launcher
- Laserback
5 Long Fangs w. Missile Launchers
- AssCan Razorback
5 Grey Hunters (Melta, Powerfist) w. Rune Priest (Living Lightning, JoWW)
- AssCan Razorback
5 Grey Hunters (Powerfist) w. Rune Priest (Murderous Hurricane, Tempest's Wrath, MoR)
- AssCan Razorback
5 Grey Hunters (Mark of Wulfen)
- AssCan Razorback
5 Grey Hunters
- AssCan Razorback
Oh well, you know you're going to face a bunch of Space Wolf Razorspam/Longfang things sooner or later in any tournament. Also, I end up on a desert terrain table again - so I guess Duchess was just really excited assaulting a desert planet.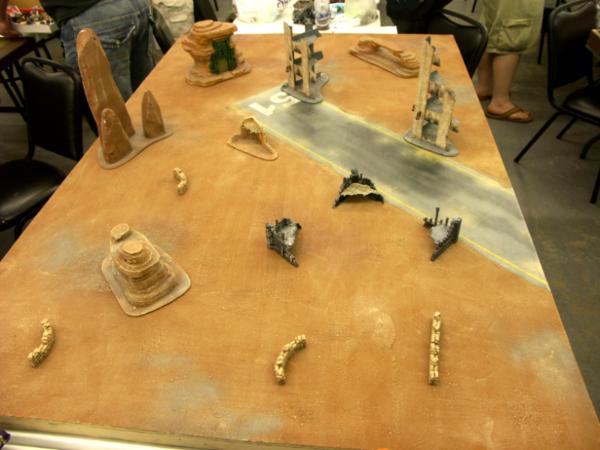 I think my opponent actually won turn selection, doesn't really matter, in any case I end up with second turn either by his choice or mine. He claimed the right side of the table and I got the left. His objective went in the building near the middle of the board, and mine went in the bottom left corner.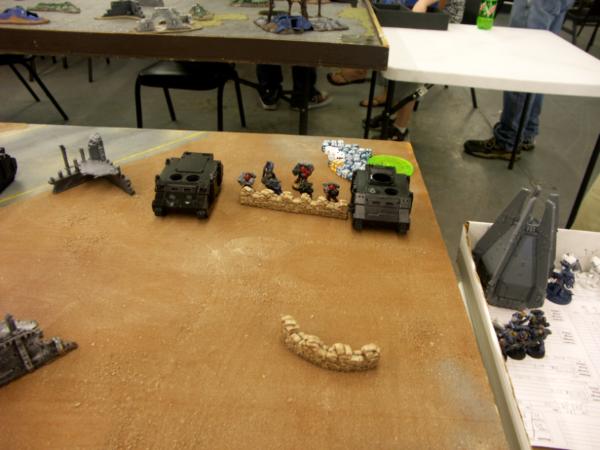 Long Fangs setting up, Razorbacks spread around them.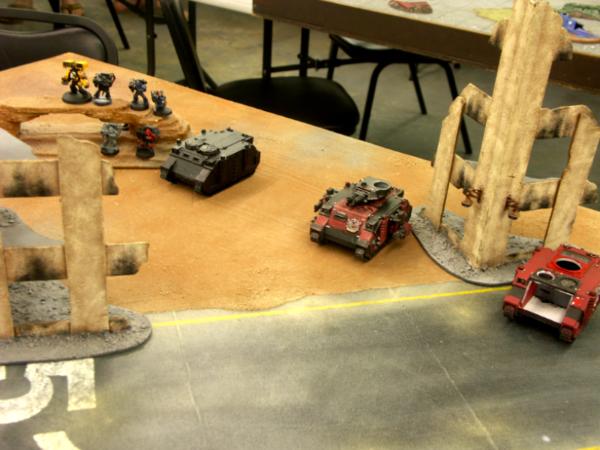 There's a Rune Priest and squad in each painted Razorback - Long Fangs and Cyclone Termie Wolf Guard set up on ridge line - they will be a punishing part of his offense.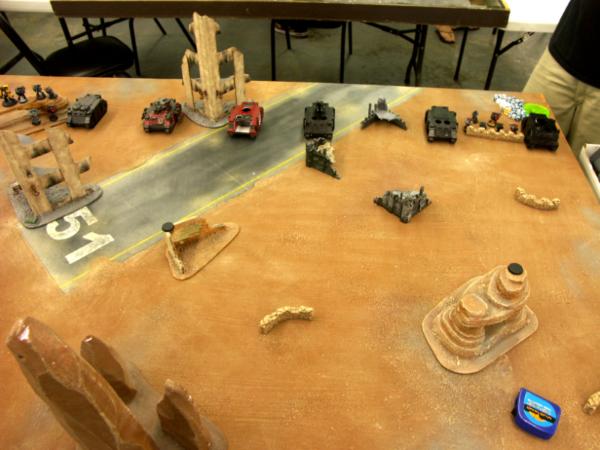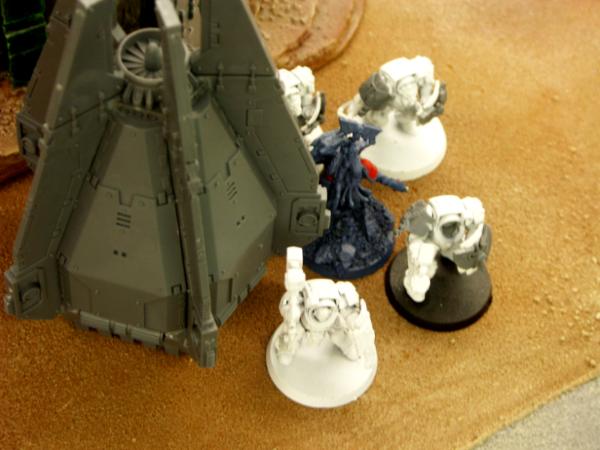 Njal and some more Wolf Guard drop in via Drop Pod - again, a nice benefit to being all reserve.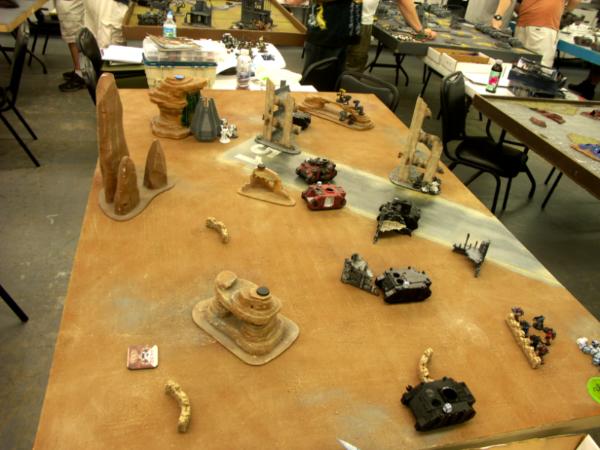 Lay of the land at the end of Turn 1.
Turn 2 he doesn't do much besides start hoofing Njal and Terms towards my objective.
Then comes a noise of descending Raiders...
My first reserve roll is...mediocre. I get 2 Troop, 1 Elite, and 2 Razorwings.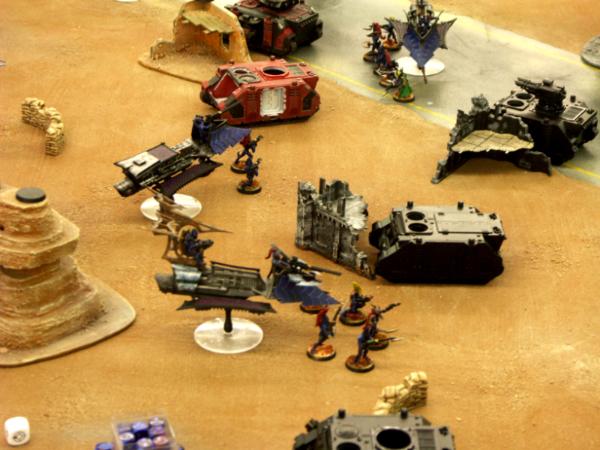 My drops all come in pretty accurate though.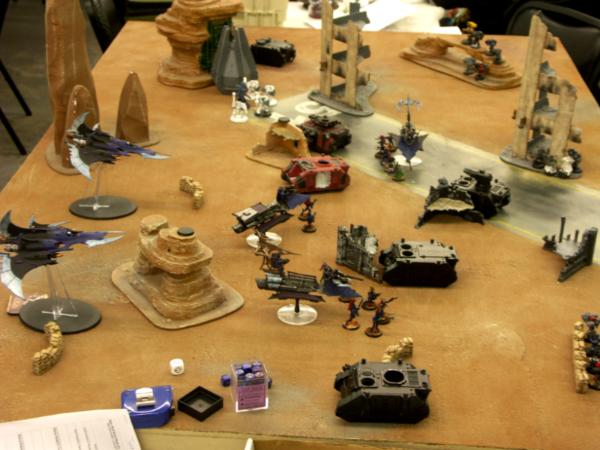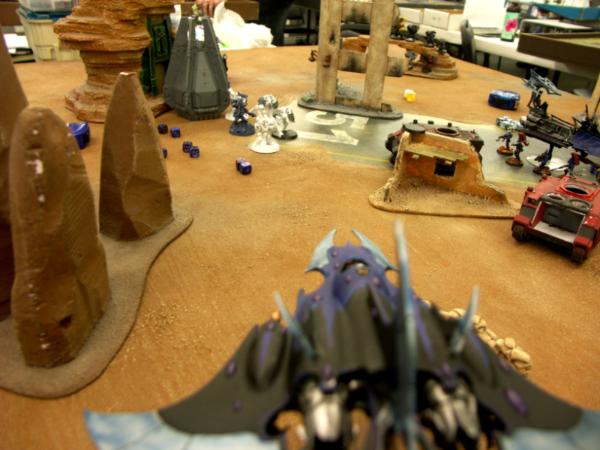 A poor decision from me - I decide to try and bust up Njal's unit with my Razorwing (killing him is a secondary objective). That said - probably should have dumped the damage into that Long Fang squad instead - derp!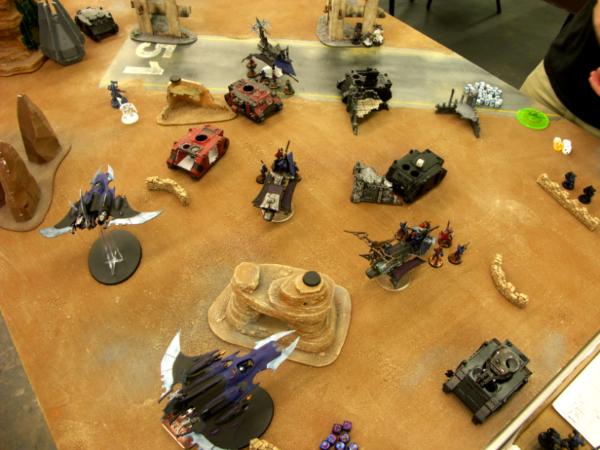 Njal's squad is down to him and a hammer. You can also see that the Long Fangs in the upper right was also whittled down to 2 (falling back, so they'll spend next turn not shooting as well).
My Trueborn, Raiders, and Warriors manage to take off a couple of assault cannons from the various Razorbacks, but don't pop anything.
During Turn 2 the Space Wolves...more or less kill everything that dropped in. One of the Razorwings survives by just being immobilized (the other is assaulted and smashed by Njal and hammer buddy), and one squad of Warriors is still squatting in cover. I get a...limited drop in again on Turn 3. One Warrior squad, one Trueblaster squad, and the last Razorwing.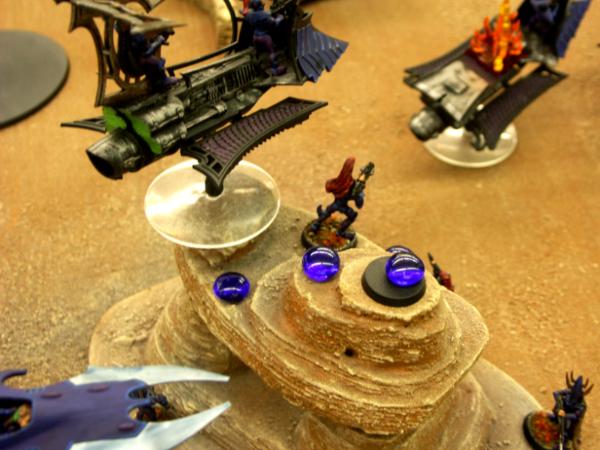 Here you can see a rather...interesting scatter on a Warrior squad drop - beads represent Warrior's actual locations - models are protected due to wobbly model syndrome.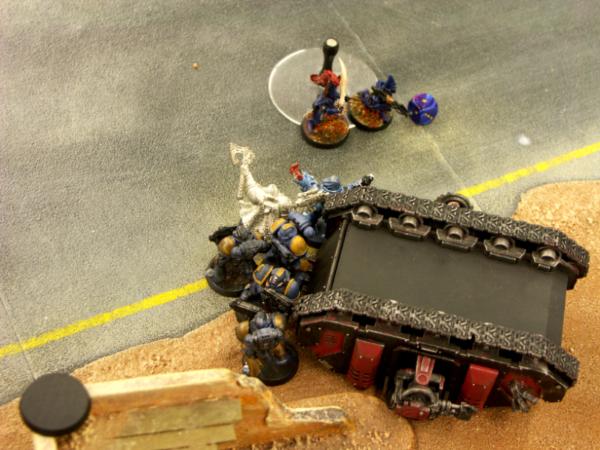 Here you can see the Warrior squad from the first drop wave has managed to pop the Razorback and force the squad inside into the open.
The fresh Razorwing blows apart the squad holding his objective - only one Grey Hunter is left holding it.
My other shooting is okay, various vehicles are hampered and squads of Wolves whittled away at. The weak Long Fang squad is killed off, a couple of vehicles wrecked, not a bad turn, just not everything I wanted. I know I'm taking casualties, but I'm focusing on getting him off his objective and being ready to snag mine and his.
In his turn he brings some more fury, though he is somewhat limited due to a lot of his stuff being dead. The Long Fangs on the ridge continue to reap a hefty toll on the lives of my Raiders. Living Lightning and Murderous Hurricanes are thrown around with reckless abandon as Njal's freezing storm (on the desert world) continues to hamper me slightly.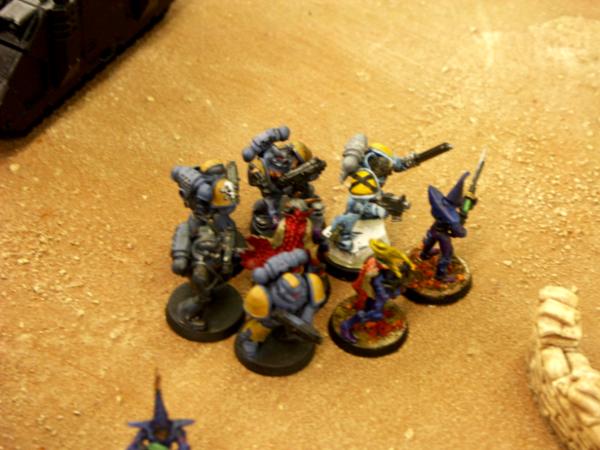 In a fascinating bit of sadness, this assault by the Grey Hunters (with Wulfen) will hold for almost the entire game, as the Sybarite and his squad actually kill one of the Wolves and hold the line for a surprising period of time.
On Turn 4 I roll two 1's on reserve rolls and only get half the units I hoped/wanted to... :(
On the plus side, apparently Duchess finally decided things were right for her to deign to grace the table with her presence - and she and her squad finally murdered the
TL
Lascannon Razorback that had been annoying me all game.
On his 4 he did some more damage and kept pressing forward, knowing he had to claim my objective. His Long Fangs sadly realized that even though they were murdering vehicles there were so many scoring units it was a questionable value to keep killing them. Still - lack of targets just has them pop the Duchess' Raider and probably something else too. The Grey Hunters running around start trying to rip apart Trueborn and Warrior squads as they strive towards claiming or at least contesting my objective - he still holds his own.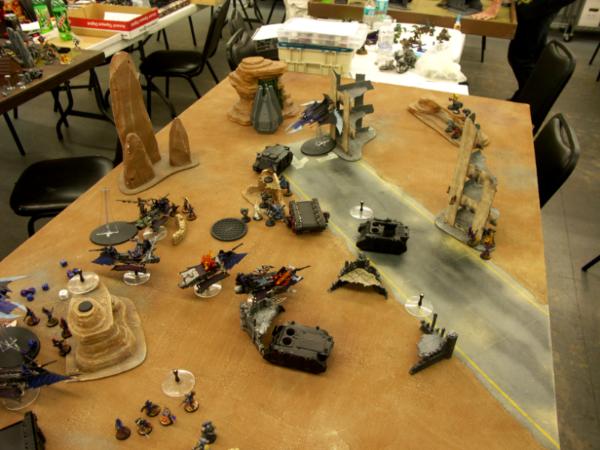 On Turn 5 I finally get my whole army in - joy!
You can note on the left side that I had some focused firepower slice Njall down. I also have some Warriors spread out and basically lock out his Wolves from having any chance of getting in to my objective.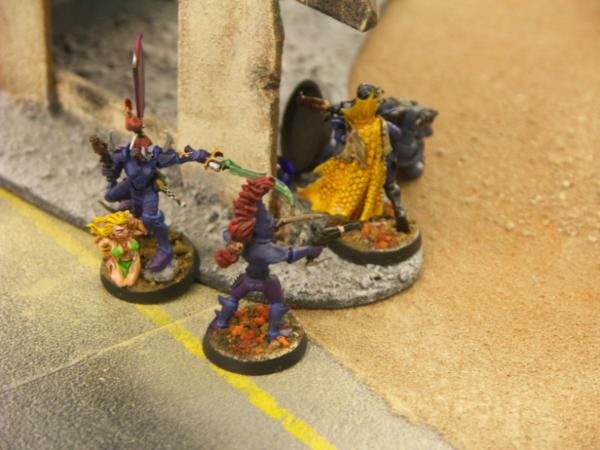 After consolidation protected by cover and holding the objective - The Duchess and her squad had stormed the Grey Hunter's position, and she easily dispatched him with an expert flick of a poison sword. The Game ends with the Long Fang's master of their shooting lane, but lacking the ability to help any Grey Hunters get to either objective.
At the end of this game I breath a happy sigh that I managed to take apart a Razorspam list.
As stands going into the final match I am currently in 3rd place - and I'm aware that at least two of the other top armies are Chaos Space Marines (a player whose very list I'd played with this army and stomped handily - huzzah!) and a fellow
DE
player (using Venom Spam - a list I think my list is quite well built to punish and kill)
So, with spirits high at an easy final we head for the final game...
==============================================================
...and I get to fight Space Wolf Razorspam again. Huzzah!
Round 3
Mission - 5 Objectives
Deployment - Pitched Battle
Opponent - Marcus Scipio's Space Wolves
Rune Priest (Living Lightning, Murderous Hurricane)
Wolf Guard Pack (split up amongst his Hunter squads)
- 2x P.Fist and Combi-melta
- 1x Combi Melta
- 1x Power Weapon and melta bombs
- 1x Power Weapon
- Razorback w. H.Bolter
2x Dreadnaught w. H.Flamer and Autocannon
2x 8 Grey Hunters w. Wolf Standard, Meltagun
- Rhino
5 Grey Hunters w. meltagun
- Rhino
5 Grey Hunters w. flamer
- Laserback
5 Grey Hunters w. flamer
- H. Bolter Razorback
2x 5 Longfangs w. Missile Launchers
- Las/
Plas
Razorback
5 Longfangs w. Missile Launchers
- Laserback
2x Landspeeder w. H.Flamer and multimelta
Basically I'd fought this list (or close to, he changed it to be slightly more aggressive losing Bjon and gaining the Landspeeders, maybe some other stuff but that's all I really recall as a change) the previous Thursday and had lost a tight battle. I'd told myself the reason I'd lost was that I hadn't started on the board when I'd won the dice off - so this time, when I won first turn again, I did. He went full reserve. I debated and discussed just flat outing and blocking off his side edge but didn't (partly because I didn't actually think I had enough mech to pull it off, I'm nice, but I still might have gone for that in another situation. Note to self: actually test out and see how many Raiders it takes to cleanly block other side of board

)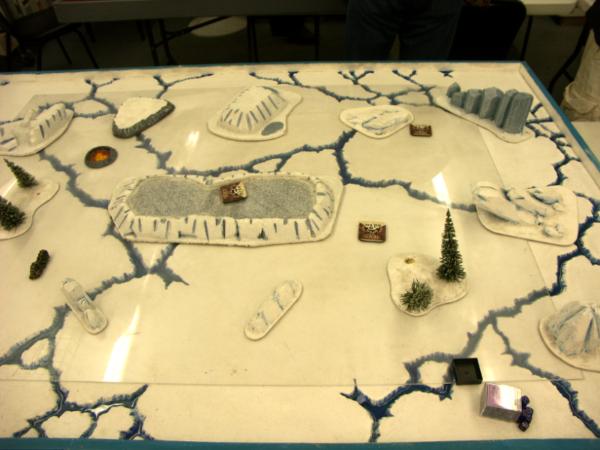 The board - the Bolter Beaach markers are objectives, so is the pile of sandbags and the crater (you can all help me mock him for forgetting to bring objective markers

)
Here's my initial movements;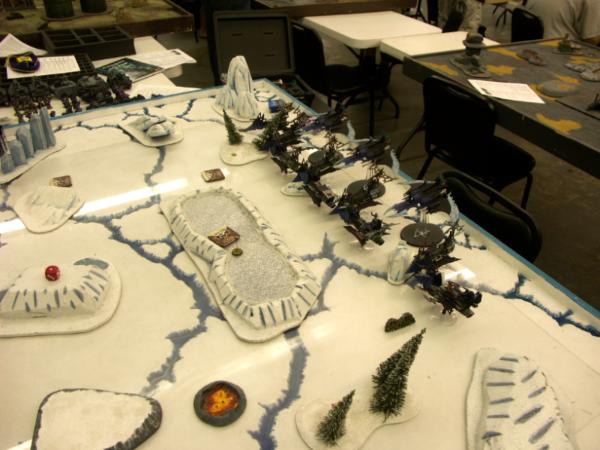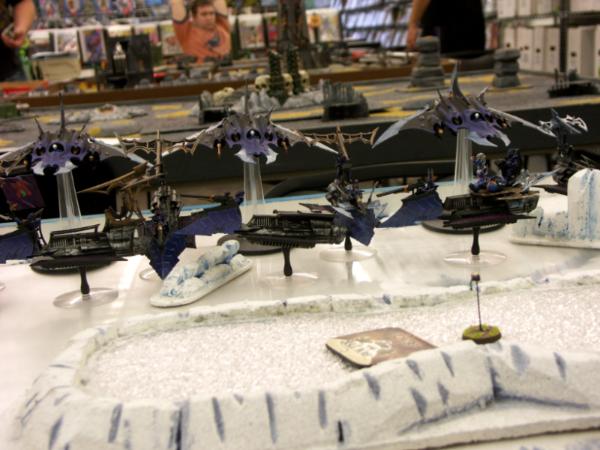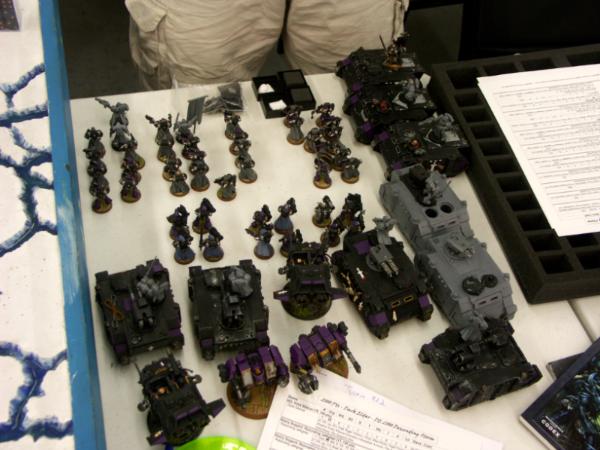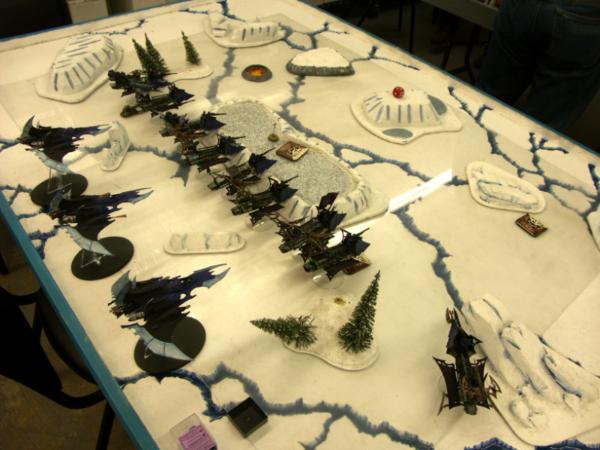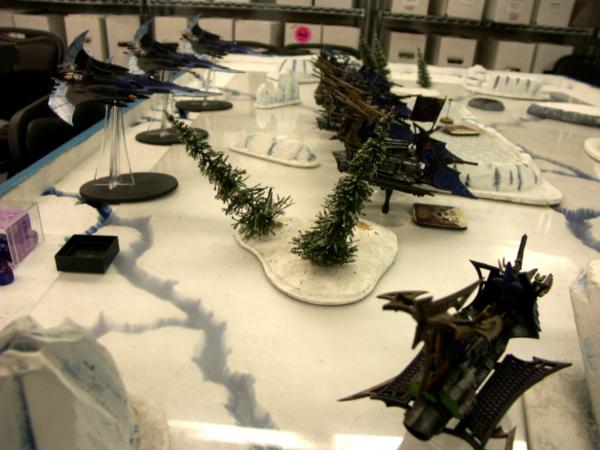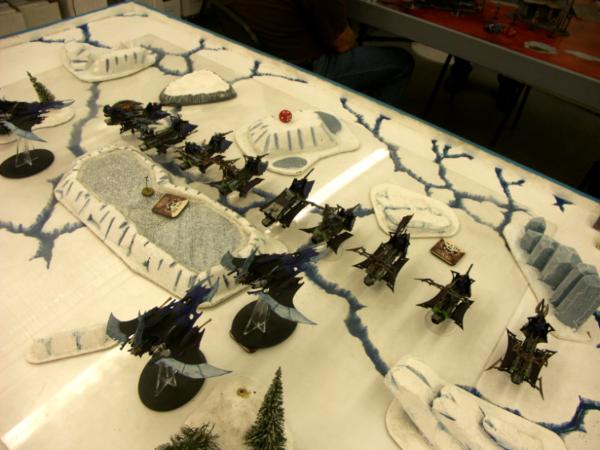 He had a soft showing Turn 2 (only 3 things came on)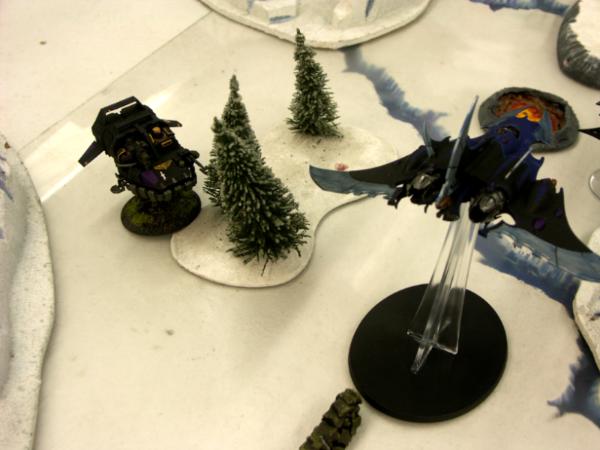 Here's a landspeeder that DSed in - failing to scratch the paint on the Razorwing.
The Lazorback I...think managed to pop off a Dissie from the Razorwing, he might have hurt this Raider too, I don't recall. Not much damage at all, and with only three things out...well;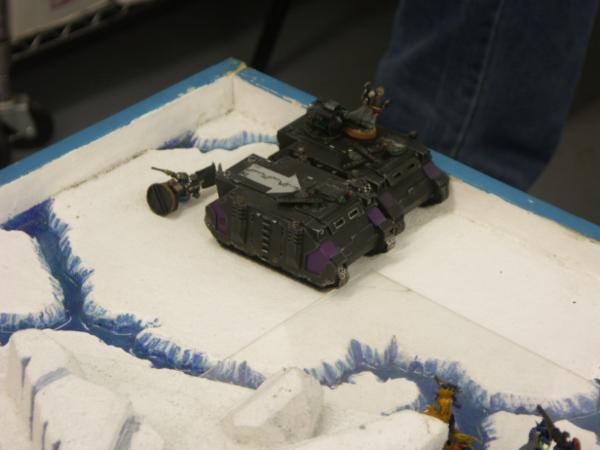 The Rhino is wrecked, and the Lazorback (with Long Fangs still inside) is immobilized, shaken, and has had its lascannon blown off) The gone to ground Librarian is all that remains of the 11 man squad that had disembarked from the Rhino after it was wrecked.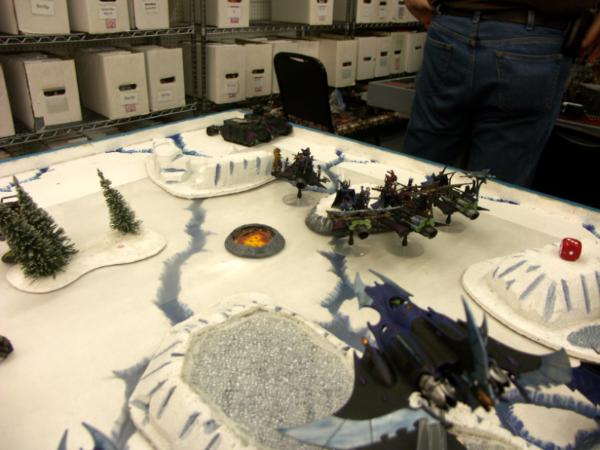 ...then basically his whole army rolled on Turn 3 and this happened;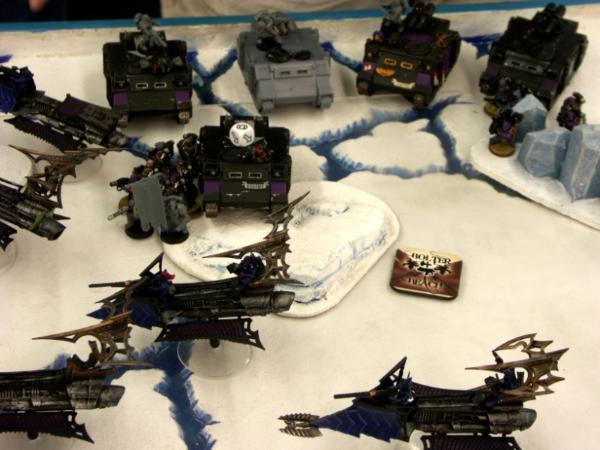 This picture shows an event he changed, he switched out the Rhino with a Razorback and disembarked that squad instead (I gave permission)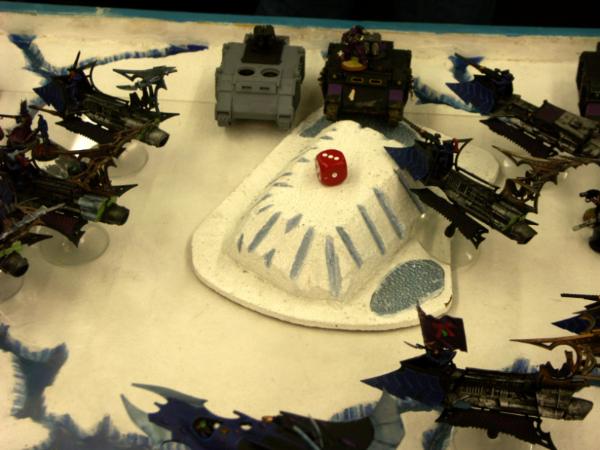 The left side of his line.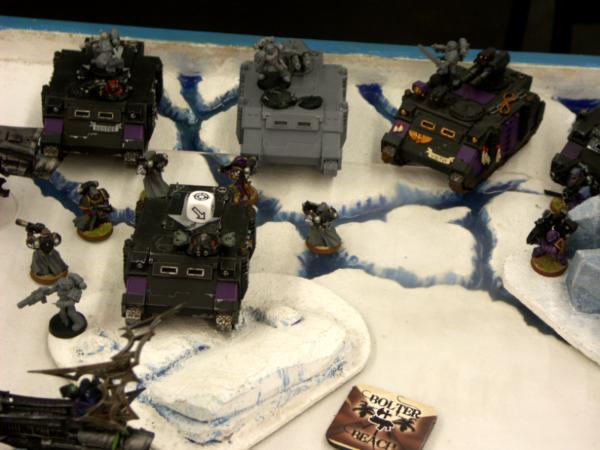 There's the Razor situation.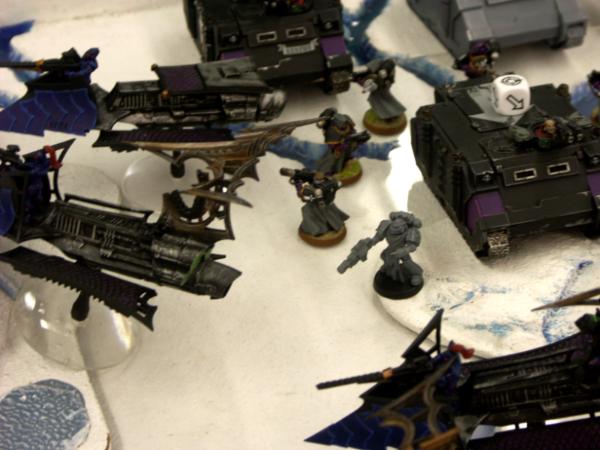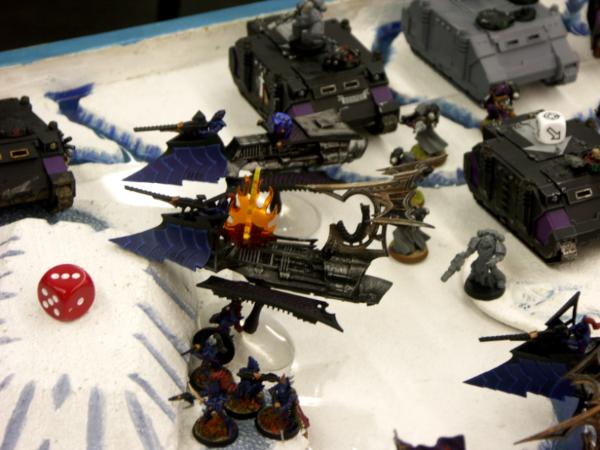 DE
do not approve of this!
I passed that leadership test after eating the flamer.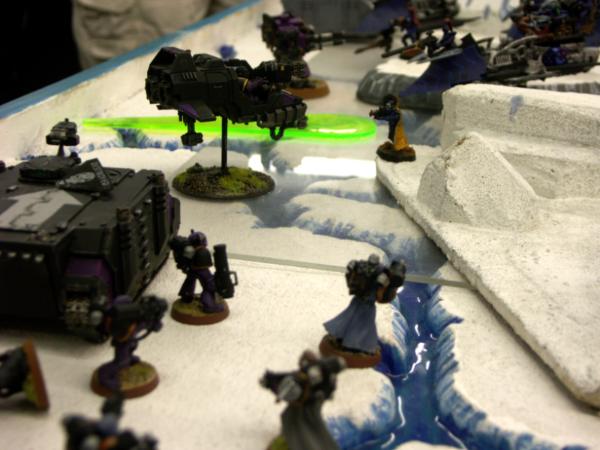 Trueborn get punished by a flamer as well, and Long Fangs hustle into a position to hopefully do...anything.
On my turn...well...when in doubt, keep attacking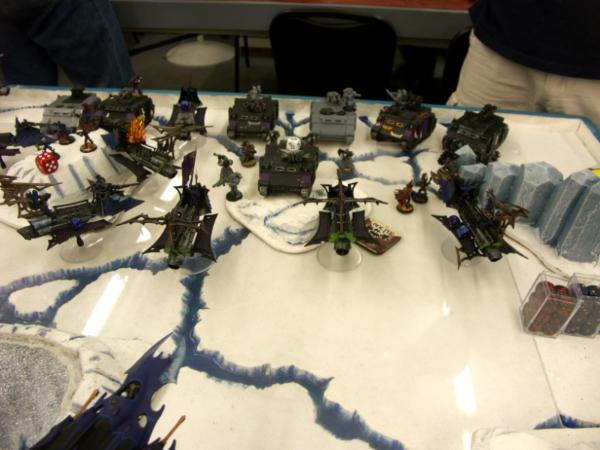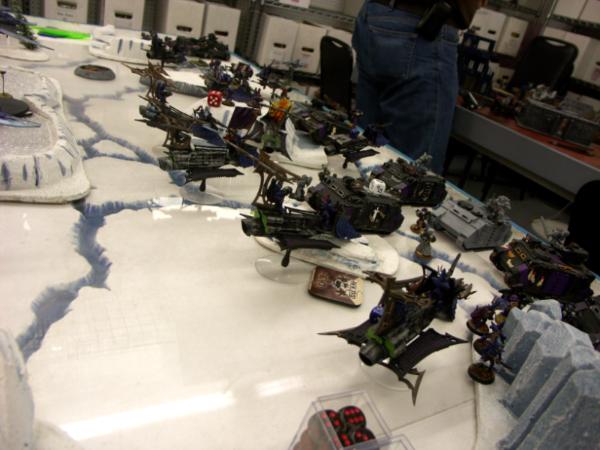 Okay, not a lot of pictures of my attack, though I did do some solid damage, dropping some Razors, the Landspeeder, and shaking and stunning a few things. At the end we actually only swung 4 Turns (I lost track of time, and thought I'd get a 5th turn - derp! Too much chatting and joking, not enough playing)
At the end of my 4th I was winning (holding one objective to zero) - but he asked for another turn and I gave it to him because that would be 'fair' (in retrospect - since no one could attack till his Turn 2, functionally I gave him an unfair advantage because he got three turns and I got really only two - something I hadn't thought about till after I got home and was writing stuff up - derp again! I was unfair to myself! I need to remember to be a bit more cutthroat when I want to win

)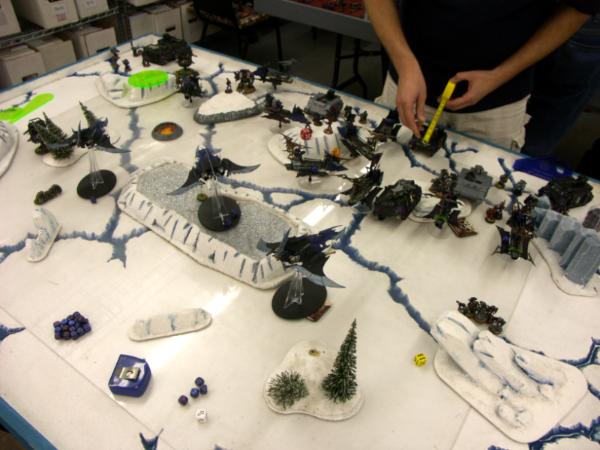 In any case, end result was he managed to edge it into a tie on objectives (basically by just driving that one Rhino forward - he didn't knock me off it, so we both contested - and that allowed me to pick up a small win via an edge in Victory points (huzzah!) Though, as an asside those
VPs
were...complicated. I think neither Marcus or I should ever do taxes for anyone - it went from a near tie in
VPs
, to me winning by 300, to me losing by 200, to me winning again by some other amount (about 150?)
I end the Tournament in 4th place (only 3 points from 3rd place, and 5 points from 2nd...though about 12 from 1st) If I'd ended on my turn in the last game it would have equated to an additional pile of points that would have put me in scoring position. On the flip side, at least I probably got decent sportmanship scores for being a pleasant pushover, which also keeps my blood pressure down

So, final results;
1st Place - Dark Eldar
2nd Place - Chaos Space Marines (Nurgle)
3rd Place - Grey Knights (oh, I dream of knocking you out of that slot sit)
4th Place - Dark Eldar
5th Place - Space Wolves.
Not a bad Xenos showing, with
CSM
probably being the only shock up there. I also went the whole tournament with straight wins (which not everyone placed above me managed) - but the scoring was totally based off the Battle Points, so W/L record didn't matter. My downfall was just not quite eking out any superlative wins which could have netted me more points.
FINAL THOUGHTS ON VIABILITY OF LIST
1. I want to do more testing.

2. It suffers a bit in
KP
missions just because it's a little slow off the starting line. I always felt like I didn't table people as well as I do with my other competitive lists -
DE
don't really want extra handicaps vs. Annihilation Missions.
3. Sometimes it *is* a good idea not to do the Deep Strike. A lot depends on the enemy army, and also whether or not you win the first turn roll. But the army can do a solid alpha strike from starting on table - I think the
DS
strategy benefits if the terrain favors it, and if the enemy army is one maybe too capable of laying out too much of your army at once, because then the limited stuff on the table can actually be a benefit.
4. I weep for the lack of assault potency in it. Pretty much it's just the Duke and that's it. Yeah, the Razors are good, but...dang...sometimes you just want to be able to assault stuff and know you can win as opposed to just hopefully hug them for a few turns.
5. I honestly think that I want to dump the lances off that last Razorwing and run it as all Dissie. Generally speaking - I found the list as I built it to suffer a bit for lack of anti infantry (egads!) Anoth possibility is to run a few Venoms (2-3 I think) in the list. Downside to that is it can blunt your anti tank initial strike.
Basically, for anti-infantry, the Razors did *great* with the missiles, but after that (especially vs.
MSU
) you just wanted to be able to pump some shots into a 5 man squad - and usually I was doing that with Blasters and stuff, because I lacked any real anti-infantry tools. Blasters are great, and will kill stuff, they just do it slower than Venoms or Dissie Razors do. There's a really delicate balance here, I think it will take some toying with to make it feel really optimal.
6. I basically think this army is markedly less competitive to a fine tuned Kabal army that is focused on alpha strike. I would also tend to suggest that a Raider Rush Wych Cult is probably more competitive as well. I think this list is *substantially* more competitive than
WWP
and any COven that I've ever seen or created in my own head. So, does this list redefine competition level
DE
? No. Does it show that there are competitive builds that can still be created without going Venomspam+Haywire Wyches - yes, there are other options still out there to be found, especially as the meta continues to evolve.