So in light of the leaked Necrons, I've decided to get my butt into gear and get some painting done, so I don't feel like crap when I (inevitably re)start a Necron army. I have tons of unfinished projects, as my friends can attest to, including (but not limited to):
A 2000+ point Flames of War Fallschirmjaeger force still sitting in the shipping container
A largish Tau army of indeterminate size that is in varying states of completion ranging from nearly finished to unassembled
A Tyranid Shrike spam army currently sitting at about 3000 points. Only one model has been painted, and its getting stripped since I decided to change up the theme a bit. Almost every model requires some sort of additional assembly/conversion
A roughly 50 point Khador force almost entirely untouched by paint
A half finished Uncarted Seas Ralgard starter box
Approximately 4000 points of Ogre Kingdoms, like the Tyranids next to nothing is painted, and almost everything requires conversion/assembly work.
A largish Chaos Daemons force, I'd guess about 2500 points. It's mostly painted, but I'm going to be stripping and repainting about half of that eventually.
A mostly assembled but entirely unpainted (actually it is painted, but its all getting stripped since it was acquired in a trade) Vostroyan force. I have enough minis for 6 vet squads and 2 command squads
And the initial focus of our thread here: A largish Eldar army of 3000+ points
The focus of this blog is initially going to be roughly 4/5 of the Eldar army, with the rest to follow later. This consists of:
20 Dire Avengers
30 Warp Spiders
10 Fire Dragons
5 Dark Reapers
10 Wraithguard
Autarch (counts as Yriel)
6 Wave Serpents
Currently the entire army is at least primed black. One Wave Serpent is near completion. The Autarch has been basecoated in red to yellow gradient via airbrush. The Wraithguard have all been basecoated and have had minor details picked out, and one tester mini has been completed: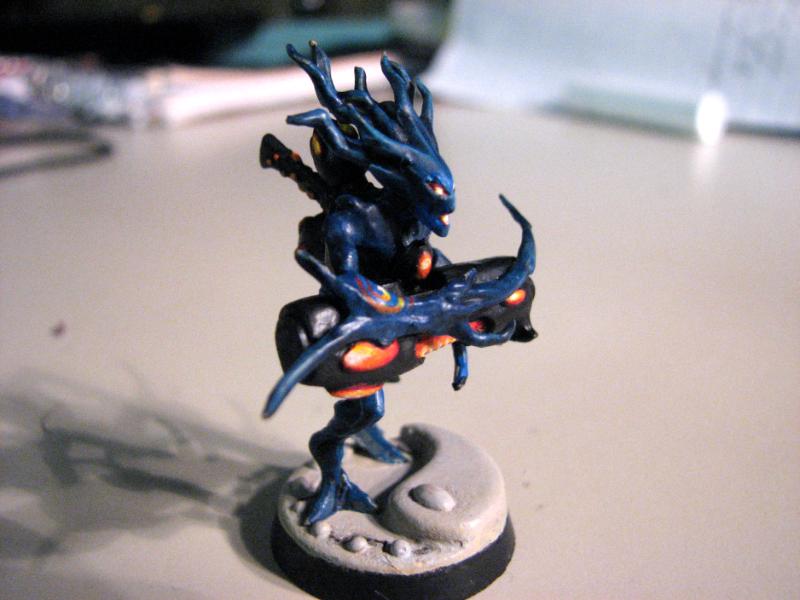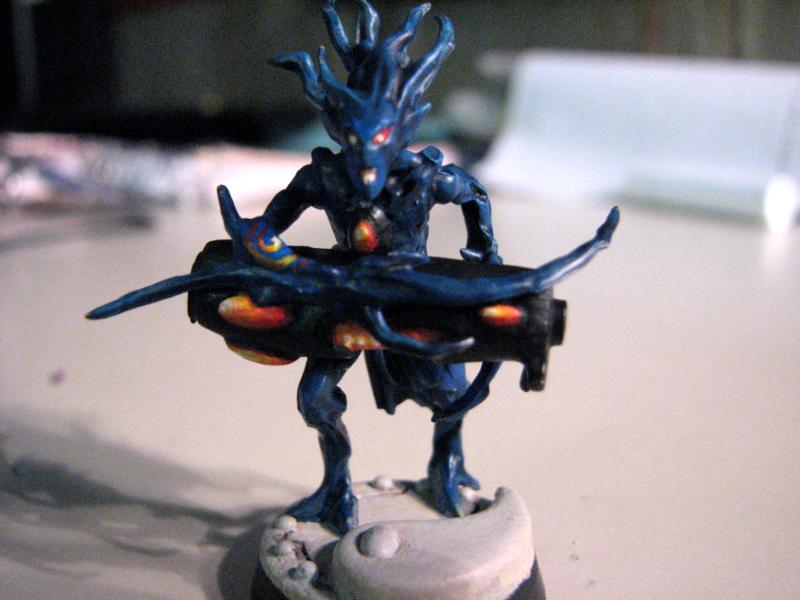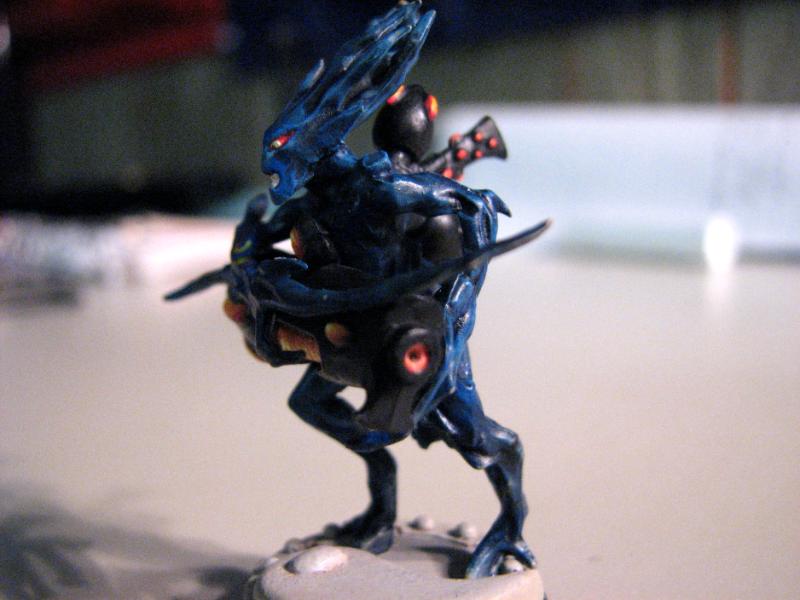 I am very pleased with the way the paintjob (and the conversion) came out. In fact I'm liking it so much I am fighting the urge to make another 10 or 20 of the little bastards, but I'm also vaguely recollecting how much of a pain it was to carve off all the leaves from the Dryad minis... I'm hoping to complete the rest of the squad by the end of this week, but I will not be completing the basing, as I only have enough of the wraithstone bases on hand for 5 minis + this guy. I'll be posting army shots, etc. later. Please comment, criticize and encourage away!
Also note, that the Wraithguard's color scheme is effectively the reverse of the rest of the armies: Blue Soulstones/gems and a fiery gradient from red to yellow/white.