Zid wrote:update quicker damn you! intense @_@
Heh.

These entries get so weighty with pix, I hope for a post between, so it isn't so clunky. But yeah, I aim to finish today. Thanks for the support.
Automatically Appended Next Post:
Turn 3 -

CSM



Most of my movement was defensive.
PMs
back up, and I figured the area terrain (black crater of the exploded rhino) would hamper the incoming DeathWing unit's assault. I would rapid fire them to no result.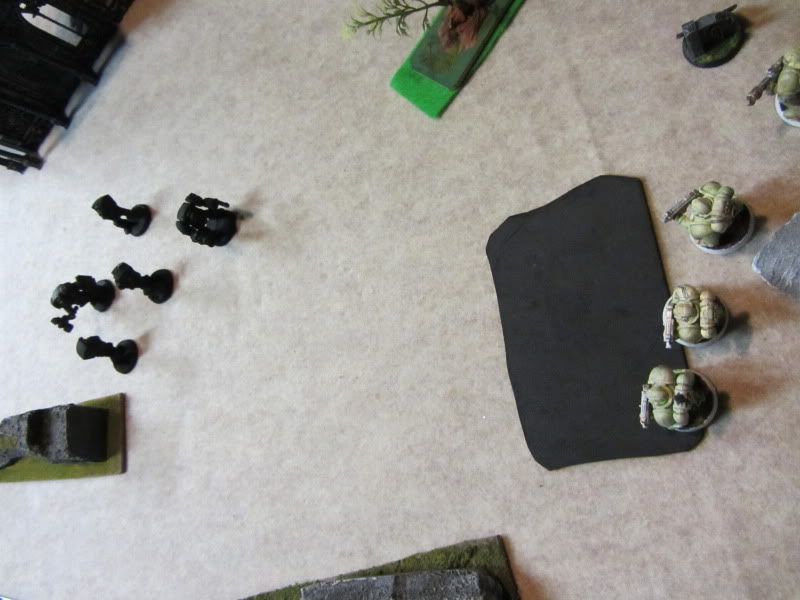 My one pair of oblits move up, to contest my
SG
objective and get possible plasmagun range on what's going to be left over from the scrum with Belial and the
LDs
.
I'd forgotten that Chaos rhinos could repair. I rolled it and came up with a movable tank. The other
PMs
now have a viable ride.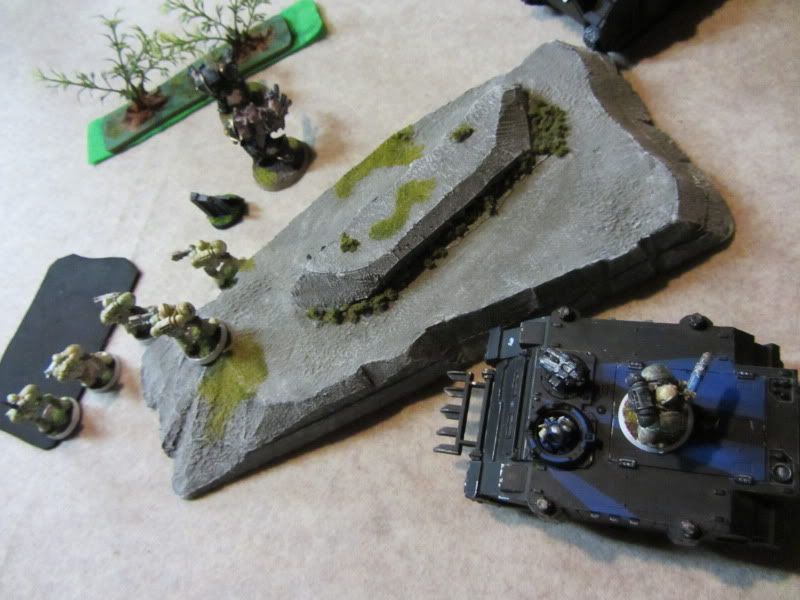 I believe this was finally destroyed by plasmagun
PMs
as the center Oblits failed to hit.

Obliterator failure continues.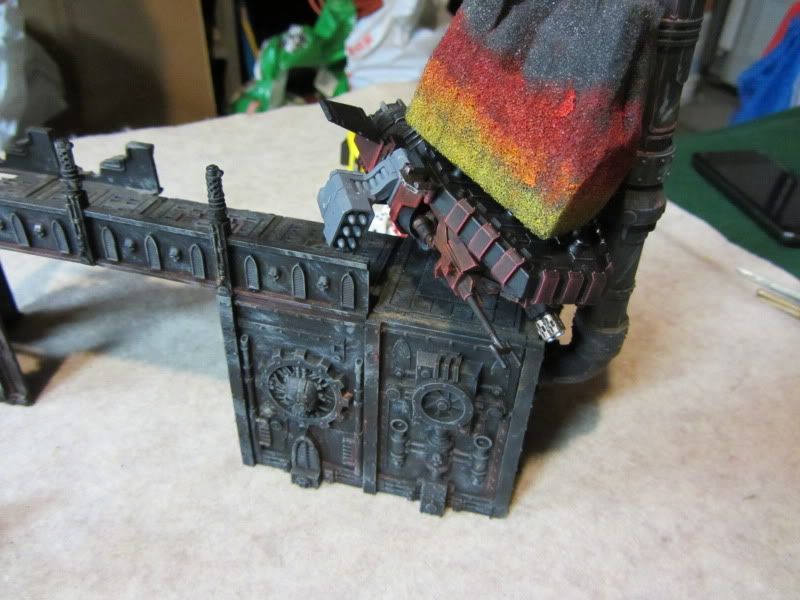 Awrighty, I'm confused on the exact sequence here. There were three termies. The
DP
either assaulted three, killing two and took two wounds in the process and Combat was a push or I took this picture in mid-sequence.
I *did* have my Oblits step up and assault here, but that doesn't make sense chronologically now. Huh. The little white dice next to the oblit is a Gets Hot! failed save from earlier. Yes, my dice are that bad.
At the end of it, the
DP
and Oblits managed the Kill Point and Consolidated behind terrain.
In the last of the
LD
/Belial fight, the two
LDs
go down. Bel and the Banner Bearer Consolidate in the direction of the
DP
(seen above) and the other
DW
unit Consolidated back heading for the C&C &
SG
objectives.
End of Turn 3
SG
CSM
1,
DW
2
C&C
CSM
1,
DW
1,
KP
CSM
3,
DW
5
Automatically Appended Next Post:
Not pictured, I left my sorcerer unattached by the rhino in the back field. I had a brainfart, detaching him from one set of oblits, intending to attach him to the other and the red speeder had been stunned back in Turn 2. I forgot about it Turn 3.
Very sportingly, Dok allowed that he might still be attached to the r-edge oblits. I felt I should pay for my mistakes, but then again, all this was going badly. I decided rolling a
d6
for it would be sporting and ease my conscience.

The die went against being attached, so Dok found
LoS
with the Red speeder and shot the sorcerer, who failed his Cover Save. Oy.
Turn 4

DW
This is a repeat shot, but those termies just look so far away.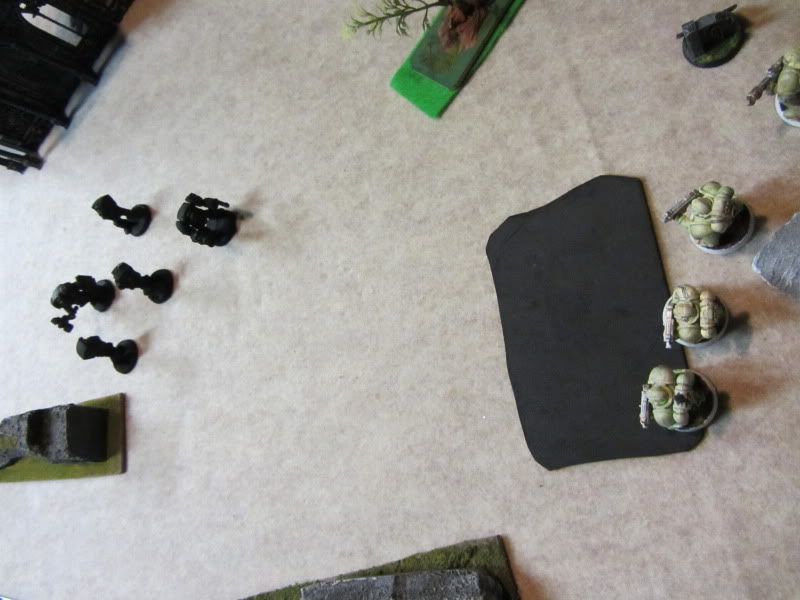 They move up to here. It's a little fudgey, but Dok is cool enough to say he needs a Difficult Terrain roll to get to the Obliterators. He gets a double 5
The termies are a bit strung out, and this is how it looks after Defenders React.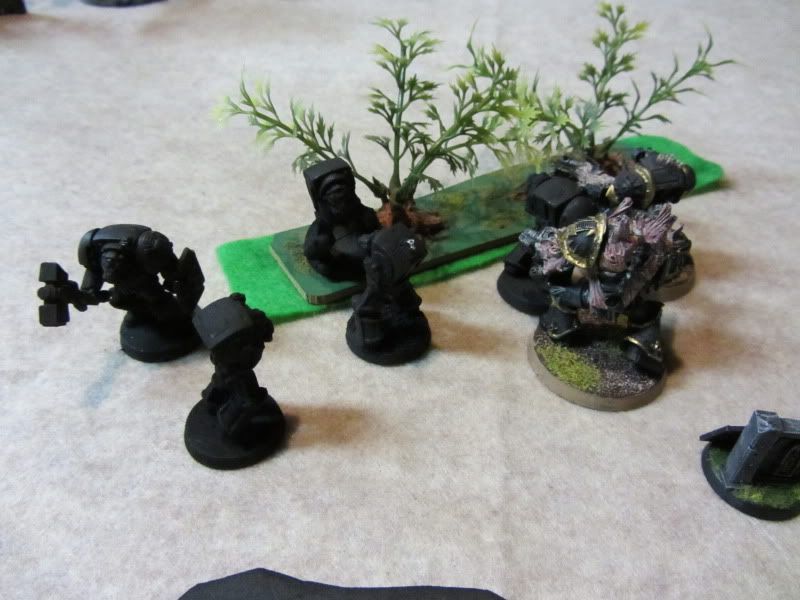 Even with only three Thunder Hammers in range to swing, the two Oblits get splattered, while failing to deal any damage in return. Dok Consolidates them in a line.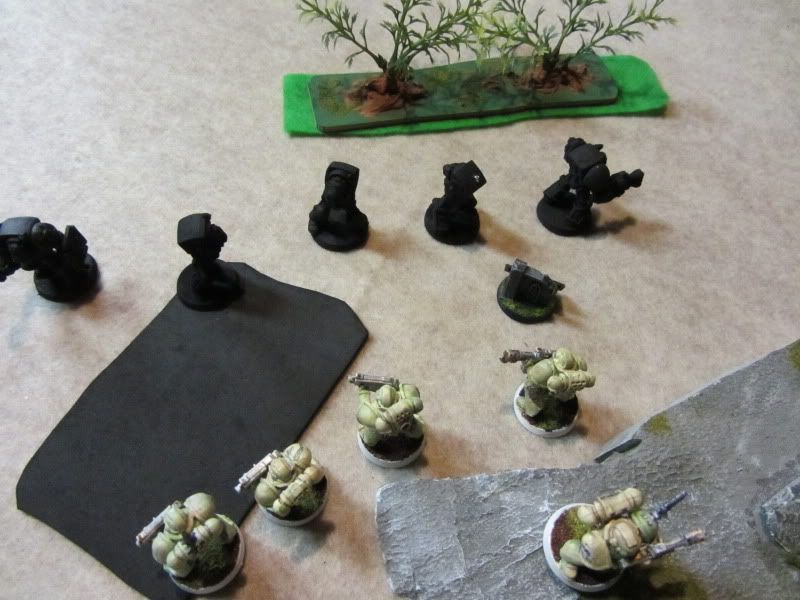 Belial and the Banner Bearer also have to cross terrain to get into assault. Which they do. Dok hasn't really had any bad dice.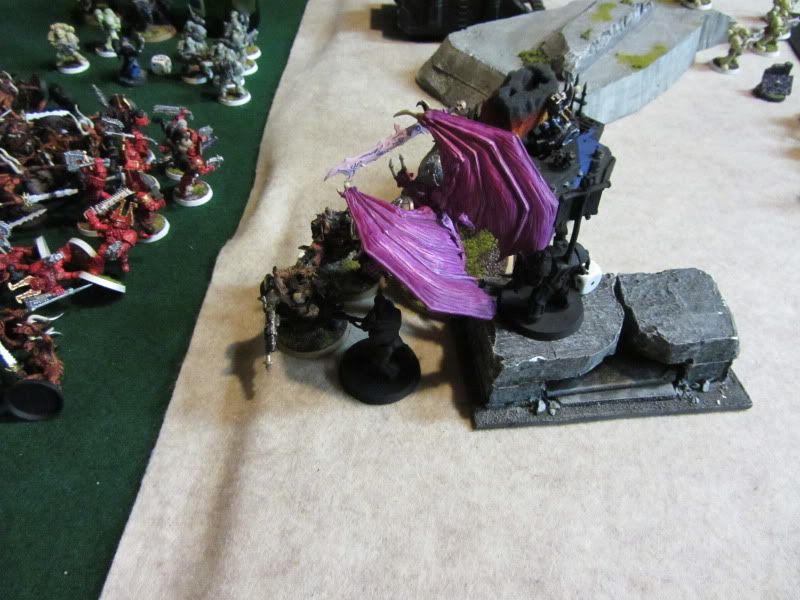 Belial and the BB manage to finish off the
DP
and the two oblits, while they did manage to kill the Banner Bearer. The 3 and 2 are my
DP
's Invuln Save attempts.
Seize Ground -
CSM
(contested),
DW
2
C&C
CSM
1,
DW
1
KPs
CSM
3,
DW
9
Automatically Appended Next Post:
Turn 4 -

CSM



I'm getting my teeth kicked in, but with only Fearless Plague Marines left, why give up?

Movement
I've sent the rhino off to possibly contest the
DW
objectives. The dice gods decided that yes, they'd allowed me to repair it earlier, as well as make the D-Terrain test for going over the rocks. Yes, you may commence laughing at both my aspiration that this will work and the capricious dice-gods' humor.

Popped Smoke. That's Belial in the background in front of the wrecked
KB
rhino.
I bring the
PMs
around to produce as many shooting wounds as possible.
Both Pm units unload into them. Out of shot, there is actually one
PM
in the plasmagun crew within securing range of the C&C objective.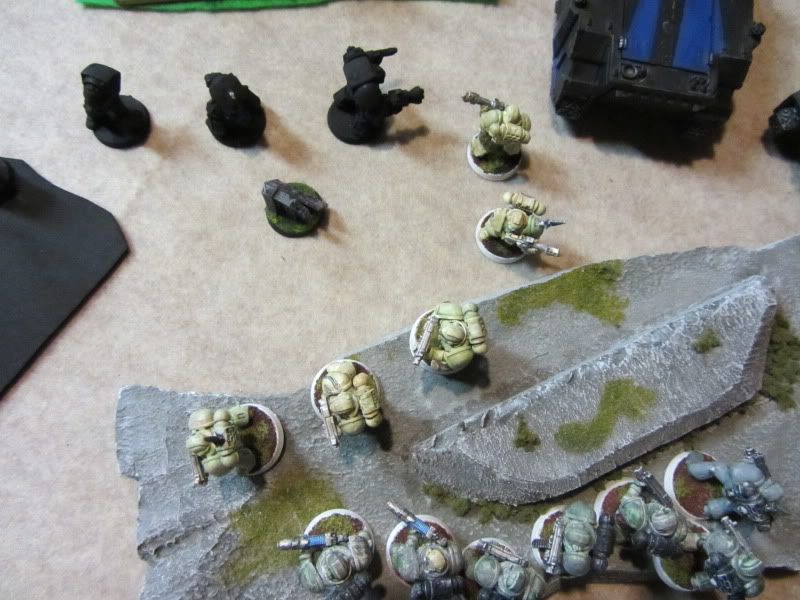 They'll kill one.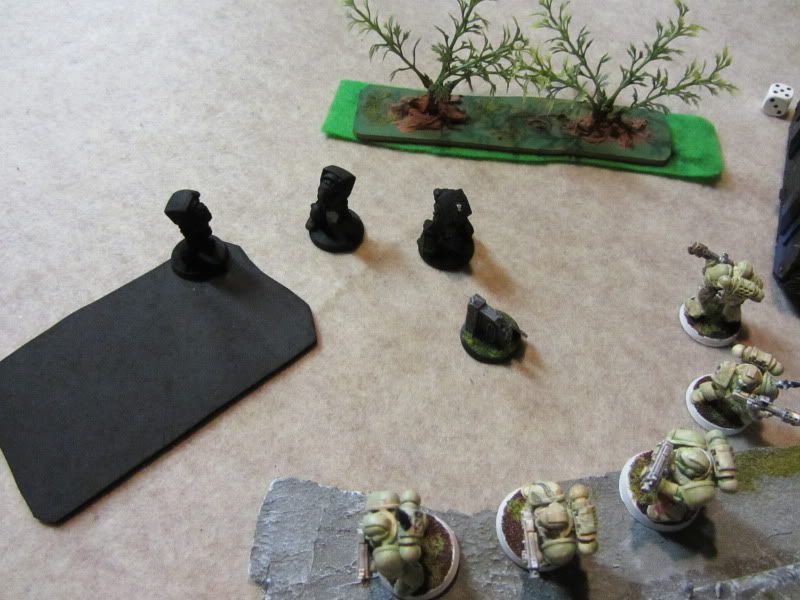 In retrospect, I might've given Belial some attention, as he's edging up on the right table edge, but getting these
DWs
off the objective is more toward the angle of winning ... even though, yes, the game has been a foregone conclusion for some time.
Still
Seize Ground -
CSM
(contested),
DW
2
C&C
CSM
1,
DW
1
KPs
CSM
3,
DW
9