Ah it's been a while since posting in here... feels good to be home

So, as some will know, as a by-product of my Space Hulk: Complete project, I have been buying up and occasionally completing models or buying painted models for a
BA
40k
army.
I have bought a few great models online from various sources, all from painters I have a great admiration for. I definitely enjoyed being able to see their work up close and learn from it. In some cases, a bit of extra work by me went into them. The models include -
Astorath the Grimm by
GD
winner Pedro Rufo (extra work put in by me, including wings, base, scripting and gems)
Sanguinor by Gignak from Brush Brothers (base repaint, some small work on the wings)
Tycho by NelsonMac
Techmarine by Madfly
and of course, Dantenator designed by myself and Freakforge, painted by me with some small additional conversion work.
Also near complete or at least started
Corbulo
Lemartes
Also bought painted but awaiting a few detail and effects passes to unify
5X Devastators by NelsonMac
5X Sang Guard by WhiteRaven
5X Termies by Sigur done for
SH
.
Then the scary part, what is half built...
about 40-50 PH armors from
FW
3X 10 Tacs
about 50 Assault troops
Command Squad
3X sang priest in
PA
1X sang priest termie
jump chaplain
2X librarian
10X
LC
and THSS termies
1X Sang guard
15X
DC
5X honor guard
4 rhinos magnetized for switching to razors or whirlies
2 dedicated razors
2 dedicated Baals
2X Redeemers
2X Crusaders
2X Droppods
1X Lucius Droppod
2X Furiosos
1X Furioso Librarian
1X
DC
Dread
1X Rifleman Dread (MKIV Ironclad body)
6X Contemptors
and bits enough to build a few more, and also to make stern or vanguard if I feel so inclined.
At least my trusty Storm Raven is done
lol
.
So, after collecting for 3 years, I have a basement full of stuff, a lot of work to do and less time than ever to do it. Not to mention I have been working on
BA
since I started into the hobby again in 2010.
So, what to do? Well, learning to airbrush will help get through it a bit faster than it would have been otherwise. But it doesn't really help with the paint red forever syndrome.
So, I decided to alleviate that, I will paint my army as a joint force of
BA
and their successors. It will be mostly
BA
, but there will be a few Flesh Tearers, Lamenters, Angels Sanguine and a few of my home-brewed chapter scheme the Sigma Legion. Might even be a few tributes to some inspiring DIY
BA
themed chapters from the likes of Yggsdrasil and HitstheSpot. This will let me add variety into my work while still keeping a theme, which I am happy to do. With the latest
BL
novels, it is even fluffy to show such a mixed force.
So, with all that, where to start?
Contemptors of course!
I put these guys together over the Xmas holidays -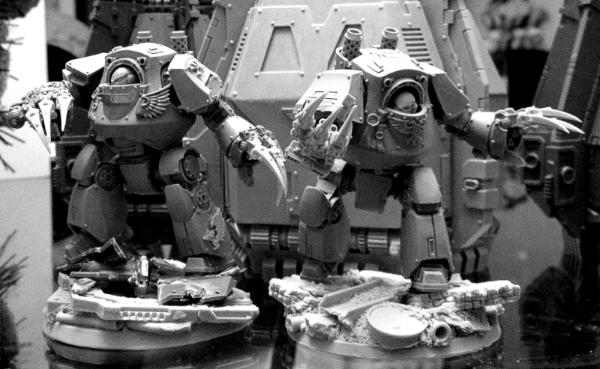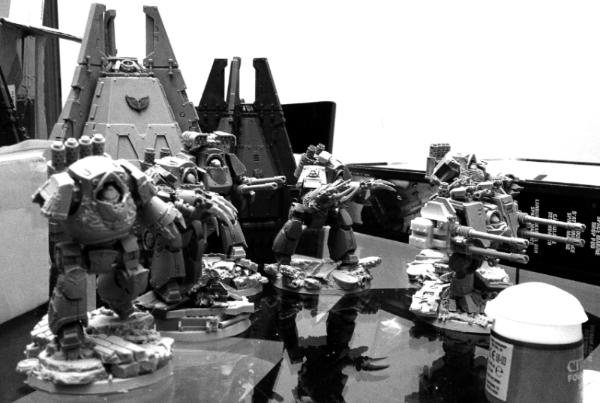 And just today, I fixed those magazines on the
AC
mortis dread (which will be a Lamenter) by clipping them off and putting the drum magazines of an
HB
on them -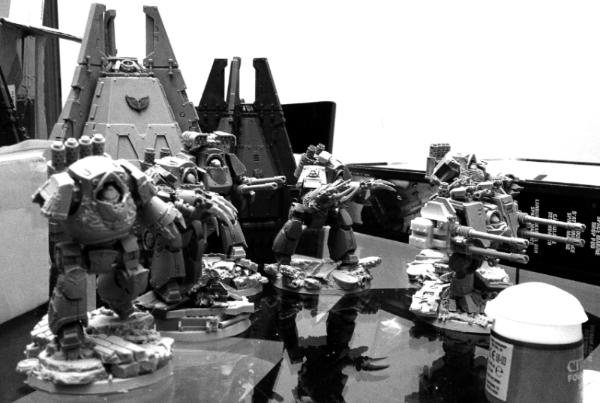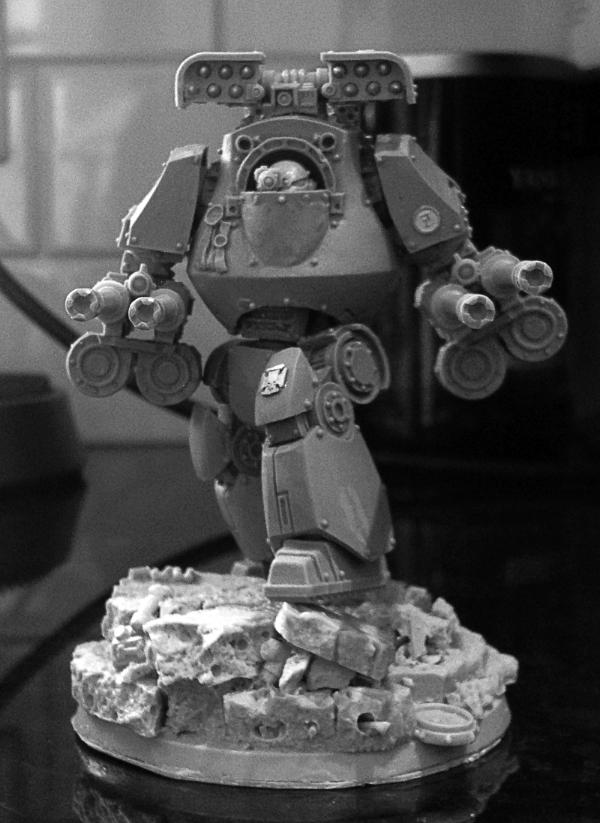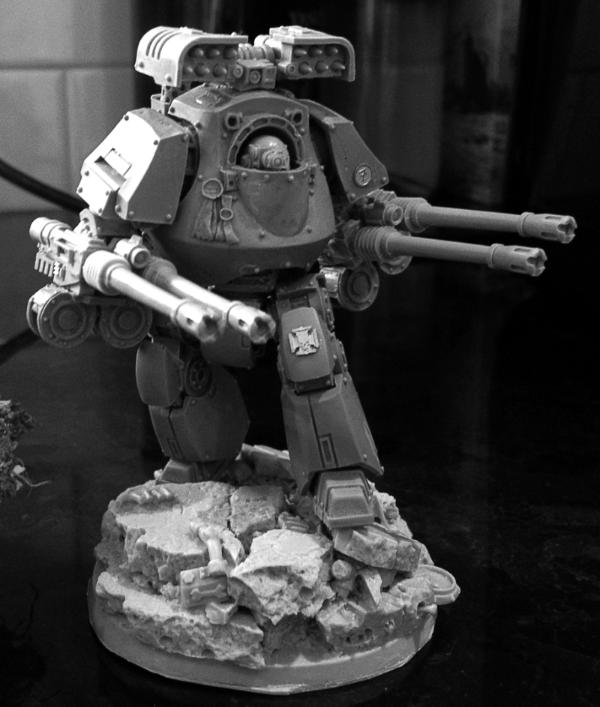 A big improvement in my eyes, if an expensive one!
The guy I spend most of my time converting though, was this one, who is far more just a display piece than anything else -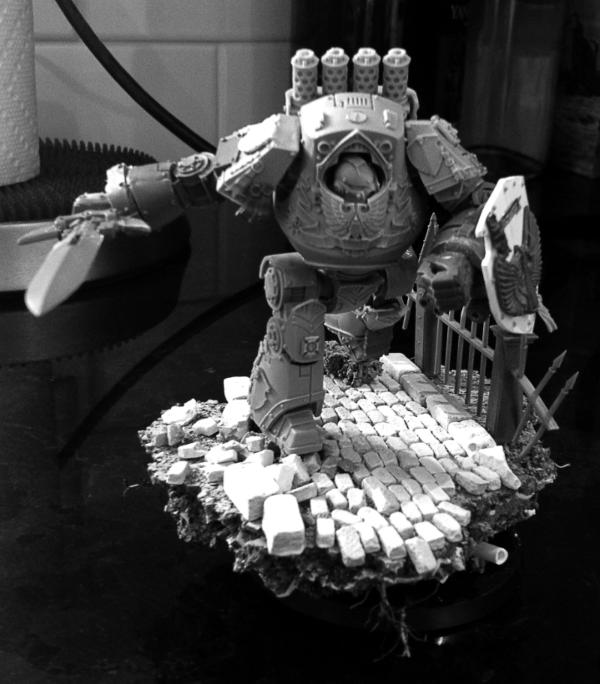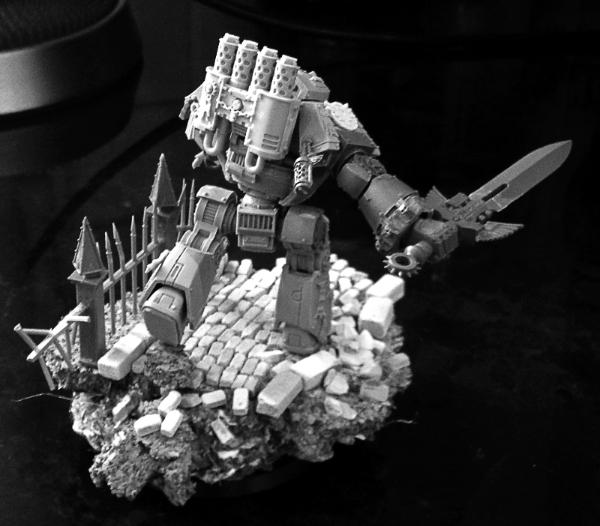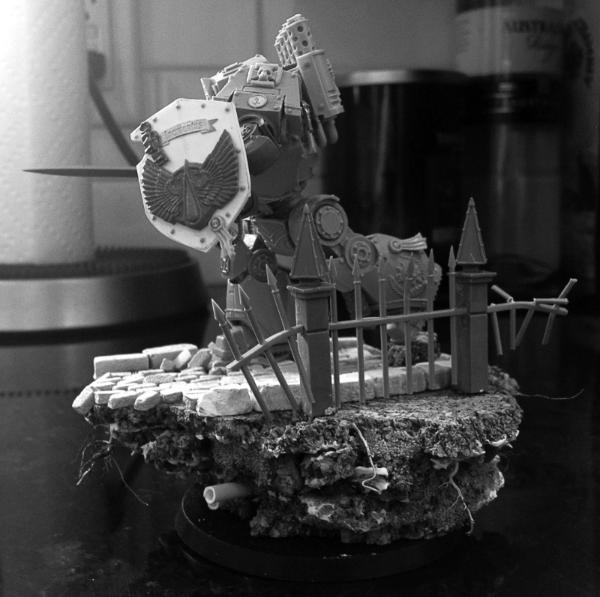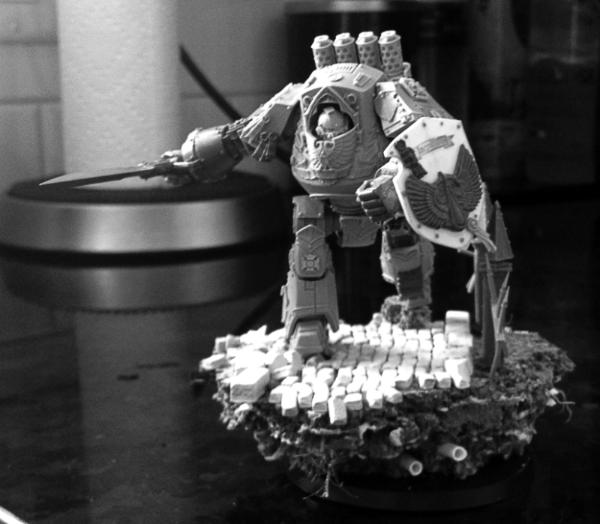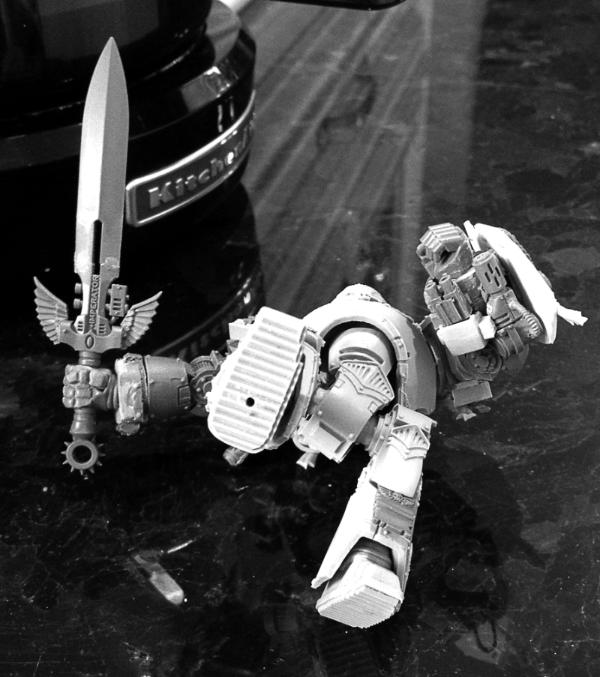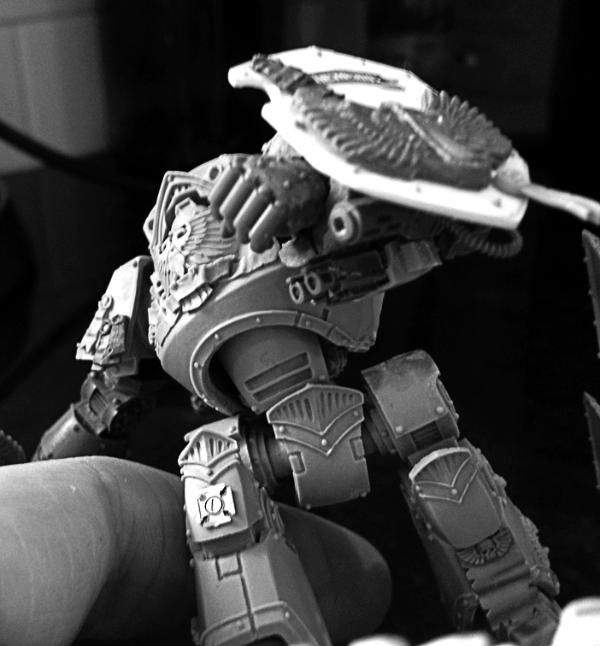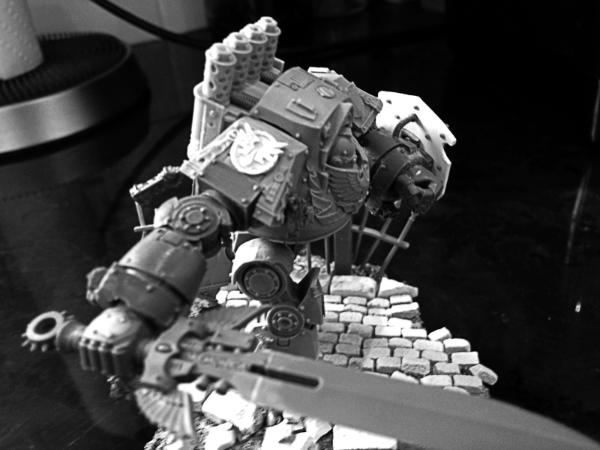 The second I saw the Contemptor models, I instantly pictured them with a sword and shield. Now the whole Dreadknight sword has been done before, and in a few cases quite well. It begged me though that I had never seen the sword modified or shortened to fit the Contemptor, and it also particularly bugged me to have one
DK
fist and then one
PK
fist on the other side. So, starting from there, I modified the sword into more of a Gladius or Broadsword, shortening the blade and handle. Of course, since this guy will be a Gold
BA
Contemptor, some wings on the sword are a must. A little sculpting was required to give the right hand fingers and a thumb but not too big a deal. The other side, I wanted a proper scale StormShield (could just represent extra armor) so that was made of plasticard, with rivets added from a variety of bits, and an insta-molded
FW
BA
symbol. Since the ranges weapons normally are house in the middle of the powerclaws, they had to be re-positioned somewhere. So the solution was to mount a Stormbolter and Melta underneath the shield arm in a legitimately functional spot.
Other additions, like the rest of the relics, include a nice does of
FW
brass, Venerable engine housings and rivets galore and a smattering of purity seals.
The other part, and something I am really proud of, is the base. It is my first real try at a display base built completely from scratch. Ben Komets Miniature mentor tutorial was completely awesome and a very obvious inspiration as this base is quite similar to the one he created for his Nurgle Lord.
Anyhoo, I am about to go undercoat a whole bunch of stuff, but I figured I would get the blog started now as it is always a motivating factor for me in getting things done! I will not be able to update all that often, but I'm gonna try to stick to it, cheers guys

Automatically Appended Next Post:
p.s the bit under the left foot is just to hold it up for now, the Dread will be painted separately to the base -