For the Motherland
An introduction to wargaming:
Okay, so some of you that have been following this blog for the month or so of its life have noticed that my posts have slowed down. The reason for this is that this P&M blog is not just to showcase my ability as a painter, but to showcase the impact of social media on wargaming in the US, the
UK
, and around the world. This project started because I wanted a P&M blog that I could be proud of, and while my updates have been slow, I am still proud of this blog, and will continue to do update it when I can. So for those of you from my class, let me give you a brief introduction to wargaming. According to
Alan Emrich
, Wargames are simulations of combat situations. Alan Emrich is a professor at the Art Institute of California: Orange County, where he teaches game design. In his course, "The Principles of Game Design," Professor Emrich teaches about the basics of wargaming, and a bit of their history.
Wargames come in different forms and spread from the realm of fantasy all the way to simulations of combat zones currently active in the world today. Many wargames, according to Emrich, are games that deal with wars or battles. He also tells us that "a wargame is much more than just a reenactment of the event; it is dynamic: it re-creates the situation and underlying conditions of the event, showing the major factors which influenced the outcome. It is also competitive: two players vie against one another to win the game, creating a drama and intensity in game terms which echoes that of the real battle" (Emrich). So with this definition in mind, we are going to leave the realm of reality and head towards fantasy for the remainder of this project.
While many people enjoy "historicals," wargames based on events that actually happened, such as the Battle of Waterloo , this project focuses on a different type of wargame, the Sci-fi/fantasy wargame. According to ICv2, a website dedicated to news and information for pop culture retailers, the top 5 non-collectible miniature lines from 2011 were all science fiction/fantasy
wargames.
. Each of these wargames follow a different style of play. The starting with number five,
Malifaux
is a small scale, meaning a few models, game that uses a deck of cards and a hand to determine the outcome of combat. The second and fourth slot are taken up by two versions of the same game,
Warmachine and Hordes.
Both of these games are a small scale like Malifaux, but the game uses dice to determine the results. The third most popular game is
Warhammer Fantasy Battles (

WHFB

)
, a game developed by a British based company called Games Workshop (
GW
).
GW
's game
WHFB
focuses on large armies of monsters, elves, dwarves, and humans as they fight for supremacy in an medieval version of Earth. Unlike the previous three games,
WHFB
has large rows and columns of models, leading to interesting tactical movement and is focused more on the army as a whole, instead of small squads.
WHFB
was one of the most popular wargames for many years, enticing gamers whether they played Gygax's Dungeons and Dragons, were fans of military combat, or Lord of the Rings fans that wanted an army of elves. The current king of the sci-fi/fantasy wargame is
Warhammer 40,000 (

40k

),
a game set in the 41st millennium, where humanity has reached the stars and covers the entirety of the Milky Way Galaxy. This game is a combination of the other 4 games. It focuses on large armies like
WHFB
, but instead of ranks of men,
40k
uses squads of soldiers to fight. My blog will focus on Warmachine and Hordes because these games are the ones that currently interest me, even though I play all five of these games.
Project and Personal Background
I've only been wargaming for roughly a year and a half. I've played Dungeons and Dragons for the past 13 years, and when my
DnD
group sort of died out in October of 2010, I started to look for something else that I could do in my free time when I wasn't able to play
DnD
. I stumbled across a few different source on the internet, namely Beasts of War, /tg on 4chan, and eventually DakkaDakka. I found Warhammer
40k
and started to look into that, picking up an Ultramarines and Space Wolves Battleforce over Thanksgiving Break while I was home from college. I picked up an army here or there, not quite content with the army I played because I wasn't sure what I was looking for, so I would jump from army to army. Maybe it was the rules, maybe it was me, or maybe it was just the people I played with, but last year at Origins Game Faire 2011, I came across a man selling a Trollbloods Warpack and a Dire Troll Mauler. I had already gotten a Khador army, but Trolls drew me in instantly, and I was hooked. You can see some of my work in my
gallery here.
So recently I've been looking at adding more to my Warmachine collection, and decided that I wanted to step back into my Khador. Previously I had several casters, 3 warjacks (a juggernaut, destroyer, and Behemoth), and some small units. Basically enough to play a 35 point game. After gathering monetary resources, I purchased several more units, jacks, and casters for Khador.
I've always been a fan of Khador's background, I love the look of the models and the idea of this ever plodding war machine that doesn't back down, doesn't break down, and just keeps trucking. I love the Russian influences of the army, and the color scheme of the army. My army has a little bit of a different look to them because I received the initial army in a trade. So my army
has
two
parts
to
it.
The first part, linked in the previous words (different link per word), was painted by Dakka's
DJPhranq
. This represents what I consider the veterans of the army. These men and women have been fighting far longer, and far farther from Khador's borders. To represent this, many of the models are painted in a forest green scheme. The second part of this army, the main focus of this blog, contains reinforcements or other theaters of war for the Khador forces.
___________________________________________________________________________________________________________
Without further ado, I present the first few models of the reinforcements.
These models are close to finished, but I promise you that I have plenty of unpainted models to sate your palettes.
First up we have a Kodiak, designated Kodiak 001
An early Kodiak chassis under the command of Kommander Sorcha Kratikoff.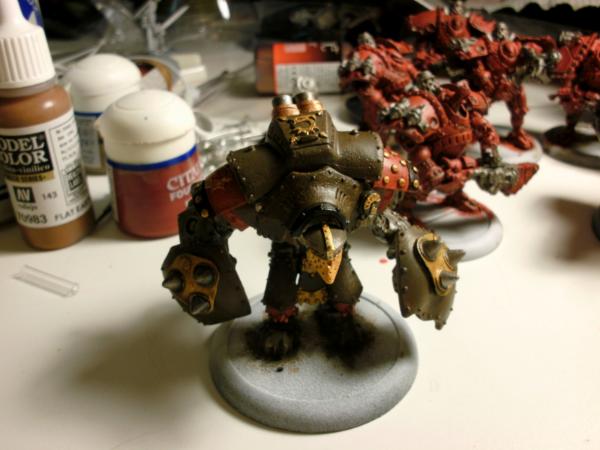 He still has some work, but as he stands, he has been painted and shaded in Army Painter Strong Shade Dip.
Under the command of Kommander Orsus Zoktavir, we have Devastator 003, Kommander Orus's personal warjack (I've yet to play him with any other caster, so this might become a little bit of fluff I write for him).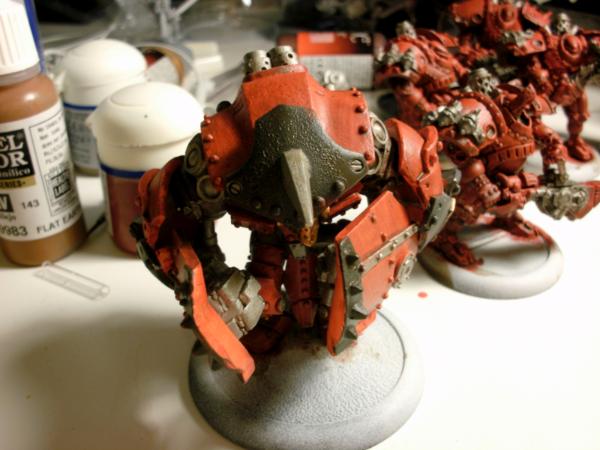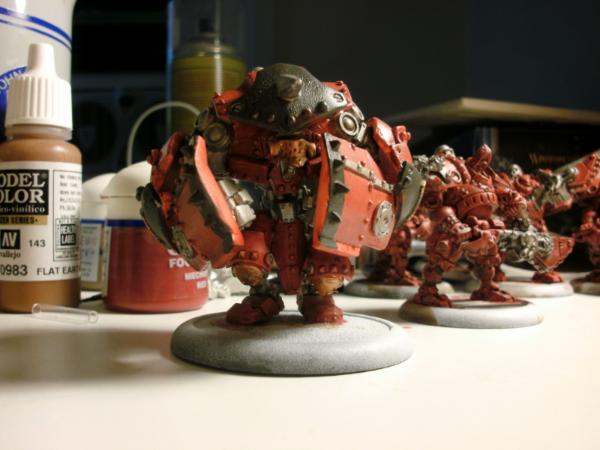 He is a little frost on that front plate, he is the closest to done. I like how the effect looks on him, even though it was a mistake and on accident. It makes him look a little more damaged.
Then finally we've got a unit of Bombardiers that I painted for a speed painting contest. We were given 3 hours to paint a unit from start to finish... This unit took about an hour and a half, I beat the next best contestant by 30 minutes. They're not amazing, but they got me a boatload of prize so I love them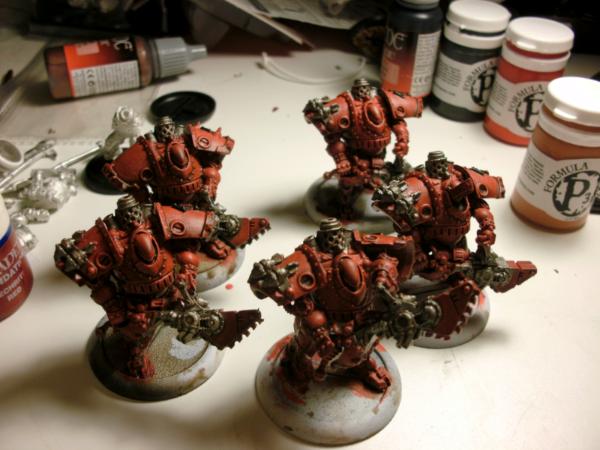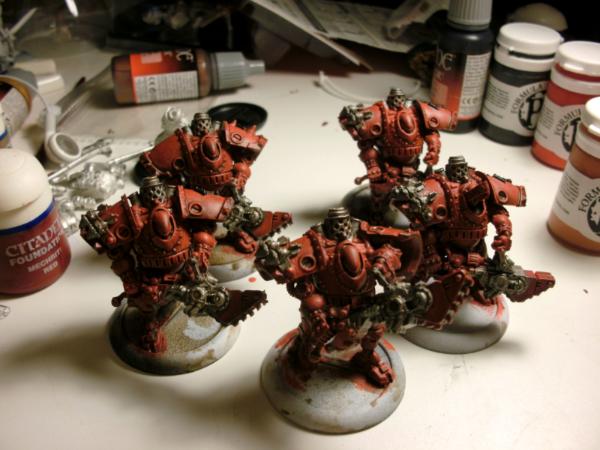 Bases aren't done, because I'm not sure how to do the bases, I want something that looks like some snow. Any suggestions?