yeah,
So I have some non standard armies that from time to time I like to take places and game with.
My Dark Eldar army has lots of strange shapes and my Grot army is incredibly numerous and awkward.
(update: scroll down for X-wing trays

)
My old
GW
cases were really not equipped to carry these kind of armies, and cutting into the foam was kinda a botched job/ making do.
Enter BattleFoam and all my army transporting problems were sorted.
I really like the style of the bags, I think the Olive colour is very distinctive and people in the know, know you take pride in your armies!
BattleFoam is not the cheapest on the market, but I really do believe that BattleFoam bags are worth the premium.
You do indeed get what you pay for.
I've carried both armies about on public transport to
ArbitorIan
s house and tournaments.
I've even made running dashes through snow with my pack 432 and I really didn't have a worry.
The Construction is strong and you can feel the comforting strength of the plastic inserts.
I used their
custom tray creator
and designed my own solutions.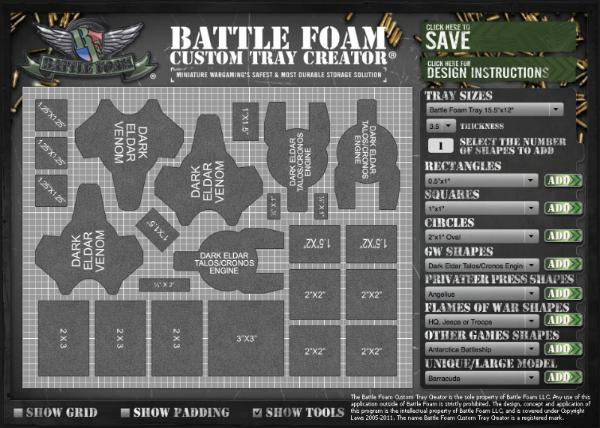 Both armies have custom cut foam and and standard trays.
I'll let the Photographes do the explaining.
My Dark Eldar army 1750pts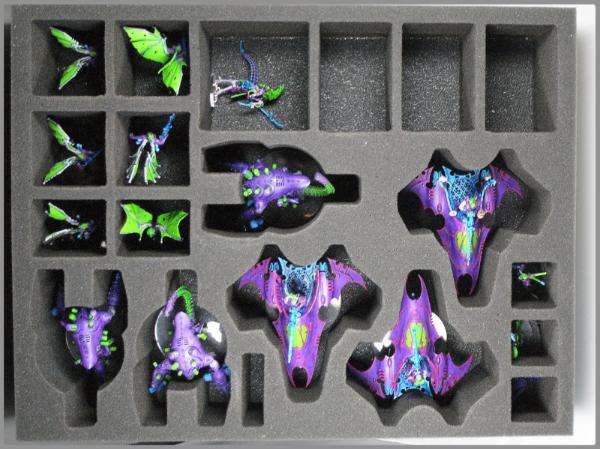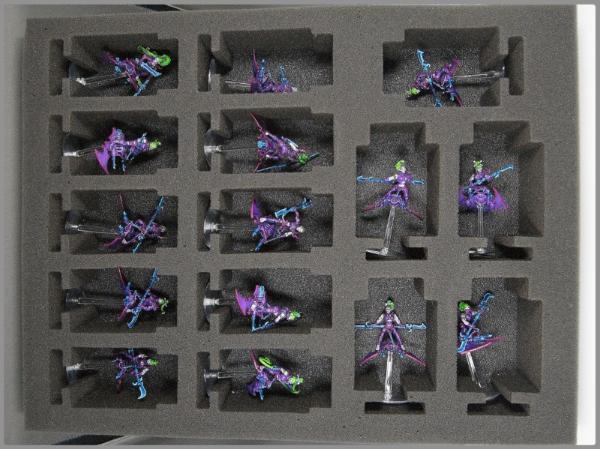 My Grot army 1500pts

3" deep Custom tray made using the BattleFoam website tray creator.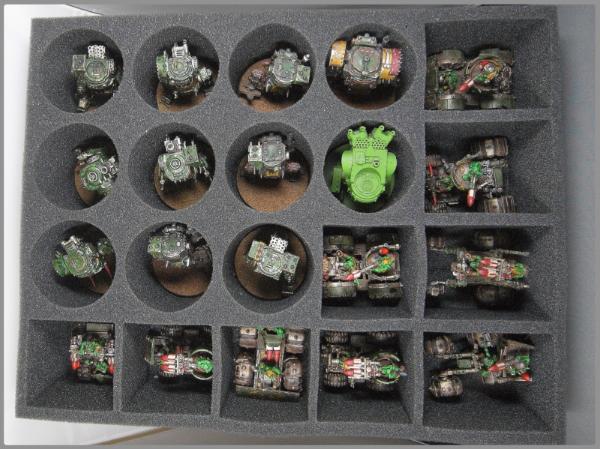 1" deep Custom tray made using pick and pluck foam
Troops trays
91 small troop Tray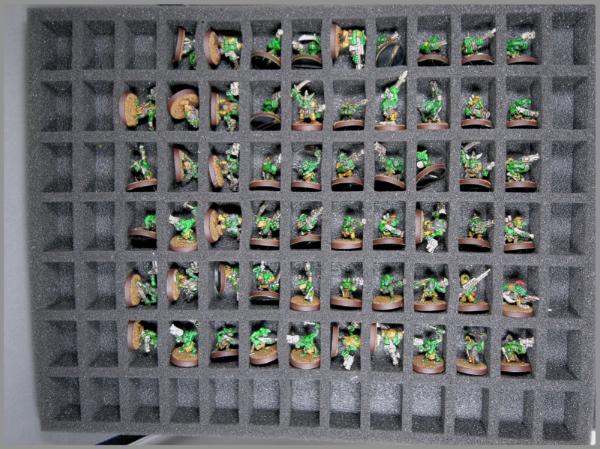 and the tray for the
HQ
and MegaGrots and GrotHerderers
X-wing Update !
Using the 432 to carry
FFG
X-wing stuff.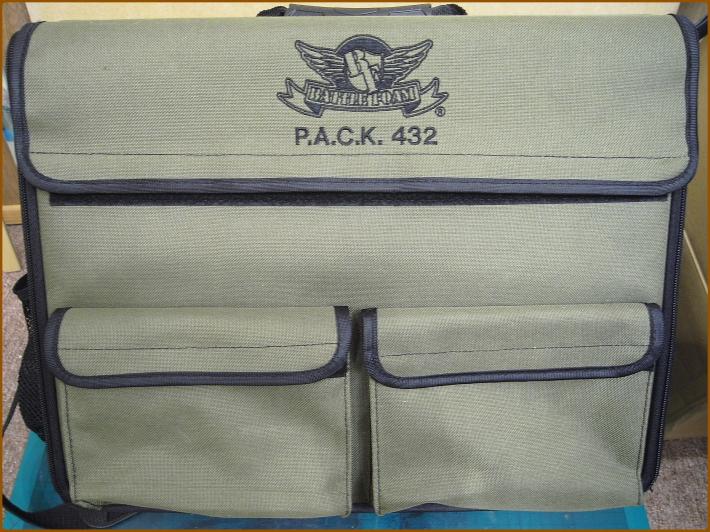 The 432 will hold 7inchs of foam.
But I only use 5.5 inches the final space is used to hold the game box and some token caddys.
The game box holds my asteroid tokens, movement templates and large ship bases and large base inserts.
The two token storage caddies are
made by CraftMates
. 3XL 7 comparment boxes normally used for bead collectors. perfect for tokens!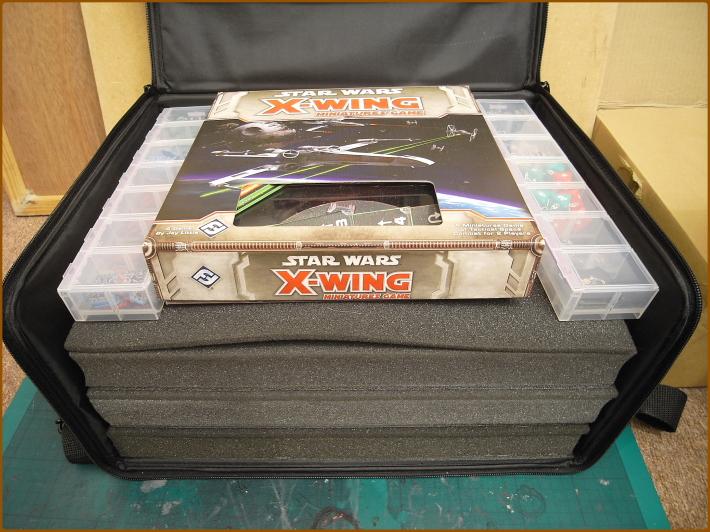 The first tray will hold the following (although I don't have this many ships... yet!) :
8x TIE Fighters
4x TIE Advanced
5x TIE Interceptors
2x Slave I
6x X-Wings (12! if you double load the slot)
4x Y-Wings (8 if you double load the slot)
6x A-Wings (12 if you double load the slot)
1x Millennium Falcon
The second tray will hold the following: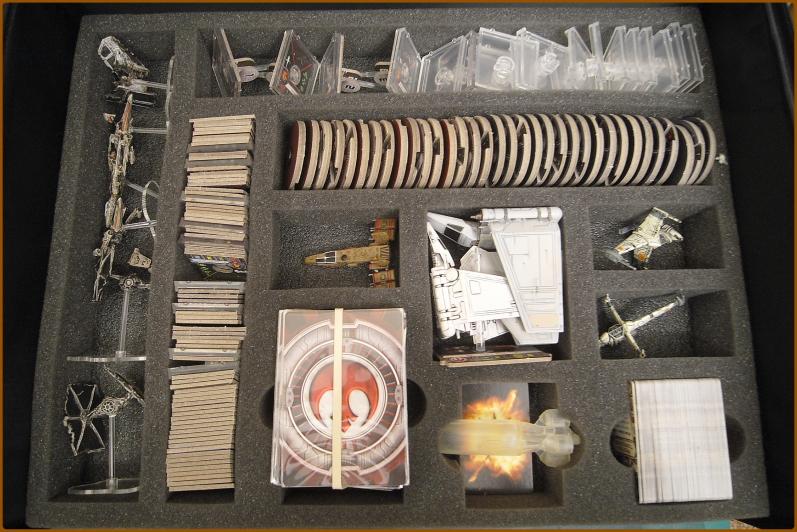 Damage Cards
Upgrade Cards
Pilot Cards
Ship Base Inserts
Ship Bases
Maneuver Dials
My asteroid wrecks
My lambdas, b-wings and hwk.
The third tray I use is pick and pluck, for my home made turrets.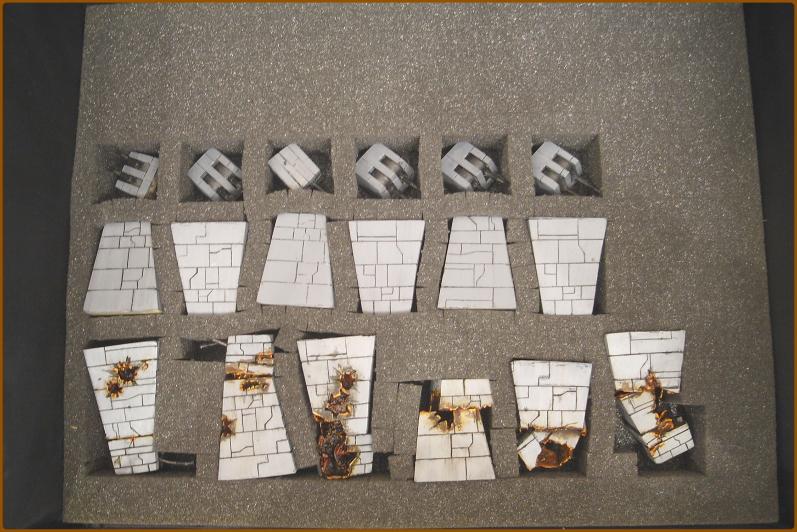 ++
Over all I'm very happy with the 432 battlefoam bag.
The preset/pre cut ship tray is actually pretty good...even if it has way too many A-wing/Ywing & Slots!
The second tray is pretty versatile.
I think the preset trays are never going to match your collection perfectly so a little playing around is to be expected...
I'm gonna cut two of the Y-wing slots to make way for the b-wings.
They have a
cool tray coming soon
that holds a great selection of wave 1-3 ships. It's worth a look to compare with your own collection.
...
My only issue now is when my foam is not in use I stack all my trays ontop of each other on shelves.the KR system looks a lot tidier with cardboard boxes stacked.
BF
recently started to copy KR and sell cardboard boxes for their foam, which are again overpriced, and unavailable to their
UK
customers.
But when they do sell here I'll measure up and if the boxes fit the shelves I'll get some and it'll look a lot more tidy.
So to round off the review.
BattleFoam Protects!
I love it. Buy BattleFoam!
Panic...