Working on writing up stuff- Takes a lot of time, but hopefully one soonish!?
In the meantime, have a Dakka tradition: a retrospective of the past year!
======================
January
First big project of the year was an Admech force of quite an unusual color!
Not only was it the first purple army I've ever painted, but it was also the first time I used the new
GW
technical paints. Overal, Im thrilled with how the bases came out. Very rusty and dusty, exactly what the client was looking for!!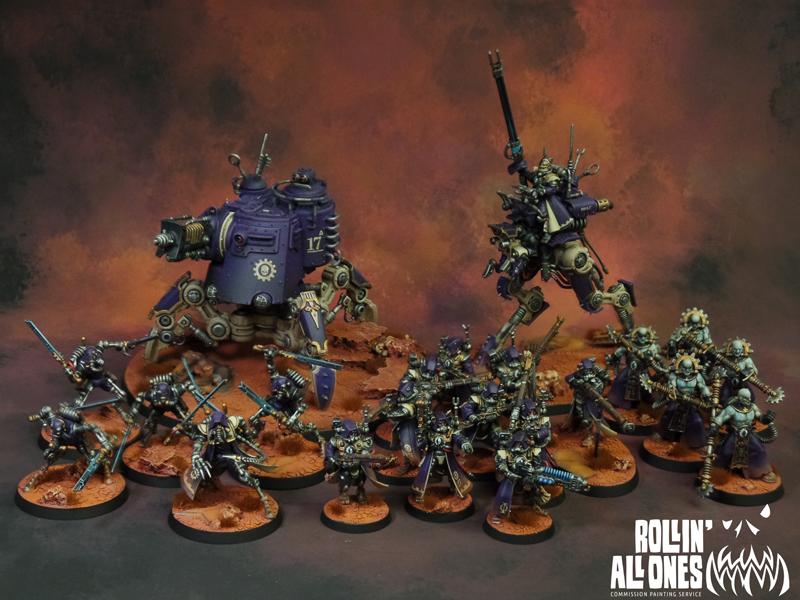 And then there was a quick entry into the Nerdcademy awards- I think I finished this guy the day the contest ended, so squeaked him in just under the deadline! The theme was simply "No, Nooo, NOOOO!!", so I pictured a hapless grot just about to be squished beneath the toe of a Warlord Titan. Second time around, I think I should have used a smaller titan and done more of a leg. I dont think its quite clear exactly what the thing in the air is.
Love the expression of confusion on the grot's face, though!
February
February started with a pair of Imperial models...
A Callidus Assassin (love this model

):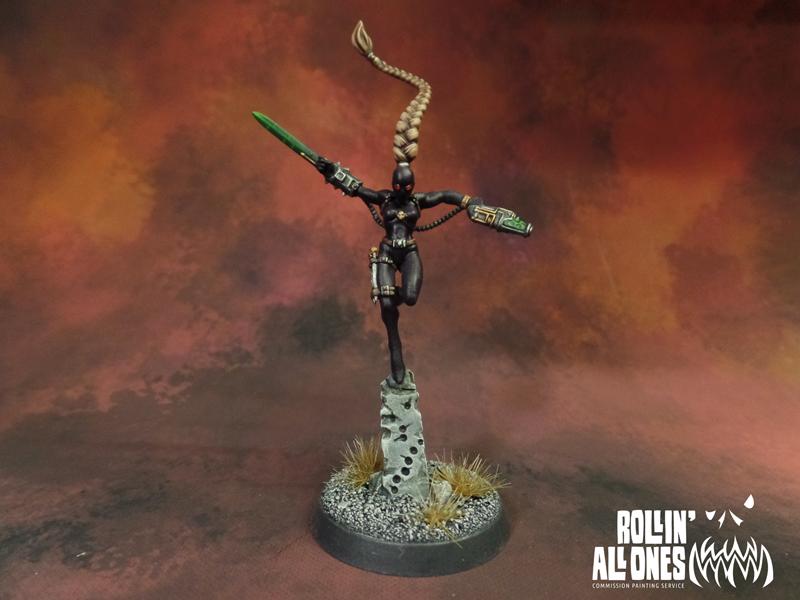 And a Wolf Lord on a bike:
... and suddenly devolved into a horde of space elves.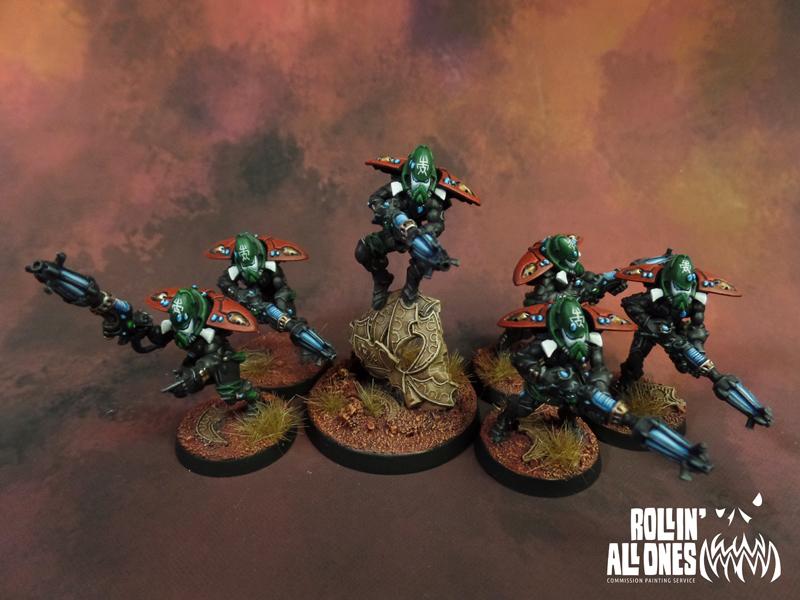 March
The Eldar had some heavy artillery come in for the beginning of march. Every single piece magnetized!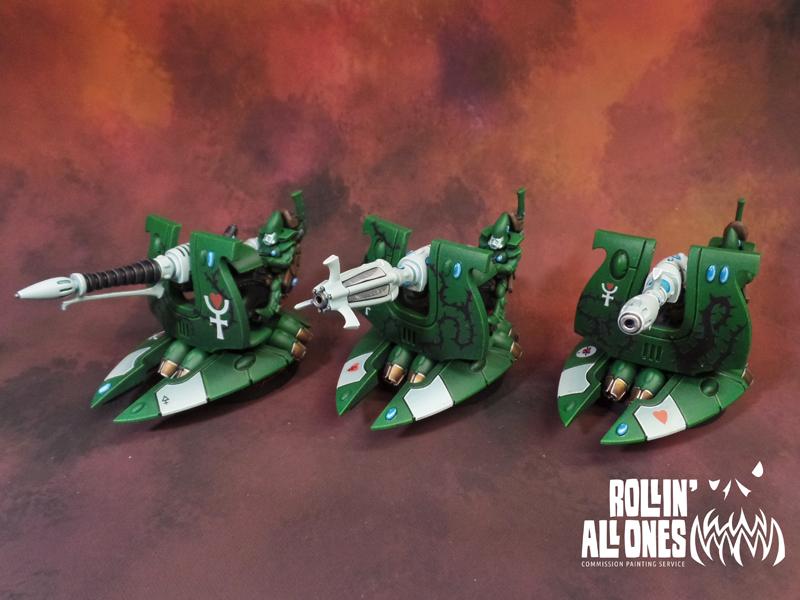 And a Vyper!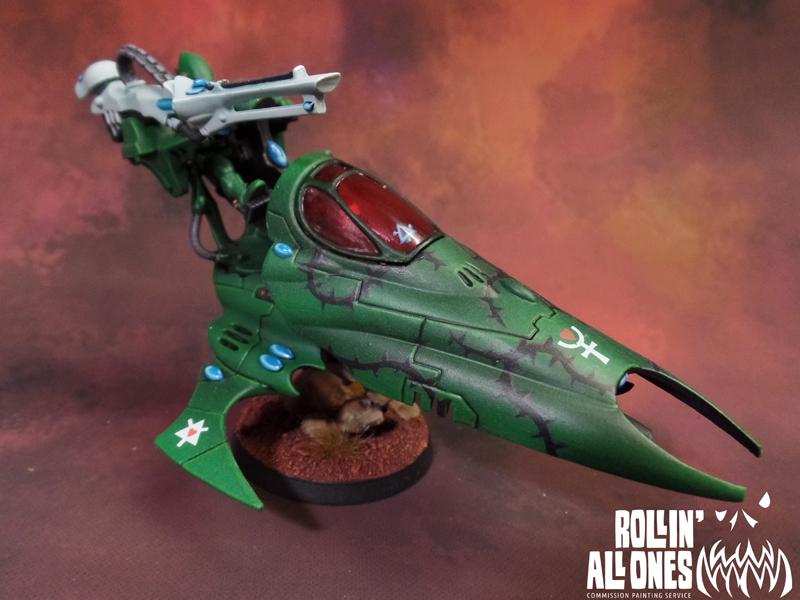 Midway through the month, I got a giant package of Kingdom Death stuff in the mail! (I may have a small problem, as this stack is getting even larger

)
And the month finished with a massive group of Slaaneshi Daemons!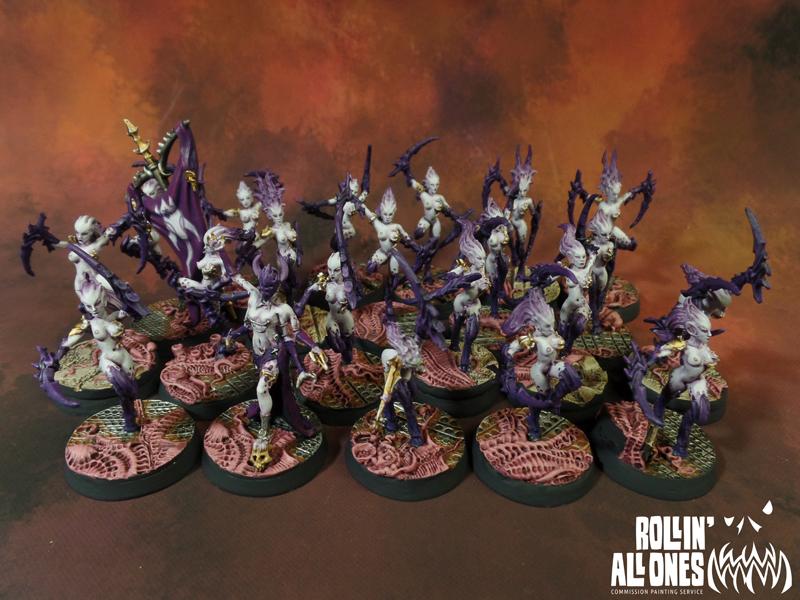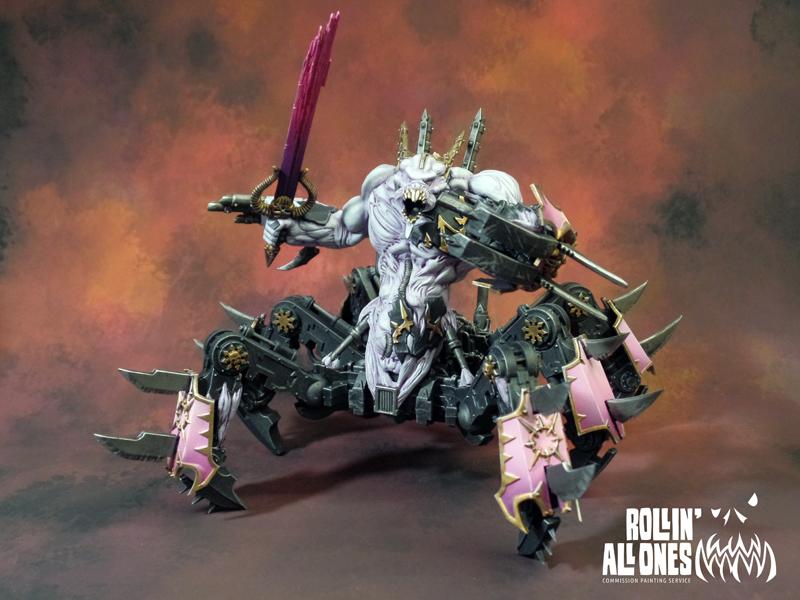 By now, Adepticon was fast approaching, and I had some mini projects for my own armies that I wanted to get done!
Namely a pair of Dreads (including a Dorito!)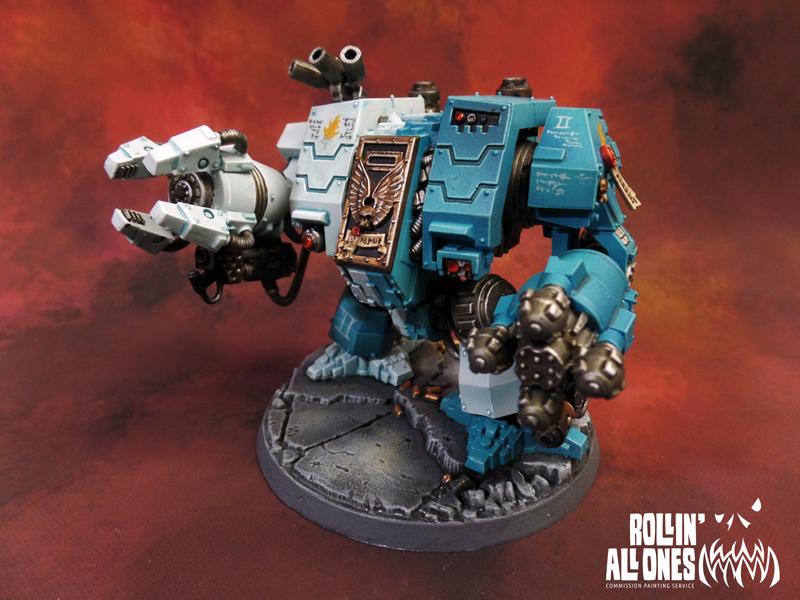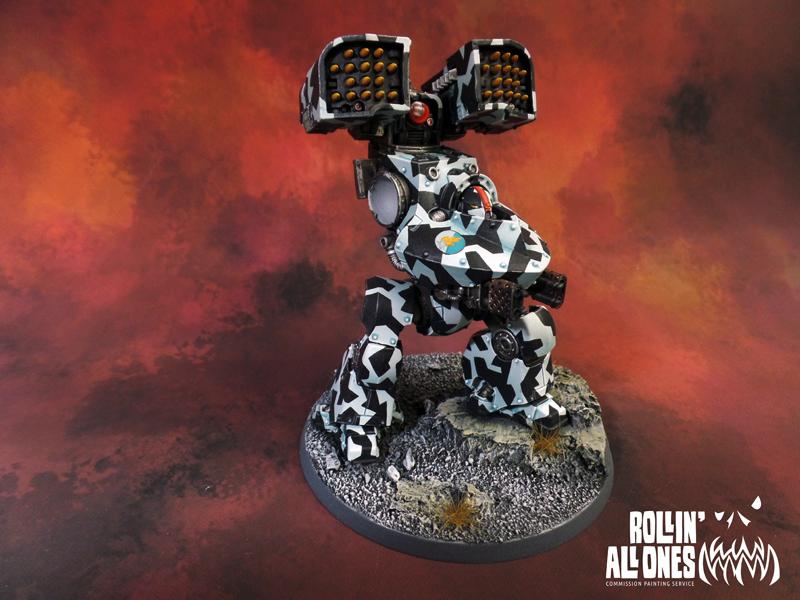 And a Techmarine with Servitors!
April
ADEPTICON!!
As always, fun times!
After the con, I set to work on some new
DnD
minis for a campaign I fell into.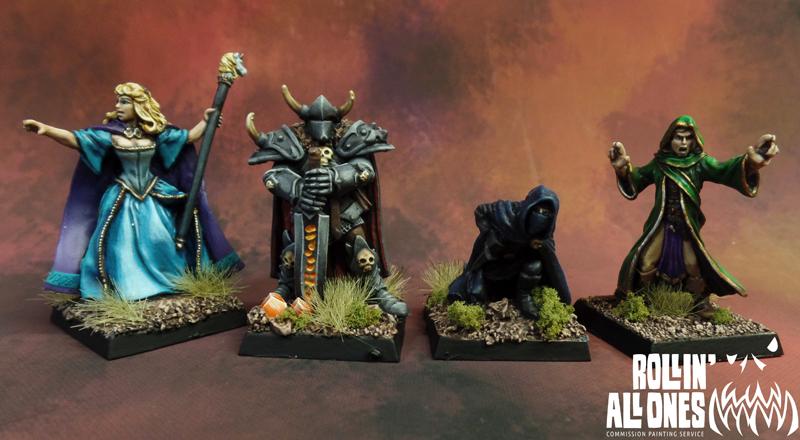 I also did a few quick little Dwarf minis for a friend of mine.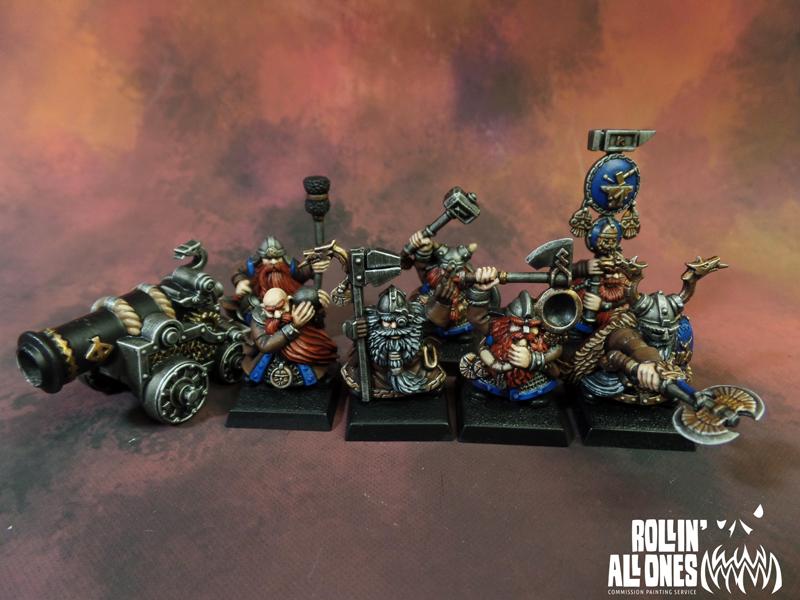 Lastly, a pair of Krootseers on Jetbikes! Lots was learned with sculpting the cloaks on these.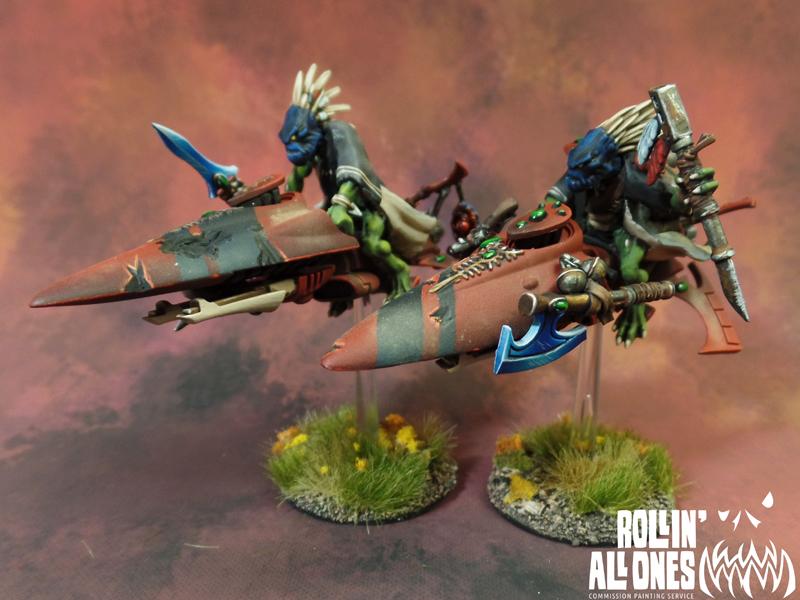 May
May started with a couple space wolves. A single
OOP
scout, and Ulfric!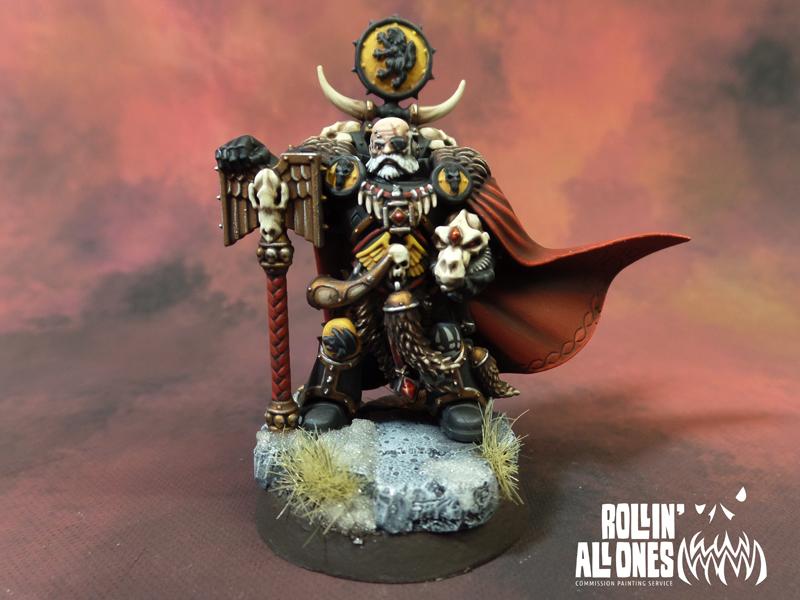 I also got into Guildball, and slapped some paint on a few of my Alchemist minis.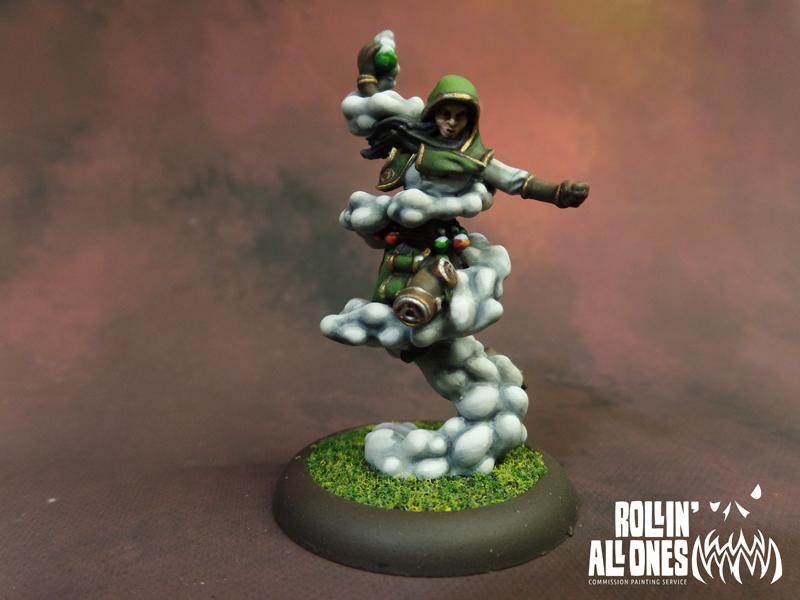 With the end of May, I somehow went and got myself a job, screwing up my perfect record of unemployment

June-July
June and July were a particularly crazy point in my life. Not only was I struggling to balance new work and my commissions, but I also applied for a painting position at Privateer Press, and GOT AN INTERVIEW!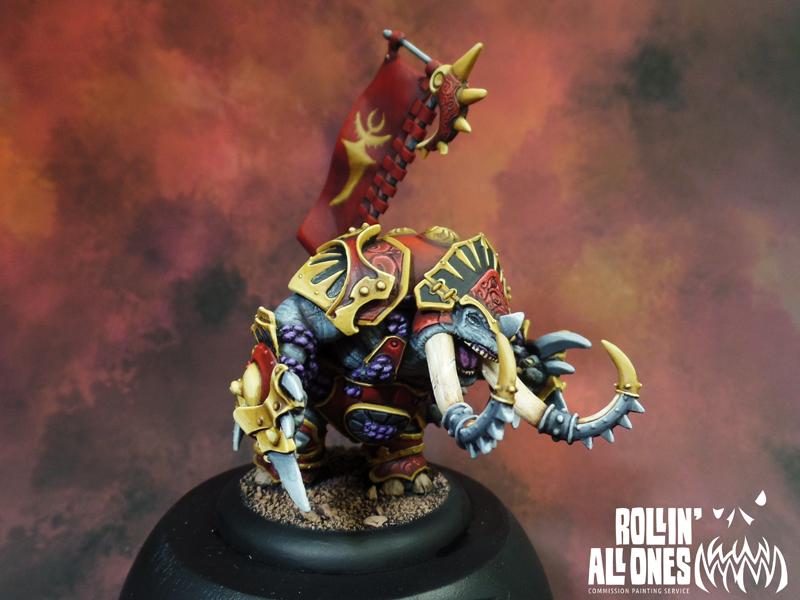 Sadly it was not to be, but instead laid the groundwork for the future...
It was at this point, I decided to go to GenCon with On The Lamb, and painted up a few of their newest display minis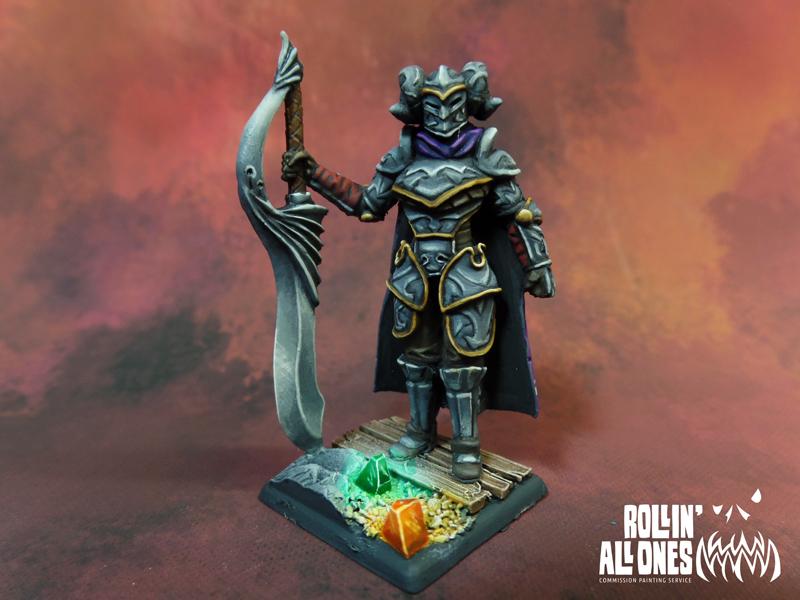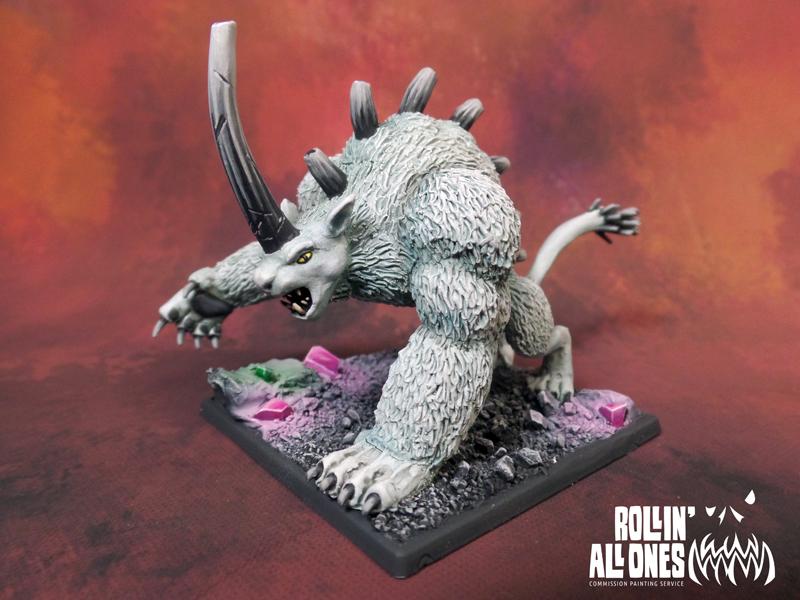 August
In August I completed another insane army concept from RiTides: The Aporkalypse!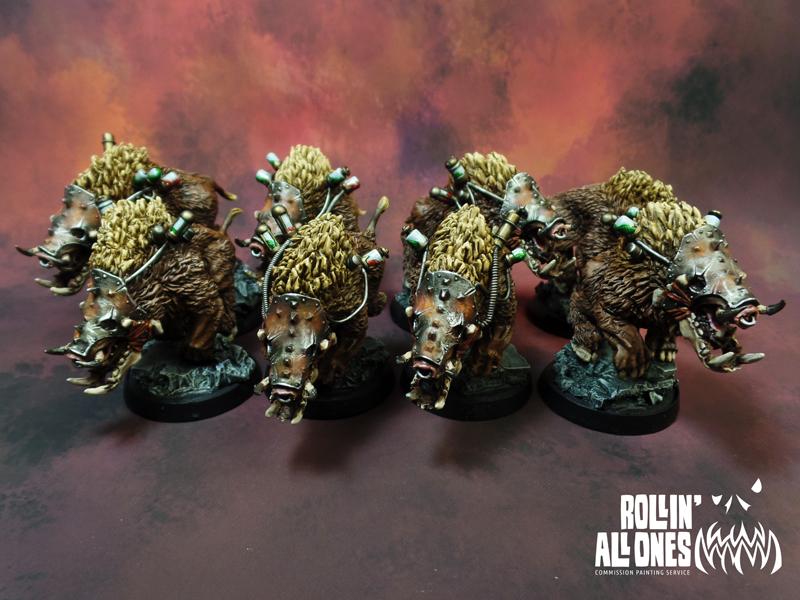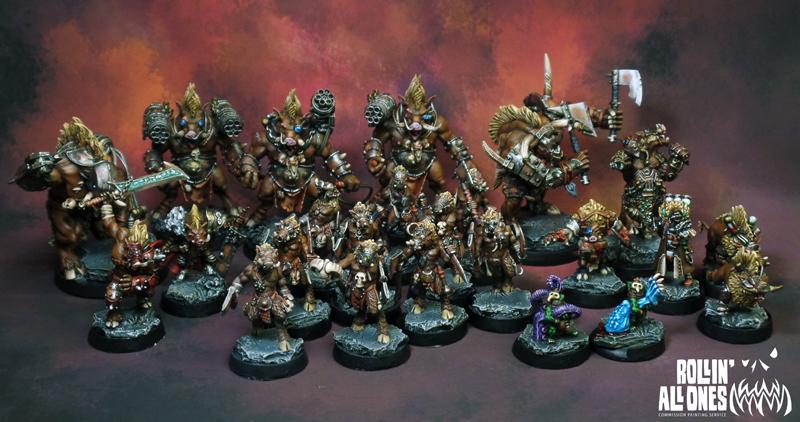 August also saw my first GenCon- and it would have been awesome were it not for a sudden bout of strep throat (thats why there arent any pics here) :/
Got to meet a lot of new people, and WOW was there a lot of stuff! Definitely worth a return trip!
And lastly, late in the month I got a pair of Things knocked out for good ol Gitsplitta's Halloween army!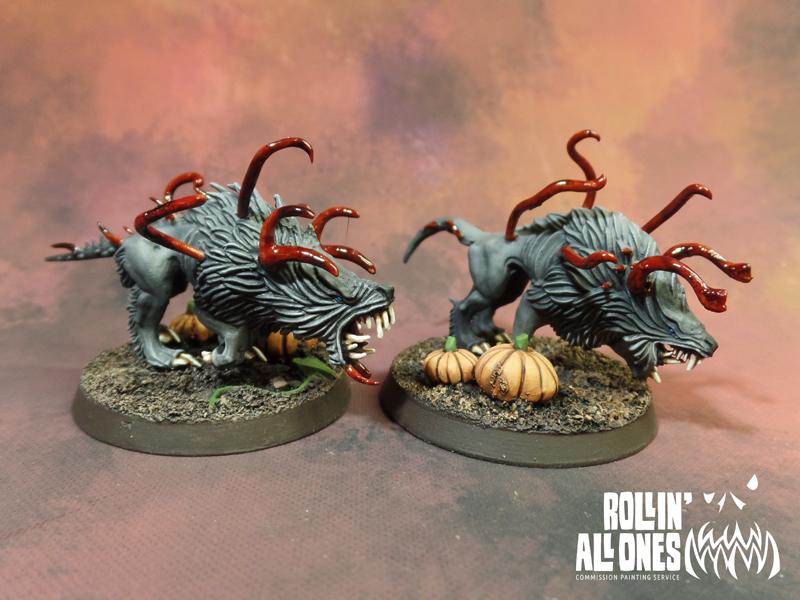 September
Masons! Beautiful Bright blues and metals! (and an ADORABLE armadillo!)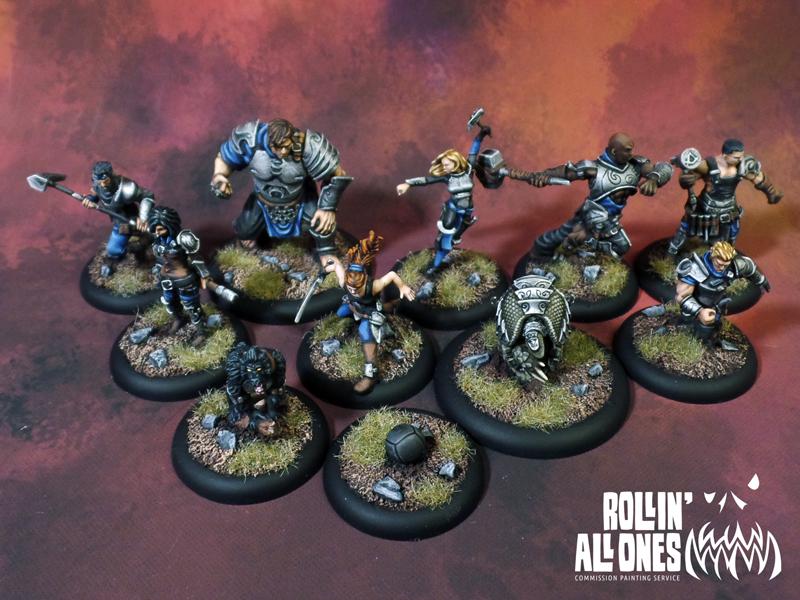 I also painted up a character for another member of our
DnD
group. (come to think of it, I owe this guy another miniature or two, haha )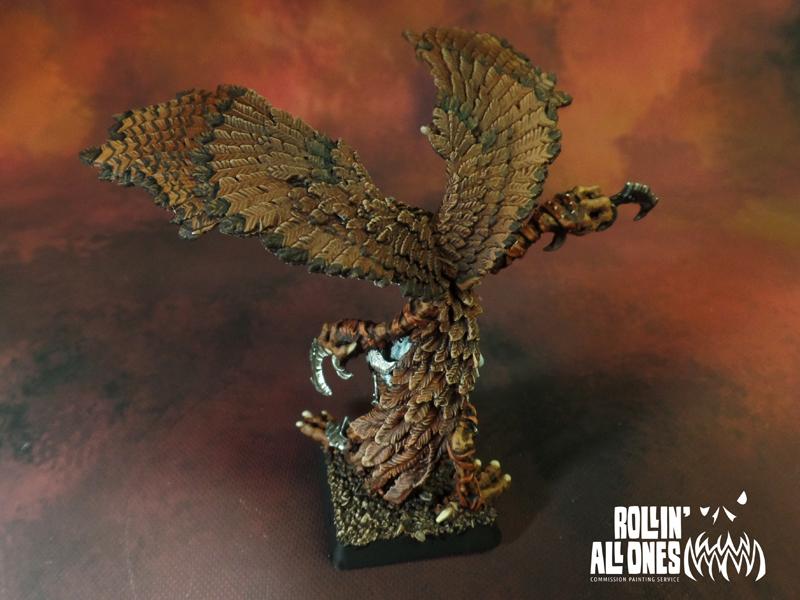 October
October was a month of whites and blacks... Infinity!!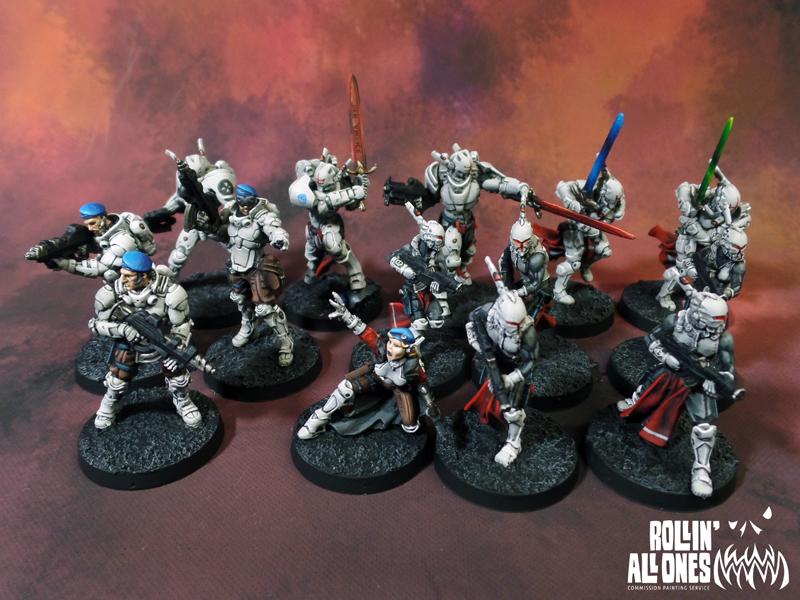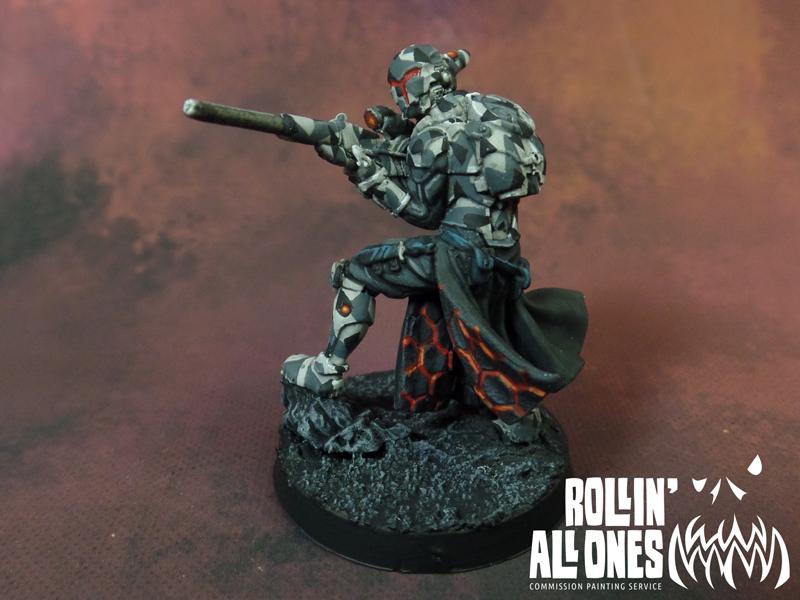 Got a few chances to paint bright colors as well, with Nordic Taskforce Vikinger!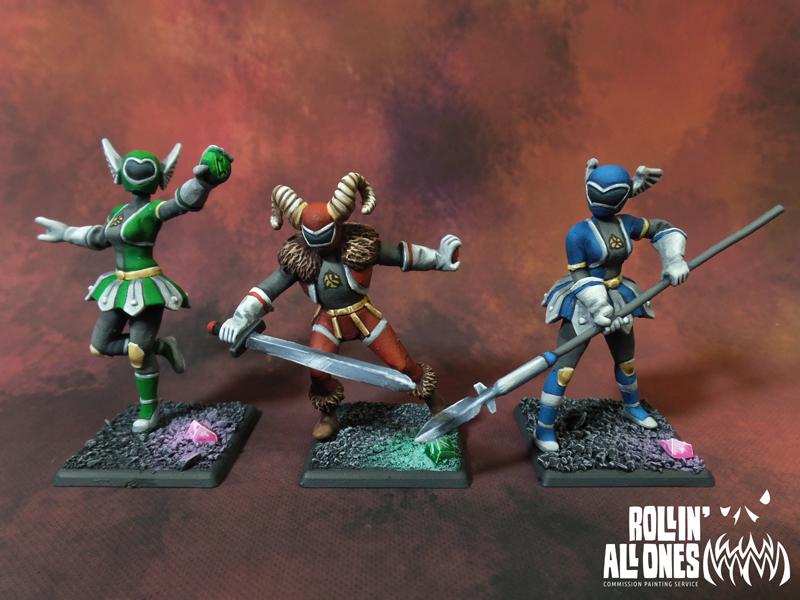 Another first- I went to Reapercon and then got an award!!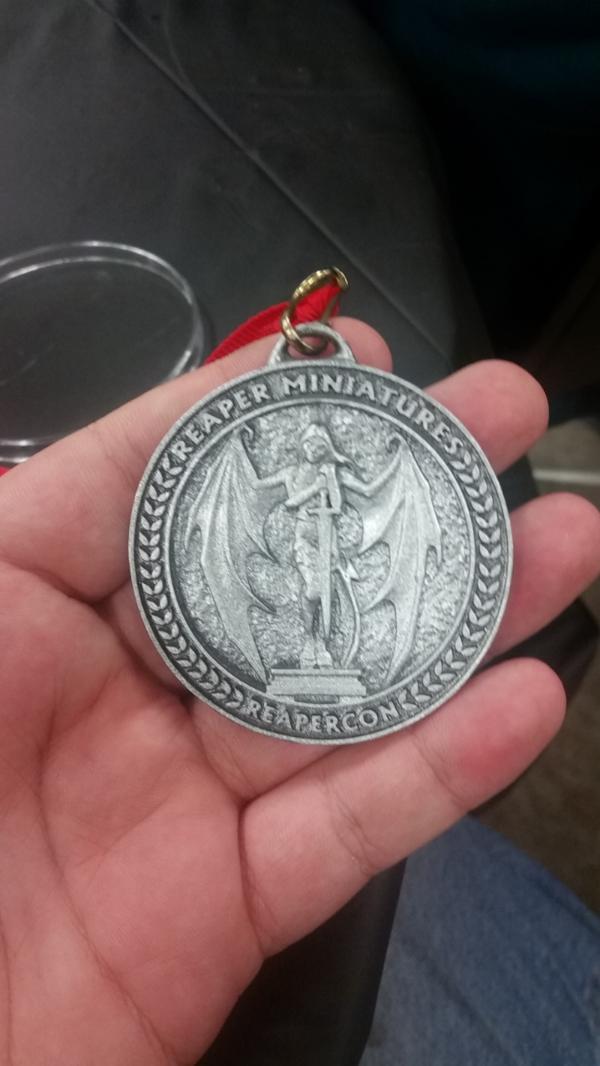 November
Painting began to slow with the changing of the seasons, and I painted up a Wolf Lord and a couple Wulfen.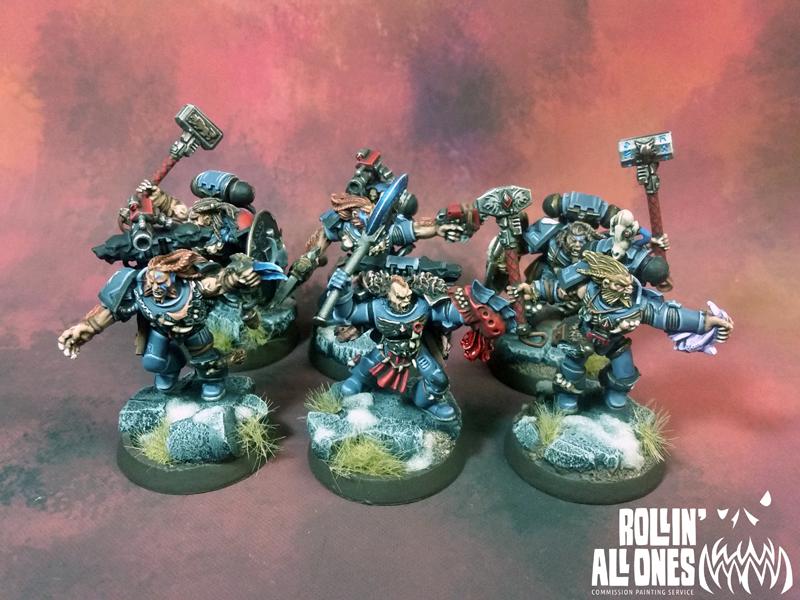 Gears also changed over to full Titan production!!
December
I got a car, Titan gets built!!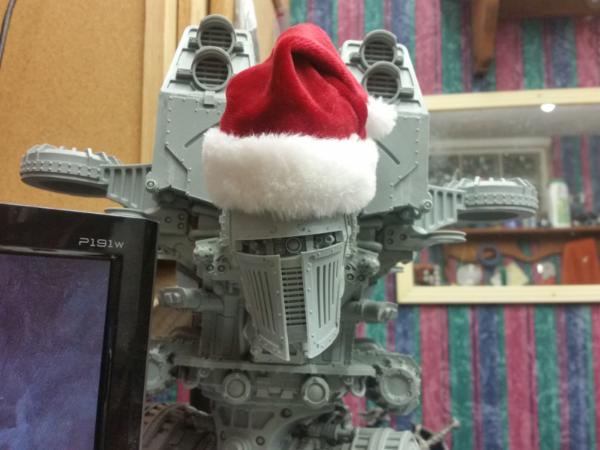 ======================
In 2016 this thread has seen seen:
More than 162 models painted!!! (2015 had over 170)
31+ Pages (2015 had 33+ )
930+ Posts (Last year we had more than 990! )
3 conventions!
1 car!
>8 GB of photos (
wip
and otherwise!) (last year was only 5 gigs!)
The continued insane babbling of a madman (Hey look, something stayed the same!

)
======================
So a little slowdown since last year, but I think that things have actually
picked up
since starting work!! THings can only get crazier...
So thank you one and all for continuing to follow and encourage me for another year. Hope 2017 is a great year for all of you!