What follows is a battle I had with my son over the weekend. It's me trying to navigate us both through 6th with only a couple of games under my belt... so don't put too much stock in our rules interpretations. I'm pretty shaky. I'm also re-writing this as the first attempt for some reason didn't post so I lost it. Problem is I don't have access to things like the army lists on codecii from here... so some details might be a bit sketchy. In spite of that... lots of good pics so hopefully it'll make a good read.
Not that long ago I finished fixing/painting his new Tomb Stalker, so we thought we'd try it out with it's real rules. I thought this would be a good time to experiment with the
IA
character for the Mantis Warriors. We included mysterious terrain (woods and water) with the set up.
The Armies
Mantis Warriors (vanilla dex): 1500
HQ
:
IA
MW
Librarian A. Redth
EL
: 10 sternguard (
HF
,
MG
, 4x CM, srg w/
PF
& CM) in pod
TP: 6 scouts (
HB
, 5x sniper rifles) + Telion
TP: 6 scouts (
HB
, 5x sniper rifles) + Srg w/ sniper rifle
TP: 5
tac
marines in las/
plas
razorback w/dozer blade
FA
: 5 assault marines (flamer, srg w/
PW
&
MB
)
FA
: 5 assault marines (flamer, srg w/
PW
&
MB
)
Hvy: vindicator w/ dozer blade
Hvy: 5 devastators (4x
ML
)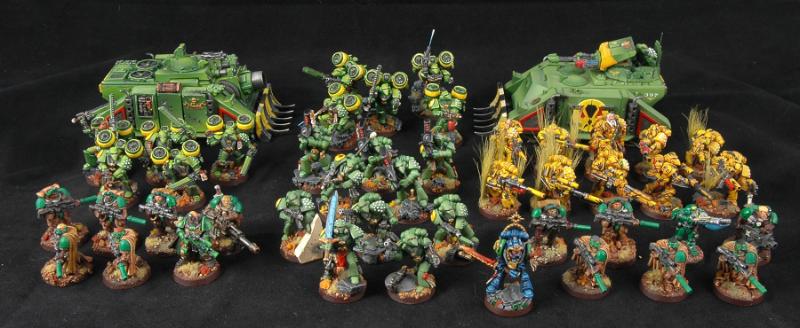 (pod is missing from photo)
Necrons
HQ
: Imotekh
HQ
: Destroyer Lord w/
WS
&
MSS
Royal Court: 1 Lord w/
WS
& res orb, 1 Cryptek (harbinger of destruction)
TP: 10 Warriors
TP: 10 Warriors
FA
: 5 Wraiths
FA
: 4 Destroyers
Hvy:
IA
Tomb Stalker
Hvy: Annihilation Barge
Hvy: Annihilation Barge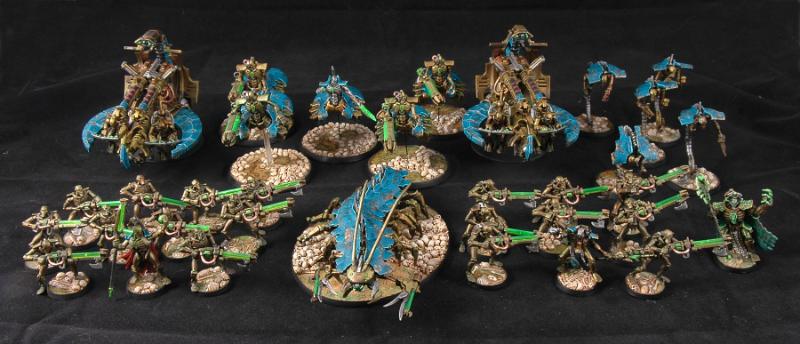 The Game
Mission:
The Scourge, 6 mysterious objectives, diagonal deployment
Deployment
Most of my army infiltrates thanks to Redth so deploys last. Thing 1 spreads out with his assault troops on the right and the shooters on the left. I take the high ground with my scouts and
devs
while the other squad of scouts braves the water to claim the objective. Assault marines deploy far enough forward to get a first turn assault if Imotekh's unit stays put.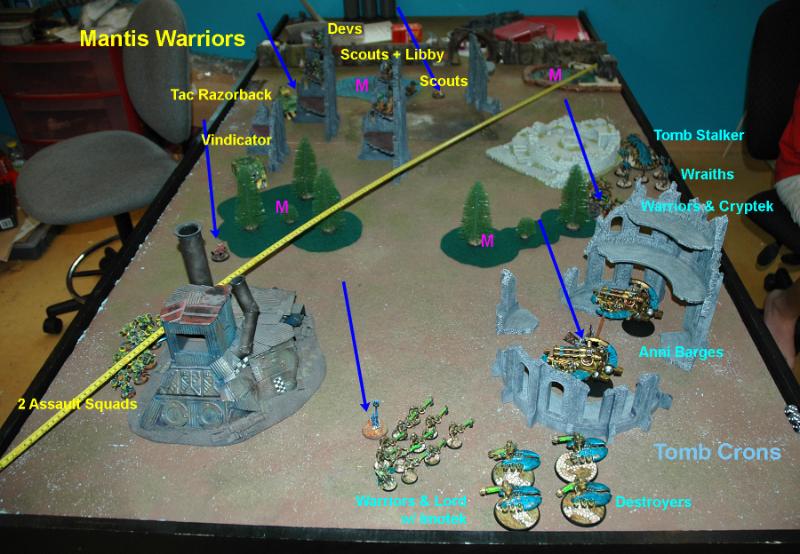 Turn 1
Necrons
Their right flank moves out while Imotekh rains down lightening and hits nearly half of my units, killing a couple of guys and doing two penetrating hits to the razorback.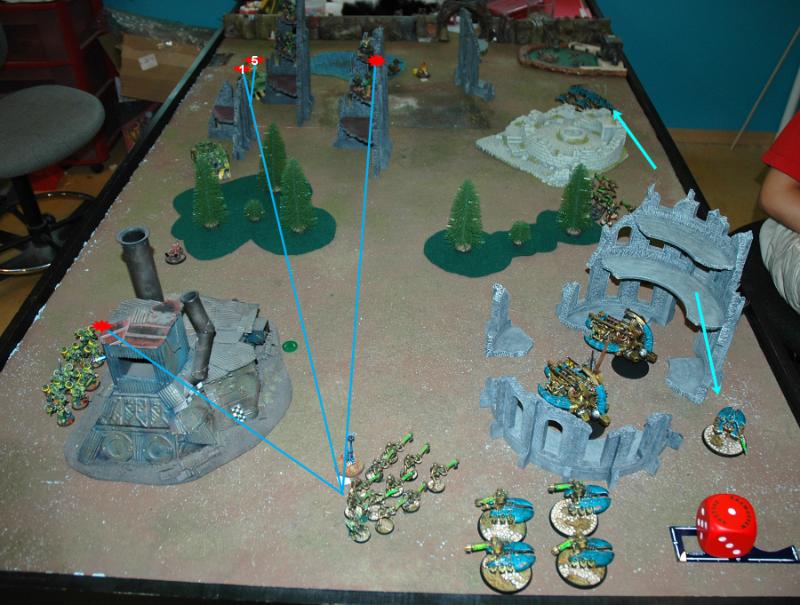 Mantis Warriors
Vindi moves out to support the left flank while one assault squad moves forward to help the descending sternguard squad to take out Imotekh and his warrior unit. Easier said than done. The sternguard take out two of their own with special bolter ammo, though they do a number of permanent wounds to the warriors. Shooting and charging from the assault squad kills more warriors and puts some wounds on Imotekh. They do lose a man to overwatch.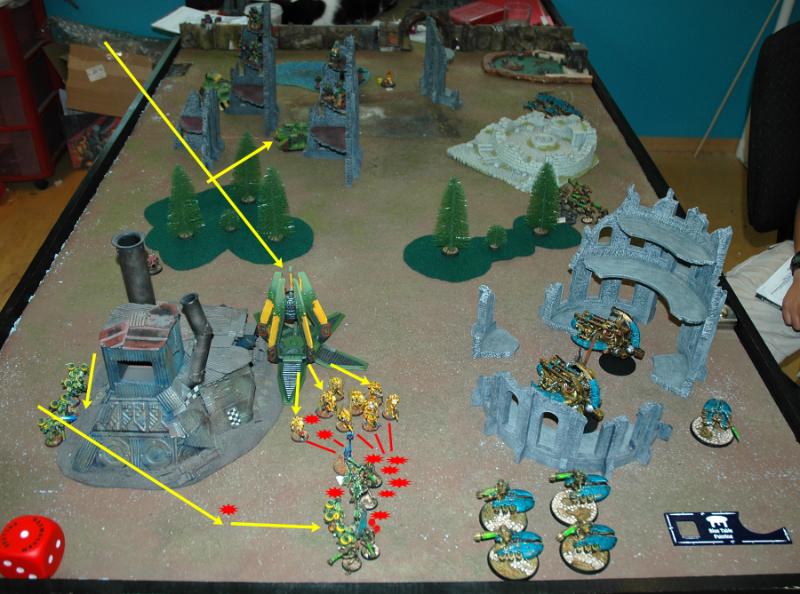 Turn 2
Necrons
Lightening comes down and hits two of the same squads it hit last time AGAIN and wrecks the razorback. The Necron assault troops continue to move around the left flank and the troops on the right (bottom) wipe all the sternguard save 1. Two more necron warriors die in assault as does one marine.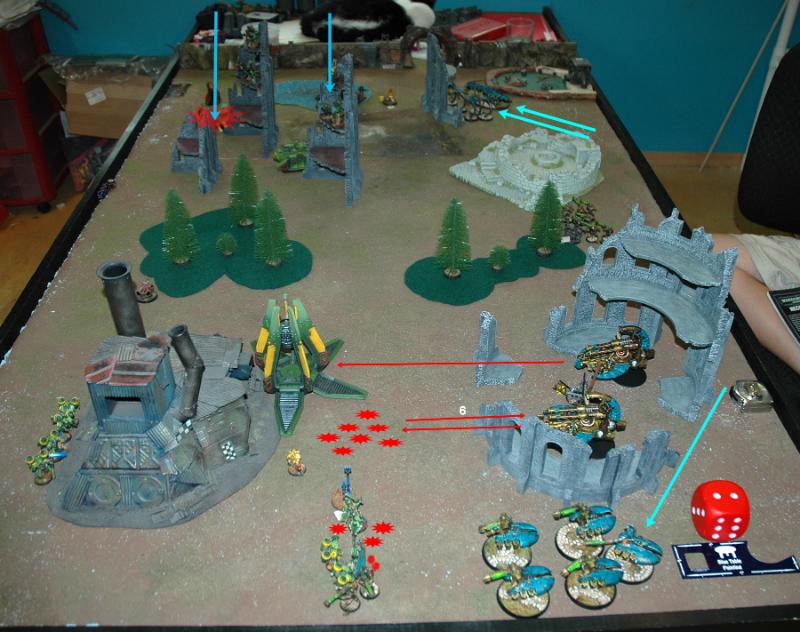 Mantis Warriors
Concentrated fire kills one wraith and wounds another, The lone sternguard advances and shoots a barge, but to no avail. Assault stalemates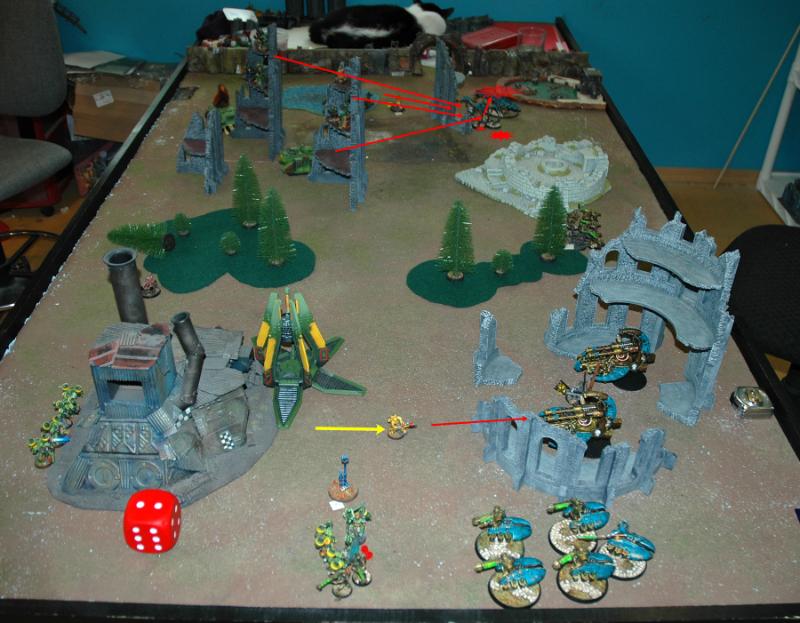 By the prickling of my thumbs, something wicked this way comes!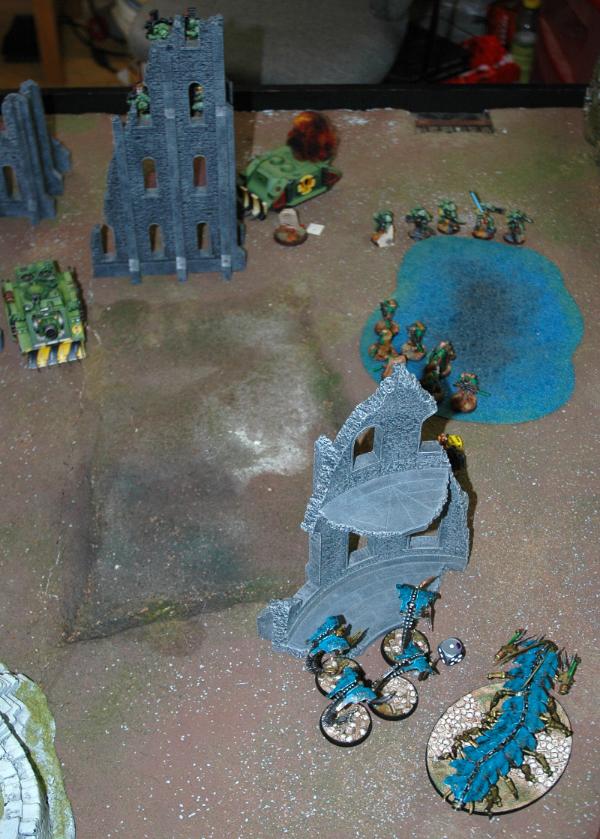 Turn 3
Necrons
The left flank is getting awfully cozy. On my right one of the barges takes out the last sternguard and feeds back 6 shots on itself! Alas, no damage results. The Destroyers decide they can move into the ruins and take over the objective, which allows them to re-rol. 1s to hit.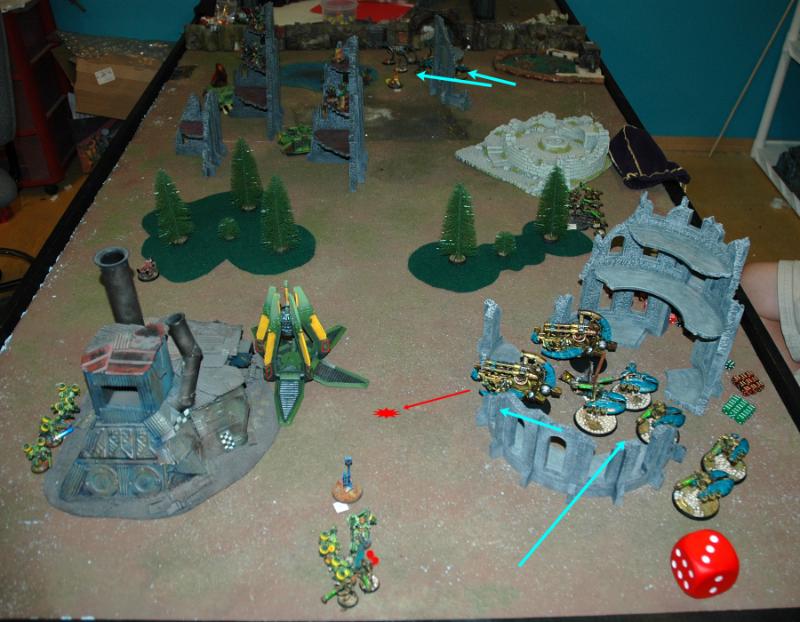 The wraiths can't charge, but the Tomb Stalker does. Unfortunately the objective halves it's charging distance... so all it does is eat a little scout/overwatch fire.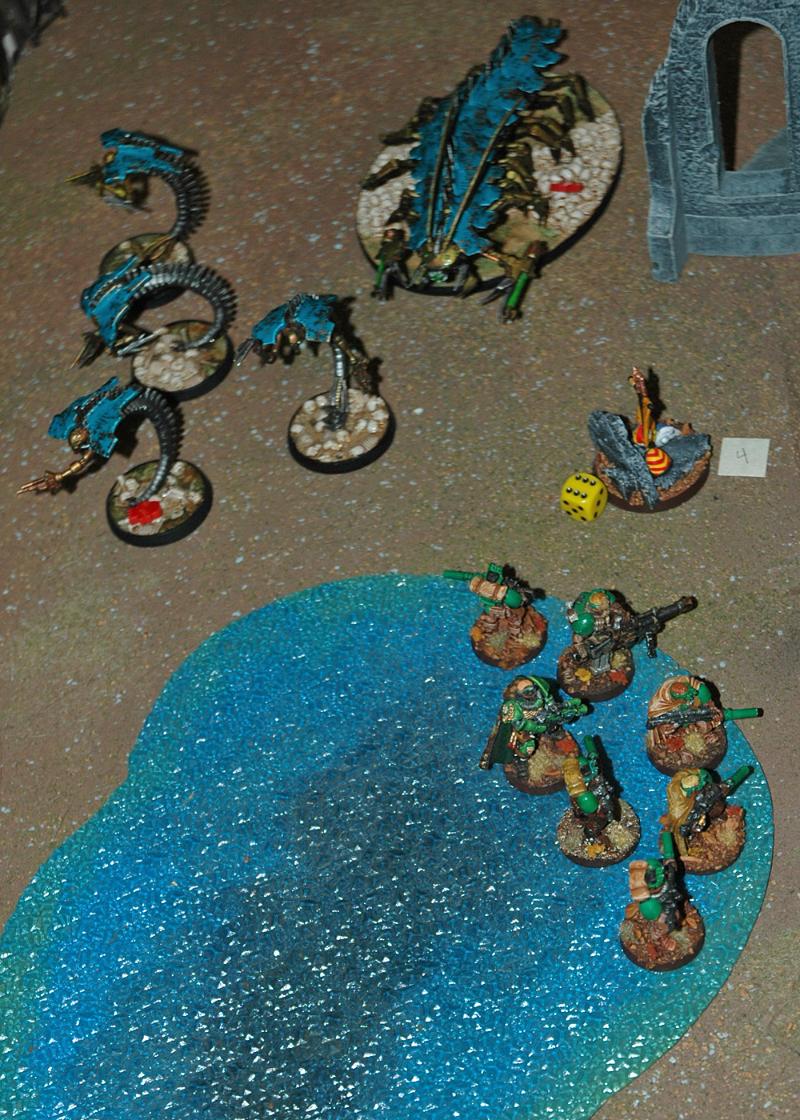 Mantis Warriors
The scouts in the pond fall back while the unengaged assault marines make a dash for an objective. My left flank opens up on the wraiths, wiping them. The Tomb Stalker is wounded by the Vindi.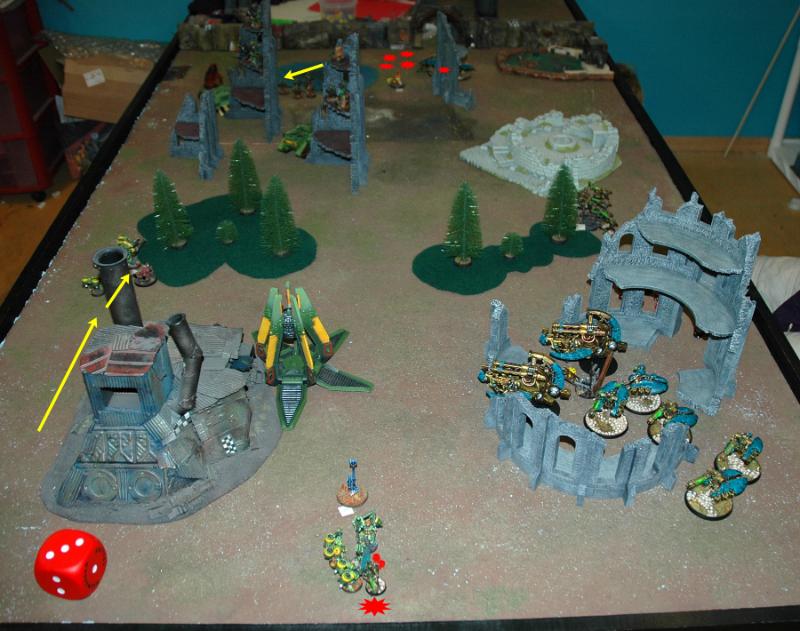 Turn 4
Necrons
The Tomb Stalker moves up as do the barges who now have shots at my vindi and scouts. The vindi is wrecked and I lose a scout.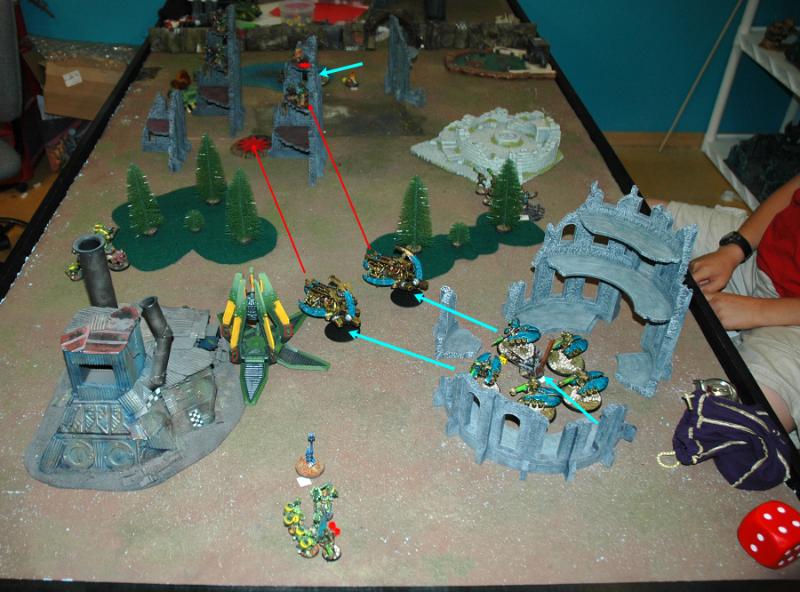 The assault involving Imotekh grinds on at the bottom edge of the board. Unfortunately for me... Mr. Tomb Stalker is able to reach my scouts.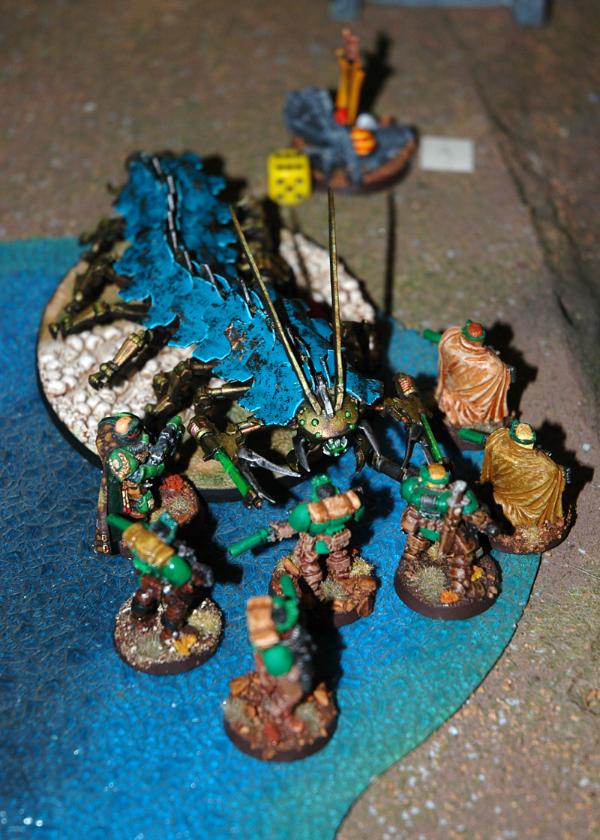 And eats 4, including Telion.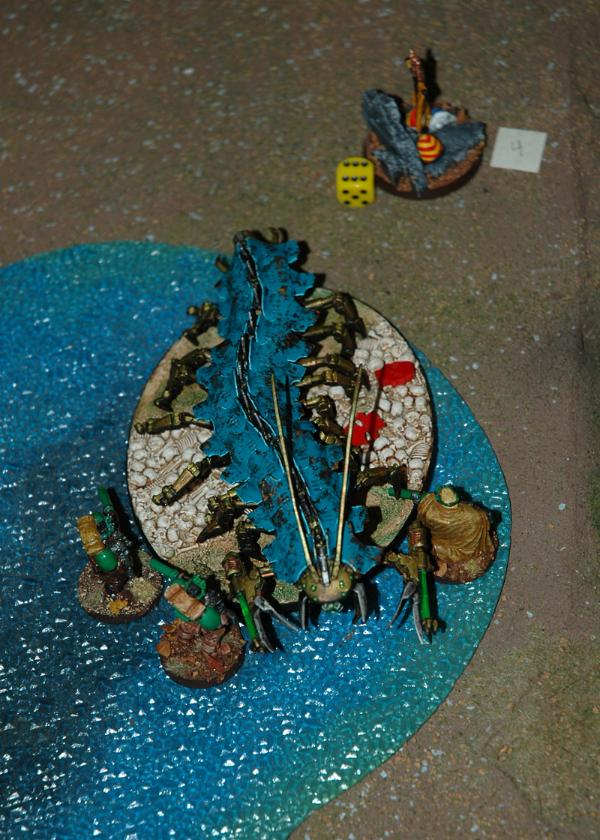 Mantis Warriors
As I add up points in my head, my only hope is to re-capture the objective lost by the retreating scouts & take out Imotekh's squad holding the other objective. My assault squad moves into the Mysterious Woods by there objective and has a member decapitated by razor wings as a result. My disembarked tactical squad moves around to the left of the Tomb Stalker and the surviving scout squad comes down out of their tower and moves to the right of it. My hope is that one will survive to reach the objective while the other draws the monstrosity away. Unfortunately, Imotekh and his sole surviving warrior kill the last of my assault squad. Now the best I can hope for is a draw. (and that's if I manage to take out Imotekh with long range missile fire... and I may be out of range for that).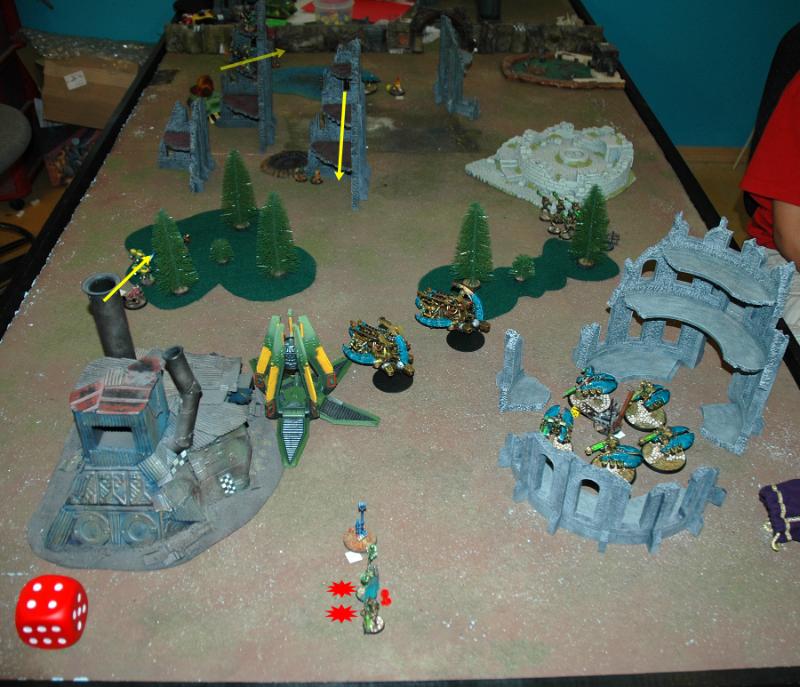 As you would expect... the Tomb Stalker finishes off my scouts, save one... who flees. I was forced to stage this photo of the
TS
eating Telion by my son. I hope you enjoy it.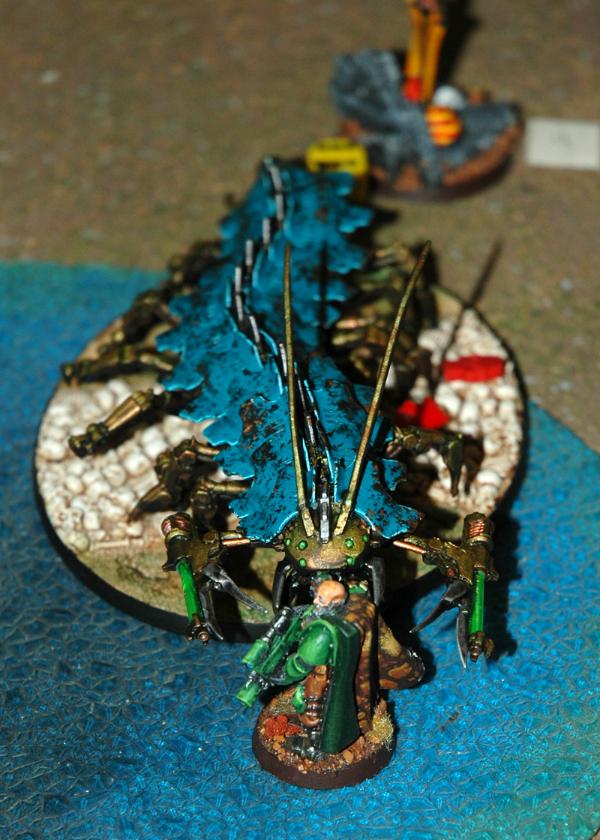 Here's a better shot of what's happening on my left flank.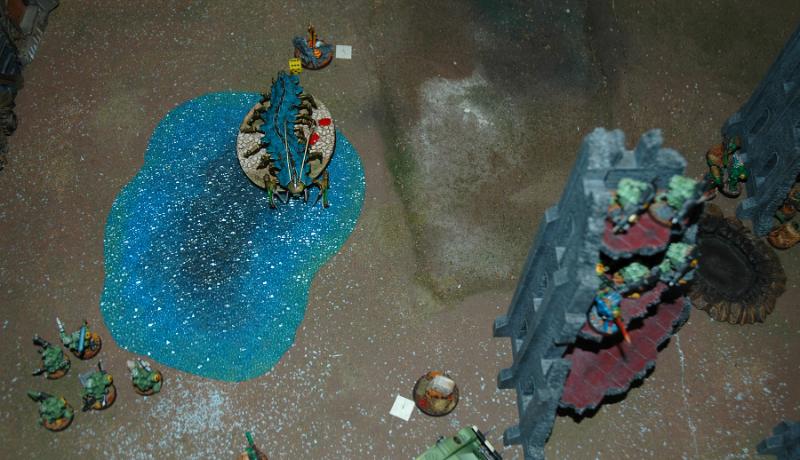 Turn 5
Necrons
The Tomb Stalker continues to advance on my left... while the Anni Barges re-position themselves on the right and take out the pod (for the sake of neatness).
The Tomb Stalker charges my tactical squad...
... and eats them. (once again, this "staged" photo at the insistence of my son)
Mantis Warriors
Not much to do... the surviving scouts make for the objective while the
Devs
open up on the Tomb Stalker, giving it another wound.
We roll and the game continues.
Turn 6
Necrons
In short... all but one devastator is slaughtered by combined fire from the two Barges. The Tomb Stalker and Warriors wipe my scout unit, removing the possibility of a draw. The surviving devastator marine legs it.
Mantis Warriors
The remnants of my assault squad hold the one objective while my
Dev
keeps running (
IA
Libby makes them give up the auto-rally ability).
Game Ends!
Mantis Warriors: 3 pt obj = 3 points
SteamCrons: 2 & 3 pt obj, 1st kill, head hunter, killed one
FA
unit = 8 pts
Victory to the SteamCrons!!
Fun game, even though I got my *
ss
handed to me. Love the Tomb Stalker & Barges (our first time with those). Fun to play with the
MW
character though it was a very fluffy list rather than competitive. Still... something I'd like to experiment with further.
Hope you enjoyed it!