Heer 46 does it again - two more fantastic release for the 46 gamer - the E-50 and the mighty E-75! The kits come in 4 resin parts (hull, left, right track and turret) and 2 metal casts gun barrels.
Some background: During late war the German military leadership realized that previous tank designs were often too complex and had resulted in poor production rates and mechanical unreliability. The need to standardize the German AFV and tank production to as great a degree as possible became more and more pressing during the later war years. Consequently a series of tanks and tank destroyers – the so called Entwicklungs-Serie (Development Series), more commonly known as the E-Series - was proposed which would allow for maximum interchange of parts.
These AFV's – also called Standardpanzer (standard tank) - were to replace all of the existing German vehicles making future tank production, maintenance and service easier and cheaper. The tanks were named by projected weight class during planning. Therefore the E 10 was to be the German AFV in the 10 ton weight class. All in all there were six weight classes planned, designated E-5, E-10, E-25, E-50, E-75, and E-100.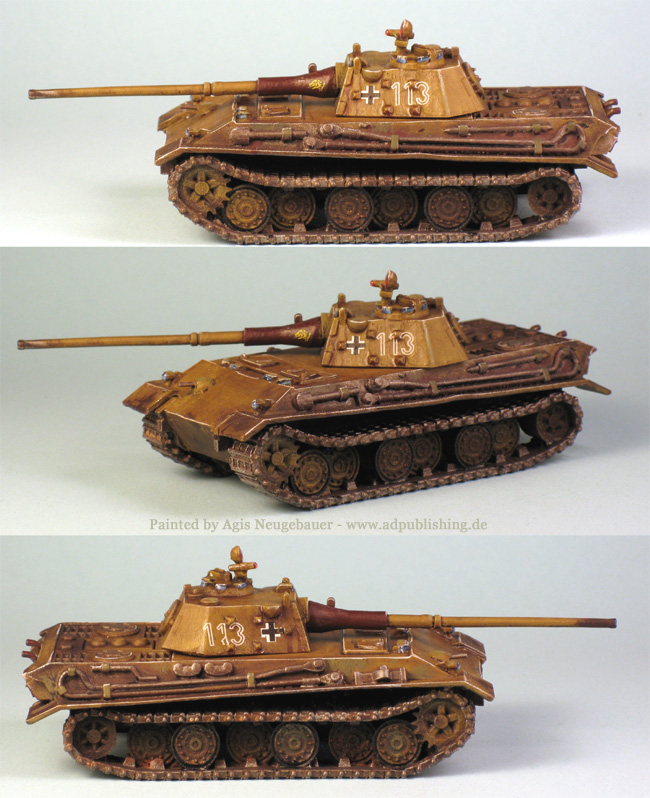 Heer 46 PzKpfw E-50
The 50-75 ton heavy E-50 was planned as a standard medium tank – similar to today's MBTs / Main Battle Tanks - replacing the Panther and Tiger based tank variants.
Heer 46 PzKpfw E-75
The E-75 was intended to be the standard heavy tank to be used as a replacement of the Tiger II and Jagdtiger. The design would have been very similar to the E-50 – the hull was virtually undistinguishable - but in the heavier, 75 to 100 tons weight class because of the thicker armour and bigger gun used.

Family shot together with Löwe!
I can only recommend these tank. You can them at the Heer 46 website (
http://heer46.blogspot.

de

/
.
More:
http://www.adpublishing.

de

/html/15mm_german.html