Here I am trying to get a handle on photo taking. I will post an army shot of the army I played as soon as this starts working for me. This is just a
WIP
of a Grey Hunter I had sitting around (the Eldar went back home) so let me know how this image is compared to my other images. After the images I will give a rough battle report of how my Eldar army did at the Labrynth Games
40k
Tournament.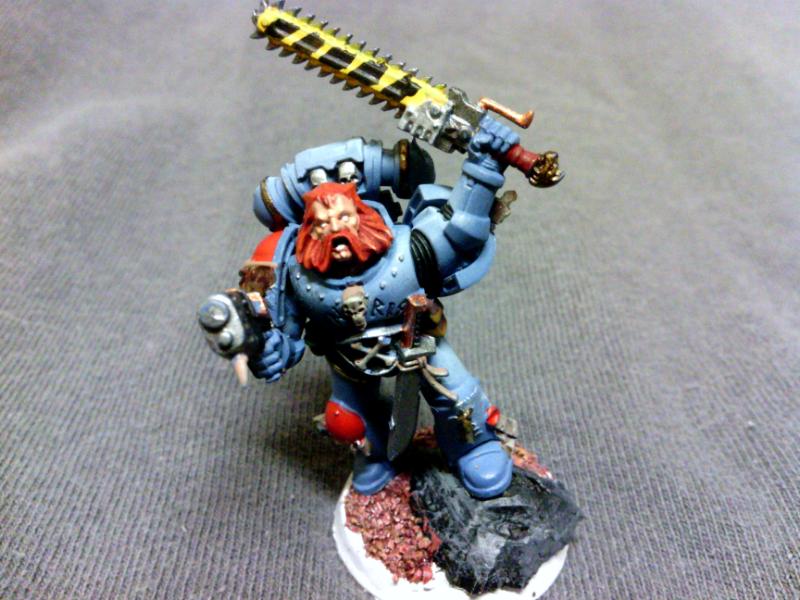 http://images.dakkadakka.com/gallery/2012/10/30/426370_md-.jpg
Here was the list I played:
Eldrad; 2 Warlocks (Destructorx2); Spiritseer (Enhance); Archon (Shadowfield, Venom Blade)
Avatar of Khaine
5x Wraith Guard; Warlock (Destructor)
10x Guardians (Bright Lance)
11x Guardians (Eldar
ML
)
10x Kabalite Warriors (Splinter Cannon)
3x Eldar Jetbikes
3x Eldar Warwalkers (2xScatterlaser each)
3x Eldar Warwalkers (2xScatterlaser each)
1x Voidraven Bomber (2x Shatterfield Missiles)
Wraithlord (Bright Lance, Scatterlaser, 2xFlamers)
My first round I got to play against Chaos Space Marines. He was a player that wasn't very experienced with them in 6th so he was fielding a lot of Rhinos and assaulty guys with Obliterators. He had a Helldrake hanging out too and this would be my first time playing against it. This was the killpoints round to those Rhinos were looking mighty tastey. I played pretty conservatively (movement wise) since I knew those Rhinos would get up the field quickly. I focused my walker attention to some Obliterators coming up the side (vanguard deployment) and at one of the in range Rhinos. The Avatar started making his was to a Predator that was threatening my Walkers, the Wraithlord followed. All the troops just sat on secondary objectives and took no casualties at all (minus the kabablite warriors that ran off the table after a bad roll after a shooting phase). On his turn the Rhinos came towards the middle trying to stay away from the Wraithlord and Avatar but strolled into Walker fire and Eldrads unit; in one turn I popped 3 tanks. Our fliers came in on turn two; my Voidraven Bomber took out a unit of Cultists with it's void mine and missiles and that attracted the attention of the Drake (he knew I couldn't do it again though) and then I ended up getting a pen on it with the voidlances so that just got him to follow it around trying to take it down (it seems like the drake is more of an infantry killer though if I'm understanding the model correctly) so it wasn't a huge threat. When it came to the end I had him on kill points 6-2. The best scene was Kharn tying up Eldrad, Warlocks, and the Archon for 3 rounds of
CC
; they were just hanging out and I wasn't failing my 2++ reroll. Was a fun game although I feel like I smashed him and I'm not a huge fan of shutting people out of the game, it isn't fun.
Round two put me up against another person running a 5th ed Blood Angel list (3 land raiders, tons of terminators) and I was worried because I had so little things to break a landraider and almost his entire army was rolling in them. This was another game where I hung back and placed my walkers in the best cover spot to try and shoot out the two
tac
squads he had; they ended up doing their thing. This time we were doing victory points (total points of models killed, I might be getting these names wrong) and I was losing troops left and right; my Wraithguard bit the dust after being charged by Terminators with
SS
TH
but they did manage to insta kill three terminators on Overwatch and then Guardians were getting mopped up like made (especially after the Bright Lance popped one) but the Avatar and Wraithlord were doing some work. THe voidraven came in on turn two and took one landraider as well. When the Terminators came out, they would wipe a unit and then the Walkers would shoot them apart. I won this game by a large margin (it was something like 380 to 1400); I was getting pretty stoked that I was 2-0 with a 4th ed codex even if I was playing against armies that were not really made for this edition.
The last round was rough; I got paired against a Daemon player who was running 4 troops, 1 flamer unit, 2 Daemon Princes, Lord of Change, and Fateweaver. He decided to try and get everything on turn two and they showed up. They were in my face and ripping me apart, I did nothing other than wipe the Pink Horrors and Flamers off the board. My one personal bad moment was when I got a bit

ey over the Avatar not being immune to Breath of Chaos. Otherwise, I got stomped hard. If he hadn't have gotten all his Flying
MC
Daemons in play (along with 6 Screamers) I think the game would've been different.
All in all I played well (other than forgetting to Fortune once) and I took home best painted; it was a good time and I got really close to first with an army that most people would've written off.