Hi again.
I am the red

GK

guy
, and I'm back. I post here for paint-fu C&C as well as tactical insight, if any!

For those who followed my P&M log, I kinda stopped to update it, due to loads of bad reasons (work, work, and a little bit of work). So, to motivate myself, I made a bet with Hanshu (
this guy
) to have a game in 3 month time, on a fully painted table, with fully painted / decorated terrain and of course, 2 gorgeous 1999+1 fully painted armies.
So, the backbone of my army is
PM
squads. I loved those guys, but now with poisoned weapons and a
FNP
that is a bit more usable, I plainly love them. Which means I need a nurgle lord (
but we'll get to that
). I also like the space pirate vibe going on with Huron.
So I'll showcase the 2
HQ
I first thought about bringing to the fight:
Huron - who can't love a space pirate with a bulby eyes wingless parrot?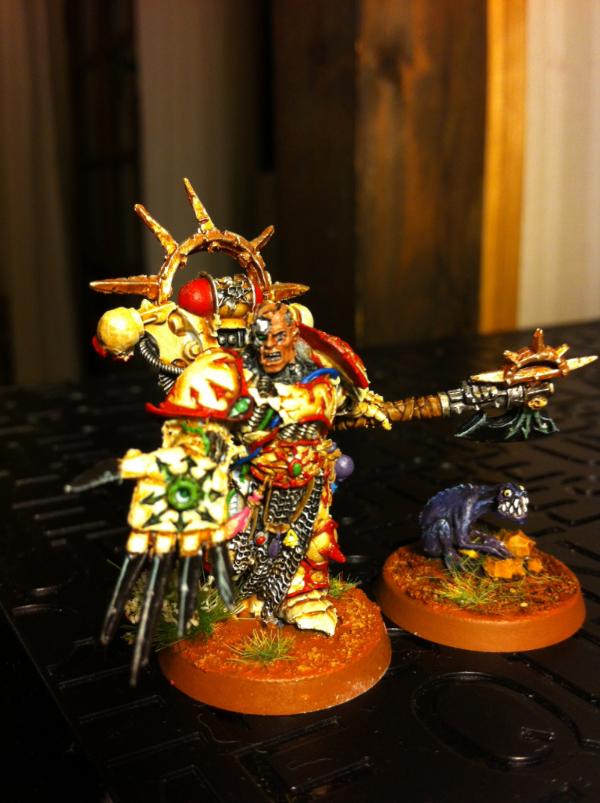 And Typhus - Nurgle lord, psyker, daemon weapon,
TDA
. If only he could be mounted on bike.
Then I got thinking. My
HQs
are a lot of points, and obviously lack mobility - I don't plan on taking a
LR
. I like to assault things, and I like raptors.
So what are my options for a fast moving

HQ

with a punch
?
The Khorne guy on his Khorne mount with his Khorne axe and of course his Khorne skulls and atittude.
The Tzeentch guy on a disk, with his obnoxious 3++.
The Nurgle bike rider, which also makes my
PM
troops, so saves me Typhus' points.
1, 2, 3 and I hit the
FLGS
and got a biker, a Tzeetch herald (for the disk - Hanshu will be able to use the daemon all right), and the new CW juggernaught riders.
After some kitbashing, here I am: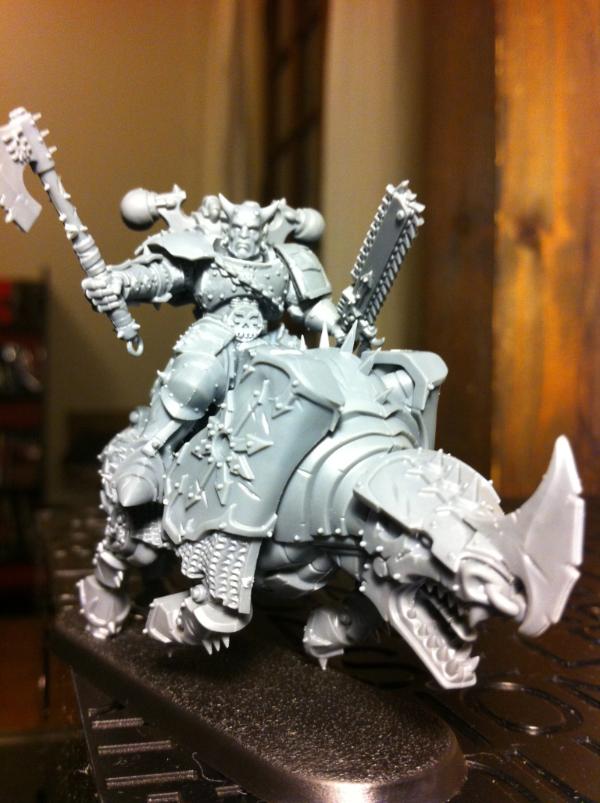 I'd love to hear your thoughts.
Stay tuned for more :
PM
, transports, converted havocs, 20 plague zombies (which I may never use if I'm not taking Typhus :().