So, after lurking on the forums, making only the occasional comment here and there, i decided to actually write up a proper
WIP
log thing. I always love reading this style of post on the forums as they can give excellent inspiration sometimes. I am going to have to ask you all to bear with me somewhat, but if this all goes to plan i think it could be worth it... maybe.
so without further ado... here goes:
Iv'e always liked the idea of warbikes. the 4+ cover save, the S5 twin linked Dakka guns and the new 6th ed movement rules... not to mention the cool models.
The only problem is that i only have 3 of them. and they cost 40 bucks a box.
My current warbikers: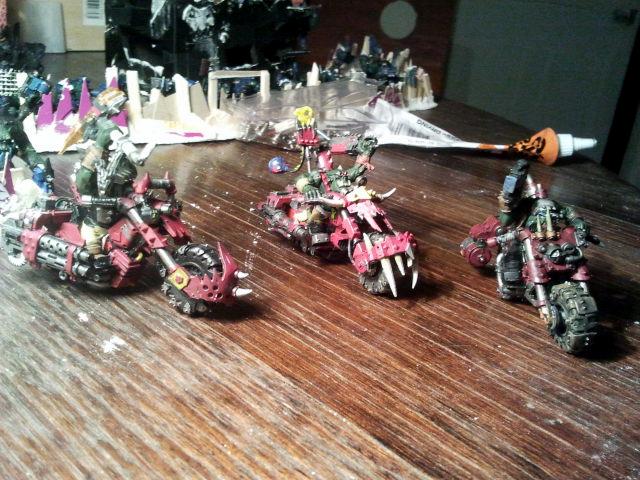 to get around this i decided to convert/scratchbuild some bikers.
i'll be working with
2x Ork Warbiker boxes
3x
SM
scout bikes (just the bare minimum bike and wheels from Hoard O Bitz.com)
4x Deffcopters that i got from a friend.
combined with the three i have already, i hope to end up with a total of 16 bikes. two squads of 8.
I've had the deffcopters for ages but the only other things that have arrived so far are the scout bikes, so i figured i'd cut the deffcopters into usable pieces and start on a scout bike/deffcopter conversion.
Deffcopter (From the Black Reach set):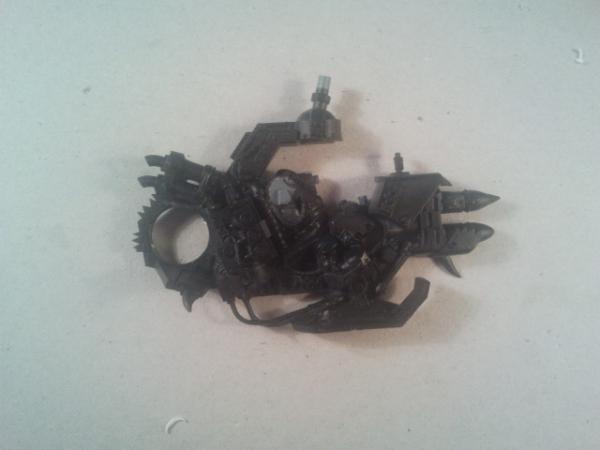 Deffcopter after being cut up (i cut the other side to match... obviously)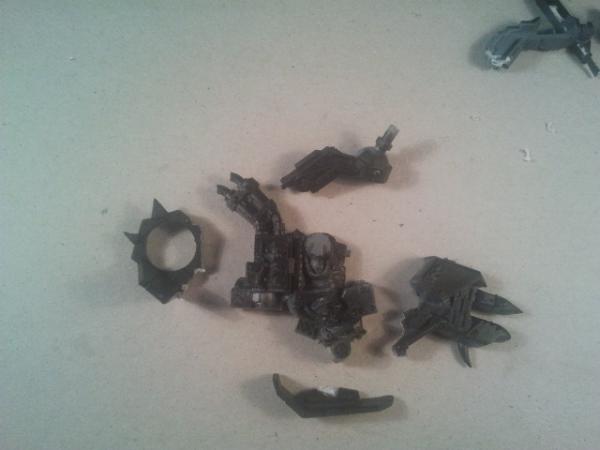 I managed to break two scalpel blades whilst chopping up my deffcopters but in the end i came out with what should become 4 warbikers. (and a few cuts on my hands/fingers).
unadulterated Scout bike next to the one i cut up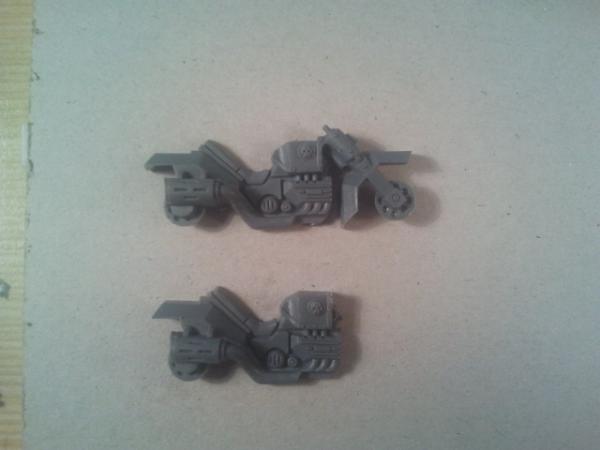 The first step was to attach a front wheel to a the deffcopter arms, i had considered building one from scratch but since i would have to make a rear wheel from scratch i figured the front should come off a kit. Both to make it easier on me and to create a bit of continuity throughout the models. One thing that is important when doing heavy conversions like these is to spread the parts out throughout the entire squad/army. I plan on using the fenders, covers and other bitz from the warbikeers box on the converted bikes whilst scratch building fenders and covers for the standard warbiker bodies (i'll show pics for clarification when my parcel arrives.) this helps to tie the models together. Rather than having a half standard warbikes and half scratch-build, they will all look like modified warbikes.
once the front wheel was removed from the scout bike i attached it to the deffcopter body.
i'm not brilliantly happy with the way they flush up together, but it will have a face plate over the top so it doesn't really matter. also, a paint job does wonders to a conversion.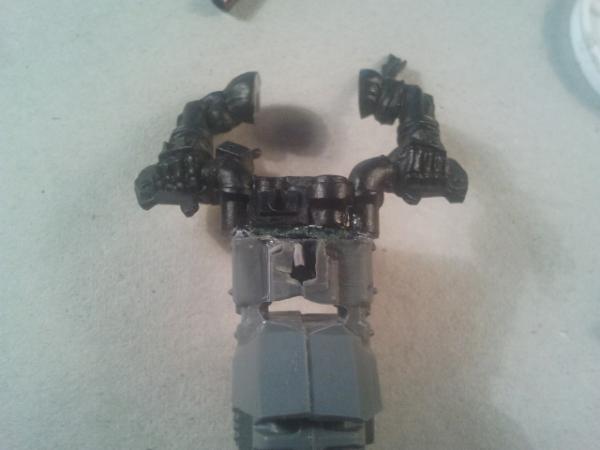 the rear wheel was always going to be the hard part. i didn't want to use two scout bike wheels on the one model (for the same reasons as i outlined above) but i found an old lego wheel lying in dad's toolbox yesterday. i kid you not. we were painting part of the verandah (that has been sitting there with just an undercoat for almost 8 years... but that's another story) and when i went to get a screwdriver to open the paint tin there it was. a little lego wheel. so i decided to use that for the bike's rear wheel. It already had a spot for an axle to go in, but it didn't go right through. so i drilled through the wheel and used the clear ink-holding-innards of a pen as an axle.
The next part was the hardest, but i managed to eventually get the wheel attached with it's little plasticard housing.
The wheel, axle and housing (yes, i use the insides of pens where possible rather than actual plasticard rods because i'm a stingy bastard)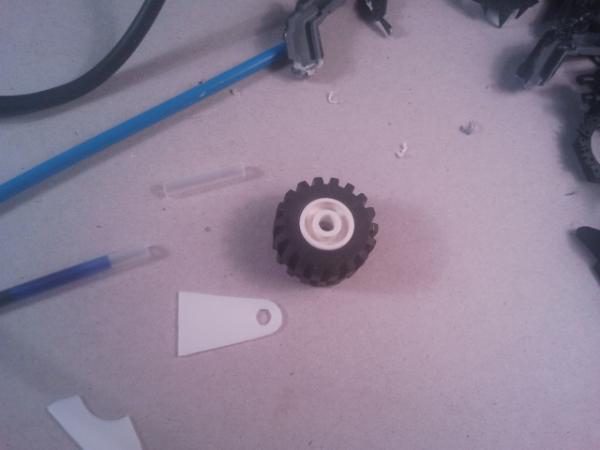 unfortunately, my housings weren't big enough.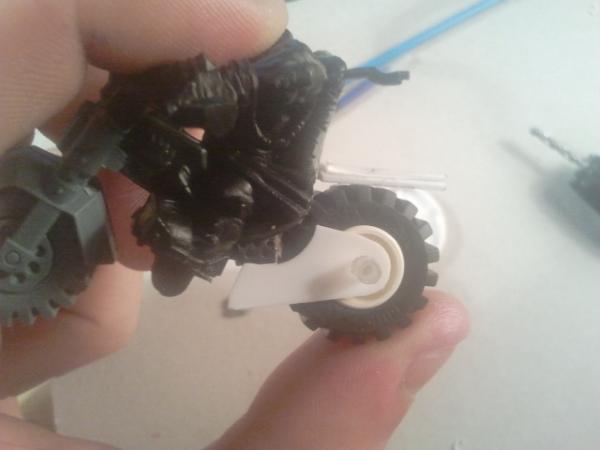 the plasticard is supposed to be covering the exhaust and flush with the curve of the wires
A pointlessly long explanation on how i finally managed to get them to fit can be found below (i typed it out before realising it was pointless but it seemed such a waste to just delete it)
here is a picture of the scratch built warbike next to a standard one. as you can see in the photo, mine is a fair bit shorter/less choppa-like. to fix this i'm going to elongate the forks.
After cutting the wheel off the forks and drilling into the handlebars and wheel i added two plasticard rods (not pen innards this time).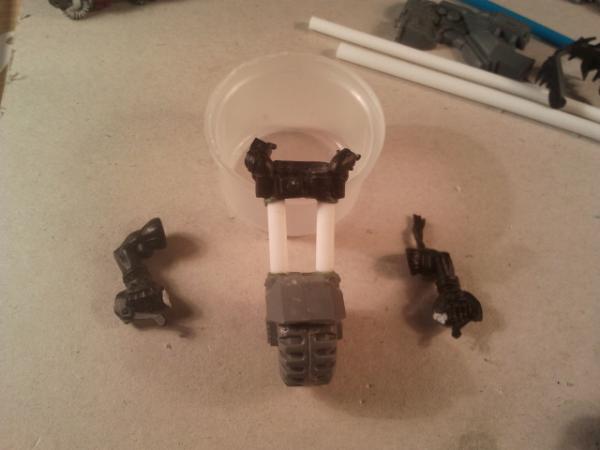 after gluing most of it together i now have an (almost) finished warbike.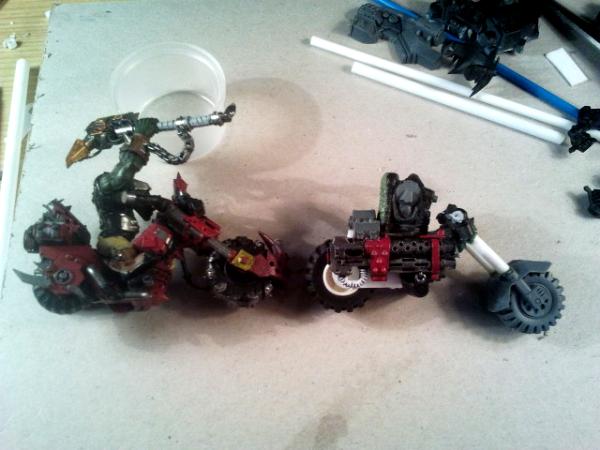 Now the bike is essentially finished. all i need to do now is attach a few more aesthetic bits.
one thing to remember is that since i will be scratch building a couple of loaders and dakka guns i decided to save the standard ammo box for a different model. instead i will probably use some random
IG
ammo/power boxes i have lying around (i think they are from the sentinel kit... which i have never bought. i just seemed to acquire 4 of these little boxes)
An exhaust is also necessary, but i think i'll take this from the standard warbike kit, as the other deffcopter conversions will all use the deffcopter exhausts (probably) which are still attached . he will also get some spiky bits on the back wheel housing... oh, and he needs a head.
okay, so maybe it's not quite as finished as i'd like. but the rest of it is all relatively simple and easy.
anyway, so that's the first step. i'll update when my parcel of goodies arrives and i make a few more.
They will not all be this in-depth, but i will post pictures of the finished products and a few comments about what was hard, what i did to get a certain result and what i'd do differently next time so that others can learn from my mistakes. I do hope i haven't rambled too much, but i find it difficult to explain this kind of a process without flying of onto somewhat unwieldy tangent every once in a while.